Recently, we chose the Music Man Sterling StingRay 5 as the best overall 5-string bass you can buy right now. Now, we're reviewing the Sterling S.U.B. bass guitar, a mid-level model that's worthy of all of your attention.
The original Music Man Sterling is one of the best basses ever created. It's been present amongst the most professional settings since the company introduced the model back in 1976. 
Sterling is Music Man's subsidiary, and it's here to take us towards cheaper Music Man alternatives. See, Music Man basses and guitars are not only quite pricey…they are also hard to find.
But, right now, you can get a lot of bass for little money. Brands like Schecter, Dean, Ibanez, Yamaha, and Squier are continuously raising the bar on what a budget bass can offer. Naturally, Music Man needed to step forward, which is where the Sterling bass guitars come in.
The S.U.B models are one of the many variations of the original Stingray. It tries to prove you don't have to spend your whole wage for a professional-level bass guitar. We're here to see if that's true: is the Music Man's Sterling S.U.B. bass a real contender in the budget segment?
First off, because this is a rather unknown company, let me guide you towards a bit of history…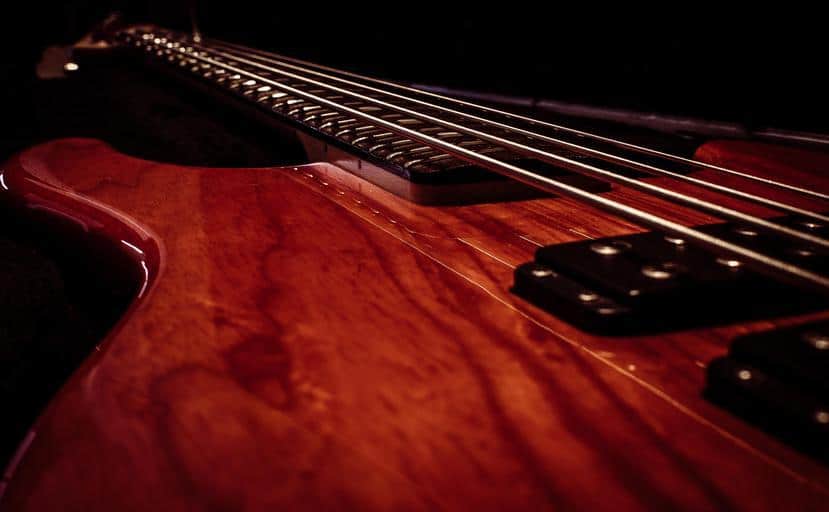 The Stingray bass was originally designed by Leo Fender
About the Music Man company
Music Man has a sure place in music history as it's one of the three companies founded by Leo Fender (Fender, G&L, and Music Man).
In 1971, six years after Leo Fender had sold the Fender brand to CBS, the luthier created a new musical firm alongside Fender's execs Tom Walker and Forrest White. The "Music Man" name came to be in January 1974 because, apparently, part of the deal Leo had made with CBS was to stay in the shadows for four years after having sold his original company.
We can't say Music Man instruments are as popular as Gibson or Fender models. Still, the Stingray model has earned a cult following, a spot for collectors, and recognition as one of the best basses in the market, just alongside the Fender P and the Fender J. 
For example, one of the most prominent Music Man StingRay bass players is Tony Levin, known for being the bass player of King Crimson, and Peter Gabriel. He's also a respected session bassist.
Over the last four decades, the StingRay has split into a host of variations, which includes 5-string models, limited editions, left-hand alternatives, high-tech instruments, or the Sterling friendly-priced basses.
Leo Fender himself designed the StingRay and introduced it back in 1976. Unfortunately, due to internal situations, Leo Fender decided to leave the company in 1979 to fund G&L. 
Fender's departure left the company in shambles, something the California-based musical company Ernie Ball (best known for its guitar and bass strings) saw as an opportunity. They had already gained some track as the creators of the first acoustic bass in history. They advanced further by buying the Music Man brand in 1984.
Ernie Ball Music Man took some time to heal the loss of Music Man's creator. Little by little, Ernie Ball re-branded the company and earned some traction when RHCP's Flea started rocking on a StingRay bass.
By the early '00s, Music Man launched the SUB series, affordable instruments made in the USA. Similarly, they launched the Sterling subsidiary in 2008.
Keep in mind the distinct characteristic of the Music Man StingRay bass is its unique oversized single-coil pickup alongside a particular 3-way switch. Here's some extra info on the best bass pickups if you're interested.

StingRay basses users a different kind of pickup than most basses. In fact, Music Man bass pickups are unique and have a different size than J pickups, P pickups, and bass humbuckers.
About the Sterling brand
As part of the Ernie Ball family, Sterling by Music Man started selling their affordable guitars and basses in 2008.
Sterling by Music Man offers instruments for the hard-working musician. They represent the opportunity of playing a high-level instrument with a top-notch design for a mid-level price.
Oftentimes, Sterling instruments are made of mahogany and feature a custom 6-screws bolt-on neck. They also feature smooth high-quality tonewood fretboards plus advanced pickups systems. 
The Sterling SUB series basses feature lower-quality materials, though, albeit the same design and the same trademark 6-screws bolt-on neck.
Sterling basses are made in Indonesia and China but designed by Ernie Ball's HQ in Los Angeles, California, or Canada.
So, today, we're reviewing a bass Music Man describes as a new quality level for beginners and intermediate bass players.

Most budget and mid-level bass guitars feature a 4-screws bolt-on neck pattern, which is a feature made to save some money and speed up the manufacturing process.
Sterling by Music Man S.U.B. Series Ray4 Bass Guitar Review
Leo Fender, Tom Walker, and Ernie Ball's founder Sterling Ball created the StingRay as an homage to the original Precision bass. Nevertheless, they included a few "upgrades", such as a different electronic system, a larger and beefier pickup, and a shorter headstock.
The Sterling S.U.B series of bass guitars is the brand's budget level basses with several variations. Overall, though, the S.U.B. basses are lighter, smaller, and more player-friendly.
In particular, we're reviewing the Sterling S.U.B. Ray4, which is the most popular entry of the lineup. This is a refined and well crafted affordable guitar for beginners and kids. 
SUB stands for "Sports Utility Bass," which means they come with a somehow industrial appearance, and textured body finish, plus an aluminum scratchplate.
Here's the thing…the Sterling SUB Ray4 follows the original design of the Music Man StingRay bass quite closely. In fact, I'd say it's as impressive as the original one, albeit built with lower-quality materials.
More specifically, the Sterling Stingray SUB Ray4 bass has a 3-band EQ, an active ceramic Music Man humbucker, and a basswood body.
Overview
Sterling has the task of producing affordable top value instruments under licensed Music Man designs.
The Sterling S.U.B. Series Ray4 model offers the experience beginner bass guitar players are looking for. It also represents a great solution for players on a budget. 
Moreover, this is a great choice for amateur players looking for a long-lasting first-timer bass guitar. Investing in the Ray4 ensures you're getting one of the best budget bass guitars there is right off the bat.
I just listed a beginner's bundle that includes a bag plus a cleaning clog for near the same price as the bass on its own. 
There're various versions of the SUB Ray4 as Ernie Ball's Canada HQs also has their own takes. In particular, the one I listed above is the Sterling RAY4-VSBS-M1, so keep that in mind.
Built quality
The design of the Sterling Sub Ray4 is identical to the original Music Man StingRay. However, it's made with cheaper materials and has a shorter body…
Body & neck
The Sterling SUB Ray4 is made of basswood, which is a common tonewood amongst entry-level bass guitars.
Basswood is light, cheap, and durable. It's a great choice for bass (as well as metal guitars). It has its drawbacks as it doesn't deliver a premium sound as for example mahogany, but it does a good job at keeping the low-end frequency fat and clear. 
The shape is identical to the original Sting Ray, though. It features two cutaways on the body, similar to what you'd find on a Precision bass. However, the dimensions are slightly shorter. 
The neck and the fretboard are both a joy. First off, it has a nut width of 38mm, which makes it feel similar to the wide Jazz bass neck. That's quite an extra, as it helps beginner players move easily between the frets and the strings.
Needless to say, the Ray4 features Sterling's 6-screws bolt-on neck, a feature that provides plenty of tonal resonance and sustains.
The neck is made of a single hard maple piece, whereas the fingerboard is made of rosewood and sports black inlays. Furthermore, the fingerboard packs 21 medium jumbo frets.
Keep in mind there're different models of the Ray5 which alter the materials of the fretboard. You could either find a maple/jatoba piece, a rosewood piece, or a pure maple piece.
The quality of the body and the neck is superb. It's the craftsmanship you would expect from a top-notch bass guitar, which means it needs no extra setup to start playing right out of the box.
In particular, the back of the neck is very smooth and comfortable to the hand. Plus, the dot markers are pretty easy to see, even in dark scenarios.
Finish
The neck features a satin tinted finish that feels pretty smooth on your hands, this is a great plus.
Then, the body ships in various colors, being the sunburst and black the most popular options. The body also comes with a walnut satin finish that gives this bass an elegant grainy look.
On top of that, the Sterling SUB bass has a texture on its finish and features a tear-drop three-ply scratchplate made of aluminum. These two features make a great contrast with the sleek headstock and neck.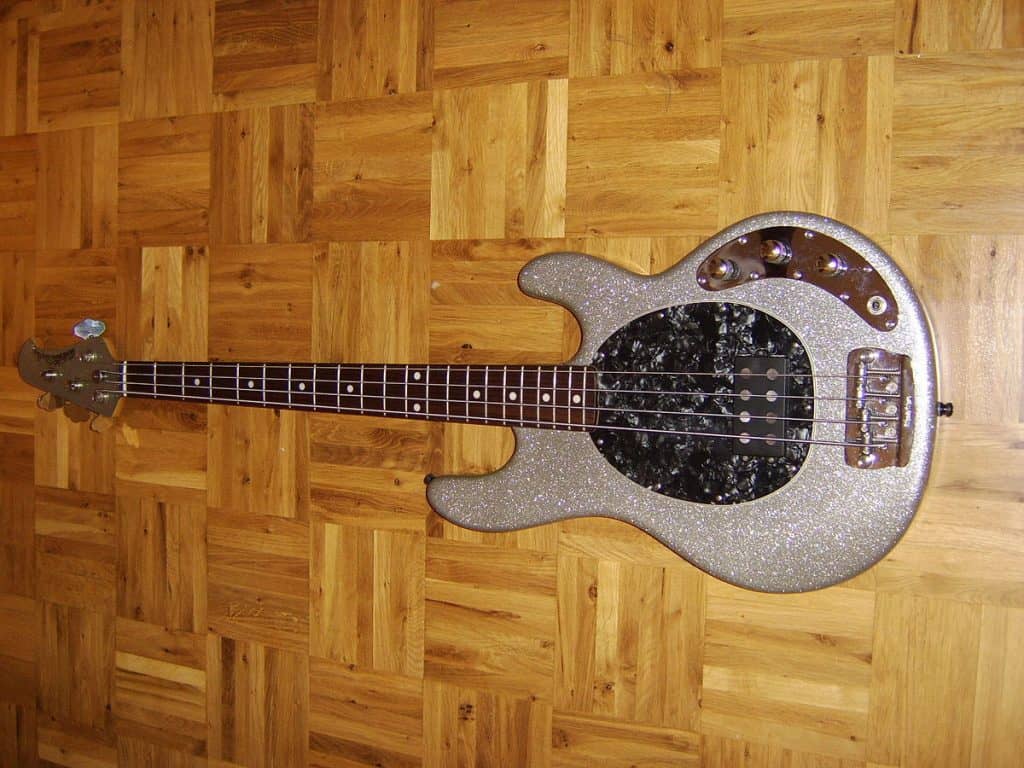 "Sunburst" is the most popular color option for both basses and guitars.
Sound quality
Plugging the Sub StingRay 4 reveals the sound quality coming from its 2-band EQ and flexible active ceramic humbucker.
However, the electronics department is where we find a sad departure from the original Stingray and non-SUB presentations.
Let's break it down…
Electronics
This is an active bass, which means it features active electronics and requires an extra 9V battery. The battery compartment is at the back of the instrument, and you'd need an extra screwdriver to open it up.
The electronics are about an active custom Music Man hot output humbucker, a 2-band EQ (bass and mids) plus the volume knob.
It looks pretty uncluttered and simple, but it does pack a decent range. Plus, the humbucker sounds quite nice and beefy on its own rights.
I have to note the unique 3-way switch present on Music Man and Sterling bass guitars is missing in the SUB presentation. This lever alters the sound of the humbucker as it changes the wiring of the humbuckers to deliver an outstanding amount of tones.
Not only the 3-lever switch is a main visual feature of all StingRay basses. It's also a fundamental part of its tonal qualities as it lets the humbucker operate as a single-coil.
Instead of that, we've got a basic layout. It's just something to expect at this price range, but it's also something beginners won't mind much.
Still, the tones you can get out of the SUB bass sound like something only Music Man could deliver.

Music Man Stingray /By Marioerdmamm / CC BY-SA 3.0 Music Man and Sterling basses are known for its impressive active EQ system. 
Sound 
A simple setup such as this does two things. First, it cuts down the cost. And, secondly, it gives you plenty of ease of use so you can focus on what's important: the natural tone of the instrument.  Plus, it makes this bass function great with a couple of bass pedals.
That said, the sound of the Ernie Ball Sterling S.U.B. Ray5 bass has a high output, a flexible range, and a smooth feeling. The purpose of the sound is to create steady basslines and driving rhythms. If you need to punch it further, you can also plug an overdrive bass pedal or a bass distortion pedal for the extra grit.
Pulling the lows down gives you a groovy sound, whereas boosting the mids takes you into a pop-rock / "jazz" (as in versatile) territory). 
Slaps also sound brilliant, boosted, and zingy, whereas fingerstyle playing sounds balanced across the entire fretboard.
More so, the Ray4 has plenty of definition, which allows you to work with a great degree of precision.
I'm particularly impressed by the mid-frequency sounds of the bass. As you all know, the mids on bass are what allows the instrument to project the sound further and louder.
That's why the mid control is so important on this model, as it enables you to accentuate the sound and defy the power of dual single-coil bass pickups configurations.
You can grow with this entry-level bass and it will never disappoint you. The Music Man vibe is there, as well as the Music Man tone, albeit somehow diluted.
Feel Quality
The smaller details of this bass are definitely a plus. It comes with the standard heavy-duty hardware present in all Sterling basses, which means we can just lay it right out of the box and enjoy super playability without worrying too much.
Hardware
The SUB Ray4 bass sports a style fixed bridge with four adjustable saddles (one for each string). Albeit this is not of the highest quality, this bridge can keep up with down tunes and hold your strings tight and in-tune during long presentations.
On the other side, there's a set of 3:1 die-cast tuning machines. A 3:1 setup means you can tweak one tuner without altering the other strings. It also means they keep the strings as stretched as they can in order to preserve intonations.
On top of that, the neat headstock features the classic StingRay "elephant ear" tuners. Overall, these are traditional, efficient, and cool-looking.
It all means the Sterling by Music Man S.U.B. Series Ray4 is gig-ready given that you treat this bass guitar accordingly.
Playability
The most important thing to note about the SUB Series Ray4 is its neck width, which is 12''. This makes it perfect for people looking to transition from guitar to bass, as this is the same length present on all Gibson and Epiphone guitars.
Plus, a 12'' scale feels easy. It allows layers to go from chords to notes in a seamless manner.
On that regard, the neck and fretboard are both soft and smooth on your hands. They are sharp-free.
And, lastly, it features a 34'' scale (which makes it a medium-scale bass). That means it's lighter and shorter than the StingRay bass, so it can be a great choice for beginners and kids alike.
https://snappygoat.com/s/?q=fender+bass#b50842bfd0859d3288483cf8760376ccd32d606a,0,2. Fender Precision bass guitars feature a 34'' scale. That makes them bigger, bulkier, and heavier in terms of sound and materials.
Downside & set-up
Testing and checking out the Sterling SUB bass made me realize picking the "shortcomings" of such an affordable model is not an honest practice.
As I said, this is not a Music Man StingRay. It's neither a Sterling StingRay. Instead, the SUB bass is a lower-priced presentation that cuts corners on the electronics section, mostly, which leaves you with a lower-level humbucker and takes down the impressive 3-way lever switch.
That said because this is gig-ready entry-level bass, I don't recommend you to swap any of the hardware pieces as I usually do. Just as it is, right out of the box, is ready for rehearsals, practice sessions, and the stage. That's impressive.
Nonetheless, I can link you towards the better strings for this bass, as the strings shipping by default may not be the best option. You can either change them instantly or simply wait the typical 6 months to change the stock strings for a set of Ernie Ball Super Slinky strings:
Alternatives
The Sterling series of bass guitars feature different price levels to meet your needs.
The first model I recommend is the Sterling StingRay Ray4HH, which features a similar body construction but packs the 3-way lever switch.
Then, we've got the top-value Ray24CA featuring a mahogany body, a maple neck, a rosewood fret, an Alnico II quality humbucker, and Ernie Ball Super Slinky strings. 
Alternatively, there's a beautiful "Toluca Lake Blue" Ray24CA bass guitar you can check. It's an eye-catcher:
The sound of the Ray24CA is simply amazing. In fact, I choose this V counterpart as the best 5-string bass there is right now. You can check it out here:
Lastly, you can get the premium Sterling StingRay model, which is the poplar-made Ray34:
Sterling by Music Man S.U.B. Series Ray4 Specs
Design: double-cutaway StingRay construction
Tonewoods: basswood body, maple neck, maple (or rosewood) fingerboard
Neck: 6-screws bolt-on C-shaped neck
Scale: 34'' medium-scale
Fingerboard: 21 medium jumbo frets
Pickup configuration: MM Hot Output SUB Ray4 Humbucker (ceramic – Music Man custom size)
Controls: 2-band EQ & master volume knob
Tuners: Die-cast tuners 
Bridge: Style-fixed bridge & 4 adjustable saddles
In summary
Why do I like the Sterling SUB StingRay bass? 
All in all, the S.U.B. Series Ray4 by Sterling is a beginner's bass that can meet the expectations of budget players looking for a secondary bass, a cheap bass, or just a hobby instrument.
The built quality, albeit includes cheap materials, is top-notch, and it translates to its performance. In fact, this one feels as refined as a premium bass guitar. 
You could easily take this puppy into a gig and turn it into your main ax until you can afford a better model.
Final Say
All things considered, this is a great little affordable bass. It's a joy to play and features a nice sound imprint. Players of all abilities can appreciate this model.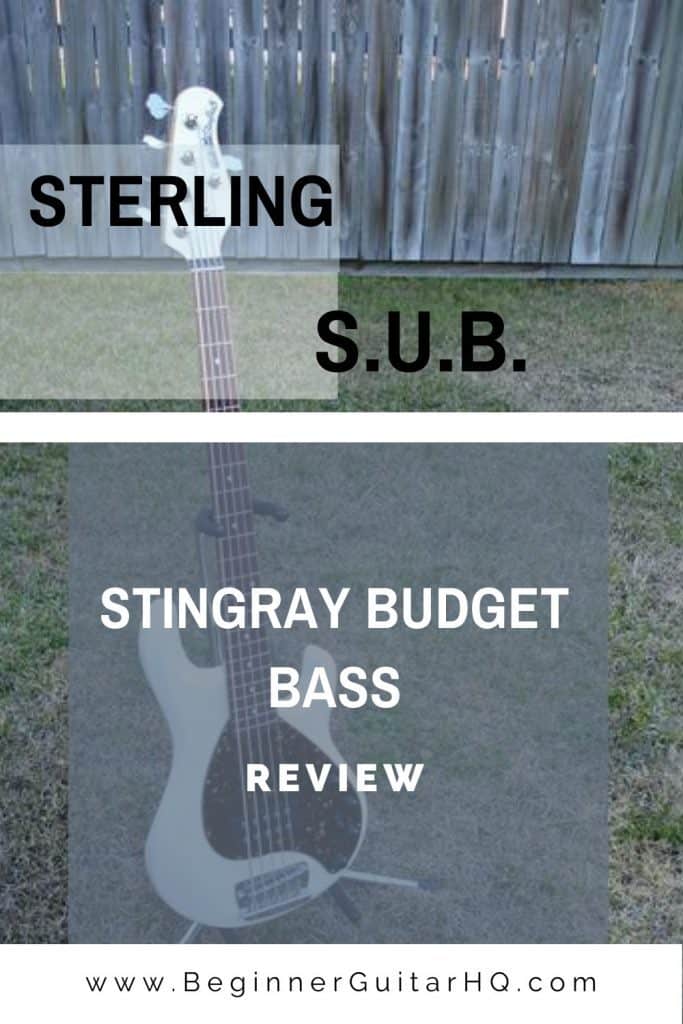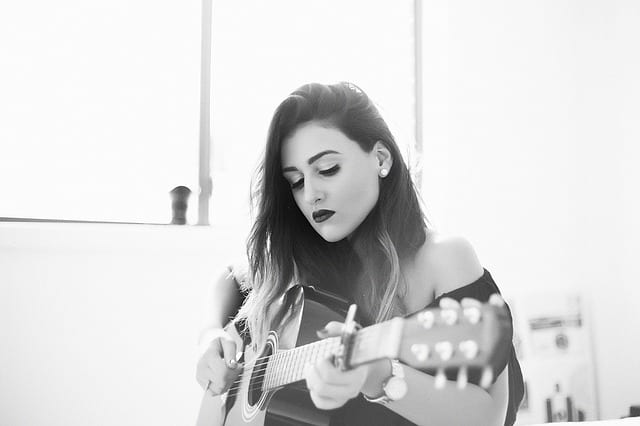 Jen is a guitarist and singer-songwriter who spends much of her time on the road and has lived in 13 cities across 4 continents. She picked up her first guitar at the age of 6 and learned to play by ear shortly after. She received her formal music education at the Berklee College of Music, and currently plays for a few bands in her free time. She has an uncanny ability to improvise creative melodies and harmonies. Her early influences include blues, jazz and rock.