Japanese music company Ibanez has pioneered bass development for over 40 years. They have pushed the boundaries of what budget basses can offer time and time again.
Their designs appeal to worldwide bass players of all ages, all budgets, and all genres. The possibilities to express yourself on an Ibanez bass are limitless.
Such spirit of exploration has led the brand to create the SR series, which houses some of the most popular and sold basses in history.
Notably, the Ibanez SR250 is one of the most beloved cheap basses you could buy right now.
It's not hard to grasp why Ibanez has built a top-notch reputation in the mid-range and entry-level bass segment.
That's why we're going to explore what the Ibanez SR250 electric bass guitar brings to the table. We're going to see why it satisfies the needs of amateur, budget, and intermediate players alike.
Are you looking for other budget bass options?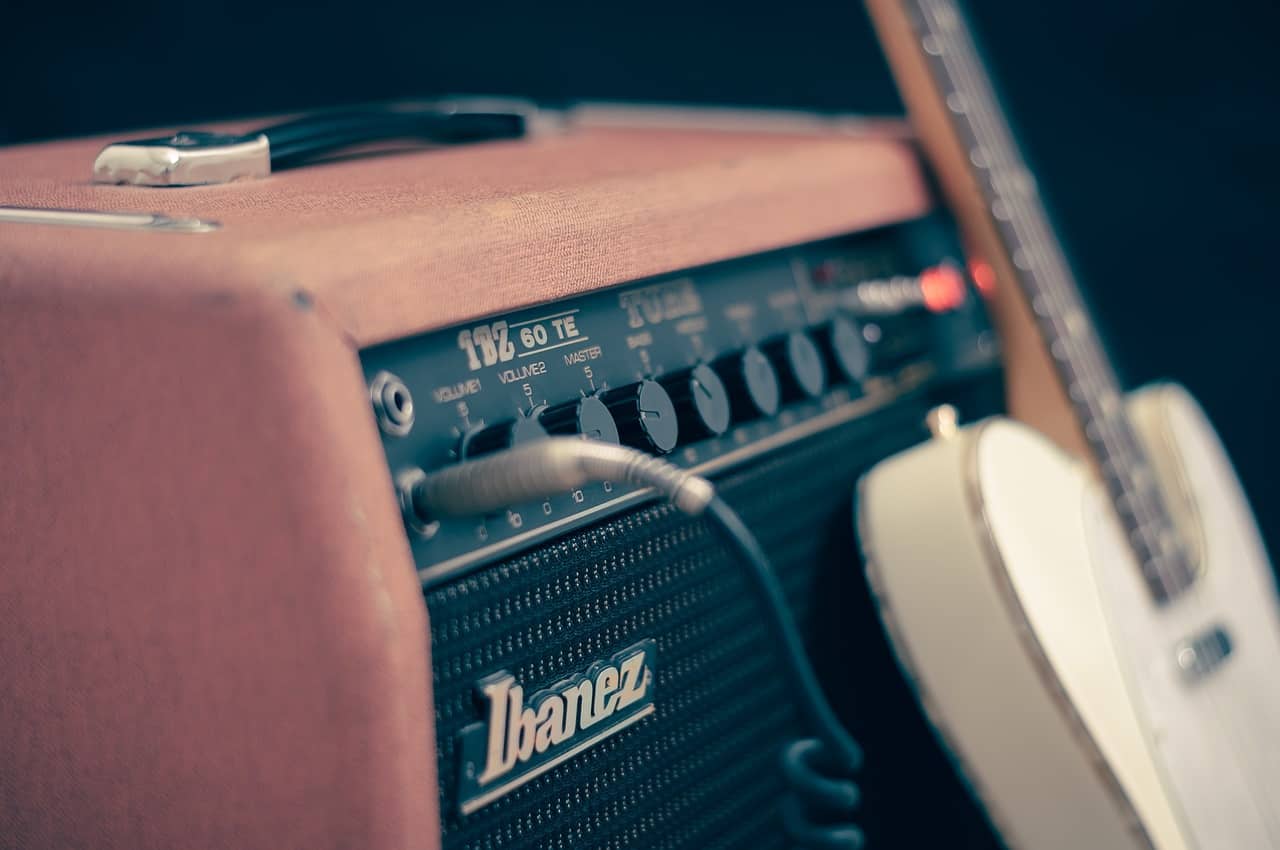 The general idea says Ibanez builds basses and guitars for metal. However, the SR50 bass guitar has enough versatility to play almost everything else.
About the Ibanez SR series
For over 30 years, Ibanez has offered modern bass guitars through their SR series. We're talking about a hugely popular bass lineup aimed for the regular musician.
Keep in mind their offers go all the way up to premium, and although the priciest models of the series are not as popular as the entry-level fatties, they are still worth your attention. Check here for the official info about the Ibanez SoundGear series.
The SR series answers the wider needs of modern bass players and sells for various budgets. No matter what the specs or the price, the essence of the SoundGear series relies on a smooth and fast neck, light bodies, and quality electronics.
The Ibanez SR250 is a mid-level bass guitar. Although this is a modest Ibanez SR bass, it packs the same advanced features of the most premium alternatives holding the SoundGear name nonetheless.
And while Ibanez had to cut some corners to keep the prices down and appealing to hard-working musicians, the Ibanez SR250 holds true to what the series offers: smooth playability, quality sound, and wide versatility.
Overview
Ibanez bass guitars like the Tallman or the SR250 have cemented the company's reputation for the amateur musician.
Their basses constantly provide the best bang for the buck regarding performance, and it has been so for decades.
The Ibanez SR250 bundles quality, performance, and budget. If that's not enough for you, then consider this is amongst the few affordable basses with an active pickup system. And that's the definite highlight of the SR250 model and the reason why this is such a powerful and versatile instrument.
Nevertheless, because this is an active bass, I wouldn't consider this as an instrument for beginners. See, an active bass has active pickups; active pickups require an extra 9V battery because they feature extra voltage and extra tonal shaping options. All of that means more knobs, more things to care about, more things to tweak, and more complexity for the total beginner.
Instead, I commend the Ibanez SR250 for the intermediate player, as well as those musicians careful about their budget looking for the absolute best they can afford.
If you need some more info on bass pickups, here's some great insight.

Ibanez was founded in Japan and has its headquarters in the USA. Their beginnings date back to the '60s, however, they became known during the '80s decade.
Body & Design
This is not a fancy looking instrument, but it does look clean, sturdy, and efficient.
Let's dissect the construction:
Design: it features a double-cutaway body, much like Stratocaster guitars. That's a choice that improves how this bass feels on your hands. It makes it comfortable and lighter.
Tonewoods: this is a solid-body bass made of nato. It combines the nato mid-level tonewood with a 3-piece bolt-on maple neck and a rosewood fretboard.
Neck: it has a slim bolt-on neck, which means it was installed using screws. This is a feature that separates the SR50 from premium bases: a bolt-on neck is not as stable or durable as glued-on or set-through necks, but they are cheaper and easier to install. More so, they give plenty of tone and attack to the instrument, so a tight bolt-on neck can still be as good as their pricier counterparts.
Size: this is a long-scale guitar (34'' scale). 34'' is the average length of basses. This size is okay for the average adult. However, a child should probably get a short-scale beginner bass guitar. Besides, 34'' is considered as the best length for a 4-string bass.
Frets: it has 24 medium jumbo frets with enough space between the strings and within the frets for adult players. Most people think a bass guitar doesn't need anything beyond the 18th fret. Even so, the SR250 allows easy access to all frets.
Finish: there're three available finishes. My favorite one is the white dye. I must also say there're no scratches and no shortcomings on the finish. The aesthetics of the SR50 are a testimony to the care Ibanez puts into all of their instruments.

24 frets represent two full octaves.
Let's discuss the construction materials a bit more…
Maple is a dense tonewood that tends to make the guitar-heavy, which is why most manufacturers only use maple for the neck. That said, a maple neck improves higher frequencies and upper mids, which ensures the bass is always present.
Now, rosewood has medium density and it's one of the best materials for the fingerboard. This material is not only durable, but it's also gentle to your fingers as it's naturally oily and soft. For the same reasons, rosewood doesn't require much maintenance.
Also, this hardwood provides darker and fuller sounds suited for jazz, metal, and rock. Add the bright maple into the mix and you get a versatile combination.
The mix between nato, maple, and rosewood makes for a pretty sturdy and durable bass. The Ibanez SR250 can last a lifetime.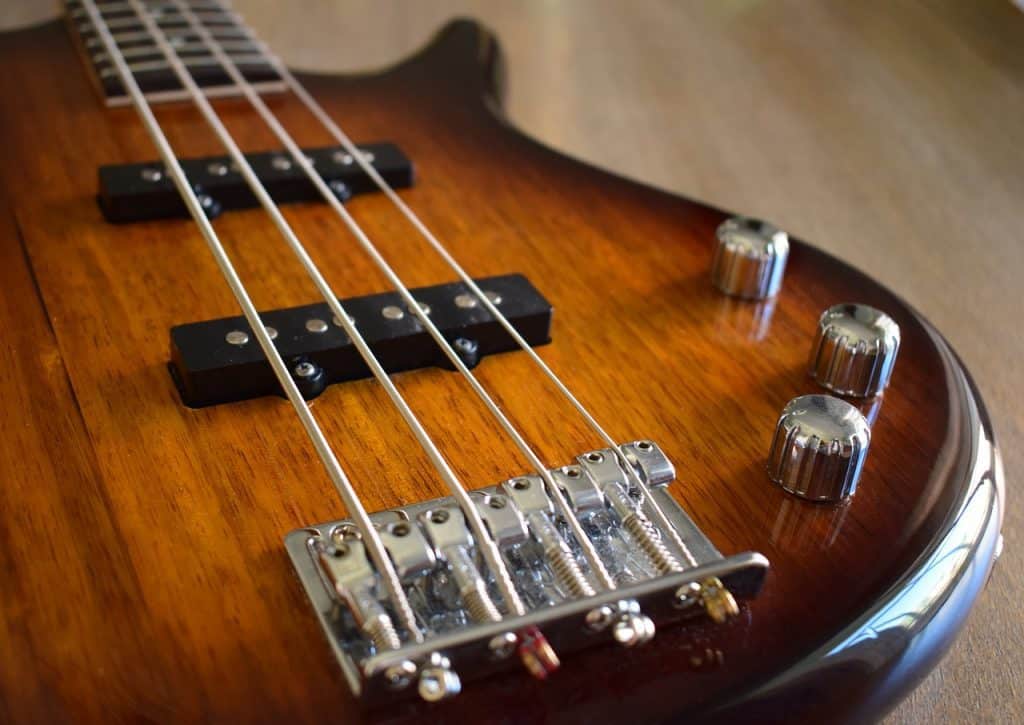 The Ibanez SR250 is sturdy and light at the same time. 
Hardware
Regarding hardware, we've got some average components plus the active pickup system, which is a rarity at this price range.
First off, Ibanez installed a vintage-style bridge with four adjustable saddles. That means one saddle for each string, which increases the guitar's tuning and eases-up the string's tension.
The tuners on the headstock are also standard die-cast pieces. Just like the bridge, it's solid hardware, it does its job petty well.
And because none of those items are premium stuff, Ibanez was able to put more resources into what was more important, which is the set of 2, bulky CAP EXF-N2 active humbucker pickups and a versatile active preamp with plenty of tonal shaping options.

A vintage-style bridge is crafted after the Fender Precision and Jazz basses' blueprints. 
Pickups, & sound
The pickups are pretty impressive for such an affordable price. In fact, if the price was twice as much, the pickups would still be impressive.
These two pups have a lot of output and a lot of expression. I admit these are not top of the line EMG active pickups, but they are miles ahead of any passive taper at similar price ranges.
This pair is controlled with a 3-way EQ, a Pickup Blend Knob, and a Master Volume Knob.
Now, the knobs represent a complexity compared to regular Precision and Jazz basses, or other basses inspired on those designs. If you're a beginner and you're used to bass guitars with a single volume and single tone control, then maybe the Ibanez SR250 is too much of a hassle for you.
I must say, though, the options on this bass are superb. The knobs are really responsive and, once you get the hang of it, you'll be able to dial the tones you want in no time.
Plus, the presence of the 3-band EQ knobs (known as the Style Sweeper system) allows you to quickly go from fat to punchy, to bright.
What I like the most about this bass guitar is its output level. It's impressive: it will make you stand tall on the stage. And it can give your instrument so much character and presence on the mix. Those two features are complex tasks for even the mightiest Fender Precision bass guitars.
I'd also say the sound topples the overall tone a Squier P bass in terms of output and versatility.
The tone produced by the active electronics of the SR250 bass has a lot of range. While the general sound is crunchy and punchy, this Ibanez bass guitar is able to go from a growling mid-tone to increase the presence on the mix, all the way down to the beefiest bass to dominate the low end of the frequency chart.
Furthermore, the amount of definition is quite decent. Although you won't get beautiful cleans on the Ibanez SR250, it does cover the low, mid, and high tones in a balanced matter.
More so, this bass reacts pretty well to bass pedals and especially well to bass distortion pedals (overdrive, fuzz, and distortion). It's also ready to play rock and metal genres, but I bet you already assumed that.
Overall, the Style Sweeper 3-band EQ does a great job creating sharp tones.  In particular, the EQ excels at scooping the mids, so this bass is great if you're a slapper.
So, in the end, once you pair this with a quality bass amp, the active pickups will shine through and give you a wide versatility.
It's very hard to find an active bass at the same price range, but there are some good options that rival its versatility. If you must know, I can name the Squier Jaguar bass series and the Epiphone Thunderbird bass guitars.
Mid-level and above Schecter basses also rival the Ibanez SoundGear series in terms of versatility.
Playability
The SR series of bass guitars take playability as its priority, and the SR250 follows in line.
The design choices of the SR50 bass put comfort as the most important factor. That's why it features a double-cutaway body that feels easy and light on your legs. The natural contour of this instrument gives your arms a comfortable spot to nest, which enhances your playing.
This bass is comfortable, fast, smooth, and light. The main playability feature is its maple neck. As this is a 3-piece construction, Ibanez increased playability, action, and feel, so intermediate players will feel as this is an easy-to-play bass guitar.
Also, this bass has the brand's All Access Neck Joint. This design allows users to access the higher frets easily. In fact, I'd say there's easy access to the 24 frets of this bass, which is also an impressive feature.
I need to add the neck's radius is 12'', which is a standard on Gibson bass and electric guitars. This is known as a "flat" radius, which enhances attack and action.
A flat fretboard means the string height is shorter, so they are easier to press. That makes it better for solos, bends, and overall fast playing and complex basslines. All in all, a 12'' radius bass feels faster on the neck.
Another thing helping the playability is the custom SR-shaped neck. That's an Ibanez original design that deviates from common C, V, or U-shaped necks. It increases the fret access even ore and makes the neck feel thinner and lighter.
Lastly, the Ibanez SR250 is built with a lightweight nato tonewood. That makes this bass a comfortable ax for playing sitting or standing up.
Keep in mind, though, that this is a long scale instrument, so don't expect children to play this guitar without getting tired pretty fast.
All in all, I'd say the SoundGear bass guitars are some of the most comfortable instruments you can play.

Are you thinking about how to pick a bass guitar? Check this info.
Ibanez SR250 specs
Design: double-cutaway construction
Tonewoods: nato body, maple neck, rosewood fret.
Neck: SR-shaped 3-piece bolt-on neck.
Scale:long-scale bass guitar (34'');
Fingerboard: 24 medium jumbo frets
Radius: 12'' fingerboard radius, 1.5'' nut width.
Pickup configuration: Dual active humbucker pickups (CAP EXF-N2)
Controls: 3-band EQ, Pickup Blend Knob & Master Volume Knob.
Tuners: Die-cast tuners
Bridge: Vintage style bridge with 4 adjustable saddles.

A saddle is a piece of wood beneath the bridge that holds the strings tight.
Drawbacks & alternative
In all honesty, this bass has few downsides. One of which is the "humbucking" sound, which might be too aggressive for you.
A similar bass is the Ibanez SR500, which features active Bartolini MK-1 single coils. Although the sound is similar, this bass is able to reach softer and cleaner tones, plus prettier cleans.
Also, because these are single-coils, the SR500 is more suited for gentler genres as it can't handle distortion pedals or distortion channels very well.
Another downside is its nato body. Nato is not the best tonewood whatsoever, and I would have loved to see something like agathis, mahogany, or even pinewood (like the Squier Classic Vibe P)  instead of nato. Thankfully, it doesn't affect the sound so bad.
Having said that, I must share the Epiphone Thunderbird Reverse IV bass guitar as it features a similar versatility, similar quality, but it's built on mahogany. It's also a bit pricier.
Likewise, Schecter bass guitars are known for their modern active pickup systems and fat, acid sounds. If you're interested in the Ibanez SR250, you might as well check something like the Schecter Stiletto bass guitar. I've always been impressed by Schecter basses, I think their sound is hard to beat.
Otherwise, I can point you to something cheaper…maybe you can go for the popular Ibanez GSR200. This bass has passive P pickups but features a similar design. Overall, the GSR200 is one of the best bass options for beginners.
Lastly, you could take the Ibanez SR250 all the way up to the professional level with a new set of quality EMG P-X active pickups:
These babies improve your instrument's headroom and provide an organic and open tone with all of the clarity, power, and response EMG tends to offer. These pickups are made of ceramic, and their overall tone is well-articulated, warm, and punchy at the low-end. This is the pro-choice for many active bass guitars.
Why do I like this bass guitar?
The Ibanez SR250 is a mid-level instrument with an attractive price tag that works great for amateur musicians. However, their features are more suited for intermediate musicians, as it offers every professional feature you might be looking for on premium bass guitars: versatility, fat tone, playability, and comfort.
Furthermore, this bass works for most music genres, except those that require extra clean and soft bass sounds.
If you're a beginner, though, the SR250 is very sweet. Its slim neck, light body, and comfortable design makes this a great choice for beginners. Although it's a bit large for kids, adult and teen beginners could find their way into this guitar and learn how to play bass in a seamless manner.
In summary
A worthy sound
The Ibanez SR250 bass guitar has so much quality than what its price should allow. It's an impressive budget bass guitar that sounds nothing like cheap. Instead, it sounds almost professional: pair this with the right bass pedals and the right amps and you'll be enjoying the fat, punchy, and defined sound of your dreams.
No wonder why this ergonomic, light, and quality bass has received so much praise in the market.

Have you ever played an Ibanez bass?
In conclusion, the Ibanez SR250 is one hell of an electric bass guitar, and it's definitely the best active affordable bass guitar you can buy right now. Furthermore, this model is easily one of the best bass guitars in its mid-level segment.
The build quality, playability features, active pickup system, and performance are not things you see every day.
So, if you're looking for the best value metal bass that packs some extra versatility on its wooden shoulders, the Ibanez SR250 is a great option for you.
What's your take on this? Have you ever played an Ibanez bass guitar?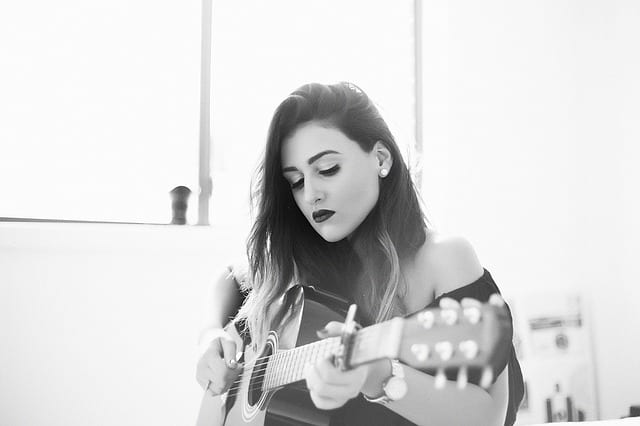 Jen is a guitarist and singer-songwriter who spends much of her time on the road and has lived in 13 cities across 4 continents. She picked up her first guitar at the age of 6 and learned to play by ear shortly after. She received her formal music education at the Berklee College of Music, and currently plays for a few bands in her free time. She has an uncanny ability to improvise creative melodies and harmonies. Her early influences include blues, jazz and rock.