Peavey is one of the world's largest music instrument manufacturers and suppliers. Hartley Peavey founded the company in 1965. The company now owns over 180 patents for their original designs and reaches over 130 countries.
The company tackles the beginner and young musician looking for budget, reliable choices. They pride themselves in creating affordable instruments with some attractive and creative twists.
This brand also shines in creating sound solutions and technologies. That's why most of their instruments, even the ones on the affordable side, pack some features previously unseen.
In essence, Peavey-branded guitars and basses are known to be student's instruments. Even so, intermedia and pro players can find Peavey instruments as underrated gems.
And although Peavey owns various original designs, most of their entry-level offers are Fender copies. 
Enter the Peavey Milestone bass, then, which looks like a stripped-down Jazz Bass guitar. But, in classic Peavey fashion, it does have some interesting changes. 
After all, this is a brand that tries to be different, even if being different includes ditching tried-and-tested elements from other brands.
A quick snip at this 4-string entry-level bass makes you realize Peavey opted to go for function over feels. So, let's see what the Peavey Milestone bass has to offer: is it just a trash-cheap instrument, or is it a top-value budget bass guitar?
Before we go on, I advise you to check this article to see what to look for on a bass guitar. 
More than that, I invite you to leave your comments below: what's the first bass or guitar you've ever owned? Mine was an Epiphone SG Special bass….it wasn't very good. But then again…I wasn't a good player either.
Peavey Milestone Bass Review
The Milestone bass series is built after the Fender Jazz bass and sells for entry-level prices.
These instruments feature intelligent design choices that prioritized the functionality of the bass guitar over other things.
Its body looks classic and elegant. It's a pretty intuitive craft for the amateur player, as well as the budget player.
The Milestone series has four different bass guitars, but the only difference between its models is the color and finish.
Milestone bass guitars have one purpose, and I want to state it clearly: they are designed as instruments for the bass player amateur and the budget player. It's also designed as a backup bass guitar like, for example, for a guitar player looking to transition over towards the bass.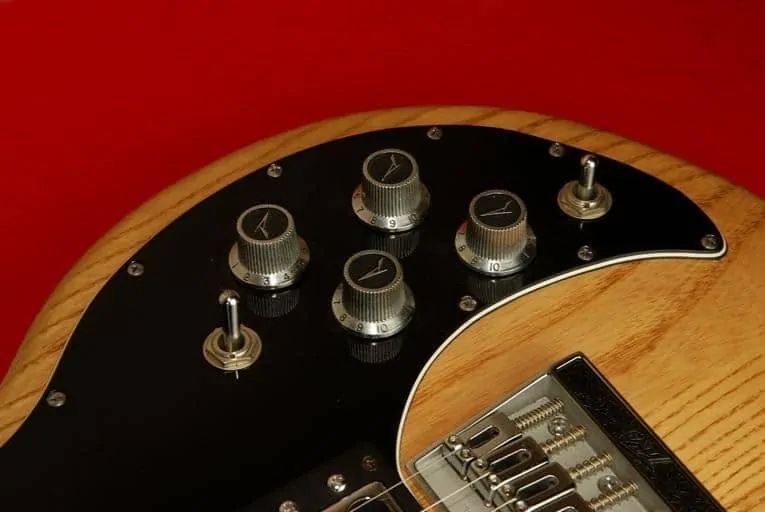 Pevey is highly regarded for its affordable top-quality guitar amps.
Peavey's instruments are not as popular as their amplifiers, and that's a fact of life. Having said that, the brand does make some interesting stuff in the string's department.
In particular, they have great options on the entry-level and mid-range-market, but most of us overlook Peavey models as we're already filled with Squier P basses, Ibanez models, and Epiphone Thunderbirds.
Because we're talking about bass guitars, I have to say the Peavey Milestone is one of those models we can easily recommend to beginner players.
This bass brings timeless J-Bass aesthetics with a few twists and a humble price. No matter what you've heard about Peavey instruments before, the Milestone is a great entry-level bass guitar you can buy right now.
Let's see how the Milestone bass can carry its own weight outside of the design it copies, the J-bass.

Fender launched the J-bass after the Precision Bass in the mid-'50s. The J-bass is known to deliver a bright, pristine sound high on the treble and low on bass.
If you're in a hurry, here's our prior top 10 budget bass guitars list.
Overview
This guitar looks comfortable to play because it's comfortable to play. It's also very cheap and attractive, so it's prone to both fuel some excitement in you as well as some cautious thought. But it also has some great virtues and shines in some departments. 
All in all, the Peavey Milestone is a long-scale, heavy, and affordable bass. It looks like a J-bass but packs some interesting extra features you wouldn't find anywhere else. 
It can be a great beginner's instrument because of its friendly price, unique construction, bright tone, and ease-of-use.
Peavey sells this guitar to the working musician as a budget combination of decent construction and intelligent design.
Built quality
Let's understand the built qualities of the Milestone model and how it differs from the blueprint it follows.
Body & body
It has the J-bass design with a double-cutaway body and slim wings. The body has a lot of curves and is well rounded. It has a comfy upper chamfer plus a rear contour to improve the player's comfort. Plus, its extended upper horn improves the balance.
The difference between the Milestone and a J-bass relies on the deep curves on the latter. What the curves do is give players increased access to the upper frets. However, it also tips the weight balance a bit towards the headstock.
Other differences against the J-bass are slimmer horns and stretched-out body. However, it has the same pickguard shape and similar finish options.
The body is built on maple, which is a rare choice on solid-body guitars. It's also a pretty interesting option: maple makes the tone higher and enhances sound resonance. That helps create a unique sound that's brighter and well-articulated at the highs and mids.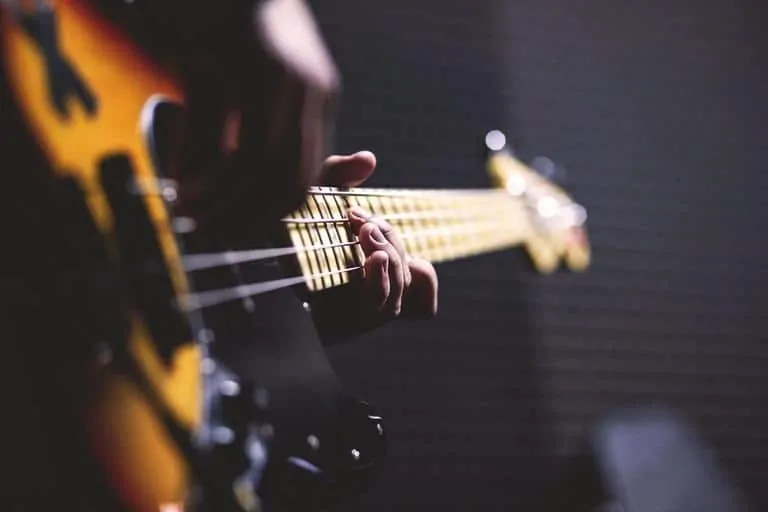 Maple is a sturdy material that makes for durable instruments. Beware, though, as maple is also a heavy tonewood.
Neck & headstock
It has a bolt-on slim-C-shaped maple neck which works really well on this bass. The neck houses a rosewood fretboard. 
Maple is a traditional choice for the neck as it's able to provide plenty of balance to the sound plus more durability to the instrument.
More so, rosewood fingerboards are also a traditional choice because it feels smooth on your hands. However, I must say the finish is quite rough near the headstock. The fret finish is quite shoddy. 
So, unfortunately, there're sharp ends on both sides of the neck, which lowers the value of this bass against others at the same price range.
There's another good thing, though. It has a dual-expanding rod, a quality piece that keeps the neck's balance and curvature in check.

The truss rod is a metal or wooden piece that goes inside the neck.
There' a surprise at the headstock as well. Peavey added a metal plate on the back of the headstock to boost the sustain and the sound fidelity of this bass. It's a unique design that succeeds in what it intends to do. It also looks quite elegant.
Peavey knows this solution as "Peavey Powerplate." What it does is increase the string's vibrations through the instrument, which in turn increases volume and sustain.
Size & Frets
This is a 34'' scale bass, which makes it a long-scale instrument. Furthermore, it has 20 medium jumbo frets.
These two characteristics make for a big companion. Because the Milestone is already heavy, I don't recommend this alternative for kids and children. 
What you've got here, though, is an almost fully-sized bass. Even though it doesn't have the full 22 frets most bass guitars have, I'd say 20 frets are more than enough for most players, especially for the amateur musician.
Finish
As I explained before, the Milestone comes in four colors. The black&white version is the most available model out of the four. It has a black finish all over the body plus a white plastic scratchplate. 
However, the most popular choice is the classic-looking Vintage Burst model with a three-ply Precision-style scratchplate 
There's also an Ivory version with the classic "Vintage-Blonde" color plus a sunburst-like scratchplate.
Lastly, there's also a Gulfcoast Blue model that's quite hard to find. I'd say blue bass guitars are a bit of an oddity.
All of the four models come with their hardware (tuners, pickups, and bridge) covered in chrome.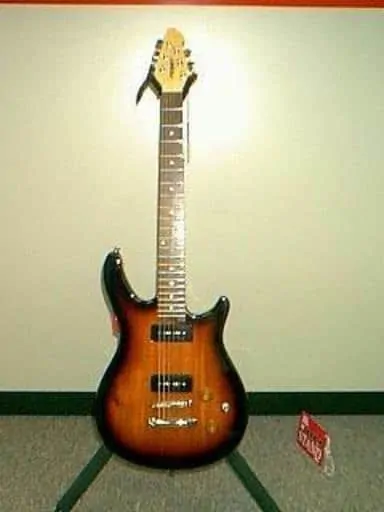 Peavey instruments are mostly made after Fender's designs.
Sound quality
Plugging this bass onto a decent bass amp welcomes a warm, bright, and round tone with a nice degree of old-school dirt.
It ships with a split-coil / single-coil pickup arrangement and a passive pickup system. This configuration offers some tonal versatility with its simple three-knob layout. 
The overall tone imitates what the J Bass offers. It has just enough punch to satisfy those who are seeking an aggressive tone, and just enough clarity and bright to pair this bass with a couple of bass pedals.
Let's take a look at its electronics first…
Electronics
Here's where we find a difference between the Fender Jazz Bass and the Peavey Milestone. The sound of this bass is modeled after the J-bass. Naturally, the electronics are mostly the same. However, the pickups are a bit different
This guitar has a two-pickup setup. There's one pickup in the middle cavity, and one at the bridge.
Instead of a single-coil, the middle pickup is a custom Peavy split-coil humbucker. That means it's a humbucker coil divided in two: one of the two coils works the sound, whilst the other cancels the noise. The resulting sound is warm and bassy. 
The bridge pickup is a standard Jazz Bass single-coil which offers a traditional clearness with just a bit of dirt.
These two pieces have decent quality. However, they are not quite durable. It was the only way to opt for an affordable solution.
This combination between humbucker and single-coil is not something you'd find on your regular Squier Jazz Bass or Fender Jazz Bass. Pair this with the maple construction and you've found the recipe for a unique tone.
Lastly, the tonal shaping options are as simple as it gets. For the sake of a smooth use, this bass comes with two individual volume knobs plus a master tone knob.
Sound
The sound of this bass guitar is lovely and flexible enough for most modern genres. It can perform the funky and bright sound familiar to the J Bass; and it can go down a lower, heavier, and warmer tone for rock genres.
Because it has a J Bass single-coil, this guitar keeps the sound generally bright. However, the humbucker on the middle position raises the output and the aggressiveness of this bass. 
The Milestone is destined to work well on jazz, classic rock, indie, experimental, alternative rock, pop, pop-rock, reggae, and similar genres.
Here's a 5-string Milestone bass demo:
Now, the ugly…Passive pickups rely quite a lot on the construction qualities of the instrument. The tonewoods and the hardware do affect about 20% of the sound and the output. Unlike active electronics, with no onboard EQ settings, shortcomings become apparent.
That's how everyone could notice the natural resonance of this bass does sound cheap. That means you'd need a pretty decent amp to juice up this affordable model.
As for the Powerplate, it does add some sustain to the overall tone, but it might as well sound the same without this piece. Such a shame.
Even so, this bass offers decent quality per its price point, and it does have a unique bright & warm tone. 
Feel quality
If you're starting out as a bass player, the Peavey Milestone is aimed directly at you. It does play well, it's comfortable, and it can fasten up your learning process.
Overall, it feels like a friendly bass for beginner players, and that's something that starts on its hardware section…
Hardware
I'm honestly impressed with what this bass offers in the hardware department.
The Milestone bass ships with a four adjustable saddle vintage style flush bridge. That's a traditional choice on most J basses and P basses as well.
This bridge is a quality piece that gives this instrument a really nice string stability, precise tuning, and enjoyable action.
The nut is mid-range quality, and it's made of synthetic bone, which is one of the best materials for this little piece. That means this guitar has a strong-enough nut to keep the sound clean and the harmony intact, even as you play chords.
Lastly, the tuning machines are vintage-looking, so they go well with the rest of the guitar's design. These are die-cast open-ger units, and they can hold their ground. However, I would advise you not to tune-down this bass guitar as it can start to get annoying.
I must add the tuners are used to mount the Powerplate.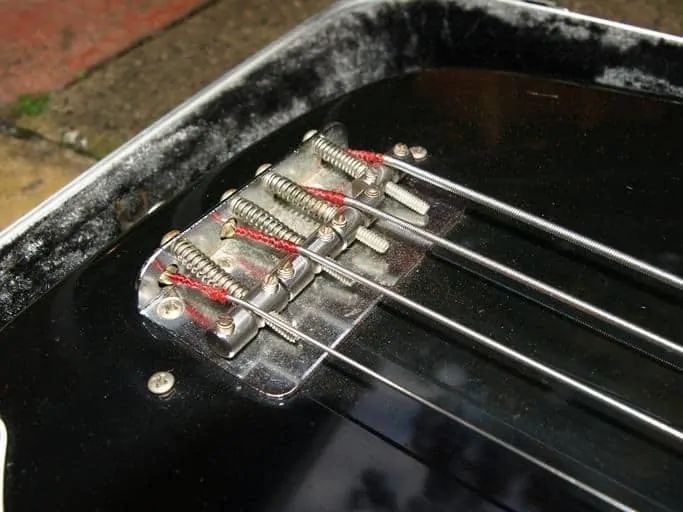 The bridge is an important piece that takes care of the strings' tension.
Playability
As it follows the J Bass design, this is a comfortable bass to wear and play. It has reasonable playability, although it offers no notable upgrades or features to improve how it feels over the J bass.
One of its extra playability features, though, is its curves on the body. They increase access to the higher frets, which is a welcome addition for amateur players.
On the downside, this bass is a bit heavy and it leans slightly towards the headstock. That's why it's easier to play it standing up than sitting down.
Drawbacks & alternative
First off, the finish of this model is a little lackluster and comes as exactly what it is: a cheap production bass guitar. 
Unfortunately, you'd have to look at other brands to find a better-crafted instrument. If you want a nice finish at the same price range, though, I could point you to the Squier Affinity Jazz Bass, which is known as a great instrument for beginners.
Other than that, I simply consider this bass as a decent alternative that deserves more recognition because of the sound quality and interesting sound features it offers for the price.
However, I wouldn't consider this bass for modding. It's just how it is: a cheap bass that sounds decent and feels nice.
Likewise, this is not a bass for playing live. It's only for practice, jams, and rehearsals. If you're looking for other budget bass guitars, check this list. Like so, here's a beginner's bass guitar list.
Peavey Milestone bass guitar specs
Design: double-cutaway J-bass construction with longer curves and slimmer body
Tonewoods: maple body, maple neck, rosewood fret
Neck: slim C-shape bolt-on neck
Scale: long-scale bass guitar (34'');
Fingerboard: 20 medium jumbo frets
Radius: 12'' fingerboard radius
Pickup configuration: Custom split-coil humbucker bridge pickup; standard J-bass single-coil pickup
Controls: 2 individual volume knobs & tone control knob
Tuners: Open-gear tuners 
Bridge: Vintage style bridge with 4 adjustable saddles.
In summary
Why do I like the Peavey Milestone bass guitar?
Overall, this bass guitar is just a decent affordable option that although sounds a bit cheap, it does offer a slightly different tone than most of its competition.
In particular, I like the tone because it has a lot of brightness and clarity, but it lacks power. If you're a Jazz bass fan, the Milestone is something that will catch your interest nonetheless.
It's also comfortable and easy to play, which is why beginner and amateur players could find it attractive. 
This is not one of a kind instrument. It's not a top-value budget bass either. But it's definitely an option for those looking for cheap guitars that perform well. And it deserves more credit for trying to be different. 
If you're looking for a first-timer bass or for an affordable alternative that becomes a daily option, the Peavey Milestone bass is something you could try.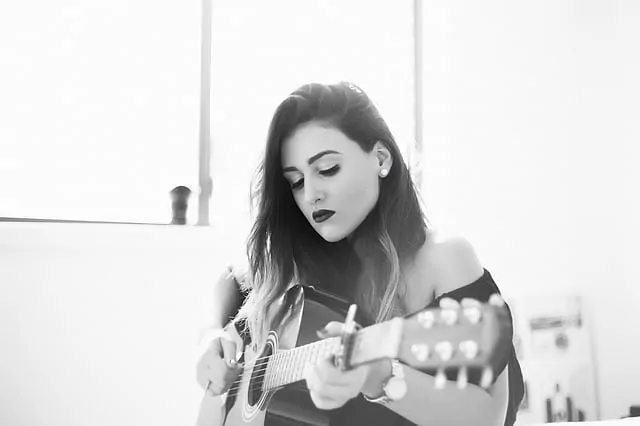 Jen is a guitarist and singer-songwriter who spends much of her time on the road and has lived in 13 cities across 4 continents. She picked up her first guitar at the age of 6 and learned to play by ear shortly after. She received her formal music education at the Berklee College of Music, and currently plays for a few bands in her free time. She has an uncanny ability to improvise creative melodies and harmonies. Her early influences include blues, jazz and rock.