The Fender Precision bass is the dream of almost every regular bass player. Such a shame, though, that these axes are so expensive, especially if you're not in the United States.
So today we're listing the best alternatives from Squier, Fender's subsidiary making budget Fender instruments.
You need to understand something: whilst Squier is NOT Fender, they produce licensed copies of Fender instruments. It means Squier instruments are 100% Fender-designed. These feature building materials handpicked by Fender; and electronics and pickups created by Fender.
Many people believe owning a Squier is some sort of embarrassment. Nowadays, it's not. If you know what you want and search with some prior info, you'll be able to find even Squier instruments that sound as good or even better than a Fender instrument.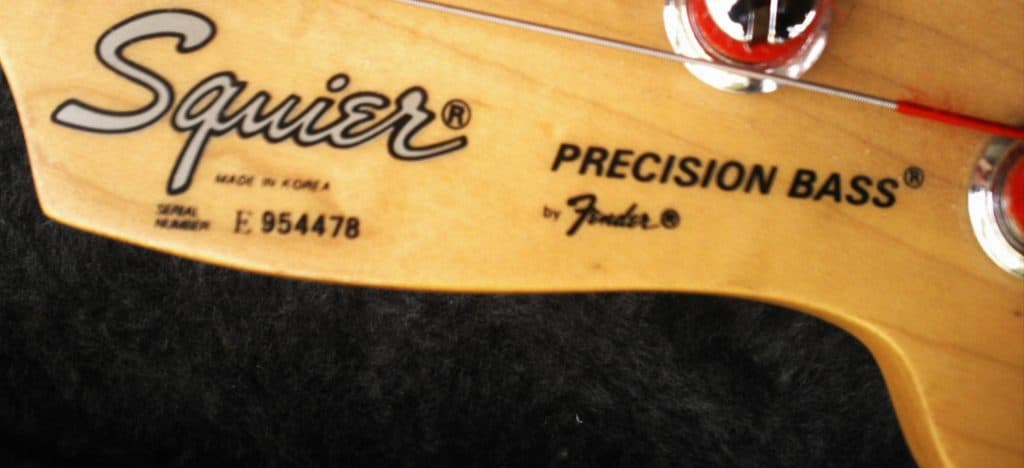 The price is not the indicator of how the instrument sounds. The true indicator is how the instrument looks.
Before we begin, though, feel free to tell us your experience with Squier bass guitars and Squier instruments.
I'm featuring 3 Squier Precision bass guitars, both of which belong in any top 10 best budget basses lists or best basses for beginners list.
I was inclined to feature a bass from the Vintage Modified series, however, this lineup has been discontinued in exchange for the Classic Vibe series.
Why should you get a Squier P bass?
Modern times are great times to buy affordable instruments. You see, with electric guitars and basses, the pickups and the electronics are the things affecting tone the most. And digital technologies have advanced so much it's getting cheaper and cheaper to produce top-quality pickups and electronics for instruments.
Without you knowing anything about it, many times you see a $$$$ price tag on a Fender instrument (or any other brand), the price is there mostly for marketing reasons. It is not going to sound or live twice or 3x times more than a budget instrument like a Squier (as the price relationship suggests), it's just there to make you think it's amazing and premium.
Now, there're some affordable Fender P basses, and by "affordable" I mean prices are bellow three zeros. I already have a list here of some of the best beginner basses you can buy right now, some of which are Fender or Squier.
Squier, though, sells for much friendlier prices than Fender. Even the premium Squier P basses, which pack all of the "deluxe" extras of their Fender counterparts, are selling for much less than what the parent company can offer.
In summary, if you want the awesome sound, playability, and experience of owning a P-bass but can't afford the "real thing," I'm listing the top Squier P basses you can buy right now.
And, as I said, you have to know what you're looking for.

The P-bass is still one of the best-selling electric bass guitars.
About the Fender Precision Bass
The history of bass guitars is the history of Fender basses. When Fender first launched the "P-Bass" in 1951 (The Precision Bass) they introduced the world's first 4-string instrument wich such a low-frequency sound.
Before the Fender P, musicians depended on the heavier, larger, and more complex double bass, often regarded as cumbersome and difficult to transport instruments.
More so, as it had no real amplification before PA systems, they were becoming louder and louder to hear. Fender designed the Precision Bass to overcome these problems. In particular, the "Precision" name came because the use of frets to play in tune was easier and more precise than the fretless fingerboard of double basses
Musicians accepted the electric bass after the endorsement of Elvis Presley's bass player BiIll Black, who became the first user of the Fender P.
The first prototype of the Fender P came with a solid-body and a single split-coil humbucker pickup. The instrument had a single piece (no glued or bolt-on neck) and had a 20 fret maple neck with a maple fingerboard (or rosewood or Pau Ferro).
Since then, the P bass has been a best-seller, an all-time popular that have created and shaped the sound of basses all around the globe. It's such a timeless classic Fender has never truly moved too far from its original project. They've only added some tweaks and twists whilst keeping the things that make the P-bass such a great instrument.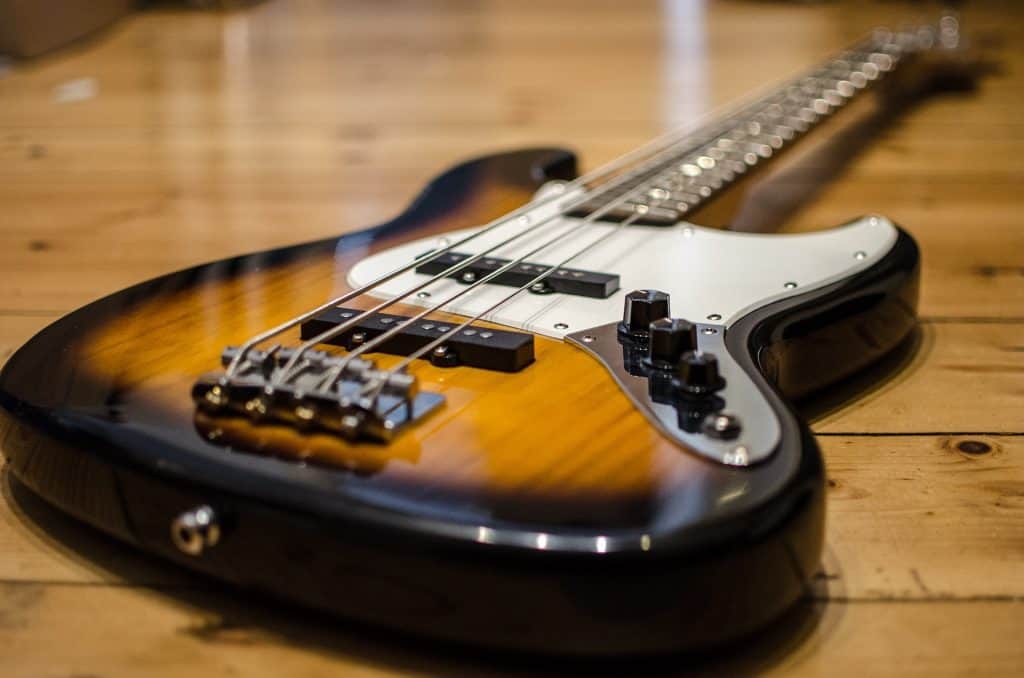 Have you ever played a Fender P bass?
The sound of a P-bass
The Fender Precision Bass is always at the top of every top-selling bass guitars in history, although that's a tough fact to prove as there're so many budget basses coming out almost every month to take the budget market by storm.
Like this one (I'm listing this bass to prove how most of the budget basses out there from unknown brands are trying to imitate the P-bass):
The Precision basses are known for its bassy, fat and round sound. The tone is built for rock and general jamming, and the weight and design of the body make it very easy on your shoulders.
The J Bass, in general, has more versatility and it's best on slap techniques. So, if you're getting a P bass, you're getting it to play some rock, and you can expect some awesome action and response.
Musicians that have used the Precision bass include:
Pink Floyd's Roger Waters
Red Hot Chilli Pepper's Flea
The Police's Andy Summer
Iron Maiden's Steve Harris
Guns 'N' Roses & Velvet Revolver's Duff McKagan
Foo Fighter's Nate Mendel
About Squier
Squier has built a reputation as the go-to brand for beginner players and entry-level or budget instruments.
Much of its appeal comes from the fact the brand is allowed to copy the style and the design of Fender's classic and modern models, as well as using Fender's pickups and electronics.
As their quality has improved so much over the years, it's no longer safe to assume Squier is generally worst than Fenders. Some times, they can be better.
The Top Squier P basses
We've reached the gist of the article, which is where I'm pointing you towards the best Squier by Fender Precision basses you can buy right now, either on Amazon or your local store.
As I said, you have to know what you're looking for, so I'm helping you see how these bases are not only the best P basses made by Squier but also the best basses on their price points and more…
Best Squier P bass overall: Squier Classic Vibe Precision Bass '50s
I chose this bass out of personal opinion. Stay with me, though, and take a quick look at this gorgeous bass…
It sounds as good as it looks. The secret? It is built following the original Precision design by Leo Fender, plus some modern twists to add extra playability to the bass.
The 2019 Squier range of Classic Vibe instruments is truly impressive. As for bass options, though, we found the '50s Precision bass a lovely instrument that sounds just as good as the original Fender Precision bass.
I mean this is a modern replica of the vintage P-bass with the advantages of modern instrument designs like C-shaped necks and 9.5'' radius fretboards to give players more ease of us.
Furthermore, Squier greatly improved electronics, pickups, and bridge.
All in all, it feels like a brand new bass to play, and it sounds just like Fender intended bass guitars to sound.

The sound of P basses is distinctively round, fat, and crunchy. When you play on high-gain some vintage Fender P basses, the sound comes with a natural overdrive.
Design and construction
The design of this Classic Vibe P-bass is all vintage elegance.
The design of this bass is based on the so-called "transition" P-bass produced in the mid-fifties, which followed the original design made by Leo Fender but with a contoured body that replaced the original slab and a Telecaster-like headstock.
The Squier 2019 Classic Vibe lineup is premium and has mostly the same deluxe add-ons as its Fender counterpart. The only difference, though, is the building material.
So this is the main difference, which is also a great feature of this bass. Instead of being built of maple as the mi '50s bass, it's built of pinewood. See, pinewood is a lighter less sturdy wood that does a great job giving instruments greater resonance and depth to its sound.
More interestingly, pinewood was Leo Fender's original choice for Fender's basses, and the first prototypes he built were made of pinewood. He only ditched this material as he wasn't sure about using light materials on the instruments.
Another twist it has is on the bridge unit. Instead of having a raised-tail bridge, it has "HiMass" proportions which allow you to pay the strings easily as they'll have less tension, so they can feel more generous on the fingers.
The HiMass feature also gives the bass a very generous string spacing. But the main feature of a HiMass bridge is how it keeps the barrels steadier so the instrument can hold the intonation for pretty long times. And that's an amazing addition on budget bass guitars.
Then, the C-shaped neck follows today's standards for maximum playability.
Next, it has a thick single-lu scratchplate, a dominant feature that acts as a color transition between the neck and the polystyrene finish of the body.
Lastly, it has an extra feature not there on the '50s P-basses, which is chrome-plated cover platers, tuner, and bridge.

The modern HiMass bridge is a feature that gives more playability by delivering less string tension and more space between each string.
Tone and pickups
There's something to take note of this bass. It has but a single solitary passive pickup, which was something very common on the first Fender basses. It might seem lonely and subpar but, believe me, this little piece is a more competent unit than most pickups on it price range.
It has a Fender-designed Vintage Split Single-Coil Precision pickup delivering punchy mids and powerful lows.
The lone taper allows strings to speak evenly and features a warm, vintage sound that's "fruity" at the top, round at the mids, and fat at the bottom. More so, the pickup always provides clean tones that allow the strings to speak evenly.
It sounds like a premium bass, like something you would get out of a $$$$ instrument. And, most of all, it sounds like an old-school rock with a modern sheen to it. Like something coming out of a remastered Rolling Stones record.
As for controls, it has a single tone control knob plus a single volume knob. Although the versatility is limited, the tone knob and ease-up of the bass-en to give you the edge and punch P-basses are known for.
So, not much versatility on this P-bass but, if you're looking for P models you're looking for a bass to rock as you'll settle for a single meaty tone to create your own signature tone as a bassist player.
I commend you on this bass whether you're just starting out on the bass guitar, or if you fancy a vintage instrument with the original Fender bass. For people looking for these kinds of sounds, look, and feel, this bass is admirable.
Additional info
Tonewoods: pinewood
Neck: C-shaped neck;
Scale:long-scale bass guitar (34'');
Fingerboard: 20 vintage-style frets, 9.5'' fretboard radius;
Pickup configuration: S;
Controls: Master Volume, Master Tone;
Strings: Fender 7250ML Nickel-Plated Steel Roundwound, Long Scale (.045-.105  gauges).
More on what to look for in a bass guitar here.
In summary
As the old adage says, "if 'it ant' broke, don't fix it." It applies to a certain degree, although Squier improved on the "flaws" of the original design by giving the new bass more playability.
In summary, this bass sounds looks and feels like the first Fender Precision basses that ever existed. It's not as versatile as a J-bass or a modern P-bass, but the sound is fatter and has an organic overdrive that you'll come to love.
Everything about this bass is good. It's gorgeous, sounds great, and sells for an affordable price that makes you wonder why there are so many expensive bass guitars.
And, as you expect, this bass is built for rock. And because I'm a rocker, I've decided the Classic Vibe Precision '50s is the best Squier P bass overall.
Alternative: Squier Classic Vibe Precision Bass '60s
If the lone single-coil configuration is not catching your attention, you can take a look at the similarly-priced '60s' Precision Bass.
It embodies the original sound and looks, but features a more powerful pickup configuration. This time, it has two Split-Coil pickups with Alnico V material.
It sounds just as good as the original Fender Precision bass of the 1960s which, by now, you'd get for out-of-this-orbit prices.
Best Squier P bass for beginners: Squier Affinity Precision Bass P/J
The Affinity series is the second cheapest Squier series. All of the Affinity instruments are created by amateurs and beginners, although they still feature the timeless Fender designs.
The Squier Affinity Precision is the most solid bass guitar of the series, as it brings a great combination of sound, built quality and playability at a reasonable price. I also consider this model as one of the best budget-friendly models out there.
I'm sharing a great bundle as it includes everything you need to start playing bass guitar, even the amp:
The P/J bass is essentially a Precision bass that mixes some elements of the J-bass for maximum playability. This is a beginner-friendly bass as it features as much versatility as a Squier bass can for players still discovering their sounds and exploring possibilities.
So, for those people looking for tonal flexibility on their basses, Squier is offering the best of both worlds with both a J-bass and P-bass pickups
Design and construction
This is a standard Fender P-bass with the modern body shape made of alder tonewood. It ships on four possible colors which are Black, Metallic Red, White, and Race Red.
It features the standard C-shaped neck with 20 medium jumbo frets on a rosewood fretboard. In particular, the neck resembles a J-bass as it gives players more playability. And the body is built around the modern P-bass designs.
The built quality is pretty decent for its price, and the intonation is good right out of the box, which is another beginner-friendly feature.
There's a particularity on this bass which is a vintage-style bridge similar to what you'd find on the Classic Vibe series.
It has four adjustable saddles plus a set of die-cast tuning machines on the head.
Tone and pickups
The Affinity version of the Precision bass comes as a P/J combo. It means the sound has a generous amount of output and clarity and features two volume knobs (for each pickup), and one master tone knob.
It allows you to maneuver decent tones and beyond.
What's great about this bass, though, is the pickups. It has a Fender-Designed Single-Coil J pickup on the neck position; and a Fender-Designed Split Single-Coil P pickup on the middle position.
The tone is versatile and it combines the growls and punch of the P bass with the bright, growling J bass sound.
It has a decent output and a good definition when you dial treble oriented sounds, but it's a bit weak on the lower end of the frequency.
Additional info
Tonewoods: maple;
Neck: C-shaped neck;
Scale: long-scale bass guitar (34'');
Fingerboard: 20 vintage-style frets, 9.5'' fretboard radius;
Pickup configuration: SS;
Controls: Two individual volume knobs plus master tone knob.
Strings: Fender 7250ML Nickel-Plated Steel Roundwound, Long Scale (.045-.105  gauges).
In summary
In terms of entry-level bass guitars, this one ranks at the top.
So, in conclusion, you can trust Squier as your solid option for the beginning stages of your musical journey. Also, if you're a musician on a tight budget, the Affinity P/J can do wonders for you until you're able to trade up.
Either way, the Affinity P/J bass offers a lot of value for the money, and it's a bass you can use even after you've built some skills.
Having said that, you can definitely invest your money into this budget bass, and then reserve the meatier part of your budget on a great bass amplifier.
If you're looking for something even cheaper, take a look at the Squier by Fender Bullet Precision Bass. It's more affordable than the Affinity version, although it sounds thinner, brighter, and more metallic, which is something very common on budget bass guitars.
Alternative: Squier Affinity J Bass
On this particular price range, I always find the bass a bit flat, which means it lacks some power on the deep end.
If you're feeling the same too, then I recommend you forget about the depth and go straight for the brighter, happier Affinity J bass, fitted with two single-coil J bass pickups.
Best Squier P Bass  for Pop: Squier Classic Vibe Precision Bass '70s
Let's finish this article with the best Squier P bass, which I consider to be one of the best bass guitars there is.
A 8 out of 10
Let's get something clear. I gave this bass a 9 out of 10 punctuation not based on its price range, but overall.
This is a bass I own, and it's a bass that got my attention as soon as I walked into a guitar center.
The first time I played it, it felt amazing. It's dark brown looks, black block inlays, and polyester finish makes this bass something that makes me proud to carry around ad play live.
The '70s style model evokes this adventurous era with the pickguard, a finger rest, and elegant finish, block inlays, and a maple fretboard.
It also has a HiMass bridge with the brass "barrel" saddles to keep the intonation steady.
The construction features a different material than the '50s and '60s models, which is why I lowered some points on the instrument. Instead of having pinewood, it has the cheaper basswood, which is still a great material for bass guitars as it keeps a fat sound on the lower end of the frequency and makes the instrument lighter. However, it's a bit flaky on the highs and it's not very sturdy.
The neck is C-shaped and made of maple, which is very common on budget basses.
The sound
Its killer vintage looks are amplified by two split-coil pickups designed by Fender. These do a great job keeping hum and buzz sounds low.
The sound is addictive and hard to resist. It has a certain "sexiness" to it. It's funky, groovy, and fun. You can modify it further and get fatter and rounder sound with its master volume or master one knobs.
These features turn this P bass into a versatile instrument. More so, it's so attractive -both in how it sounds and ho it looks- that you won't want to put it down once you start playing.
I love the pickups on this bass are essentially the same pickups you would find on Fender models not made in the USA. That may convince you this has the same quality as a Fender Mexico or a Fender Japan model. And that's saying a lot.
Potentially, it could have cheaper parts, but because of the pickup quality, it wouldn't lead to much of a tone change.
The sound is bright, punchy, and has the ability to cut through the mix smoothly. It sounds like any pricier Fender P bass for only a fraction of its costs.
More so, it has a great sustain, although it drops on the higher frets and as you roll off the tone or volume knobs.
Player-friendly
Lastly, this is a very player-friendly bass as its design gives you a fast and smooth experience.
It stays on a tune for long times, it's easy on your shoulders, it gets you nice-enough reach to the frets, and the space between the frets gives you easy access to all 20 of them.
Additional info
Tonewoods: basswood
Neck: C-shaped maple neck;
Scale:long-scale bass guitar (34'');
Fingerboard: 20 medium jumbo frets, 9.5'' fretboard radius;
Pickup configuration: SS;
Controls: Master Volume, Master Tone;
Strings: Fender 7250ML Nickel-Plated Steel Roundwound, Long Scale (.045-.105  gauges).
In summary…
What else is there to say about the Classic Vibe series of bass guitars?
I only need to add I recommend this as the bass for versatile players for its range is larger than the other two models.
Right out of the box, it sounds funky and very punchy. In a way, it sounds similar to a J-bass, and it's also way less rocker than the 50s version.
But with the help of its knobs and dual-pickup configuration,  you can reach the pop sound thriving on bright and catchy bass guitars. Like this song:
So, even though this is a "vintage model," it sounds like modern pop and funk. Think of Bruno Mars as well.
Final Considerations
The truth about Squier P basses
The truth is, currently, Squier is not building many Precision basses. More so, there aren't as many Squier P basses as there are Fender P basses.
Even so, I researched comments, posts, video demos, and used my personal experience to give you three budget alternatives.
Two of them belong to the Classic Vibe series by Squier, which you may have learned by now is an amazing lineup that sounds as good as a Fender. Basses belonging to this household are practically a steal…if you're into the vintage sound.
If not, I can say there are no "modern" budget P basses you can get. Instead, Squier offers the Affinity P/J bass, a decent model that can get you started and grow with you.