The G&L JB2, otherwise known as the "Tribute," follows the original J-bass design of Leo Fender. It's not a copy, though. Leo Fender himself founded the G&L company after he left Fender in 1965 due to health conditions.
That means we're looking at one of those models crafted by one of the most legendary luthiers in the music industry. The same mind that created the Precision and Jazz bass blueprints also made the JB2.
In particular, it has J-style pickups, a natural satin finish, and a very fat sound.
It has a nice list of features that sound like premium and sell for mid-level prices, and it's widely original. However, it's not a very popular bass because the G&L brand is not very notorious. Their lack of fame is undeserved, though.
That said, we're reviewing the G&L JB2 bass guitar and see what it brings to the table.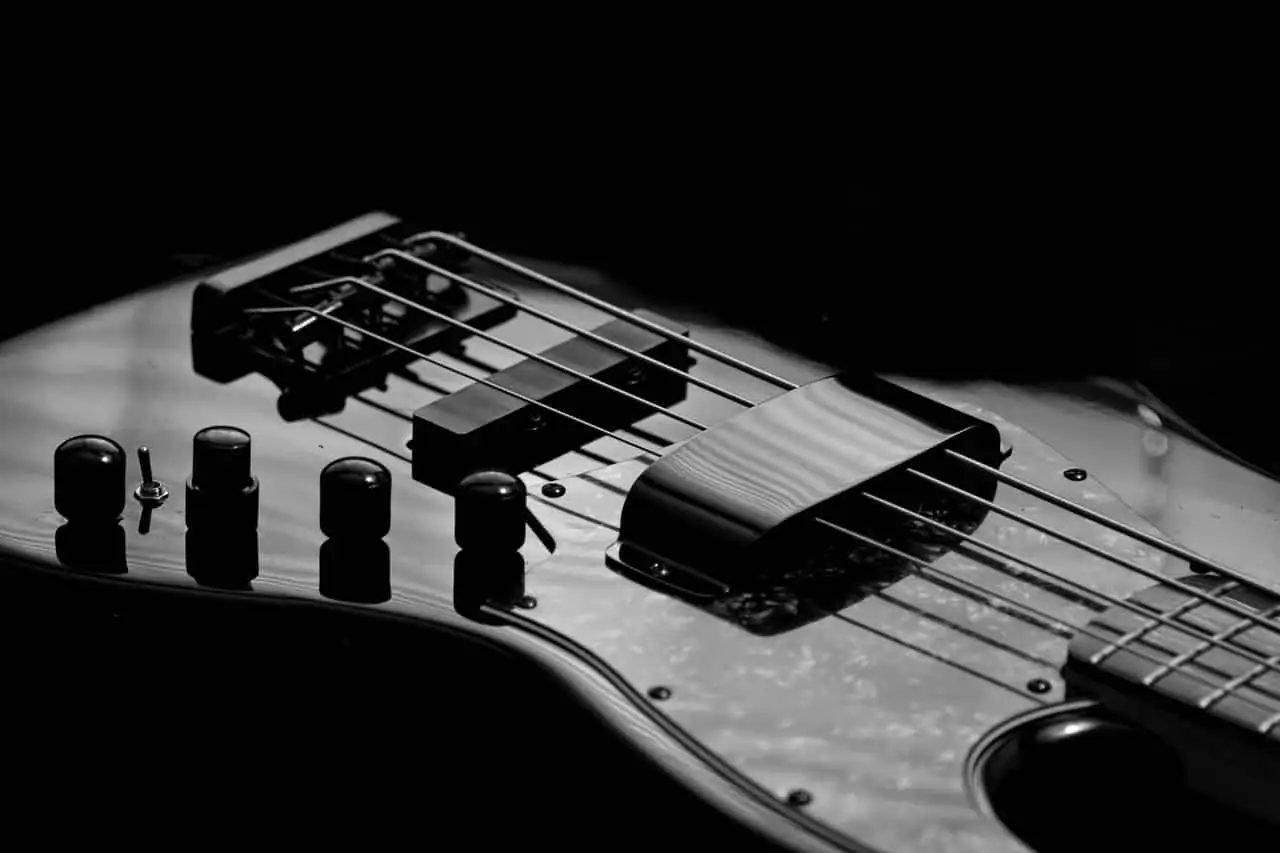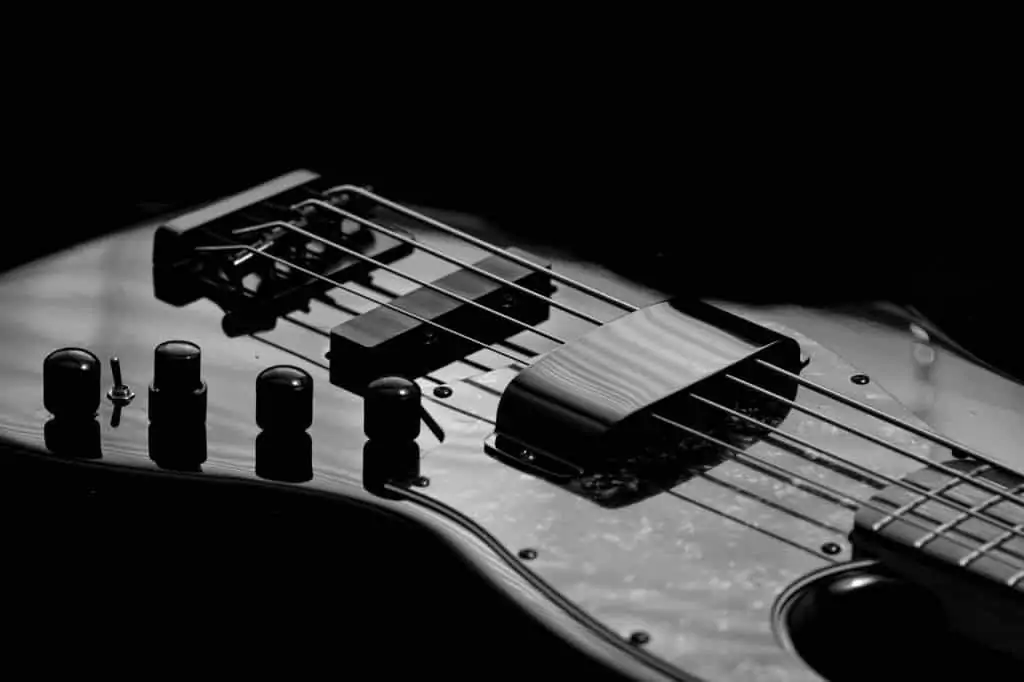 J-style pickups are single-coils for bass guitars. Classic single-coils produce noise, hums, lower output than humbuckers, and extra versatility. Modern single-coils, though, are often noiseless and more powerful. 
We already covered the G&L Tribute JB2 as part of the best budget/mid-level basses you can buy right now. Check the top best budget bass guitars list if you're looking for further options.
About the G&L Company
Clarence Leo Fender founded G&L in 1980 as an evolution to his CLF Research Company, which began in 1966.
Leo Fender decided to sell Fender to CBS in 1965 due to temporary health problems. He steered away from the business for a quieter life as a researcher,
See, CLF was a consultant company for Fender and CBS that ultimately manufactured the original Music Man bass guitars and electric guitars. Afterward, the research company was looking towards building a new brand.
G&L then benefits from a lifetime of innovation, creativity, and Fender's drive to push boundaries.
During the '80s, G&L instruments became popular for professional musicians around the world. Contemporary genres, world music, bossa nova, Jazz, and indie are the genres of choice.
Their factories are on Fender Avenue (Fullerton, California). As Leo's days of old, G&L instruments are about advanced features coming from decades of research and experience.
I must also talk about the "G" in the company's name. The letter stands for George Fullerton, a longtime Leo Fender associate, and G&L co-founder. He's credited with the creation of the bolt-on necks, as well as design choices that led to the first solid-body electric guitar that was mass-produced (the Fender Telecaster).
Keep in mind Leo Fender passed away in 1991.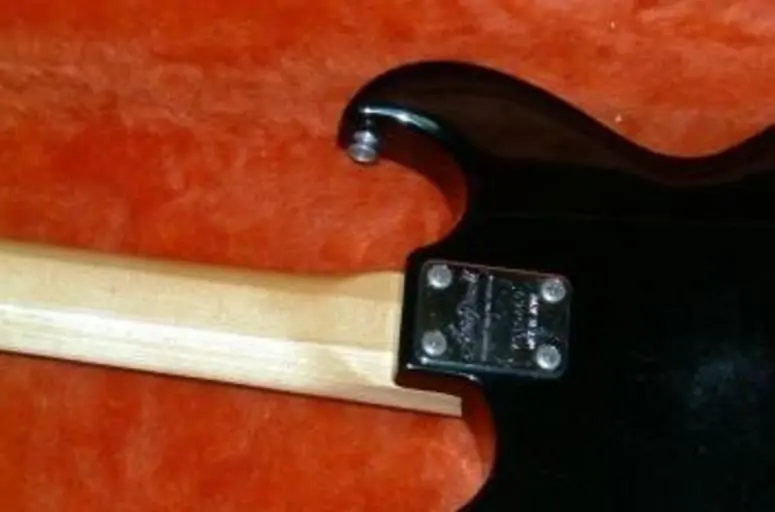 Bolt-on necks are seen as budget alternatives to set-in (a single piece) or glued-in necks. However, brands like Music Man use special bolt-.on patterns that improve sound stability, resonance, and sustain. 
We chose a model of the Music Man StingRay series as the best 5-string bass guitar available in the market. As another Leo Fender child, you should check how it sounds below:
G&L Tribute JB2 Bass Guitar Review
G&L is a mostly unknown brand, and so it doesn't often reach the studio or the stage. You would see them in highly professional or virtuoso settings, which means few budget or mid-level choices are selling properly.
Then, G&L introduced the Tribute series a few years back. They produce the lineup in Indonesia to drop prices even further while reaching a wider market.
As you may guess from its name, the JB-2 has a Jazz Bass vibe. It includes two bass single-coils, a Fender-looking headstock, and some other elements from the iconic brand. Other design choices deviate from the J-bass series, like the contoured body and lack of finish colors.
Overview
G&L is the brand you won't hear commonly. Instead of a popular option, G&L has a cult following of people who are aware of the consistent quality of the brand.
That said, their quality comes with a distinct sound and looks that may be odd for some players. For some, it's the best work Leo Fender has ever done. For others, though, G&L choices are hard to understand.
The JB2 is one of the brand's tribute models. Tribute models deliver what the legendary luthier originally intended when working on Fender. Moreover, they sell for a price that reaches higher audiences, which is apparently what Fender stood for in his prior company.
We're looking at a 34" 4-string bass guitar with a natural wood finish, Alnico V single-coil pickups, quality tonewoods, a C-shaped neck, and 22 medium frets.
With its Alnico V pickups, the bass has a similar sound to the best Fender basses of the early '60s. That's because Paul Gagon, the brand's VP of Engineering, found inspiration for the JB2 on Leo Fender's private laboratory original blueprints. The goal is replicating the sound and feel of early-bolt on bass guitars, which is something many players were raving about.
Built quality
The JB-2 is a mid-level Fender-Esque bass guitar. However, it mixes a contoured swamp ass body shape with the general Precision bass design. Also, it ditches the offset waist of the Jazz Bass.
Body & neck
The JB2 is a fully-sized 34'' bass guitar made by Paul Gagon and Leo Fender.
It has a swamp ash body for hard-rock sounds plus a maple neck for the warmth. Then adds rosewood on the fingerboard for a more standard, budget option. I should say, though, that swamp ash is atypical standard on Fender instruments nowadays.
It has 22 medium jumbo frets and a 12'' radius on its Medium C-shape neck. At the end of the guitar, you'd find a headstock similar to a P-bass signature.
On the back of the body, you'll find 6 screws to make the bolt-on design. That resembles the reputed 6-screws bolt-on neck feature Music Man bass guitars bring forward. As a result, it delivers more sound stability and overall durability. Also, it looks mean.
The design comes straight from the original Jazz Bass blueprints, which Fender never got to release. It lacks the trademark pickguard, though, plus other aesthetics features to drop the prices.
Finish & craft
The finish of the JB2 is a natural gloss, something that's part of the G&L brand.
Even though the labor is cheap, the overall quality is devoid of flaws. For example, the fret has no sharp edges, details, or scratches. Moreover, the natural finish ages very well.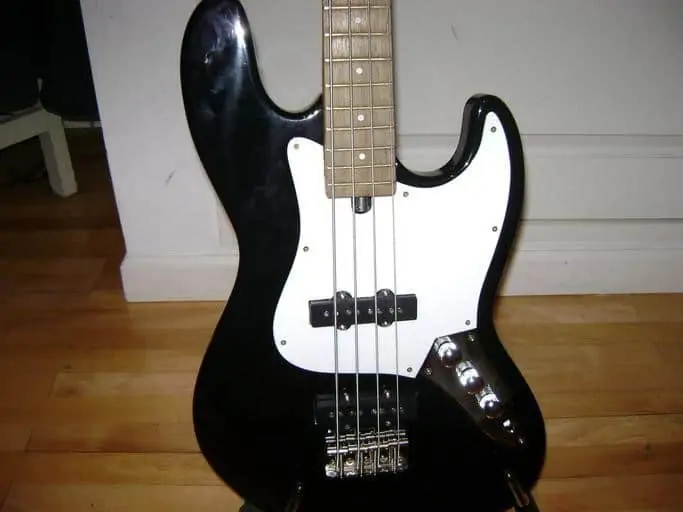 Unlike Jazz Bass colors, the JB2 sports the traditional looks of its tonewoods. The same is to say about most G&L instruments. 
Sound quality
If you've played either a Fender P or a Fender J, you're going to love how the Tribute JB2 feels. It's an evolution of Fender's iconic designs, an evolution that also applies to the tones.
With expressive pickups, you can take your music to places other basses simply cannot without a set of bass pedals.
Also, they have sufficient output, although not too loud or too hot. The range and projection are there as well, albeit I must say it doesn't deliver much in terms of sustain and ring.
The G&L Tribute JB2 sounds refined and jazzy. In many ways, it resembles a Yamaha bass in terms of tone signature and depth.
The sound is focused, balanced, and round. The single-coil duo generally sounds smooth, with present low-end and subdued but crystal highs.
Also, the sound can go from gentle and elegant to thunderous. It's the kind of quality and prowess top-tier bass guitars can deliver.
However, it's not a good option to play metal genres. That said, the G&L JB2 is all about performance over everything else, and so it offers much in terms of versatility. Consider it as a bass to play everything you'd play on a Fender Jazz Bass, plus some of the terrain a Pbass can cover…only at a fraction of the price.
Electronics
The quality sound comes from its pair of G&L Alnico V noiseless single-coil pickups. G&L didn't brand these pickups as "noiseless," but they can be as quiet as a fully shielded, noiseless Fender single-coil.
The two coils (neck & bridge) also have different tone signatures, which gives you some room to experiment. The middle pickup goes into J-bass terrain with a bright, "happy" sound. Then, the neck pickup is rounder, fatter, and more opaque for that "P" sound. Mixing both pickups delivers great results.
You can further tweak the sound with the master tone knob and the two individual volume knobs.
Feel Quality
Overall, the G&L Tribute JB2 feels smooth, sturdy, and fast. As a Jazz / Precision bass sort of hybrid, it features a welcoming bridge for most types of bass players.
Hardware
Taking a look at the hardware reveals more of Leo's original choices.
First, the bass has a saddle-lock piece offering superb sustain and intonation stability. On the other side of the guitar, there's a set of open-gear standard tuners, but they can do the job correctly.
Working together, though, both pieces ensure the bass is ready to play on the stage or the studio. It gives more than enough to ensure stability during live scenarios.
Downside & set-up
There're no downsides with the bass guitar other than some "odd" design choices.
First off, it's a J/P-bass hybrid, which may appeal to a broad range of players. However, some may prefer J-bass designs over the Tribute model as it's a fairly common and popular blueprint.
That said, other J/P options deliver what the Tribute JB2 does not, which is increased versatility. You may check the Fender Precision Special, for example, which is probably the best bass guitar you can get for under $1000.
Another bothering issue about the JB2 is its neutral look. Natural looks don't have to resemble a table, or at least that's what I think. Moreover, the lack of a scratchplate is not very appealing for some, and so I'm sure the JB2 is not the kind of bass stores display on their front windows.
If you'd like similar sounds coming from another high-quality brand, you might check Music Man. It's a Leo Fender offspring as well and, as such, it uses various proprietary features. That includes custom-sized pickups and trademark 6-screws bolt-on neck.
I recommend the Sterling StingRay. Sterling is Musicman's budget series.
Now, I wouldn't recommend the stock pickups. It's often not a good idea to change custom-made pickups as brands design these pieces to interact with the tonewoods and electronics to perfection.
Either way, you can take the sound towards top-tier professional levels with bass pickups from brands like Aguilar, Nordstrand, Bartolini, or Fender. I recommend the following pair from Bartolini:
Variety
Sadly, the G&L JB2 bass is unavailable by the time I wrote the article. It's suffering from stock problems during the pandemic era.
However, there're other options for G&L you can also check.
First, there's the Tribute SB2, a P/J bass with a J-pickup at the bridge and a P-pickup at the middle. The all-black model has a mahogany body, cherry fingerboard, maple neck, and a tune-O-Matic bridge.
There's also the prior version, the G&L Tribute JB. Essentially, it's the same bass. The difference relies on its sunburst color instead of its natural finish, so you might like the JB model more.
Going higher in terms of prices yields interesting results. Reaching premium price tags, you come across one of the most interesting bass guitars in the market, the G&L Tribute L-2000.
The bass packs G&L Magnetic Field Design humbuckers (bridge and middle) plus a flexible Tri-Tone control. Such a knob works as a midrange control to tweak bass and treble frequencies.
Moreover, there're three toggles on the bass: active/passive operation; series/parallel series wiring; and Tri-tone toggle switch. On top of that, you get a master tone and volume control.
The all-white bass has a maple body, maple neck, and rosewood fingerboard. A premium feature it lacks, though, is Fender's set-in neck. It keeps the same bolt-on neck pattern.
Lastly, if you're looking for a top-end bass and money is no problem, the option is the L-2500. CLF created the bass, and it represents the L-2000 taken to its max potential.
G&L Tribute JB2 Specs
Design: original J-bass
Tonewoods: swamp ash body, maple neck, rosewood fingerboard
Neck: J-bass C-shaped neck
Scale: 35'' large scale
Fingerboard: 22 medium jumbo frets
Pickup configuration: unspecified G&L Alnico V pickups
Controls: two individual volume knobs & master tone knob
Tuners: open-gear tuners
Bridge: tune-O-Matic bridge
You can check the specs on the official page.
In summary
Who could like the G&L Tribute JB2 bass guitar?
G&L has evolved continuously, even after Leo Fender passed away. The company's vision is still alive, as it's all about delivering aggressively distinct and elegant design and tones.
The Tribute JB2 is, as I said, the original Jazz bass we never got to see. And in every important aspect, it's an impressive mid-level bass guitar. The price alone is impressive, as other brands could be selling it for much money.
Final Say
Its aesthetics, albeit not attractive, hide the serious performing power of the G&L JB2 bass guitar. You need to check this bass if you're looking for a professional option but can't afford one.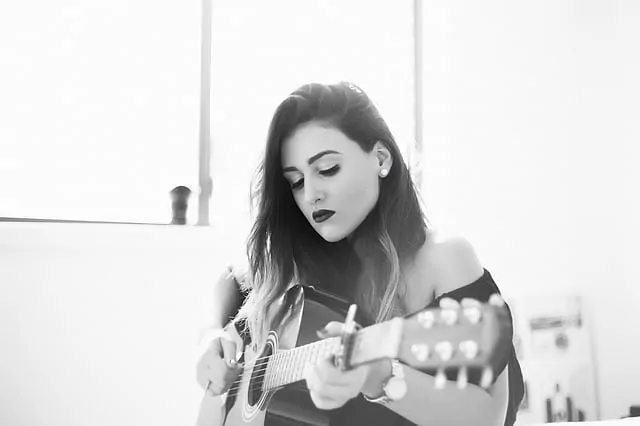 Jen is a guitarist and singer-songwriter who spends much of her time on the road and has lived in 13 cities across 4 continents. She picked up her first guitar at the age of 6 and learned to play by ear shortly after. She received her formal music education at the Berklee College of Music, and currently plays for a few bands in her free time. She has an uncanny ability to improvise creative melodies and harmonies. Her early influences include blues, jazz and rock.