Time has come to finally talk about bass pickups here at Beginner Guitar HQ. We're always guiding you towards the best tools and musical gear to start or continue your journey, so it's only natural for us to share the top 20 best bass pickups you can buy right now.
Now, electric bass pickups are only for bass guitar. That may sound obvious, but there are certain misconceptions about these bobbins. Even when there are single-coils and humbuckers just like there are for guitars, bass pickups mostly follow the patterns originally created by Fender. 
In other words, we can understand most bass tapers as either a J pickup (as for the Fender Jazz bass); or a P pickup (as for the Fender Precision Bass). On top of that, we also have bass humbuckers, plus some other bass-specific pickups like those used on a Musicman or a Rickenbacker bass.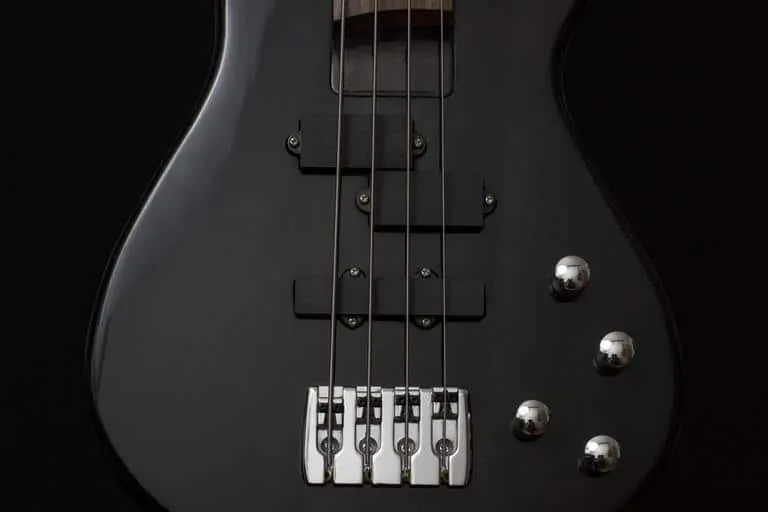 The P Pickup is a special design originally created by Fender and replicated by many brands.
Best Electric Bass Pickups Buyer's Guide
What you see is the buyer's guide on the best bass pickups available in the market right now. You could either be a newbie or an advanced player looking for new possibilities. Either way, this buyer's guide on bass pickups is going to be of great use.
Let's be honest: as soon as you type "bass pickups" on Amazon, you're going to find a bunch of names and shapes that are sure going to confuse you.
Now, I wanted to write something different than your common best bass pickup list. That's why I decided to divide this guide into various sections:
Best 7 J Pickups
Best 6 P Pickups
Best 4 Bass Humbucker Pickups
About Changing Bass Pickups
My selection features single-coils, noise-canceling single coils, humbuckers, and P pickups (also known as open-split or split-coil pickups). I'm also covering various budgets, which means I'm going from top premium options from Nordstrand and Bartolini, all the way to top value choices from DiMarzio, Seymour Duncan, or Fender. 
That said, you should just click on whichever section you need, which depends on the type of bass you've got. 
Lastly, most of the choices are for 4-string bass guitars, although there are some alternatives for 5-string models.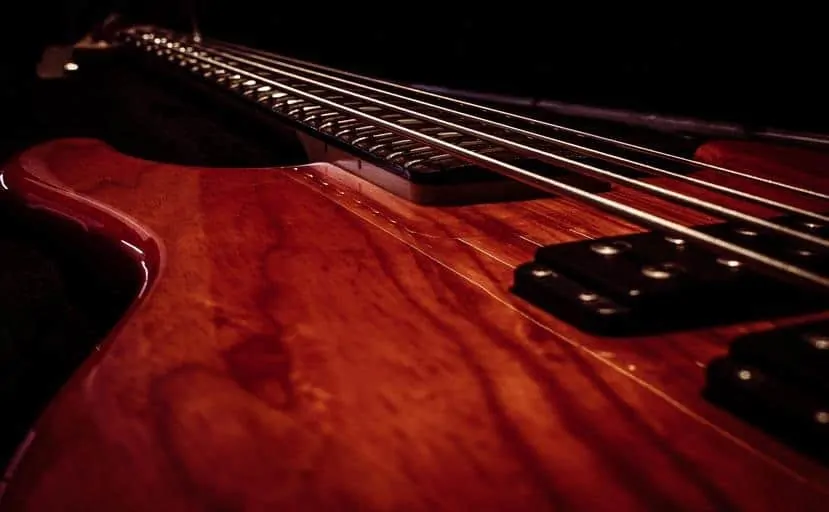 Bass pickups fit in specific cavities made for specific pickup shapes. For example, a 4-string bass single-coil only fits on a 4-string bass single-coil cavity.
Best 7 J Pickups
J Pickups commonly sell as a set of two single-coils, one for the bridge and one for the neck Now, you could also buy an individual J Pickup/bass single-coil, but I wouldn't recommend mixing single-coil models from different brands  on your bass as it may ruin the sound. 
You can install a J pickup on any Jazz Bass, J-inspired bass guitars (like the previously reviewed Peavey Milestone), or any other bass single-coil cavity.
Keep in mind, though, that 5-string and 6-string bass guitars need larger single-coils as the unit needs to cover every string. 
Jazz basses pack a pair of tapers then: one single-coil at the bridge and another single-coil at the neck. Many brands replicating the J Bass replicate this setup.
The sound of the J Pickup
J pickup is known to produce a jazz tone, but the term "jazz" in the music industry also speaks of wide versatility. 
The sound is bright, crunchy, and very aggressive. It's a good choice for metal and rock music, but it works best for softer genres requiring more complex basslines, such as indie, alt, pop, pop-rock, contemporary music, jazz, world music, bossa nova, and similar.
The J bass offers a thinner sound with compressed lows and biting, almost chimney highs. Due to its single-coil nature, J Pickups can be noisier, but they can also carry sustain and natural grit.
Some J pickups even have noise-canceling features. For example, the standard J-pickup shipping on Fender J basses is the Noiseless Jazz Bass Single-Coil set.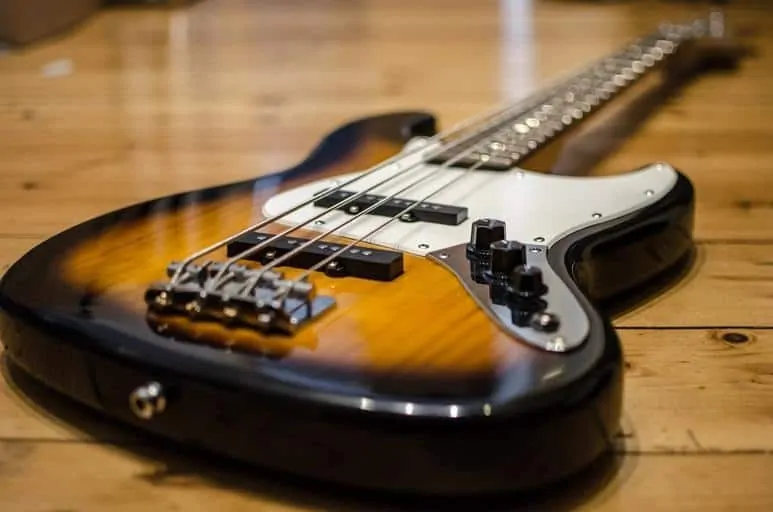 In summary: A J Pickup is a bass single-coil.
Top Pick: Nordstrand Big Single J Pickup Set
Our top pick for best J Bass Pickup is the Nordstrand Big Single. The set includes the neck and the bridge single-coil pickup for 4-string bass guitars. 
This set is about a huge tone: it's full, it's loud, and it sounds as aggressive as a J pickup can sound.
Professional bassists have used the Nordstrand Big Single to achieve the thick, punchy, and beefy P bass sound for a wide variety of genres. And as you crank the volume up, it gives you the pristine natural overdrive only a quality J bass can give you.
Overall, the sound it gives is full, beefy, punchy, and well-articulated.
Additionally, it ships with a soap bar chassis, which makes it long lasting and durable. It's made to replace the Bartolini single-coil models common on American and Mexican Fender Jazz basses.
I have to say, though, this is not a noise-free model. Instead, it gives you the purest J Bass sound -on steroids-, all with buzz and hum noises. 
This pickup is made of ceramic plus a super-advanced squat-coil design. The result is plenty of warmth, articulation, and low-end punch. Such a sound covers a wide palette of both classic and modern sounds. 
On the downside, this pickup is quite expensive, which is why I wouldn't recommend this for budget-level bass guitars. Instead, install this on the best mid-level and above basses.
They do add some levels of noise and hum, though, which is why you wouldn't use this with bass distortion pedals.
That said, only premium bass guitars ship with the Big Single set, like, for example, this Ibanez piece of art:
Now, if you're playing on a 5-string bass guitar, here's the alternative.
Split-coil: Nordstrand Big Split J Pickup Set
You could also check the Nordstrand Big Split, which could easily be part of any best bass pickups list. 
The Nordstrand Big Split uses the same circuitry as the Single version. However, the coils are larger, so they pack a bigger punch. Plus, they are completely noise-free.
This set includes a neck J Pickup plus a bridge J Pickup for 5-string bass guitars.
Overall, the tone is round, rich, full, and complex. And when you crank the volume knob, you get the ideal Jazz bass tone: punchy and full.
This is also an expensive item. And it's worth it.
Bartolini Bass Series J Pickup Set
Bartolini, much like Fender, is a well-known quality bass pickup manufacturer. In fact, many Fender J and P basses ship with a Bartolini taper installed.
The 8S is their top-quality bass pickup, and it's a common choice on Fender bass guitars. That's why we are sharing the review on our best bass pickups list.
These are two passive single-coils (neck & bridge) made with a ceramic bar magnet. The resulting sound is warm, super hot, super clear, and with a very big growl.
What you get, then, is the classic J bass sound that belongs to the higher-end J bass guitars. 
There's plenty of focus on the low-mid frequency range, but less on the higher register. The result is a steady sound that's less shrill and chimney as the volume goes up. Overall, the tone is smooth, balanced, and organic.
It gets better because it's covered with a special wax known as epoxy. Epoxy eliminates feedback altogether and increases the durability of the Bartolini J Pickup set. 
Keep in mind this set carries the original measures of the Fender J bass, which means it won't fit anywhere else. That's because the bridge pickup is larger than the neck pickup.
For the stage-ready tone it offers, we can understand the hefty price tag. Lucky for you, there're cheaper alternatives up next…
Fender Pure Vintage '74 J Pickup Set
Now, here's our overall best option regarding single-coil pickups for bass guitars. The Fender Pure Vintage '74 Set has the same vintage bobbin construction as well as the original '70s-era cloth wiring. It also looks the part.
See, Fender Pure Vintage products also feature the authentic Fender sound thanks to precise specs and construction materials. The sound is versatile, warm, full on the low-end, and unique at the mids. 
These are aggressive bobbins with a definitive Fender sound. That means it has enhanced dynamics, an even sound, and a clear response. Speaking of which, the best thing about this model is its beautiful clean sounds.
Have fun experimenting with this one!
An example of a bass carrying these pickups is Geddy Lee's signature Jazz Bass.
This pickup set carries a neck single-coil plus a bridge single-coil. It can set your bass back to the classic era of rock & roll, jazz & blues. It's also quite versatile for most music genres excluding metal…but then again, who picks a J bass to play metal anyway?
Fender Custom Shop Custom '60s Passive/Active J Pickup Set
Here's a similar option with a pretty suggesting name. Fender's Custom Shop modeled this '60s Jazz Bass pickup set after their original '60s-era pickups. The set includes a bass single-coil for the neck position plus a bass single-coil for the bridge position.
They are a custom modern design because they feature larger coils, which is why the are overwound. The result is a punchier pickup at the mid and low end. It also operates completely noise-free.
The Fender '60s J Bass Pickups are made with Alnico V magnets plus a high-quality formvar wire to create the extra growl and thumb these units offer.
Additionally, they have flush-mount magnets that guarantee your string response is balanced all over the fingerboard. That makes this a great choice for any bass player who wants to take their sound seriously.
I have to note this is a passive pickup set. However, they work with an active preamp as well. That's why they can be labeled as passive/active J pickups. 
Now, an active EQ gives the '60s J Pickup plenty of versatility and the extra options you need to cover as much ground in both classic and modern music genres as you'd need. 
The '60s J Bass pickup is currently the most popular single-coil bass guitar on Amazon. You wouldn't be wrong to pick these ones out.
Seymour Duncan Quarter Pound J Pickup Set
This is also a popular choice, but, instead of the vintage Jazz sound, what they offer is a harsh output with a noise-free operation. That makes them a great choice for rock and even metal genres
See, the best thing about this model has large diameter poles plus intense coil windings to deliver a full, and even response with plenty of richness and sustain. And, still, they retain the bright attitude you'd want from a J bass.
This set includes a neck pickup plus a bridge pickup. In particular, the neck pickup is wound RWRP, "reverse wind reverse polarity." That means this pickup has the opposite polarity as the bridge one, so the whole set cancels hum and noises.
Additionally, the Quarter Pound bass single-coils come wax-potted so they are feedback-free.
Overall, they represent a tonal change for any Fender American Jazz Bass, as well as an improvement over the stocks on any budget-level bass guitar.
These are also the best J pickups for rocker bass players. It can compete against any P pickup and rival any bass humbucker as well.
EMG JVX Active Bass Single-Coil Set
The EMG JVX is the best active single-coil set available. It's made by EMG, the active pickup masters. And they are part of the brands' X series of bass pickups, which are an improvement over their regular options.
The EMG JVX is about the "faded" or degraded attack of the vintage J Bass guitars. That's because it's made with offset pole pieces. It has a modern twist, though: EMG mixes these qualities with the lowest-noise preamp possible.
As you can imagine, the result is an offspring between retro and modern J Bass sounds, as well as a combination of active and passive tones. In other words, it packs the best of everything.
And the resulting tone indeed has everything good: dynamics, balance, grit, clarity, and warmth. In particular, it also has a tight low-end, punchy mids, and glittery highs. Better yet, it has no noises and no hums.
I love how the JVX set still maintains the clarity and the fast response common on EMG tapers. Moreover, it features enough headroom for an open and organic bass tone. 
Finally, the JVX set carries a bridge single-coil plus a neck single-coil. Both pack over 1,000 hours of power life with a single 9V battery.
The best thing about the JVX is how easy it is to install them. They don't even require any soldering. In fact, EMG bobbins don't require any soldering.
However, the JVX set only works with an active bass guitar. Here's the passive EMG J, which features a similar sound for passive bass guitars.
Top Value: DiMarzio DP123 J Pickup Set
In typical DiMarzio fashion, the Model J offers incredible performance and features for a friendly price.
This set includes a neck single-coil plus a bridge single-coil, and they make any sub-par instrument sound like an American Fender J Bass. 
I have to note this is one of the most popular J bass pickups available right now and for good reasons. On top of its incredible price, it sounds just as good as the best Fender alternatives. Only different…
See, whereas most brands are trying to replicate the Fender sound, DiMarzio takes its own path with modern versatile tones.
The DiMarzio Model J set is one of the best bass pickups because of how they add particular characteristics to the near-perfect J bass sound.
For one, these tapers provide a wide array of harmonic tones that normally remain inactive with stock pickups. It makes the sound more rich and resonant than your regular J pickup.
Secondly, they have extra sensitivity, which means the bobbins react to the strength of your strumming better than most pass pickups. 
That means each string could have its own volume. Another consequence of the extra sensitivity is a deeper, rounder sound.
On top of that, the low-end sounds are tight, whereas the low-mids are punchy. On the downside, though, it's a bit weak on the bass side, but that's something to expect on a J pickup.
And, lastly, these are hum-free single-coils. 
Here's the 5-string alternative, which is the Ultra Jazz Bass pickup set.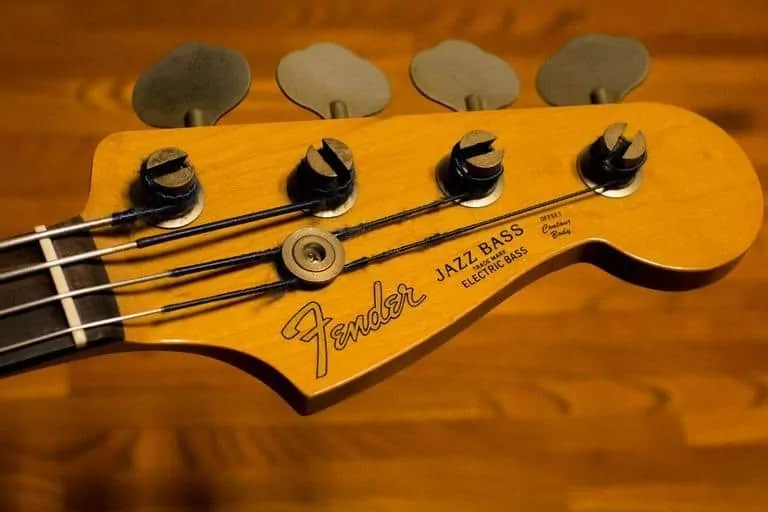 Some Jazz-inspired basses ship with a single single-coil pickup. Also, some vintage P basses, like the Squier Classic Vibe '50s Precision bass, ship with a single coil as well.
Best 6 P Pickups
The P Pickup is quite unique as it's both a single-coil and a humbucker. If you've ever seen a Precision bass, you have probably noted the shape of the P Pickup is also unique: it fits on the middle/bridge position (which is neither the bridge, nor the middle and nor the neck position), and it carries two parts of a single humbucker arranged sideways.
P Pickups are known as open-split pickups or split-coil pickups. You can install an open-split on any Precision or Precision-inspired bass guitar (like the Orange O).
However, P Pickups can't fit on other regular bass humbucker cavities. 
Now, here's a good thing: P Pickups are cheaper than J pickups. That means there's no "premium choice" here. Instead, the prices are around the one hundred mark.

Remember that bass humbuckers and P Pickups are different things.
What's an open-coil/split-coil pickup?
The blueprint of a P Bass pickup is unique compared to other modern alternatives because it works as a single-coil that's also a humbucker.
A split-coil or open-coil humbucker is two smaller single-coil pickups next to each other. It sits at the middle/bridge position, which is a particular choice. Each coil covers the space of two strings. Both are wired in series, but one of the two is wired in reverse (reverse-wound) to cancel the noisy 60-cycle hum.
Also, because the coils are smaller, the wire is wound more times (overwound). It creates a more powerful electrical current. The result is a thicker and heavier tone than regular humbuckers.
In other words, a split-coil means the humbucker is divided into two magnets and two coils of wire working together. And because the coils have opposite polarities, they cancel hum, noises, and other interferences.
The sound of the P pickup
Precision pickups are heavy, deep, and fat. They are great for music genres requiring fat basslines such as rock, funk, metal, reggae, and blues. 
Ultimately, a good P Bass pickup delivers a tight and meaty tone with plenty of power and clarity at the low end. Then, the mids are strong, and the highs are bright and clear. However, the highs are also somehow compressed. 
Moreover, a good P pickup should retain clarity as gain, volume, and distortion increases. It should also keep background noises low.
That said, P Pickups and bass distortion pedals are great companions.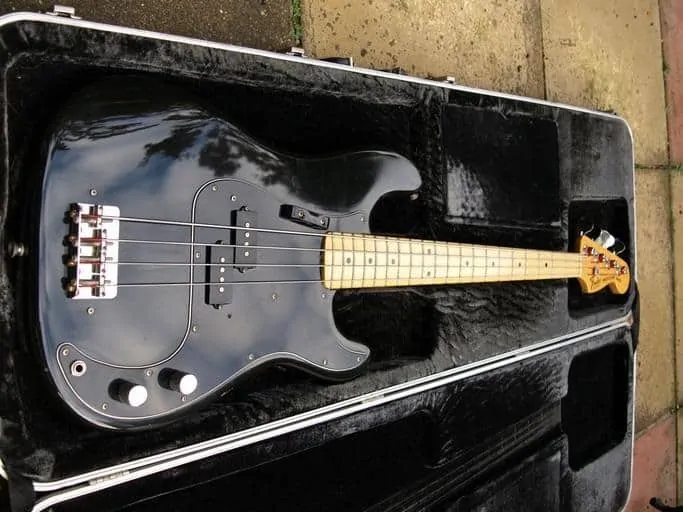 The Precision Bass is the backbone of rock, classic rock, and metal music.
Top Pick: Fender Custom Shop '62 P Pickup Set
Are you looking for the most authentic Fender P sound? The sound that started it all? Alas, I bring you the best P Bass pickup available right now, the Fender Custom Shop '62 P Bass split-coil pickup.
This is a higher-end middle/bridge pickup made with flush-mount Alnico V magnet and high-quality enamel-coated wire. This special wire degrades the signal to imitate the sound of a 62 Precision bass, so what you get is the natural grit that almost bursts into overdrive once you crank the volume knob.
The overall tone is quite balanced. It has a beefy and tight low-end, enhanced and punchy mids, and clear but slightly subdued highs.
Check this video showcasing a budget bass with the '62 P Pickups.
The '62 split-coil pickup gives you great versatility, articulation, and detail. Naturally, these Fender puppies allow your bass to stand out in the music, no matter what genre you play.
You could consider it's extremely hot output as a downside, though, because its raw power might be hard to tame at times. However, it's something you learn how to control with the volume and tone knobs.
No wonder these are installed on a wide variety of Fender P models.
Here's the best part. These are affordable P Bass pickups. That's why they are the easiest way to turn your entry-level Squier P or a Precision copy into a true American Fender Precision bass.
Aguilar AG 4P-60 P Pickup Set
The Aguilar AG 4P-60 is an honestly priced reproduction of Fender's original P Pickup. That means you that big and round sound common on 60's instruments.
This Aguilar pickup uses period correct parts, which include Heavy Formvar wire and Alnico V magnets.
They are modeled after the personal pickups of Aguilar's president, Dave Boonshoft, the ones he used on his 63 and 64 Precision basses. 
Overall, they pack just the right amount of mid-range to cut through any loud rock band whilst keeping just enough depth to support the rhythm. Check how it sounds here.
Seymour Duncan SPB-4 Steve Harris Signature P Pickup Set
Have you ever heard Iron Maiden's Steve Harris? Well, he plays on a Fender P packing this very same incredibly priced pickups, so I bet you can already imagine how they sound.
That's why the high-output Steve Harris Signature P Pickup is the most popular bass split-coil in the market right now. The sound of the SPB-4 is simply amazing, just like Steve Harris is one of the best bass players in the rock music industry.
With its special Alnico V rod magnets and unique vintage hot-coil wind, these tapers force as much sound as possible from your bass. That means the SPB-4 drives your amp's preamp harder than any other taper without clipping it.
What you'd get is a pushed mid-range, a tight bass, and a clear treble with a super-fast response. 
In particular, the mid-high tones stand out either at the studio or at the stage, just as Steve Harris likes it.
The SPB-4 split-coil is very dynamic and sensitive. It catches the full nuances of your complex basslines going up and down the fret. That's why these are such a great choice for advanced players.
Still, they pack enough versatility for most classic and modern genres excluding jazz, indie, experimental, and similar.
Seymour Duncan Quarter Pound P Pickup
It's hard to pinpoint the flaws of such an affordable bass pickup. The Seymour Duncan Quarter Pound split-coil is a choice that well deserves its spot on any best bass pickups list
In fact, this could sell for twice its price and still be an awesome pick. Lucky for you, the offer is perfect for hard-working musicians wanting an upgrade over their stock P pickup. 
What this can give you is a full and round sound with high doses of punch. It's made for rock, hard rock, and metal. Great, right? That's exactly why we'd want to pick the P bass as part of our arsenal!
These units are handmade in California like all Seymour Duncan pickups. They use large diameter Alnico 5 magnets plus a high-output coil. Such design delivers plenty of low-end thrusts, a big presence at the mids, and a hefty output.
It's a booming bass tone only gets better with the right bass pedals.
Furthermore, this is a versatile pickup, although I do recommend this selection for rock, hard rock, progressive rock, grunge, post-grunge, metal, and metal subgenres. 
I also name these as the best P Pickup for metal and rock because the tone doesn't get muddy or unclear as to the volume, gain, and distortion increases. Instead, the more you push the Quarter Pound P Pickup, the more it fights back with its well-spoken grit.
I must add this split-coil pickup is wax potted to clear out the feedback.
Seymour Duncan SPB-1 Vintage P Pickup
The Seymour Duncan SPB-1 Vintage set is an affordable replica of Leo Fender's original 1957 dual-coil bass pickup.
Handmade in California, the SPB-1 open-split has the same hand-fabricated bobbins, sand-cast magnets, and plain enamel wire. 
The resulting sound is warm and woody. Moreover, the low-end is particularly smooth, which is something I love about this model. 
These tapers can take you back to the '50s in appearance. They also model the vintage sound with a custom EQ curve that mimics vintage P-bass tones. However, they do have enough versatility to play all modern genres with its punchy and warm sound.
If you like your stock pickups, though, the SPB-1 doesn't represent enough of a change to be worth it. Affordable pickups can either replace a damaged bobbin; or give you a moderate upgrade over the sound of an entry-level bass.
However, if you have something like a good Squier Jaguar P, this is not an intelligent choice.
Are you in a rush to find good budget P basses? Check our selection of the best Squier Ps.
Top Value: DiMarzio DP127 Split P Replacement P Pickup
As the name suggests, the DP127 is also a moderate upgrade compared to stock split-coil/humbucker bass pickups. 
The Model P has a special double-bladed construction, which expands your bass guitar's range. It gives your play a lot more character whilst delivering a punchy sound.
Moreover, this is made specifically to replace stock P pickups.
The tone has plenty of gain and the sturdiness you'd expect from a P bass, all with a gutsy midrange.
The sound is crisp on the attack but smoother on the low-mid frequency range. And because of its large blade pole pieces, this pickup is very sensitive to finger and pick playing, which means each string could play with a particular volume level. 
Speaking of which, the higher notes are louder than the low notes. That makes the Model P able to cut through any mix without sacrificing low-end fatness.
Overall, this is the best bass humbucker if you're looking for a strong attack and a booming sound.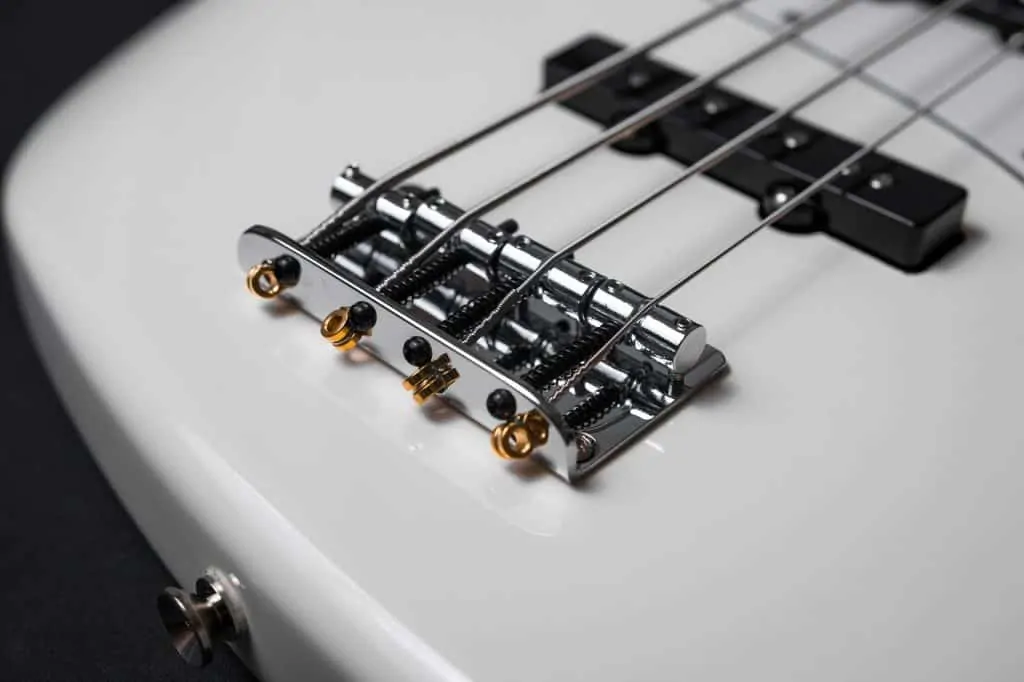 A bass split-coil only fits on a P Pickup cavity. 
Best 3 PJ Sets
There's also the P/J bass, which is a hybrid between the Jazz and the Precision models.
Overall, the PJ is designed like so:
The fast neck of a J bass;
The curved and comfortable body of a P bass;
A J single-coil at the bridge;
P split-coil at the bridge/middle position.
We have a notable example of the PJ on our Fender Deluxe Precision Special review. This is an amazing, honestly-priced great-sounding, and versatile PJ bass made by Fender Mexico.
On top of that, these basses can either be passive, active, or both. If they are both, they carry a passive/active switch that allows the player to switch from one mode to the next.
The PJ is there for bassist players looking for the most versatility, as well as those musicians who appreciate both classic Fender models. 
In short terms, the PJ is the most versatile bass to date. Only the Fender Jaguar rivals the PJ in terms of tonal options. Here are the Squier Jaguar options, if you're interested.
FOTO
All bass pickups sell with the necessary components you need to install them on your bass. They also include an instruction manual.
Top Pick: EMG Geezer Butler Signature PJ Bass Pickup Set
Black Sabbath's bass player Geezer Butler created this PJ bass pickup set alongside EMG to deliver the classic sound of the Sabbath's early days.
This is a passive bass guitar pickup set made with Alnico 5 magnets. It's about a split-coil for the bridge position plus a noise-free single-coil at the neck position.
The overall tone welcomes you to the void. It's the maw of the abyss: deep, menacing, tight, and with an enhanced low-end.
As you see, the EMG Geezer Butler drives a big punch, a big output, and a balanced tone. It's a perfect match for any type of music needing some extra power on the low end. 
This Butler PJ model comes wax-potted and fully shielded, which means they operate without any noise or feedback.
The Geezer Butler PJ set also works with passive electronic circuits, which is why these are passive/active pickups. 
P Pickup version
Additionally, the EMG GZR is also available as a split-coil configuration. The sound, as you'd expect, is dark and tight. It also deserves a spot as one of the best P Pickups you can buy right now.
Duff McKagan's-inspired set
I'm following the pickups of my favorite bass, which is the Fender Artist Series Duff McKagan Deluxe. This bass was designed by the man who played the bass for Guns N' Roses, Velvet Revolver, Janis Addiction, and many others. Duff McKagan's signature bass is the sound of hard rock.
This PJ bass is based on the instrument he used for GNR's first album, "Appetite for Destruction" (1987), so it sounds like the golden era of rock and heavy metal. 
If this catches your interest as much as mine, let me tell you: you don't need to spend over a grand for this sound. Check here to see how McKagan's PJ bass speaks because we can achieve a similar result on any Squier or Fender PJ.
Instead, let's use the very same pickups he carefully selected for his musical career:
Each coil is smaller than a regular single-coil, so they are wound more times (overwound). Also, one of the two coils is wound in reverse. For those reasons, they STK-1  pickup carries the feel of a single-coil plus the punch and noiseless operation of a humbucker.
The STK-2 is modeled after vintage J pickups, which is why it makes a great choice for classic rock, pop, blues, indie, alternative, world music, and of course jazz.
NOTE: McKagan's signature PJ carries a Seymour Ducan STK J2B, but this item is harr to find. You can use an STK J1B as an alternative.
Fender Pure Vintage '63 P Pickup in the middle/bridge position: this is a split-coil P pickup that follows the original specs of the Precision bass. It sounds vintage, gritty, punchy, and has a moderate output. It's made with Alnico II magnets for its vintage rock style. 
NOTE: Fender's 63' P Pickup is simply the reissue of the original Precision split-coil of the '60s era. The similar Fender Custom '62 adds a couple of modern technologies, which is why it packs a higher output. That said, the '63 is a better choice for a PJ because its moderate output blends well with the single-coil.
Here's a video on the STK-2 pickups:
This setup is on the punk, hard rock, and heavy metal side. That means it has extra on the mids and extra fatness on the lows. Then, the highs are focused and bright, but just a tad below the mids and the lows. The overall sound is acid and powerful, great to play with bass pedals and bass distortion pedals.
Now, if you're looking for the best budget PJ bass, I can link you towards the Squier Affinity PJ, which we already selected as one of the best budget basses available.
Top Value: EMG Active PJ Set
Also from EMG, this advanced and popular PJ Set is about flexibility and tonal possibilities.
The EMG P active split-coil adds the warmth plus the low-end tightness. Then, the active EMG J single-coil offers a tight mid-range, a dynamic treble, and a defined attack.
Overall, the tone accommodates both contemporary and classic tones, and they work with low amounts of noise.
With these babies installed, you would be able to slap Uptown Funk, discharge some fiery Motown blues, or burn it all with some aggressive hard rock bass riffs. What's best, the set offers plenty of power, grit, and definition.
By the way, you could get the Active EMG P for separate as well (here is the improved X version). They offer the warmth plus the low-end grit conventional on any top-quality EMG pickup. They are also one of EMG's all-time best sellers.
Also, here's a passive alternative if you have a passive bass, the EMJ PJHJ set.
Additional PJ Set alternatives
Further options include combining the pickups I listed above. For example:

You can create your own PJ set by mixing a single-coil and a split-coil, preferably from the same brand.
Best 4 Bass humbuckers
The bass humbucker fits on any bass guitar humbucker cavity. Basses shipping with regular humbuckers includes models from brands like Schecter, Musicman, Sterling, Dean, Washburn, Ibanez, Warwick, Gibson, Epiphone, and similar. 
A bass humbucker can sell separately for either position, or it can sell as a set of two pickups for the neck and bridge position.
The sound of a bass humbucker
Bass humbuckers are made for rock. They offer a higher output because they are made with two coils, and they also offer noise-free operations. 
A dual-coil setup has left-hand wrapped coils and right-hand wrapped coils. Because they are wrapped in opposite directions, the poles have reversed polarities. That's why they cancel radio interference.
As a secondary effect, dual coils have a darker, fuller tone. On the other hand, single-coils have a brighter tone that's traditionally better for single-string plucking and pedal-free playing.

There are fewer brands building bass humbuckers, which is why finding a good bass humbucker is more complex than finding a good single-coil or split-coil model.
Top Pick: DiMarzio Will Power DP122 Bass Humbucker
The DiMarzio DP122 (also known as DiMarzio Model One) offers huge power at a friendly price, which is something DiMarzio has mastered many years ago.
This is one of the most modern bass pickups in the market, and it will remain like so for many years to come. Why? Because it mixes parts of their Model J and Model P pickups. In particular, it uses the highs and the high-mids of the J Pickup (as the tweeter), plus the lows and low-mids of the P Pickup (as the woofer).
That means you'd get a combination between Jazz and Precision tones with this advanced humbucker: earth-shaking lows, punchy and gutsy mids, and cristal clear bright trebles. 
These pickups are made with powerful ceramic magnets for plenty of output and presence. They pack enough versatility to go from jazz to heavy metal. Better yet, they run entirely without any noises, hums, or interferences.
In particular, they run great with bass distortion pedals. If you use this for metal and hard rock, the DP145 bass humbucker pickup has a real edge and a real presence. That's because these tapers are quite warm and retain clarity even at high gain and high distortions. 
Furthermore, they never put more emphasis on the lows than on the trebles, which ensures you get a boisterous and thick tone with intense mids and clear highs.
Additionally, this humbucker reacts amazingly to the bass' tone and volume knobs. The adjustment capabilities of the Model One are astonishing. 
On top of that, I must note this is also a professional choice. Mr. Big's Billy Sheehan has used the DP145 extensively on his modified Yamaha basses because of the exceptional low-end definition of the Model One.
Bassists looking for the biggest higher-gain bass sounds, the DiMarzio Will Power is sure to impress. 
To be honest, this is my favorite bass pickup. 
Seymour Duncan ASB-BO Blackout Bass Humbucker
The most popular bass humbucker available is also an affordable choice. This SH-4 B choice has a balanced coil configuration that offers a high output with great harmonics. Moreover, it offers a nice blend of sustain and natural distortion.
Overall, this best-seller Seymour Duncan humbucker mixes raw rock & roll tones with modern warm tones. It's a great improvement over the stock pickups on your beginner's bass guitar. 
Check this link to check how it sounds.
The Blackout is based on the guitar pickups of the same name, which were designed by Slipknot's Mick Thomson. You can expect the bass version to play some seriously fat and heavy basslines, then.
EMG Signature David Ellefson Humbucker Set
Not everything should be about the Fender P or the Fender J Bass sounds. There are many models out there that deserve just as much recognition
That's why I choose the EMG DE set, which is an amazing upgrade for basses from Yamaha, Epiphone, Ibanez, Schecter, and similar. Also, this is the pick for rocker and heavy metal bass players looking for a new humbucker duo.
Megadeath's bassist player and heavy metal bass legend David Ellefson created these pair of humbuckers to deliver the purest metal bass sounds. Better yet, the DE set is widely versatile as it covers as much ground in the modern genres as you'd like.
Still, this is a bass humbucker primarily made for rock and metal. That means the sound quality is top-notch: the articulation is perfect, the response is precise, and the attack is high.
Plus, it naturally responds perfectly to bass distortion pedals, high-gain situations, overdrive pedals, and other effects.
It also has plenty of headroom, which means it doesn't lose its clarity and definition as you crank the volume up. Instead, the harder you play, the harder it growls back at you.
Lastly, I have to add these Alnico V EMG humbuckers are quite smooth and clean. That's because the tone goes from smooth to aggressive as you move your bass' volume knob up and down.
Top Value: EMG 35/40 series Humbuckers
The EMG DC series of active bass humbuckers includes the EMG 40DC (for 5-string basses) plus the EMG 35DC (for 4-string basses) ceramic-made pickups, which are the most popular renditions of the 40 / 35 series of pickups.
Currently, they are the best known active humbuckers available for electric bass guitars. 
Overall, both options sound powerful and are able to cut through any mix. They are also very versatile and enjoy enough range to cover the cleanest highs to the deepest, dirtiest lows. 
More so, they come with an ultra-noise active preamp. 
Here's the EMG 40DC for 5-string bass guitars.
And here's the EMG 35DC for 4-string bass guitars.
The primary setting of the EMG 35/40 series, though, is rock and heavy metal. If you're looking for the best possible metal sound on your bass, the DCs are not only the best options, they are also the top value choice for the tone quality and versatility they offer for the price.
I'd even say the EMG 40DC is the best humbucker pickup for 5-string bass guitars.
Now, you can go straight to the top model of the 34 / 40 series, which is the CDX version, part of EMG-X's series of improved best-seller models.
The EMG 40CDX and the EMG 35DCX both feature an extended versatility, increased headroom and increased durability. The overall tone quality is better, the best EMG has to offer.
The magnets of those two bobbins are made with a special material that combines both ceramic and steel.
Lastly, you could go for the passive version if you own a passive bass. You've got the EMG 40 HZ for 5-string basses, and the EMG 35HZ for 4-string basses. These are present on premium basses like the Schecter Stiletto Studio.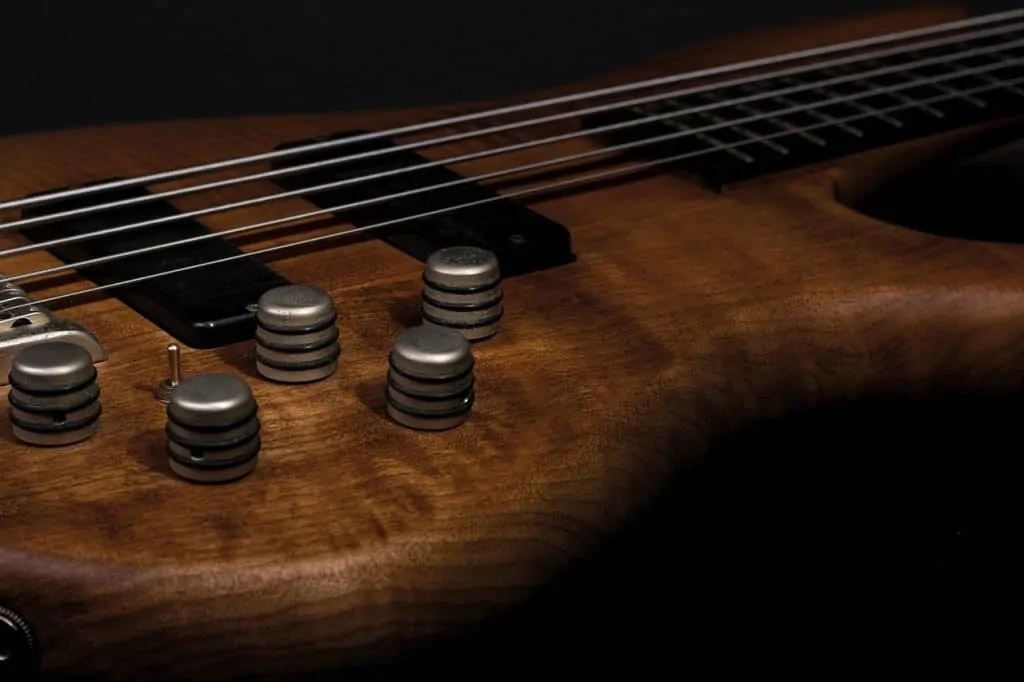 If you need specific bass pickups, like for example for Musicman bass or for the Thunderbird bass guitars, I urge you to check the EMG bass pickups site; or the DiMarzio bass site.
About changing pickups
The last bit of information is about changing the pickups. What you need to know is you can only swap a bass single-coil for another bass single-coil, or a bass humbucker for another humbucker, or a bass split-coil for another split-coil.
Furthermore, 4-string bass pickups are smaller than 5-string and 6-string models.
Likewise, you can only swap active pickups for another active pickup.
Why should you change a bass pickup?
Many people new to stringed instruments don't know much about pickups. That was my case, to be honest, and it took a very long time to understand the wonders of changing the stock units on my bass guitar.
My first bass guitar was an Epiphone SG Special. It was an entry-level instrument with a subpar sound. I'm talking about 12 years ago or so when budget instruments were not as good as they are now regarding sound quality and built materials. 
I bought it for a reason, though…It looked great, it felt great, and it was really easy to play. Those are very important things for a beginner bass player.
However, I found a passion for my instrument and quickly grew on prowess, experience, and skill. Newer and better studios and scenarios called for better sound. And because its pickups were sub-par, I was never able to make that bass stand out in the mix, and I was never able to make it sound fat and powerful during my gigs. 
Eventually, I replaced it for a Schecter bass selling for 3-times the price. The sound was 10 times better, and the quality was way beyond its price point, especially coming through.
My old Epiphone SG, even though I was very fond of it, was done. Its pickups and electronics got old and lost all of its sounds. And as it wasn't able to breathe anymore, I just abandoned it in a dark corner, never to be seen again…such a shame, it still looked as new and felt great on my hands.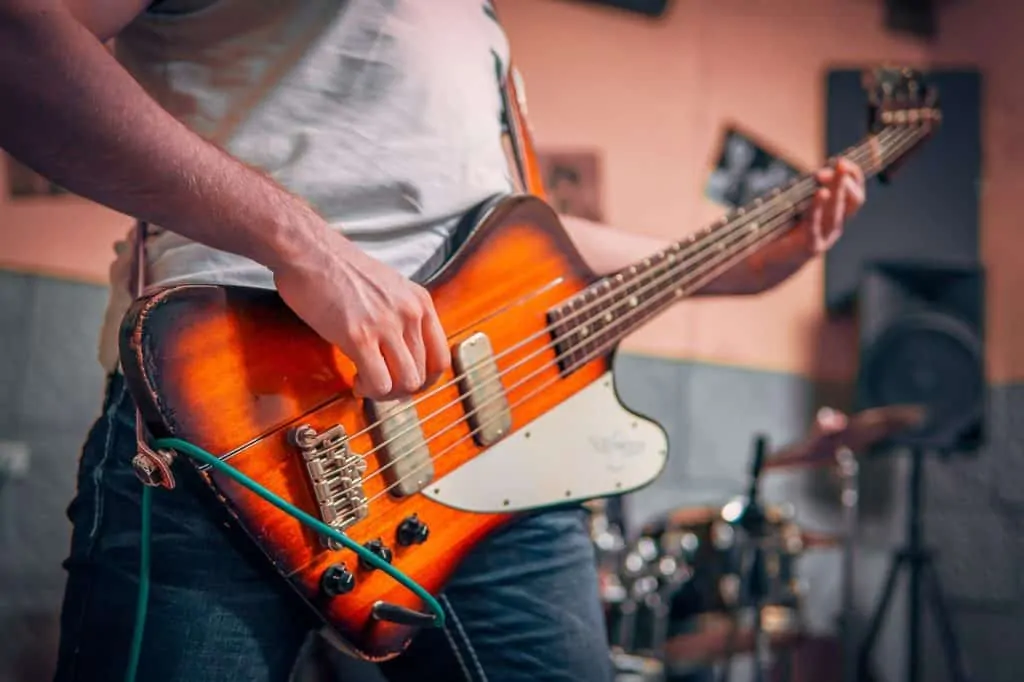 A good budget bass for beginners should be easy-to-play, light, and comfortable above all things. It should also have enough clarity to understand what you're playing as you practice.
I ask you, now…what if I knew back then you could change the pickups? I would have become an obsession for me to search for the best alternative possible, the best pick, the best fit. And I would have been able to get the best and most expensive option for less than half the price of a new bass.
Alas, the result would have been better, most definitely. You can make a budget bass sound like money with the true pickups. Or you can restore, instead of just abandoning it. You could also replace the damage pickups, or simply install a moderate, budget upgrade over the straight-out-of-the-box version.
How to install a bass guitar pickup?
Either way, let me give you a short step-by-step guide on how to change a bass pickup.
Make sure you have Phillips head screwdrivers plus a soldering gun.
Take a photo of the installed pickups as changing the height of the tapers may affect the tone.
Remove the back cover of your instrument.
Remove the strings. You can either keep them or take the opportunity to buy new strings. 
De-solder the installed pickups' wiring.
Remove them.
Figure out the wiring of the new units before you install them. Most bobbins come with a set of instructions and the extra elements you'd need. Either way, check this extra guide on pickups' wiring systems.
Replace the back panel and the strings.
Test your instrument.
Lastly, make sure that your guitar is safe. For example, don't touch any part of your instrument with the soldering gun. Also, stay away from the fumes created by the soldering gun.
In summary
I think it's obvious there's a great variety in the bass pickups world. However, your options become clearer once you understand the kind of pickup you need:
Do you have a P bass or a P copy?
Do you have a J bass or a J copy?
Or is it another kind of bass using humbuckers? (Ibanez, Dean, Epiphone, Gibson, Schecter…
Then, you need to decide on the kind of sound you'd want to achieve plus the kind of budget you're willing to invest. 
Lastly, you'd need to decide on the brand. Normally, it goes like this:
Nordstrand & Bartolini are the highest priced alternatives, but they also offer the highest quality sound.
Fender is about recreating their vintage sounds. Noone does the original J or B Bass sounds better than their creators.
Seymour Ducan offers handmade bobbins with full sounds and awesome looks. Their prices are mostly mid-level.
DiMarzio offers mostly affordable modern pickups with various unique features. 
EMG is particularly specialized in bass pickups for rock and heavy metal genres.
Make sure to check the Amazon reviews and demo videos as well. If possible, try out a couple of our recommendations before you buy. Lucky for you, my list of the best bass pickups feature the best options no matter what kind of bass or budget you have.
Good luck, and please leave your comments below!