It's time to create a shorter guide on the best jazz bass pickups. These single-coil pickups for bass are better known as J-pickups.
Why do we know them as J-pickups? Well, that's easy. Fender invented these bobbins when they introduced the first Jazz bass in 1960. In essence, it's a bigger single-coil, or, at least, bigger than what you'd find on an electric guitar.
Because bass single-coils came to exist alongside the Fender Jazz Bass, it's only natural we buy them as "J Pickups." Most of them try to imitate, re-invent, or improve the Jazz Bass sound. For better or worse, Fender already created the bass single-coil's definitive sound, and there's little deviation from the formula.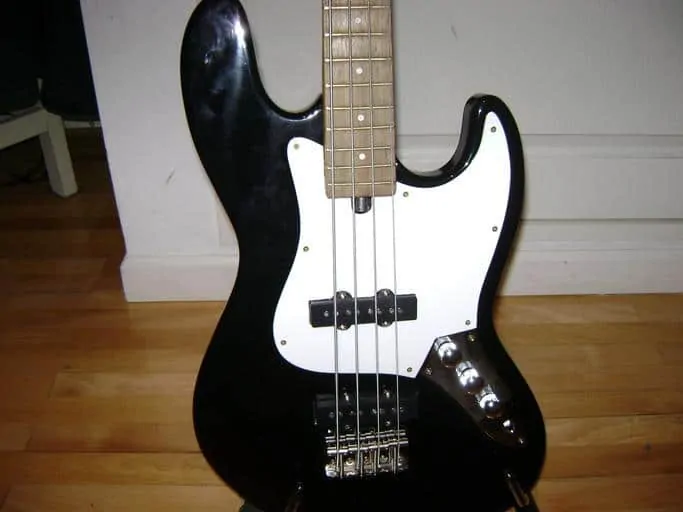 The Fender Jazz Bass is one of the most popular and recognized models in the market. Many brands have entire lineups replicating the design, either fully or partially.
We've already made an extensive guide detailing the top 20 bass pickups. We covered the various kinds you'll find, which includes:
"J-pickups" or bass single-coils
"P-pickups" or bass split-coils
Bass humbucker pickups
Bass mini-humbucker pickups
PJ pickup configurations – for basses like the Fender Deluxe Precision that mix a J at the bridge plus a P at the neck.
Today's guide is only covering J-pickups, and we're trying to review different models.
Otherwise, you can also check:
Also, because we already made a comprehensive guide on the matter, we're keeping this guide shorter.
In the meantime, here is a video on a classic '61 Jazz bass:
What is a "Jazz" pickup?
Fender introduced the J-pickup with the original Jazz Bass in 1960. The design relies on large eight-pole pickups placed underneath the strings.
These also follow the single-coil design, which Fender also introduced with the original Telecaster guitar. That means it's a single, magnetic pole wired with coil and encased within a metal, aluminum, or ceramic cover-plate. 
The magnetic pole catches the string's vibrations. Then, the coils convert the vibrations into an electrical signal for the bass amplifier.
Typically, you would find two single-coils on a J-bass, one by the bridge and the other at the neck.
Here's where we find a significant difference compared to guitar single-coils. The two pickups are wired in reverse to each other so that, like a humbucker, noise-cancellation occurs. 
Modern single-coils -for basses and guitars- have achieved noiseless operations in different manners. That wasn't a fact about 10 years ago, but you could still find some noisy J pickups out there. 

Jazz basses are commonly more versatile than Precision basses. Simultaneously, though, they tend to have a lower output and less strength at the low-end. Instead, the sound is more brilliant, thinner. 
How do J-pickups sound?
Bass single-coils have a lower output and a thinner sound than P pickups. Instead, these tapers shine on definition, versatility, brightness, aggressiveness, and crunch. Moreover, these puppies often carry plenty of natural grit and sustain. 
Keep in mind that the "jazz" term refers to broad versatility and expertise. That makes J pickups a good choice for many classic and modern genres of music.
However, hard rock, metal genres, and heavy distortion pedals don't pair well with most J-pickups. You'd want to play, instead, gentle genres and intricate basslines. J-pickups are best for genres like pop, pop-rock, blues, jazz, country, contemporary music, world music, bossa nova, Latin music, alt, indie, alternative rock, and similar.
That said, because they are mostly clean and defined, they are natural companions for most bass pedals.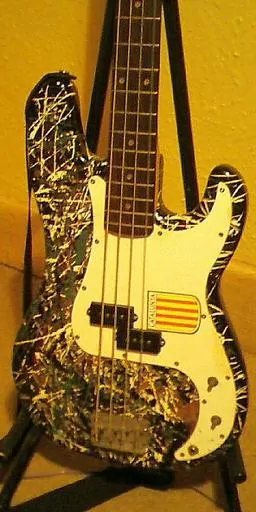 A Precision bass like this one uses a split-coil at the middle position. This is two smaller, overwound single-coils made in reverse polarities.
Top 12 best Jazz Bass pickups reviews
Backing on the Precision bass's success, Leo Fender introduced a new bass guitar that would flip the market on its head.
There was magic on the bass. With a sleeker neck, it was easier to play; with a lighter body, it was easier to carry. Plus, with two single-coils, the sound was cleaner, more versatile, and with a solid punch at the mid-range. 
It became an instant success, with musicians from every part of the world and every music genre flooding the instrument. 
The J Bass premiered in 1960, and, since then, the sound of the bass-single coil hasn't changed much. Modern variations consist of delivering noiseless operations, increased outputs, and broader versatility. However, the original style and grit remain mostly intact. 
Otherwise, the classical bass single-coils are susceptible to the noisy 60-cycle hum. 
Keep in mind that we're covering options for 5-string and 4string basses.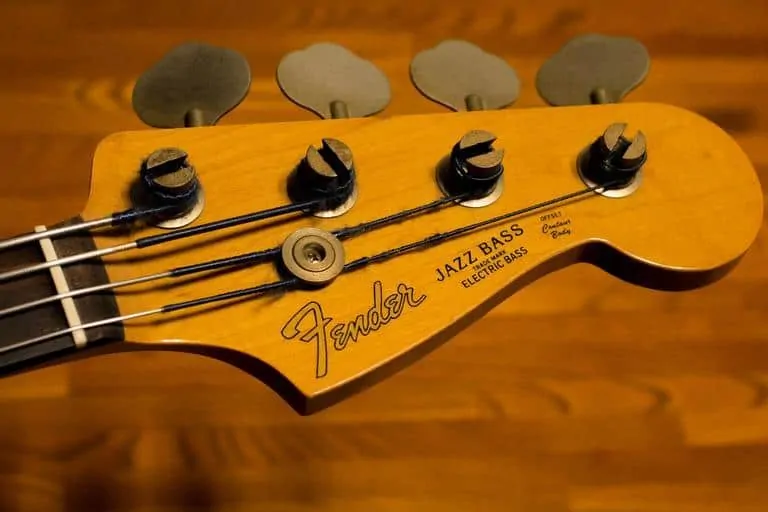 J-pickups often imitate or improve the sound of the original Jazz Bass. That instrument, though, is pretty noisy, which carries over as "dirt" or even "grit" towards the amp. 
Why should you change the pickups?
Changing the stock pickups on your bass could give it extra quality and power. It could also give you another edge, another sound dimension. Or, better yet, new pickups could bring your old bass back to live, solve its sound issues, and make it ready for the stage again.
The price range of your current 4-stings stomper doesn't matter: a new set of pickups can do wonders. Take a budget Dean bass guitar, place a couple of Fender J pickups, and you may indeed sound professional. 
There're brands like DiMarzio that do offer unique approaches to tried-and-tested formulas. DiMarzio is a brand I love because of its affordable prices plus feature-full pickups, so keep an eye for this name.
Another unique brand is EMG. They consistently make advanced pickups and place them within the same chrome enclosure. Their offerings are heavy-oriented and often active, so you could find the extra power and versatility you crave on EMG.
Other brands like Seymour Duncan, Lindy Fralin, or Bartolini try to deliver the best Jazz bass sound they can muster. More grit, more power, more growth is what you would get out of those names. 
There's Fender, of course, continuously producing the go-to pickups for both their instruments and people looking to take their instrument's sound to another level.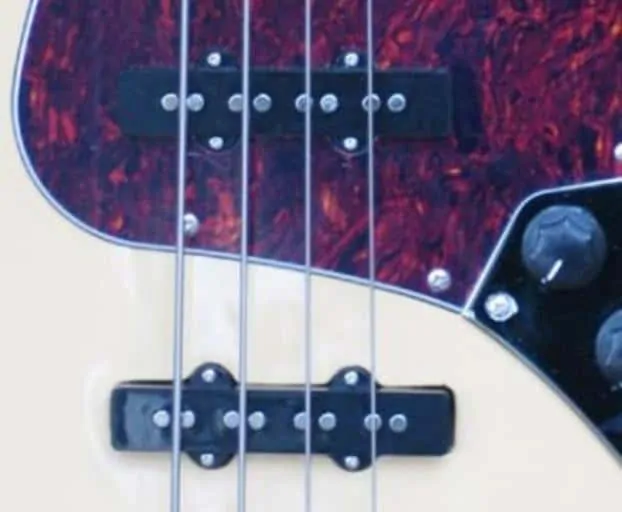 J pickups are sold as a set of two as brands typically build them to work better together. However, you could pair two different single-coils, preferably from the same brand; or you could experiment as much as you'd like with your aftermarket upgrades.
How much will your bass' sound change?
Look, let me be honest for a bit. The sound of a bass guitar is already subtle, even on the most powerful amplifiers.
That said, you have to look for the subtle changes. Even the slightest bump in presence, thump, or grit can make a significant difference.
Moreover, some bass pickups can change the characteristics of your sound. You could trade a bright, high-end sound for more punch on the mids and extra power on the lows. 
What's going to improve is depth, definition, punch, and frequency balance. The volume and presence of your bass, though, only changes with a select few pickups.
Active pickups, DiMarzio models, and some Seymour Duncan alternatives can really bump your output. Otherwise, it will remain similar.
If you're looking for ravaging changes, maybe you should consider trading your passive pickup system for an active one. Like EMG's JVX, some active pickups also work on passive systems and bring increased output and versatility.

J-pickups are either active or passive. Passive pickups sound more natural but more subdued. Active pickups have increased output, but they can sound more artificial.
Best overall – EMG JVX J-Pickup Set
The EMG JVX is an impressive set of single-coil pickups. It challenges whatever your thing of the J-bass sound, turns it up to its head, and delivers it back with increased output. 
We're looking at an active set that works on either passive or active bass guitars. It gives your instrument a new sound level, no matter the price range of your bass guitar. 
The sound it produces has plenty of headroom, which is precisely what you may be looking for if you're eager to make people genuinely hear you.
Listen, EMG is all about the metal side of things. Guitar players like Zakk Wylder, Kirk Hammett, James Hetfield, Alexi Laiho, and Jeff Loomis are some of the brand's artists. 
EMG humbuckers are sensitive, dynamic, feature a lot of high-gains, and deliver gritty power.
The JVX follows the same path. It makes your bass feel alive, present, and powerful. 
In essence, these tapers are about squeezing as much power out of your bass and your amplifier as possible—all of that without destroying the signal.
Technically, we're looking at an Alnico V pair made with short, squat coils.
That said, the definition is clear, and the attack is sharp. It still comes out warm and round, like a vintage J bass, but it's so much more, with a new driving edge that's reminiscent of an EMG humbucker.
Yet, these aren't precisely high-gain pickups. But they are so clear, aggressive, and precise that the volume feels ten times better. 
It also delivers all of the tones you'd expect from a J-bass, from vintage blues to fingerstyle funk. They give complete tonal control and plenty of versatility.
Furthermore, these bobbins are almost noiseless, an EMG feature present on all of their single-coil pickups. In this case, the brand uses EMG's lowest-noise pre-amp. 
All of these characteristics make the JVX set feel like modern meets vintage. It has the same vintage roundness and versatility plus the noiseless, higher-output sound you'd expect from a modern single-coil. Such a combination allows you to hear your bass in new, exciting ways. 
Overall, the voicing is organic, open, warm, transparent, with more signal and less noise—all of that while maintaining the traditional style and faded attack of vintage bass single-coils.
The JVX is part of EMG's X-Series, a lineup that's all about delivering extra headroom, organic tones, and definition.
I should say changing towards the EMG JVX is a breeze. They include all of the necessary pieces and an easy-to-follow instruction manual. Non-tech-wizards could do it with a screwdriver plus a pair of pliers. 
Professional choice – Fender Custom Shop '60s J-Pickup Set (4 strings)
Another pricey alternative, but this time from the master of the business. After all, Fender created their Jazz bass, so they know a thing or two about bass single-coils. 
The Fender CustomShop pickup series is about adding modern, premium twists to vintage designs. That's precisely what they did with the '60s set, and the result is sweet.
For starters, the tone is eerily similar to the classic Fender Jazz basses. However, the modern set has more punch and a bigger output.
At the same time, it delivers clear low-end sounds. The bass has enough balance to give way to the highs, where you would find more bite than stock pickups. 
Overall, the tone is rich, harmonious, and with plenty of mid-range definition. 
The tone comes from its Alnico 5 magnet materials plus its overwound coils. 
Overall, the tone is hot, articulate, and top-tier. Consider these are the pickups you'd find on most Fender Custom Shop basses, so they are the easier way to "cheat" your way to a professional sound.
The Custom Shop '60s bass single-coils only sell in pairs, so the price you see includes two tapers. Moreover, they include all of the hardware you need to install the pieces.
Top value – DiMarzio DP249 Area Model J J-Pickup Set (4 strings)
Instead of following vintage formulas and selling for high prices, the Model J offers a modern alternative for a budget.
The DP123 model mixes the traditional Jazz Bass tone with increased output and extra warmth. Moreover, these models have a way of channeling the strength of your instrument's tonewoods.
Moreover, these single-coils' material is ceramic, which is a typical choice for heavy metal guitar humbuckers. That gives these bobbins the ability to remain focused and crystal clear as the volume and distortion increase. However, the power on the low-end frequency chart does need some energy. 
Still, the performance of these pieces is incredible, especially at their price point. They give performers the ability to add gain into the mix and make their bass guitars more present either on the stage or the studio. 
So, when it comes to gains, the Model J is the winner of the branch. That makes these puppies great for hard rock, punk, funk, alternative rock, and similar genres. They are also the natural partners of fretless basses. You know…just go ahead and play some Flea tunes with these babies.
There's something very particular about the Area J pickups. It has raised pole pieces under the A and the D strings, which gives you increased volume and faster attack on those two key strings. At the same time, it makes the E and the G sound more faded.
Overall, the tone is excellent. It's warm, natural, and woody. In particular, the bridge pickup offers extra thump.
That said, the price tag includes the neck and the bridge pickup. 
Awesome for punk and hard rock, as well as fretless basses. We're also impressed with the sub-$100 price tag, making these some of the best value pickups on this list.
Here's a video comparing the Model J against the Nordstrand NJ4SV, which we are reviewing next:
Premium choice – Nordstrand NJ4SV J-Pickup Set (4 strings) 
Nordstrand has the reputation of being the most premium bass pickup builder.  Their current lineup is about delivering the classic tone, nothing else. 
What they bring to the table is essential, though. First, they represent an increased performance over Fender's pickups regarding tone balance, depth, and mid-range power. Secondly, they also channel the tonewoods' strengths, making premium-built bass guitars sound even greater with Nordstrand's solutions.
The NJ4SE has a clean, clear tone. It's balanced from top to bottom, giving way for harmonious and leveled playing. It almost feels like a built-in compressor. 
Moreover, the NJ4SE pickup stands from the rest of the brand's models. Currently, it's their only noiseless Jazz bass single coil. And even though it has a set of modern design features to cancel hum and noises, they still sound very traditional in nature.
The SE models are wound in a different matter, which gives these models more power in the midrange. Because of this design, they deliver the Fender Jazz Bass sound with the same clarity, detail, and versatility. As an extra, though, it provides extra definition, output, and fatness. Moreover, the bridge pickup delivers more "growl," which gives options for players looking for a more aggressive tone.
It's just "a little more" than a Jazz Bass, which is an impressive result.
So, overall, the NJ4SE can make a mid or high-level bass sound like a top-tier instrument. All of this comes with a price, though, and the set price is very high.
Here's a video showcasing a budget Squier bass with the Nordstrand pickups:
Cult favorite – Lindy Fralin J-Pickup Set (4 strings / 5 strings)
At the top of the chart, we find the Lindy Fralin J-bass pickup set. They sell for a premium price, which is part of the reason why they are not very popular.
The set is all about being loud, clear, even, and present. As the name implies, it can replace the single-coils on any 4-strings bass guitar. 
His set is hand-crafted in Virginia and follows a set of top-tier vintage standards and workmanship. Such is the case for Lindy Fralin pickups, which is why they sell for so high.
For instance, they feature a thick 42 gauge Heavy Formvar wire. It'sIt's a choice that follows vintage Fender Jazz Bass specifications. 
The set includes a neck pickup plus the more extended bridge pickup. They are made to replace American Jazz Bass bobbins. That said, they carry the ""vintage"" grit of classic J-pickups, although they are a bit noisy.
More specifically, you'd get a bit of noise when using these pickups individually. Play with both on, though, and they are entirely noiseless. 
These tapers are passive and made with Alnico 4 material. The material delivers increased versatility with a fat mid-range presence. Moreover, the bass sounds are round and good for the general rock spectrum, from blues to hard rock. 
Also, there're various colors to choose from, which are black, white, and cream. 
Overall, the Lindy Fralin comes with a high-end price tag, but their robust, consistent, and clear sound justify the price tag. Most of all, the Fralin set strikes the perfect balance of all 4 strings and across the whole fretboard. 
Lastly, I have to note the Lindy Fralin J-Bases are usually the audiophile's choices. They might not present themselves as feature-heavy or tech-savvy solutions. Instead, they are about luxurious vintage sound professional bass players and sound engineers will appreciate.
Here's a video showcasing the Fender Geddy Lee bass rocking on Lindy Fralin pickups:
Here's the 5-string version of the Lindy Fralin J-Pickup set:
Most advanced – EMG JAX J-Pickup Set (4 strings)
The JAX set is also part of EMG's X lineup. As we discussed, it's a series that delivers extra output, lower noise, and higher clarity. 
These are similar to the JVX, but they carry a more modern approach.
The JAX follows the original EMG J-pickup but trades the ceramic magnets for Alnico V magnets. Moreover, they add the same low-noise X Series preamp.
The tone comes out warm and open. That said, there's also a vintage element here.
Overall, the sound comes with robust lows, super-clear highs, and expansive mids. It gives your bass a tremendous dynamic response plus natural presence. 
However, the "vintage" element is not very significant. The JAX makes your bass sound punchy and gritty, almost like coming through a tube exciter or an overdrive. Moreover, because of its rich, dynamic response, the set packs a punch whenever you need, and sounds soft whenever you play gently.
Many people describe its tone as a mix between active and passive bass single-coils. That said, the JAX set works on either passive or active basses. 
Most unique – Lace Sensor Man O' War J-Pickup Set (4 strings)
Lace Sensor is an impressive pickup builder. Their offerings are usually tech-heavy, and, as such, they represent major tonal changes for your instrument. 
The Man O' War is not a very popular set. Without a big brand name stamped on the logo, it hasn't gone very far.
Still, you have to know the company has been around since the '70s. During the '90s, The Smashing Pumpkins' Billy Corgan took Lace Sensor single-coils as part of his main gear. 
Now, you can find Lace Sensor pickups on iconic Fender guitars and basses, as well as Eric Clapton's Stratocasters.
We're looking at two hot-output passive pickups made with undisclosed materials and wiring. 
What they do for you, though, is entirely different than most J-pickups. They sound hot, angry, and loud, almost like a humbucker. Also, these tapers are noiseless and hum-free. 
With such characteristics, they can make a dull bass sound like a throaty funk-rock machine. There's nothing "classic" about their sound, though, which is something you should keep in mind. 
Another non-classic addition is its lows. While J-pickups are never beefy or fat, the Man O' War set has plenty of sustain at the low-end. 
What makes the set unique is the brand's Lace Sensor technology. It improves the voice of the instrument towards an aggressive and yet controlled tone. 
Moreover, it delivers a very harmonic voice. And harmony plus power equals bass presence. 
All of this means the Man O' War delivers a broad dynamic range, which means the highs or the mids won't sound above the lows. Everything is just harmonious, balanced, and overall punchy and defined. 
Lastly, these tapers are very easy to install. Everything will fit nice and easy, and you can even keep the original hardware of your bass.
I couldn't find a demo of the Man O' War J-pickups. We'll have to do with a demo of its P/J version (a split-coil P-pickup plus a J-pickup).
Best budget – Seymour Duncan Quarter Pound J-Pickup (4 strings / 5 strings)
Before we go on, I have to list you can find a 5-string version of the Quarter Pound pretty easily: 
I don't want to confuse you with the "budget" tag of these tapers. Indeed, the Quarter pound is affordable, especially because you can buy them separately to change a single pickup. 
Suppose you only want to change a single, damaged taper. In that case, you could buy a single Quarter Pound and rekindle your instrument's sound. 
These are high output single-coils made for blues, garage, classic rock, heavy rock, nu-metal, and similar genres. 
It's also made for players looking to slap the bass. The output it achieves from your thumb finger will be hot and present. 
With 1/4" diameter oversize pole pieces plus its Alnico V rod magnets, these are the hottest single-coils on the list. That said, they are the budget choice for rockers as much as one of the best options for rockers. 
Even though it's affordable, the Quarter Pound follows the same manufacturing process of all Seymour Duncan Pickups. The company hand-makes all of their tapers at their headquarters, resulting in a high degree of craftsmanship and care. 
The Quarter Pounds sound warm, punchy, acid, and thunderous with a pick. The 5-string version is particularly well-articulated on the lowest string. 
Its characteristics give you enough to pursue that "Lemmy" sound, with plenty of punch, attack, and meaty chords. 
Overall, the Quarter Pound J-Pickup St delivers a nasty but cheap custom rock bass sound. It's a small investment that may provide high-end sounds. 
Best rocker – Seymour Duncan STK-2 Hot Stack J-Pickup (4 strings / 5 strings)
I said before that you can buy two different J-pickups and mix them on your bass. However, we were yet to see individual bass single-coils until the Seymour Duncan models.
Well, you can combine the Quarter Pound with the STK-2 Hot Stack to high degrees of power and excitement. The only reason I didn't choose the Quarter Pounds as the best bass single-coils for rock is for that's where the STK-2 belongs. 
You may know them as the sound of Duff McKennan, former bass player for Guns N' Roses and Velvet Revolver. He was, and still is, a legendary bass player. 
These are not precisely single-coils. These are "humbuckers" that fit in a bass single-coil cavity. A "Hot Stack" means two single-coils stacked one above the other, which delivers increased output, a thick mid-range,  and noiseless sound.
Because of the high output and impressive mid-power, the Hot Stack J-Pickups are the best choice for rock and even pop genres.
At the same time, the articulation is perfect. It's defined and strong on the lows, clear in the highs, and beefy at the mids. The result provides a broad dynamic range.
Also, the tone works like a combination of classic Fender tones plus an EMG humbucker. It's round, warm, aggressive, clear, and quite growly. Also, it's a natural companion of bass distortion pedals.
There's a trade-off, though. As you'd expect, the STK-2 is not very versatile. It won't feel comfortable outside of rock genres and subgenres. 
It's also not classical. I mean, are J-basses fat at the lows? 
Be that as it may, I can't recommend these bobbins enough. You won't get a better single-coil sound for rock music than this. 
In particular, these single-coils are a great choice for a custom P/J configuration. I already covered them on my best bass pickups guide.
Best premium: Nordstrand Big Split J-Pickup Set (5 strings)
Premium bass guitars ship with Nordstrand's Big Single pickups. These are expensive, professional, and big. 
As the name implies, they deliver a full and big tone. Moreover, they come with hum-canceling features for zero-noise operations.
The trick is the coils: they are large, as big as the soap-bar cover can fit. As a result, they sound like a vintage Fender J-bass on steroids. Elegant, classic, and fat. 
Moreover, they have impressive clarity at the highs, enhanced strength on the mids, and focused lows. The articulation and frequency response is so good that I didn't hesitate to choose them as the best pickups for 5-string bass guitars.
On the downside, though, the Big Split set is quite expensive. They will make your bass sound like a top-tier custom-made instrument.
Best replacement: Bartolini 57J1L/S J-Pickup Set (5 strings)
The "Holy Grail" for most bass players is the American Fender Jazz Bass V, a 5-strings versatile beauty.
Needless to say, such an instrument is out of reach for most people. But there's a way to reach those sound levels without wasting your rent's money. You can buy a cheaper Squier bass or third-party J-bass and place the Bartolini 54J1L/S set.
This model ships with various Fender Jazz Bass pickups. While you can't buy most of Fender's high-end tapers, the Bartolini set replicates Fender's sound to perfection.
The set includes a "long" bridge pickup plus a shorter neck pickup. It delivers a deep, resonant tone with robust lows and mids. 
These also have a split-coil design within the soap-bar enclosure. That means it has two coils: one takes care of the sound, and the other cancels the noise. 
Then, the magnet material is ceramic. That means you can expect a hot output coming out of these units. 
Lastly, Bartolini's transducers always bring out the full response of electric bass guitars and electric guitars. Such feature results from hand-made assembling with select materials, careful tests process, and advanced microphonics. 
I couldn't find a demo of the specific Bartolini set I reviewed. Instead, I shared the popular Bartolini 9J1 set for 4-string basses. It carries the same sound towards smaller basses.
Also, they are cheaper and sell with a friendly bundle:
Best experimental: Aguilar AG 5SD-D2 J-Pickup Set (5 strings)
The full name reads: "Super Double Rich Complex Overtones 5 Strings Bass Pickup Set." By those words, you can infer these pickups are experimental and geared towards professional players only. 
It's a modern design that packs two rows of Alnico V single-coils with exposed pole pieces. That creates thick sounds, articulate tones, and loud projections. 
Also, the set is complete with noise and hum-canceling properties. It's completely silent.
The design also brings the best dynamic response of the list. It delivers rich and complex harmonies, a sound that can punch as much as it can weep.
Also, the sound is full of overtones, sustain, and resonance. It's also full at the low end and sweet at the high-mids. That equates to groovy and bright sounds, perfect for slap and super-skilled bass guitar players. 
In Summary
We've reached the end of the list. I hope you learned much from my guide.
As usual, there's no right or wrong choice. Every pickup of the list, even the cheaper ones, can revitalize any bass guitar or make budget models sound thrice as pricey. 
It all depends on your persona budget and sound preferences. Me? I already went for the STK-2 model, and I'm not looking back!
Let me know what's your favorite bass single-coil in the comments below. If anything, leave your doubts!