We're looking at the best Gibson pickups for electric guitar. I'm sharing the best alternatives for every genre I can muster,  like classic rock, jazz, and blues all the way to the most modern Brtish pop and indie music.
Gibson guitars are the undisputed kings of humbucker pickups, whereas, for example, Fender's iconic Stratocaster and Telecaster guitars are synonymous with single-coil pickups.
See, in 1946, Gibson developed the acclaimed P-90 single-coils, which have a vintage sound that's still very popular today. Then, they revolutionized the industry with the first dual-coil pickup (the humbucker) in 1956. It was a creation that changed music forever.
Since then, other manufacturers have created humbuckers of all shapes, sizes, and tones. However, Gibson still remains at the throne, whereas its top contenders are Seymour Duncan, DiMarzio, Fender, and EMG (regarding active pickups).
If you're looking at Gibson pickups as your choice, you're looking at the coveted Gibson sound. Legendary guitar players have played Gibson guitars to give the brand the unique tone you might be looking for. These players include Les Paul, Jimmy Page, Randy Rhoads, Slash, Zakk Wylde, Frank Zappa, Tony Iommy, Derek Trucks, and Angus Young.
Gibson is THE classic rock sound. It's the tone that shaped metal, British rock, blues, and progressive rock.
If you already have a high-end Gibson guitar, chances are you won't want to change your pickups, because they already rock.
However, if you have a budget guitar, a beginner guitar, or a mid-range model, a new set of Gibson pickups will Led-Zepp new life to your instrument. Or you could also be looking for a fancy change of tone.
Or you might want to take your sound closer and closer to a true, legendary Gibson Les Paul.
DISCLOSURE: This guide is not here to teach you how yo change a pickup, only to help you choose the right pickup for your guitar and your musical style. If you've changed pickups before, please leave in the comments below your experience.
Personally, I recommend you buy the pickups you want and take your guitar to a professional.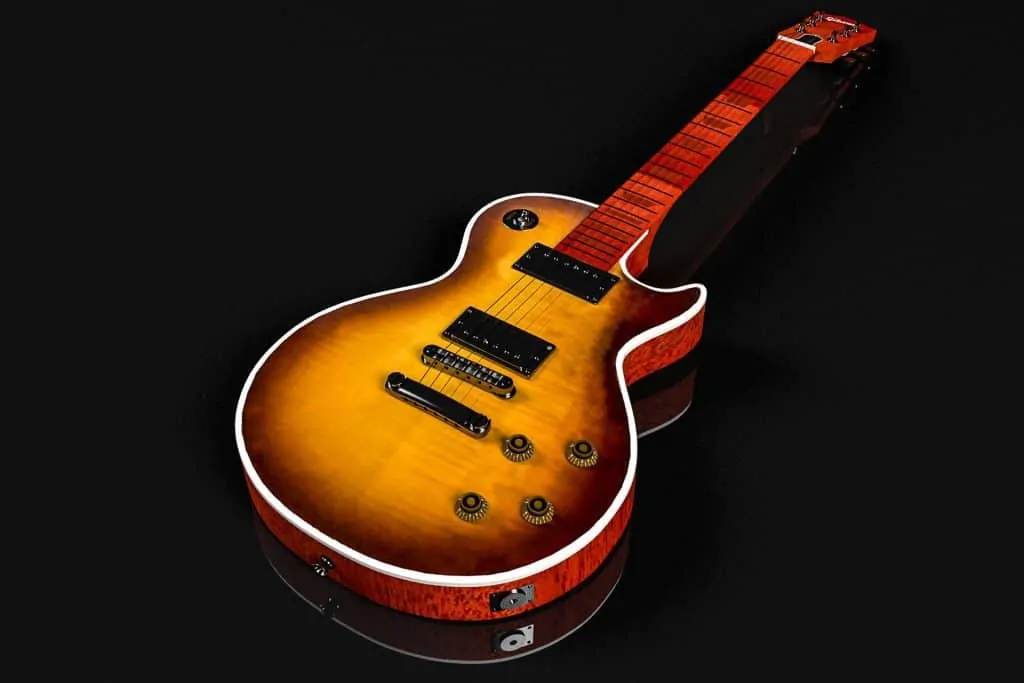 The Gibson Les Paul is one of rock's most famous guitars.
If you were to ask me, I've always been a Les Paul-kind-of-guy. If I have to choose between a Telecaster, a Stratocaster or a Les Paul (even if it's an Epiphone Les Paul), I always go for Gibson's alternative. What are your thoughts on this?
So now that we're here, I've put together a list to highlight the better and most popular Gibson pickups on the market, both P-90's and humbuckers. I'm also pointing you towards all of the genres you could play with these Gibson pickups.
Stick around my guide, as I'm showing you everything you need to know about Gibson pickups. If you need some extra info, you can read a previous section I wrote for a different guide named Understanding Pickups.
<iframe width="560″ height="315″ src="https://www.youtube.com/embed/VlrwHBOmoJQ" frameborder="0″ allow="accelerometer; autoplay; encrypted-media; gyroscope; picture-in-picture" allowfullscreen></iframe>
DISCLOSURE: I'm going to say "Jazz" a lot of times during these articles simply because the Gibson Les Paul was originally a "jazz" guitar. Even so, I can assume most of you (and I) are not looking to play jazz anymore, as that's only an academic music genre that's too complex for musicians and too unfriendly to its audience.
About changing pickups
Swapping your guitar's pickups is the surest way to improve the sound of your guitar. I already wrote about this in my DiMarzio pickup guide, and explained how improving these pieces can either:
Improve your sound,
Change your tone,
Solve sound issues like noise, interference, and hum,
Make the sound louder,
Give you an overall better quality.
See, changing the pickups might be cheaper for you than getting a new guitar altogether. Or it might be more expensive if we're talking about an entry-level budget.
Typically, musicians swap the pickups to improve the sound of an old guitar or a budget guitar they've become fond of; to fix issues with a guitar; to bring an old or abandoned ax up to date, or simply to change the tone of the instrument and gain more versatility in the process.
What a pickup does is enhance what's already there on the guitar: it catches the signal of its natural acoustics and strings, so, naturally, there're guitars you wouldn't want to upgrade. How would you know which ones are worth the investment?
These are questions that can help you figure that out.
First of all, we need to talk about the overall feel of the guitar. If the answers are negative, then probably changing the pickups won't make you feel any better about that instrument.
Do you like the aesthetics of your guitar?
Does it feel comfortable?
Is it easy to play?
Is it light enough for you?
Do you feel good whilst playing the guitar?
Do you look good whilst playing the guitar?
Do you have special feelings for the guitar?
How about its controls and onboard options?
Do you like its control knobs?
Does it have a 3-way switch? (You wouldn't want to install 2 new pickups if there's no option to select and blend the pickups on the guitar).
Can you access its control knobs easily?
And the next questions are all about sound issues you could be improving with a new set of pickups:
Do you like how it sounds?
Is it too noisy, hissy?
Does it lack power?
Is it loud enough?
Does it lack clarity on low, mid, or high-end frequencies?
Does it have enough versatility for you?
Do you like how it sounds?
About the last question, if you like how it sounds, it wouldn't be wise to swap the tone of the guitar with tonally different pickups. Instead, you should work with what's already there and simply improve your pickup for a similar one, only better.
Least but not last, you have to consider what's your budget and how much are you willing to invest in your guitar.
I have a video for you showcasing how a Squier Telecaster guitar can sound on one of Gibson's best pickups, the '57 Classics. Keep this in your mind, as the combinations you could be making with some investment in your pickups are almost infinite.
<iframe width="560″ height="315″ src="https://www.youtube.com/embed/oVn0bUhMOxY" frameborder="0″ allow="accelerometer; autoplay; encrypted-media; gyroscope; picture-in-picture" allowfullscreen></iframe>
Before we go on, though, I need to give you the most basic pickup context…
Single-coil vs humbucker pickups
It's essential to understand the differences between dual-coil and single-coil pickups.
Let's start by saying pickups are magnetic devices that use a coil of wire wrapped thousands of times around a coil-former or bobbin. This magnet catches the vibration under the strings and sends the signal as an electrical current towards the amplifier, mixer, or interface.
Single-coils are the defining sound of Fender Stratocaster and Telecaster guitar. They sound great, but they can also transmit electrical noises like buzz and hum.
Gibson engineers improved the design by combining two single-coil structures into a single pickup. Then, they wired them out of phase with magnetic poles oriented in opposite directions, which are able to cancel (or "buck") electrical noises. So, the name "humbucker" was born.
When these pickups appeared on Gibson guitars, they bore the "Patent Applied For" (P.A.F) sticker. There have been countless models since then, yet Gibson always strives for original P.A.F. sound, like their famous '57 Gibson humbucker pickups or their Dirty Fingers (reviews down below)
Keep in mind most but not all Gibson guitars use humbucker pickups, as some of them use P-90 single-coils. And most but not all Fender guitars use single-coil pickups, as some of them use humbuckers.
Additionally, there are endless hybrids, guitars with a combination of humbuckers, single-coils, and P90s. This is what you should be aiming for.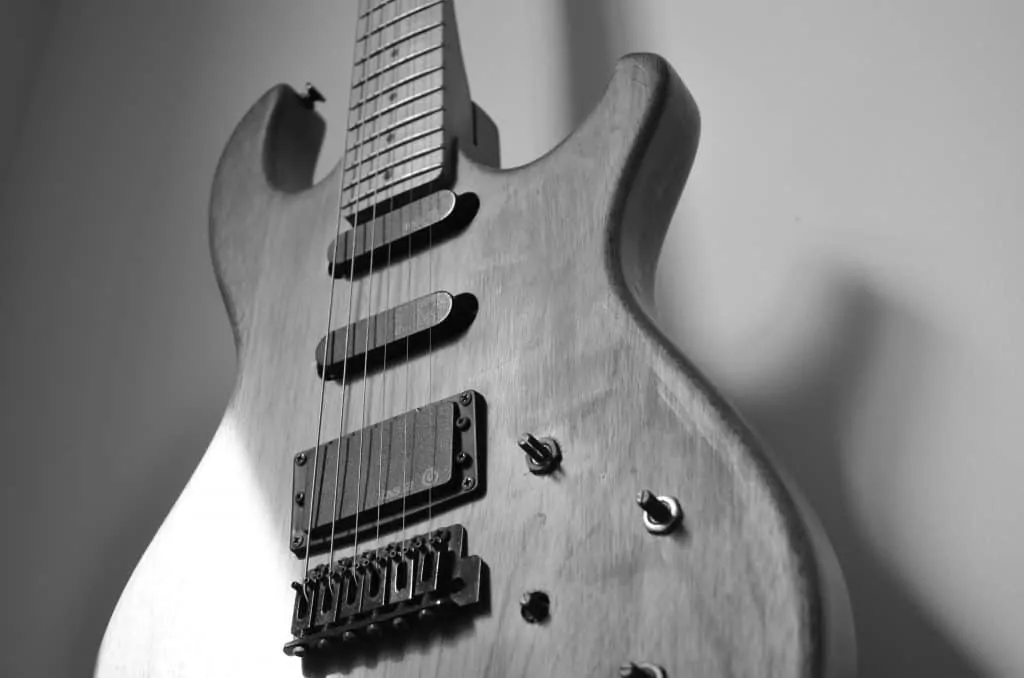 What if you swap the pickups of your old guitar? Would you play it again? Would you like to carry it around?
Choosing the right pickup
Often times choosing between dual and single-coil pickups is a matter of what fits in your guitar, for there are pickup cavities limiting your options. Such cavities have the size of either a single-coil or a dual-coil and pertain to specific sections of the guitar (neck, bridge, or middle position).
It means that if you want to change a single-coil neck pickup, you should then look for another single-coil neck pickup because that's the size of that specific pickup cavity.
Either way, if you want to swap pickup categories, here's the solution:
Rail humbuckers, reverse wound single-coils or stacks are humbuckers for single-coil cavities.
Coil-split humbuckers and coil-tapped humbuckers are single-coils for humbucker cavities.
Particularly, coil-split humbuckers shut one of the two coils to sound like a vintage pickup without canceling the hum; while coil-tapped humbuckers use only a fraction of each coil to sound like a single-coil whilst canceling the hum.

Each pickup is made for a specific pickup cavity, so be careful of what you buy as you won't be able to fit something that's not designed for that space.
What's the sound of a Gibson pickup?
There's no Gibson pickup for every style. In fact, Gibson pickups are very specific to what kind of music they can play. But what they lack in versatility they deliver in authentic sounds.
Even so, we can divide Gibson pickups into the following categories:
P-90 single-coils;
Modern dual-coil humbuckers;
PAF Style pickups;
Mini humbuckers.
I'm breaking down each category. Furthermore, I'm going to help you understand the use of these pickups by naming musicians and guitars rocking with these units.
More importantly, I'm including the best Gibson pickups for each category.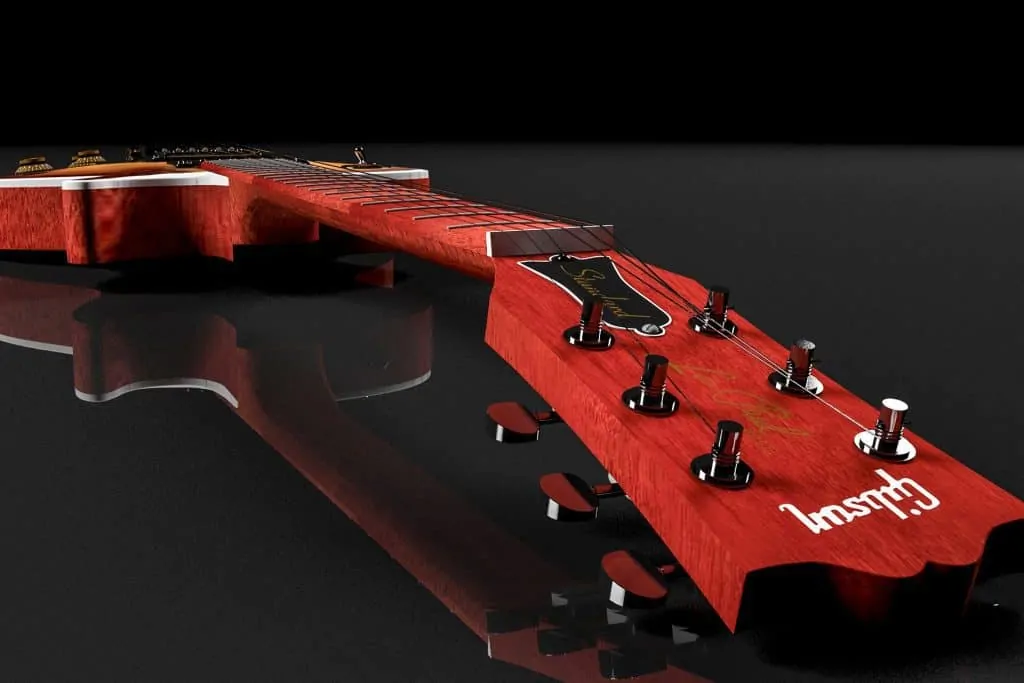 Gibson pickups were there since the beginning of electric guitars. The company invented the P-90s, the humbuckers, and the mini-humbuckers, and they still remain at the top of the industry.
P-90 single-coils
The classic P-90s are large, flat coils along with a flat ALNICO bar magnet under the Bobin (instead of magnetic pole-pieces). P-90s give a unique, versatile tone that's adored by audiophiles.
The feeling is vintage and the sound is chunkier than Fender's single-coils. More so, they have more space and clarity than a humbucker.
Gibson invented the P-90s in 1946 as a tonal variation of the standard single-coils. The result is a pickup that looks like a humbucker and sounds more like a single-coil. However, the extra copper plates around the coil increase the output of these pieces.
I have to add P-90s can either fit on single-coil or humbucker cavities.
Who's using P-90 single-coils
Musicians know for using P-90s include:
David Gilmour (solo artist, prior Pink Floyd's guitar player).
Peter Townshend (The Who).
John Lennon (solo artist, prior to The Beatles' guitar player). Particularly, he used an Epiphone Casino, which I listed as one of the top 10 best semi-hollow guitars available for you to buy right now.
George Harrison (The Beatle's frontman, also on an Epiphone Casino).
Paul McCartney (he used an Epiphone Casino on some of The Beatle's solos).
Neil Young (solo artist)
Robby Krieger (The Doors).
Mick Jones (The Clash).
Mike McCready (Pearl Jam).
Tony Iommi (Black Sabbath).
Dean DeLeo (Stone Temple Pilots).
Matt Bellamy (Muse).
Bob Marley (solo artist).
Rivers Cuomo (Weezer).
Steve Jones (The Sex Pistols).
Jhonny Thunders (The New York Dolls).
Here's a song I love which thrives on a definitive P-90 sound:
<iframe width="560″ height="315″ src="https://www.youtube.com/embed/HVPzWkdhwrw" frameborder="0″ allow="accelerometer; autoplay; encrypted-media; gyroscope; picture-in-picture" allowfullscreen></iframe>
Additionally, guitars sporting P-90s include:
Gibson Les Paul Junior.
Gibson ES-335.
Gibson Les Paul Standard.
Gibson SG series.
Fender Jazzmaster series.
Fender Telecaster Modern Player Series
Epiphone Casino series.
The Epiphone Casino is my favorite guitar of this list as the value it offers for its buck is top very hard to master. More so, it looks very elegant and features the advantageous semi-hollow guitar design:
Remember Epiphone makes outstanding Les Paul guitars at mid-level prices. These guitars aren't just copies, they are guitar built to Gibson's specs, with Gibson's pickups and technologies, and with Gibson's approval.
The sound of a P-90
There's a lot of love for the P-90s, especially because of all of the unique guitar players that have used them.
The sound of a P-90 is known to be thick and bright. Essentially, these represent a tonal blend of single-coil and humbuckers. The tone is warm and has a certain spark that offers a good mid-bass response, especially when you roll down the volume knob.

Gibson and Epiphone guitars only have Gibson-branded pickups.
This type of sound is obviously very good for smooth jazz, which is why many people pair P-90s with hollow and semi-hollow guitars. Furthermore, it also goes very well with classic rock genres, which usually thrives on softer guitar riffs and solos.
P-90s are also popular with blues players as they produce those crips and warm lead tones this fiery genre needs. More so, P-90 single-coils on high-gain situations produces notes you can hear clearer, which improves the overall feel and response.
As you increase the volume knob, low-end frequencies thicken up the tone. It creates an ideal sound for guitarists searching for a beefy rythm guitar tone.
If you put a bit of dirt on a P-90, you'll have enough output for an edgy, powerful sound, which is why punk and progressive rock guitar players have used P-90s for rythm tones.
Lastly, these single-coils have enough bass presence to cut through a mix.
Overall, P-90s design, construction, and tone make them a good choice for guitar players dwelling on the following genres:
Jazz,
Blues,
Classic rock,
Indie rock,
Country music,
Alternative rock,
Grunge,
Punk.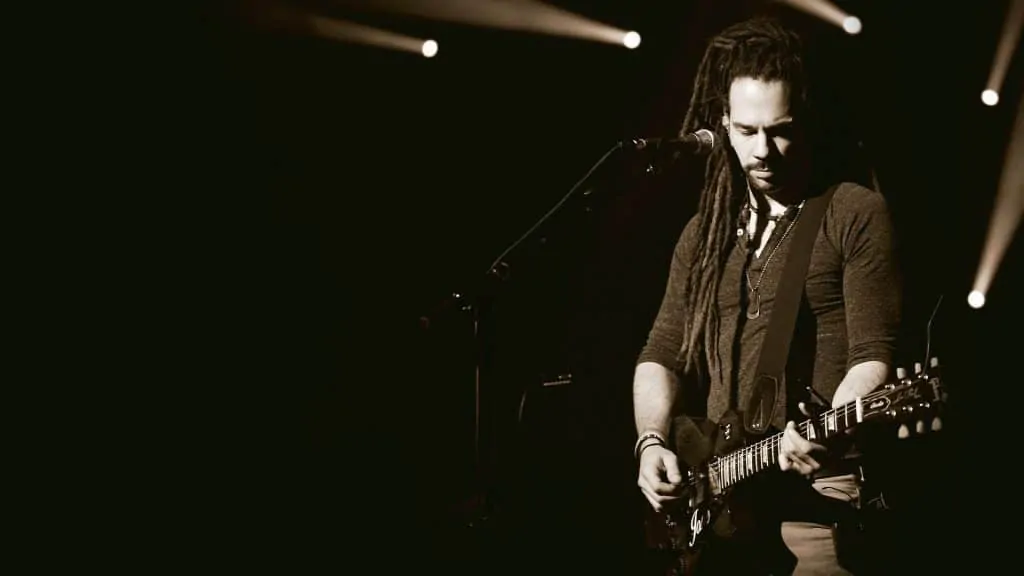 Punk and punk rock musicians love P-90 pickups.
The advantage of P-90s over single-coils.
By now, you should understand the P-90 is not the same as a single coil. More so, few companies can actually produce this kind of pickup. Aside from Gibson, we may also find the P-90s from Seymour Duncan.
The difference is P-90s are larger than single-coils and use fewer wraps of coil within their chassis, which is why the sound is brighter, more transparent, and thinner.
For this reason, no one argues they are the best pickups for clean tones because of clarity and definition. It means the best use of P-90s is through the amp's clean channel whilst using overdrive pedals for the dirt, or other pedals for different effects.
Although P-90s don't have the clarity of Fender single-coils, they do offer a thicker tone that handles higher amounts of pedal distortions without any hum, which is the drawback of single-coil pickups.
Lastly, the P-90s have a punchier tone when it comes to lead guitar playing, thus they can handle hard rock music genres.
Disadvantages of P-90s single-coils
The downside of P-90s pickups is they don't sound pretty with high levels of distortion, especially when it comes to an amps' distortion channel on high-gain settings; or distortion pedals.
Because their sound is too thin and brittle, P-90s loose bass response on distortion, and are not a good choice for playing metal. Furthermore, distortions create a lot of hum and noise on single-coil pickups
Here's a video comparing the sound of P-90 and single-coils pickups.
<iframe width="560″ height="315″ src="https://www.youtube.com/embed/aHn1yFlETSA" frameborder="0″ allow="accelerometer; autoplay; encrypted-media; gyroscope; picture-in-picture" allowfullscreen></iframe>
The best Gibson P-90 single-coil pickups
It's time to share my reviews of the best and most popular Gibson P-90 pickups…
Gibson P94R Neck Pickup
The first pickup I'm listing is the Gibson P94R, which is an excellent neck P-90 pickup. I love this unit because it offers growly and wild vintage single-coil tones. In essence, the P94R is Gibson's current top-quality P-90 pickup.
More so, this neck pickup doesn't require complete electrical overhauls and modifications on your guitar, because it can fit comfortably on any humbucker cavity.
I also love this is a very good-looking pickup that ships in several colors. It's made of Alnico V material, which I consider the best as it offers high output, a fat sound, and plenty of versatility.
Overall, this is an authentic, high-quality P-90 pickup offering rich and warm tones with classic treble bite and vintage P-90 spark.
Its downside is a little excess noise. Even so, it's a great companion of the P94T bridge pickup You can also match it with a hot humbucker to give your guitar a huge versatility.
Here's a hot humbucker by Seymour Duncan:
Gibson Golden Age Parsons Street P-90
The Golden Age P-90 pickups can give you the definitive sound of early rock and blues genres.
These are single-coils work for either neck or bridge single-coil positions.  They are named after the famous Kalamazoo street where Gibson created the original P-90.
Golden Age pieces are the direct replacements of the pickups that used to ship on Gibson Les Paul Juniors, SG Juniors, and SG Specials, plus other semi-hollow and archtop guitars.
These are made of Alnico 5 magnets just like the previous option, and they are also a great choice to give you a custom raw vintage tone.
Furthermore, these pickups are budget-friendlier than previous choices.
I'm sharing a set of 2 pickups:
Seymour Duncan Phat Cat
Although not a Gibson P-90, it's still made with Gibson's original design. And it's an excellent alternative.
The Seymour Duncan Phat Cat is a popular P-90 that works on bridge and neck single-coil cavities.
Its sound is similar to the Gibson alternative as it offers true vintage growl. However, its looks might catch your eyes as it's wrapped with a nickel or gold clover, a very appealing, classy look for your guitar.
Furthermore, there's a lot of love poured into this pickup for the bar that is handmade in California with Alnico II materials. Alnico II offers crips cleans and plenty of headroom when you crank up the gain.
The advantage of this pickup is how it can cut through a mix because of its great sustain, so it's very good to both lead and rythm guitar playing. However, it has the same downside of a single-coil as it's noisier than most pickups on this list; but it's also wax-potted for no feedback.
Gibson Humbuckers
Gibson paved the way for the music industry when they first introduced humbucker pickups in 1957. This dual-coil design was able to finally comply with the musician's need to eliminate their guitar's noise and feedback.
P-90s were the standard Gibson pickups from the 1940s to the late 50s. By then, most guitar players were starting to prefer the warmer and fatter tones of humbucker units.
The glory days of the P-90s came to an end when Gibson decided to launch a new generation of guitars sporting their new standard pickups.
Humbuckers are different because they have extra copper coils within their chassis, which is why they cancel hum and other unwanted noises.
That doesn't mean they are better than single-coils. Single coils sound great, they are bright, crispy, and offer more definition between the strings. They also work wonders with clean tones, delay pedals, and overdrive effects.
Meanwhile, humbuckers are louder, darker, and heavier. They work great with the amp's distortion channels and heavier pedal effects like, for example, guitar fuzzes.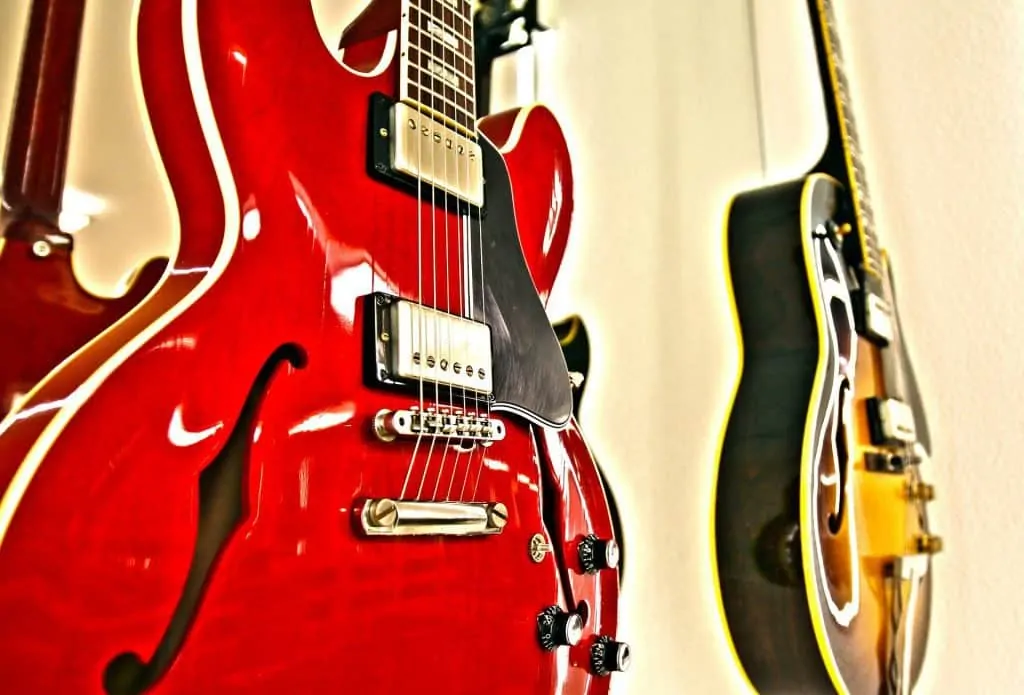 If you're on the lookout for pickups for your hollow or semi-hollow guitars, take a look a out list of best Gibson humbuckers.
Who's using Gibson humbuckers?
Musicians using Gibson humbuckers include:
Slash (Guns N' Roses, Velvet Revolver, solo artist, collaborator).
Carlos Santana (solo artist).
Joe Perry (Aerosmith).
Billy Gibbons (ZZ Top).
Jimmy Page (Led Zeppelin).
Angus Young (AC/DC).
Eric Clapton (The Cream, solo artist).
Zakk Wilde (Ozzy Osbourne, Black Label Society, solo artist).
Randy Rhoads (Quiet Riot).
Ace Frehley (Kiss).
Steve Clark (Def Leppard).
Gary Moore (Thin Lizzy, Skid Row).
James Hetfield & Kirk Hammet (Metallica. Particularly, the Gibson Flying V is Hetfield's favorite guitar).
Michael Schenker (The Scorpions).
Additionally, Gibson guitars sporting humbuckers include:
Epiphone Special SG series.
Epiphone Flying V series.
Gibson Flying V series.
Les Paul Classic series.
Gibson Les Paul series.
Epiphone Les Paul series.
Here's an amazing beginner guitar rocking modern Gibson humbuckers:
Personally, I also love the Gibson Les Paul Traditional, which packs Gibson's '57s Classic pickups offering early metal tones. These humbuckers are hard to find separately.
The sound of a Gibson humbucker
Gibson humbuckers have smooth, thick tones good for the heaviest side of rock genres. Humbuckers are not able to produce clear and thin tones as they are always fat, full, and even dirty on full clean.
People describe Gibson humbucker's tone as "crunchy" and "dirty."
Humbuckers feature no noise and no hum as they cancel all unwanted noises. That also means you don't have any feedback or any extra sustain like the single-coils offer for extra ambiance effects.
Musicians prefer humbuckers for their mid and high-gain tones. Additionally, they can handle really well with distortion and high-gain situations.
So, you would expect humbucker pickups thrive in the following genres:
Rock,
Hard rock,
Alternative rock,
Progressive rock,
Stoner rock,
Metal,
Heavy metal,
British Metal,
Blues,
Anything in between where you need high distortion and high gain.
The difference between humbuckers and P-90s
When Gibson introduced the humbucker, its design was not very far from the P90. However, they brought the very much needed hum-cancellation feature and thus displaced the P90s as the mainstream pickups.
The result is humbuckers having a smoother, thicker tone. Even so, humbuckers are not able to produce the thin and clean tones of a P90 or a single-coil.
When it comes to sound differences, P90s work like a blend between humbuckers and single coils, but without hum cancellation. That also gives these pickups the ability to have longer sustain and feedback for ambient sound.
Personally, I believe our modern times are calling P90s back into the mainstream, as nowaday's music (I'm talking about rock, rock pop, and pop) is very minimalistic, features a lot of ambiance sound, and thrives on soft, clean guitar lines.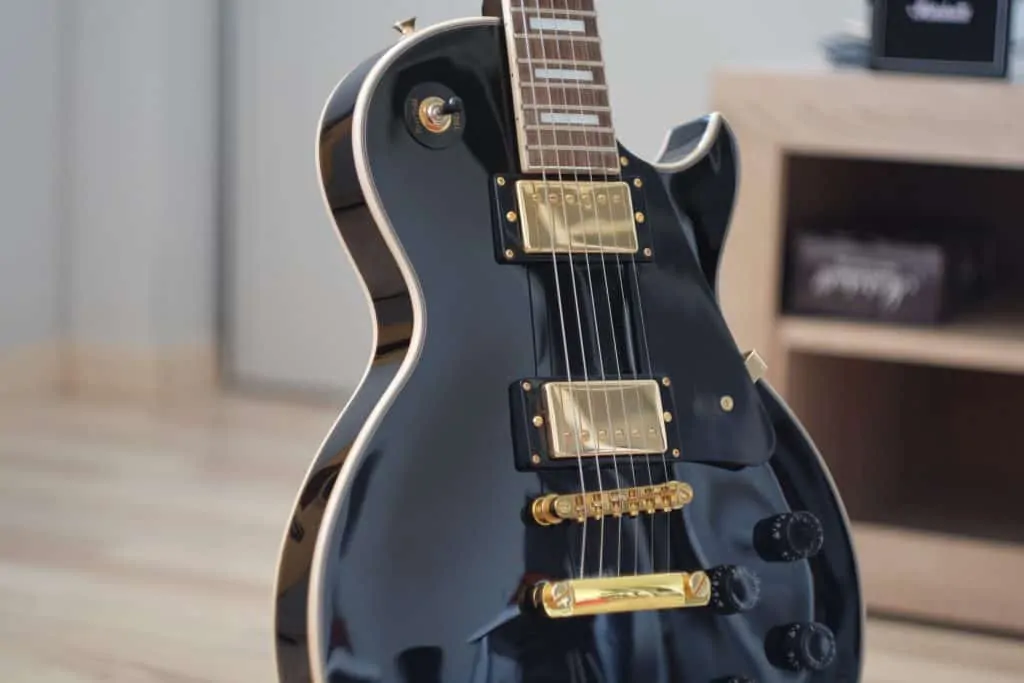 P-90 single coils mix really well with valve tube amps.
Gibson PAF style humbucker pickups
Original PAF pickups no longer exist as they were taken out of production in 1975. However, Gibson still manufactures various pickups that offer a true Gibson tone, like the '57 Classic and Burtbuckers.
Furthermore, there are three versions of the Burtsbucker Gibson describes as "time machines." These alternatives offer the classic Gibson tone of the late '50s. Each version sells with different outputs (Burstbucker 1 provides the lower output while the Burstbucker 3 provides the strongest one).
You can recognize PAF pickups over more standard humbuckers as they feature an original name, whereas other Gibson humbuckers are named with a series of numbers plus a letter (like 500T).
As these pickups are also classified as humbuckers, I'm sharing their reviews on the list below.
Gibson mini-humbuckers
Up next, we have Gibson's mini-humbuckers created by the company's subsidiary Epiphone in the late 60s.
These are smaller, more compact humbuckers with a construction that fits into a P-90 slot. They are famous because of the Gibson Firebird, as well as the Epiphone Firebird guitar series.
Mini humbuckers produce focused, bright sounds with balanced frequencies. They are somehow in between humbuckers and single-coils, thus they are very versatile and ready for all-hands guitar players.

The Gibson and Epiphone Firebird series made the mini-humbuckers famous. All of Rolling Stones guitar players have used Firebird guitars.
The best Gibson humbuckers
Finally, we're here, the section discussing one of the things Gibson does better.
The company produces a range of humbuckers for modern players looking to enter today's music industry; as well as humbuckers with that vintage growl you might the looking for.
Let's start our list with the modern alternatives….
Gibson 490R and 490T humbuckers
The 490T is a bridge pickup producing lead tones, whereas the 490R is a neck pickup producing rythm tones. Both pickups are the same aside from the output, for the 490T is a bit louder.
These units produce a modern sound with a sweet mid-range and pretty overdriven tones. Their design ensures high-frequencies don't have any brittleness.
490R and 490T humbuckers are common in Epiphone SG Special guitars, Gibson Les Paul Studio and Tribute models.
Gibson '57 Classic Plus
The '57 Classic series has similar specs to the original PAF specs, which means they sound very much like the first humbuckers Gibson ever produced. This means these re the super vintage pickups: they are sweet, balanced, crunchy, and growly.
These pickups are a modern legend and an inside many high-end Gibson guitars, some hollow-body guitars, and some incredible Epiphone guitars the Tribute, which I consider one of the best mid-level, budget-friendly guitars out there.
The '57 pickups are versatile humbuckers made for rock. They are made of special Alnico II magnets, which have a relatively high output, which means they are stronger and louder than '50s pickups.
Whatever your amp is, these '57 pickups ensure smooth tones on clean or high-gain situations. More so, they produce beautifully saturated crunch tones on distortion or overdrives.
Gibson Burtsbuckers
The Burstbucker series pickups also offer classic PAF tones without going too far into the vintage warm sounds.
Musicians describe these units as vintage hot pickups. They feature a bit more flexibility than the '57s and fall somewhere in between modern and classic sounds.
Burtsbuckers imitate Gibson's original '60s pickups, which is why they have a mellow tone. However, when you push these units under high-gain their attack and drive become beautiful. Furthermore, they have fantastic high-frequency definition and tones, but they aren't sparkly or pokey sounding.
As I said before, there're three different versions of the Burstbucker, all of which differ in the output. I'm sharing the Burstbucker 2, which offers a middle-ground output.
Gibson 500T bridge humbucker pickup
For searing, smooth, hot lead tones, the Gibson 500T humbuckers are the smartest choice. Keep in mind this is a bridge pickup for humbucker cavities.
Aggressive players will love the 500T pickups made with ceramic magnets. They are the go-to choice for aggressive lead players looking for powerful outputs, clarity, and sustain.
Overall, the 500T is the perfect choice for metal and hard rock, both for modern and classic rock.
The 500T performs really well on high doses of gain, so it's a great companion for rock and metal, both classic and modern. Because of its vintage/modern tones, you can consider the 500T as a softer alternative to Gibson's meanest pickups, the Dirty Fingers.
Overall, the tone has enhanced low-end frequencies and sparks on the high-end.
You can pair this humbucker with its brother, the 496R, which is a neck humbucker pickup. It would give you a true Gibson high-end tones.
Gibson Dirty Fingers
These are loud, aggressive and raw. Gibson introduced these models in the 1980s specifically for thrash metal, glam rock, and heavy metal genres.
They went into a bit of a hiatus after their premiere, but Blink 182's Tom DeLonge brought them back into the market rocking them on his signature Gibson ES-333.
This is Gibson's hottest (loudest and meanest) pickup. It's is only available for the bridge position.
The Dirty Fingers are made of ceramic magnets, which is the strongest building material. Ceramic offers an extreme output, awesome sustain (essential for heavier musical styles), and biting crunch. Even so, these humbuckers remain very clean, even on the highest volumes.
These are not pickups known for its clean tone, though. While their cleans are just fine, these pickups excel instead at high-gain situations and can turn affordable axes into heavy metal monsters.
Even better, Dirty Fingers is wax-potted to limit squeal when you play with the guitar's volume knobs all the way up.
Final considerations
I hope you understood how your playing style, genres, and personal preferences should rule the pickups yo install on your guitar.
It's all a matter of personal taste as there're no bad or subpar Gibson pickups on this list. Just read through them and imagine how these qualities would fit your playing. And then decide.
Finally, if you own a Gibson Les Paul guitar and you're looking to upgrade it, check this article detailing 25 ways to upgrade your Gibson Les Paul guitar.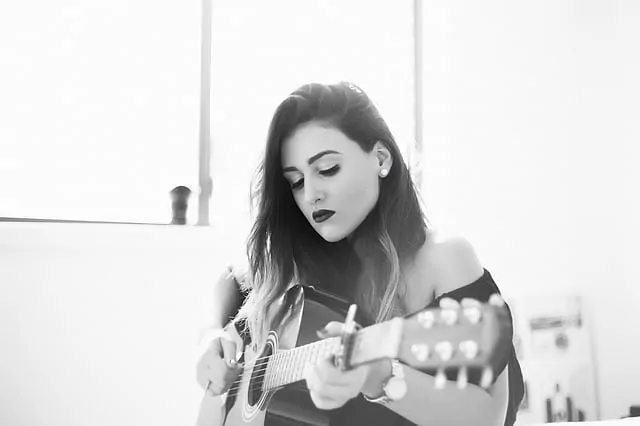 Jen is a guitarist and singer-songwriter who spends much of her time on the road and has lived in 13 cities across 4 continents. She picked up her first guitar at the age of 6 and learned to play by ear shortly after. She received her formal music education at the Berklee College of Music, and currently plays for a few bands in her free time. She has an uncanny ability to improvise creative melodies and harmonies. Her early influences include blues, jazz and rock.