The Fender Acoustic Bundle is our pick for the best cheap guitar, which is acoustic and comes with a set of picks, a strap, some extra strings and others in the bundle.
Our step-up pick is the Glen Burton GA204BCO-BK and it comes with tuners, an amp and other freebies like strings and picks. It has a basswood side and back.
The budget pick is the Donner DAG-1C Beginner and it has freebies as well like a capo, extra strings and a tuner. It has a cutaway design and a full size length.
A Little Background
Learning the guitar has always been a challenge for most people. First of all, the chord positions are different from when you approach a piano. The design of the strings can make you develop calluses and may turn off some beginners at first due to the stiffness. If you learn on nylon at first, it will be okay, but if you start with steel, that's where the pain begins. However, some people like challenges so they learn with steel first.
There are many benefits to this kind of instrument. Simply strumming or plucking chords can help you release your stress in no time, and make you feel good inside and out. Organizing your stuff can be a skill that you would learn from using any kind of musical instrument and playing it in between. Playing music is not just a hobby but can also be a therapy for depression and anxiety.
One good advantage of this kind of instrument is its portability. You can basically bring it anywhere you like without a lot of hassle, unlike other instruments. This stringed instrument is great for traveling anywhere without a lot of things to bring, unless you also have pedals, gadgets and the like. Oh, and if the venue doesn't have an amp, then you'd have to carry one as well, but that's on very rare cases and for electric types only.
With that said, you also need to learn and master some skills when you play it. You need to listen carefully when it comes down to instrument play, since off-tuning can be something disastrous. Physical strength is also important –  if you have the passion to keep playing, you will enjoy playing and also get a good workout. There's nothing more satisfying than doing something that you absolutely love.
Guitars come in all shapes and sizes – all for different purposes. This kind of musical instrument is a useful thing when it comes down to playing music, and has been around for a very long time. The most common is the acoustic type, in which requires no electricity. The other one is the electric type, which does require electricity. There can also be variations in sizes, shapes and purposes, such as for classical music and for beginners for this instrument.
How we Picked
When we chose the best cheap guitar for your needs, here's what we considered:
Price: This is given, since we are looking for a cheap guitar. Remember that even if you do end up choosing the cheapest, it should not compromise on quality and durability, and should be decent enough in those terms. The typical price of a cheap instrument would be one from $100 to $200 or so.
Body material: The body material is important because it will define how the body will resonate and create sound for your strings and your overall setup. The body material should also be durable, as it will hold the whole musical instrument together.
Number of strings: While the popular format is the one with 6 strings, there can also be other choices for those who like to have an unconventional instrument for practice or other purposes. The 12-string ones are for professional use, or for using it for recording purposes.
Accessories included: This is usually a standard for most beginner sets, but some may have more than the other, and it depends on what you actually need to get started. Some may even include a bonus DVD for lessons, which might also come as a convenience for most people.
Neck material: The neck material should also be considerably durable, just like with every part of the instrument, since it will be the basis for how you will be handling the whole thing while performing or even just practicing your pieces.
Bridge system: The bridge system can vary depending on the brand that you choose and how the fretboard is constructed as well as the body.
Material for the fret board or fingerboard: This part will hold the strings together in order for you to create the chords and switch between then. Therefore, it should be longer lasting, especially for gig use and especially since it is the part of the instrument that is narrow.
Hand orientation: Not all players in the world are right-handed so there should also be a left-handed version for them, as well as an ambidextrous one.
Our Pick
As our top pick, the Fender Acoustic Bundle is a great beginner's bundle, which comes with many freebies, such as a tuner, a gig bag, a bonus DVD, some picks, extra strings and even a polishing cloth. It has a laminated spruce top and a saddle made of synthetic bone. It can be used for a variety of music genres.
Flaws but Not Dealbrakers
While not a deal breaker, the Fender Acoustic Bundle does lack in explanation for the bonus DVD, but you can easily find YouTube videos to cover up on that.
Step-up Pick
The Glen Burton GA204BCO-BK has a cutaway design and comes with an EQ for the included amp. It comes with a rosewood fingerboard and a bridge and neck made of catalpa material. Its amp is at 10 watts and it includes all accessories. The tuner gears are sealed for added protection.
Budget Pick
The Donner DAG-1C Beginner is our budget pick, which has a cutaway design and has a bundle pack that contains a gig bag, a tuner, some picks, a guitar capo and many more. It also comes with a guitar capo, a tuner, picks and a polishing cloth. It has a dreadnaught design and has a 30-day warranty.
Best Cheap Guitar that is Acoustic
The Epiphone DR-100 is great for when you want something that is acoustic. It has a mahogany body and a top that is made with a finely selected spruce. Its neck is made of mahogany and the tonewood spruce makes the sound very lively. It also has quality machine heads.
Best Cheap Guitar with a Cutaway Body
The Jameson Left Handed is a great choice for a cutaway style body. It has a gig bag included and has a full scale design. It is acoustic-electric so it can be used for most gigs, and has a black finish in gloss. It is also suitable for left-handed players. It has a black finish with a high gloss to protect from scratches and dents. You can use it plugged or unplugged.
Best Cheap Guitar with a Solid Top
Sale
Made with a solid top, the Yamaha FD01S is made with nato wood for the top and rosewood for the bridge and the fingerboard. It is great for beginners as well. Beginners and some intermediate players can also use it without being too expensive. It is also backed by a lifetime warranty.
Best Cheap Guitar for Backpacking
Great for traveling and camping, the Martin Steel Backpacker has an easy to carry design and a length of 24 inches. It has a total of 15 frets and has a top made of solid spruce. The contour neck shape makes it ideal for traveling while the solid tonewood makes the back and sides greatly designed. The spruce top also gives it a good tone.
Best Cheap Guitar with a Dreadnaught Body
The Fender FA-100 Sunburst is a dreadnought style design and comes with a free gig bag. It is simple and straightforward and can be great for beginners as well. It can be used by both left-handed and right-handed people, and it is made with spruce and agathis for its body construction. The fretboard is made with rosewood and it is a standard 6-string instrument.
Best Cheap Guitar for Kids
For kids who want to learn, the Yamaha JR2 1/2-Size is a good choice. It comes with various accessories such as a gig bag, spare strings, picks and the like. It is also at half the size of the standard one. The neck is made with nato wood and it has a scale length of 21.25 inches. A DVD and a polishing cloth is also included.
Best Cheap Guitar with a Maple Top
The Oscar Schmidt OG2SM has a maple top and has an adjustable truss rod as well. The bridge and fingerboard is made out of rosewood material and the body has a dreadnaught style. It has a high gloss finish and a truss rod that is fully adjustable. The X bracing makes it sturdy as well.
The Competition
Others did not make it to our list because while they are cheap, they were also not very durable and had many complaints from customers. They also did not have quality parts and a reasonable warranty, hence we left them out.
Other Frequently Asked Questions
Q: Should I go for nylon or string types?
A: Both of these two types of strings have profound differences, such as the following:
Type of sound: this refers to the sound that is produced by the strings.
Nylon – It is more on the mid tones rather than on the high, crisp tones, making it ideal for soft genres.
Steel – mostly those that are on the high frequencies. This is due to their high tension.
Tuning: this refers to how often it needs to be tuned.
Nylon – they need to be retuned more often than steel.
Steel – retuning is less of a chore, especially after some time when strings get used to the instrument.
Feel of the strings: this refers to the softness or hardness of the string.
Nylon – softer, since it is a lot softer to handle than the steel type string.
Steel – harder, because the design is thinner and sharper than that of nylon strings.
Fretboard: this refers to the number or starting point of their fretboard.
Nylon – Their fretboard starts at the 12th.
Steel – Steel types have a starting point of 14 for their frets.
Construction: the construction refers to its body, neck and other parts.
Nylon – has a wider neck, which can be off-putting for small hands.
Steel – has a larger body, which can be heavy for some people.
Pick usage: determines whether it uses the pick for playing.
Nylon – does not make use of the pick.
Steel – may or may not use the pick.
Optimum genres: determines what genres it would be best to use with.
Nylon – ideal for folk, flamenco, classical and Spanish/Latin tunes.
Steel – ideal for rock, pop, bluegrass and country.
Q: How do you know which stringed musical instrument should you choose?
A: You should ask yourself first the following concerns so you can better decide on which kind of stringed instrument works best for your needs:
Genre preference: Jazz and blues use less defined amplifications while louder variants of rock such as hardcore and metal often use different kinds of electric stringed musical instruments. It roughly depends on the sound that you want to make.
How much you're willing to learn: if you're really bent on learning it as quickly as possible, then you need to have a lot of time to practice, practice and practice. All musical instruments work this way – if you don't practice then you'll never improve.
Size: Remember that comfort is important for beginners, since holding down the chords and the strings can be quite painful, in which the fretboard should not be too wide for them.
Your passion: Whether music is just your outlet for problems in life or whether you make a living out of it, passion is needed for when you play, because that is what really captivates your audience and makes the clap their hands and sing along to your music.
Q: Does brand matter when you are buying this kind of musical instrument?
A: Choosing whether you get branded or non branded stringed musical instruments can have different implications. However, it depends upon whether you choose a stringed musical instrument for a beginner skill level or an advanced skill level. Here's how to pick:
| | | |
| --- | --- | --- |
| Beginners | Branded | The reason for this is that when new players get tired of playing eventually, or they quit sooner than they would expect, the stringed musical instrument would have a better value for resale and their instrument quality would also be great due to a good company backing it up. |
| Intermediate | Branded but affordable | Intermediate players may also need something that is branded so that they can potentially get a quality equipment as well. However, the said branded equipment should also be affordable so that it will not be a rip off for their budget. |
| Advanced | Any brand | For advanced players, you can basically choose any brand that you want, as long as it is durable and playable. You don't have to worry about brand names because most advanced users can play any stringed musical instrument they wish without much effort. |
Q: What are some common misconceptions when it comes down to cheap stringed musical instruments?
A: It has been a long debate whether price matters when it comes down to purchasing any kind of musical instrument, especially for beginners and even for advanced users. Most people have some myths when it comes down to cheap vs. expensive stringed musical instruments, and we are going to break them down here:
| | |
| --- | --- |
| Myth | Fact |
| # 1: Some people get confused with the word "cheap" in terms of musical instruments in general. | "Cheap" doesn't always mean that it is low priced. On some cases, it can both be low priced but also low in quality, or higher / mediocre priced but also low in quality. |
| # 2: Better stringed musical instruments mean better music. | Of course not! Stringed musical instrument playing is all about YOUR skill and not entirely the fault of the stringed musical instrument. Consider upgrading your skills by practicing a lot. |
| # 3: Something that is low priced is also of low quality. | Not necessarily true all the time! Indeed, you may get low quality for low prices, but you can also get some units that are low in price but are of decent quality when it comes down to sound and tuning, so it is just a matter of looking around. |
| # 4: Quality stringed musical instruments never need to be re-tuned or re-stringed. | Not always true, as all stringed musical instruments need to be re-stringed or re-tuned once in a while. |
Q: How do you properly choose the right strings? What criteria should be considered?
A: Beginners in this kind of instrument may be intimidated with the many kinds of strings and the thicknesses that they can choose. However, here is a guideline for you to take into consideration and use as a reference:
| | |
| --- | --- |
| Coated vs. uncoated | Coated strings are better in durability because they preserve a good tone over time, even when you play with them for years. They can be more costly than the uncoated ones, but they will be worth the investment in no time. |
| Good string material | Strings are usually made of steel for most stringed musical instruments (Spanish and folk ones are made of nylon) so it is important to pay attention to the kind of material that is used. |
| Wounding | This refers to how the lower strings for the lower notes are wounded (much like those in the bass stringed musical instrument). You can simply choose between roundwound, flatwound or half round. |
| Thickness or gauge | The thickness or the gauge of your strong is where it gets a little tricky. Thickness can mean durability but it might also sacrifice the tone of the stringed musical instrument. |
Q: What's the difference between a solid and a laminate finish?
A: Two kinds of common finishes exist: solid and laminate, when it comes down to stringed musical instruments. The main catch is that both of these finishes may or may not affect performance because of the following properties:
| | |
| --- | --- |
| Solid | Solid refers to a whole piece of wood that is made to be whole in construction. |
| Laminate | Laminate ones are those that have an installation method of layering wood over and over until you get a body base. |
Q: How do the different wood species affect your sound quality?
A: There are seven (7) common wood species that can be found for use on these stringed musical instruments, such as the following, and their properties:
| | |
| --- | --- |
| Mahogany | Has a sound that is more woody and punchy and is also good with the high tones. If your stringed musical instrument is made with mahogany for the sides and the back, the treble and the bass will be greatly enhanced. |
| Maple | Maple, when used on stringed musical instruments, will have good tone and color if installed on the side and on the back. It is mainly the best for acoustic stringed musical instruments and it has a beautiful finish as well. The transparent quality helps to enhance the tone. |
| Sitka Spruce | This one is ideal for acoustic stringed musical instruments as well and is usually used on the top. This one has a clear tone and it is also known to be lightweight but sturdy, hence it is great for acoustic types that can be easily carried around. |
| Red spruce | This one is great for quality tones as well as clarity with a rich sound. If you want a fuller sound and a good steel string body or top then this is a good choice for you. |
| Brazilian rosewood | If you want to add a touch of reverb to your sounds, this is a good pick for a wood specie or material. The sparkling tones as well as the rich low end sounds make this one a strong player. |
| Indian rosewood | The mid range tones of this kind of wood is generally good. It is also ideal for those who want a thicker tone than the Brazilian one. |
| Koa | Kind of like how mahogany sounds, the high end tones are great and solid, and it is also good for the mid range tones. This wood specie is best for tops, sides and the back of your stringed musical instrument. |
Q: What are the different parts of this instrument and how are they different across acoustic electric and classical ones?
A: The parts of the stringed musical instrument are as follows, depending on the type of stringed musical instrument:
Steel string acoustic:
| | |
| --- | --- |
| Headstock | The part of the stringed musical instrument that holds the machine head or pegs (tuners) as well as the screws that hold the strings at the top. |
| Machine head | Also called the pegs or tuners, they are what you adjust to tune your stringed musical instrument. They come in a set of 6 for 6-string models. |
| Nut | The nut is the gap between the headstock and the neck. It helps to elevated the strings from the headstock down to the bridge. |
| Neck | This is the part where you hold, and holds the fretboard and the corresponding frets. Wider ones can be difficult for those with small hands or even for beginners to play. |
| Frets | These are the individual lines that make up the fretboard that lies on top of the neck. Frets can vary in space and design, and they can also vary in number depending on the type of stringed musical instrument that you may have. |
| Strap pins | This one is used to hold your strap in place, and is usually located on the bottom side of the neck. The other end is usually at the bottom center of the whole body of the stringed musical instrument. |
| Cut away | This is the curve that is located below the strap pin, and is used for ergonomics and sound. |
| Built-in tuner | Most acoustic stringed musical instruments nowadays have a built-in tuner so that you can mix your music or sound better without additional equipment. |
| Sound hole | The sound hole is where the vibrations of your strings go into, so that it is amplified and sounds are produced. This is the most basic of all kinds of sound producing technologies without the use of electric power. |
| Pick guard | The pick guard lies on one side of the sound hole and protects the body of the stringed musical instrument from scratches with the use of the pick. |
| Bridge | The bridge holds the strings in place so that they do not dangle around. They hold the strings that come from up the headstock downwards. |
| Bridge pins | The bridge pins assist the bridge in keeping the strings in place and are known to be the endpoint of all your strings in the stringed musical instrument. |
| Saddle | The saddle is where the bridge and the bridge pins lie onto, and is usually in a darker color than the body or the rest of the stringed musical instrument. |
Nylon string classical:
| | |
| --- | --- |
| Headstock | This is the part that holds the tuners or the machine heads. It is on the topmost of your stringed musical instrument and also is where the strings are tied onto first. |
| Machine head | The machine heads or pegs help you to tune the strings to your desired tuning, and are located on the headstock as well. |
| Nut | The nut divides the headstock and the neck, and is usually a brighter line than the rest of the body of the stringed musical instrument. |
| Frets | Each fret in the neck is what divides the whole neck into a fretboard or fingerboard. They are the ones that dictate where you should clip your fingers to form a chord. |
| Neck | The neck is where the fingerboard or fretboard lies onto. The neck of the classic type is usually wider, and this is why most beginners and those with small hands can have trouble with this kind of neck design for a stringed musical instrument. |
| Built-in tuner | Like steel string, some modern nylon ones today also already have a built-in tuner as well for you to mix your sound better. |
| Bridge | This is where the strings lie so that they don't fall out of place and goof around when you are playing. It is usually made of durable material that is strong enough to keep the tension just right for your strings. |
| Sound hole | The sound hole is what gives the vibration sounds that are caused by the movement of the strings. It is what makes the stringed musical instrument work, as with other stringed musical instruments. |
| Saddle | The saddle is where the bridge lies, so that it will help the strings rest well and keep them in place. Like with the steel string one, this is also usually of a different color. |
| Strap pin | The strap pin is located at the bottom and is used for handling and putting your strap in place, so that it does not fall off your stringed musical instrument. |
Electric Stringed musical instrument:
| | |
| --- | --- |
| Headstock | The part of the stringed musical instrument that is on the very top, it is shaped differently compared to the acoustic types, as it has a slanted shape on one side and a wavy side. The pegs or machine heads are on one side only, instead of alternating sides. |
| Machine head | Contrary to the machine heads of the acoustic ones, these ones are aligned in one direction instead of alternating on both sides. They are on the diagonal side of the headstock. |
| Nut | The nut is very much the same with the acoustic and the electric, but the electric one is slightly thinner and less defined than that of the acoustic ones. |
| Neck | The neck is also flatter as compared to that of the acoustic ones, but the layout of the fretboard is usually the same, albeit some models have more or less frets, depending on how high you want to go with the notes. Usually, higher frets mean better chances of high note solo leads. |
| Frets | Just like with the frets found on the acoustic ones, they are laid out in spaces so that you can be able to rest your fingers to create a chord. Usually, because of the flat design, it is easier to make chords on the frets of electric stringed musical instruments. |
| Pick guard | This one is located on the lower top side of the stringed musical instrument, and works much like in the acoustic ones. |
| Strap pin | This is located on the left side and on the bottom and is used to strap your stringed musical instrument onto your body with the use of a strap. |
| Single coil pickup | The first pickup on the upper portion of the front body, this one is actually separated into two portions, the upper and the lower. They convert your vibrations into electrical signals. |
| Humbucker pickup | This one is located near the bridge and below the single coil pickup, and works similarly to the single coil but intensifies the quality of your sound. |
| Pickup selector switch | This lets you switch between single coil pickup and humbucker pickup, for convenience. |
| Bridge | The bridge in an electric stringed musical instrument is usually different and much more complicated in design, but it still does the job of holding your strings together. |
| Cable output | This is where you plug your cables for the whole stringed musical instrument to work. |
| Tremolo bar | Some brands have this, and they are used to put tremolo (oscillating bending volume or pitch sound) to add a little more depth to each lead melody you make. |
| Volume | This simply controls the volume of your stringed musical instrument. |
| Tone parts | This helps you to adjust the tone of your stringed musical instrument, and usually comes in two knobs. |
Q: Which is better: acoustic or electric?
A: These two types of stringed musical instruments do have their pros and cons, and we are going to list them down below:
Acoustic
Electric
Advantages
Disadvantages
Advantages
Disadvantages
a. Very convenient to carry around due to its portable size and no wires needed.

b. They have a very raw sound that can be very touching for mellow tunes.

a. They are not as loud and as defined as electric ones for concerts.

b. You can't really put a lot of effects on them.

a. There is a myriad of effects that you can use to tweak your sound.

b. It can power up a big dome or concert arena.

a. You need to run around with cables, which can be tricky.

b. Electrical components may fail later on if you are not careful enough.
Q: How are acoustic types different from classical types?
A: Acoustic and classical types are often confused with each other, but here are some key differences you don't want to miss:
| | | |
| --- | --- | --- |
| Aspect | Acoustic | Classical |
| Fret board | Narrower fretboards make it ideal for beginners to hold chords easily. | Wider fretboards can be a little more uncomfortable for beginners, unless you have longer fingers. |
| Shape and design | They come in a design that is bigger than the classical type. The dreadnought design is the usual thing you will find on them. | It is usually smaller in design despite a similar look. The length will usually be shorter with the classical as compared to the acoustic. |
| String type | Strings that are used by acoustic ones are usually steel, which means that they are ideal for crisp sounds and high tones. | Strings that are used by classical ones are nylon, which makes the tones more mid range and ideal for mellow sounds. |
| Cost | Acoustic steel ones are a little pricier, since steel is kind of more expensive than nylon, and the body is also bigger. | Classical ones are cheaper, but it can be hard to find in a world where shops will most likely offer you steel. |
Q: Are there good reasons for people to try to get into stringed musical instrument playing?
A: There are actually many good reasons why you should play stringed musical instrument (especially for men), or learn how to play it, such as the following:
It is akin to having a musical orgasm due to the release of dopamine in the brain.
You get to push your stress away with great music.
It can also help to temporarily ease chronic pain you may be experiencing.
Your brain activity can be enhanced and thus, it can make you feel more focused.
It can also be good for your heart health because it's a great work out.
You'll socialize with more people when you show off your skills.
Getting girls will be a piece of cake.
You can be successful in the future – either as a musician or a business-oriented person.
It gets your creative juices flowing a lot.
The satisfaction obtained at the end of each session is rewarding.
Q: What mistakes do beginners commonly make in this instrument?
A: Common errors that you may be making as a beginner when it comes down to this instrument include the following:
| | |
| --- | --- |
| Proper grip of the body | This is important so that you won't hurt yourself or let the stringed musical instrument slip away. |
| Forgetting to tune | You should always make it a habit to tune your stringed musical instrument before each practice or live performance, so that it will always be in tune. |
| Proper chord holding | You should also practice the proper chord holding, so that it will not sound off or choked when you strum or pluck any of the strings. |
| Picking and strumming challenges | Some people forget to strum or pick in the opposite direction, which can be a challenge. |
| Barre chords | Barre chords are hard and require a lot of strength. This is why you may need to practice it a lot before you can perfect or master it. |
| Using different sources | You should only stick to one tutor or coach because different people have different approaches of things in stringed musical instrument learning, so the result is that you may get confused later on. |
| Being shy about your talent | Constructive criticism is sometimes important because it helps you to point out what mistakes you should avoid and what good points should you improve. |
| Not using theory | While generally, players like to stick to whatever they want to play, theory is also important because it allows you to get a good sense of direction in making a song or playing it. |
| Not stepping up your game | If you play the same thing over and over again, then that means you are not improving. |
| Not playing with your heart | One final mistake that most musicians don't always keep up is their passion and emotion. |
Q: What does playing an instrument do to your well-being?
A: People are bound for the following benefits if they consider playing and / or learning an instrument:
Physical
Mental
Emotional
1. Relief from stress

2. Better hearing skills

3. Improved immune system

4. Stronger respiratory system

5. Good workout

6. Proper posture

1. Hand and eye coordination is improved

2. Better time management

3. Comprehension and reading skills

4. Better brain activity

5. Listening skills

6. Math skills

1. A sense of achievement

2. Can alleviate depression, stress, insomnia and other worries and difficulties

3. Make new friends

4. Express yourself
Q: Can music change the way our brain works?
A: Yes, many studies have proven this kind of connection For instance, a Northwestern University study concludes that class participation and music training are linked. Improvements were seen on respondents who participated and were going through music training, such as:
– improvement in class participation
– speech processing
– ability to read and comprehend
Q: How do you differentiate rhythm and lead players?
A: These two important roles in a band are oftentimes confused with one another, but they are different:
Rhythm – makes the use of chords and rhythms. They have the following responsibilities and roles:
– strumming the chords of a song
– providing a background for both the lead and the singer
– adding thickness to the song or musical piece
– must be able to switch from one chord to another with ease
– must know about the different chord theories
Lead – makes the use of solo melodies. They have the following responsibilities and roles:
– creating a solo lead for a bridge or any part of the song
– making the stringed musical instrument "sing"
– adding the juice to the already existing rhythm
– supplement the melody of the singer
– must know techniques like tremolo, vibrato, arpeggio, etc.
Q: How important is music theory with playing this kind of stringed instrument?
A: Most people who are beginners in music and with this instrument often find it hard and confusing to learn about music theory. However, it is still needed, whether you make songs or just play them (songwriting requires that you learn them or at least get the gist of them). Music theory is shunned by some people who like to play freestyle, but it still has some importance:
It guides beginners on what to do next.
You can make harmonies easier and faster.
At some point, you may even become more creative.
You will find it easier to listen to complex genres like jazz.
You will be able to link together ideas in a much better way.
Q: What are the most common physical and / or technical problems with these instruments and how do you fix them?
A: Here are some of the most common problems with these stringed instruments and how to fix them:
Problem 1: Dirty or dull wood
Solution: Use jeweler's polish with any cloth
Problem 2: Fretting and buzzing issues
Solution: String saddles can be adjusted
Problem 3: Lackluster strings
Solution: Wipe strings as needed or replace them
Problem 4: Hardware buzzing or rattling
Solution: Use a screwdriver or wrench to tighten loose components
Problem 5: Stringed musical instrument moisture problems
Solution: Temperature of the room should be 65 to 75 degrees Fahrenheit with good humidity (45-55)
Problem 6: Strings can either flat or sharp
Solution: Intonation can be adjusted with the saddles
Problem 7: Volume or tone knob stars to crackle
Solution: Get rid of dirt or corrosion by turning it back and forth
Q: How many hours a day should you practice?
A: It depends on your schedule, but you can allot about 30 minutes of divided practice sessions per lesson or aspect of learning this instrument. For instance, 15 minutes would be learning about minor chords, 5 minutes would be on major chords and the rest of the 10 minutes would be on playing songs.
Q: How do you maintain good physical health and safety when practicing?
A: Some people don't know when to call it a day when they are practicing stringed musical instrument, but here are some safety guidelines so that you do not exhaust yourself:
Ensure a comfortable and easy to reach stringed musical instrument.
Make sure your hand position is just right.
Work on finding the right buzz or tension for holding the chords.
Stretching for your hands, shoulders and arms is also important to avoid straining.
Breathing also plays a role, so that you become more focused.
Don't forget to take breaks when necessary, about 15 to 20 minutes.
Play slow warm-ups so you don't strain yourself.
Stay hydrated during practice so your speed and techniques don't get compromised.
Focus on the music, not on the instrument.
Don't try to bring up your ego – rather, feel inspired by the music.
Q: How do you keep your instrument safe from getting wrecked?
A: Stringed musical instruments are subject to getting physical abuse because you may take them to gigs and the like. Here are some ways to get your stringed musical instrument back in shape, or prevent it from getting wrecked:
Call a responsible and skilled tech guy.
Use a quality leather strap and a good strap pin for the stringed musical instrument.
Consider getting a stringed musical instrument stand so that it won't fall when resting.
Get a nice stringed musical instrument case, other than a gig bag, if you need to travel with it for miles.
Make sure that it is stored in a good temperature to avoid moisture problems.
Wrapping It Up
Overall, the Fender Acoustic Bundle is our pick for the best cheap guitar due to being a complete package with a bundle comprising of extra strings, picks, a strap and many other freebies that will make it worth your money.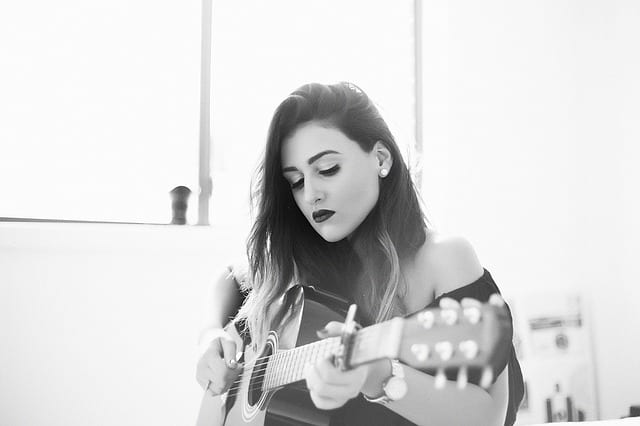 Jen is a guitarist and singer-songwriter who spends much of her time on the road and has lived in 13 cities across 4 continents. She picked up her first guitar at the age of 6 and learned to play by ear shortly after. She received her formal music education at the Berklee College of Music, and currently plays for a few bands in her free time. She has an uncanny ability to improvise creative melodies and harmonies. Her early influences include blues, jazz and rock.