The Yamaha C40 is our pick for the best classical guitar as a full sized one with a gloss finish made with melamine. It is made with Javanese rosewood for the fingerboard and nato wood for the neck, as well as a spruce top.
Our step-up pick is the Cordoba C3M and it has a rosewood bridge and a fingerboard, as well as a top made of solid cedar material.
The budget pick is the ADM 1/2 Size and is ideal for kids due to its half size design. It is also great for beginners and has a spruce top.
A Little Background
A classical guitar is also known as the flamenco, the Spanish guitar or the nylon guitar. This kind of stringed instrument is commonly found in rondalla groups as well as in some folk song groups and solo artists. It is usually smaller than a steel string and can be easy to carry, but has a neck structure that is slightly wider. The fret construction is also different, yet it still classifies as an acoustic guitar all in all.
It is different from the regular acoustic because of its usage of nylon strings. Instead of steel, nylon is used, which presents a softer tone and a more mellow, mid range sound. It is therefore ideal for music that is mellow, vintage, classical sounding and warm. Instead of the high tones that are presented by the steel string, the nylon does the job of warmer mid tones.
These strings are also generally softer to touch so they are easier to use for beginners as compared to the excruciating pain that you might feel if you started out on steel first. However, frequent tuning might be required more with the nylon string as compared to the steel string, which easily stays in place once they have settled in.
Optimum genres you can go use it with include classical, folk, flamenco, Spanish and Latin genres. If you are interested in any of these genres then a classical string instrument would be the best for you. As we said above, you will most likely find it on rondalla groups, or those groups that are made up of mostly vintage stringed instruments and play classical tunes that are mostly of Spanish or Latin American origin.
It is a great choice for beginners who cannot handle steel strings. The thickness of nylon is just fine and not too harsh for those who might find steel a hard string set to handle. Nylon is softer material and the tension is not that high as compared to the steel types, hence the tones are warmer and less crisp, giving off a vintage or rustic feel.
How we Picked
If you want to consider choosing the best classical guitar, we recommend the following criteria:
Number of frets: this refers to the number of frets present on the fretboard, which can be somewhere between 12 and 14.
Size: the size should be just right for the people who are going to use it. For instance, younger players may not like the idea of carrying around a full sized guitar due to its size. Consider matching the length and width of the instrument that you will buy along with the capabilities of the player.
Number of strings: most classical types do have 6 strings, but there are also unique variants that have up to 12 strings or so.
Materials used: consider quality wood for the parts of the body and neck in all sides. After all, quality wood can make a great sound when you strum or pluck.
Nylon string included or compatibility: the nylon string that comes with should be of great quality and is not easy to break or lose its tuning. While it is given that constant retuning is needed for nylon strings as compared to steel strings, it should be as quality as possible to bring out the rich and warm tones. It should also have a good compatibility with many nylon string types and thicknesses.
Included accessories: there are also some packages out there that come as a set, which may include freebies and accessories, such as a gig bag (guitar case), and maybe even replacement or extra strings. Some may also include a tuner that can work for easily tuning your strings on the go.
Hand orientation: in addition to other features, having an ambidextrous one is ideal for when you expect many other people to use your instrument as well, such as for renting studios.
Bridge system: all of the different kinds of bridge systems have their own pros and cons so you should go and see which one best suits your needs.
Price: some people ultimately just don't purchase or don't pursue their dreams and aspirations of being a musical player due to the fact that it may be too expensive. It should be worth the cost yet also of quality build.
Our Pick
The Yamaha C40 is our top pick, which is made with a finished gloss of melamine and has a nato wood neck with a spruce top. The back and sides are made with mahogany imported from Indonesia and a fingerboard made from rosewood from Java. It is mainly used by right-handed people and has a measurement of 24 inches. It is a standard 6-string guitar.
Flaws but Not Dealbrakers
The only short con but not a deal breaker with the Yamaha C40 is that it is only meant for beginners for its design.
Step-up Pick
The Cordoba C3M is made with all natural wood as our step-up pick. It is also made with a hand inlaid rosette for a better design, and has an elegant fingerboard made with rosewood, which also finishes the bridge. The satin and matte finish looks very natural. The sustain and resonance are maintained due to the satin and matte finish.
Budget Pick
The ADM 1/2 Size is our budget pick, which is great for children who want to learn how to play the guitar. It is also good for beginners and has a 6-string configuration with a spruce top. It is made even for kids due to its ease of carrying and a size of 34 inches half size. It is great for classical and jazz music.
Best Classical Guitar for Students
For students, the Yamaha Student CGS103AII has a good finish and a fingerboard made of rosewood. The bridge is also rosewood while the sides and back are made of Meranti material. It is a great budget instrument as well, and is made with a nato neck. The shape is just right for those learning this instrument.
Best Classical Guitar with a High Gloss
The Oscar Schmidt OCHS1/2 has a high gloss in design and has a truss rod that is adjustable as needed. The neck is made of mahogany while the spruce top gives it a solid performance. The sides and back are made with catalpa material and spruce. It has a gloss finish to protect from debris.
Best Classical Guitar with a 3/4 Size
The Valencia 3/4 Size is a good choice for kids and those who can't handle full sized ones. It has a Spanish guitar styling and has a binding for the sound hole. The fretboard and bridge are made of nato wood. It is half nylon and steel due to the unique configuration. The instrument is great for Spanish style and it has an ornate design for the sound hole.
Best Classical Guitar with a Gig Bag
The Hola! Music HG-36GLS comes with a gig bag and has a natural gloss finish. It has soft strings and is very lightweight to carry around. The mahogany neck makes it durable and also stylish in terms of looks, while the design makes it ideal for beginners to learn on, being a ¾ size instrument.
Best Classical Guitar made of Mahogany
The Hofner HF15 has a mahogany neck and is made with quality spruce for the rest of the body. It has a total of 19 frets and 6 strings. The length is at 25.5 inches while the nut width is almost at 2 inches. It is made with a very high quality spruce.
Best Classical Guitar made of Nato
The Yamaha CG172SF is coupled with scratch plates as well as a nato wood neck. The back and sides are made from cypress while the top is European spruce. The scratch plates are made of flamenco style materia and the fingerboard and bridge are made of rosewood.
Best Classical Guitar for Left-Handed Players
For left-handed people, the Guitar Works Left-Handed is a convenient choice. It has a gig bag included as well as an adjustable truss rod. It uses high quality nylon strings that do not go out of tune. It also comes with a strap and a case.
The Competition
While others were okay, there were some that proved to be substandard in the body material and lack in quality build for the mechanisms. They were also too difficult to re-tune and re-string in general.
Other Frequently Asked Questions
Q: What are the differences between folk and acoustic stringed musical instruments?
A: A classic and an acoustic type both have their pros and cons, as well as profound differences, such as the following:
| | | |
| --- | --- | --- |
| Aspect | Acoustic | Folk |
| Shape of the body | The shape of the acoustic one is usually longer and narrower on the fingerboard or the neck part. | The shape of folk types are usually smaller but wider when it comes down to the neck or the fingerboard. |
| Usage of strings | Acoustic strings are usually steel or alloy in material, making them more difficult for beginners due to its sharpness. | Folk types usually use nylon for their strings. This makes them more ideal for beginners who may not be good with sharp steel. |
| Price | Acoustic ones are slightly more expensive than their nylon counterparts. | Those with nylon usually have lesser price because of their smaller design. |
| Learning difficulty | Acoustic ones are typically harder because of their strings, but easier because of their narrow necks. | Those with nylon are harder because of their wider necks, but still easier because of their nylon strings. |
Q:  What are the different kinds of strings?
A: The kinds of strings usually depend on what material they are made of, such as the following:
| | |
| --- | --- |
| Nylon | They are made from soft polymers that have enough tension to be stretched out to become strings for your stringed musical instrument. |
| Steel (acoustic) | They can be made out of different alloys or materials like zinc, copper, tin, brass or bronze. |
| Steel (electric) | These are typically made with nickel plated steel and sometimes also stainless steel or nickel. |
| Coated | Coated types are the ones that cannot easily get oxidized due to the wrapping around them. Coated ones are great for durability despite lack of tone as compared with other strings. |
Q: What are the advantages of a folk stringed instrument?
A: Most people don't find interest in this kind of stringed musical instrument, but it is, in fact, still clad with many advantages for you to discover, such as the following:
| | |
| --- | --- |
| Variety of genres | The genres that you can play with this kind of instrument is quite diverse. It may sound like it is only for folk music but it is really meant for other genres as well, such as pop, ballad, folk, country and the like. |
| Flexibility of styles | Contrary to popular belief, there is a flexibility for different styles so you can mix and match depending on your preferences. |
| Retains speed techniques | You can still practice your arpeggios and similar techniques with this kind of stringed musical instrument. Since it is still a kind of acoustic style, you can play around with it. |
| It can still be a group instrument | Contrary to popular belief, there are many folk stringed musical instrument groups from different cultures out there, and it is a vital piece of their cultural identity. |
| Many famous acts are using it | You can definitely find most famous artists and stringed musical instrument players using it because of its ease of plucking and diversity of style. |
| It does not hurt your fingers | Because of the soft design of the nylon strings, this kind of stringed musical instrument is very soft for your fingers. This is especially a friendly kind of string that is meant for beginners. |
| Even metal artists play it | Just because it lacks the higher tones does not mean that it is not meant for metal genres. With proper mixing as well as technique, even metal artists can play it. |
| You can make instrumental music out of it | Because of its rich and warm tones, you can make a subtle background music from it, which is especially great for adding backdrop to documentaries, films and the like. |
| The warm tone is a magical experience | The warm tone is reminiscent of vintage, folk and a rustic feel or experience. This is something that cannot be easily achieved from the steel type string set. |
| It's a very easy stringed musical instrument to learn | Because of the softness and the simplicity of the nylon strings, it is usually very friendly towards most beginners. |
Q: What are the pros of nylon strings?
A: Nylon strings are getting popular again because of their vintage feel. Here are some reasons why you should try out stringed musical instruments that use nylon strings:
They give off a warm tone.
They are soft to touch.
There is no need to use the pick.
You avoid accidentally pulling adjacent strings due to the width.
It has a lower tension for a more relaxed sound.
Most people can sit comfortably with this instrument.
You can use nylon strings for a variety of music genres.
Q: How does music help your brain?
A: There are actually different ways that music can affect your brain, such as the following:
| | |
| --- | --- |
| Facial expression detection can change | When you listen to music, you can actually see things differently. For instance, when a person has a poker face, you can either see it as happy or sad, depending on what you are listening to, or the song that you are currently playing with your instrument. |
| Gets you creative | If you play more songs then you will definitely become more of an outside of the border thinker in music and other things. |
| Defines your personality | The music that you choose can also reflect your personality. For instance, those who listen to rock and punk usually have a tough personality but may be soft inside. |
| Motor skills | Hand and eye coordination can be improved if you keep playing musical instruments. |
| Reasoning and vocabulary skills | With music, you also get to learn some new vocabulary as well as better reasoning skills and the ability to perhaps create your own music. |
| Visual attention | People who listen to music while they are doing something also get more visual attention to something if they are listening to music, such as studying or working. |
| Gets you pumped while working out | Most people at the gym listen to music and plug in their earphones while running on a treadmill. It helps to keep up the pace so that they don't get bored while they are working out at the gym. |
Q: Which genres of music uses the folk stringed musical instrument?
A: Various kinds of genres of music can be used with this kind of stringed musical instrument, such as the following:
Jazz and Latin
Folk and folk music
Country
Pop
Blues
Q: What are the misconceptions with this kind of instrument?
A: Most people think that cheap is inferior to expensive, and they also make other misconceptions. Here are some of them, including the real facts:
Cheap vs. Expensive: Even people with a substandard stringed musical instrument can successful pull off and earn themselves enough money to buy a better brand later on.
No re-tuning or re-stringing: Even the most expensive stringed musical instruments can have dulled strings later on if you do not replace or re-tune them.
Bass stringed musical instruments have bigger frets: not entirely true, since some vintage bass stringed musical instruments do have smaller frets. There are many options for different brands out there.
Big strings equate to big sounds: not entirely true, since some artists have used thinner strings and worked out just fine, such as Santana and Billy Gibbons going for a .007 sized string thickness.
Truss rods should only be left to experts: even beginners and intermediate players can do this, if they search online for tutorials on how to fix them.
Q: How do you choose a good string material?
A: String materials for stringed musical instruments can be quite a hassle to shop for, but it is all about the technical knowledge so you know that what you are buying fits perfectly onto your stringed musical instrument, such as with the following criteria:
Know if it is coated or uncoated. They work for bass stringed musical instruments and lead stringed musical instruments as well. In addition to that, coatings can also make the stringed musical instrument less likely to get corrosion later on.
Examine the wounding. Most with round wound are bright in their sound and are also popular. A smoother and warmer sound can be felt with half round ones, while flat wound is ideal for jazz and mellow tunes, especially for vintage music.
String material should be taken into consideration. The alloy used in the steel string should be in the tone that you want, whether it's a bright or dark tone, depending on how you want your sound to be. Here are some of the most important material types that are used:
| | |
| --- | --- |
| Material | Description or Tone |
| Brass | Gives off a bright tone and is also ideal for bring out some metallic profile to your stringed musical instrument or instrument. |
| Aluminum bronze | Combines the clarity of crisp high tones and the profound bass tones. |
| Bronze | The bright tones are okay and clear enough. Bronze, however, may deteriorate quickly due to oxidation. |
| Phosphor bronze | Being an alloy makes this variety of bronze better in longevity. The sound is crisp but the tone is a little warmer and a bit on the dark side of things, so it is good for giving a slightly vintage feel. |
| Silk and steel | This is a unique combination that puts together copper wire and nylon or silk, so it is softer to touch, more beginner-friendly and gives off a warmer tone. |
| Polymer coating | Great for rust-resistance, this one can also come in a variety of colors. It does, however, lack in brightness and in sustain. |
If your stringed musical instrument is made with nylon string, here are the different materials that you can choose from:
| | |
| --- | --- |
| Material | Description or Tone |
| Clear nylon | This one has a good clarity and richness and is made in different gauges of nylon monofilament in clear color. |
| Rectified | This is a variant of the clear nylon and has a rounder tone. It has a precision built design that is more ideal for mellow tones. |
| Black nylon | This one has a pure sound and a warm overtone that is ideal for folk music. It is also made of nylon but a little darker. |
| Titanium | This one is ideal for a dark feel and is also coupled with smoothness and brightness. |
| Composite | It is ideal for use in the G string as a mid string that has sufficient amount of brightness. It is made with a composite from multiple filaments. |
If you have a bass stringed musical instrument, here's a list of the different materials:
| | |
| --- | --- |
| Material | Description or Tone |
| 80/20 bronze | This is made with 20 percent zinc and 80 percent copper. Most people call it brass but it is actually simply an alloy that is also referred to as the gold string, due to its good projection and brilliant tones. |
| Silver plated copper | They are also known as silver strings and have a smooth tone with the copper adding some sense of warmth. They have silver plating on them. |
The thickness of the string is important. Therefore, you should consider it carefully, and choose from the light ones to the heavy ones depending what you need. In fact, when you want to consider the gauge, you should also consider the following:
– What's the body style of your stringed musical instrument?
| | |
| --- | --- |
| Light gauge | Small stringed musical instruments |
| Medium gauge | Dreadnaught |
| Heavy gauge | Large body stringed musical instruments |
– How do you want to play?
| | |
| --- | --- |
| Light gauge | Finger picking |
| Medium gauge | Hard strumming |
| Light-medium gauge (heavy / light) | Strumming and finger picking |
– What tone do you want to have?
| | |
| --- | --- |
| Light gauge | Trebles |
| Medium gauge | Mid tones |
| Heavy gauge | Bass tones |
– How old is your stringed musical instrument?
| | |
| --- | --- |
| Light gauge | Older stringed musical instruments |
| Medium gauge | In between |
| Heavy gauge | Newer stringed musical instruments |
Know about the tension. This is the part or aspect of the string that allows it to be pulled further and tuned without easily breaking. There is nothing more frustrating than when a string breaks when you are playing or when you are changing or tuning it. There are three general classifications of tensions, usually depending on their gauge or thickness:
| | |
| --- | --- |
| Low Tension | Low tension types are great for legatos that are smoother and for a more subtle volume. It is easy to fret with this kind of string. |
| Mid Tension or Normal | The normal one is great for when you want to have both the advantages of low and high tension types of strings, since it is well balanced. |
| High Tension | The high tension or strong / hard tension is the kind of string that has lack in note body but is better with attacking and volume. |
Q: What safety precautions should players know first when playing the stringed musical instrument?
A: You should know the following safety precautions first when you want to play this instrument:
| | |
| --- | --- |
| Stretching exercises | Stretching is crucial if you are going to do some really fast picking, arpeggios and the like, that may potentially cause carpal tunnel syndrome or any kind of related inconvenience with your arms, hands and muscles. |
| Finger exercises | Finger exercises should also be kept into consideration because your fingers will definitely hurt if you don't warm it up for a while first. |
| Taking frequent breaks | Having a tired mind and body can lead to less focus and may make your hours less fruitful, so you should make sure that you get some manner of rest before going at it again. |
| Stopping when it hurts | Much like with any exercise or workout at the gym, you should stop when you think the pain is excruciating for your hands, arms and especially fingers. |
| Play at reasonable audio or volume levels | If you don't want to walk that path of solitude of deafness, you should take care of your ears by listening to reasonable audio levels at most when playing. |
| Get hydrated | Having a drill practice or a song practice can cause exhaustion and this is why you also need to get a glass of water or bottle of water nearby, in case you get really tired. |
| Get into good posture | You also improve your posture because that's the way you have to carry your instrument without hurting yourself – to carry it with the right posture or sitting position (or standing if you have to). |
| See a physician | If certain pains and fatigue persist with your playing routine then you should definitely see a physician so that they can address the problems for you. |
Q: How do you make sure that your amplifier doesn't cause electrocution?
A: The answer is simple: it should be grounded if it is coupled with a cable with a 3-core design. Many people have died due to a malfunctioning or not properly grounded amplifier during their stage performance, and this is why you or the stage staff should always double check equipment to avoid really harsh problems such as these.
Q: How are solid and laminate finishes different?
A: Both these finishes and constructions are different from each other, as defined by the following:
A solid finish is mostly found on high end stringed musical instruments and most likely have a better vibration and sound than laminate ones. They are typically pricier due to how they are made, and are mostly tagged above $500 or so.
A laminate finish is usually found in cheaper types of stringed musical instruments and are not that good when it comes down to vibration. However, if they are made with better quality, some of them can sound just as decent as solid ones.
Q: What beginner mistakes should avoid in playing this instrument?
A: If you are new to this kind of instrument then you may be bound for certain mistakes, such as the following:
Not strumming or picking in both directions. This is why you should also learn how to alternatively strum or pick your stringed musical instrument.
Not properly holding the stringed musical instrument. The proper grip is important so that you can get a better hold of the chords.
Using the same piece over and over again. Consider harder pieces that allow you to step up your game, no matter how difficult it is at first. After all, everything is difficult for the first try, until you get better at it.
Not giving your heart and soul for every performance. Once you've mastered every technique and theory, if it lacks heart then it is not considered a great performance overall.
Not playing outside for people to see. No matter how beginner you think you are, it doesn't mean that you should keep it there forever!
Not using the right tempo and timing. Most people play the right melody and chords, but they forget to go with the flow of the drums, hence their performance is messy. The most important thing with a musician is to have a good sense of tempo and timing, so that their performance will be okay.
Not using barre chords. If you are having trouble with barre chords, you can try a 5-minute practice per day. It can be hard, but trust us, it will be worth it if you keep trying!
Not splitting your practice session into parts. Having a scrambled random routine can mean that you are not effectively learning or honing any of your skills in stringed musical instrument playing. Consider setting schedules for different techniques and learn them one by one.
Overdoing drills instead of songs. Don't go through the drills all the time – if you can, go through the songs right away! Drills are boring, especially for students, and the fun really starts when you play a song and feel the melodies and chords flow and fly through!
Not having a goal for yourself. You can't improve without setting a personal goal, as with workouts and other aspects of life. For example, you may try to learn jazz stringed musical instrument skills the next month or try something complicated like the stuff that Queen plays.
Q: What factors can affect the life of a stringed musical instrument string?
A: Different factors can affect the lifespan of your string, causing it to deteriorate, such as the following:
| | |
| --- | --- |
| Humidity | Humidity is a number one killer for strings, as well as for the body. Even if it is properly varnished and coated, a stringed musical instrument will definitely deteriorate over time if it is exposed in highly humid temperatures. |
| Frequency of use | If you use it more often, you will most likely need to replace the string faster than you think. |
| Maintenance | Most people also forget to re-tune and restring their strings, and this is when they neglect the proper maintenance for their instrument. |
| Materials | The materials that make up the string can also ultimately affect its performance. |
| Storage | Where you store your stringed musical instrument and the strings can also affect how much it will stay there for long, or stay in tune, for that matter. |
Q: How do you know when your strings need to be changed?
A: Most people do not know when it is time to change their strings. Luckily, we prepared some guidelines in order for you to know when to do so, or when is the best time to do so:
Your strings get corrosion or discoloration.
Tuning your stringed musical instrument doesn't solve the problem.
There's little or no more luster in your sounds.
Q: What are the different gauges of strings that I can buy for different types of stringed musical instruments?
A: Whether you have a folk, acoustic or electric type, you can have different gauges of strings, or rather, thicknesses of strings, such as the following:
| | |
| --- | --- |
| Type of string or stringed musical instrument | Gauge |
| Acoustic steel string | .010 to .056 |
| Bass string | .045 to .130 |
| Nylon string | .028 to .043 |
| E string only | .011 to .050 |
| Electric stringed musical instrument (nickel) | .009 to .042 |
| Electric stringed musical instrument (steel) | .011 to .050 |
| Phosphor bronze (acoustic) | .010 to .053 |
Q: What are the advantages and disadvantages of lighter and heavier gauge strings?
A: Both heavy and light gauge strings have their drawbacks and benefits, such as the following:
Heavy gauge
Light gauge
Pros
Cons
Pros
Cons
Added volume
Difficulty in playing
Ease of playing
Fret buzzing
Better sustain
More pressure is needed for fretting
Better note bending
Easily breaks
Heavier sound or tone for your stringed musical instrument
Bending notes can be hard
Simple fretting
Less volume
Usually more durable
Can be harsh on vintage stringed musical instruments
Ideal for vintage stringed musical instruments
Less sustain
Q: What are the different criteria that can affect a string's ability to hold down a single note?
A: In order to create better sustain to hold notes, your string needs to be in great condition. Some factors that can affect the sustain or the ability of the notes to hold long enough are the following:
Quality of your strings
Body construction
Wood quality
Tuning pegs
Nut that holds the string
Tremolo block construction
Tremolo system
Tension springs on the tremolo
Pickup quality
Balance of the tremolo
Q: What are the different parts of this instrument and what do they do?
A: There are different parts of a stringed musical instrument and they all have their functions. Let's start off with the general parts of the top or neck part:
| | |
| --- | --- |
| Nut | The nut is where the headstock and the fretboard meet, and is the line that is at the top that lifts the strings from the headstock to the fretboard. |
| Frets | Frets are found on the fretboard, and look like horizontal lines that become the platforms where you pattern your chords. |
| Tuning keys or pegs | These are mechanisms that allow you to tune your stringed musical instrument to a standard tuning of E A D G B E or some other complex tuning, if you want to. |
| Headstock | The headstock is the uppermost part of your stringed musical instrument that holds the strings and the tuning pegs. Acoustic and electric stringed musical instruments have different shaped headstocks. |
| Fretboard | The fretboard is the part of the neck in which you find the frets that allow you to make the chords out of your stringed musical instrument to make music. |
| Inlay or markers | The inlay or markers help you determine which chord is which. |
Next, we have the body of the stringed musical instrument, in which acoustic and electric models differ. In acoustic, we have the following parts (most of which are also found in electric models):
| | |
| --- | --- |
| Sound hole | This is where the sound passes through and reverbs or resonates through acoustics, and that is how your stringed musical instrument sound comes out. |
| Pick guard | The pick guard protects the body of your stringed musical instrument from harm when you use a pick for it. |
| Saddle | The saddle is where the bridge of the stringed musical instrument lies, and is usually of a darker color than the rest. |
| Bridge | The bridge is where the end of the strings are attached onto. |
| Bridge pin | The bridge pin is where the end of the strings are tied in place. |
| Strap button | The strap button is ideal for attaching your own stringed musical instrument strap. |
In electric stringed musical instruments, we have the following exclusive parts:
| | |
| --- | --- |
| Single coil pickup | These produce a brighter sound and may potentially have a humming sound, which is taken care of by the humbucker below. |
| Humbucker pickup | The humbucker does not have a bright tone but it gets rid of the hum from the single coil. They have a wider design and sit on the bottom of the single coil pickup system. |
| Volume knob | This helps you to manipulate the volume of your instrument. |
| Tone knobs | This can help you to adjust the tone for your instrument. |
| Pickup selector | You can select between single coil and humbucker pickup with this kind of mechanism. |
Q: What are the different kinds of bridges for a stringed musical instrument?
A: The stringed musical instrument may have a different format for the bridge, which is the part of the stringed musical instrument that holds the strings to the end, just below the sound hole (if present). There are many kinds of bridges:
Fixed – this is the kind of bridge that is found on most acoustic and acoustic-electric types and cannot be changed due to the fixed nature. They are great for simplicity, and can be divided into the following types or subcategories:
| | |
| --- | --- |
| Wraparound | This one has a very simple design but cannot be adjusted for string height. Nonetheless, it is the most popular of all bridge types. |
| Ashtray bridge | Commonly found in the telecaster type stringed musical instruments, they may not be that good for intonation but they can have a twangy sound, which is the signature sound of the telecaster. |
| Tune-o-matic or stop tail | Both of these can be closely related to each other, and was popularized by Les Paul stringed musical instruments. If you want something with an awesome sustain, this bridge type is what you should look for. |
| 2 Tek | Unique in its design, it is made to have less accidental crossovers between the strings, height adjustability and superb sustain. |
Tremolo bridge – this is the type that adds depth to a sustained note when you play a melody. Just to be clear, tremolo refers to the bending in volume levels, while pitch level bending is actually vibrato. Here are the different kinds of tremolo bridges:
| | |
| --- | --- |
| Bigsby | This one is similar to that of the tune-o-matic and has some tightness so it is not that good with sustain, but it is quite deep when it comes to making tremolos. |
| Synchronized | This one is one of the best when it comes down to the saddle design, has 6 screws and it has good string tension adjustments. |
| Wilkinson | It also has 6 screws and has saddles that can be easily adjustable. It is a modern version of the bridge that has 6 screws. |
| Floyd Rose | This is a tremolo that has a double locking mechanism and has been popular in the 80s music scene. They mostly use aluminum, steel or brass. |
| Kahler Trem | This one is a cam operated design in which the unit is where the springs are attached. It has a similar range to the Floyd Rose but may not be easily compatible with most systems of stringed musical instruments. |
Q: What are the different body types for a stringed musical instrument?
A: The different body types for a stringed musical instrument are the following, and they can affect the sounds that your stringed musical instrument can produce:
Solid body – this one is mostly found on the Stratocaster and is ideal for beginners. It is also found on the Les Paul and is used by many famous stringed musical instrument players. The high end sound is what makes this profound. They are also very versatile to play with a lot of genres.
Semi-hollow – these have an f-hole on both sides, much like a violin, viola, cello or double bass. It has a unique sound that sounds golden and vintage. It is also quite versatile for many genres.
Acoustic-electric – this one is a combination for both acoustic type bodies and electric type bodies. It gives off an amplified acoustic sound. It also packs a lot of versatility in general.
Wrapping It Up
Overall, we think that the Yamaha C40 is our pick for the best classical guitar because of the quality nato wood construction, gloss finish and beautiful spruce top.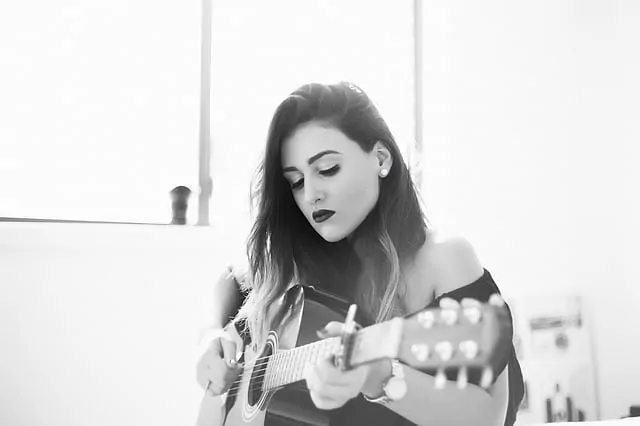 Jen is a guitarist and singer-songwriter who spends much of her time on the road and has lived in 13 cities across 4 continents. She picked up her first guitar at the age of 6 and learned to play by ear shortly after. She received her formal music education at the Berklee College of Music, and currently plays for a few bands in her free time. She has an uncanny ability to improvise creative melodies and harmonies. Her early influences include blues, jazz and rock.