Today's article is reviewing the Washburn Rover, a parlor travel guitar featuring an eye-catching and rather unexpected design. It's also a budget offering that, despite its shorter body, actually has a fully-sized fingerboard for classical acoustic guitar players.
Washburn is a medium-sized company and a medium-sized name in the musical instrument industry. Their offers revolve around good value models, typically easy to find and recommend, but nothing too special.
Bear in mind this is a travel acoustic guitar. That means the main feature of the guitar is its lightweight. The idea is to attract players looking for a compact and travel-friendly instrument, albeit don't confuse the Washburn Rover with a toy.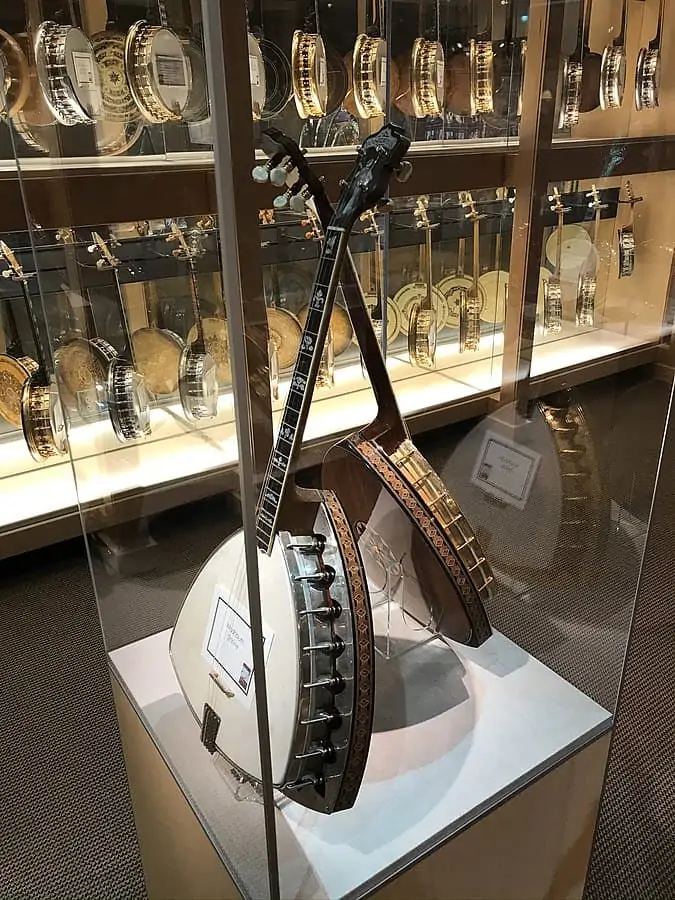 "Washburn Shrine banjos at the American Banjo Museum" by Jacqke / CC BY-SA 4.0 Washburn creates affordable instruments, as well as novelty instruments as unique banjos, ukuleles, mandolins, hollow guitars, and similar.
It wouldn't be fair to continue this article without highlighting the Delta King, a semi-hollow guitar by Washburn, which is one of the best electric guitars of its kind.
Washburn Rover RO10TB Acoustic Guitar Review
The Washburn RO10TB is a travel acoustic guitar. That means it's compact, which you can tell by the shape of its body. It's also fairly lightweight, with a 6.69 pounds weight average.
Even though it comes with a good performance and specs, the remarkable feature of the RO10 is its ultra-compact body. This guitar is the result of careful craft and creative design.
Also, it has a quality sound, plus a projection that's well above its small body. The sound coming from the Washburn Rover belongs to a full-sized acoustic guitar, although the tone is neither too loud nor too refined. Instead, the tone is generally appealing and smooth.
Overview
The Washburn Rover is an instrument series featuring ultimate travel guitar models. Moreover, these guitars are easy to play and thus friendly to all skill levels.
The guitar series has Solid Spruce Tops with premium Mahogany on the back and sides, plus a 23.75'' scale length.
Lastly, there's an attractive variety of color options because, after all, these are instruments designed to make you look good in front of your friends and family.
In particular, I'm sharing a bundle with a Deluxe Gigbag for safe and easy travel.
Built quality
The travel-friendly Washburn Rover features a unique design that ensures portability, looks, and sound.
Body & neck
Let's start by highlighting the body. The shortened body is made of solid Spruce on the top with a sawn scalloped bracing on the soundhole.
Then, it has laminated Select Mahogany on the back and sides of the body.
In particular, the Quarter Sawn Scalloped Sitka Spruce bracing greatly influences the sound and the projection stability of the guitar. Overall, the feature is about providing balanced tones. Bear in mind bracing patterns are not that common at this price range.
I should add the dimensions of the guitar are small, so it ensures you can place it on your car's trunk or an airplane overhead compartment.
However, it still has a 24.75'' scale length, which means it's a full-sized guitar. Your guitar playing won't suffer in any way, and so if you're an acoustic guitar player, the Washburn Rover will feel familiar.
The neck has a 15th fret neck joint, and its material is mahogany with an extra sating finish. It packs a rosewood fingerboard with 17 full frets, plus 3 frets sharing the treble side only. All of the frets are easy to access thanks to the slim body.
Also, the rosewood board is smooth and free of sharp edges or imperfections. It allows players to move their fingers easily across all of the frets.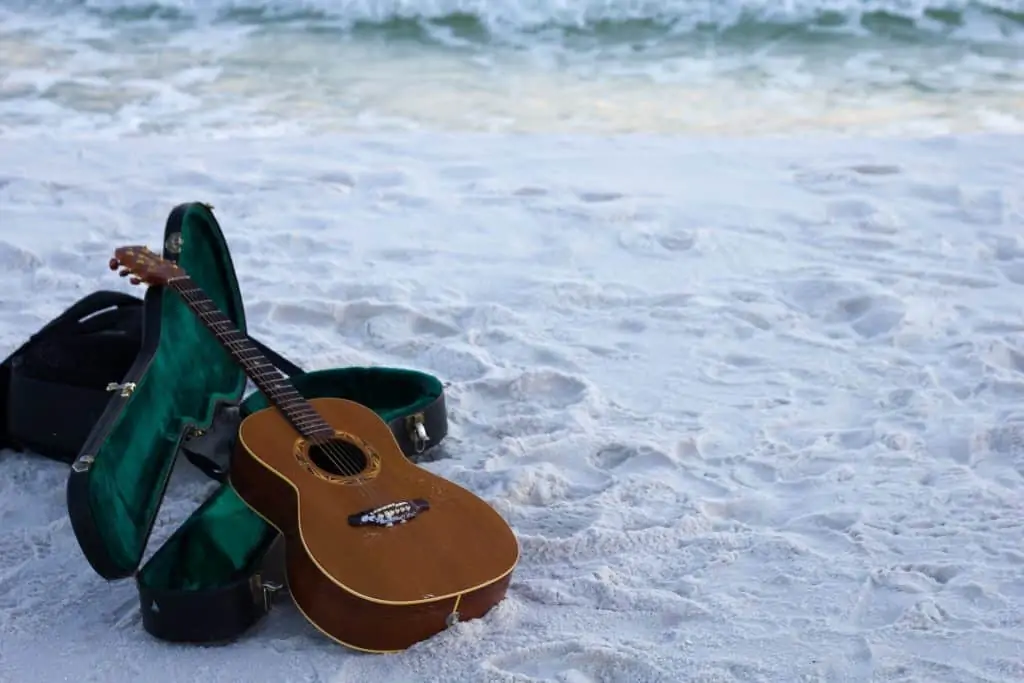 Travel guitars are usually shorter and smaller than fully-sized guitars. That means they bring a lesser output plus an inconsistent sound.
Finish
The guitar has a matte finish all over the body for a smooth feel. Also, the satin finish of the neck improves the overall looks and feel of the guitar.
Lastly, the guitar has four color choices, which are natural, black, red, and blue.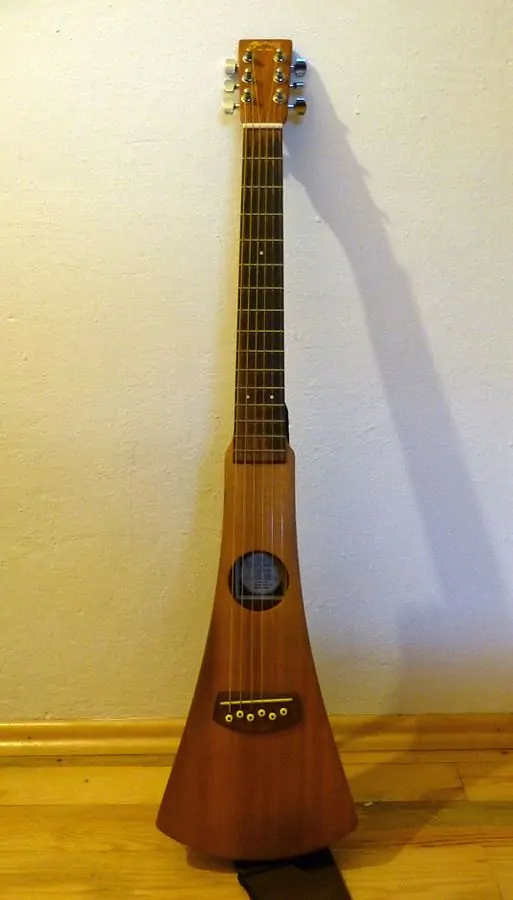 "Martin travel guitar" by Neitram / CC BY-SA 3.0 Some travel guitars feature unique designs on the body. These designs make the body shorter and compact.
Sound quality
The mix of Spruce and mahogany tonewoods kickstart the sound signature of the guitar. They produce warm and rich sounds, over and over, and the result is the same on the Washburn Rover despite its size.
That said, the tiny body produces a lower output than what you'd expect. The tone is neither full nor rich, which is something to expect from parlor and travel guitars. That said, you could do worse: most travel guitars could sound much worse and tinier than the Washburn Rover.
Nevertheless, the Rover guitar still sounds clear, twangy, and generally fun. What it lacks is low-end power and projection.
It's certainly not a performer guitar, although no one would take the Rover to a stage. For campfires, campus areas, hotel rooms, and airports, it's the sound you need.
So, people looking for a loud guitar might be disappointed. The Washburn RO10 is not a stage-ready guitar and not a home studio option.
The sound has a moderate output, neither too low nor too high. For example, you could play the Washburn Rover in your hotel room without disturbing the next room.
With its decent sound, you could also expect and ask more to the guitar than simply a sound-on-the-go. For example, professional players could use it for practice and songwriting.
Regarding the tone, it's warm and punchy thanks to the tonewoods combination. There's nothing too spectacular or catching, but it's still pretty nice.
Now, whereas high-end travel guitars can sound just as good as a full-sized guitar, the rule doesn't apply to budget alternatives like the Washburn Rover RO10TB.
In the end, I would describe the sound of a Rover similar to a zither. In other words, it has a "Middle-Eastern" kind of vibe. Better yet, think of the Middle East meets the Mississippi River.
Feel Quality
With most said and done, I can add the Rover feels great on your hands. It's light and compact, but it's not a toy. With its fully-sized frets.
When it comes to hardware, there're solid choices on the guitar as well.
Hardware
First off, it has a good set of die-cast tuners. They do a great job retaining the sound of the guitar, and so I have nothing to complain about the matter.
You'll also find an ABS nut nearby, plus a solid rosewood bridge on the body.
Lastly, it has a set of extra light D'Addario EXP-15 strings, which are phosphor bronze and steel material. That's a plus, as even beginners can play without injuring their fingers.
Another plus is the foam-line case that ships with most bundles. It's a fine bag capable of protecting the guitar on your travels.
Downside & Alternatives
As I said, the Washburn Rover lacks output, so you might look for a stronger travel guitar. If you're looking for some extra quality, I can give you other options, although the Rover still affords a lot of value and portability for its budget.
First, I can recommend the Baby Taylor guitar. This is a parlor model made by a top-tier manufacturer. The Baby BT2 is the cheapest Taylor model you could find, so consider it as the entry-level Taylor experience.
Also, it has a gorgeous tone.
A cheaper option is the Gretsch Jim Dandy, which is everything a small guitar should be. It's gorgeous, great-sounding, fun to play, and kid-friendly.
A similarly priced guitar is the Yamaha JR1. As everything coming from Yamaha, the JR1 is a top value alternative. However, the target goal is kids because of its size and sound projection.
Sale
Lastly, I can recommend the Martin LXK2, which is a unique Hawaiian-sounding guitar. It's like the quality offspring between a ukulele and a guitar.
Washburn Rover RO10TB Specs
Design: travel ultra-compact body
Body tonewood: Solid Spruce Top with laminated mahogany on the back and sides
Neck: thin neck
Neck joint: bolt-on
Neck tonewood: mahogany
Scale: 24.75''
Fingerboard tonewood: rosewood
Tuners: chrome
Bridge: rosewood bridge
In summary
Should you buy the Washburn Rover?
The tiny body of the Washburn Rover is made for traveling and easy storing. That makes it incredibly easy to carry around, although the neck is still robust, or standard.
And while the tone is somehow quiet and not too special, it's still very good for the price and design of the guitar.
Final Say
For its budget, the Washburn Rover is one of the best travel guitars in the market.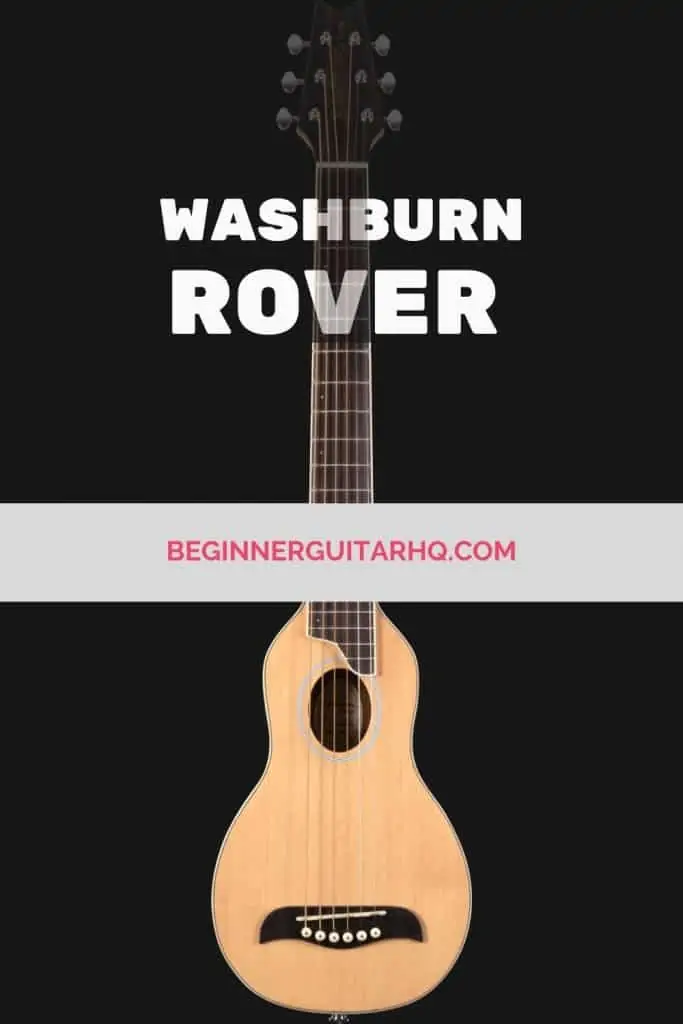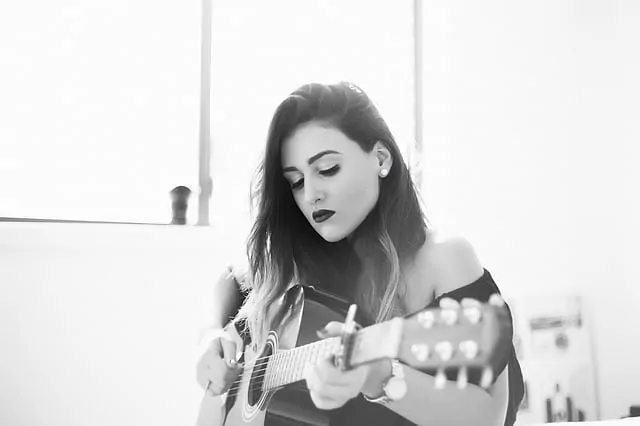 Jen is a guitarist and singer-songwriter who spends much of her time on the road and has lived in 13 cities across 4 continents. She picked up her first guitar at the age of 6 and learned to play by ear shortly after. She received her formal music education at the Berklee College of Music, and currently plays for a few bands in her free time. She has an uncanny ability to improvise creative melodies and harmonies. Her early influences include blues, jazz and rock.