It's good news that reputed music instruments brand Gretsch also has some quality items on the budget side of the market. And that's exactly what the Jim Dandy Flat Top Acoustic Guitar is: an ax that squeezes as much quality as possible into an entry-level budget.
And when you put it through a careful test, it checks all of the marks. And it does so owning a garage-sale price tag…How else would a Gretsch guitar sell for so low? 
See, Gretsch guitars are as expensive as Fender and Gibson instruments. But you wouldn't see a Fender or a Gibson acoustic guitar at this price point, so what's going on?
The Jim Dandy is no handicapped instrument, though. Don't get fooled by its charity price. 
Keep in mind it has no electronics, no fancy add-ons, no elegant cuts, and no components unseen on other tried-and-tested budget acoustic guitars. What it does has, though, is excellent craftsmanship.
So, in essence, we're going to see why the Jim Dandy is one of the best acoustic guitars for kids and beginners. And it packs so much quality for so little money. 
This is an amiable guide; anyone who reads this can understand. This review is okay for parents looking for their kid's first guitar. It's also friendly for people who don't know much about music looking for something cool to gift to themselves or others. 

The Jim Dandy is a guitar made for amateurs and kids, although there's nothing wrong on taking it seriously.
Gretsch G9500 Jim Dandy Flat Top Parlor Acoustic Guitar
Gretsch is clear on how they describe this product. The G9500 Parlor guitar is meant to look like and feel like  "everyone's first guitar." They are not wrong.
If you know how a Gretsch guitar sounds, you've had a superb life as a musician. They've been around for 130 years, so their top reputation is hard-earned cash.
The G9500 Jim Dandy Flat Top Parlor Acoustic Guitar joined Gretsch's inventory recently. The point of this guitar is looking like  '30s – 40s – '50s guitars. In particular, this parlor guitar looks like the company's Rex series of parlor instruments from the '30s to the '50s.
You have to know parlor-sized guitars are made for young players and kids for they are smaller, lighter, and easier to play than dreadnought or jumbo guitars.
Now, because the Jim Dandy is made in East-Asia, the product is naturally cheaper than what we normally see in Europe and the USA.
Overview
We know how premium Gretsch instruments can get, and if you're new into the guitar world, well…now you know it too.
And premium isn't cheap…but what about non-professional premium?
See, whilst most parlor guitars are centered around build quality and a decently loud sound, the selling point of the G9500 is, without any doubt, the price tag.
That's because kids are not worried about the tone or features of a guitar, and much less about how much it costs.
Things are much simpler for the youngsters: they are only craving for an instrument that looks cool and doesn't feel too heavy or too big on their hands.
More so, kids are looking for an instrument they can use to learn. That's exactly what the Jim Dandy offers with its pristine sound. I'd say the Jim Dandy checks the most important boxes when it comes to amateur instruments. 
So, the reason why I say this is a non-professional premium item is that the quality is top-notch…for a small guitar suited for home-play and children.
Now, let's take a look at what you can get for this kind of money and see why Gretsch markets the Jim Dandy as "everyone's first guitar."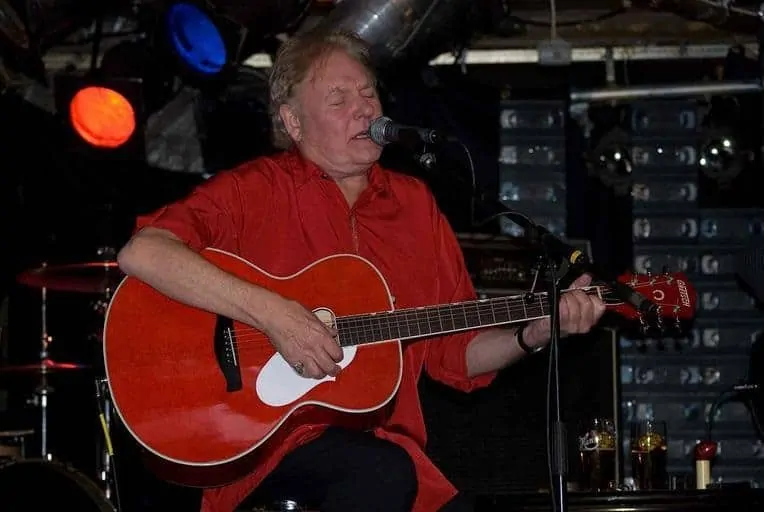 Gretsch guitars are known for their quality sounds and elegant looks.
Build & design
Let's dissect the name of the Jim Dandy acoustic guitar.
First off, this is a flat-top guitar. That means the body style of this instrument is flat on the face (where you see the soundhole). Most guitars are not flat on the face as the standard design is archtop or carved top.
Arched-top guitars enhance note definition because of how the strings vibrate. Flat-tops, on the other hand, produce a warm and rich timbre. If you're wondering…what about carved tops? Well, that design is just for cosmetic purposes, it adds nothing.

Because of how the strings vibrate on a flat-top guitar, this shape produces a richer and warmer sound than arched-top guitars.
Let's talk about its "parlor" name. Parlor acoustic guitars are the smallest models. In particular, this guitar has a short 24'' scale (the measure from head to bridge), which makes it much shorter than your common acoustic guitar. Here's some additional info about acoustic guitar body shapes. 
Also, if you need help understanding the parts of a guitar before you go on, take a quick look at this guide.
Let's go on…
The Jim Dandy is made with surprising construction materials. Instead of laminated wood pieces, like most guitars on the same price range, this guitar is made of solid agathis wood. 
Agathis wood is not going to set records for durability or tone, but it serves the purpose of this guitar and delivers a solid construction and a solid tone. More so, it increases the natural acoustics of this dinky instrument.
I also have to add agathis is commonly found on mid-priced instruments, so it's a nice surprise seeing it on the Jim Dandy. 
Then, the neck is made of nato, while the fret is made of rosewood. Rosewood the standard material for premium guitars because of the balanced sound it offers and the smooth playability it gives.
This guitar has the common C-shaped neck (the same kind of neck found on Fender guitars) plus a '50s Gretsch headstock. The "Gretsch" logo plus the "Jim Dandy" name is printed in white on the headstock.
Aesthetics-wise, the Jim Dandy is designed to be retro and look like the old-school Gretsch's Rex vintage guitar series. And like its forefathers, it has a single-ply tortoise pickguard with the classy Gretsch logo, and it has a slick wine finish covering the body.
The appeal of this guitar screams "I'm very attractive." Believe me, it looks cool, and it looks unique. Probably, the best aesthetic feature it has is its body painting, or maybe the pickguard adorning the front of the instrument.
To be honest, the amount of attention to detail is impressive. There're no sharp ends on the frets or anywhere on the neck, and the finish is beautiful. Lastly, it has a set-neck joint that appears to be perfect. 
However, don't expect this dinky instrument to be too strong or durable. Because it's light, small, and cheap, you would need to be very careful about leaving this guitar lying around out in the open. Even the briefest breeze from one of your family members could push you back to the music store in search of a new musical partner. 
Then again, this is a Gretsch guitar through and through, and you want to be very careful with a Gretsch instrument.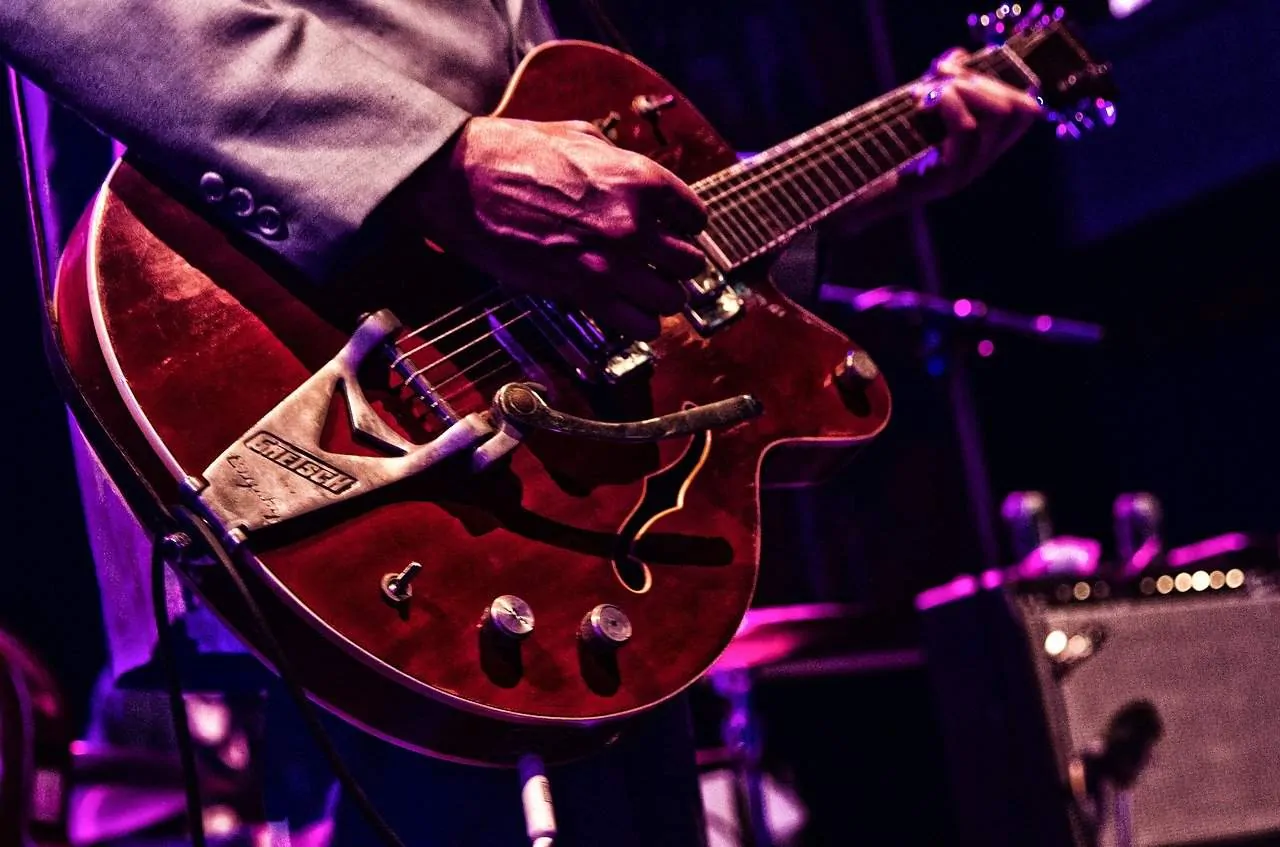 Gretsch was founded in the USA back in 1883.
I have to add this guitar features an X-bracing design. That means there are wooden bars forming an X towards the soundhole (although you can't see them). It's an advanced feature that produces a balanced voice and a stable sound.
Hardware
The hardware of an acoustic guitar consists of the bridge (the wooden piece at the end of the string) and the tuners. These two features combined improve the intonation of the guitar and set the tension of the strings across the fretboard.
Let's talk about the bridge first. The Jim Dandy has a pinless rosewood bridge. That means you would have to change the strings through the backside of this piece.
Now, within the bridge, there's a compensated saddle. The saddle is a piece of wood that holds the strings tight. There can be up to six saddles, one for each string.
A compensated saddle is also an advanced feature that includes "notches" where the G, B, and the E string rest. These notches adjust the length of these strings, so they "compensate" to ensure a better intonation as you play notes higher up the fret. Compensated saddles are widely preferred for acoustic guitars.
On the other side of the guitar, we've got the tuners or the tuning pegs. The G9500 has quality die-cast tuning pegs that hold the tune of the guitar surprisingly well. Many budget guitars fail at this primordial task.
Why is it so important? Well, because an amateur doesn't know how to tune their guitars, so a guitar that stays in tune for long times is a great addition. And that's the experience the G9500 offers.
Furthermore, if you're an experienced player, you could tune down the guitar to drop D (DADGAD), but that's as extreme as you could go with this dinky. 

You can change the bridge and the tuners just like you change the strings as well.
Playability 
Let's discuss the playability of this Gretsch guitar.
As this is a 24'' scale petite instrument, it's much shorter than fully-sized acoustic guitars. That means this is a guitar suited for kids, young players, and small people. For instance, it might be an attractive guitar for small women.
Now, Gretsch made a couple of twists to help players with sausage fingers nonetheless. For example, they made 12 accessible frets, rather than the usual 14. That means the first 12 frets are wider than the rest. Amateurs would rarely hit the frets above the 12th mark.
Next up, the string tension is very friendly. The guitar feels equally soft and smooth on either side of the fingerboard, on either string. That means it will play blues, bends, solos, chords, or arpeggios equally good.
The flat-top body is also very comfortable to hold, and because this is such a light instrument (it weighs less than 3lbs.), it won't tire anyone. 
Furthermore, the Jim Dandy has a nato neck and a rosewood bridge. Rosewood is a smooth material that allows you to travel the fretboard up and down faster. 
Like so, the bridge decreases the string tension. That also means playing chords is easier than on standard guitars because the strings are softer.
Lastly, this ax has a comfy C-shaped neck. That means the neck is shaped to the human palm, so grabbing this guitar feels natural and easy.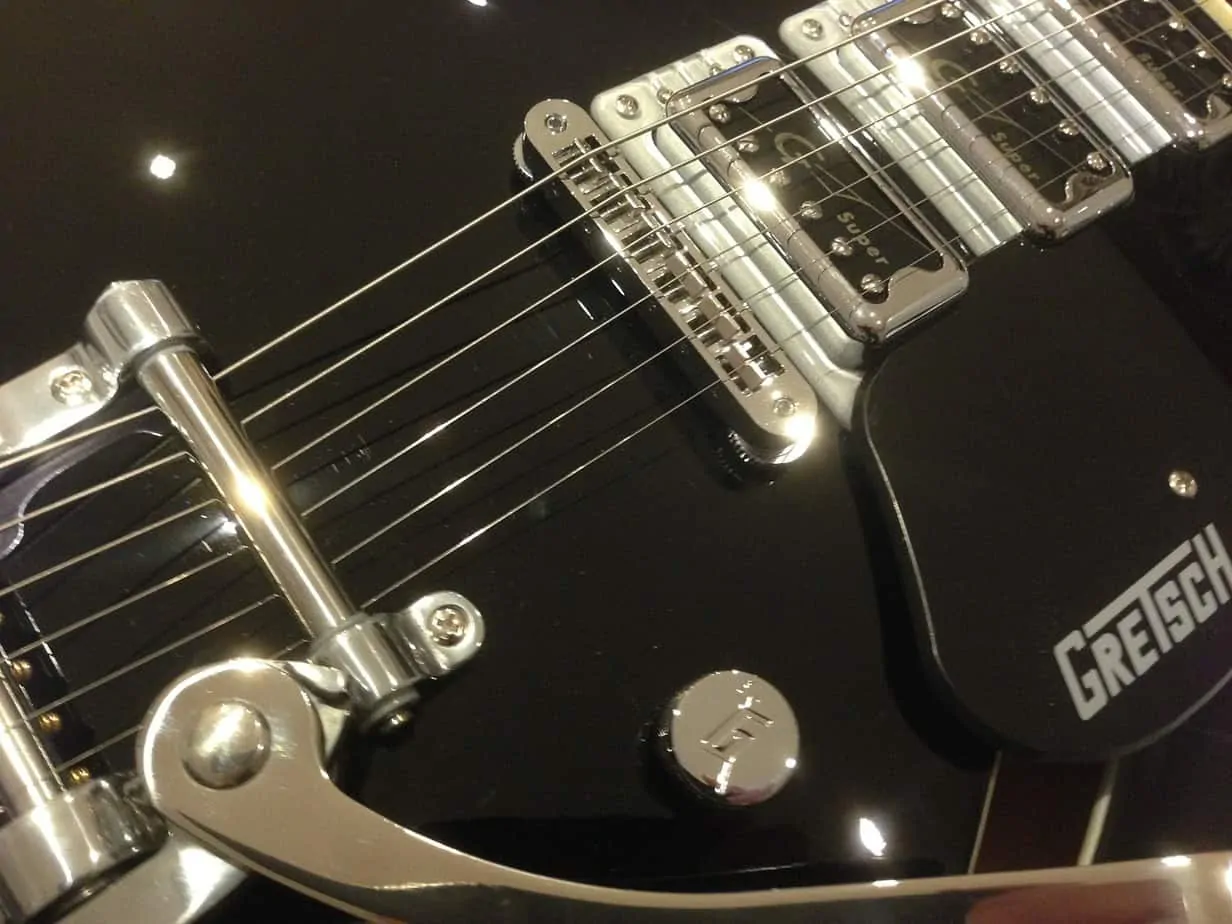 Whilst most brands copy either Fender or Gibson designs, Gretsch follows its own path of elegant and retro guitar aesthetics.
Another playability feature is its Advanced "X" Bracing design on the fretboard and its slim neck. Both choices give users easier access to higher frets.
All of that means Gretsch pulled the tricky task of delivering quality playability, much more than the cost allows. It doesn't have professional-grade playability, but it's not too far from that point.
Sound & tone
This is a small guitar that sounds like a small guitar. The sound is clear and pretty, but not too bold or too loud.
In a similar fashion, the range of tones is not too extreme. It's just decent. If you're after a fat sound, you'd need to search elsewhere. 
However, I'm not talking about the intended purpose of this instrument. See, with its price tag and its size, the brand is very honest on what it offers, which is a rich, clean, and warm sound. High, mid, and low sounds are balanced, but there's a reasonable amount of strength at the higher-end of the chart.
Amateurs and regular players don't care much about the frequency range of Jim Dandy's sound, though. What's important to notice is the clarity of this guitar. The Gretsch G9500 is an obvious win in terms of how pristine the sound is: you could hear every note, every chord, and every mistake, and the sound is always beautiful.
Without using technical terms, I'd say the sound is well articulated and pleasant. It's just nice. This dinky's little body punches well above its weight regarding note clarity and definition:
<iframe width="560″ height="315″ src="https://www.youtube.com/embed/k19wwcpeqlI" frameborder="0″ allow="accelerometer; autoplay; encrypted-media; gyroscope; picture-in-picture" allowfullscreen></iframe>
The available volume level is higher than expected, mostly because the mid-tones have plenty of presence. 
We're not recommending this guitar to play on gigs unless the gig is in your living room. But there's more output here than what we have the right to expect.
Here's something we recommend: because the Gretsch G9500 has a shiny treble, you could put a capo on the first, second, or third fret. The higher tone you would achieve is just amazing, but any higher than that, and you risk getting a squeaky tone.
Finally, I must say professional or advanced players could only consider the Jim Dandy as a fun couch guitar. For advanced players, the G9500 is like a toy, but a fun toy they would pick up every ten minutes.

Small guitars are great to keep at home for quick practice, fun, and songwriting.
Pros: why do I like this guitar?
The reasons why I like this guitar are as clear as the sound of the G9500. Everything about it is above its size and its price point.
More so, Gretsch has been honest about the Jim Dandy's place in the market. This parlor is marketed as "everyone's first guitar." And that's a perfect space for this instrument: kids and young people looking to learn how to play guitar.
But I'm not drawing the limits there. I love this guitar because of how clear, warm, and nice it sounds. I also love it for its lightweight and super-ease of play. It's hard to find something that feels and hears this good at this price point, and it's hard to put this guitar down because of how much fun it gives and how light it is. 
Honestly, if you have some guitar experience, then playing on this guitar feels like cheating. Everything is closer, lighter, and just ready to sing.
So, naturally, this is a great guitar for regular players as well. By regular players I mean people who are not looking for a professional acoustic guitar, just something to play with.
I wouldn't take this as a traveling guitar, though. I'd be very careful with this Gretsch instrument as it's not very sturdy. But that's something you'd realize as soon as you see it.

Parlor guitars are small, light, and have friendly playability features to help kids as they learn how to play guitar.
Drawbacks & alternative
I wouldn't say this guitar has any drawbacks for what it intends to offer. However, I would love to see this guitar selling alongside a starter bundle for there are some extra things amateurs would love to have, like:
Case

Extra set of strings

Picks

Strap

Tuner

Capo (optional)

Metronome (optional)
If you're looking for a light and cheap guitar you can travel with, though, you might want to check the Yamaha FG JR1 guitar as well, which has the old and faithful dreadnought body shape. The bigger size of this instrument makes it ready to travel back and forth your beach vacations.
I like the Yamaha FG JR1 sells with a starter kit to ease up your budget:
Lastly, people who are digging into the affordable branch of acoustic guitars often times end up seeing the Fender FA-115. You'd happily own this solid-top dreadnought as your first acoustic guitar.
See? Both these guitars sell with a bundle. They even include a lessons DVD. Seeing how other brands do it, I truly wonder why isn't Gretsch doing the same. 
Are you looking for an electro-acoustic guitar instead? Check this guide!
Are you looking for other Yamaha guitars? Check here instead!
<iframe width="560″ height="315″ src="https://www.youtube.com/embed/1GpJ4bedQBY" frameborder="0″ allow="accelerometer; autoplay; encrypted-media; gyroscope; picture-in-picture" allowfullscreen></iframe>
In summary
Outstanding guitar for kids
This guitar is exactly what it wants to be: a traditional affordable guitar for kids with a clear, warm sound and quirky aesthetics.
Mind you, the whole point of affordable guitars is replacing them eventually, so this is not something you should take into any kind of professional setting.
Take note, however; this is not a regular cheap guitar. Instead, the G9500 is a parlor-size guitar at the vanguard of what humble price tags can offer. We can thank modern production standards in East Asia (Indonesia, specifically) for that, as we Western musicians are able to buy near-perfect low-priced instruments.
And with all of the features of the Jim Dandy putting it above the average, above its peers, and above its price point, I have no trouble naming this instrument as the best acoustic guitar for kids, regular players, and young players.
Overall, I highly recommend it to anyone not looking for a fully-sized professional guitar. 

Acoustic guitars are great tools for songwriting.
Our verdict is the Gretsch G9500 Jim Dandy Flat Top Parlor acoustic guitar is everything you're looking for on small affordable instruments, which includes an eye-catching design.
Kids will appreciate this guitar because of its ease of use, clear sound, lightweight, and unique looks. It's a fun guitar to keep at home for how fun it is to play this dinky. And it's a great practical instrument and songwriting companion because of its rich tone.
And if everything else fails, the Jim Dandy is a beautiful memento.
Now I want to know your opinions about this guitar and other small guitars you have tried. Leave your comments below!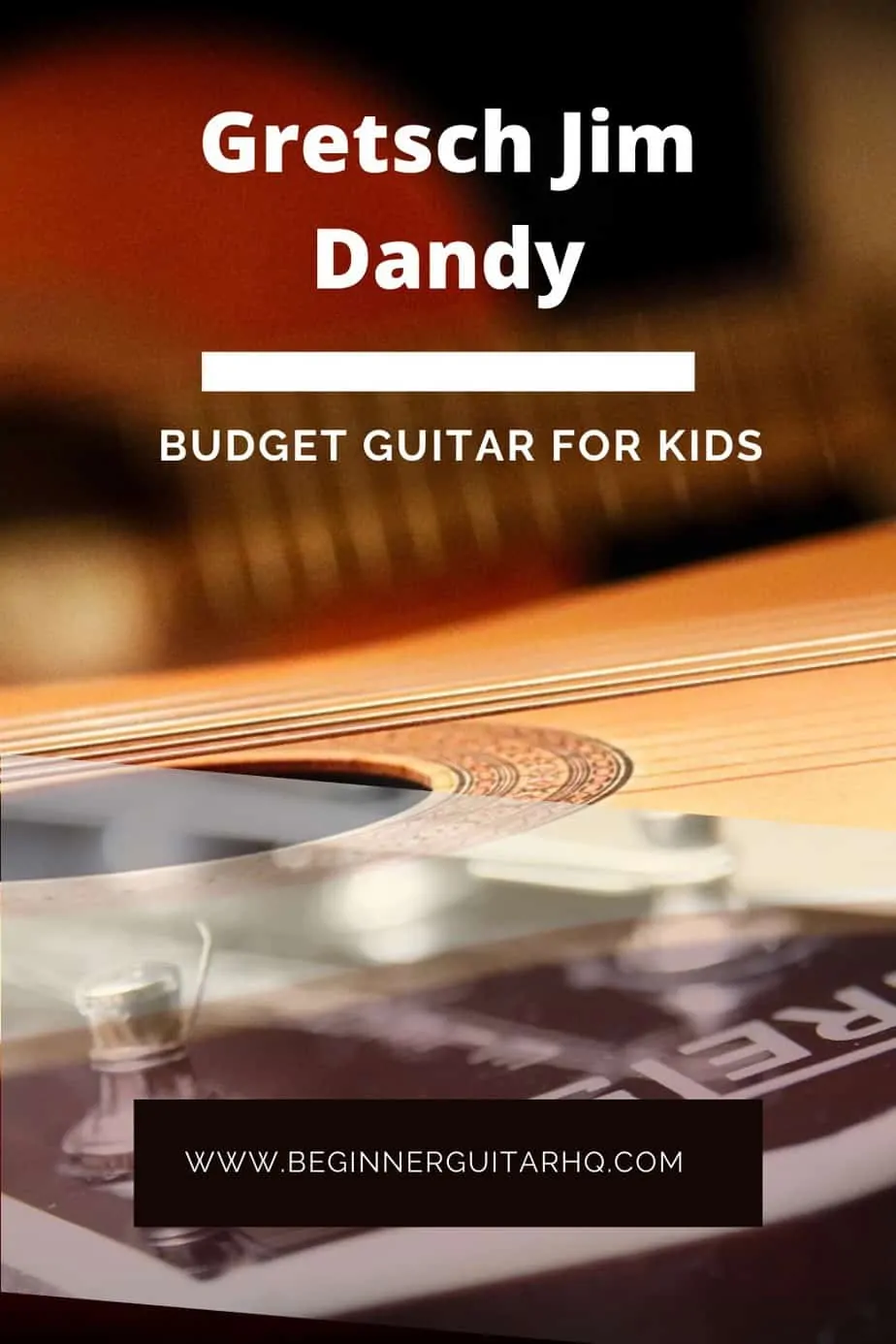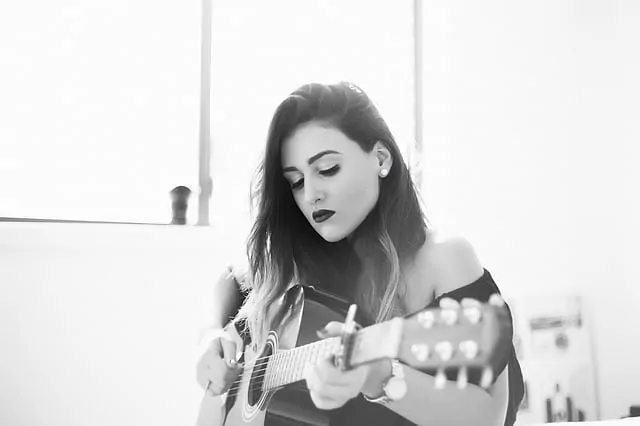 Jen is a guitarist and singer-songwriter who spends much of her time on the road and has lived in 13 cities across 4 continents. She picked up her first guitar at the age of 6 and learned to play by ear shortly after. She received her formal music education at the Berklee College of Music, and currently plays for a few bands in her free time. She has an uncanny ability to improvise creative melodies and harmonies. Her early influences include blues, jazz and rock.