Acoustic guitars are everywhere. There are so many styles, brands, and guitars with countless combinations of features and specifications.
So how the heck are you supposed to know which one to get?
Well, hopefully this review helps you choose the best acoustic guitar for your needs.
What To Expect From This Review Of The Best Acoustic Guitars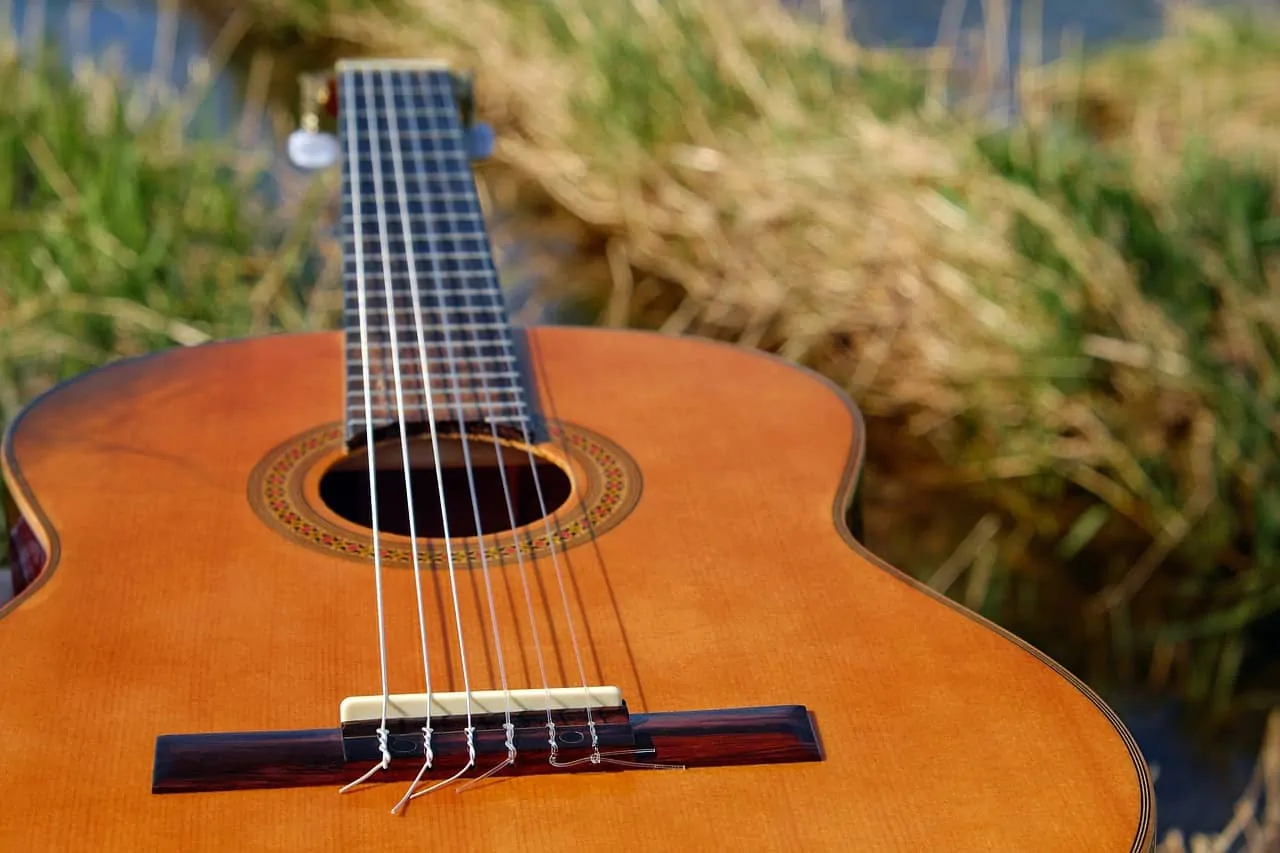 "Best" is a subjective term
Can I really say, "This acoustic guitar is, objectively, the absolute best acoustic guitar ever"?
You can guess the answer to that is "no." But what I will do is explore the best acoustic guitars for beginners as well as the overall best one for any guitar player, in my opinion and according to my research.
So if you're a new guitar player looking for your first six-string or a more experienced player shopping around for an upgrade, this is your review.
Pros And Cons Of Acoustic Guitars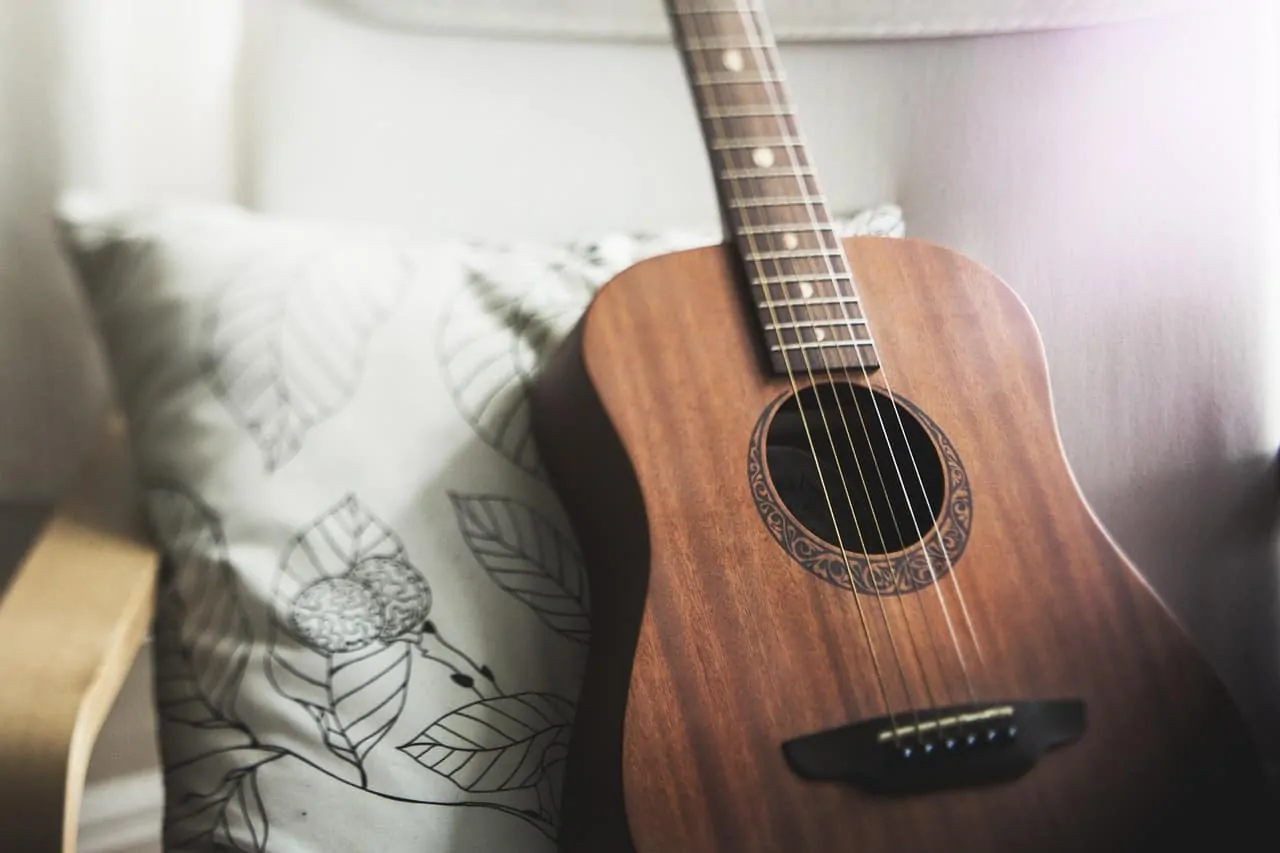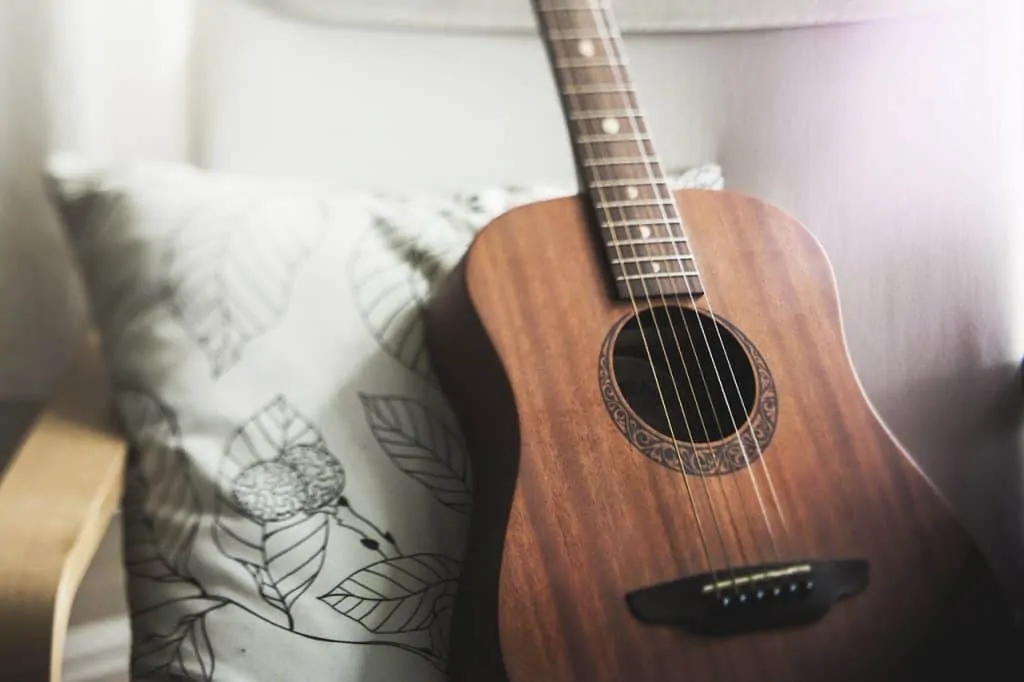 What's so great about playing acoustic guitar?
Now let's take a look at both the positive and negative things about playing acoustic guitar, regardless of your chosen genre. As much as I love a good acoustic, there are also downsides, especially for beginner guitarists.
Pros:
It's naturally loud so it doesn't require a guitar amp, meaning you can play it anywhere and enjoy its full sound
Because the acoustic guitar is more difficult to play than an electric guitar, it will make playing an electric much easier — playing an acoustic prepares you for playing an electric
Acoustic guitars can be much more calming and soothing (depending on who's playing the guitar) than an electric guitar, which typically has more distorted sounds associated with rock music (which is not a bad thing)
Cons:
Acoustic guitars are more difficult to play than electric guitars because the string action (the distance between the strings and the neck) is higher, meaning you have to push down harder on an acoustic
Another thing that makes acoustic guitars harder to play is the wide fretboard and neck – it can be difficult to get used to wrapping your hand and fingers around just a large surface area
What To Look For In An Acoustic Guitar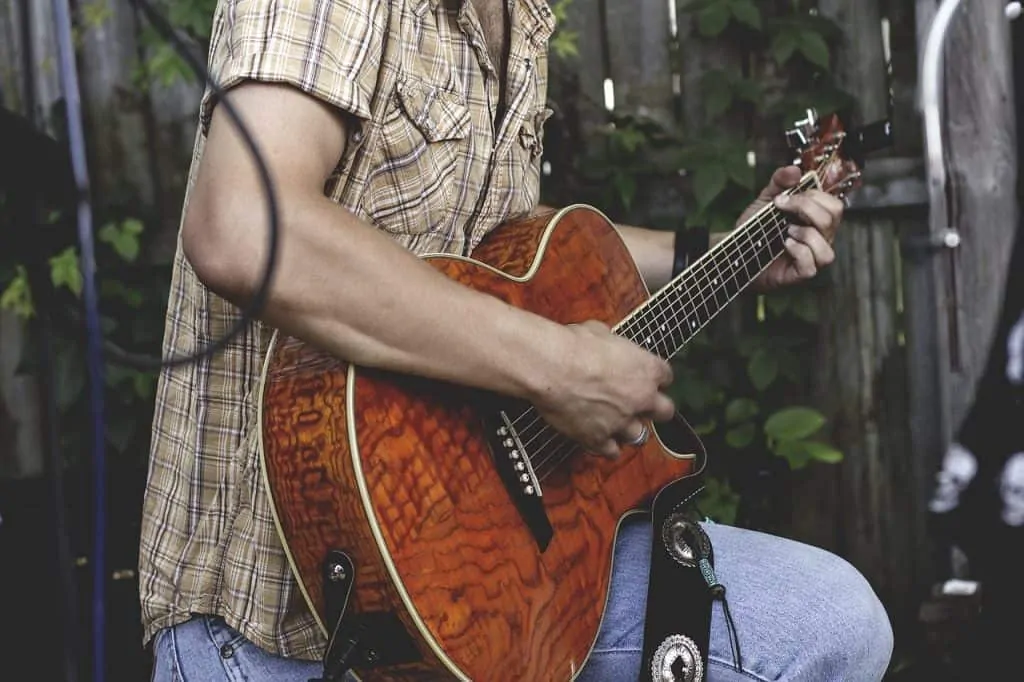 Before you go out and buy a guitar, there are some characteristics you should know about. There are certain things to look for in an acoustic guitar. The best thing to do is ask questions about the parts of a guitar, what materials are used, and — most importantly — how you'll use the guitar.
What will you be using the guitar for? Is this just for practicing at home? Then you can lean toward affordability more so than quality. Are you going to play live with it? If so, you may need an acoustic-electric guitar that sounds good both unplugged and plugged in. Do you want to travel with a guitar? Then you'll want a smaller size guitar.
An acoustic-electric guitar, in case you're wondering, is an acoustic guitar that also has electronics inside it, allowing you to plug it in with a guitar cable as you would an electric guitar. A lot of acoustic-electrics have controls — like Brilliance, Bass, Volume, and Treble — on the top side of the instrument. These can be perfect for playing live or if you want to go direct-in during recording.
If you're a beginner guitarist, you may want to look for a guitar with low action. What's the action? It's the distance between the strings and the fretboard. In other words, low-action guitars have strings that are easy to press down, while high-action guitars require more force to successful press down the strings. The reason beginners should start with low-action guitars is that it's just easier.
Another thing to consider is the acoustic sound you want. Do you prefer a warm sound or a more high-end sound? For example, Martin guitars typically have warmer tones while Taylor guitars usually have more treble-like tones.
And lastly, you'll want to make sure the materials are top-notch quality. Solid wood will make the guitar sounds resonate more, but it does require some TLC. For example, acoustic guitars need to be kept in a place that doesn't have extreme hot/cold temperatures, dry/humid conditions, or drastic changes in those conditions.
However, you can get a guitar with both solid wood and laminated wood, which stands up to weather changes much better. So even though laminated wood won't resonate as well as solid wood, your best bet would be to get a guitar with both types of wood.
So with these things in mind, I'm first going to tackle the best acoustic guitars for beginners and then I'll move onto the overall best acoustic guitars for any player. And then I'll attempt to recommend what I think is the single best acoustic guitar.
The Best Acoustic Guitars For Beginners
Here are two acoustic guitars that, I believe, are perfect for new guitarists.
Ibanez AW54 (aka AW54OPN or AW54 Open Pore Natural)
One of the best things about the Ibanez AW54 is its low price tag. It's in that sweet spot of affordability and quality, especially for beginners. Plus, it has a crisp sound and it's easy to play.
Pros:
Nice, crisp sound
Easy to play
Very affordable
Cons:
Can go out of tune quicker than other guitars
No electronics for plugging into an amp
Martin LX1 Little Martin
I may be biased (I own a Martin guitar), but Martin consistently puts out great guitars. This is a small-bodied guitar, which is great for young beginner guitarists. Despite its smaller size, it can still fill a room with its voice.
Pros:
Good resonance for its small size
Strings stay in tune for a while
Martin makes quality guitars
Cons:
May be difficult for players with big hand to play
May be out of the price range for many new guitarists
The Overall Best Acoustic Guitars
Now let's talk about the best acoustic guitars for any kind of player.
Martin DCX1AE
This is the acoustic guitar I have, and I'm really happy with it. It's all solid wood, so I try to keep a guitar humidifier in it when it's dry outside, and I keep it in the case whenever I'm not playing it. It has that classic warm Martin sound that I love, and the action on it is not too low and not too high.
Pros:
Acoustic-electric with sound controls on the top side
Easy to play
Has a loud and warm sound
Cons:
Can be on the expensive end
Taylor GS Mini
Taylor is another tried-and-true name in the acoustic guitar world, and the Taylor GS Mini fits that name. Their forte is making guitars that are easy to play. Some might say the action on this guitar is too low, but it's better to start with a low action and then raise it up a bit if needed. However, if the action is far too low, it can cause fret buzzing.
Pros:
Has that nice Taylor sound despite its smaller size
Easy to play, thanks to its low action
Fairly priced
Cons:
String buzz is common because of the low action
Because it has a satin finish, any scratches or damage is more visible
Yamaha FG800
Yamaha is yet another trusted name in the industry. Although the Yamaha FG800 tends to have a higher action than other guitars, it's still very playable. Look at it this way: the more you play a high-action guitar, the easier it will be to play other guitars with lower actions. Plus, you can have a luthier lower the action if you'd prefer.
Pros:
Very affordable
Stays in tune for a long time
Sounds great for the price point
Cons:
High action (may need an adjustment)
No cutaway, making it difficult to play high on the neck
Seagull S6 Original
Sale
The Seagull S6 Original is affordable yet plays like a more expensive guitar. The neck is a bit wider than other similar guitars, which might make it harder to play. But that also means the guitar strings are a smidge further apart, decreasing the likelihood that one finger buzzes on the string above it. The strings aren't too difficult to press down but they're not too low that it makes the tone sound worse.
Pros:
Stays in tune for a long time, thanks to the small head and wide neck
Plays like a more expensive guitar
Relatively affordable
Cons:
Wide neck can make it harder to play
Some guitarists may not like the brighter tone it has
Sigma SDM-15E
Not only does the Sigma SDM-15E look cool, with its dark mahogany body, but it plays just as well. It's an electric-acoustic, which is always a nice option to have. Although it sounds fantastic and plays nicely, it's a bit on the expensive side.
Pros:
The tones are warm and mellow
It's an acoustic-electric
Looks beautiful
Cons:
No strap holder where the body and neck meet
Pretty expensive
Art & Lutherie Roadhouse Tennessee Red
The Art & Lutherie Roadhouse Tennessee Red guitar is a small-body guitar that's perfect for blues guitar players. It even looks like a guitar from the early 1900s, when the blues were born. The tone of it lends itself to fingerstyle guitarist, but of course, you can play any style you like and it will sound good. But it's the smaller size that makes this one of the best guitars for new guitarists.
Pros:
Acoustic-electric guitar
Has a vintage tone with a nice mid-range spunk
Small-body guitar, meaning it's easier to play for those with smaller hands
Cons:
Not as loud as a full-size guitar
Yamaha NTX700C
This very playable classical nylon string guitar gives you a warm tone and the trusted Yamaha name. Not only does the Yamaha NTX700C have an electric pickup, but it has a cutaway at the 14th fret for players who like to bring out those often unused high notes. If you're into nylon strings, this is a good guitar to start with.
Pros:
Cutaway at the 14th fret
Loud and vibrant sound
Acoustic-electric guitar
Cons:
Fret edges have been known to be too rough
Intonation may not be as good as other guitars in its league
Final Verdict: The Best Acoustic Guitar
Again, it's hard to say that any one acoustic guitar is the best. How a guitar feels in the hands is a subjective thing.
But if I were going to buy one of these guitars, I'd go with the Art & Lutherie Roadhouse Tennessee Red.
Not only is it smaller — perfect for beginner guitarists — it's got a very attractive vintage sound. And even though it's touted as a good choice for fingerstyle players, it works just fine for strumming with a pick.
Disagree with this final verdict? Let us know in the comments which guitar you think is the best!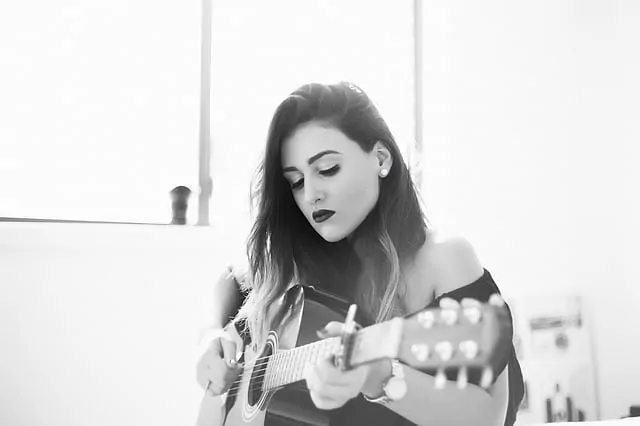 Jen is a guitarist and singer-songwriter who spends much of her time on the road and has lived in 13 cities across 4 continents. She picked up her first guitar at the age of 6 and learned to play by ear shortly after. She received her formal music education at the Berklee College of Music, and currently plays for a few bands in her free time. She has an uncanny ability to improvise creative melodies and harmonies. Her early influences include blues, jazz and rock.