Once again, we're reviewing a Yamaha acoustic guitar. Coming from the one brand you can blindly trust at any price level, we expect the Yamaha APXT2 to be quite special.
This is a small guitar, though. Its body is ¾ the size of a regular dreadnought guitar. That means the APXT2 model is a mini travel guitar and, if you must know, it comes from the reputed Yamaha APX500.
Also, the APXT2 is the brand's best guitar of its kind. It's small, it's light, easy to carry, and packs a quality sound with an impressive output.
If you've never played a small guitar before, the APXT2 might feel weird for you. The guitar was released in 2016 to dominate the travel guitar market, and, many years later, it still sits at the top.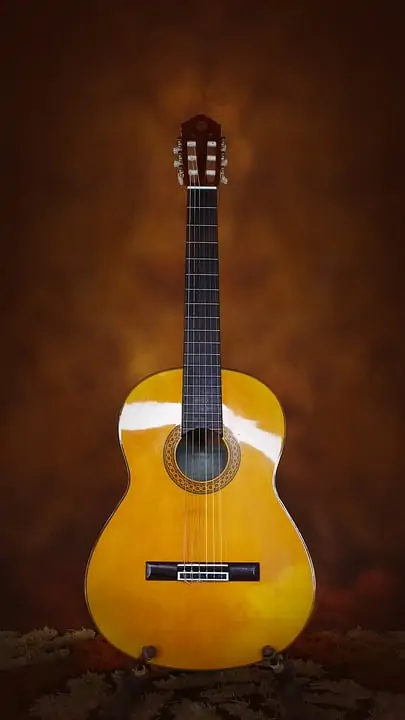 Yamaha is a Japanese company that creates most types of electronics, from bikes to pianos.
We already reviewed the Yamaha APX500III. In essence, it's a former Yamaha best-seller that lost popularity against Fender, Squier, Taylor, and other brands creating guitars at the mid-range segment.
Additionally, you can check our guide on how to pick an acoustic guitar if you're going to buy your first 6-string model.
Yamaha APXT2 Mini-Travel Acoustic-Electric Guitar Review
Yamaha began making guitars for the Japanese market only. Yamaha was founded in 1887 and began manufacturing instruments in 1940.
By the time, Japan was not very interested in opening itself to the world, so there were hardly any exports or imports into the island. Musicians like The Beatles and Led Zeppelin changed that, though, at least in the musical sense.
Yamaha recognized there was a market elsewhere, and so they started exporting their guitars, basses, and keyboards back in the late '60s.
Nowadays, they have the reputation of creating some of the best value guitars you can buy. In particular, beginners and intermediate players have plenty to find on Yamaha's shelves.
Their Yamaha APXTR2 electro-acoustic models. It's a 3/4 -sized guitar following the APX500's design. Much like the original guitar, the sound is bright, clear, and punchy. Those are impressive qualities for recording acoustic guitar.
That said, it seems like the APXT2 crosses boundaries between what a beginner guitar can offer, and what a quality travel guitar does. In a way, it's a good choice for both movie players learning how to play guitar, as well as experienced players looking for a reliable instrument to carry around.
Lastly, it's also a good choice for players with small hands, those of you who find dreadnoughts a bit uncomfortable to play.
As a solution for these three scenarios, let's say there's something special about the APXT2.
Overview
At a glance, we see the Yamaha APXT2 is a thin line acoustic-electric guitar with a single-cutaway and a ¾ dreadnought body.}
It's a shortened version of the APX500III. This time, the approach is fun, well-constructed, compact, and for-the-road.
The guitar features an A.R.T. pickup system, which is a definite highlight of the guitar. Short for "Acoustic Resonant Transducer", the system simulates the best humidity conditions of the wood at any time to translate the best and most natural possible sound.
Another highlight is the tuning pegs, with a Yamaha proprietary feature -much like the pickups.
As you see, this small guitar is not a toy. Quite the contrary: it packs plenty of advanced technology and power.
Built quality
The guitar has a common body shape, with a single-cutaway at the lower bout to give access to the upper frets.
For tonewoods, it has meranti at the body with meranti at the back and spruce at the top. This is an exotic and quality combination of construction materials. The resulting sound comes out resonant and bright.
Meranti is otherwise known as "Philippine mahogany." It grows on all continents, but Asian manufacturers use it the most.
It's also a thin-line guitar. That means the body is not as full as other guitars because, as the adjective implies, the body is slimmer. That makes it easier to play and carry around.
Another feature is the gloss black finish all over its body, plus a simple decoration around the soundhole.
Elsewhere, the nato neck stands with 21 small frets, 22.8'' inches, a rosewood fingerboard, and simple inlay dots.
The nut is wider than what you'd find on average travel guitars, which gives players a wider fingerboard to play more comfortably.
Finish options
The guitar has four finish options available. These are Dark Red Burst, Natural, Black, and Old Violin Burst.
All of these options come with white binding on the edges of the body, as well as a gloss finish all over the body and neck.
There's also a variant, which both looks and sounds different. It's the Yamaha APXT2EW. This guitar uses uncommon woods for an odd but amazing sound and aesthetic.
Overall, the build quality is top-tier, which is exactly what we expect from Yamaha.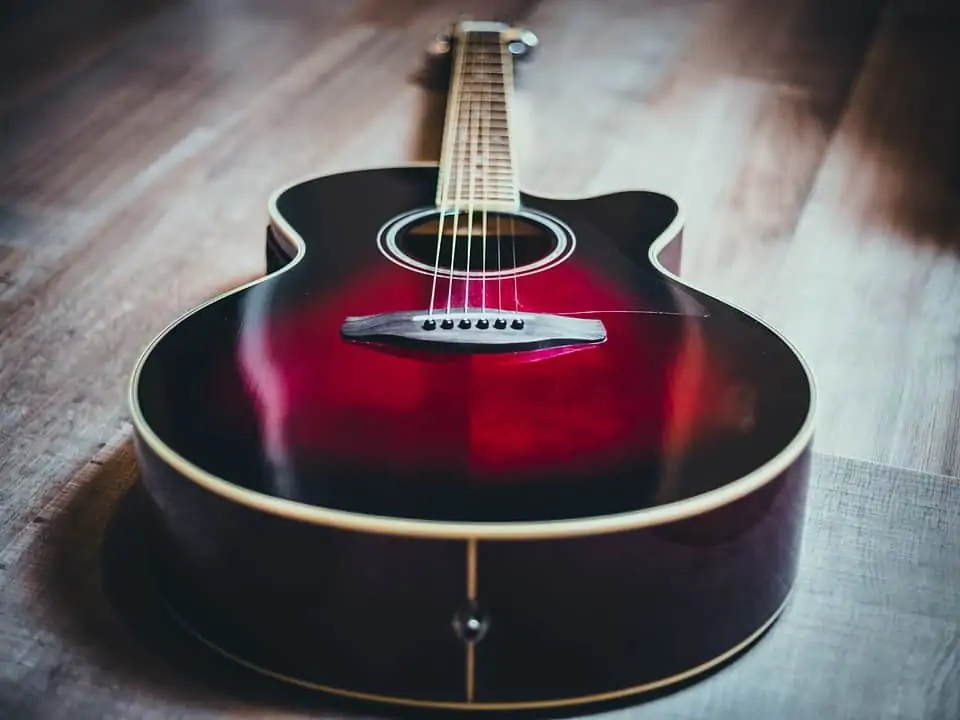 The Yamaha APXT2 is a travel guitar with a top-tier electronic setup.
Sound quality
Let's begin by saying the guitar has a laminated body, which affects the sound. Most of the time, the sound of laminated guitars against solid-body options is thinner, even flimsy.
Also, it's a ¾ guitar. Even with the best-built quality in the world, a small guitar can't offer the deep resonances of a fully-sized option, let alone a jumbo guitar. If that's what you're expecting, you're in for a disappointment.
That said, the APXT2 still has a nice resonance to it. The sound is slightly different from most guitars, and it's focused, pleasant and bright.
Despite its size, the sound is balanced and with a fair projection and output.
Its acoustic sound has enough output to fill a room, but nothing else. Plugged-in, the APXT2 sounds much better. Combining its construction with its pickups and preamps offers a warm sound. However, it's not enough to be present during a live presentation alongside other instruments.
Yes, the sound is clean, clear, and crisp. But its core qualities produce less boom than a bigger guitar. That's only natural, though.
To tell you the truth, I wasn't expecting much from a small guitar. The Yamaha APXT2, on the other hand, subdued that expectation.
Still, the sound is magnificent when you plug it into an acoustic amp. It's good enough for solo performances, and it offers plenty to play with for recording in your home studio.
Overall, the sound is a precise, round, warm, and clear sound coming from a speaker. Furthermore, the ART pickup enhances the highs and the projection without losing any bit of quality.
Electronics
This guitar packs Yamaha's 68 contact pickup plus an ART preamp. Experienced players could find the pickup a little basic. However, the preamp represents part of Yamaha Electronics' top-tier advancements in sound.
As I said, the ART system simulates the best humidity conditions of the wood. That means it preserves and enhances the sound, no matter where you are or how much time has passed since you bought the guitar.
For controls, it has a volume slider, a mid-range EQ boost, and an onboard tuner. A simple setup that does its job.
Feeling quality
As a small guitar, the playability is incredible. It's lightweight and comfortable enough for players with big hands, and also perfect for young players and small hands.
On top of that, it has a wider neck than you'd imagine. It makes the small frets feel good on your fingers and gives you enough space to play around.
Also, because of the single-cutaway, there's easy access to all of the frets.
Similarly, the matte finish on the neck ENHANCES PLAYABILITY.
Hardware
Rounding up the guitar comes the hardware. There's nothing crazy in this department, but the pieces are solid enough to feel happy about it.
First, it has a rosewood bridge and nut, plus plastic saddles.
On the headstock, there's a set of proprietary open-gear tuners.
Downside & Alternatives
For what it is, we can't ask anything more from the Yamaha APXT2 model. There're other options to consider, though, and we've already created a couple of selections on the matter.
For example, you can check our guide on the best travel guitars. Similarly, there's a guide detailing the best parlor guitars. A parlor guitar features a unique, small body design, and they serve as practice and hobby instruments.
Either way, I feel inclined to recommend the Washburn Rover, a travel guitar offering a solid bundle for an affordable price.
Another guitar I can recommend is the Gretsch Jim Dandy. It's a fun, warm, and quirky-looking guitar for kids and practice.
Yamaha APXT2 specs
Design: ¾ Yamaha APX500 dreadnought body
Body tonewood: laminated meranti with spruce top and meranti on the back and sides
Fingerboard tonewood: rosewood
Pickup system: Pickup System 68 with ART preamp
Controls: volume, mid-range booster, and onboard tuner
Tuners: Yamaha open-gear tuners
Bridge: rosewood bridge and plastic saddle
In summary
Why do I like the Yamaha APXT2 acoustic-electric guitar?
The APXT2 is a well-made acoustic-electric Yamaha guitar. For that reason, its construction and electronics deliver more than its prime design tends to offer.
Unplugged, it sounds okay, albeit thin. Still, it's easy to carry around and play it anywhere.
It also has a competitive price, which makes it difficult to find other travel guitars offering as much value as this one. On top of that, it sells with a travel bag.
Final Say
Overall, Yamaha created a super versatile hobby guitar at an affordable price. It's a good guitar, in all honesty, and so there's plenty of bang for the buck.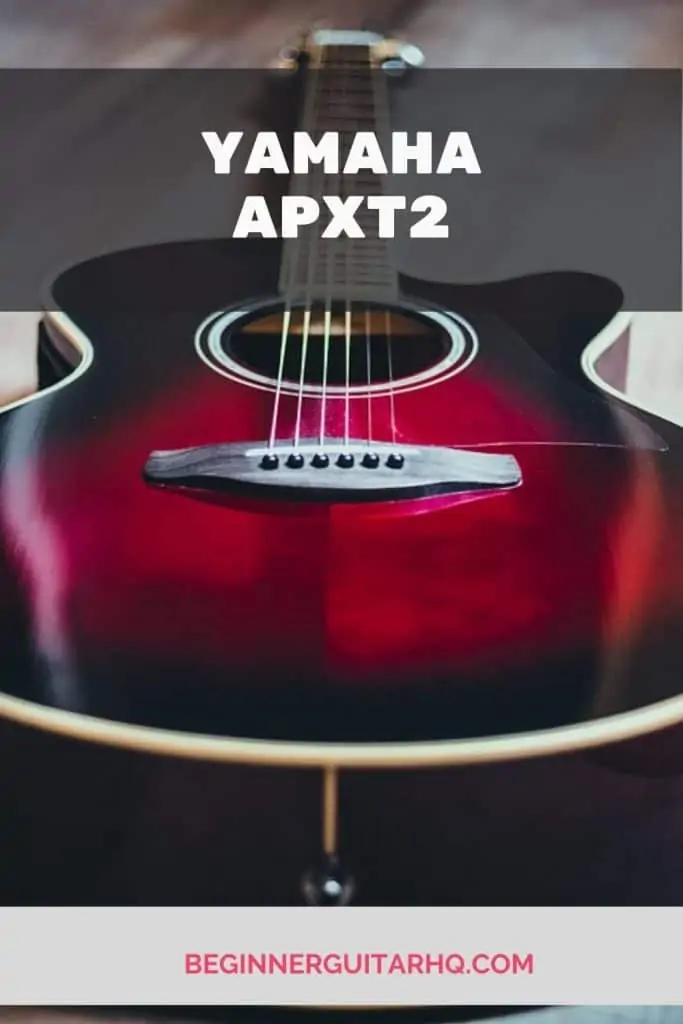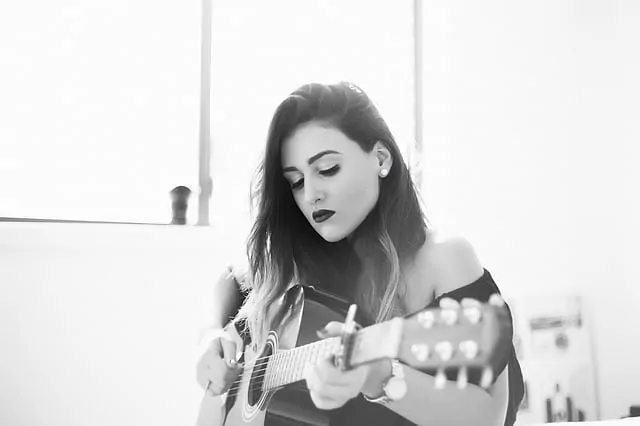 Jen is a guitarist and singer-songwriter who spends much of her time on the road and has lived in 13 cities across 4 continents. She picked up her first guitar at the age of 6 and learned to play by ear shortly after. She received her formal music education at the Berklee College of Music, and currently plays for a few bands in her free time. She has an uncanny ability to improvise creative melodies and harmonies. Her early influences include blues, jazz and rock.