C.F. Martin & Co is the brand to beat and imitate when it comes to premium acoustic guitars with steel strings. Few brands can compete against Martin, like for example Taylor and Takamine. However, guitars like the Martin Custom D perfectly show why the Martin name is so relevant and reputed.
You would be wrong to think this is an expensive guitar, though. Martin has expanded its reach during the last five or so years to reach budget and mid-level segments as well.
Impressively, the Martin Custom D is one of their cheapest, acoustic guitars. And it doesn't cut corners: you would also expect a laminated, mass-produced, and outsourced-to-Asia guitar. But it is not, as we're looking at an America-made solid-wood guitar with a dreadnought body.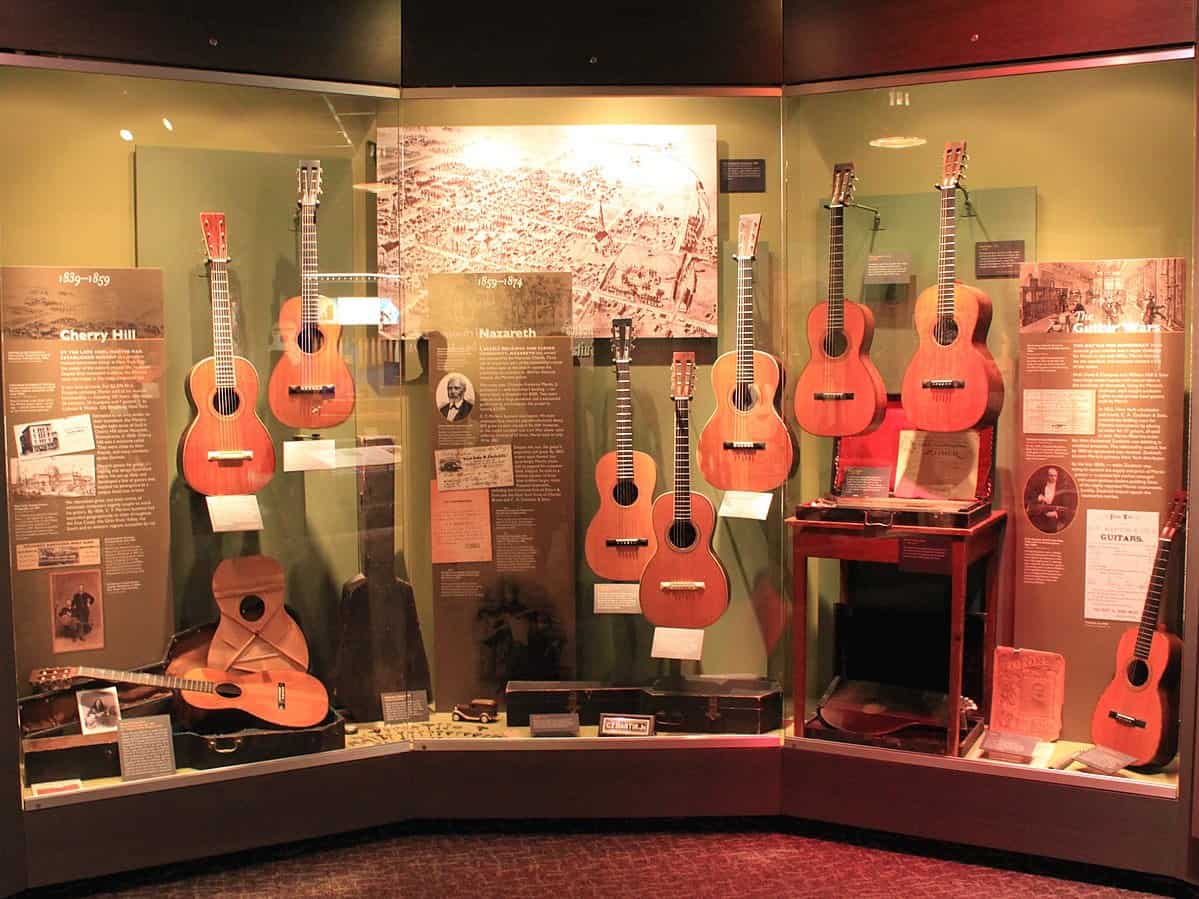 "C. F. Martin – Cherry Hill era (1839-1859), Nazareth (1859-1874), The Guitar Wars (mid-1850s) – C.F. Martin Guitar Factory 2012-08-06 – 005 (clip)" by Joseph Brent from New York / CC BY-SA 2.0 The Martin company was founded by American luthier Christian Frederik Martin in 1833.
We featured Martin as one of the best guitar brands available in the market today.
The Custom D is an acoustic guitar. You could check here for acoustic-electric guitars instead.
Martin Custom D Classic Acoustic Guitar Review
Martin & Co currently leads the flat-top guitars market. Their offer doesn't go beyond acoustic guitars, although they've made mandolins, electric guitars, and electric bass guitars in the past.
Their current offers include steel-string and classical-string acoustic guitars and ukuleles. Most of their items come from their American factories, but they also produce instruments in Navojoa, Mexico.
Their Custom D Classic model has a solid-top guitar that offers a lot of value for less than $1000. Now, that's a hefty price to pay to begin with, so I wouldn't say this is a mid-level guitar, much less an affordable acoustic offer.
What we're reviewing is an affordable Martin guitar. While you would find models like the Martin D15 for twice its price, the Martin Custom D comes with everything a professional or advanced player would need.
That includes superb built quality, unparalleled sound, and perfect attention to detail. That said, I must note the Martin Custom D comes from the company's Pennsylvania factories, in Nazareth.
Overview
The Custom D is the most affordable solid-wood Martin guitar has ever produced. This American-made guitar has a mahogany & spruce body, a dovetail neck, and a dreadnought body. For the price it sells, many would describe it as a "steal", even though it's not quite appealing for those more interested in the mid-level segment.
Like most dreadnought guitars from the company, the Martin Custom D classic offers an impressive amount of volume, projection, and richness.
You can play the guitar as hard or soft as you want. You can also play any musical style, and this guitar will cover it with a top-tier sound.
For those of you looking for a gigging or studio recording guitar, the Martin D Classic is an option I can recommend.
With that said, the Martin Custom D doesn't have the premium fee other Martin guitars have. That's great news, as most guitar players would love to have a Martin in their collection; the name is like a guitar religion at this point.
But, as I said, it's still expensive. Let's then cover why it has a hefty price and see if it can still pack the punch and the quality their Martin brothers and sisters can.
I should add the guitar ships with a Martin hard case, which is no less than what you would expect at this price point.

"Martin Renaissance model (c.1843-52) – C.F. Martin Guitar Factory 2012-08-06 – 004 (clip)" by Joseph Brent from New York / / CC BY-SA 3.0 The price of a Martin acoustic guitar usually goes between $1500 to $3000.
Built quality
For those seeking a timeless design, the Custom D dreadnought is the model you should take as the base for quality.
While it doesn't have crazy aesthetic features (like unique dot inlays) this mahogany guitar is sure to deliver everything you'd need.
Body & neck
The Martin D has a non-cutaway dreadnought body made of solid mahogany on the back and sides, plus a solid Sitka Spruce top. A thin satin finish covers the entire body and neck to increase the natural looks of the guitar.
Then, it has a dovetail neck joined at the 14th fret. A dovetail neck means the neck-to-body joint is glued, and thus it doesn't have any bolts to limit the sustain or change the tone signature of the fit. Moreover, the neck and body have a tight fit, so it increases the instrument's sustain.
In particular, we're looking at a guitar with a mortise and tenon joint. Then, the mahogany neck has a modified low oval profile plus an Indian rosewood fretboard. It also has 20 frets and simple dot markers.
Needless to say, the construction is flawless and fine.
Finish
Perhaps I don't need to tell you about the impact Martin has had in the music industry. I'll just leave it by mentioning the company invented the dreadnought design, an acoustic guitar body type that has become the mainstream design feature.
Aside from their influence, there're other reasons why customers appreciate Martin guitars. Most of the reasons have to do with design features and construction but, in particular, the Custom D also appeals due to its overall aesthetics.
The Custom D mixes the classic dreadnought design with a modern choice of tonewoods, a natural finish, and a tortoise pickguard to protect the expensive instrument.
You can also find tortoiseshell material elsewhere, as Martin uses another "pickguard" for binding. That means the tortoiseshell connects the sides and the top.
Its modern looks grow with darker shades on the back and sides of the guitar, which make a glaring contrast with its shiny body.
Other aesthetic features include the Martin logo on the headstock, an elegant rosette around the soundhole, and simple dot inlay markers on the frets.
Overall, the Martin Custom D exhibits plenty of attention to detail. It looks and feels fancy and mesmerizing at the same time.

"Kay Style Leader 1983 joint neck" by Chad, CC BY 2.0 A bolt-on neck is the cheapest kind of neck-joint. It's about bolts, underneath the guitar, joining the neck and the body together. It's a cheap alternative that is also easy to repair. However, the bolts often get in the way of sound quality, resonance, and sustain.
Sound quality
The quality of its materials and construction ensure the superb sound you're probably expecting.
In particular, the combination of mahogany and spruce delivers a loud and punchy low-end sound. There's also plenty of expression and clarity at the mid and high frequencies.
The guitar also comes with the sound signature the Martin brand delivers. That means full and rich guitar sounds with plenty of projection and harmonic sustains. Also, as a Martin guitar, the tone gets better as time goes by and the woods "age".
I'd say the sound achieves a balance between bright and warm, also boasting a lot of clarity and power. On top of that, it has a saturated and thick low-end that can live up to playing live through a PA system or studio recording.
Overall, the sound comes with a lot of texture and depth. That also means the clean sounds are pristine and without any noises like buzzes and hums. Then, the highs are sparkly, bright, and shimmery. Lastly, the lows round-up the sound with raw power.
That's all the dynamics and versatility you'd ever need. The one downside is the Martin Custom D is not an electro-acoustic guitar, so you can't tweak its sound further with acoustic pedals or acoustic amps.
<iframe width="1221″ height="687″ src="https://www.youtube.com/embed/yoI9FWDWWdk" frameborder="0″ allow="accelerometer; autoplay; clipboard-write; encrypted-media; gyroscope; picture-in-picture" allowfullscreen></iframe>
Feel Quality
The Martin Custom D feels balanced and sturdy. That means it's a heavy and bulky guitar, suitable for adult and experienced players.
However, it also features the kind of comfort you would expect from a professional acoustic guitar. That includes a sharp-free neck and a comfortable neck profile that allows playing chords, arpeggios, rhythm guitars, and even solos.
The advantages mostly come from the guitar's hardware. In particular, it features an advanced computerized design to ensure accurate string action.
If I could describe its playability with one word, I would choose the term "butter."
Hardware
Bear in mind the Custom D doesn't have any electronics. Yet, it has a proprietary tech that sets this guitar apart from others. I'm talking about its computerized "Plek" setup.
Now, a PLEK process is something guitars go through during the manufacturing process. The PLEK is about adjusting the string's tension and relief by compression fretting.
Not all manufacturers do a PLEK, though, so it's not something you'd often see as part of the marketing of any given guitar.
Martin includes an automated and AI-based PLEK process to deliver a perfect string action. The strings will feel responsive, light, and yet sturdy.
Elsewhere, you'll find a White Corian nut plus an adjustable truss rod in the neck. Near-by, you'll see a set of chrome tuners. They come with a smooth action and can hold the tunning with ease.
On the other side, you'll find an Indian rosewood bridge, a material that ensures longevity. The pins come attached to the bridge with extreme care, and so the piece will avoid your strings from snapping when you go overboard with heavy playing or bends.
Overall, there's nothing crazy aside from the PLEK process here. There's nothing that jumps out as an expensive quality piece either. However, I'd say the combination of its pieces is up to professional standards.
<iframe width="1115″ height="627″ src="https://www.youtube.com/embed/1jOtihKNMyg" frameborder="0″ allow="accelerometer; autoplay; clipboard-write; encrypted-media; gyroscope; picture-in-picture" allowfullscreen></iframe>
Downside & Alternatives
You'd certainly be pleased with what the guitar has to offer. It can surpass your expectations in terms of performance and looks, even if it doesn't have the best quality hardware available.
As I said, though, the combination of its pieces does the job, so I wouldn't mess around the bridge, nut, truss rod, tuners, or anything else.
What it does lack, though, is onboard electronics. You could install a pickup system yourself, though. For example, I recommend the LR Baggs Anthem Acoustic Pickup System.
Another acoustic pickup I'd recommend is the Seymour Duncan SA-3HC. It's an affordable system that offers feedback resistance, hum-canceling features, and easy installation.
If you install a pickup system, you could also check the ToneWood amplifier. It's a quirky device you attach to the back of your guitar that's capable of adding guitar effects to your acoustic playing (like reverb). You'd still need to play your guitar through a proper acoustic-guitar microphone plus speakers to hear yourself.
<iframe width="560″ height="315″ src="https://www.youtube.com/embed/GPqZMAm0SKU" frameborder="0″ allow="accelerometer; autoplay; clipboard-write; encrypted-media; gyroscope; picture-in-picture" allowfullscreen></iframe>
Other than that, you could complain of its "basic" aesthetic features. However, consider you'd be getting a high-quality and highly-spec'd American-made Martin guitar. And you save money by ditching premium looks.
Martin Custom D Classic Specs
Design:

non-cutaway dreadnought

Body tonewood

: Sitka Spruce solid top plus solid mahogany on the back and sides

Neck

: oval neck
Fingerboard tonewood

: Indian rosewood
Tuners:

Custom Martin Chrome tuners

Bridge:

Indian rosewood bridge with six individual saddles
In summary
Why do I like the Martin Custom D?
Don't you like Martin guitars? Well, this is the most affordable solid-body -professional- American Martin guitar you could find. And it's a dream, especially considering its price.
Overall, it's an exciting model offering top-tier sound, classical looks, and professional performance.
Final Say
As a no-nonsense and no-frills guitar, the Martin Custom D is a wonderful model that sounds and looks sweet and powerful. Spending more is difficult to justify. The upper you go in the price latter, the less apparent results you'll find other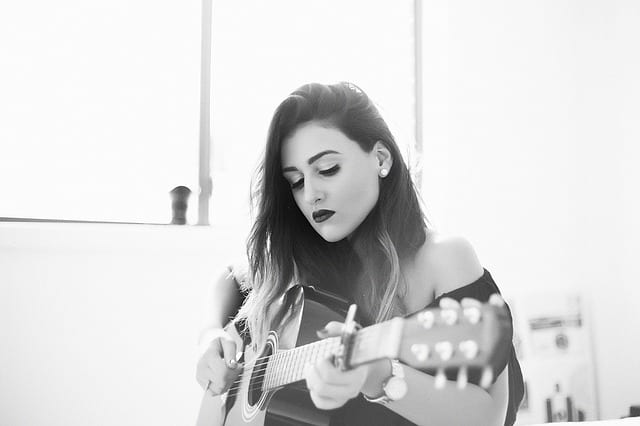 Jen is a guitarist and singer-songwriter who spends much of her time on the road and has lived in 13 cities across 4 continents. She picked up her first guitar at the age of 6 and learned to play by ear shortly after. She received her formal music education at the Berklee College of Music, and currently plays for a few bands in her free time. She has an uncanny ability to improvise creative melodies and harmonies. Her early influences include blues, jazz and rock.