"Classical" guitars refer to acoustic guitars with nylon strings. Today, we're looking at the top 10 cheap classical guitars you can play proudly. In other words, these are not trash guitars, the kind you'd buy in a rush to put your kids in guitar class.
We're taking this seriously, though. In order to deliver a serious list, we need to cover some bases first. Our goal is to give you the information you need to buy the best possible budget classical guitar available.

Classical guitars came before acoustic guitars. Acoustic guitars are the mainstream choice for most genres.
The origins of classical guitar
Classical guitars are often Spanish-type guitars, as the instrument is a big deal for Hispano-American music. For example, Mexican "rancheras" or Brazilian samba, and bossa nova music use classical guitars.
Older classical guitars are broader and larger, as there was no means to amplify the sound of a guitar. As a result, guitar makers and luthiers created big-body instruments to play live.
Some examples include the Mexican "Guitarron" or early six-string romantic guitars (1790 – 1880).

Early romantic guitars had a larger body, but fewer frets.
Modern classical guitars take cues from early romantic guitars from France and Italy. They feature a full wooden construction, a curvy body, soft strings, and a soundhole on the body. Earlier guitars used gut for the strings, a material bass ukuleles still use. Nowadays, though, the choice for classical strings is either nylon or fluoropolymers.
In particular, today's modern classical guitar comes from a 19th-Century Spanish luthier, Antonio Torres Jurado.

"Guitarra d'Antonio de Torres, MDMB 626, al Museu de la Música de Barcelona" by sguastevi / CC BY-SA 3.0 The original Antonio de Torres guitar has 18 frets, nylon strings, and a broad body. More importantly, it included a bracing pattern within the soundhole.
You need to understand the design changed over time as the music changed across eras and countries. Each music genre needed a different body construction, different materials, and thus a different aesthetic to make the proper sounds.
For example, baroque guitar composers used baroque guitars. These had 12-strings as a set of six, like a modern 12-string guitar. Specifically, it had six strings pairs tied together in unison instead of octaves like modern versions. Also, instead of a soundhole, it had small holes crafted with honeycomb patterns.
That gave these guitars a distinct sound, tonal texture, and overtones you can't translate on a modern classical guitar.

"Tielke baroque guitar" by Jo Dusepo, CC BY-SA 4.0 Baroque guitars, often seen in medieval-themed shows and movies, ranged between 1600 and 1750.
Nowadays, music has become a global issue instead of pocketed folkloric expressions. Therefore, instrument design has become more standard.
In other words, the musical instrument translates the musical style and language of each period. Today, we use Torres' design with minor changes.
Classical guitar characteristics
Modern classical guitars offer thick and strong tones, contrary to the overtone softness of the instrument's ancestors.
At the same time, the sound is less punchy and gentler than acoustic guitars. This is why classical guitar players prefer fingerstyle over pick to better express these instruments.
The string construction has some particularities. In essence, the bass strings (6th, 5th, and 4th strings) often come with a different material, like titanium and a significantly bigger gauge. Then, the treble strings (3rd, 2nd, and 1st strings) are made of nylon and offer a considerably smaller gauge.
Another crucial physical attribute is construction. These are full-wooden instruments with small bodies and wider necks, compared to acoustic guitars with steel strings.
Who would play a classical guitar?
Modern classical guitars are suitable for beginners and young kids. That's because they are light, easy to carry, and easy to grasp. More importantly, nylon strings are softer and thus easier to press than steel strings. So, for example, learning how to play barre chords on a classical guitar is much easier.
Moreover, the necks are flat and smooth. This allows all kinds of music genres without encouraging solo playing. And, honestly, a beginner won't be playing guitar solos any time soon.
Then, the sound encourages contemporary jazz, country, Latin-American genres, flamenco, and other classical choices. That means jazz and world-music players could enjoy a classical guitar.
Also, its qualities allow players to jam and compose music. Also, many non-mainstream players use classical guitars to play live through a PA system.

Classical guitars are king amongst fingerstyle players.
Best Classical Guitars buying guide
So far, we've learned classical guitars are a better fit for beginners, learners, and kids. They are also a better fit for mellow and gentler sounds.
It sounds easy enough, but once you start searching for a classical guitar, you'll meet an overwhelming number of options from brands you've never heard of. How would you know which ones are good?
Thus, we bring the stuff you need to consider when buying a classical guitar.
Budget
Classical guitars tend to be cheap, but there are premium and mid-level versions nonetheless. You need to consider how much you are willing to invest before making a choice.
Going for the bottom-end options is not ideal, but I'll give you the best one in the budget market if that's the case.
Also, the price may tell you if the classical guitars have built-in electronics. Pricey classical can plug into an acoustic amplifier for playing live.
Beginners should still consider how much they want the guitar to last. For instance, if you want to jump from amateur level to experience scenarios with the same investment, then you'd need a proper top-value classical guitar.
Playability
Ease-of-use is another crucial consideration. Most classical guitars are very easy to play. However, some are larger and heavier than others. That means you need to pay attention to the guitar's scale length.
A scale length equal to or below 26'' is suitable for people with small hands and children.
Another thing to note on the playability aspect is string action. That means how close are the strings to the fingerboard. A high-action guitar is loud but harder to play. A low-action guitar is softer, but you don't need much pressure when fingerpicking or strumming. A mid-action lies in between, the best choice for most players.
Neck
Speaking of small guitars, you should be aware of the neck profile. The neck should be thin enough to accommodate your full palm as you play, as well as allowing quick chord transitions.
Construction materials
Brands use different tonewoods for their guitars. You'll find other materials bring various durability levels, aesthetics, sound, sustain, and resonation.
The safe choice is a mahogany guitar, although all-mahogany guitars tend to be heavier. Another choice is either spruce or mahogany top, back, and laminated side pieces on the body, plus rosewood or maple for the neck and the fingerboard.
Additionally, you can check the frets for sharp edges, buzz, and inconsistencies.
Sound quality
You'd want to buy a classical guitar after you know how it sounds, which is why I advise you to check the demo videos.
In any case, each guitar has a sound signature, which mostly depends on the tonewoods and construction quality.
Most importantly, the guitar should make natural acoustic sounds, and it should have a fair projection.
Also, check if the guitar has a bracing pattern. A bracing pattern is a series of wooden pieces placed within the soundhole to improve the overall sound quality.
Hardware
Intonation means how much time can the guitar hold its tuning as you play. It mostly depends on the bridge, nut, and tuning pegs.
In particular, the bridge influences the guitar's sustain and resonance. If you're able to test the guitar, check if it feels flimsy or squishy. Do the same with the tuning pegs.
Also, guitars may or may not have an adjustable truss rod. These are straight wooden or metal pieces within the neck to help keep the neck straight. It's obviously better to get a guitar with a truss rod: they are more stable. They offer the ability to adjust the string height.
Guitars without a truss rod are not very durable. The neck may break from minor bumps over time or bend overtime after repeatedly tuning or changing the strings.

Top value classical guitars are often around the $300 price mark.
Top 10 cheap classical guitars reviews
We're reviewing the best classical guitars you can buy for less than 500 dollars. Now, 500 dollars might be a big ask for the "cheap" category, which is why we're considering these models for last.
That said, we're starting at the bottom of the barrel, the cheapest you could go. Then, we're jumping towards the best budget alternatives, mid-level, and top-value offerings.
It's possible to find top-tier quality guitars at these price ranges, so always consider what an extra investment could yield.
Overall, our recommendations focus on sound quality, construction quality, and general appeal. Also, we chose readily available guitars.
Best overall: La Patrie Etude
Most reviewers would recommend Le Patrie Etude without question, and there's a reason. It's an awe-inspiring guitar with a sound that calls you to play for hours.
Despite its name, a North American company handcrafts the guitar in their USA quarters. It's actually a part of Godin's guitars, one of the world's most reputed acoustic and classical guitar manufacturers.
This model comes with a solid cedar body, with mahogany on the back and sides. Then, it has a mahogany body, a rosewood fingerboard, and a rosewood bridge.
Another critical feature is its two-way truss rod and 2'' nut width for a flat but thin neck.
So, right at the get-go, the guitar offers a balanced tone, stable intonation, and incredible resonance. The sound is superb and suitable for many musical genres.
In particular, the bridge has a raised saddle that improves intonation and balance all across the fingerboard.
Lastly, the Etude is a full-size guitar with lightweight construction. It's also very smooth and comfortable to play for adult or intermediate players. Even though the investment goes a bit beyond the budget category, it's worth the money.
Top-value: Yamaha CGS103AII
The CGS103AII is a budget version of the brand's flagship C40II. It has a ¾'' scale length, so it's a guitar for small players, children, and beginners.
This guitar has an all-laminate body construction. It has a spruce top with meranti back and sides. Then, it has a nato neck, plus a rosewood fingerboard.
Notably, the guitar has a bracing support within the soundhole. That keeps the guitar's lightweight while increasing tone and resonance.
As for hardware, it packs a rosewood bridge, a plastic nut, and Pearloid tuners at the neck. Then, it has a low action all across the board, plus a stable intonation.
Lastly, the sound is broad, sweet, and clear. It's, in every sense, an affordable C40II with a sound that could pass as premium. However, the treble lacks some crispness, but you could solve that by putting better nylon strings.
As a plus, the CGS model responds well to pick strumming and picking. The sharp tones tighten up without losing the warmth. That's when the sound becomes better, as it adds sonic depth.
Budget: Squier by Fender SA-150N
The Fender subsidiary also makes a list with the cheapest guitar on the list. They've made a name for themselves by making top-value acoustic and electric guitars and basses. In the classical category, we found the price-friendly SA-150N.
This is a full-size classical guitar made of laminated wood. It has mahogany laminates on the back and sides, with Lindenwood at the top. Then, it has a slim mahogany neck, plus a stained maple flat and spacious fretboard.
The guitar packs 18 frets and features a 25.6'' scale length.
As for hardware, it has nothing particularly special. It packs a rosewood bridge, a plastic nut, and open-geared tuners. These pieces can do the job, but the guitar can still slip out of tune if you're not careful.
These create a warm sound, albeit it doesn't have a lot of output or resonance. Instead, it's just acceptable for the price range, with clear and mellow tones.
Budget: Classical guitar by Hola!
Not all worthy affordable classical guitars have some big-name behind them. The classical Hola! The guitar shows some desirable beginner / entry-level features.
This is a full-size nylon-string guitar with traditional sounds and looks. It has a glossy finish, a nice-looking rosette, and good building materials.
Tonewoods are spruce on the top, with mahogany on the back and sides, neck, and rosewood fingerboard.
Then it has 19 frets, a 24'' scale length, a thin neck, and lightweight construction. That makes it ideal for children.
In the hardware department, we found a Tusq nut. That's a surprising addition at this price range, where cheaper plastic nuts are commonplace.
Also, the guitar packs a truss rod inside the neck to adjust the guitar's action. Also, the guitar ships with a gig bag plus online guitar lessons.
The model comes with a fair, ample, and clear sound, but nothing to write home about. It's got some benefits, though, like its warmth and resonation. And its got some downsides as well, like its lack of complexity and harmony.
Overall, it's a no-frills entry-level guitar.
Budget: Yamaha C40II
Yamaha is a top worldwide instrument manufacturer. The Japanese company produces top-value basses, guitars, pianos, synths, and much more. Their idea is to introduce proprietary design choices and tech into their products and sell it for competitive prices.
As a result, they have created a reputation for their tone, craftsmanship, and excellence for entry-level prices.
The C40II has a body made of laminated wood pieces. It has a Spruce top with meranti at the back and sides, plus a cheaper mahogany (plywood) on the back.
Then, the neck's material is nato, a common wood on budget guitars, similar to mahogany. There's a rosewood fretboard on top with a black satin finish to make the guitar darker. It's a flat, thin neck that plays well and feels smooth.
That said, the playability is great. The guitar features a low action, consistent intonation, and a 22.8'' scale for younger players.
Sound-wise, the C40II features a smooth, glass,y, quality tone able to compete against models selling for twice the price. Moreover, it features a full range, a surprising output, and definition behind each fret and string.
Also, the sound is quite balanced, making the guitar easy to the ears. Neither the bass nor the treble dominates the sound. However, the guitar lacks some crispiness at the highs, as well as depth at the lows.
Still, for its bargain price, the C40II is an unbelievable classical and simple-looking guitar.
Budget / beginner: Ibanez GA3
The Ibanez GA3 is the perfect companion for those looking for their first instrument. That's because it's affordable, durable, and provides authentic classical tones for a very low price. Overall, a top-value model for beginners and children.
This guitar features a laminated construction. It has spruce at the top plus catalpa at the back and sides. There's a natural gloss finish on the body that improves the looks and durability.
The body shape is quite comfortable as well, as it's quite curvy, slimmer, and lightweight.
To continue, the guitar has a mahogany neck, a rosewood fingerboard, 19 frets, a 2'' wide nut, and a 25.6'' scale length. To improve the performance further comes a medium action feature.
Elsewhere, the guitar has solid hardware offering string durability, intonation, and performance.
Last but not least, the guitar offers a stunning sound, much more than you'd expect at this price point. It sounds classical, gentle, lush, and melodic. Overall, the sound is quite pleasant.
Best mid-level: Cordoba C5
Classical and acoustic guitars feel greatly different. They have different dynamics, sound, and ease of use. Mastering each one requires finesse and time. Here's the Cordoba C5, which feels comfortable for both beginners and acoustic guitar players.
The Cordoba has a solid top made of Canadian cedar, combined with laminated mahogany at the back and sides. There's also a bracing pattern within the soundhole.
Then, it has a single-piece mahogany neck, a rosewood fingerboard, and a 25.5'' scale length.
The hardware is solid and offers amazing quality. It manages to increase sustain and resonance, on top of providing stellar intonation.
Then comes the sound. It's warm, gorgeous, and classical. There's a significant presence at the lower end of the frequency spectrum, instead offering rich trebles and a balanced response.
So, overall, the Cordoba C5 is a classical guitar that allows you to easily transition from acoustic to classical. It's also somehow affordable and able to keep up with your skill level.
Mid-tier / small: Cordoba Dolce ⅞ size
Small guitars, like travel or parlor models, tend to have a cheap and thin sound. Children or beginners should not learn on crap-sounding guitars, as they wouldn't feel inclined to play any further.
Here's where the Cordoba Dolce ⅞ guitar comes into play. It's a smaller guitar with a gorgeous sound and a competent price.
The guitar comes with a cedar top, mahogany on the back and sides, cedar neck, and rosewood fingerboard. Also, it boasts a 24 ¾'' scale, which is a bit smaller than most guitars. However, despite its smaller scale length, it has a broad body.
Similarly, it has a very thin neck with a 50mm nut width. That makes it comfortable for kids and players with small hands.
Another critical feature is its Cristal Corum strings, a Cordoba proprietary hardware that provides extra string tension.
Rounding up the construction comes solid hardware capable of sustaining intonation and increasing resonance. Also, it has a trusty truss rod.
Now for the sound: it's nice, versatile, and round. Yet, it has some buzz, and some players might not like it for that.
Overall, though, the Cordoba Dolce is an ideal guitar for most playing styles and genres. It can adapt to Spanish music, jazz, modern genres, and students learning to play without much complexity.
Mid-tier / electric: Washburn Classical Series C5CE
Sale
Washburn has more than 130 years of acoustic and classical guitar building experience. It's one of the top brands in the category.
This time, we're looking at a classical guitar with a built-in electronic system for playing live.
Construction-wise, the C5CE has a laminated wood body, which is a sad compromise for its electronics. It has a layered spruce top with catalpa on the back and sides. Catalpa is a North American wood similar to spruce. The combination offers focused and clear tones for a budget.
Then, the guitar has a flat cutaway on the upper bout, allowing easy access to the 19 frets. Speaking of which, the guitar has a 25.5'' scale.
Elsewhere, the guitar packs a maple neck plus a rosewood fingerboard. These feature smooth and lightweight construction.
Speaking of construction, the body has a natural gloss finish that adds an orange hue color. Then, the neck has a satin finish to improve playing speed.
For electronics, the guitar has an EVT preamp with volume and tuner controls.
The unplugged sound it produces is rich, full, deep, and full of resonance. However, the amplified sound loses the low-end power.
Still, you'll get the most of the guitar with an amplifier or PA system. The sound growls, bite and delivers a pristine treble. That said, you'd need to adjust your EQ settings to get a real gig-worthy tone or use acoustic guitar pedals like EQs.
Premium / electric: Cordoba C5-CET Thinline
Reaching the verge of what we consider "cheap," the Cordoba C5-CET Thinline comes as a premium classical guitar. It packs everything a professional or high-standard player would want.
First, it packs an amazing look. It features a premium solid Canadian cedar top, plus mahogany at the back and sides, a mahogany neck, and rosewood for the bridge and neck.
The body has a soft cutaway that pops up. It's on the lower bout. Thus it allows easier access to the treble side of the higher frets.
It also has a built-in electrical system. It has a Fishman Isys+ pickup, an attractive choice for a classical guitar.
You can control it with a tone knob, a volume knob, and a 3-band EQ. Also, it has a built-in tuner.
The sound is premium, classical, and amazing. It has a definition behind every note, chord, string, and fret. It's on the mellow side, strong at the low-end, subtle bite at the treble, and a round mid. It's perfect.
Overall, the Cordoba C5-CET is a pretty electric-classical guitar with a boutique sound.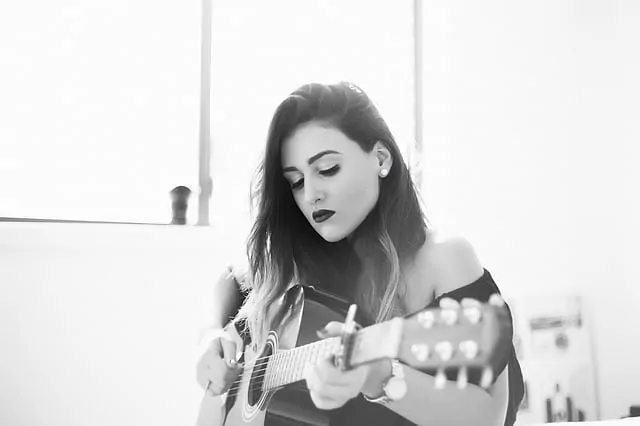 Jen is a guitarist and singer-songwriter who spends much of her time on the road and has lived in 13 cities across 4 continents. She picked up her first guitar at the age of 6 and learned to play by ear shortly after. She received her formal music education at the Berklee College of Music, and currently plays for a few bands in her free time. She has an uncanny ability to improvise creative melodies and harmonies. Her early influences include blues, jazz and rock.