Gone are the days when your only options to learn guitar are to:
Lug your gig bag to your local music studio every Thursday night
or
Listen to your favorite songs on repeat until you figure out the crazy solos.
Online guitar lessons are the easy, affordable third option. Even before social distancing, they were quickly becoming the top choice for beginners picking up their instruments for the first time and for experienced players expanding their skills.
But with dozens of websites and apps to choose from, how do you know which ones are the best?
We searched the internet to find the best online learning platforms, weighing the quality (and quantity) of their lessons and teachers. We also considered their extra features, designs and costs 
Before we explore these top picks, let's talk about why you might want to take online lessons in the first place. This will help you decide which ones are best for you.
Why Bother With Online Lessons?
If you Google "guitar lessons," you'll find hundreds of thousands of results. Overwhelming, much? Especially when not all of them are proper websites. A lot of times, it's just some random guy with a blog. Or a random girl with a YouTube channel.
It's tempting just to stick to these types of online lessons. After all, they're free. They'll probably help you tackle basic chords and strum a Neil Young song or two. And maybe that's all you really want to know. But if you're serious about learning guitar, then it's best to skip amateur lessons.
Especially on YouTube, it's hard to track your progress. Even if you stick to just one channel, you'll jump randomly from topic to topic without a clear learning path. Plus, you won't know for sure if you're learning skills and songs properly. There are some good quality YouTube channels. But there's a lot of rubbish ones as well. And who wants to spend more time sorting through rubbish when you could spend more time playing guitar?
This is where online learning sites come in. They're just as accessible as YouTube, but offer the professional feel of in-person lessons. They also improve on in-person lessons by being:
Flexible: you can take them whenever and wherever you want. Especially with platforms that offer a mobile app.
Customizable: you choose the genres, techniques and songs you want to learn. Depending on the site, you can choose your own teacher(s) too.
Affordable: you'll pay less than in-person lessons. You may not even pay at all.
Community-based: you can connect with other students (and even your teachers) through forums, chats, Facebook groups, etc.
The biggest drawback to online learning platforms is that you don't often get as much feedback as you do with in-person lessons. Luckily, many websites offer virtual one-on-one sessions or video exchanges. It usually costs extra. But it's the best way to double-check a strumming pattern or break down a complicated lick.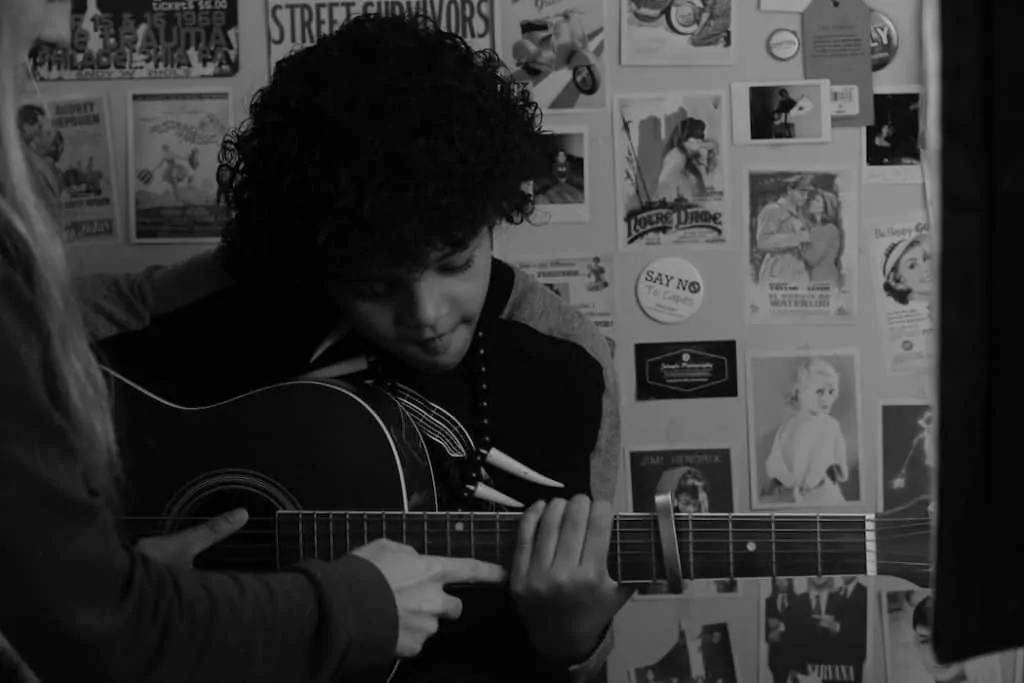 Depending on your learning style, you may find that in-person lessons really are the best option. But for guitarists who can guide themselves through courses (and don't mind paying for the odd Skype session), online learning sites are the way of the future.
Top Pick: Guitar Tricks
This lesson, covering BB King's "The Thrill is Gone", is a typical Guitar Tricks song tutorial.
Guitar Tricks is the most popular destination for online learning, with 3 million+ users, 33 qualified teachers and 11000+ lessons. It also has an impressive song catalogue – 1000+ and counting!
If you're a beginner or intermediate player, you can take advantage of Guitar Tricks' Core Learning System. It starts with two easy-to-follow foundations courses taught by singer-songwriter Lisa McCormick. Then it splits into two levels of genre courses, covering the best intermediate rhythm and lead skills for Acoustic, Blues, Country or Rock. These courses are taught by Anders Mouridsen. He's best known for his work with John Fogerty, Taylor Swift and P!nk.
If you're more experienced, you can browse online tutorials on various techniques, artist studies and genres. The genre tutorials are more limited than other sites. Still, they cover the basics of metal, jazz, classical, Celtic, surf and rockabilly.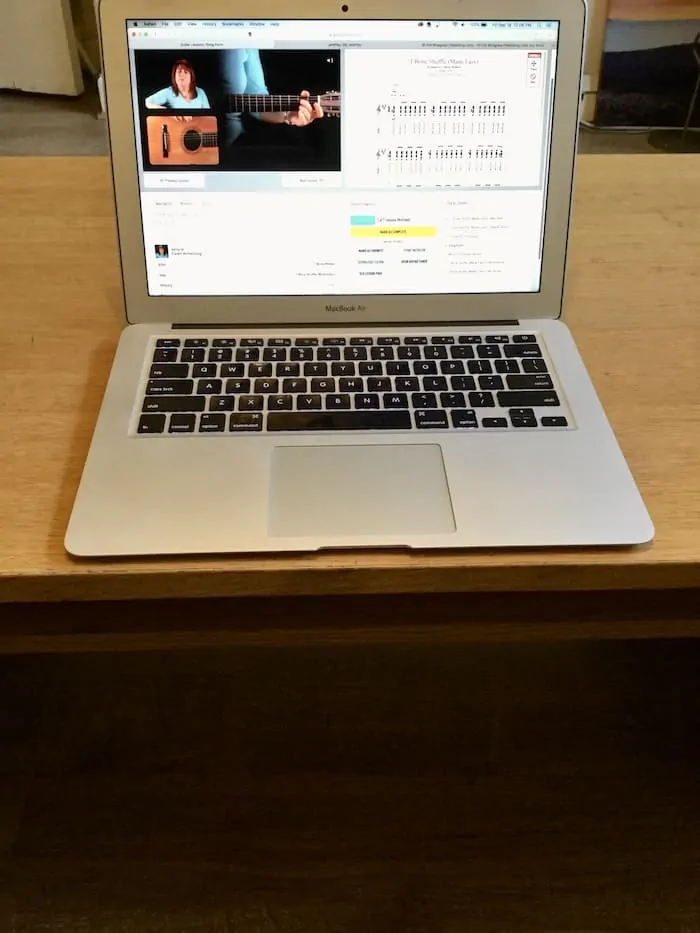 HD videos, Autoscroll tabs and a bright, clean design make it easy to navigate Guitar Tricks' online courses.
While all Guitar Tricks lessons are high quality, the song tutorials are the best ones. They offer tunes from a variety of artists, genres and eras – ranging from simplified beginner songs to "true-to-recording" advanced songs. You'll get step-by-step instructions to master the chord progressions, solos, dynamics and overall tone. Best of all, each song lesson ends with a Jam Along. This allows you to feel like part of the band, playing alongside a professional backing track.
As a member, you'll gain access to Guitar Tricks' online toolkit. This includes a metronome, tuner, jam station, fretboard training game and more. You can also read their blog, attend weekly live lessons (courtesy of their Facebook page) and browse a public and private forum with various threads (including one for performance videos).
Pros
Beginner to advanced lessons
Well-organized Core Learning System
Enormous, diverse song catalogue
Jam Along feature
HD videos with multiple angles
Downloadable tabs (PDF)
Downloadable videos
Public and private forum
30+ free lessons on website and app (no membership required)
2-week free trial
iOS and Android apps
Cons
Not many advanced offerings
Only basic genres
Autoscroll tabs can be glitchy
Android app not as user-friendly
Save 20% on your first month of Guitar Tricks with promo code Save20.
Runner Up: JamPlay
JamPlay's YouTube series, like Strummin' With Steve, share the same format and feel as the online courses.
JamPlay is another mega popular online site, with 500 000+ students and 7500+ lessons. It's also home to 100+ guitar and bass teachers. This includes celebrities like Steve Stevens (Billy Idol), Mike Mushok (Staind), Lita Ford (The Runaways) and David Ellefson (Megadeth).
Unlike Guitar Tricks, JamPlay doesn't have a specific learning path. Instead, courses are loosely organized into 4 phases – Beginners, Genres & Skills, Songs, and Songwriting. Some courses share overlapping topics, but each teacher takes a different approach. No matter which one you choose, you'll get a solid background in theory and technique throughout.
The Genre phase is the best section, in my opinion. It offers 21 different categories. This includes staples like rock and country, along with niche offerings like Hawaiian slack key, flamenco, R&B and reggae. The Songwriting phase also has a solid repertoire of 8 acoustic and 1 electric courses.
The song catalogue isn't as diverse as other online platforms. It's mostly pre-2000s songs with a rock, metal and folk bias. But JamPlay makes up for this with their Artist Series, taught by the actual artists. It doesn't get much better than learning "Rebel Yell" from Steve Stevens himself! Plus, you can explore songs and skills from lesser known (but equally talented) artists.

With high production videos, an edgy design and a dark mode option, JamPlay courses look (and sound) super polished.
JamPlay has a ton of bonus features too. Some of the best ones to explore are the lick and riff library (short video lessons), scale library (with 40+ Western and non-Western entries), tuner (with 36 alternate tunings) and live lesson series (with more series available in the archive). They also offer 3 surprisingly addictive training games.
Pros
Beginner to advanced courses
Celebrity teachers covering Artist Series
Live lesson archive
High production, HD videos with multiple angles
Downloadable tabs (jpeg, PDF, GPX) and interactive tab
Quality tools
Free lessons on app (no membership required)
1-week free trial (no credit card needed)
iOS, Android and Kindle Fire apps
Cons
Phase system may confuse beginners
Limited song library
Pay extra for video downloads
Save 25% on your first month of JamPlay with our link
TrueFire
Want to learn a Steve Vai song from the man himself? Look no further than his Alien Guitar Secrets course on Truefire!
TrueFire is the giant of online music education. It has a roster of 600+ instructors, including some of the world's best guitarists, like Steve Vai, Andy Timmons and Tommy Emmanuel. It also boasts a whopping 40 000+ lessons for guitar, bass, ukulele, saxophone and more.
TrueFire's main structure consists of 6 Learning Paths – 1 for bass and 5 for guitar (acoustic, blues, country, jazz and rock). If you're an absolute beginner, it's best to start with the two Learn Guitar courses taught by founder Jeff Scheetz. They provide a balance of technique exercises and songs inspired by classic rock and pop hits. They also include a playalong feature, where you can jam along with a backing track.
Or, you can jump ahead to the late beginner, intermediate and advanced courses. Taken directly from other online courses on the site, these lessons are taught by multiple instructors. They cover everything from genre studies to rhythm and lead techniques. Anything to inspire you as you develop your unique playing style.
Between each level, you can explore supplementary courses. They don't count toward your progress on your learning path. But they're the best ways to clarify any topics you're confused about or learn more about topics you find interesting.

TrueFire offers HD videos set against a slightly busy, but bright and clean online layout.
If you want, you can skip the Learning Paths altogether and explore whatever courses you like. They cover a medley of topics – from harmonic fingerstyle to gypsy jazz to celebrity master classes. Some even teach you to play original songs inspired by pre-2000s hits.
Beyond the courses, TrueFire offers audio lessons, monthly subscription channels and free and paid Jam track collections. They also have some basic tools like a chord chart, tuner (app-only) and metronome (app-only).
Pros
Enormous, diverse course catalogue
Celebrity educators
HD videos with multiple camera angles
Downloadable tabs (PDF or GPX)
6000 free lessons on website (no membership needed)
1-month free trial (no credit card needed)
iOS, Android and Mac/PC/Linux desktop apps
Bonus jam track, ear training and audio apps for iOS
Cons
Beginner courses aren't as strong
Some courses feel disorganized
Limited song catalogue (scattered throughout courses)
No bonus apps for Android
Glitches on some web browsers (Safari) and apps (iOS Licktionary, Android tuner)
Try TrueFire free for 30 days,
JustinGuitar
This lesson, which is about anchor fingers, forms part of the new beginner course on JustinGuitar.
The brainchild of YouTube star and long-time teacher Justin Sandercoe, JustinGuitar is a well-known online learning site. As a free website run by one person, you can't really compare it to the depths of Guitar Tricks and TrueFire. Still, it's full of high-quality lessons that rival similar ones on paid platforms.
You can access all (non-premium) JustinGuitar courses without creating an account. But I would recommend signing up anyway. This is the best way to track your progress, save your favourite videos and request songs.
The JustinGuitar courses are currently being updated, so the layout of the website is a bit scattered. On one hand, you have the old course structure, dividing lessons into stages. Then, you have the new 2020 structure, which divides them into 9 levels inspired by karate colours. There are 3 levels each for beginner (white, yellow, orange), intermediate (green, blue, purple) and advanced (red, brown, black).

Although the web layout takes some getting used to, the videos themselves are taken straight from Justin's YouTube.
The white and yellow levels have been recently revamped. They feature new HD videos covering basic skills and easy songs from different genres and eras. They include free online music theory and ear training lessons too. The other levels have 780p videos on rock, blues, funk, jazz and all-genre skills.
JustinGuitar also has a decent catalogue of 200+ songs. Rock and pop are best represented, along with a smattering of folk, funk, blues and R&B. For even more songs, you can buy the iOS beginner song app.
Besides the variety of apps, JustinGuitar has plenty of special features on the website. This includes livestreams, songwriting tips, a beginner ukulele course and an active public forum (with monthly awards for best participation). There's also some handy tools like a metronome, interval ear trainer, tempo calculator and practice assistant.
Pros 
Beginner to advanced courses
Revamped beginner course (with better layout)
Lots of songs
Unique tools
Active forum
Free access
Affordable bonus apps
Cons
Not many advanced lessons
Limited genres
Poor video quality on some older lessons
Slightly confusing site map
Not as many Android apps (yet)
ArtistWorks
In this Rock Guitar fundamentals lesson, Paul Gilbert demonstrates the best way to practice your pentatonic scales.
Of all online learning sites, ArtistWorks feels the most like in-person lessons. Best of all, its teachers are world-class musicians. You might recognize some famous names like master shredder Paul Gilbert, jazz fingerpicker Martin Taylor and bass legend Nathan East.
Unlike other platforms, ArtistWorks makes you buy an individual membership for each course. This means that you'll concentrate on a single guitar style, like beginner acoustic, blues, rock, jazz, bluegrass, classical or dobro. They also offer courses for piano, vocals, mandolin and more.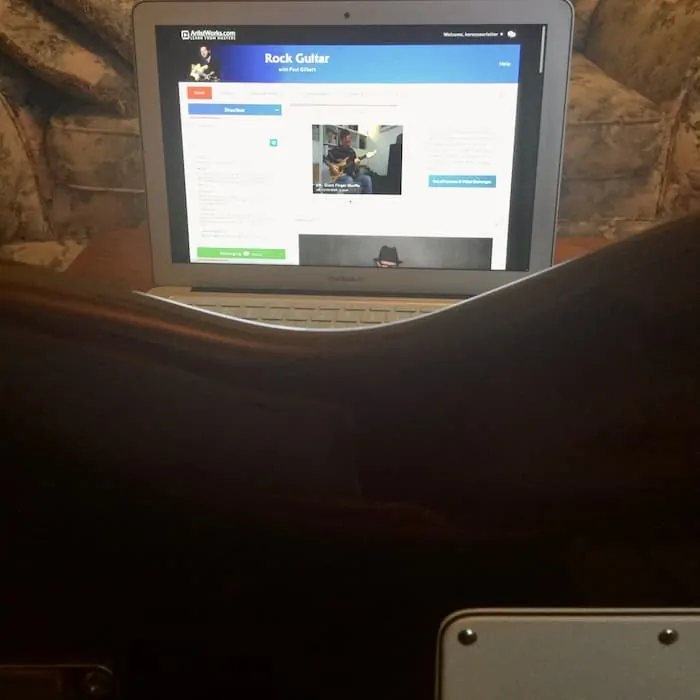 It's a bit on the busy side. But your course homepage has everything you need to launch into your next lesson, submit a video, ask your teacher a question or chat with other students in your course.
Each course divides their lessons into three levels – basic/fundamental, intermediate and advanced. You can start wherever you like. But a lot of teachers recommend you refresh your knowledge from the beginning, even if you've been playing for a while.
Many courses, like Rock and Blues Guitar, are technique heavy. They may incorporate famous riffs and licks into their exercises. But the ultimate goal is to use these exercises to improve your individual lead and rhythm skills. Other courses like Beginner Acoustic, Country and Jazz have lessons specifically dedicated to learning songs.
Online lessons aside, ArtistWorks' best feature is their Video Exchange. Here, you can submit a video file and get detailed feedback from your teacher. Depending on your plan, you may only have a limited number of submissions.
Aside from a few chord charts and blank tabs, ArtistWorks doesn't offer any extra tools or resources. But they make up for this with lively student- and teacher-led forums. There's one for each course, one for the entire website itself and a sort-of mini forum called the Shoutbox.
Pros
Beginner to advanced lessons
Free music theory course (with membership)
Talented, easygoing teachers
HD videos
Video exchanges for tailored feedback
Active forums
5 free lessons via email
Cons
No free trial
Can only buy 3, 6 or 9-month memberships for most courses
Limited to one genre/style per purchase
Single camera angle (hard to see some chords)
Video archive is a bit chaotic
No apps
Fender Play
This excerpt of "Zombie" by The Cranberries is one of the best YouTube examples of Fender Play song lessons.
Launched in 2017, Fender Play is a newcomer to the online learning scene. But it already has millions of users. Not to mention endorsements from Jimmy Page, H.E.R. and Brendan Urie.
In a way, Fender Play took the best elements from other online platforms and tweaked them. Like TrueFire, it offers acoustic and electric guitar paths for rock, country, pop, folk or blues. Each path contains five levels, ranging from absolute beginners to early intermediates.

With an ultra modern design and high-quality images and videos, Fender Play couldn't be easier to navigate online.
Most lessons have two modes. Lesson mode is where your teacher guides you through the exercise, then plays the whole thing with you. Practice mode is where you can play it yourself with the help of a scrolling tab and optional metronome.
Fender Play is extra light on music theory. Instead, their goal is to give you the best fundamental skills, so you can start playing well-known songs. A word of warning though – many songs, especially in the early lessons, are shortened and/or simplified. So, it's best to play them in practice mode instead of alongside the original recording.
You can browse more song lessons in the catalogue. Like GuitarTricks, it tries to offer the best of the best, ranging from traditional folk songs, classic tunes and recent hits. Yet, rock and pop dominate, while other genres like jazz and metal are underrepresented.
Aside from guitar, you can take online bass and ukulele lessons without a separate membership. You can also take advantage of the Fender Play Facebook group, where you can ask questions to your teachers and attend weekly live lessons.
Pros
Beginner to early intermediate lessons
Lots of songs
High production HD videos with multiple camera angles
Cheaper than other sites
2-week free trial (no credit card needed)
iOS and Android apps
Cons
No advanced material
No music theory
Basic genres only
Some songs are incomplete or simplified
Can only manage subscription from the website or the app (not both)
Try Fender Play free for 14 days.
Conclusion
When it comes to the best online guitar lessons, everyone has their own opinions – depending on what they care about the most.
For example, beginners might be drawn to the clear learning structure of Guitar Tricks and Fender Play. However, experienced players might prefer the freedom of JamPlay and TrueFire. Song-focused musicians would find the best material on Guitar Tricks or JustinGuitar. while skill-focused musicians would be best off with online courses from TrueFire or ArtistWorks.
Additionally, some sites like ArtistWorks offer more electric guitar courses. Others, like JamPlay, have a slight acoustic bias in some topics. Then, you have your TrueFires and Fender Plays that are pretty much even.
Your ideal online platform might not even be on this list at all. It could be something more niche, like the British OFQUAL-credit course from Orange Learn, the social network feel of Jamorama, or the "Guitar Hero-with-a-twist" format of Yousician.
Still, if you want affordable, good-quality online lessons from professional teachers, then the six websites we've looked at come out on top. Any one of them can help you on your way to becoming the next Eric Clapton – without leaving your living room.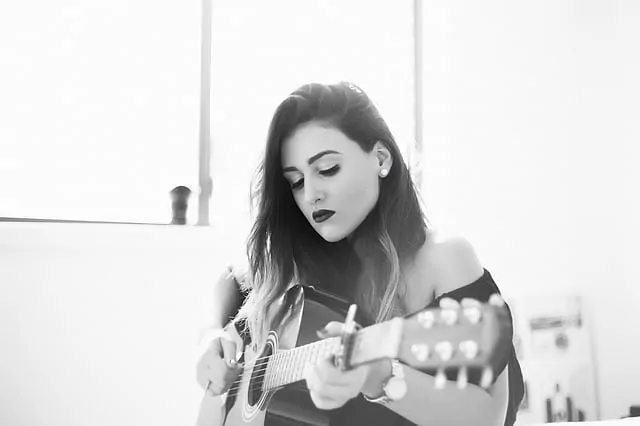 Jen is a guitarist and singer-songwriter who spends much of her time on the road and has lived in 13 cities across 4 continents. She picked up her first guitar at the age of 6 and learned to play by ear shortly after. She received her formal music education at the Berklee College of Music, and currently plays for a few bands in her free time. She has an uncanny ability to improvise creative melodies and harmonies. Her early influences include blues, jazz and rock.