Since 2007, JamPlay has been teaching guitar and bass to 500 000+ players around the world. And with over 100 teachers on their roster – including famous names like Steve Stevens (Billy Idol), Mike Mushok (Staind), David Ellefson (Megadeth) and Lita Ford (The Runaways) – they offer a little bit of everything to everyone, from absolute beginners to experienced shredders.

JamPlay is a popular platform for online guitar and bass lessons ("JamPlay Logo" by JamPlay LLC / CC BY-SA 4.0 / Cropped from original).
Thanks to their star-studded courses and thumbs up from Guitar World and The Economist, it's no wonder JamPlay's online lessons have been so successful. But gimmicks aside, how much value does it really bring guitarists and bassists?
Save 25% on your first month if you use our link: Join JamPlay (Save 25% on your first month)
Getting started
When I first visited the JamPlay website, I was greeted by flashy graphics and an edgy black-and-red color scheme. The iOS, Android and Kindle Fire apps maintain this look, while the members section of the website is more minimalist, with lots of white space and clear controls to browse different sections.

The Android app preserves the dark, image-driven design of the promo website.
After you sign up for either guitar or bass lessons (you need a separate subscription to learn both), you have to fill out a profile. This asks how long you've been playing, what genres you like and what your goals are. There's also optional questions about your gear, your favorite bands, etc.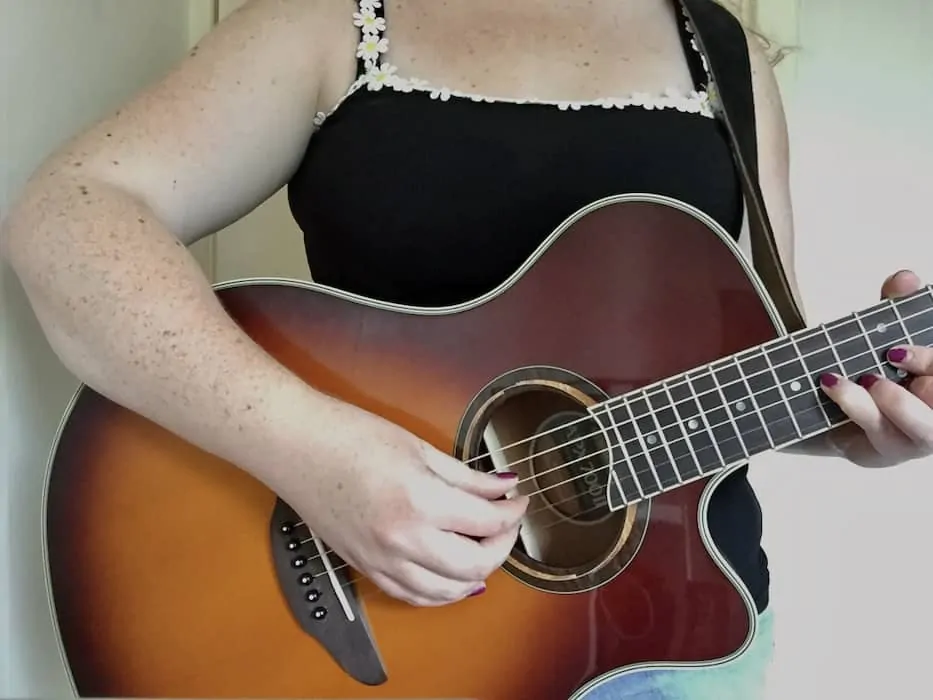 You can still take electric guitar courses even if you selected acoustic on your profile, or vice versa.
JamPlay's structure is a bit overwhelming at first glance. At its core, it has 450+ courses split into four phases. There's no set path, so you can choose whatever courses in whatever order you want. Yet, because the higher phase lessons assume you've mastered the skills in Phase 1, it's better to stay here if you're a beginner or improver.
Once you select a course, you can read a short description of the topics, along with the instructor's bio, their favorite genre and their years of experience. You can also find out the running time (from 6-minute song courses to 20-hour beginner courses), number of lessons (from less than 10 to over 100), lesson skill ratings (0.0-3.0) and reviews from other members.
JamPlay offers over 7566 lessons. Usually, they're split into scenes – short video chapters that break topics into bite-sized chunks.
Lesson/scene controls
Each lesson contains high-quality videos. Older ones are shot in 1080p and newer ones in HD. Some have fancy intro graphics. Many intro scenes feature cutaway shots of the teacher playing, in between giving information about the course. This adds to the high-production, documentary-type feel. Autoplay also creates a seamless transition between scenes in each lesson.
The best part about JamPlay videos is that they're shot from multiple camera angles, showing the instructor's face and their right and left hands. Sometimes (but not always), there's a tab at the bottom of the screen, so you can easily jam alongside the teacher.

The average lesson layout on the Android app – minus the "instructor view" of the fretboard.
Aside from the basic YouTube-type controls, you can also:
Bookmark: add comments/descriptions to specific timestamps.
Loop: click A at your desired start time and B at the end time.
Adjust speed: from 10-200%, with only a slight pitch shift.
Rate: thumbs up or down.
Below each video is a section where you can choose between six views:
About: information about the lesson. Sometimes, it's divided by chapters and/or timestamps.
Supplemental: chord charts and notation/tabs (downloadable JPG, PDF or GuitarPro files). Some lessons offer an interactive tab, where you can listen to a digital guitar while watching the highlighted notes and chords on a fretboard.
My Notes: review these at any time.
Comments: add your own or read others' thoughts.
Ask a Teacher: ask (or answer) questions.
Download Lesson: use course credits (purchased from your account page) to download the lesson and keep it forever.

You can follow alongside your instructor with either the musical notation or tablature.
JamPlay lessons are slightly longer than other sites' lessons, averaging 10-20 minutes. Some can last over an hour, but don't worry If you don't have time to watch it all – the video picks up exactly where you left off.
Course contents
With 5 new courses added every week, JamPlay has a fast-growing repertoire. And while some teachers like to spice things up with interview-style videos and lesson quizzes, the basic lesson structure remains the same.
The biggest and most important changes are in the course contents, especially as you progress through each Phase…
Chris Liepe's Basic Electric Guitar Course has since been updated. Still, this older video is a good example of what to expect from a Phase 1 lesson.
Phase 1 (Beginners)
To begin Phase 1 guitar, you can choose from acoustic or electric courses rated 1.1-1.9. Most are general beginner courses, but some are dedicated to rock, blues or fingerstyle. There's even a "Just For Kids" acoustic course.
Different courses offer different lessons, though some overlap in earlier lessons, especially when you're learning how to tune your guitar, strum basic rhythms and memorize scales. You can also find unique topics, like "Yoga for Guitar Players."
In most later lessons, you can start learning 2.0+ intermediate/advanced techniques, like playing octaves, Travis picking, tapping and soloing.

Phase 1 bass has less courses. Still, it covers core techniques like playing basic chords and adapting to Motown, reggae and surf songs.
As you'd expect with a big roster, the instructors have different teaching styles and levels of enthusiasm. Some break down each topic, explaining it clearly and allowing practice time. Some ramble and go slightly offtopic. Others speed through lessons. Because of this, I'd recommend testing a few courses before settling into one.
Just like with in-person music teachers, you may have to try a few JamPlay instructors before you find one that fits your learning style.
One common ground for most instructors is a focus on music theory. You'll learn not only how to play an A chord, but how to form different inversions and voicings, no matter where you are on the fretboard. You can also learn how to read music notation and use different scales and modes.
Unfortunately, there aren't many songs to learn in Phase 1. Still, lots of lessons incorporate licks, riffs and chord progressions inspired by Van Morrison, Black Sabbath, Rage Against the Machine and more.
Phase 2 (Genres & Skills)
Phase 2 is for intermediate and advanced players who want to improve their skills and branch into specific genres. There are a few improver-friendly courses with a similar pace as Phase 1. But many courses, especially in the Skills section, cover lots of material in a short period.
Although there are only 3 bass categories, some lessons are tucked away into 11 guitar skill-building courses. These include:
Whether you want to learn fingerstyle rhythms, punk riffs or bebop improv techniques, Phase 2 has you covered.
In the genre section, you can choose between 2 bass (rock or funk) and 21 guitar categories:
Blues
Fingerstyle
Hawaiian Slack Key
Bluegrass
Rock
Celtic
Classical
Country
Jazz
Surf
Funk
Flamenco
Folk
R&B/Soul
Reggae
Brazilian
Gospel
Acoustic Rock
Metal
Pop
Jam Bands
Again, some genres like metal, jazz and even Celtic, feature bass lessons.
As you'd expect, niche genres like Brazilian and surf have only one or two courses. Surprisingly, even the metal, country, pop and folk offerings are slim compared to blues, jazz, rock and fingerstyle. But the abundance of metal and country songs in Phase 3 balances things out.
Phase 3 (Songs)
Once you've mastered Phases 1 and 2, you can (finally) start learning songs. The JamPlay website has a master list to filter by artist, title, genre and difficulty level (.5-5 music notes).
Phase 3 on the Android app is frustrating, because it's organized into courses called "Songs with [Instructor]". Some titles highlight genres or artists, but for the most part, you have to scroll through each one to find specific songs.
Some guitar  genres have a wide selection, like bluegrass/folk, country, holiday, metal and rock. Others are almost non-existent, like classical, jazz and R&B. Still, if you're a metal, rock or country fan, you might enjoy learning songs by The Beatles, CCR, Willie Nelson, Alan Jackson, Nirvana, Pantera, Dream Theater and Goo Goo Dolls. You can also learn songs (including rags and hornpipes) written by Jamplay instructors.
The Beatles are a heavily-featured band in Phase 3 guitar and bass.
Click on any song course and you can tell that the instructors did their research, closely mimicking the original recording. They also separate lead and rhythm parts, explain different chord voicings and suggest which effects you should use.
The best part is that you can learn many songs from the people who wrote them, like "Rebel Yell" from Steve Stevens and "Aesthetics of Hate" from Machine Head's Robb Flynn and Phil Demmel.
Although the .5 and 1 music note lessons are easy enough for improvers and intermediates to master, the 3 and above songs are better left until you've finished Phase 2.
Phase 4 (Songwriting)
Songwriting is the final learning phase on JamPlay. This is where you can unleash your creativity and learn about chord progressions, doubling instruments and adding catchy lyrics. There's also lessons dedicated to genres like blues and ska.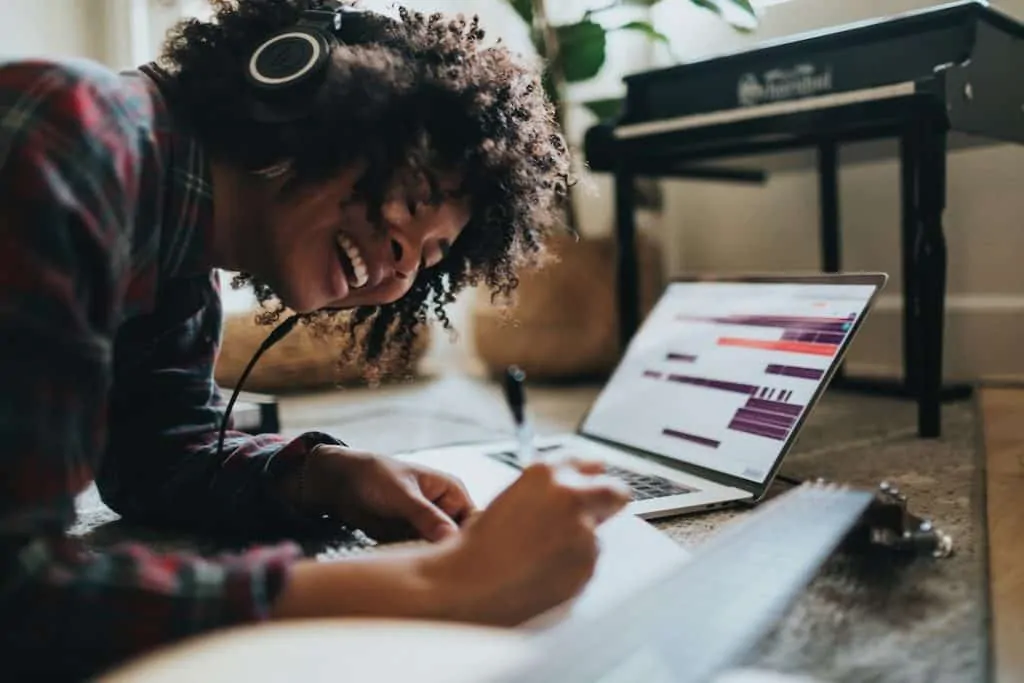 This phase has great resources for acoustic guitarists to start writing their own songs.
Unfortunately, there's only one electric and no bass songwriting courses available. Still, if you're an acoustic guitarist at an improver level or higher, Phase 4 has solid tips to bring your songs to life.
Additional features
Need a break from your phase? Luckily, there's other JamPlay features you can explore to help you learn new skills, review your lessons and connect with other musicians.
Other lessons
Aside from the phases, the "Lessons" tab includes JamPlay's Artist Series. In these skill and song courses, you can learn to play like celebrity instructors – along with lesser-known but equally professional performers, session musicians and music educators. You can also find "In The Style Of…" lessons, where you can play bass like Paul McCartney or guitar like Jimi Hendrix, Wes Montgomery, Dave Matthews and more.
This video features Godsmack bassist Robbie Merrill teaching his chromatic scale warmup, as part of his Artist Series.
Some of my favorite lessons come from the Lick and RIff Library. It contains licks and riffs for specific genres (ex: Bossa Inspired Country Lick), chord progressions/scales (ii-V-I Jazz Lick in C Major) and even artists (Vai Some Time for Rock) or songs (Take It Easy). Like the song courses, they're rated by music notes and sortable by genre.
Other "Lessons" options include:
Performances: additional videos from teachers' lessons.
Interviews: with teachers and touring artists, like Tommy Emmanuel.
Concerts: live performances by a handful of teachers.
Another cool option is to check out a daily live lesson. Even if you can't make the live sessions, you can access archived videos, along with tabs/notations. Different live courses are geared to different skill levels, but tend to be more intermediate/advanced.

Live lessons are a cool opportunity to improve your soloing, learn new genres and connect with your favorite teachers.
Tools
Aside from lessons, JamPlay has useful tools to help enhance your skills and get the most out of practicing.
The most popular are the three libraries:
Chord Library: a visual database of 950 000+ chord voicings. You can also save your favorite voicings and build your own chord sheets.
Scale Library: features everything from minor pentatonics to 7-note Hungarian gypsy scales. Once you've selected a scale, you can see all the notes on the fretboard associated with it.
JamTrack Library: provides downloadable backing tracks for your practice session. You can filter the list by key and genre. Examples include "1950s Pop", "Santana Style" and "Lydian on a Prayer in E"
.
Other handy tools include the:
Metronome: allows you to adjust the speed, volume and accents on your beats.
Guitar/Bass Tuners: includes standard and alternate tunings. If you have a microphone or line in, you can also use the digital tuner instead of tuning by ear.
Chord Namer: a cool feature, where you can add notes to a virtual guitar to find out what chord it makes.
Training games
In the last section of the "Tools Tab," you can find training games to help you review your knowledge and get more comfortable with reading notations and mastering your fretboard. The games are called Music Notation Quizzer, Fretboard Memorization and Note Identification.
My personal favorite is the Fretboard Memorization game. It's a fun way to familiarize yourself with fretboard diagrams and enhance your soloing.
When I tried the games, it didn't record my scores. Still, as long as you're just playing for fun, they're a great way to wind down after a lesson.
Progress/rewards
Under "My JamPlay," you can find your progress report. This keeps track of what lessons you've watched and includes your notes and bookmarks. You can also create playlists, then drag and drop lessons to organize them.
Badges are a unique feature, where you can upload a video of yourself practicing a lesson. Once a staff member approves it, you'll earn the badge – along with bragging rights.
JamPlay is also testing a new feature, where you earn JamPoints for finishing your first lesson, adding your first video marker, and so on. In the future, you'll be able to put them toward special offers.
Community
If you have any questions to ask a teacher, you can join their weekly Live Q&A. Simply type in your question and you'll get an answer via webcam. If you miss this block, you can also message them via the "Community" tab.
Unlike other sites, JamPlay doesn't have a forum. But if you want to chat to other members, you can use the public JamChat link at the top of your screen.. There's also a JamPlay Facebook page, where you can watch livestreams, learn about new courses and screenshot funny memes.
Extras
The final section of the website offers a store, where you can buy gift cards and other merch, and a monthly gear giveaway to win prizes like a Taylor Big Baby Acoustic or a FIshman Loudbox Amp.
Although it hasn't been updated since 2016, there's also a section called Guides and Articles, where you can find biographies, mini genre courses, interviews and reviews.
Free features
When you download the JamPlay app, you can access a rotating free lesson, along with the first one or two lessons from each guitar and bass course.
On the website, you can visit the free tools and resources section to download 14 JamTracks, test the metronome and tuners, and read the guides and articles. There's also a tool called Guitar Chords, which I think is even better than the Chord Library. It not only shows you different voicings of each chord, but also identifies which genres they're commonly used in.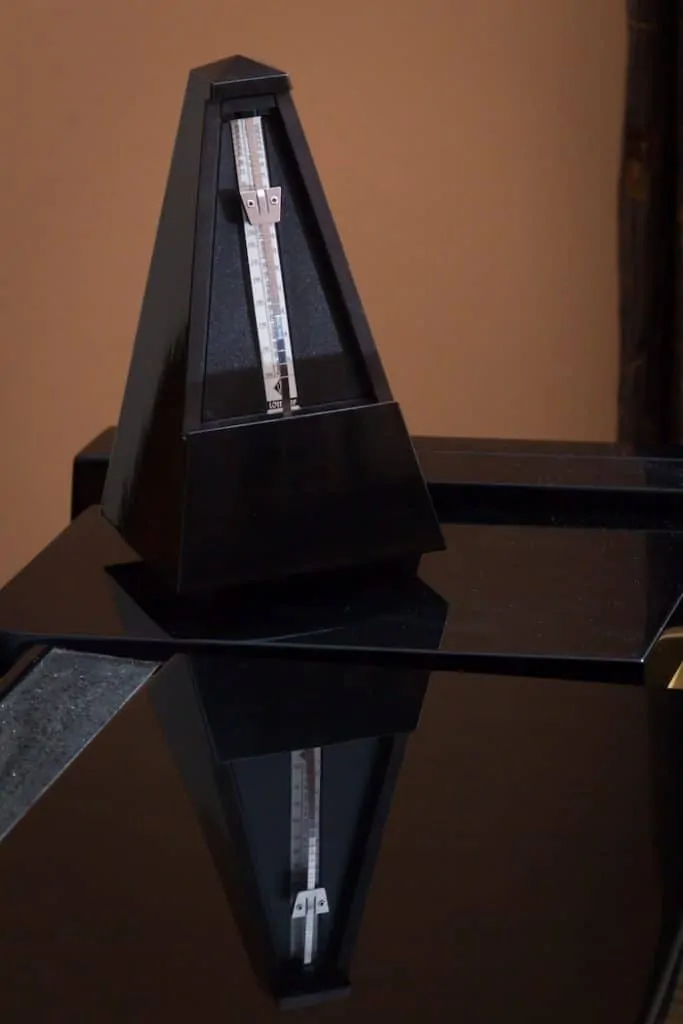 Even if you don't have a JamPlay account, their free tools and resources are worth bookmarking. 
Finally, there's a section of the website called Weekend Warrior. It includes free lessons and articles about topics like Easy Theory, Practice Help, and Gear and Studio.
Want to test out more than this? JamPlay also offers a 7-day free trial, where you can access the same courses, tools, training games and extras as paid members. You don't even need to add your credit card – just your email address.
Upgraded features
If you upgrade your "Month" or "Year Standard" to a "Year Pro" membership, you can access…
Toolkits: dedicated courses, JamTracks and tabs. Some are skill-focused, others are genre-specific. You can also download toolkits and own them for life.
One-on-one lessons: name a topic, time and medium (Skype, phone, Facebook, etc.) and you'll have an hour with a teacher to get feedback.
25 ownership credits: to put toward lesson downloads.
Pros and cons
To me, the teachers are the real strength of JamPlay. Famous or not, they're all experienced musicians in different genres and techniques. The Artist Series and live lessons are where they really shine, providing fun and authentic learning through pro-quality video lessons.
I like that the flexible phase system allows you to choose whichever instructors you want. Some players might prefer a more rigid structure with less repetition between courses. Still, it's a solid way to improve your skills by trying a bunch of different courses instead of limiting yourself to one path.
JamPlay offers a variety of genres and skills that are hard to find on other learning platforms, making it an excellent choice for acoustic and electric players of any level. There aren't as many classical or bass lessons, but it's still an improvement from other sites that have none at all.
Finally, Jamplay is the place to go to learn theory and technique. It's built into almost every beginners course and can be improved through the high-quality tools and training games.
If you're more interested in learning songs than developing advanced techniques and exploring genres, JamPlay may not be the best choice.
I find that the song courses are the weakest aspect of JamPlay. Their selection is nowhere near as diverse as Guitar Tricks or even Fender Play. There's also a surprising absence of songs from the late 2000s onward. So, if you want to learn some Ed Sheeran, Brad Paisley or Bring Me the Horizon, you'd be better off with a different platform.
Another drawback to using JamPlay is the separate members website. If you accidentally type jamplay.com into your browser, you'll enter the promo website. Then, you have to login and be redirected to members.jamplay.com.
The apps avoid this problem, but are incomplete, missing key features like progress reports, live lessons, tools and training games.
Some other drawbacks you might find with JamPlay are…
Tab-free videos: especially on the app, it's a pain to go back and forth between the tab and video lesson.
Two skill level systems: it would make more sense to have just music notes or as decimals.
Organizing your lessons: you can't save a lesson to your favorites as you're watching it. Instead, you have to go to My JamPlay and drag it to a playlist.
Edgy language: if you don't add a profile picture, you show up as a silhouette with "Too lazy to post pics!" across the face. Also, if you try to bookmark the beginning of a video, you'll get a pop-up window saying, "Bro, I cannot save a marker with a 0.00 timestamp!" These examples add a twinge of humor, but some may find it off-putting.
How to Get Started
Save 25% on your first month if you use our link: Join JamPlay (Save 25% on your first month)
Final thoughts
Overall, JamPlay is an excellent website for guitarists and bassists of all levels who want to develop their technique, experiment with different genres, learn from the pros and even get one-on-one help. It's not the cheapest platform, but you definitely get your money's worth for the top-notch content.

Whether you play acoustic or electric guitar, JamPlay is a solid choice to help take your playing to the next level.
I wouldn't recommend JamPlay if you plan on using the app only or want to learn specific songs outside the Artist Series – especially newer songs and genres that aren't rock/metal/country.
Far from a perfect platform, JamPlay still does a decent job at bridging the gap between online and traditional in-person lessons.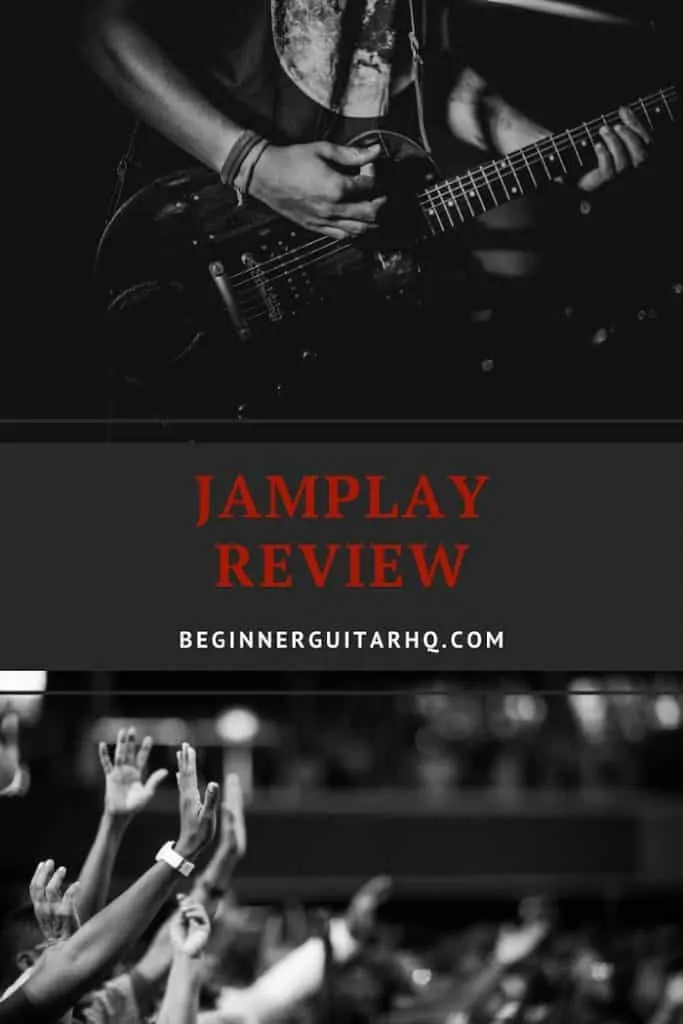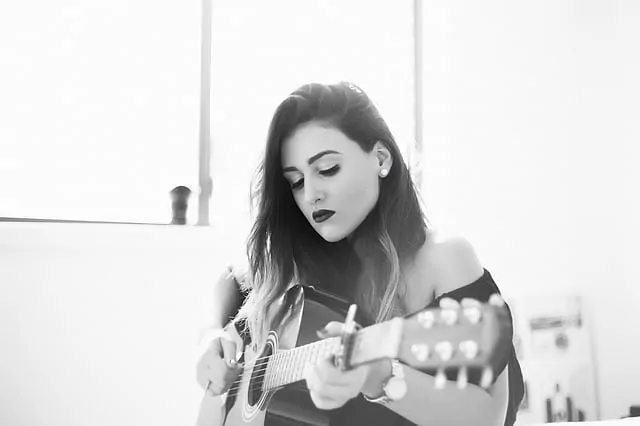 Jen is a guitarist and singer-songwriter who spends much of her time on the road and has lived in 13 cities across 4 continents. She picked up her first guitar at the age of 6 and learned to play by ear shortly after. She received her formal music education at the Berklee College of Music, and currently plays for a few bands in her free time. She has an uncanny ability to improvise creative melodies and harmonies. Her early influences include blues, jazz and rock.