Fender Play is an online teaching platform for guitar, bass and ukulele. Launched in 2017, it's still a relative newcomer to the scene. But it already has millions of users – thanks to the iconic music brand it belongs to.
With endorsements by musicians like Jimmy Page, H.E.R. and Brendan Urie, Fender Play keeps growing more popular each day. But is it worth all the hype?
Try Fender Play Free for 14 Days
To answer this, let's take a look at its main features.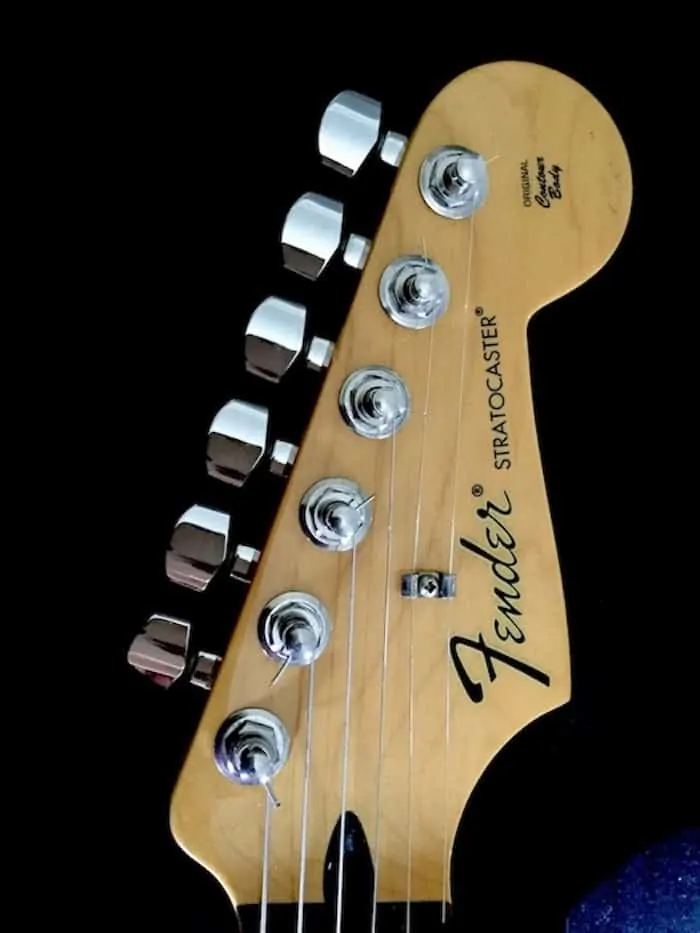 Best known for their electric guitars, basses and amps, Fender has expanded their digital presence with online music lessons.
Getting started
After signing up for Fender Play, you'll be asked to choose your instrument: electric guitar, acoustic guitar, bass or ukulele.The electric and acoustic paths are exactly the same, but some lessons are geared toward electric guitarists (ex: creating delay or reverb), while others are more relevant to acoustic players (ex: using a capo).
Similarly, you can use an acoustic bass and skip the lessons specifically for electric bassists. And although most of the instructors use tenor ukuleles, you can easily apply the lessons to your concert or soprano ukulele.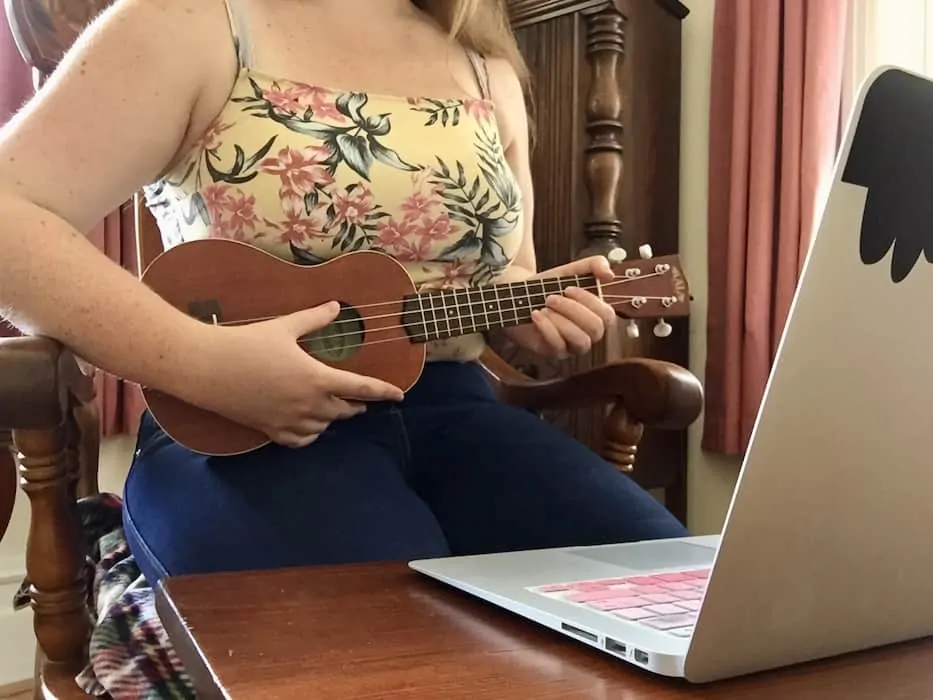 Fender Play offers one ukulele path, two bass paths and five electric/acoustic guitar paths.
If you're learning ukulele, you can immediately start your lessons. If you're learning bass or guitar, you'll also need to choose a path. Currently, there are only two bass paths (rock or funk), but five guitar paths (rock, pop, blues, folk and country).
Don't worry if you change your mind – you can easily switch back and forth between different paths and instruments.
Courses
Each path is divided into five levels, made up of 13 to 21 courses. Each guitar level begins with an introduction to the topics that will be covered. Halfway through the level is a troubleshooting course to help solve common issues, like battling wrist pain or playing up to speed. The last course is usually a self-assessment exercise, where you can test your new skills and see if you're ready to start the next level.
The ukulele and bass paths skip these checkpoints, diving straight into skill and song courses.

The Level 1 guitar courses will help you get comfortable with your fretboard, so you can play simple riffs and strum your first chords.
As you progress through the courses, you'll learn harder content. For example, in Level 1 of the pop guitar path, the first courses introduce the basics, like how to tune your guitar and how to play an Em chord. By the end of Level 5, you'll learn the tab for "Champagne Supernova" by Oasis. Especially in the earlier levels, there are more skill courses, focused on building basic theory and techniques. Still, there's plenty of well-known songs to liven things up.
Each course is further divided into video lessons and practice modes. The HD video lessons are taught by upbeat but professional-sounding millennial instructors, who break down each topic into clear, easy-to-follow steps. The videos include split screens with close ups of the neck and body of the guitar, so you can see which strings and frets are being played. There are also birds-eye views of the fretboard for extra clarity.
This video, which covers "Mannish Boy" by Muddy Waters, is one of the many song courses you can learn on Fender Play.
The videos have basic YouTube-type controls: play/pause, rewind or fast-forward 10 seconds, adjust volume, adjust speed (0.5-1.5x), minimize screen and full screen. You can also drag the blue bar to a specific point in the video to start from there.
Below the video is a box where you can choose between several different views:
"Info" gives a brief introduction to what the lesson will cover.
"Chords" shows you the chord charts you'll need.
"Tabs" (the default setting) gives you the notes and chords to play.
"Tone" allows you to download the presets for the lesson, if you have a Fender Mustang GT/GTX amp.
"Feedback" launches a chat box where you can send a message to Fender Play.
"Glossary" has some useful definitions for terms used in the video.
"Related" shows you video lessons with similar topics.
"Tools" directs you to Fender's free online tuner for your instrument.
If you liked the video lesson (or the practice mode) and want to return to it later, you can add it to your favorites by clicking the heart button below the video.
Practice mode has even simpler controls than the video lessons. At the top of the screen, above the tab, it shows you the tempo of the exercise or song in beats per minute (BPM). It also gives you the tuning – which is almost always standard, with the occasional capo.

Lessons and practice modes are built around tabs like this one. There's also a course in Level 1 that teaches you how to read tabs
At the bottom of the screen is the play button to get started. In default practice mode, a metronome will count you in for two bars and a red line will move along the tab, helping you keep the beat as you play. You can adjust these controls beside the play button, changing the playback speed (to 75% or 50% of the BPM) or adjusting the metronome volume.
Other features
One good thing about Fender Play is that you don't have to stick to your path. You can also browse through other skills, songs and articles by clicking the relevant tabs in the sidebar. These include:
Songs: features a list of popular songs, recently added songs and a search option to browse by title, artist or genre.

Each song has a difficulty level from 1 to 3 picks. For example, the three-chord song "Feliz Navidad" by José Feliciano has 1 pick, while "Foxy Lady" and other Jimi Hendrix songs have 3 picks.

Skills: shows additional skill courses. You can search these alphabetically or by category, according to "Basics," "Chords," "Exercises," "Glossary," "Technique," "Theory" and "Tone."
Collections: features specialized sets of skill and song courses, with topics like "How to Read Rhythm," "Scales You Should Know" and "Easy 1-Pick Songs."
Favorites: includes your favorite courses, lessons and practice modes.
What's New: includes useful information about new features on the website/app.
My Progress: shows you how far you've come along each instrument/genre path, including which skill courses you've completed.
Articles: contains additional information about cutting fret buzz, telling the difference between major and minor chords, etc. It also has video playlists from the 2019 weekly "Fender Play Live" series, featuring specific artists like Stevie Ray Vaughan and Thurston Moore, as well as genres from reggae to metal.
The "Skills" tab offers courses like this video, which introduces slap bass techniques.
No matter which section you visit, if you spend at least seven minutes on Fender Play, you'll set a daily streak (marked by a fire icon). Do this three times a week and you'll be entered into Fender's weekly giveaway, where you could win prizes like a Player Series electric guitar or a Mustang GT amp.

Mid-level Fender amps and instruments are all part of the weekly giveaway.
Finally, Fender offers support off the platform when you join the Fender Play Community Facebook group. Here, you can watch weekly live lessons, connect with other players and get in contact with instructors for extra help.
Pros and cons
Fender Play is a customizable learning experience, where you have the freedom to try out different instruments, paths, skills and songs for the same price. Plus, you go entirely at your own pace. You can revisit lessons where you need a refresher or skip ahead to new skills when you've already mastered the basics. It's completely up to you.
Furthermore, the website and app have a clean modern design that's easy to navigate. This makes it accessible for players of all ages and with varying digital skills.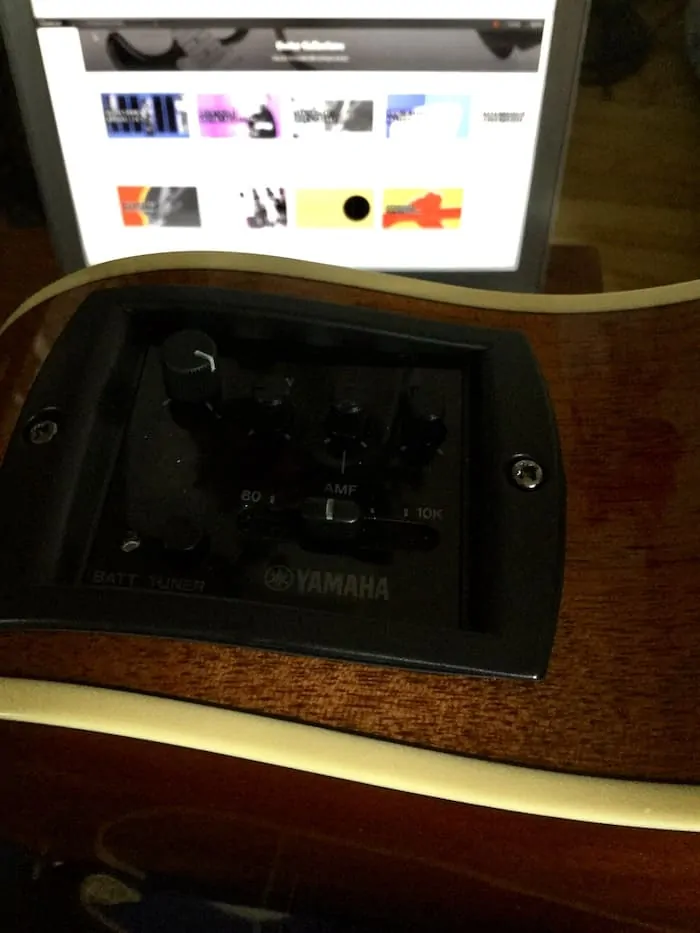 The website has a minimalist, user-friendly design with clear visuals and lots of white space.
Despite its professional design, Fender Play keeps it fun as well as educational. One example is the practice mode for "Don't Fear The Reaper" by Blue Oyster Cult, where the regular metronome sound is replaced with a cowbell. It's small details like this that add an easygoing touch to an otherwise super-polished platform.
Although it's light on music theory, avoiding topics like how chords are made or what scales you can learn besides major and pentatonic, Fender Play covers many essential skills for any beginner musician. It also teaches a handful of intermediate techniques, like calypso strumming for ukulele and palm muting for guitar. Yet because the skill and song courses are geared toward absolute beginners and improvers, intermediate and advanced players probably won't find any new material to learn.
The introductions, self-assessments and mid-level troubleshooting courses are a great way for guitarists to keep track of what they're learning and work out any issues they might have. Still, it would be better if bass and ukulele players had the same courses in their respective paths.
The song courses cover a variety of music across the decades, from traditional hymns and folk songs to recent hits by Ed Sheeran and twenty one pilots. It also includes many subgenres that don't immediately come to mind when you think of guitar/bass/ukulele music. For example, I hadn't realized before trying Fender Play how many Marvin Gaye and Supremes songs there are with catchy guitar riffs. Similarly, the ukulele catalogue has staples like "Riptide" by Vance Joy and "Bare Necessities" from The Jungle Book, along with more imaginative covers like "Creep" by Radiohead and "La Grange" by ZZ Top.
The guitar genres with the biggest catalogues are rock and pop. This makes sense, because most beginners want to start with these genres. And with new songs added every week, there might be more folk and blues offerings in the future.
Although they lean toward some genres and artists more than others, the Fender Play guitar catalogue is pretty evenly split between electric and acoustic songs.
Fender Play features a lot of songs from the same band or singer, which is a plus if you're a fan of The Rolling Stones, ZZ Top, Nirvana, Taylor Swift, or Billie Eilish. But some genres (concentrate on just a few artists instead of being more diverse. For example, there's tons of Hank Williams Sr. songs in the country catalogue, but hardly any from other popular old-school singers like Johnny Cash, Charley Pride or Loretta Lynn.
Unfortunately, the bass and ukulele song catalogues are quite limited. Still, many of these songs are popular choices for beginners. For example, the bass catalogue includes staples like "Longview" by Green Day and "Inner City Blues" by Marvin Gaye, even though it misses out on songs by Red Hot Chili Peppers and Rush that many bassists want to learn.
Even for guitarists, Fender Play isn't a good option if you want to learn certain genres. Except for the odd song like "When the Saints Go Marching In," jazz is basically non-existent. And although there's some metal skills courses and a few songs from Ozzy Osbourne and Panthera, it's surprisingly lacking compared to other rock subgenres.
Another shortcoming is that the Fender Play often features simplified, slowed down and/or shortened versions of songs. This makes sense, as they cater to absolute beginners. But once you get comfortable with the basics, it makes it harder to play along to the actual songs when you only know a single riff or can't match the rhythm.

Even when you use the metronome in practice mode, the timing may be off with the actual song.
Finally, although it offers affordable monthly or yearly plans, Fender Play has cut their 30-day free trial to a 14-day trial. Even if you practice a few days a week, it's not a lot of time to try everything out and see if it's the right platform for you. Plus, many similar-priced platforms offer a bigger song catalogue, with lessons catering to beginner and advanced players alike.
Try Fender Play Free for 14 Days
Final thoughts
Overall, Fender Play is a decent, beginner-friendly platform for guitar, bass and ukulele players. Depending what genres and artists you're into, it may not have the exact songs you're looking for. The bass and ukulele catalogues are also underdeveloped. Still, Fender Play offers a solid rock and pop guitar foundation and provides easy-to-follow video lessons that can help any beginner take their playing to the next level.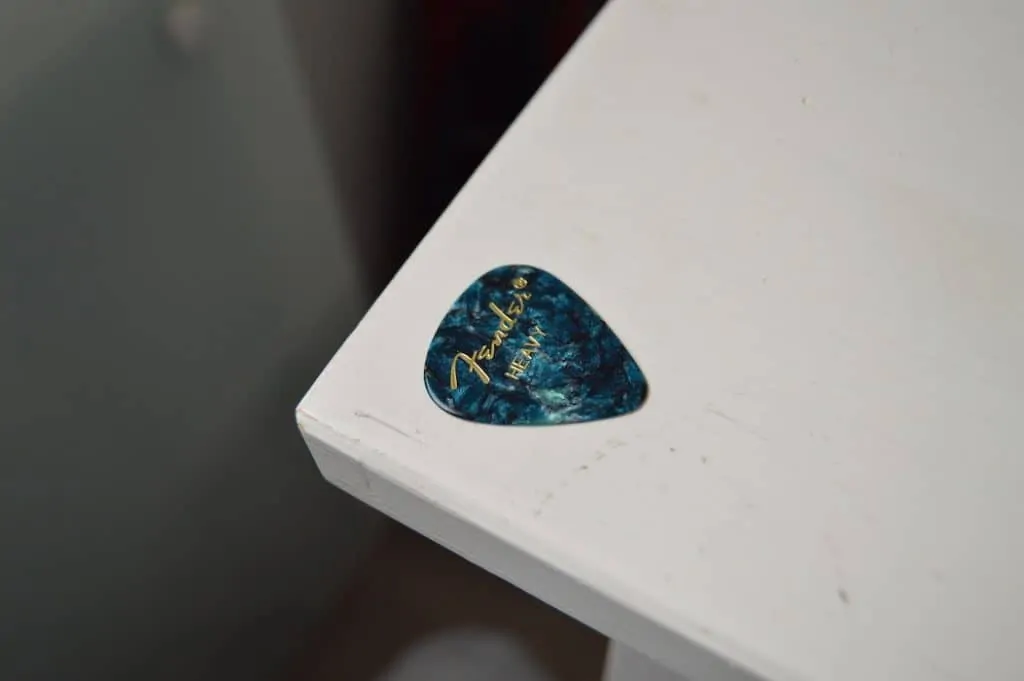 While it may not be the top pick for intermediate players or aspiring jazz guitarists, Fender Play has some good lessons to offer absolute beginners.
I would recommend Fender Play to beginners who want to learn the basics and improvers who want to brush up on their technique. I would also recommend it to anyone who wants to try more than one instrument, as you can learn guitar, bass and ukulele at the same time for the same price.
But for intermediate/advanced players, jazz or metal fans, or anyone who wants a solid foundation in music theory, you'd be better off paying a bit more for other platforms like GuitarTricks or JamPlay.
Try Fender Play Free for 14 Days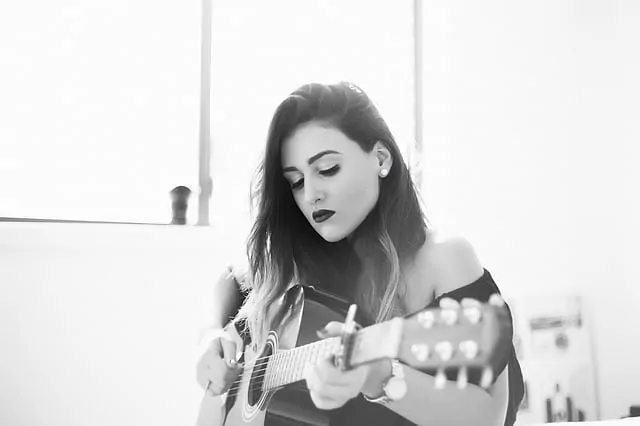 Jen is a guitarist and singer-songwriter who spends much of her time on the road and has lived in 13 cities across 4 continents. She picked up her first guitar at the age of 6 and learned to play by ear shortly after. She received her formal music education at the Berklee College of Music, and currently plays for a few bands in her free time. She has an uncanny ability to improvise creative melodies and harmonies. Her early influences include blues, jazz and rock.