Beginner Guitar HQ is helping you select your new combo amp from our selection of the top 7 combo amps you can buy right now.
There're tube, solid-state, hybrid, and all-digital modeling amps in our guide. The important factor we considered was how much quality each amp delivers for the amount of money they cost.
The good thing is there hasn't been a better time to buy a guitar amp. It gets even better if you're a beginner careful about your wallet.
Today's combos offer better-than-before tones in lighter and smaller formats. If you're looking for practice, recording, or live amps, we've rounded the top 10 best combo amps fitting all budgets.
Furthermore, modern combos can cover most genres you would want to play, from jazz and blues to modern metal and progressive rock.
Our 7 picks of the best combo amps range from tiny-tube growlers to all-digital rounders. Our selections range from 10-watts practicing amps all the way to stage-ready 150-watts boxes.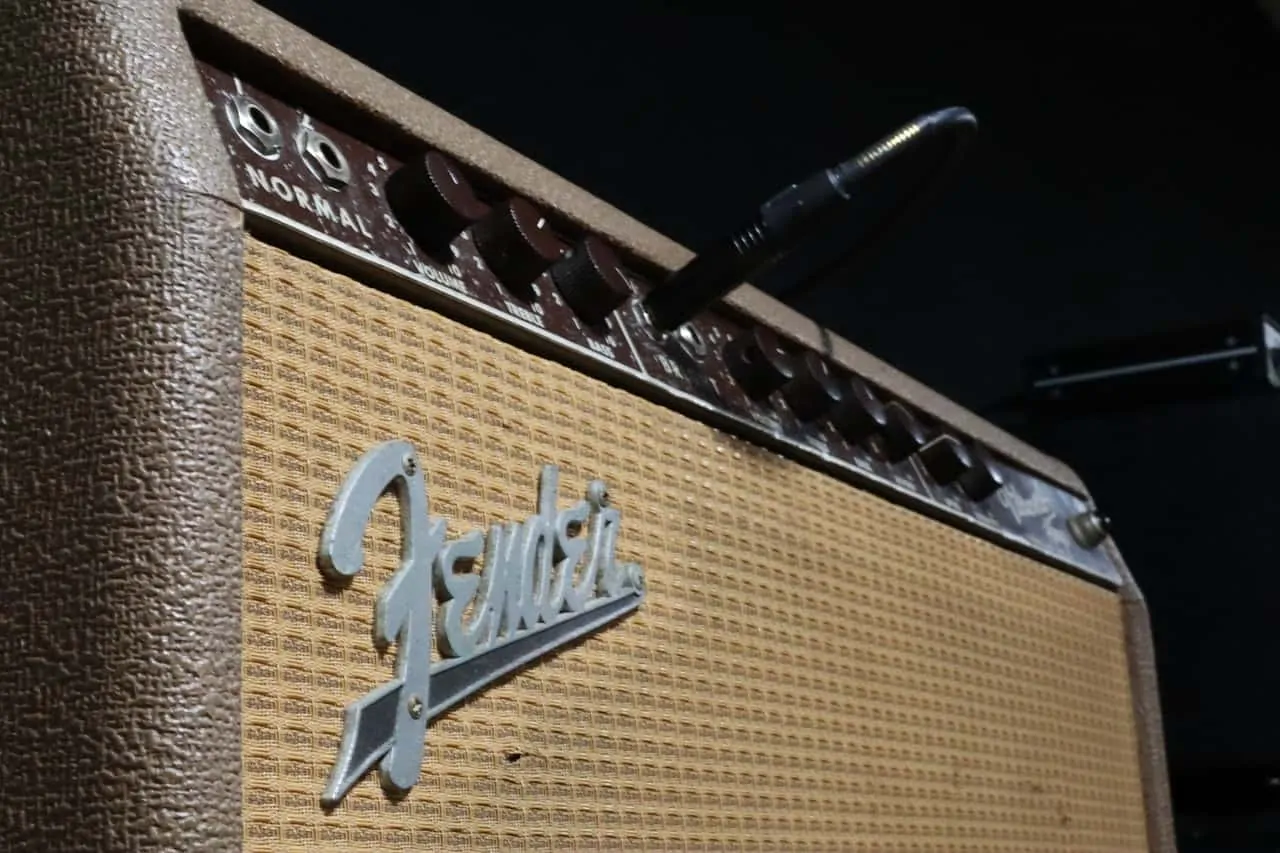 A combo amp packs the head (knobs) and the cabinet (speakers) on a single enclosure.
Guitar amp buying advice: how to get the most out of your money?
The first thing you need to consider before buying the amp is where are you going to use it?
Beginner guitar players would want to buy a practice amp. These are small, compact, and fun-to-use amps that give the user options to experiment with and learn about effects and EQ.
Best combo amps for practice tend to be modeling amps. These carry presets and amp voices you can select with a simple button, so that's a great onboard help. Amps like the Yamaha THR10 have outstanding mix-ready tones right out of the box.
Many practice amps also have built-in recording options, like for example a DI output to plug a recording device. 
Aspiring musicians would want a medium-size amp (around 50-watts). These are portable enough to carry to a rehearsal or a small stage, and they have enough output to handle your live sound without a PA system on small presentations.
Musicians looking for a studio amp would want the amp with the best possible sound. Also, open-back cabinet amps are better for the studio. You also need to know studio amps are medium-sized, around 30-watts, but they can be as small as you can afford. Lastly, tube amps generally offer the best tones.
Amps filled with features and effects can truly improve your live-setup. The idea of having tons of presets and effects on your amps gets better if you don't have the money to fill your sound with guitar pedals. It's also a good idea if you're looking to experiment if you need tons of tonal shipping options.
In terms of effects and options, nobody beats the Boss Katana solid-state modeling amp. That's why I choose it for this best combo amp list.
Otherwise, you might want to go for a signature sound instead of versatility. That means crafting one specific sound you want out of your amp and just leave it be. Brands like Roland and Marshall are especially good in this department.
However, I left Marshal out of this best combo amps guide. The reasons are in the FAQ section down below.
Finally, if you're looking to go live, you'll need to invest in higher-output combo amps. Here's where you need to consider weight, size, and price and put that into balance.
If you need further info on amp specs, please check this section on what to look for in solid-state amps.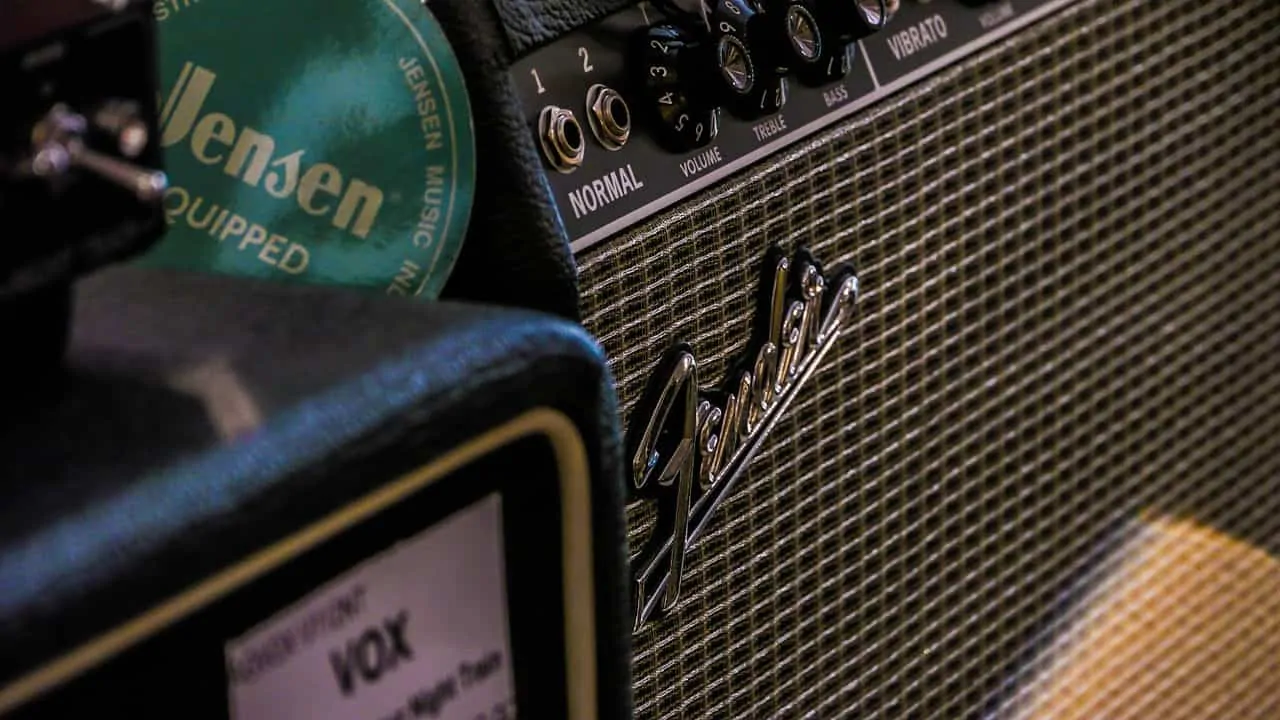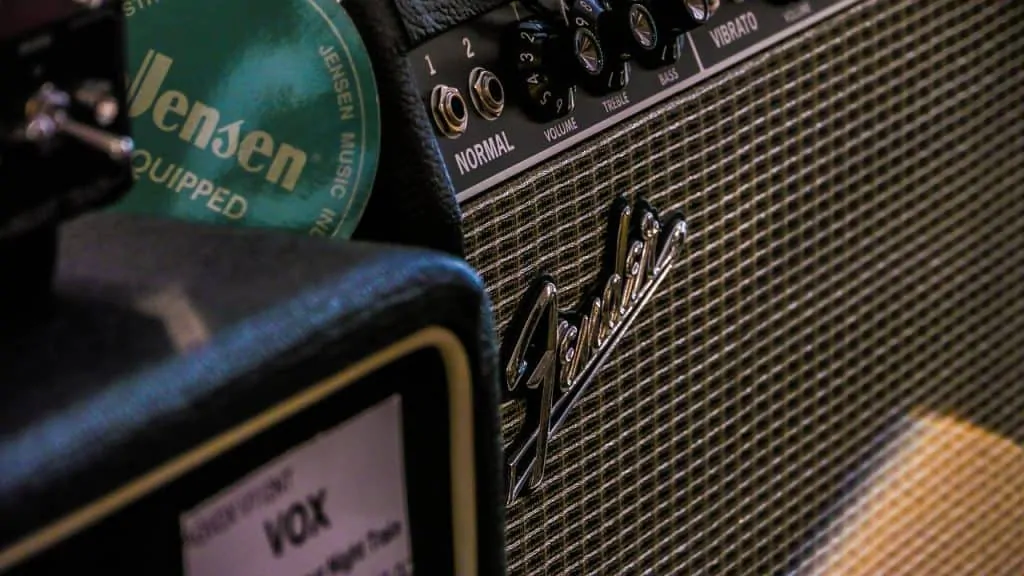 Carrying a quality effect on the amp decreases the need for buying extra pedals.
Top 7 best combo amps for guitars reviews
Here's the list of the best combo amplifiers for guitars you can buy right now. These pieces will make your guitar sound better and sound like what you need it to sound (rock, blues, metal,…).
At least, these combo amps will make you sound like a better guitar player.
Because I choose only 7 items, I'm highlighting the absolute 6 best combo amps you can buy right now. Let's go on to the combo amps reviews.
Before we go on, though, I recommend you check our guide about tube vs. solid-state amps. You can also check our prior tube amp guide to see the advantages and disadvantages of vintage amps over all-digital amps.
Fender '65 Princeton Reverb  Combo Tube Amp
The best combo amp for the money
The Fender '65 Princeton Reverb is a modern reissue of the legendary Princeton Reverb, a tube amp present on so many rock stages during the '60s.
Basically, this is the same amp with a few modifications. Also, it sells for lower prices and it's widely available on music stores.
One of its modern improvements is a new printed circuit board rather than a hard-wired circuit.
And just like before, this is a 15-watts tube amp with a 10'' Jensen Speaker. 
Don't get fooled with its size though. This amp gets very loud, as loud as you need it to be.
Channels and features
This amp has two inputs. Each channel has controls for volume, treble, bass, reverb, speed, and intensity.
The first channel is "Clean." It has a "Bassman" kind of sound. The second channel sounds like early '90s Pearl Jam as it's a natural overdrive. If I'd have to name a song, I'd say Even Flow, which is one of my favorite tunes ever.
This reissue has a really nice reverb, which is the highlight of the amp. It's pretty, warm, rich, and analog-sounding. 
There's also a tube-driven vibrato/tremolo that can give you a very nice old-school feel. And it's very easy to use as well.
The other highlight of this amp is how loud it is. It can reach the whole neighborhood easily. Its sound is fantastic, powerful, and rich.
Furthermore, the difference between its two channels is clear as water. The first channel speaks of vintage blues; the second channel speaks of modern rock overdrive. 
Lastly, this is a guitar amp that reacts amazingly to guitar pedals. Plug in an extra fuzz or an extra chorus and you'll be playing with magic.
The sound coming out from these speakers has the vintage and die-hard Fender tone. It's an amp suited for anyone demanding top-notch valve tube tone with natural dynamics, clean overdrives, and the unique long-spring Fender reverb and vibrato.
I must also commend there's an External Speaker Output, a footswitch input, and the On/Off switch on the back panel.
Downside
This amp is only shipped by Fender, and there are some complaints about Fender shipping on online stores.
Many players have taken issue on ow they got a defective amp with noises coming through the reverb. Other users were unhappy because of a dented box or dented amp.
I recommend you go buy this amp on your local music store as this is not a cheap gear. However, if it's not available locally, then maybe you can get lucky with the amp.
Keep in mind, though, that the Princeton Reverb is cheaper than coveted tube amps like the Vox AC30. But, by simply trading the tubes for something better, this amp will sound like the cream of the cream.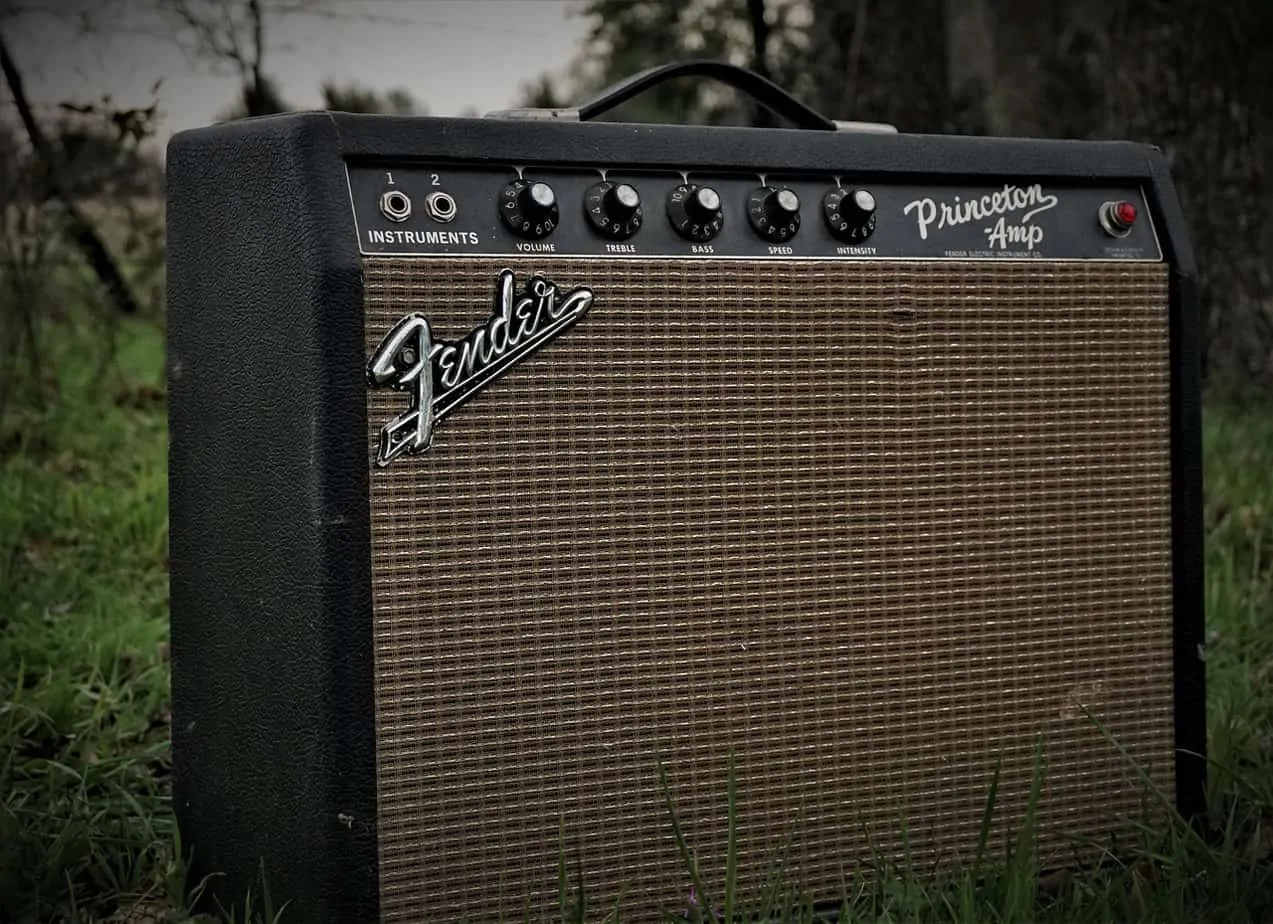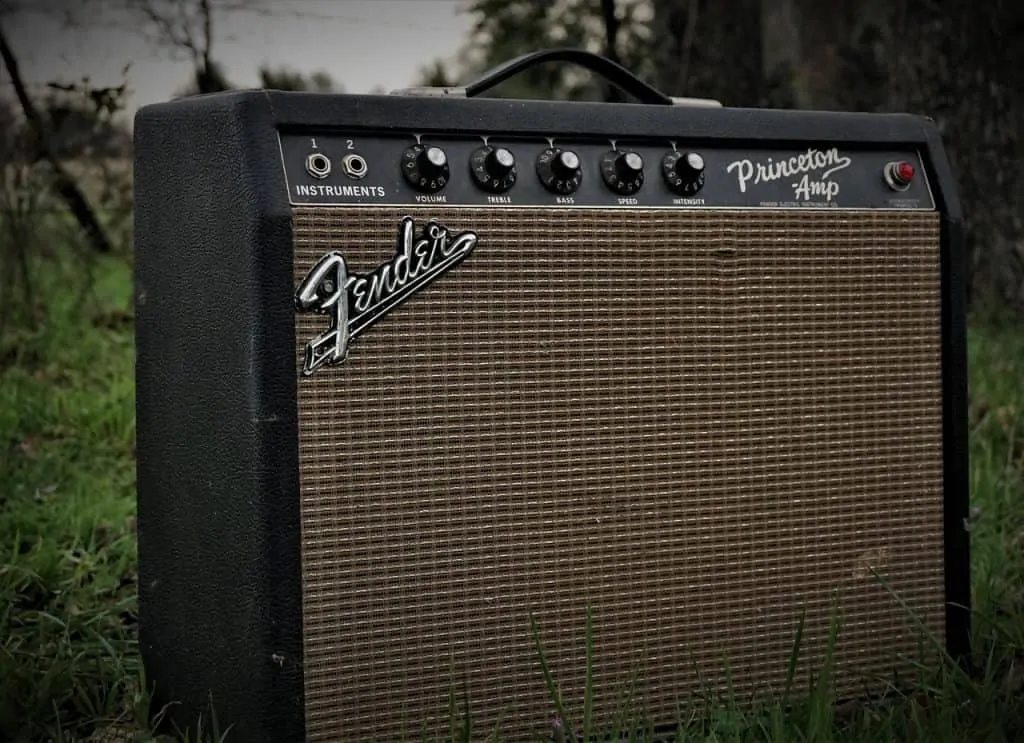 Fender has an indistinguishable sound all over its amplifier selection.
Where can you use this?
The original Princeton Reverb was present in countless hits, stages, and records over the years. Now, the modern reissue has enough power, clarity, presence, and wattage for both the living room and the studio.
Most of all, this is a small gig amp. Its 15-watts of power can deliver more-than-enough power to play on the local pubs and clubs. You wouldn't even be able to dial the amp up to 10.
I recommend this amp for the studio, mostly. The tone it achieves is, simply put, one of the best organic guitar tones you could ever imagine.
If you take this to a small gig, your guitar will shine as well. Just be sure that your guitar doesn't fall too much behind the amp. Check this guide of budget guitars if you need something better.
In summary…
If you're looking for the best of the best, the Princeton Reverb is what you need to get. If you're too young or to thin to afford it right now, don't worry. You can always come back to this premium item and, once you can afford it, simply do it.
Just know that the Princeton Reverb is not built for metal.  We already made a guide showcasing the top 10 best metal amps you can buy right now.
This is the amp I recommend for both live and the studio because it's affordable, sturdy, and sounds awesome. The sound is warm and the effects are superb add-ons.
Fender '65 Princeton Reverb Specs: 
Category: 1×10'' tube combo
Output: 15W
Tubes: 1x 12AX7 
Channels: 2 
Footswitch:  available
Speakers: Celestion G12-70s 10''
Weight: 14 kg.
If you're confused about the "tubes specs," just know tubular amps use vacuum tubes to amplify the sound. There are various kinds of tubes, each one with its own tonal characteristics. 
Before you go own the next best combo amp for guitar, check this short info about valve tube quality if you want to know further.
Vox AC15C2 Tube Combo Amp
The Classic British Rock sound in a small format
This new AC15 "Twin" is a tube combo amp that retains the coveted British vintage-rock sound on a small 15W enclosure that's great for practicing and the studio. 
The AC15C2 handles its strong output thanks to its high-grade 2X12'' Celestion speakers. The benefit of this 2X12'' closed-back enclosure is how it provides ample room for a full-length reverb that takes place at the bottom.
The "Twin" retains the important dual-EL84 tubes on the output section as the original Vox AC30. EL84 tubes deliver a warm, British sound with a bit of dirt and plenty of output.
Channels and features
In the top panel, there're two inputs not present on the classic version. These inputs are independent access to either top boost or normal channels. The Normal channel has a volume control knob; the Top Boost channel has bass, treble, and volume controls.
The sound is flexible. It can go from clean to full overdrive. The overall tone is warm, natural, and rich.
There's something else I love about its sound. It has natural compression, so it reaches a beautiful harmonic balance. This makes the amp respond very well to guitar pedals.
Going along the dual-channel hardware, you can find a built-in tremolo effect with speed and depth controls. Next, there's also a reverb level control plus master volume and master Tone Cut knobs.
In particular, the Tone Cut control works like a low-pass filter. It greatly brightens up your guitar's tone. There's also a Standby switch plus an On/Off switch.
On the backside of the amp, there's an External/Extension speaker input you can use to plug an additional speaker.
The whole point of this amp is its twin 25-watts Celestion G12M Greenback speakers. These are speakers made for rock, and they start to shine when you dial the volume to at least 5. The sound is magnificently clean but rarely undistorted. It always carries the harmonically rich and organic drive that wasn't supposed to be there in early Vox tube amps. 
Such a feature is something Vox competitors try to emulate over and over to little avail. 
Downside
Keep in mind this amp is made in China. That doesn't mean this is garbage or unreliable. It means it has some small things affecting the amp whilst making it cheaper. For instance, the factory tubes were made in China and they are not as good as the ones found on the AC30. 
Even so, valve amps need new tubes every 6 months or so, and once you trade the original tubes for some vintage or better ones, this amp gets so much better.
Another thing to consider is it doesn't have too much headroom for players looking to play only on clean. Similarly, it's not suited for high-gain genres without guitar pedals.
Lastly, this is a heavy amp. Always consider this "small" device weighs over 30kgs.
Where can you use this?
For this is a high-grade tube amp, you can take this to a live stage and amplify it further through a PA system (by using a mic, a speaker, and a mixer setup). Tube amps can go louder than solid-state amps whilst retaining all of the quality, and a small tube amp will give you as much sound quality as you desire.
Also, because this is a tube amp, I'm guessing the price is just too much to just keep it for home practice.
Lastly, because it has 2X1200 speakers, you can use this in small pubs, clubs, and living rooms.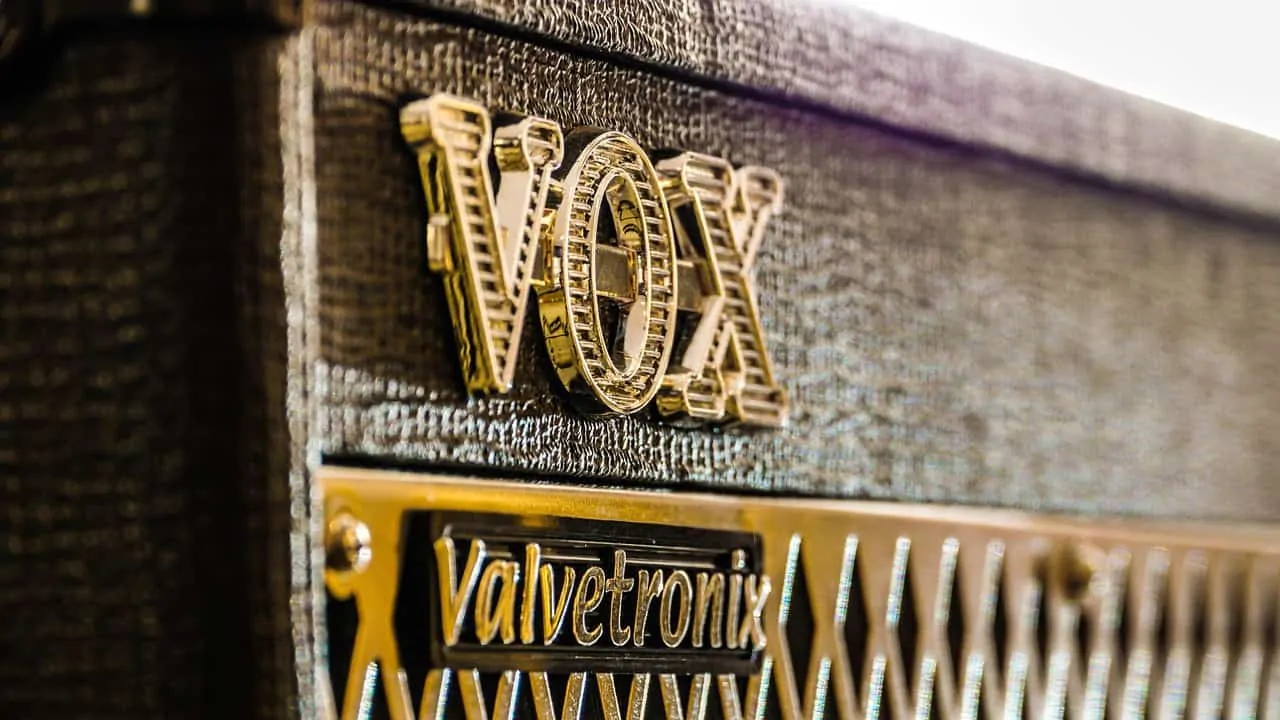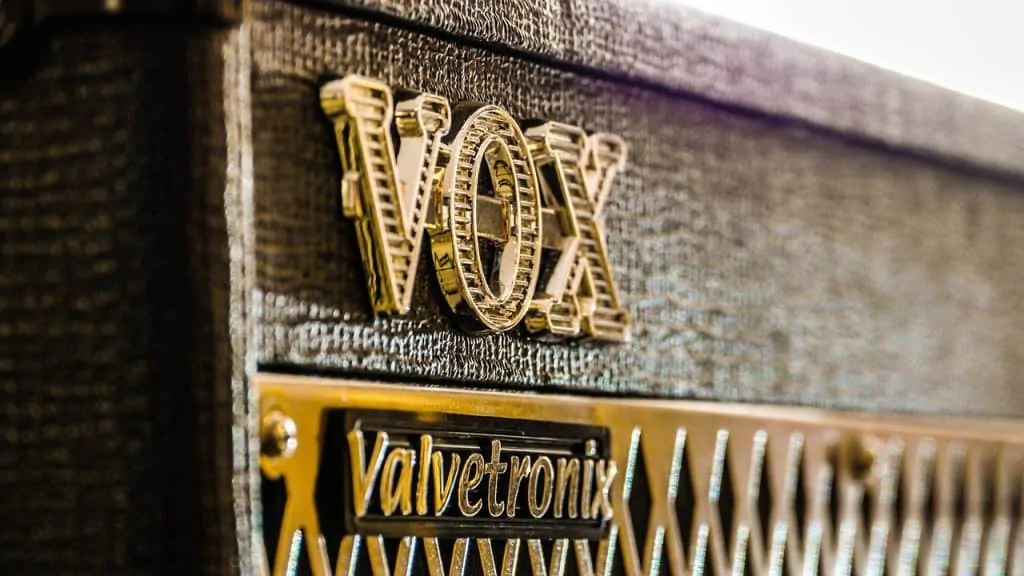 I chose the Vox AC15C2  given how flexible it is and how much quality it offers for the price.
In summary…
The Vox AC15C2 is a great way to achieve the adored Vox AC30 sound for people who can spend tons of dollars on a guitar amp.
Its sound is warm, natural, and rich. All in all, the Celestion speakers give plenty of air to your sound. They make your guitar breathe.
Lastly, the tremolo and reverb effects are amazing additions.
The only thing I need to highlight is that you would want to change the tubes if you're a tone freak. Other than that, this is a great tube amp selling for a reasonable price.
Vox AC15C2 Specs: 
Category: 2×12 tube combo
Output: 15W
Tubes: 2x EL84 & 3x 12AX7
Channels: 2 
Footswitch: Not available
Effects: Reverb & Tremolo
Speakers: 2x Celestion G12M Greenback 12''
Weight: 30.2 kg.
If you go for the AC15C2 and simply change the tubes, the sound gets so close to the Vox AC30 amp no one will even notice.
Remember the Vox AC30 is one of the most popular choices by professional musicians. Reading the list of who's using the AC30 is like going through a rock & metal history book. The names include Foo Fighters, Metallica, Queens of the Stoneage, Stone Temple Pilots, Pearl Jam, The Rolling Stones, etc.
If you're lucky enough to find the original VOX AC30 and you can afford it, then, by all means, go for it. Just remember this is a super-expensive amp with 10-watts of power.
Roland JC-40 Solid-State Combo Amp
The combo amp with the historic chorus effect
The Roland Jazz Chorus solid-state amp series is otherwise known as The Police's Andy Summers' sound. Other users of the Jazz Chorus amp are Metallica's Kirk Hammet and James Hetfield.
The reputed Roland has been building this venerable Jazz Chorus loud-box lineup for over 40 years, and they have passed every milestone possible. In recent years, they've decided to re-model the Jazz Chorus into the JC-40.
Its original name was JC-120, and it was the first product belonging to Roland's smooth analog Chorus Ensemble effect. It pre-dated the first pedal effect ever, the Boss CE-1, for about a year. And, to date, it's one of the most beautiful choruses/reverb effects ever.
Back in the day, solid-state amps were glorified fuzz boxes, whereas tube amps were the only reasonable choice for professional and aspiring musicians.
However, the JC-120 carved its own public with a unique style and an unmistakable clean sound that has become the backbone of many Arena rigs today, like Radiohead, The Police, Metallica, or Pat Metheny.
And away from the Stadiums, the JC-120 also became the sound of African Guitars thanks to Paul Simon's 1980's Graceland album.
The Jazz Chorus was released in the early '70s and became the first real alternative to large power 2×12'' combo tube amps, present on every stage back in the day. 40 years later, Roland still retains the same looks, but it's no longer a 120-watts amp…
Channels and features
The Roland JC-40 is the modern reissue of the original Jazz Chorus. This baby has even better circuits and speakers, and it retains what was best on the original device: the three-dimensional sound that pulses and swirls away and within.
This new version has the same great tones as a smaller, lighter package. Oh, and what's better, it's cheaper and easier to find than the collectible JC-120.
Now, the JC-40 features a pair of 10'' loudspeakers delivering 20-watts of power each. But the cabinet follows the traditional JC design with "ready-rubbed" rivets at the front and silver dust caps on the speakers.
As for controls, the JC-40 offers a single channel with mono and stereo inputs. The available knobs include volume, mid, bass, and treble. Furthermore, there are built-in overdrive and reverb effects, and you can expect these features to be top-quality sounding.
Next, there's a chorus section, which is the absolute advantage of the Jazz Chorus lineup. This section has speed and depth controls. Plus, there's a 4-way switch to select the control mode of the chorus effect.
The built-in distortion is smoother and warmer than older models. The reverb is spacious and has a long tail- And the chorus can pan the dry signal into one of the speakers while panning the wet signal to the other one. That's how it creates the surrounding effect, and it's so unique many companies have tried to copy it.
The vibrato effect is also pretty nice. It adds a vintage dimension to your guitar. It has a wide range of speed and a wide depth, so it can go from ethereal and slow to '60s surf rock.
Both the vibrato and the reverb effect are renewed, so they are designed to sound better than their original versions.
Lastly, the JC-40 is very friendly to pedals, especially high-grade overdrive, distortions, and fuzz pedals.
I have to add there's a separate footswitch available to control all of the effects. There's also a mono out/stereo effects loop on the back panel, as well as two line outs, and a speaker-emulated headphone jack for silent practice.
Downside
The price of the JC-40 is anything but friendly. I would say that's the downside of the amp.
If you go for the pricier JC-120 amp, you'd be stepping into the professional-grade budget territory. It's almost as expensive as a high-end tube amp, but, if you're looking for the best solid-state gig-ready amp, the 120-watts version is the option for you.
So, if you decide to take the risk, you'll understand why the price is set so high and so similar to a tube amp. Everything about the Jazz Chorus line is premium and high-quality.
Where can you use this?
One of the selling points of this amp is how portable it is. It's light and compact, so you can easily carry this amp in and out of your rehearsals and gigs.
That makes this amp ideal for small clubs, practice, rehearsals, and small gigs. However, this is a pricey amp facing against similarly-priced high-end products filled with onboard effects, although none of them offer the true stereo experience and the quality chorus the Jazz Chorus lineup does.
The front panel inputs also make this amp perfect for players using large pedalboards. As this ap has a single channel and an easy setup, you can dial it fast and smooth and tweak your sound further with your pedals.
I can also say this ap sounds amazing in the studio, and it's great on both humbuckers and single-coil pickups.
So, as you can imagine, this is not a practice amp, as it's a little too pricey for that.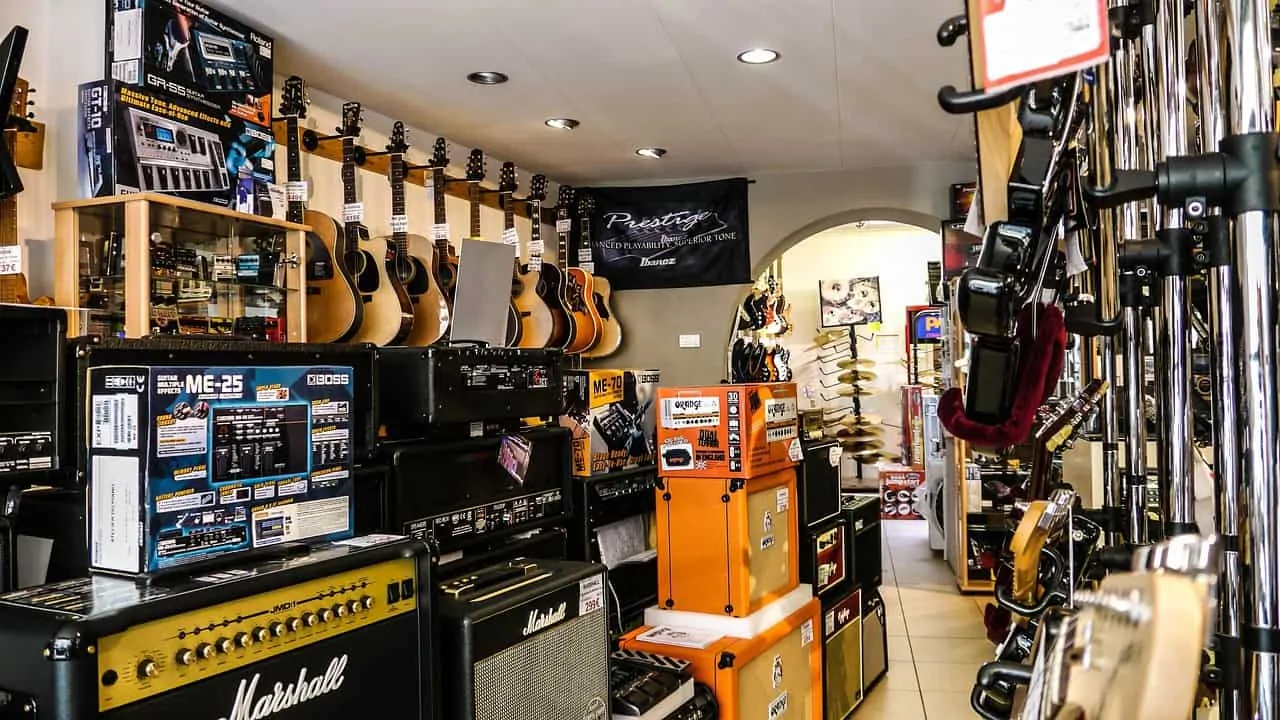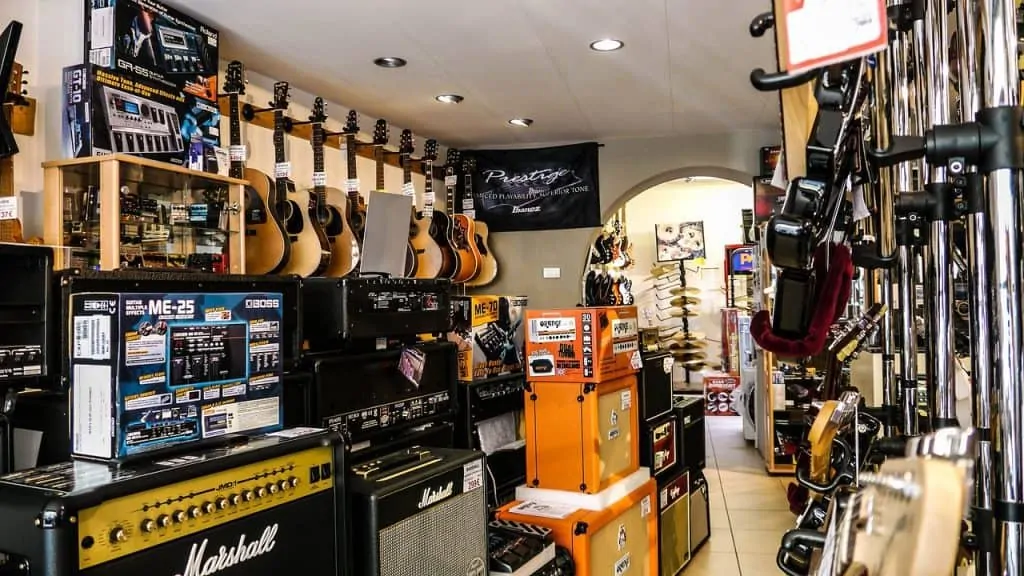 Roland is Boss' parent company.
In summary…
If you're looking to plug into a piece of history, then go ahead and try out the JC-40. All in all, if you want to have one of the best chorus effects that have ever existed, this is the amp for you, just keep in mind chorus can shine in some genres and simply mud others. 
But what it does best is playing your guitar on clean. It's known as the best clean of the business. Plug in a couple of guitar pedals and you could have an unrivaled experience.
In fact, the clean is so clean it won't color your guitar in any way, thus the pedals have a freeway to do their work and modify the signal as you intend to.
Roland JC-40 specs
Category: 2×10'' solid-state combo
Output: 40W
All-digital
Channels: 1
Footswitch:  available
Effects: Vibrato, distortion, reverb & chorus
Speakers: custom 2×10'' Roland speakers
Weight: 17 kg.
Boss Katana MKII 100 Modeling Combo Amp
The best value combo amp 
The Boss Katana reaches every amp list we have ever made. We couldn't include on ou prior tube list because it simply doesn't has tubes and it's better for that reason. Having tubes would make it lose its main advantage: the price.
Simply put, there's no way to find so much versatility for the same price. What's best, the Boss Katana ships with various sizes (sizes). I find the 100-watts version is just perfect: it's great for big gigs, for practice, rehearsals, the studio, and everything you'd need from an amp.
Now, keep in mind Boss is a legendary effects maker, and that's thanks to the digital experience of their parent company, Roland. Both brands offer organic valve-like tones at very low prices.
Furthermore, the MKII version is 2019's Katana versions, which only gets better with improved effects, cabinet-simulated headphones out, and multi-channel footswitch support.
Channels and features
The main thing about the Boss is that it carries "amp voices." As a modeling amp, it's able to imitate the sound of vintage tube amps, and it does so thanks to Roland's 2019 Tube Logic technology. Boss has already employed this feature on its latest Waza-Craft pedals.
There's a single channel on this amp, but this channel can pretty much do and play anything.
I'm talking about the 100-watts model. This piece has five generic amp voices: Acoustic, Clean, Crunch, Lead, and Brown. 
These amp characters can go in and out of any music genre. For example, the Crunch's voice is dynamic, organic, and responsive. Or the Brown voice soloing sound is just as good as many USA valve-tube amps.
Users can also select between 15 different effects presets. Plus, there's an additional Boss Tone Studio app for mobile devices. Once you plug this to the amp, there are other 55 presets you can load into the Katana.
The effect variety covers your boost, EQ, mod, FX, reverb, and delay. You can control everything through the app, which makes it easier and more intuitive.
Furthermore, there's a Tone Studio editor software for computers you can use to edit and create presets you can then load into the amp. You can also download other presets created by Katana users all over the world.
Now, aside from all of this, the MKII version brings 60 Boss effects withing the Tone Studio program.
The other addition is a single-stereo operation to run dual Katanas on the stage and create a true stereo sound. Imagine the possibilities. You could even tweak both amps differently, so you could, for example, run distortion on the left Katana and chorus on the right Katana.
This MKII also brings 8 slots to store your own presets. YOu can create the presets with the editing software.
Lastly, the amp has line-outs and USB recording outputs. That means this loud-box is also suited for the home studio as well as the stage. 
Downside
What might deter you from this amp is its looks. It looks plain, simple, even cheap. But be smart and don't let this distract you from the combo amp that kickstarted the golden-age of modeling technology.
Nevertheless, a sound freak might find some of the effects and voices below the original quality of, for example, the Jazz Chorus line. But, then again, this amp delivers so much more than it should for its price. 
This is also not the best amp for someone looking for a simple experience. The Boss Katana could easily overwhelm a guitar player used to analog pedals and tube amps.
Where can you use this?
A 100-watts Boss Katana is ready for the stage, as ready as any amp could ever be. If you pass it through a PA system, you can comfortably use the Katana on the bigger venues you can find.
This is also a studio ready amp. With so many effects and options, recording your guitar will become a fund and experimental experience.
If you're looking for the Katana as a practice amp to learn about effects and play around your sound, then simply go for a smaller Katana like the following one:
I recently reviewed the Fender Mustang I V.2, which is a similar amp built for practice. Go check that review if you're into this particular niche.
In summary…
The Boss Katana is a highly praised amp for obvious reasons. It's loved and adored by beginners, intermediate players, and professional players alike for the number of features it offers, the quality of its sound, and its affordable price.
I must also highlight a fact you must consider. The Katana Mark II released on October 2019 and it sells for the same price as the original version. That means the MKI versions, which are still awesome, are cheaper than ever. Keep on the lookout, Boss fans on a budget.
Boss Katana 100 specs
Category: modeling combo
Output: 100W
Modeling / 5 amp voices
Channels: 1
Footswitch:  multi-effects footswitch available
Effects: 15 different effects like reverb, chorus, tremolo, vibrato, overdrive, distortion, flanger, phaser, etc.
Speakers: custom Boss 1X12''' speakers
Weight: 14 kg.
Orange Crush35RT Solid-State Combo Amp
The best budget combo amp 
Let's keep this review simple and sweat, which is just how Orange likes it.
I have to start this combo amp review with the construction quality of this amp. In classic Orange fashion, this is a sturdy, elegant, and orange amplifier.
Channels and features
The Orange Crush35RT is a compact 35-watts combo amp with a 10'' custom Orange speaker. It has two switchable channels which are clean and dirty. You can set them with a toggle switch.
Each channel has the following knobs: clean, gain, bass, middle, treble, dirty, and reverb. 
The sound you can get out of this amp is sweet and pristine. It carries the "British" sound people love about Vox amps but has a distinct and hard-to-describe character on distortion.
The best thing about this amp is it can play metal. Even though it's tiny and simple, this solid-state combo could pass as a tube-driven model:
Everything is very intuitive and easy to use, and total beginners can achieve good tones pretty fast, even with no experience. It has no bells, no whistles.
That's why I commend this as the best amp for beginners. It's affordable, it's easy to use, and the tone is great right out of the box. This amp can also take you towards your first rehearsals with your band and, if need be, into your first small gigs.
This amp also packs a built-in tuner, a great add-on for beginners. Additionally, there's an aux-in and a headphone output that emulates the Orange speaker.
Also, it has an FX Loop output and a footswitch output on the back panel.
Downside
I see no downsides on this amp given its price point. Orange always offers much more than what it costs. Having an orange amp is considered a prestige.
Where can you use this?
This is a rehearsal and practice amp, nothing more, and nothing less. 
It's also aimed for amateurs and people playing ukuleles, pianos, and even electro-acoustic guitars.
In summary…
The Orange Crush series produces the best combo amps you can get on a budget. The sound is great, the build quality is top-notch, and the looks are elegant. Furthermore, both clean and overdriven sounds like premium stuff.
Orange Crush 35RT Specs
Category: solid-state combo amp
Output: 35W
All-digital
Channels: 2 switchable channels
Footswitch:  available
Effects: tremolo & reverb
Speakers: custom Orange 10' speaker
Weight: 14 kg.
Vox Valvetronix VT40X Hybrid Combo Amp
Explore new possibilities with the best hybrid combo amp
The Valvetronix VT40X is an impressive tubular tone assisted by an all-digital modeling preamp. That makes it a hybrid amp packing the best of both worlds. 
Let's see…
Channels and features
This is a 40-watts amp with a 1X10'' speaker on a sealed cabinet. 
One of the highlights of this amp is its advanced bass-reflex design, which enhances the bass response on its 10'' driver.
Vox has amassed the digital expertise from its parent company Korg and included the VET (Virtual Element Technology) modeling system to emulate various amp voices down to the last detail. 
The different voices can change the gain structure, operating class, tone network, and bias in real-time.
That said, you have a single channel and a confusing array of buttons.
For example, there're class and bias buttons to select "class A" or "class AB," which work as the amp voices. You can also change the bias voltage from normal to cold or hot, which moderates the general output of the amp.
There's also a section to change the VT40X's dynamic response, which affects its real 12AX7 valves. It allows you to provide more realistic tube tones and responses.
Let me share a tutorial video with you:
So, while the preamp is digital, the digital circuits control the analog output system. It allows the amp to add plenty of warmth, definition, and dynamics to the sound.
As for effects, there's a wise choice of 11 onboard modulations plus 12 different effects. The FXs include reverbs, delays, overdrives, and distortions, and noise reduction.
Plus, there's an extra Vox Tone Room software to edit the parameters, save presets, and download new effects and patches online. 
Downside
This is an impressive amp with a great analog tone and plenty of tonal shaping options. Now, the real downside of this old box is how complex it is. Even advanced players could have plenty of trouble with this amp.
Where can I use this amp?
The Vox VT40X has a big sound, a compact size, and it's lightweight. Even though this is a complex amp, it's amazing for your live presentations once you get a hold of it. You would be able to amplify your guitar on small and medium venues.
The editor software is pretty intuitive, and it can set you on the right path towards creating the tones you want on the amp.
In summary…
Hybrid amps are not the hottest thing right now because they tend to be complex and look like a NASA station.
However, if you are one of those persons who like electronics and find yourself comfortable on computers, this is a great option. The VT40X could potentially reach better tones than the AC15C2, but that depends on the amount of effort you ditch into tonal shaping. 
Vox VT40X Specs
Category: hybrid combo amp
Output: 30W
Valves: 1X 12AX7
Channels: 2 switchable channels
Footswitch:  available
Effects: 11 amp models & 12 effects (like reverb and delay)
Speakers: custom Vox 10' speaker
Weight: 9.5 kg.
Yamaha THR10 Solid-State Modeling Combo Amp
The best combo amp for practice
Let's close our list of the top combo amps for guitar with the best practice amp available right now.  For just as Yamaha builds great budget guitars, they build great budget amps.
The first thing to notice about the Yamaha THR10 modeling combo amp is its cream-colored retro chassis. The grille follows a vintage chevron-like pattern, and when the amp is turned on, the grille illuminates to imitate a tube-like orange glow.
The Yamaha THR10 is a desktop combo amp that looks good, works at low volumes, and plays music through a 3.5mm input. More so, it has to small 5-watt custom-designed 3' Yamaha speakers.
In particular, the 3.5mm input allows you to connect a mobile device for backtracks, or an extra stereo music player for additional power. Furthermore, there is a headphone out connection for silent practice.
I love its ability to record directly to your DAW software via its USB port. It makes it a great record companion and an ideal budget alternative for your home studio.
Within its retro case, the THR packs Yamaha's Virtual Circuit Modelling (VCM) tech to generate its core sound. 
VCM is designed to mimic real valve amps, the "real thing." For this model, Yamaha has added five amp voices which include Fender, Vox, Marshall, and Boogie-style. 
The voices are Crunch, Lead, Brit Hi, and Modern. Other voices include a bass amp model, a flat setting, and an acoustic amp model.
The voices sound good. They do their job without going too much into the overly-processed sound people dislike about other modeling amps. Aside from that, the amp sounds good at any volume level, which is a great surprise given this is a small solid-state amp.
The small THR10 is even able to recreate the Roland three-dimensional sound we named before.
This amp feels refreshing and simple and offers plenty of features for your practice and your home studio as well.
I have to add the amp has a single channel with gain, master, bass, middle, and treble knobs. There's also a knob to swap between the amp voices, and there's an effect selector with 7 different effects. There's also a delay/reverb selector.
Speaking of effects, this amp can store presets via the USB cable. Like you would expect, there's a THR Editor software you can use to modify parameters to great detail. Then, you store amp voices, EQ, and effect settings on five memory locations.
Additional handy features include a tap-tempo and a tuner available at the front panel.
Lastly, the Yamaha model has the choice of running on batteries or through an AC cable.
Honorable mention: Fender Mustang Series
The Fender Mustang Series is the first-ever Wi-Fi and BlueTooth-enabled amps ever. These are solid-state modeling amps with a wide array of voices, effects, and features.
In particular, the Fender Mustang GT is a 20-watts amp with an impressive amount of 21 amp models and 46 effects.
You can modify and create your own presets via the editor software, the Tone Fuse editor, and then load what you did into the amp via Wi-Fi.
The Wi-Fi also allows you to connect the amp to a mobile device. You can then use your mobile device to control the amp, which is more intuitive for many.
The BlueTooth feature allows easy connectivity with a mobile device or computer to play your backing tracks.
The GT amp carries Fender inspired voices, British sounds, and modern alternatives. Plus, it carries plenty of effects, which include delays, reverbs, chorus, tremolo, vibrato, distortions, overdrive, fuzz, and much more.
Everything is powered with Fender's latest digital technologies, which they have used to improve their whole lineup of loud boxes.
This GT has a small screen, so there could be some shifting. 
Overall, the GT provides a superb stereo sound with enough volume and clarity for acoustic gigs, rehearsals, recordings, and home practice. However, it's not enough to make its way through a drum-power performance.
It's hard to pinpoint something that's not excellent about this amp. The only reason this is not part of the main list is that I already reviewed the Fender Mustang series. In particular, I highlighted the Fender Mustang I V.2, which is the smallest of the bunch but retains the same features as the others.
Plus, the GT version of the Mustang amp is considered as the pro option.
FAQ
What's the best guitar amp right now?
My favorite guitar amp ever is the Vox AC30, but that's not something you would find nowadays.
But there's no "best guitar amp," there's just a balance between your personal taste, budget, and needs.
Once you balance this out, whichever model you pick out of this list is the finest on its category and niche.
Personally, though, I'd go for the Vox AC15C2. It's a perfect match between price, volume, and power. Even better, it delivers a professional-grade sound. 
What's a tube amp?
Tube amps use vacuum tubes within their case to receive and amplify the guitar signal. They are known as vintage amps and deliver a warmer sound because these represent the original amp design.
What's a solid-state amp?
Instead of using a physical mechanic. Solid-state amps use digital circuits to receive the signal and amplify it. Although they were first disregarded, modern digital amps are reliable and reputed alternatives.
What's a modeling amp?
Solid-state amps that include "amp voices" are known as modeling amps. Amp voices imitate the sound of vintage tube amps through digital circuits and advanced software and technologies.
What's a hybrid amp?
A hybrid amp uses vacuum tubes on the preamp section and digital circuits on the preamp section. That means you would get the sound of a vintage amp and the advanced options of a solid-state amp.
Although it sounds amazing, this is a rather new design, so there's not a representative amount of hybrid amps on the market yet.
What about Marshall amps?
I consider Marshall tube and solid-state amps amongst the best you can find. If you go down in history, you would find plenty of Marshall tube heads, cabinets, and speakers.
The coveted Marshall tube amps are pretty expensive and hard-to-find. The other ones we already covered on a prior guide. Here're the top Marshall amps you can find right now.
What makes a solid-state amp sub-par?
I decided to answer this question as a way to explain why I disregarded other choices included on other lists, like the Line 6 Spider,  or the Blackstar Fly3.
In essence, solid-state amps, and especially modeling amps, tend to go too much into "digital sounds." That makes your guitar sound like a processed instrument played by a computer instead of a person, and that's something most people dislike.
So, if you found the solid-state amp on this list, it's because the sound is as good or better as a tube amp. That means the sound is real, organic, and natural.
Either way, you can check our prior selection of the top 10 solid-state amps on the market.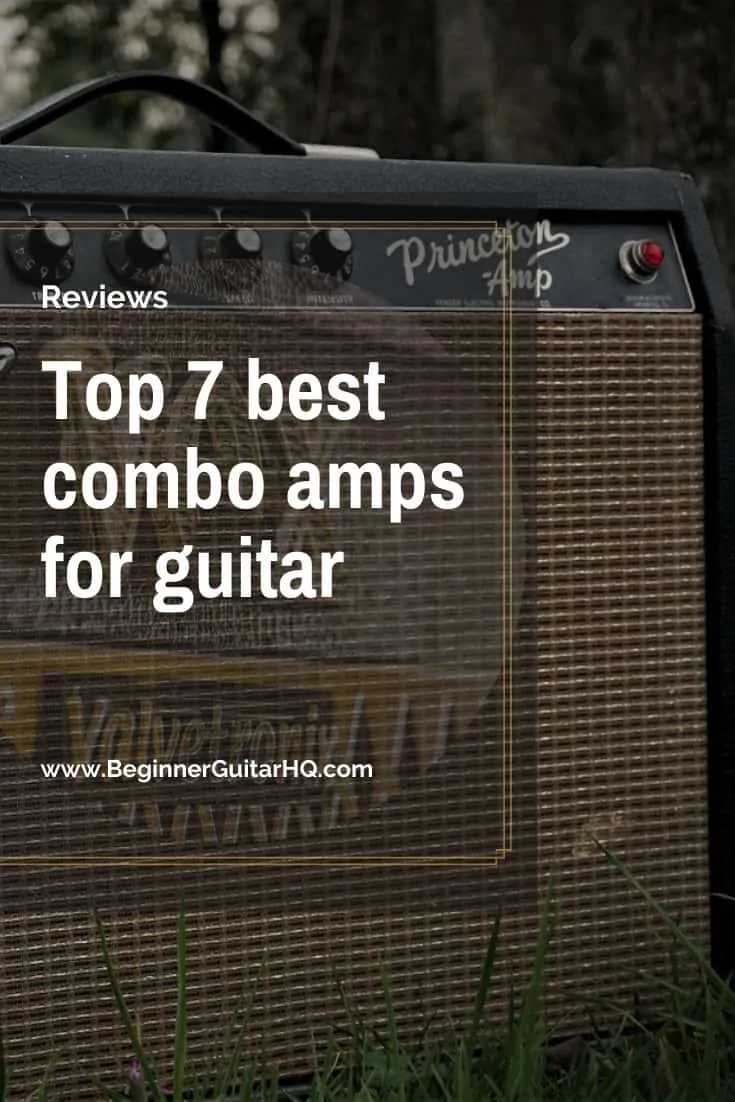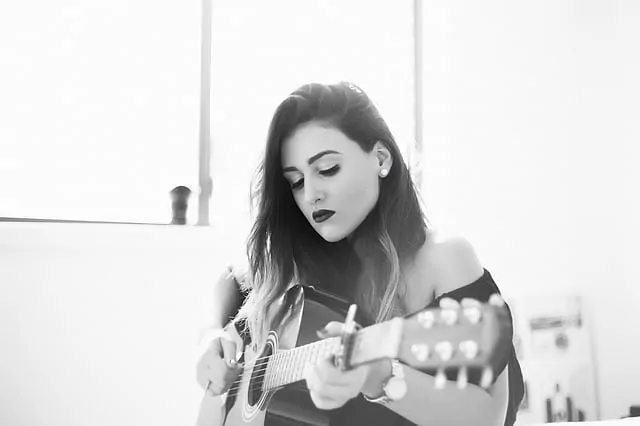 Jen is a guitarist and singer-songwriter who spends much of her time on the road and has lived in 13 cities across 4 continents. She picked up her first guitar at the age of 6 and learned to play by ear shortly after. She received her formal music education at the Berklee College of Music, and currently plays for a few bands in her free time. She has an uncanny ability to improvise creative melodies and harmonies. Her early influences include blues, jazz and rock.