Fender has a decades-long reputation as a top leading guitar maker. They share their throne with the likes of Gibson Gretsch and LTD.
Everyone knows Fender means high-quality and standards. I'm here to talk to you about Fender's budget Telecaster guitar, the made-in-China Fender Modern Player Telecaster Plus.
As I said, this is an affordable guitar, but it-s build to have the same distinct qualities and aesthetics known and loved about Fender guitars. Better yet, many people consider this guitar fixes what's "wrong" with the original Tele, which is its lack of sound possibilities.
The Fender Telecaster burst into the market by 1952. The original Leo Fender design was made of Pinetree and was named Esquire. Little has changed in terms of design since then. However, Fender has continued to improve its pickups, electronics, and hardware.
More so, They keep adding new guitars to their shelves. Oftentimes, Fender takes a vintage, original model, and reinvigorates it with modern advantages. The Fender Modern Player Telecaster Plus is an offspring of such ideas.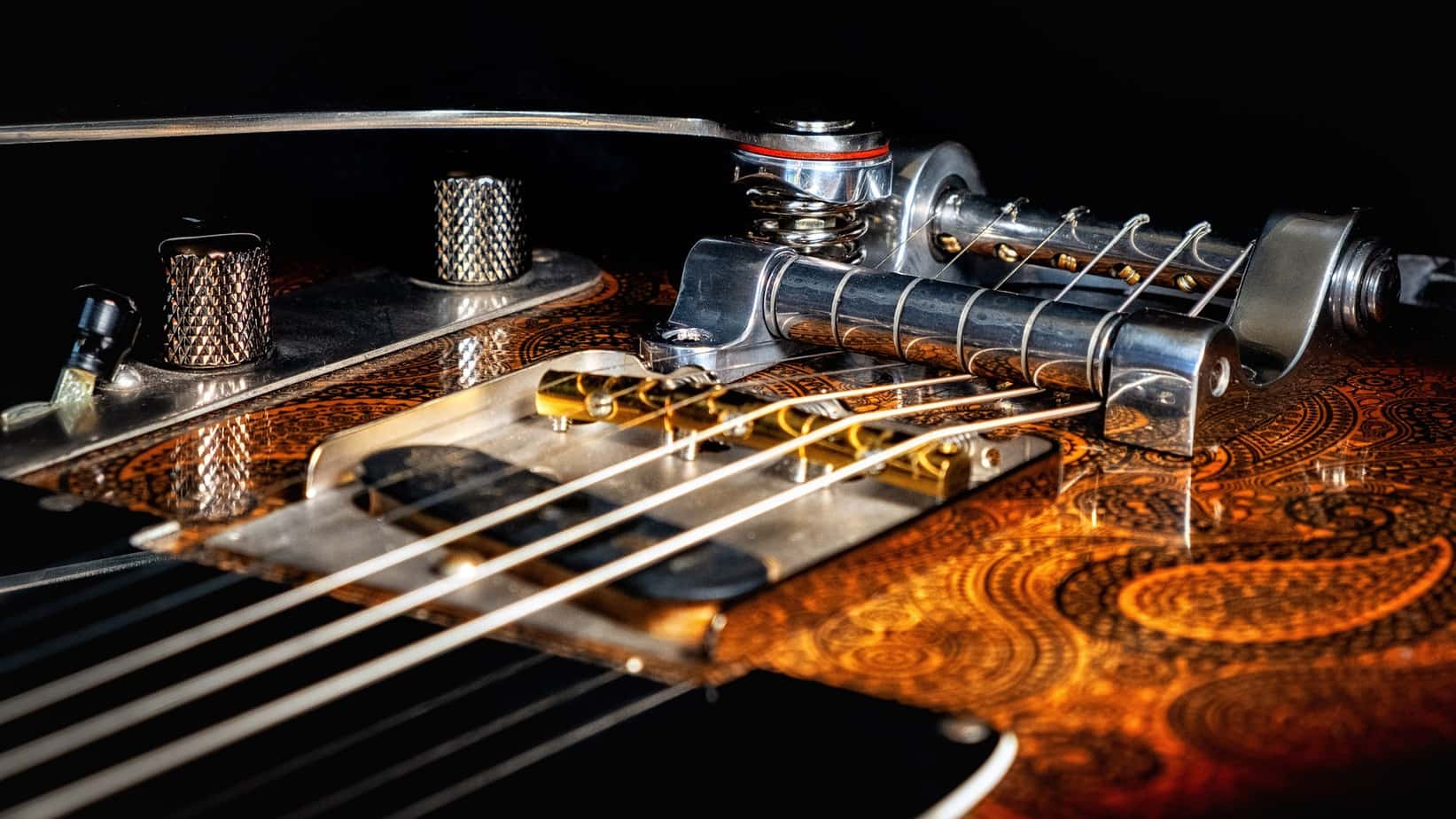 Leo Fender practically invented solid-body electric guitars with the release of the Telecaster guitar.
About the Telecaster guitar
Fender launched the Telecaster electric guitar in 1952. Here's a bit of the history behind electric guitars.
The Modern Player Telecaster converges the charm of its vintage Telecaster design with the essential features required to fit modern player needs. It checks some beginner's boxes, but it's more suited for intermediate and experienced players looking for a reliable Telecaster at a fair price. 
The Tele is Fender's oldest commercial solid-body electric guitar model. Its metallic & bright sound has been a hit in jazz, blues, country, funk, reggae, rock, and pop music. Whether it's Pink Floyd's founder guitar player Syd Barret or the mellow sound of John Mayer, or the new-wave rocker sound of Kaleo, we can always find someone who has inspired us with a Telecaster guitar.
Before we dive into the subject, let me know in the comments what's your experience with Fender electric guitars?
Fender Modern Player Telecaster Plus review
Telecaster electric guitars have their roots growing from the early '50s. These babies offer guitar players all-round vintage experiences with a classic look and a single-coil-fueled sound for soft and classic genres.
But, oh boy, that's not the case with the Modern Player Telecaster, which is something the name implies.
While it doesn't truly shun its legacy, this particular Tele packs modern upgrades to brings the sound and the options up to date. The result is plenty of versatility and power to handle high-gain music genres.
Furthermore, the Modern Player Telecaster Plus series includes a solid-state guitar and a semi-hollow guitar, which we'll review later on.
If this sounds good to you, keep reading.
Consider this guitar sells for an affordable price, so you might feel confused…what's the difference between this one and, for example, a Squier Telecaster? For instance, the Squier Contemporary Player Telecaster guitar is also a modern reissue of the classic Telecaster as well.
That's why we're also reviewing how this guitar compares to a similarly-priced Squier Telecaster, and how it fares amongst its Fender piers. 
Overview
The Modern Player Telecaster takes Leo Fender's classic '50s design and adds up to date features to give a unique combination between old and new guitar tech and aesthetics.
Rest assured, though, that this is a Fender guitar in every way, shape, and form. 
The style, sound, and essence of the Modern Player Telecaster keep the traditions Fender has laid down. That means it has a solid ground to deliver great performance, sound, and playability. And, what's best, it has a friendly price.
You'll also find some unconventional modern features on the Telecaster Plus, so I can say this is definitely not an average Tele. 
For one thing, this ax doesn't have the same levels of twang and "countryness" that defines the Telecaster sound. The twang is subtle as Fender trades its signature sound for a wide versatility, comfort, and ease-of-use.
We also need to see how this compares against a Stratocaster, as it shares some features of the Strat family of guitars.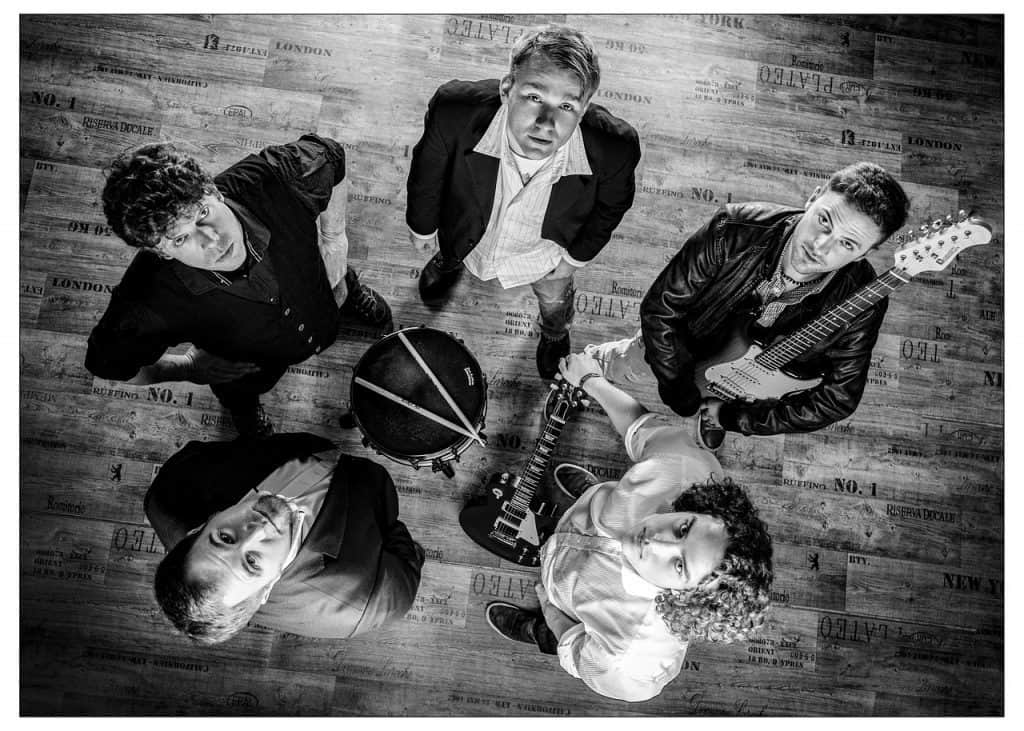 Fender managed to sell cheaper guitars by mass-producing unique models in their Chinese factory.
Let's take a look at the details and features of the Fender Modern Player Telecaster Plus. Here's a video preview:
Personally, I had this guitar and used it as my main instrument for my first successful band. It was the first "high-quality" guitar I've ever played and owned, and I thought it offered a great Telecaster experience for a budget price.
More so, it had plenty of versatility and power. I used it to play hard rock, alternative rock, and progressive rock, and it served me well until I could trade it up for a Gibson Les Paul guitar.
Body & Design
Let's start the section by noting this is a 25.5'' scale guitar, which means it's a long-scale guitar. Long scale guitars feature the deepest and most powerful sound, in theory. However, the thing you should keep in mind is its size, as it's not very friendly for kids and small players.
The Fender Modern Player Telecaster Plus has a single-cutaway pinewood body with a Stratocaster-like belly. Its unique shape adds further comfort during playing, and it's a welcomed addition for beginner and intermediate players.
Original Leo fender guitars were made of pine, which is now a lesser-seen wood. The reasons why Feder decided to ditch pinewood for other premium materials like ash or alder are unknown. However, there's nothing wrong with pine: it adds plenty of warmth and definition whilst keeping the guitar light and easy to handle.
Pine has another particularity. Its tone is similar to the premium alder as it's bright and airy, almost transparent. It means it allows the pickups to transport the sound from the guitar's body to the ap uninterrupted and unaltered. That's why it adds warmth and clarity, and it enhances mid and low-end definition whilst keeping the high-end bright and chimney.
Pine was the original material of the Esquire guitar, which later became the Telecaster. These days, Fender uses pinewood for a Custom Shop Telecaster; Squier uses pine for its Classic Vibe Telecaster series, as well as their Classic Vibe basses.

Pinewood offers a warm tone with defined mid and low-end frequencies and bright treble.
The guitars ships in two different finishes you can choose from. The options are "Honey Burst" and "Transparent Charcoal." Both finishes are protected by a black plectrum pickguard.
In all honesty, I had the Honey Burst guitar and I was quite surprised to see that it looks exactly like the online photos. And even though this is a Chinese-made guitar, there were no flaws or issues with its body. It was elegant, vintage, and regal looking.
Moving on to the other side of the guitar, we find a one-piece C-shaped 9.5'' radius maple neck, and it houses 22 jumbo frets on its maple fingerboard. I must add this is a bold-on construction, which is not a hot choice. 
The neck is coated in gloss polyester finish, which makes the guitar feel really smooth on your hands. Plus, maple boards are known to promote note clarity and brightness.
In essence, the Fender Modern Player Telecaster's neck is built almost like the original Telecaster's neck.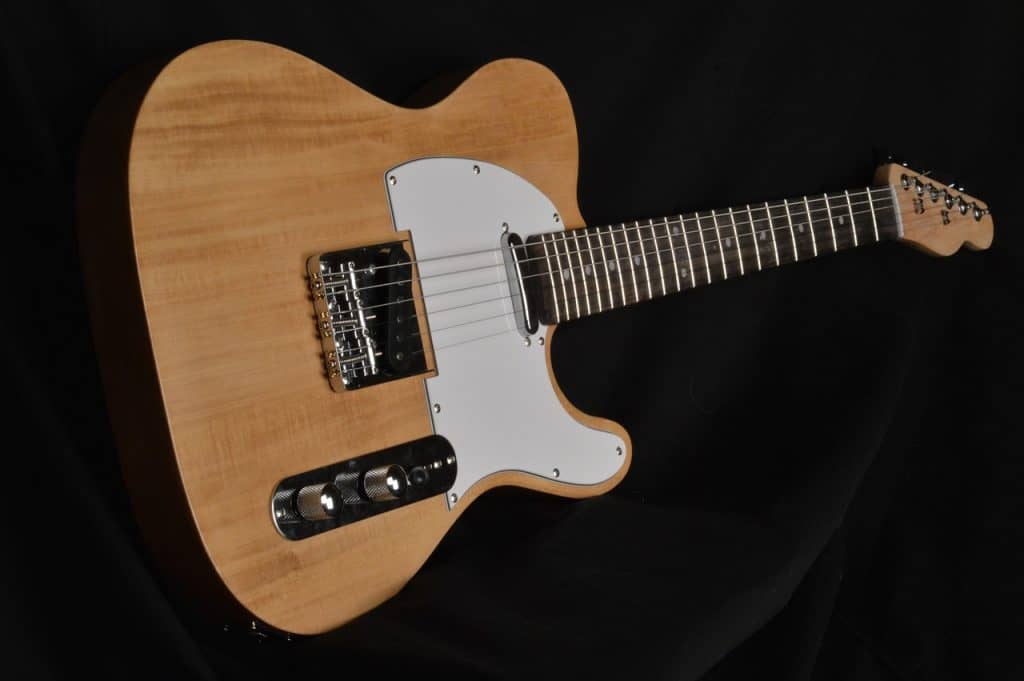 The neck's design influences both the guitar's playability and sound. Here's some more info on guitar specs.
Hardware
Most guitar players can recognize the "Ashtray" bridge that adorns classic Telecaster. But here's where we find another difference because this Tele adds a modern Stratocaster bridge.
Unlike the classic Ashtray bridge with three barrel saddles, the Strat bridge has six saddles, so you have one piece for each string. It gives the guitar a more precise tuning, greater flexibility, and improved string action.
More so, the modern Strat bridge uses a String-thru-the-Body design. That means it has more sustain and tension at the bridge, which brings out the subtle "Tele Twang" this ax has.
On the headstock, it has a no-surprises set of sealed chrome diecast tuners. They can hold the tune good enough.
Lastly, it has a synthetic bone nut that contributes to tuning stability and sustain.
Modern Strat bridges are an improvement over the classic Ashtray design. However, these bridges don't pack the same levels of aesthetics as the vintage Telecaster bridges.
Playability 
The playability of the Modern Player Tele is why I recommend this instrument as a great guitar for beginners, even though it has big frets and a long-scale body.
The bolt-on neck has a comfortable C-shape neck. The C-shape is so popular because it's carved to match the human palm. The result is greater comfort and enhanced playability.
Speaking of which, the neck's radius is 9.5''. This is the standard Telecaster size. It gives you a more curved neck in order to make it easier for the musician to play chords and arpeggios.
Another feature helping the playability of this guitar is that the neck is not tapered at the headstock. Like every vintage Tele neck, this one is thickest at the headstock position.
So, because it's thickest at the headstock, inexperienced guitarists can strengthen the muscles they need to play chords whilst also finding enough space to play complex figures. Otherwise, you could feel the space between the strings is too cramped to learn basic chords.
Jumbo frets fill the same purpose. Although they are too big for children and small players, they are great for intermediate and beginner players as it gives plenty of space between the frets to lay down chord figures on the fingerboard.
These design choices provide overall weight balance between the tail and the head. That way, the guitar feels very balanced on your hand. 

If you're used to either Telecaster or Stratocaster shapes, you will feel right at home with this guitar.
Pickups, electronics & sound
Here's the main event. See, instead of having the tried-and-tested dual single-coil configuration, the Modern Player Tele has three single-coil pickups. Speaking of pickups, here's a short section detailing what you need to know about pickups if you want to understand every guitar review you read out there.
At the neck, there's' a traditional Telecaster single-coil in the middle, there's a Stratocaster single-coil. And to make things more interesting, it has a coil-split humbucker at the bridge position. 
The tonal shaping options come with its single master volume knob and a single tone knob. It all comes together with its five-way selector switch. Such a setup gives this guitar so much room to grow and growl.
That means this modern Tele takes a big departure from the vintage design and puts its sound to the offensive with three different pickups. Thus, it's able to craft colossal tones and great sound diversity.
In particular:
The neck pickup has the warm, blues Telecaster sound great for lead and rhythm guitar. This is the classic Soap-Bar Telecaster pickup complete with its vintage chrome casing.
The middle pickup has the Hendrix-like Strat sound great for soloing. This Strat pickup offers a modern sound you know you can use to get some punch and gnarl out of your guitar.
The bridge pickup has a humbucker you can use aggressively for high-gain situations. It can even deliver great results on metal genres. This is the biggest alteration of this guitar because Fender isn't very fond of humbuckers. Dual-coils are rarely present on a Telecaster.
Keep in mind the neck pickup alone doesn't have enough strength to carry out the rhythm of a song. The middle pickup does, though, as it has more sparkle and bite.
Regarding the humbucker, it has all of the dirt and beef you can expect from a dual-coil taper, and it can handle itself on classic rock or modern metal.

Dual-coil pickups are noiseless and more aggressive than single-coil pickups. 
So, what we're dealing with is an HSS configuration. It doesn't have the same twang as standard Teles but it offers wider possibilities. Plus, the real advantage of HSS configurations is the ability to play heavy genres without clipping or losing definition.
There's another aspect of this guitar. It has a mini-toggle coil-split switch that broadens the sound capabilities of this guitar. This switch allows you to turn on both humbucker coils or just one.
Alongside its 5-way switch, the range of sounds you can pick is something you'll come to love. If you're an all-hands guitar modern player you'll understand why this guitar has the Modern name.
Here's a video showcasing its sound:
As you see, you can dial-in any kinds of sounds you want: muted, moody, jazzy, biting, brilliant, punchy, muted, bluesy, aggressive,…
Overall, the sound is clean with a bit of dirt, thanks to its bridge humbucker. However, you could enjoy the Tele's traditional sound by shutting off the humbucker with the switch. What I'm trying to say is the variety of genres present on this Tele is something unavailable on standard Telecaster and even Stratocaster guitars.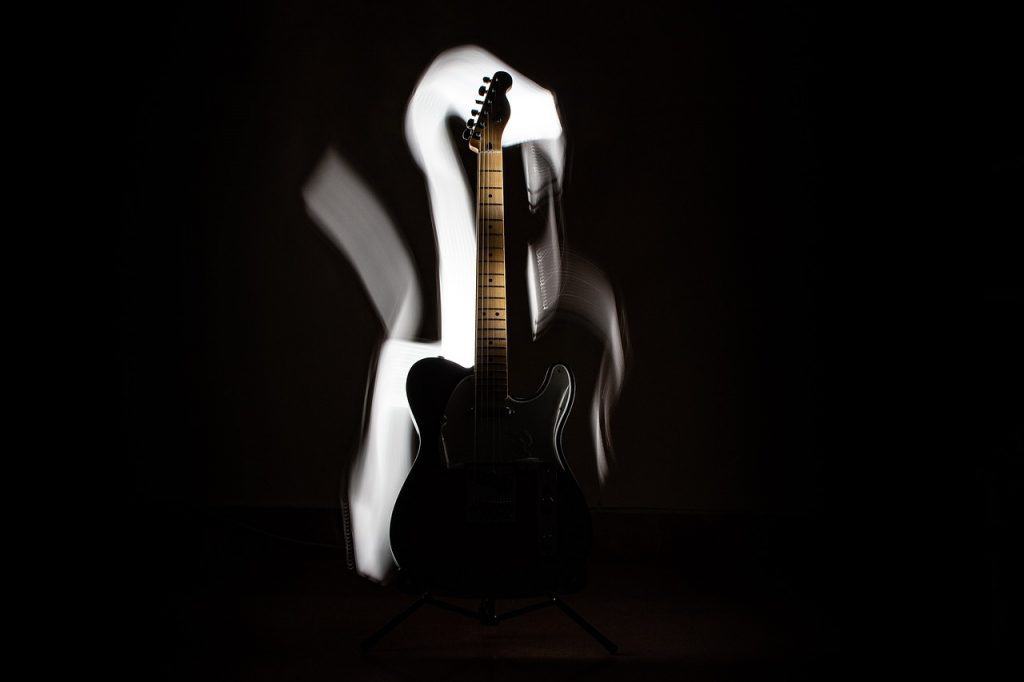 A 5-way selector switch selects which pickups are on and off at any moment. It's not the easiest hardware for beginners.
User reviews
Reading through user reviews on musical sites and forums, I found people don't consider this guitar as a smart purchase for beginner guitar players on a budget. Remember the price only covers the guitar, and you'd need to buy a cable, picks, case, and a budget guitar amplifier as well.
Additionally, absolute beginners will find the 5-way pickup system very difficult to master.
That said, this is a perfect guitar in terms of craftsmanship, and it's rich in features and vintage looks. The fact that it sells for such a friendly price could be considered a bargain. Because of this, users consider the Fender Modern Player Telecaster Plus as one of the best options for regular and intermediate players.
The construction quality of the Modern Player Telecaster is also something users tend to look at.  It's, durable and the pinewood is a high-grade material. Maple is also a standard choice for necks and fretboards all-over the price spectrum.
Users claim on the wide range of tones this guitar can offer, which is why this is an ideal option for all-terrain guitar players, musicians, and bands. 
Furthermore, it has a high-quality clean sound that reacts amazingly to distortion, fuzz, and overdrive pedals.
Lastly, most users have had great results playing Country, Blues, Pop, and Jazz on clean with the Fender Modern Telecaster Plus.

You can further tweak the sound of your guitar with extra guitar pedals
Fender Modern Player Telecaster Plus Specs (Fender China)
Body: single-cutaway Telecaster shape
Tonewoods: pine body, maple neck, maple rosewood.
Neck: C-shaped bolt-on neck.
Scale: long-scale electric guitar (25.5'')
Fingerboard: 22 jumbo frets
Pickup configuration: Telecaster Single-Coil pickup (neck); Stratocaster Single-Coil (middle); Modern Player Humbucker (bridge) – HSS.
Controls: master tone & volume knobs; 5-way selector switch; mini-toggle coil-split switch.
Tuners:  sealed chrome diecast tuners
Bridge: Modern Stratocaster String-thru-Body bridge.
Drawbacks & alternative
Like most things boasting versatility, the Fender Modern Player Telecaster Plus can play it all whilst being exellent at nothing in particular.
So, if you're a guitar player looking for a signature Tele sound for a budget, you might want to check the twangy Standard Telecaster.
I find the Squier Classic Vibe '50s Telecaster is also a very high-quality guitar, made of pinewood. This old-school Telecaster only offers vintage sounds and aesthetics with little-to-none versatility. If that sounds like you, check it on the link below:
Because this is so versatile and has so many options with its 5-way selector switch, I wouldn't recommend this guitar for beginner guitar players. I think this is best suited for intermediate musicians. 
If you're an experienced player, be sure that the neck design of this Telecaster will help you improve your rhythm guitar playing.
If you're reading this but want to go the other way, the metal way, feel free to read my prior Schecter Omen 6, as this is a guitar that looks and plays the metal part.
Variety 
I need to highlight the Fender Modern Player Telecaster Plus Thinline, which could compete as a top semi-hollow guitar.
It's affordable and it's sexy. And because of its semi-hollow body, it lowers down the aggressiveness of its sonic range to offer the softer and more stylized sound these guitars tend to offer.
Here's a video review on the Thinline alternative:
How does the Fender Modern Player Telecaster compare to the Standard Tele?
With all of the modern features of this China-made Tele, you might wonder what's the difference with the Standard Modern Telecaster.
The difference is the addition of the bridge humbucker. It provides a beefier and heartier sound compared to the Standard's single-coil sound. The sound feels even more alive when you pair this guitar with a high-quality tube amp.
In addition to the bridge humbucker, it also has a split channel function. The sound of a single split-coil is noiseless, bright, and narrower; and the sound of the two coils is harder and more aggressive.
On the downside, the Modern Player's tuning is not as stale as the Standard Tele's, so you might need to adjust it more often.
Lastly, this Tele has a Stratocaster modern bridge, which is an improvement over the vintage "Ashtray" bridge.
Compared to a Stratocaster
The HSS pickup configuration is also what sets this guitar apart from most SS Stratocasters. Although it has a Strat pickup in the middle, the sound is definitely different.
This guitar has more versatility and can go higher in terms of aggressiveness. The Strat works differently, though: its possibilities go from jazz and blues to indie and alternative rock, and it excels in the genres you would find in the middle.
More so, the Standard Strat only has a 3-way selector switch, much like the Standard Tele.
Differences in playability
Another variation between the Standard Fender versions and the Modern Player Telecaster is the use of jumbo frets and a thick neck.
The Standard version (and most versions) use medium jumbo frets, which are more beneficial for soloists.
Differences in construction quality
The one thing showcasing this is an affordable instrument is its bolt-on neck. Premium Fender Instruments would one a glued-on neck, which helps balance the sound and improves the durability of the guitar.
Aside from the neck construction, this is a high-grade construction. I consider Pinewood to be as good as ash or alder, and the fact that it's so rare makes it so good.
On the contrary, a thick neck and jumbo frets are more beneficial for rythm guitar players.
Compared to a Squier
In terms of versatility, construction-quality, and sound, the Affinity and Bullet series are not true competitors. These are merely entry-level Fender-designed guitars that try to offer the best experience for the less money.
In terms of sound and construction quality, the made-of-pine Squier Classic Vibe series is a serious contender. I like the sound of the Classic Vibe guitars a bit more. I'm also in love with the vintage looks of the series. You might find their lack of versatility a limitation, though, if you're into modern genres and play-styles.
Lastly, in terms of versatility, I'd have to name the Squier Contemporary Player series. These series offer Telecaster guitars with various tweaks, like an HH configuration or a 12'' neck radius. There're no guitars in this series with as much versatility as the Modern Teles, but because you can find various options in terms of configurations, there's a high chance you'd find something you like within this lineup.
In terms of price
The Modern Player Tele sells for about the price of the Classic Vibe series. It's Fender's cheapest lineup. Next-in-line is the Standard series.
That means the Modern Player series sells for a cheaper price and has more features and versatility than the Standard Tele. But it has less of the "Tele Twang" sound.
Final Thoughts
The amount of features of the Fender Modern Player Telecaster Plus makes it a great choice for intermediate and experienced players alike. In fact, having the Modern Tele means you only need one guitar, as this could very well be your main ax for both the studio and the stage.
Even better, this is a perfect guitar for tonal experimentation and guitar pedal practice.
Lastly, the price of the Modern Player Telecaster makes it an attractive choice.

If you think this is a sub-par guitar because it was made in China, you would be wrong.
In summary
Looking back at the Telecaster history, it's easy to see why this guitar has been so popular over the years.
The Modern Tele brings the vintage design forward with its pinewood material, body shape, and neck design, and adds up features you wouldn't find anywhere else for the same price range. 
Such a mixture of old and new is unique and offers great quality in terms of durability, sound, and versatility.
I can assure this guitar is well above its budget. The Modern Tele is a cost-effective way to enjoy the legendary Telecaster experience for hard-working musicians.

Have you ever played a Fender Telecaster guitar? What do you think of these axes?
However, the Modern Player Telecaster Plus won't appeal to Telecaster purists. Even so, this is a guitar that feels great, looks great, has amazing versatility, and a superb sound.
So, if you're looking for something that can expand your sonic potential, and doesn't cost a leg, the Fender Modern Player Telecaster Plus will leave you rocking for years. 
It's an ideal guitar for intermediate and professional players, and although it's a challenge for beginners, it would also be a great choice for complete amateurs.
I must also commend as a great guitar for rythm guitar players. Lead singers playing the backbone of the song would love this all-purpose Fender guitar.
Finally, if you'd like to trade up the pickups of this guitar, here's a handy pickup guide that can help you.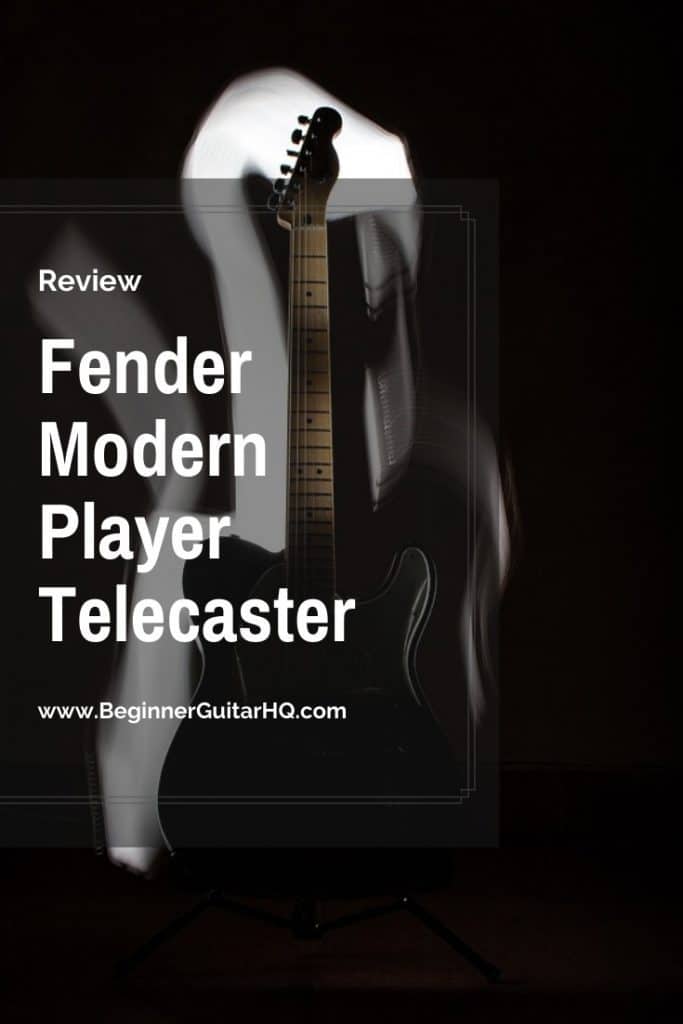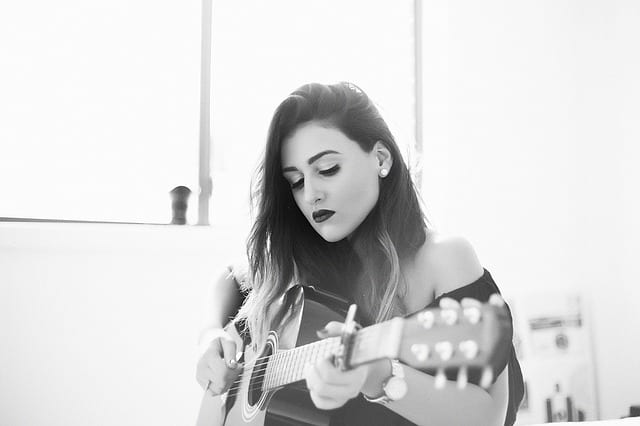 Jen is a guitarist and singer-songwriter who spends much of her time on the road and has lived in 13 cities across 4 continents. She picked up her first guitar at the age of 6 and learned to play by ear shortly after. She received her formal music education at the Berklee College of Music, and currently plays for a few bands in her free time. She has an uncanny ability to improvise creative melodies and harmonies. Her early influences include blues, jazz and rock.