Gibson doesn't know what "affordable" means. That's what you may think, though, as it wasn't always like this. However, if you're currently looking for a budget Gibson guitar, this is not the way.
See, a couple of years ago, Gibson took some aesthetic and premium features out of their SG guitar series. The goal was to create an unbeatable mid-priced rock guitar: the Gibson SGJ.
You might not have seen this guitar often because it was a limited production item. It's currently out of stock, but it represents one of the only items Gibson has made for the hard-working musician.
Gibson made the guitar in 2014 and never made it again. You won't find it on stock, but you may find it as a used item. Even though it wasn't a collector's item back in the day, today it is. And, as you'd expect, it has doubled its price since its origins $500 debut.
So, in essence, we're doing this review for historical purposes. Also, in case you find the guitar in the wild, you'd know exactly what it is.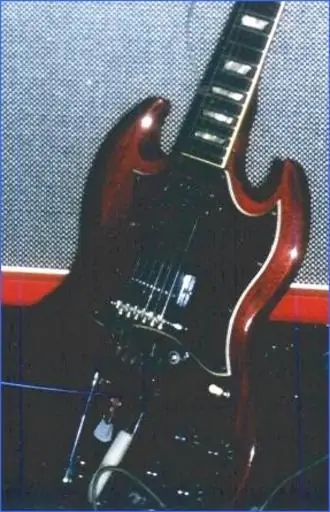 The Gibson SG is one of the most iconic guitar series in history.
Gibson SGJ 2014 Electric Guitar Review
The Gibson SG series is a top-tier name. It has outstanding performance for rock genres, great looks, and the historical weight to lift it up.
Next to the Les Paul guitar, the SG is Gibson's all-time best-seller. It has become the signature instrument for iconic bands like AC/DC, Black Sabbath, and Frank Zappa. These are reasons enough to sell the SG for a hefty price.
Current Epiphone guitars consistently deliver top-value quality for the money, often representing the best options we've got at the mid-level bracket.
However, back in 2014, Epiphone was not as big as they are now. Gibson didn't trust their subsidiary enough to push a solid, mid-priced Gibson SG guitar. Thus, Gibson pushed a model that fell between the entry-level Epiphone models and the premium Gibson SGs: the Gibson SGJ.
Build quality
The Gibson SGJ has the classic Gibson SG shape, with little to no changes.
First, the SGJ has a nice and traditional mahogany body. Mahogany is a rich, lightweight tonewood standard on most Gibson guitars.
On the body, you'll see it lacks one of the SG's trademark features, an elegant pickguard. A pickguard protects the body from scratches and pick damage.
Then, the guitar has a maple neck with Gibson's temporary SlimTaper profile. A SlimTaper shape is slightly asymmetrical and very slim. These characteristics allow more straightforward chord playing as well as easier solo playing.
The guitar has a satin finish all over the body and neck. The satin finish wears over the years, so the more you use the guitar, the less finish it has. Still, satin is an okay ingredient that protects the guitar from dust and scratches. Still, it's just not the premium finish material an expensive SG guitar has.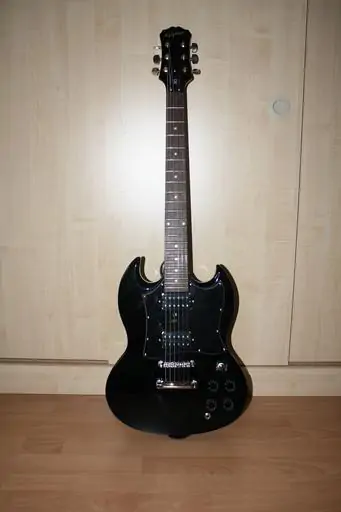 The Gibson SG is one of the most popular guitars for rock genres.
Hardware
The next part of the Gibson SGJ's construction is its hardware. The hardware can either make or break a guitar.
With that in mind, the SGJ didn't differ much from the time's SG guitars. The pieces have less quality and less appeal, but they were essentially the same.
First, it has a classic Tune-O-Matic bridge with a stop bar. This is Gibson's go-to choice for all of their guitars, and it serves its purpose. The pieces increase sustain and keep up with the intonation.
On the other side of the guitar, you can find a set of Gibson standard open-gear tuners. These were impressive for the price range, perfectly capable of holding tuning for hours.
Overall, the guitar offers an excellent sustain, a perfect string height, and classic SG aesthetics (minus the pickguard).
Sound quality
Plugging the SGJ into a good amplifier, you'll discover a full-blown Gibson rock sound. The guitar is powerful, balanced, and as close to the SG as it can be. Telling the difference between these two guitars is tough, even pretentious.
The SGJ was not and is not a cheap copy. It's the real thing: it only lacks some aesthetic features to be the real thing.
That said, the sound is the rock bread and butter. It has a fat and low-end solid, a round and crunchy mid, and robust highs. Every note is articulated and gives space to the next. The harmonies are perfect, and the overall balance is superb.
<iframe width="1520″ height="585″ src="https://www.youtube.com/embed/o0Kh09xIuRk" title="YouTube video player" frameborder="0″ allow="accelerometer; autoplay; clipboard-write; encrypted-media; gyroscope; picture-in-picture" allowfullscreen></iframe>
Electronics
The sound comes from a couple of meaty humbuckers. The SGJ comes with a couple '61 Zebra double-coil pickups.
These are colorful, vintage-sounding pickups with a massive output.
The guitar packs two tone knobs, two volume knobs, and the classic three-way pickup selector switch for controls.
Here's another video demo:
<iframe width="1520″ height="585″ src="https://www.youtube.com/embed/0FUOR19_N1M" title="YouTube video player" frameborder="0″ allow="accelerometer; autoplay; clipboard-write; encrypted-media; gyroscope; picture-in-picture" allowfullscreen></iframe>
Alternative: Epiphone SG Special VE
The Gibson SGJ is no longer available. Nowadays, Epiphone handles all Gibson mid and entry-level models. Over time, the subsidiary has grown as one of the best guitar maker companies.
Needless to say, we're going to check what Epiphone has to offer in terms of SG models.
First, there's the Epiphone SG Special VE:
The SG special offers incredible value for the money. It packs a mahogany body, a SlimTaper mahogany neck, solid hardware, and a couple of impressive Epiphone humbuckers.
All of these elements deliver a top-value guitar with the timeless aesthetic and sound you'd expect from the SG series.
Also, because it features a stellar build, you can swap the pickups to get a premium quality sound.
In Summary
If you're currently a collector, you might want to find the Gibson SGJ. It holds the value of being one of the only "mid-price" Gibson guitars in history.
And despite its current price being twice as much, the sound and performance is right up there with the standard SG guitar.
What it lacks is some details and a better finish. However, in terms of functionality, the SGJ was just as good as the premium version. And it cost a lot less money.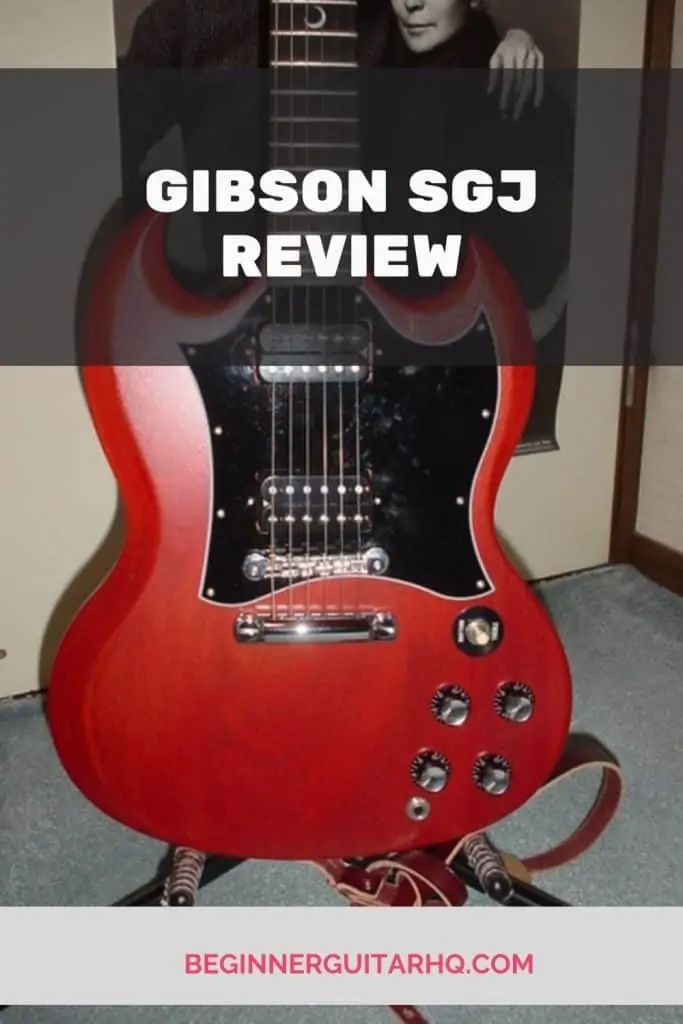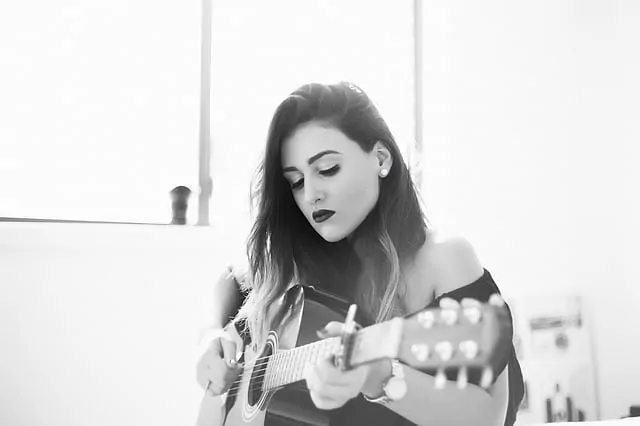 Jen is a guitarist and singer-songwriter who spends much of her time on the road and has lived in 13 cities across 4 continents. She picked up her first guitar at the age of 6 and learned to play by ear shortly after. She received her formal music education at the Berklee College of Music, and currently plays for a few bands in her free time. She has an uncanny ability to improvise creative melodies and harmonies. Her early influences include blues, jazz and rock.