The Epiphone Elitist Casino is not your standard Epiphone guitar. It's an original model that has been decades in the market. As a combination between classic rock and modern styles, the '65 Elitist Casino is well worth its price.
Gibson's subsidiary Epiphone is much more than a simple creator of budget Gibson alternatives. Before the premium musical brand bought Epiphone, they had a series of the original electric guitar. They were also a reference regarding hollow body electric guitars.
More curiously, the Epiphone 1965 Elitist Casino has a hefty price tag. What else would you expect from nouns as "Elitist" and "1965"? It's what it is, a vintage hollow body electric guitar with a host of premium features all over its design.
Still, we need to check the worth of the guitar. It's not only very expensive, but it's also exceedingly hard to find. Your best bet would be to buy a second-hand Elitist Casino. New models are hard to come by. If you're looking for other hollow and semi-hollow alternatives, check our guide to hollow body guitars.

There's a wide variety of Epiphone Casino models. The 1965 model is the top-tier alternative.
The Epiphone Elitist Casino is a hollow body guitar. If you're not sure about what a hollow guitar is, I advise you to check our types of electric guitar guide.
In essence, these types of guitars are hollow on the inside and pack two f-shaped holes in the body. That allows them to create a natural resonance, like an acoustic guitar, which the amplifier can pick up and project through the speakers.
As a result, hollow-body guitars sound richer, deeper, and more natural. However, oftentimes they create too much feedback and softer outputs than solid-body alternatives.
Also, I should note hollow guitars commonly ship with either single-coils of P-90 pickups.
Lastly, I must note Gibson was the first brand to produce a hollow body guitar.
Epiphone Elitist 1965 Casino hollow body electric guitar review
The Elitist Casino is a rare guitar. But even as a rare specimen in the music industry, the '65 Elitist Casino tops many charts of best expensive guitars.
It's a high-end alternative. To be honest, it's not even high-end, is "higher-end." Something you would buy when money is not a problem. Something you would crave for its boutique aesthetics and sounds.
The beauty, craft quality, and performance of the Epiphone Elitist Casino make it a popular and coveted guitar. It was part of The Beatles, among many other bands and musicians. It deserves a huge place in the spotlight.
Overall, the Epiphone Casino design is about being lightweight and hassle-free to play. John Lennon loved the Elitist model because of how light it was and how cool it looks.
In a word, these guitars are lovely. With their 22 frets, full-scale size, and Slim Taper D-shaped necks, you get maximum playability. That is if you're an intermediate or advanced player, though. The Epiphone Casino Elitist is not a first-starter model, not even the lower-priced alternatives.
The 1965 Casino shows what an Epiphone premium guitar can look like. That is with the timeless style of the original 1965 Casino hollow body guitar, just like The Beatles' McCartney and Lennon used to play.
That said, the Elitist Casino is a reissue of the original Epiphone Casino guitars of the decade.
Other prominent players of Casino guitars include Noel Galagher (Oasis, solo artist), Joe Pass, Gary Clarck Jr, Nick Valensi (The Strokes), and Tom Delonge (Blink 182, Angels & Airwaves).
Let's take a closer look, though, and see if it justifies its price tag.
Overview
We're looking at an archtop hollow body electric guitar. The archtop part means the body is arched at the center. It's there to improve the overall sound quality as well as providing better looks.
Made by Epiphone Japan, the Elitist Casino is a maple/mahogany/rosewood guitar with two Gibson P-90 coils.
You can expect everything about it to be flawless and pack the highest quality Epiphone can muster.
It's also a custom-shop instrument, made with premium woods and using premium electronics and pickups. Even the hardware speaks of quality, from the Grover tuners to the TOM bridge.
Built quality
The Epiphone Elitist Casino has a fine craft that delivers an easy playing experience. It even blurs the line between Epiphone and Gibson because, as I said, the Casino is an original Epiphone model.
Epiphone crafts the guitar in their Japan's Elitist factory. The factory uses plenty of hand-made processes while keeping mass-producing practices at a minimum. That means there's plenty of attention from experienced luthiers.
Body
We're looking at a reissue of the original 1965 models, which means it mimics the same design features.
For example, it has a soft double-cutaway archtop body. The material of choice is a 5-ply laminated maple at the top, back, and sides.
Neck
Just like the original '60s Casino guitars, the Elitist model has a 24.75" scale.
There's a mahogany set-in neck at the 16th fret. That means the neck is glued to the body, as it's the case for all Gibson guitars.
The neck features Gibson's iconic SlimTaper D profile. It's an asymmetrical shape that overall improves playability.
Then, it has a rosewood fretboard with 22 medium jumbo frets.
Finish & colors
The guitar has spruce bracing to add a retro Vintage Sunburst paint job. There's also a classical red-tainted Sunburst color.
On top of that, the guitar has a nitrocellulose lacquer finish. It protects the paint job from decaying as well as the guitar from humidity and temperature changes. Additionally, it provides extra durability to the instrument.
As for decorations, Epiphone uses Pearloid parallelogram fret inlays, plus the f-hole shapes on the body.

Albeit the cheaper Epiphone Casino models are made in China, they still retain a high level of craft all across the board.
Sound quality
Describing the sound of the Elitist Casino is hard. It's just…flawless. It sounds like a hollow body guitar on its maximum potential.
With American-made Gibson P-90 coils, components, and electronics, the tone is rich in texture. It feels as if the guitar could breathe, and it's also full of vintage character and dirt.
It's also more versatile than you could expect. However, it can play what the name implies it can play. That's classic rock, jazz, country, and blues. Its extended versatility can extend the tonal signature towards alternative rock, indie, world music, bossa nova, punk, post-punk, and even pop.
Overall, the sound is articulate, texture-rich, deep, warm, and with a lot of sustain.
Hear it for yourself:
<iframe width="948″ height="533″ src="https://www.youtube.com/embed/pznXI_-QxhM" frameborder="0″ allow="accelerometer; autoplay; clipboard-write; encrypted-media; gyroscope; picture-in-picture" allowfullscreen></iframe>
Electronics
Regarding electronics, the Epiphone Elitist Casino uses the best P-90 pickups Gibson can muster. Keep in mind Gibson invented these special tapers.
In particular, it uses a Gibson P-90R at the bridge, plus a P-90T at the neck. Both carry the output power of a humbucker plus the texture of a humbucker.
The controls are standard and easy to use, and yet responsive and versatile. You get two individual tone knobs as well as two individual volume knobs. These carry vintage-style gold metal pots.
Then, there's a three-way toggle switch to swap between the pickups.
<iframe width="948″ height="533″ src="https://www.youtube.com/embed/nHEiKmeGbpQ" frameborder="0″ allow="accelerometer; autoplay; clipboard-write; encrypted-media; gyroscope; picture-in-picture" allowfullscreen></iframe>
Feel Quality
The playability is top-notch and exactly what you'd expect from the best hollow body guitars.
It's incredibly lightweight because of its empty cavity. That means you can play live for long periods with the guitar without getting tired.
Also, the neck has a 14'' radius. That makes it better for overall bending and solos, but still comfortable enough for general rhythm guitar.
The asymmetrical D-shaped neck also helps with playing chords and complex rhythm lines. That's because it makes it easier to close your hand around the frets. Moreover, the SlimTaper profile provides some extra weight relief on the neck.
Lastly, its soft dual cutaway gives access to the higher frets for extended solo playing.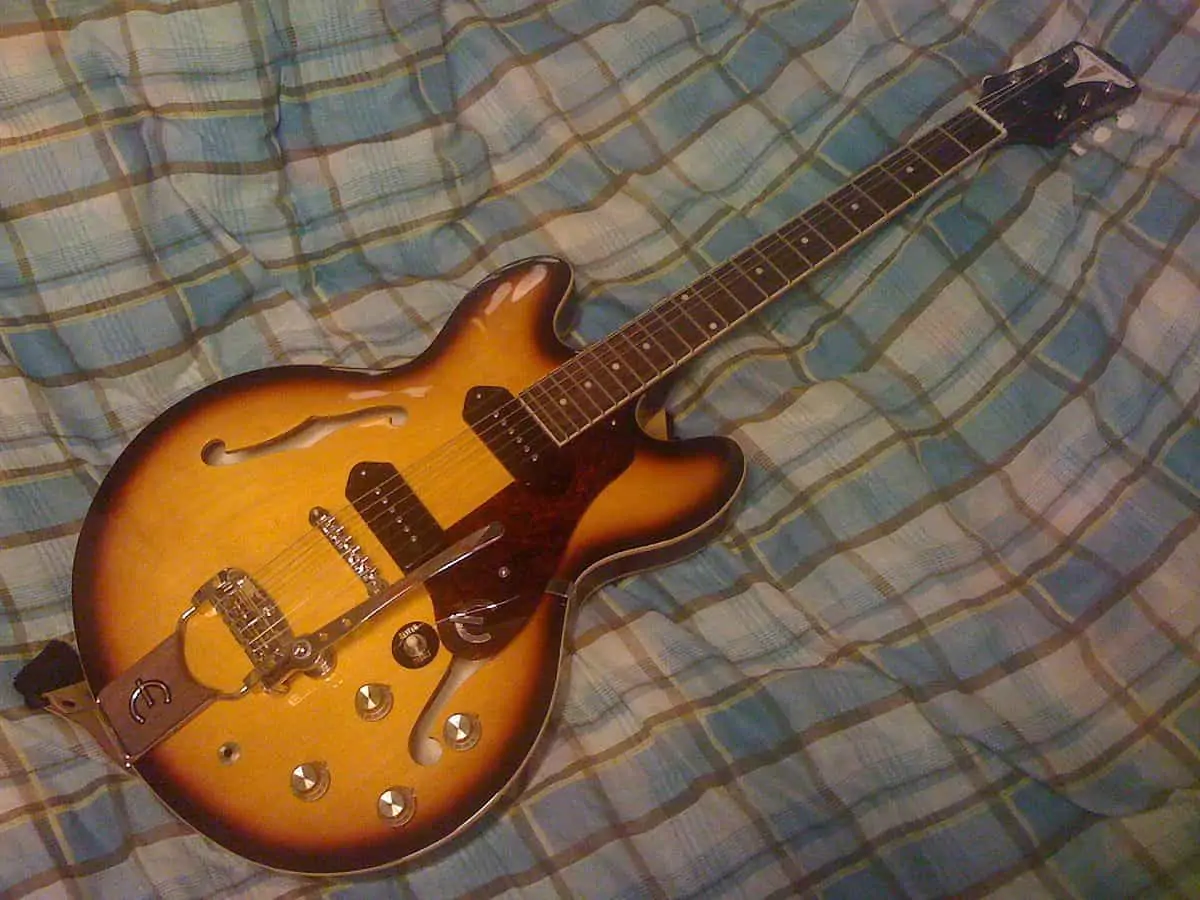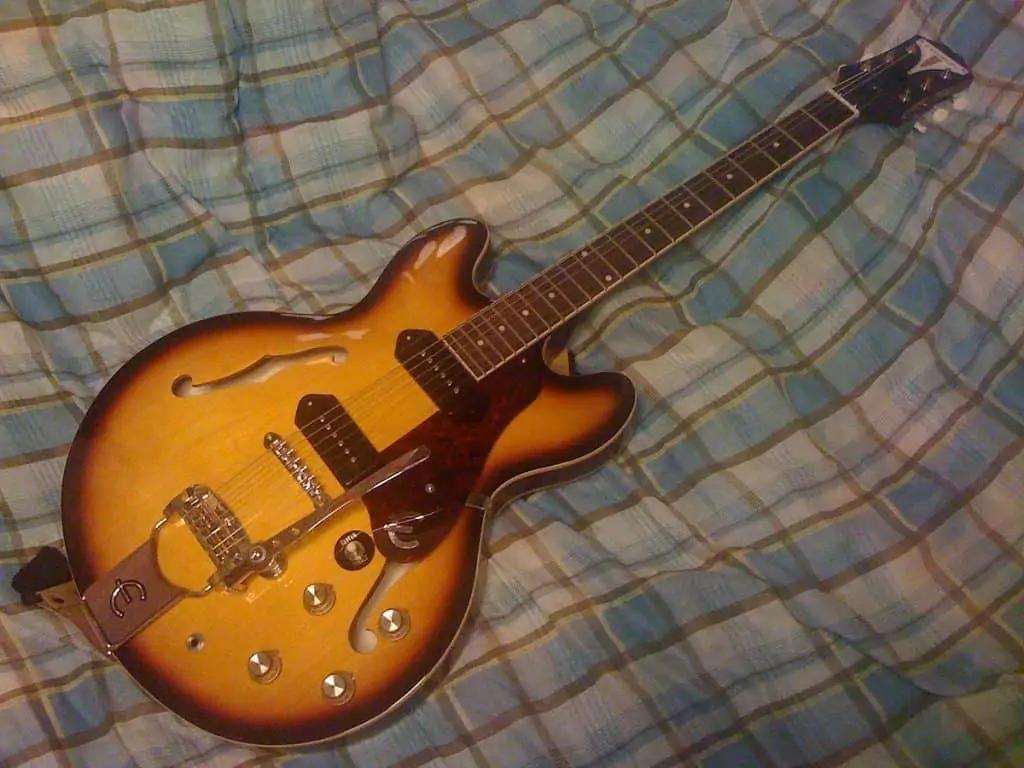 "Epiphone '61 Casino 50th Anniversary" by Croctribe / CC BY-SA 3.0 There're various reissues of the classic '60s Epiphone Casino guitars. Most of them used a neck with a 14-degree inclination.
Epiphone Elitist 1965 Casino Review
Design: arched-top soft double-cutaway hollow body
Body tonewood: maple
Neck: SlimTaper D-shaped neck
Neck tonewood: 5-ply maple
Fingerboard tonewood: rosewood
Pickups: P-90R at the bridge & P-90T at the neck
Controls: two individual volume knobs, two individual tone knobs & 3-way toggle switch
Tuners: Grover tuners
Bridge: tune-O-Matic bridge
In summary
Why do I like the Epiphone Casino Elitist?
Epiphone certainly impressed the premium market with the 1965 Casino.
The history of the instrument might be appealing enough for you. If not, its top-tier hollow-body playability and tone more than enough justify the price.
If money is not a problem and you take your music seriously, it's a sure investment. Its tone will keep you sounding like a professional for years to come.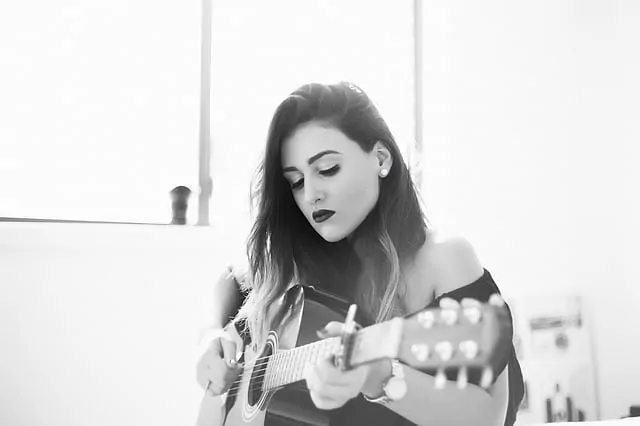 Jen is a guitarist and singer-songwriter who spends much of her time on the road and has lived in 13 cities across 4 continents. She picked up her first guitar at the age of 6 and learned to play by ear shortly after. She received her formal music education at the Berklee College of Music, and currently plays for a few bands in her free time. She has an uncanny ability to improvise creative melodies and harmonies. Her early influences include blues, jazz and rock.