Here is a question we've all heard time and time again. Possibly one of the most debated topics on guitar forums across the world. As guitar players, most of us are keen at some point in our playing career to own a Les Paul and channel our inner Slash or Jimmy Page.
A proper Gibson Les Paul will set you back a few thousand dollars which to most of us, is quite an investment when it comes to buying a guitar. Luckily, Gibson have a smaller sister company called Epiphone who produce licenced versions of the Gibson classics at a budget to suit all wallets.
Les Pauls are seen in the hands of players across all  genres from blues and jazz to rock and metal. They are simple in their construction meaning that any player can modify the guitar to suit their own needs. Les Pauls are possibly the ultimate template to craft your own sound.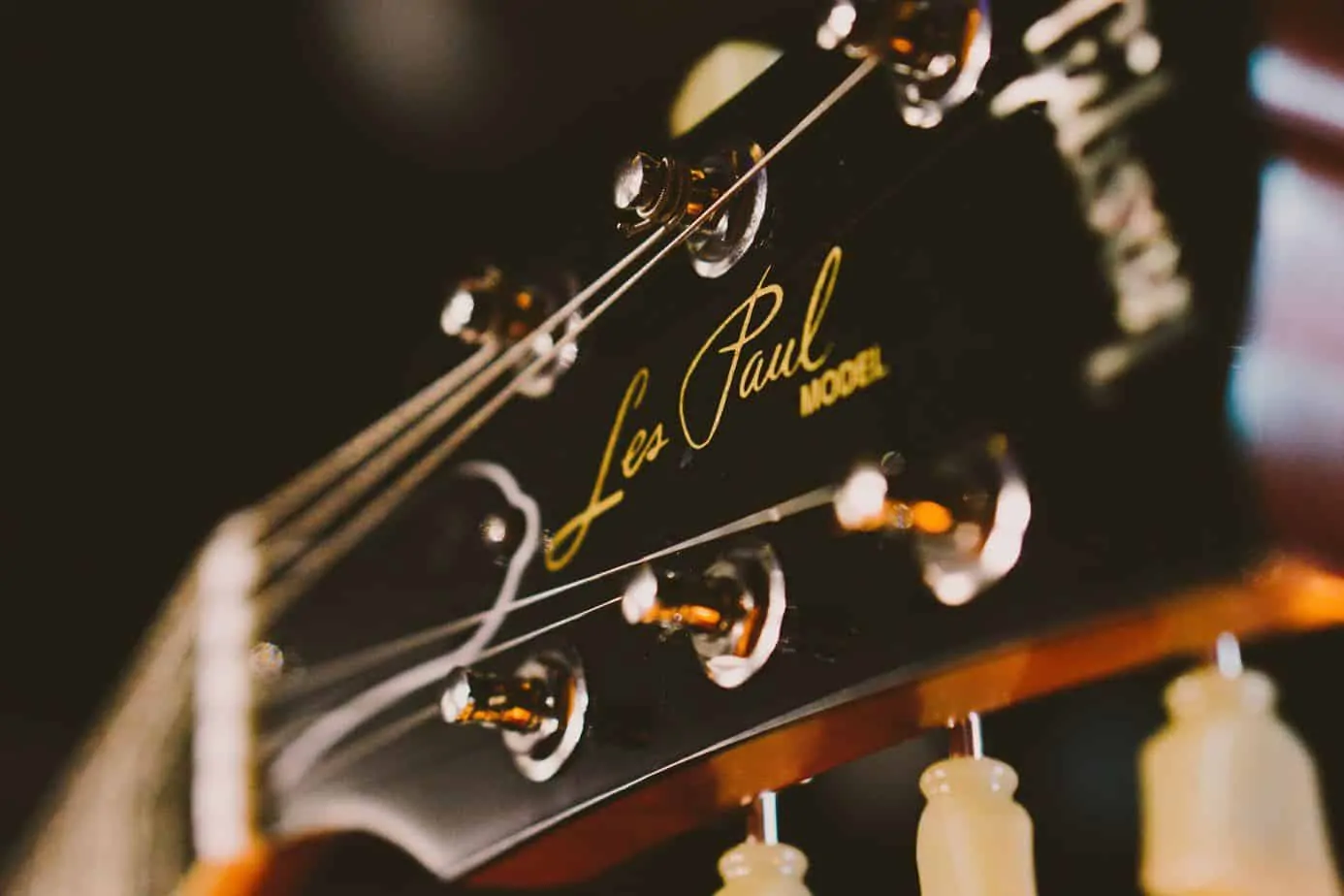 The Gibson headstock with the Les Paul text is an iconic image and is seen in the hands of some of the worlds best guitar players such a Jimmy Page, Eric Clapton and Slash.
Specifications
Both models have in depth specifications on their website. Let's look at a brief overview of the key specs of the two models side by side:
Model
Gibson Les Paul Standard
Epiphone Les Paul Standard
Body
Material
Mahogany
Mahogany
Top
AA Figured Maple
Maple Veneer
Binding
1 Ply Cream
1 Ply Cream
Neck
Material
Mahogany
Mahogany
Profile
Slim Taper
Slim Taper
Fretboard Material
Rosewood
Pau Ferro
# of Frets
22
22
Fretboard Radius
12"
12"
Fret Type
Medium Jumbo
Medium Jumbo
Nut Material
GraphTech
Plastic
Inlays
Acrylic Trapezioid
Pearloid Trapezoid
Hardware
Bridge
ABR-1 Tune-o-Matic
LockTone Tune-o-Matic
Tuners
Grover Rotomatics
Grover 18:1 Machineheads
Electronics
Neck Pickup
Burstbucker 61R
Alnico Classic
Bridge Pickup
Burstbucker 61T
Alnico Classic Plus
Controls
2 Volume, 2 Tone, 3 way Toggle. Hand wired with Orange Drop Capacitors
2 Volume, 2 Tone, 3 way Toggle
Extras
Strings
10-46
10-46
Case
Hard Shell Case Included
No Case Included
As you can see, side by side, there is not a huge variation in specs from model to model. Let's dig into the specs a little deeper and find that differences exist.
Price
The biggest initial difference comes in the price:
On the other hand, the Epiphone Les Paul Standard is much more budget friendly:
When we compare these two guitars on price alone, we have a big price difference which in its own right is the price of a high end guitar. Let's dig down into the different specs of these guitars and see what causes this huge price difference and let's figure out if these guitars really are worlds apart.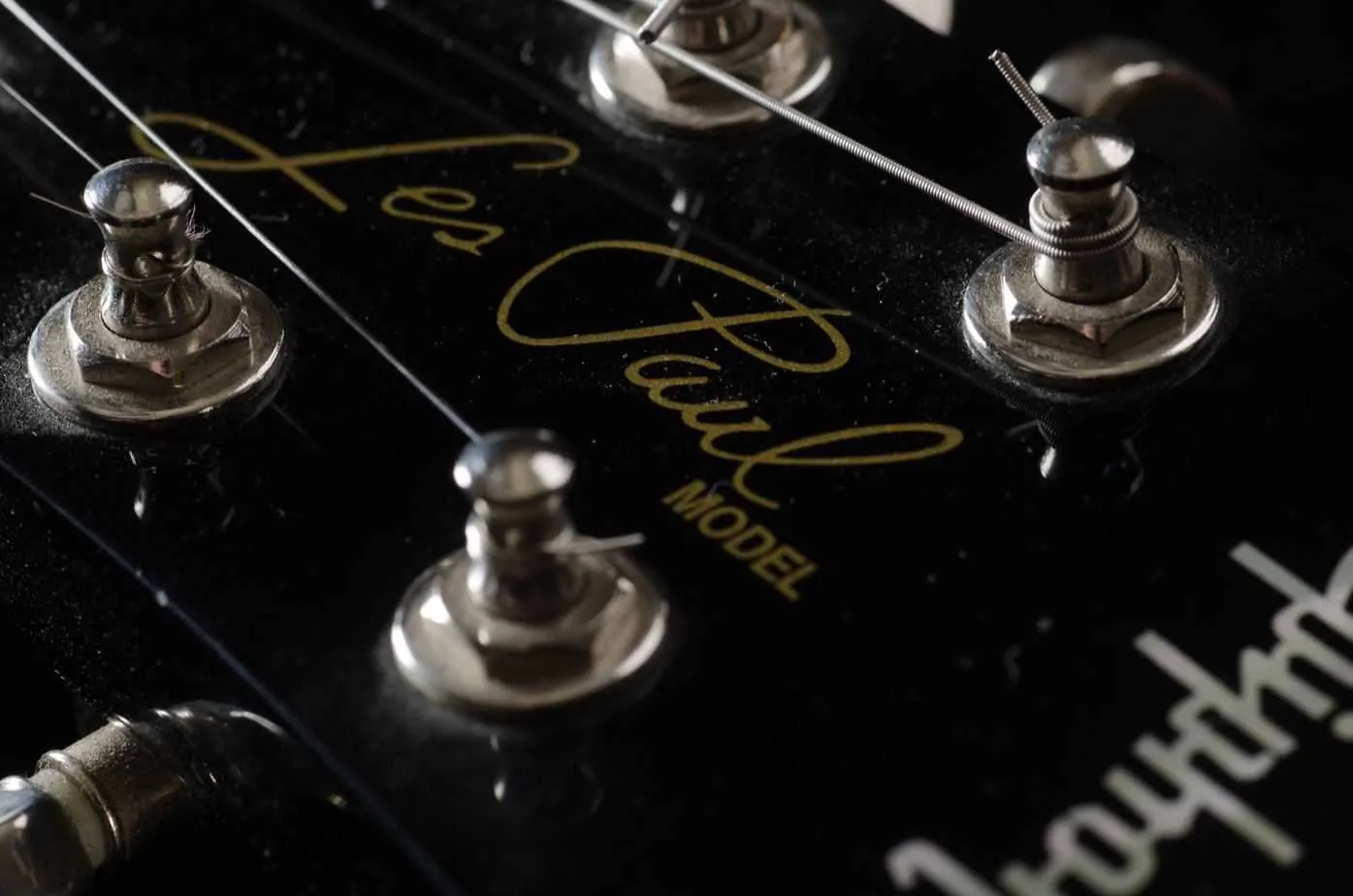 Epiphone Les Pauls also bear the famous signature on the headstock face. This stamp of approval proves that Epiphone's lower cost Les Pauls are worthy of bearing the name.
Body Material
Both these Les Paul's are made from mahogany. Mahogany is a dense wood known for it's great sustain and it's midrange heavy characteristics. Due to mahogany being a dense wood, and the body construction of a typical Les Paul being quite thick, both Epiphone and Gibson models are weighty instruments.
Both the Epiphone and Gibson models typically contain some form of weight relief in the form of some small chambers being carved inside the mahogany body but many older models from both companies may not have this.
Neck
Gibson and Epiphone both ship their standard model with their "Slim Taper" neck which is based off the typical neck shape of a 1960s Les Paul as opposed to the very fat necks found on 50s Gibson's.
The slim taper neck is a very easy neck profile to get on with and allows even players with smaller hands to get to grips with these guitars.
The frets on both guitars are medium jumbo which will give you that nice, tight low action feel and allow you to really bend the strings on the 12" radius fretboards on both models.
Each of the guitar has a different fretboard material. Gibson are using Rosewood and Epiphone are using Pao Ferro. In recent years, the movement of rosewood has become incresingly difficult with the need for CITES paperwork and the use of certain types of rosewood has been banned.
Pao Ferro is a sustainable wood replacement from South America which looks and feels similar to rosewood with a few minor differences such as a tighter grain resulting in a slightly snappier tone. Pao Ferro sits in the wood family between rosewood and ebony. It has all the same depth as ebony but with an additional high end snap.
It can be visually lighter with some more noticeable dark streaks running through it but it still retains a very smooth feel.
Where the neck specs also differ is in Gibson's use of a Graphtech Nut and Acrylic for the inlays against Epiphones use of plastic for the nut with pearloid inlays. A graphite nut has some advantages over a plastic nut as it self lubricates reducing friction which reduces the risk of the strings causing any tuning issues as they pass through the nut. 
That's not to say a plastic nut cannot do the same job. Many plays that have plastic nuts on their guitars will add some graphite or other string lubricant when re-stringing the guitar. As long as the nut is well cut, plastic nuts should give you the same tuning stability.
Hardware
While the hardware looks similar on paper, the difference between these two sets of hardware lies in the build quality. Gibson's ABR-1 Tune-o-matic bridge and Grover Rotomatic tuning heads will be of a higher quality than the Epiphone's stock LockTone Tune-o-matic and Grover 18:1 tuners.
Lower cost hardware, even branded models, are often die-cast with a zinc-alloy which is softer than the typical steel hardware you'd find on more expensive guitars. When it comes to bridges, there is a slight tonal difference. The zinc-alloy hardware will be case from a softer metal and plated with stainless steel. The softer metal can reduce sustain and provide a slight tail off in high frequencies.
Stainless steel hardware is harder and will sustain better and also produce a truer replication of the strings frequency spectrum.
The Grover 18:1 tuners are fantastic, stable units. They take 18 rotations of the tuner button for one full post rotation meaning you can fine tune your strings for accurate results. The Rotomatics have a slight advantage in build quality alone with them being made from steel rather than the softer zinc-alloy but I don't believe you'd notice much difference from one model to the other.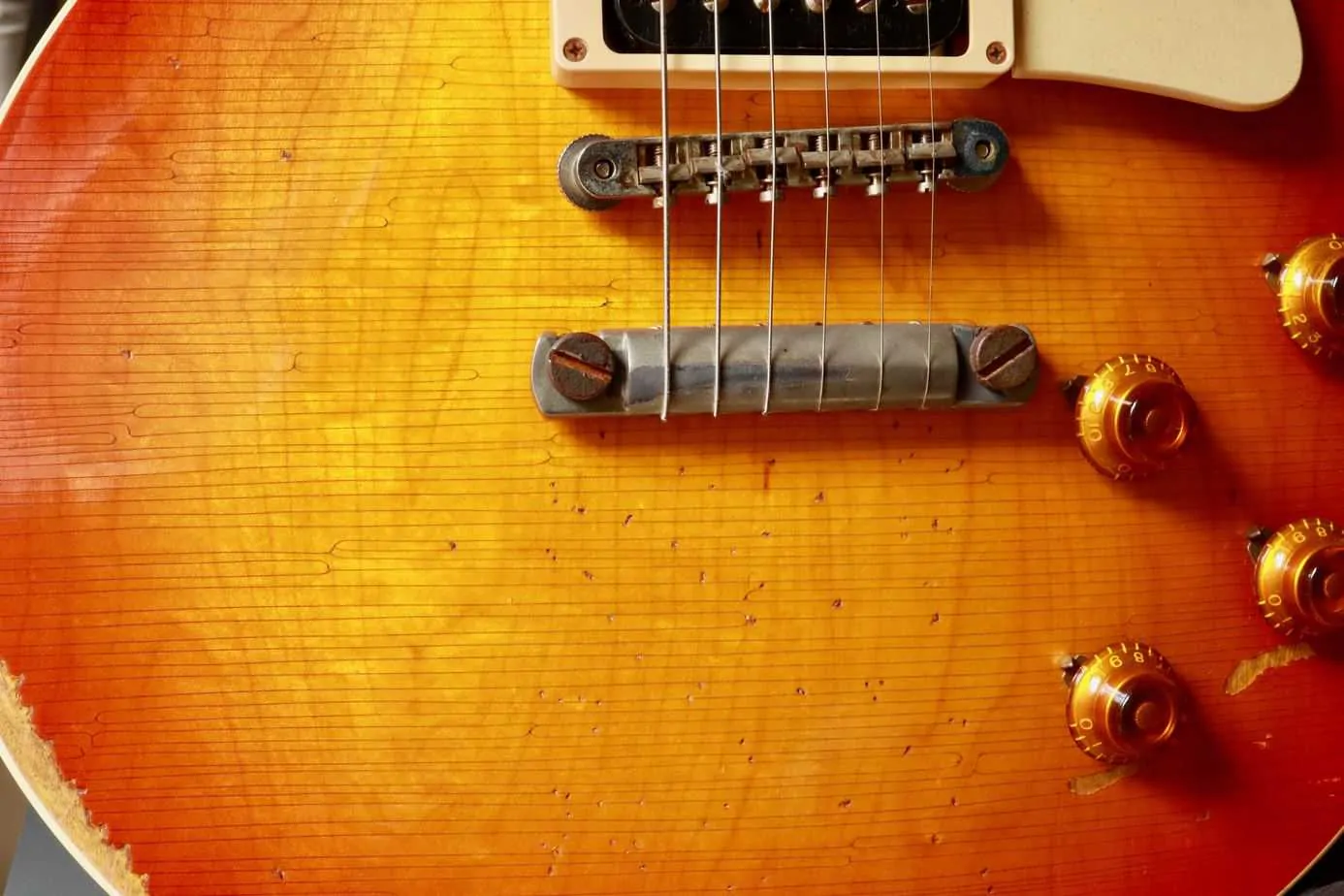 Les Pauls are based on simple hardware. This tune-o-matic style bridge is something that can easily be upgraded on Epiphone models to increase sustain and tone of the guitar for a very small cost.
Electronics
One area of guitar building that is often attributed to having the biggest impact on tone is the electronics. Les Paul guitars have a range of components installed. 2 humbucker pickups, a three way toggle switch to select between the pickups and each pickup also has its own volume and tone knob each with their own capacitor.
The volume and tone pots in the Epiphone will be unbranded pots and the Gibson will contain some high end pots such as CTS pots. The advantage of a better quality pot is that it imparts less resistance on the signal. Many players report that lower priced guitars can sound muffled or not as bright as their US counterparts.
The same can be said for capacitors, the Gibson will be fitted with a set of Orange Drops which are considered the standard when it comes to chasing tone. The Epiphone will once again have some lower priced, unbranded capacitor fitted but many players mod this themselves as a capacitor costs very little.
Pickups can make a huge difference when it comes to improving the tone of a guitar. The Gibson Les Paul comes with their Burstbucker set. The Burstbuckers have been a mainstay on Gibson guitars for a long time and they are a modern recreation of their famous PAF pickups from the glory days of guitar tone.
Epiphone have tried to capture the same vibe with their Alnico Classic pickups. The Alnico Classics are vintage voiced humbuckers made with Alnico V magnets for added clarity, slightly higher output than your standard vintage pickup and a slight bump in the mids and highs.
Extras
Gibson always include a hard shell case with their premium models which includes the Les Paul Standard. This is reflected in the price. Epiphone do not provide a case of any kind with their models, but many aftermarket cases are available to protect your precious Les Paul should you wish to take it out on the road.
The addition of a case would be a nice touch, however this would almost certainly hike the price up easily by $100-200. Epiphone, via their network of distributors, sell official hard cases for each specific Epiphone model along with the huge range of other brands that offer the same type of cases.
With the Gibson Les Paul you also get an accessories pack included which contains a truss rod adjustment tool and some cleaning materials. The Epiphone Les Paul only contains the truss rod adjustment tool.
Notable Players
The Les Paul players list reads like a who's who of rock royalty. You don't have to look far to find a big name with a Les Paul swinging around their neck. Here are some players who live and breathe the Les Paul.
Slash
Guns N Roses, Velvet Revolver, Slash's Snakepit and his own solo career, it's not hard to notice how many big bands Slash has played with. If you look into the tones of any of his previous bands you will see two constants. A Marshall Amp and a Gibson Les Paul.
There is not a guitar player in the world who looks cooler than Slash strutting his stuff with his tophat and his low slung Les Paul as he delivers lick after dangerous lick.
Jimmy Page
The Les Paul was a huge factor in Jimmy Page crafting a more rock orientated sound on all the Led Zeppelin classics such as Whole Lotta Love, Heartbreaker, Black Dog and Since I've Been Loving You. The Les Paul for Page is the ultimate mixture of light and shade and he uses both pickups set at different volumes on his 1959 Les Paul to create clean and overdriven sounds by manipulating the volume controls.
If you watch any live show, Page is often seen swinging a Les Paul around as he rocks out.
Jared James Nichols
Jared is a new player who will be the saviour of blues. He has recently worked with Epiphone to bring out his signature model based on his favourite vintage "Blues Power" Les Paul. Jared's Epiphone signature model is the same one he uses on tour night after night which is a testament to its durability. 
It is slightly different to a standard Les Paul as it contains a single P90 pickup, one volume and tone and a wrap around style bridge but it still punches well above its price class and sounds full of all the Les Paul attitude you've come to expect.
Summary
After we've compared these  two guitars side by side, have we come up with differences that justify the additional financial outlay? I don't believe so. If you have the ability to afford a Gibson Les Paul. then go for it. If you want that Les Paul sound but your budget is limited then don't beat yourself up. The Epiphone version will serve you just fine.
One major complaint about the Epiphone model is the pickups and electronics. You could consider buying an Epiphone and spending an additional $100 on a good set of pickups. This will step the guitars tone up. You could also add other modifications such as hardware upgrades and electronic upgrades.
Personally, I have gigged and toured with Epiphone Les Pauls myself for years and never found any issues. In 2019 many big name guitar players are singing the praises of Epiphone on the road with their signature Les Pauls such as Trivium's Matt Heafy and blues maestro Jared James Nichols.
Try them both out and decide for yourself. If it feels good, enjoy it.