You've bought a guitar and now you are tasked with buying all the miscellaneous items and accessories that go with it. Many of these aren't actually needed and are more a way for retailers to make a quick buck. But, among the selection of guitar accessories available, gig bags and cases are undoubtedly the most important for the simple fact that they protect your guitar from damage when it isn't being played.
You would be surprised to hear how many first time guitar owners omit to buy a suitable bag only to find their prized purchase either scratched, chipped or worse. We would go so far as to recommend buying a bag or case at the same time as the guitar. Many retailers often provide guitar-bag deals for this purpose.
Not only do cases protect from physical damage, they are the best way to store a guitar and limit the amount of dust and dirt build up on the instrument. This type of debris can be hard to remove if, for example, it lodges in the crevices between a pickup and the body. In essence, a case can extend the lifespan of a guitar by many years.
As with any guitar accessory, there are two many options to count and we all let out a communal exasperated sigh when it comes to choosing one. With this guide we hope to ease things along with a few things to watch out for and to ensure you are getting the best bag or case for your money. Then, we will provide a list of the very best models that caught our attention for their cost effectiveness and overall quality.
Types of Guitar Cases
There exists multiple types of cases and bags for guitar. These cater for different requirements that vary from the size of the guitar to how and how far it will be transported. There is an even a dedicated sector of the market that builds cases specifically designed to withstand the challenges of air travel.
Though, in general there are two overwhelmingly popular options that we will detail below. These should suit the majority of guitarists and prove more than adequate for everyday needs.
Gig Bags
Here we have a soft shell bag made of a thick layer of textured polyester. They weigh very little and are space conscious as they take on the shape of the guitar itself. They are generally the lowest priced option and provide the least amount of protection in relation to hard cases, detailed below. Portability is also a consideration here with many gig bags designed to be transported with ease thanks to straps that sit nicely over the shoulders or handles for one-handed carrying. These need to be robust as no guitarist once to hear the upsetting thump of a guitar hitting the floor when a badly crafted handle breaks.
Gig bags are built with layers of padding that vary in width depending on the manufacturer. The quality of the stitching and materials used to pad out a gig bag have a big impact on overall reliability so look for these when trying to determine if a bag is worth your money or not.
Some are also made with water-resistant materials, a real bonus if you happen to be caught in a downpour on your way to band practice. Another point to look out for is storage space. A large pocket on the front is a great place to store cables or sheet music, avoiding the need to have another bag to carry other accessories.
These are recommended for guitarist that travel short distances or want a home storage solution that won't break the bank. That being said, there is a wide discrepancy in quality with some lower tier models not offering much protection between your instrument and the perils of the outside world. We recommend staying well clear of very cheap models that seem too good to be true.
Cases
On the other side of the spectrum are cases made of a hard exterior of either wood, durable plastic, fiberglass or other high quality materials. These are generally much more resilient than soft cases and provide a thick layer of protection from damage at a cost to weight and portability.
The inside is lined with some form of protective padding and it is possible to find models with straps to secure the guitar or extra lining around particularly vulnerable parts like the headstock and neck. Certain models also offer a kind of in-build cavity surrounded by protective material inside which the guitar sits snugly and safely.
They are generally heavier and are often rectangular shaped, taking up more space than a gig bag. In addition, they usually only come equipped with only one handle, making them unwieldy to transport. Inside storage space is often available though due to the size constraints isn't usually very generous.
Hard cases are a reliable option, but it is important to get one that fits the shape of your guitar. If there is too much room inside, the guitar moves around and gets damaged. We recommend cases for gigging musicians who need something sturdy and reliable that can handle being stowed in the back of a van for long journeys, though they are sometimes used in odd ways.
What to Look Out For?
Here are a few points that should help you determine how good a bag or case is. Remember to check these before purchasing as they are sure fire signs of quality.
Sturdiness and Build Quality
Does the case feel sturdy? You are entrusting it to protect your instrument and it needs to be able to do its job well. You can often make a split second judgment on how it feels by picking up a case, notably when it comes to sub par products that simply feel badly made and unreliable.
If the bag is flimsy and blows away with slightest draft, then stay well clear. If a case tends to bend when pressure is applied, then avoid it like the plague as it won't handle any kind of weight that will invariably be applied within the context of travel and a gig setting. The same goes for straps and handles. Look for strong stitching and bolt on options. If you are going to be holding it for long stretches of time, then some sort of rubber layer on the straps to protect your hands from blisters and shoulders from chaffing.
Materials
In the same vain, check how thick the layered materials are, especially if you are considering a gig bag. A chunkier bag that offers a soft interior with rubber pads on the exterior usually means business. The same applies for a hard case, but instead look at the material on the inside. If it is plush and abundant, then you are on to a winner. If you can feel the hard contour of the plastic casing then there is little to protect the guitar from banging around once it is sitting inside the case.
Storage Options
Look for models with storage options. You will thank us later. Guitarists require many accessories to ply their trade and anything that makes their transport that much more straightforward is a positive. We are talking pockets near the part that covers the body and possibly a longer, narrower pocket along the neck for cables, or for cases interior compartments.
Security, Locks and Latches
Most guitarists would never leave their prized instrument unattended, yet some circumstances require it. As such, it is important to find a case that offers a reliable and shock proof latch system. Many models now come with full locking mechanism and keys for not much more in terms of price. This small price is worth the investment for the added benefit of extra security.
Best Acoustic Guitar Gig Bag
First up, is the Gator Transit Acoustic Guitar Gig Bag. The advantages that drew us to this particular model were the 20 mm fleece lined foam padding on the interior of the bag and the three removable padded parts specially designed to protect the body, neck and headstock.
These two factors combined mean the guitar fits nicely inside and is well protected before we've even considered the exterior, which is a waterproof fabric with rubberized parts, notably on the bottom side of the bag. This helps avoid damage when the guitar is put down.
The bag is suited for the fairly ubiquitous dreadnought shape, though with the removable pads you can fit different shapes quite easily. We also liked the fact that the bag uses a strong, durable zip to close. It also has a large front pocket with multiple subdivisions with buckles through which seatbelt straps can be fed to secure the contents to the bag more securely. There's also a non obstructive cable pocket along the neck.
To round things off, the padded and lined handle and backpack-style straps are comfortable and durable so no fear of the bag dropping out of your hands at any point. The tan colour looks classy and adds to the professional allure of the Transit.
Overall, we are impressed with what is on offer here and for the reasonable price tag, we are convinced by the Gator Transit's ability to keep an acoustic guitar nice and safe.
We also want to mention the Ibanez IAB541MGN Powerpad as another worthy option within the acoustic gig bag category. It sports a 15 mm padded cushion on both the bottom and sides of the bag for maximum protection. We also have a four in one pocket solution on the front with loads of space to store guitar accessories. There's also enough room to safely store valuables such as a laptop if required. The neck also has a convenient cable pocket.
Inside we appreciated the neck strap to ensure the guitar stays immobilized to avoid damage. The heavy-duty zips are a nice touch that adds reassurance. We were also impressed with the quality of the padded straps and handles that are sown directly into the bag itself for ultimate hold.
Overall the Powerpad is a stylish looking bag with a variety of colors on offer, each rather attractive and very different from the standard, dull black color of most gig bags on the market. Our acoustic felt secure and well protected thanks to a snug fit. All in all, a gig bag that brings peace of mind while travelling.
Best Electric Guitar Gig Bag
Top of our list among the best electric guitar gig bags was once again a Gator product, the Gator G-PG Electric Pro Go. Inside we were thoroughly impressed with the thick micro-fleece padding system with extra thick sidewalls which ooze protectiveness. Coupled with this is a shock absorbing body block padded cushion that slides under the end of the guitar at the bottom of the gig bag to protect it from damage when it is put down or accidentally dropped.
There is also a well-designed neck cradle, also acting as a body block. The neck is fed through the cradle then the cradle is pushed securely into the interior to hold the guitar in place. This means it won't slide up and down or shake about. A novel solution that we were taken with.
Above the pickups the plush lining was replaced with a rubber cover to prevent fluff and debris getting caught. A nice detail that many guitarists will appreciate.
On the outside, we have rubber feet at the bottom of the bag to protect it when it is standing up. The adjustable straps and handles are padded for comfort and well stitched for durability. We like the mountaineering-style clasp that attaches the straps to the bag, making them not only removable, but very secure. Gator have also thrown in a waterproof cover that sits nicely over the outside of the bag in case of inclement weather.
The Pro Go can accommodate a number of guitar shapes including classics like a Telecaster, Stratocaster, Ibanez SR, Les Paul and SG. The body block and neck cradle are extremely versatile in this sense and permuting them allows most bodies to fit well.
Pocket wise we have a large lower pocket with multiple compartments that can store accessories as well as valuables and a large cable pocket along the neck, as well as a concealed midway-up pocket with space for a wallet or documents. The bag comes with strong zips throughout.
Overall, we like the Pro Go for the attention to detail, the number of adjustable and protective features. We honestly can't find a scenario where a guitar ends up damaged if it is safely housed in the Pro Go and adequate precautions are taken.
Best Bass Guitar Gig Bag
Among the best bass guitar gig bags, we gravitated towards the sister model to the Ibanez acoustic Powerpad, the Ibanez IBB541BE. Essentially, the same features adjusted to accommodate a bass guitar including the durable padding on the bottom and sides of the bag, as well as the multiple pockets and the strap that secures the neck of the bass on the inside.
We were enticed for the sames reason as the acoustic model and recommend this as a strong contender for one the most durable and reliable bass guitar bags.
The Fender FB620 also stood out as a worthy alternative to the Powerpad and with good reason. Not only does it carry the reliability of the Fender name, it offers a sleek, unassuming set of features that make it a robust option.
We have a 20mm padded bumper that covers the entire surface of the bag with a polyester outer layer for added protection. The inside is velour lined so as to limit scratch damage to the bass' finish with non-abrasive lining on the headstock and pickups to avoid picking up unwanted strands of velour on these core components. There is a cushioned neck cradle rest to secure the bass to the bag while moving. In terms of shape, the FB620 can accommodate the overwhelming majority of body types.
The adjustable ergonomic backpack-style straps are extremely padded for comfort and come with an air mesh pad where your back meets the bag for maximizes airflow, ideal for when your bass is on your back for long stints. The thick grab handle is recessed so that when in use the bass levels out to its natural point of equilibrium, meaning it won't rock back and forth uncomfortably as you walk.
The main pocket is roomy and comes with a padded tool pouch that is removable, a purpose built pick compartment and overall enough room for all your accessories. The card slot on the side is also a nice way to keep track of your bass if you are taking long haul public transport. The lot is sealed with Fender logo embossed heavy-duty zips.
Overall, the FB620 is humble in appearance, yet offers a variety of subtle, well-designed features and details that keep the bass protected and secure.
Best Acoustic Guitar Case
Once again, we've come up with a product by Gator, a manufacturer that truly stands out as the market leader in quality gig bags and cases. Here, we have the Gator GB Deluxe and Gator have planned ahead and offered this model in a variety of shapes to suit most body types including dreadnought, classical and jumbo shapes. Prices vary for each model.
The GB deluxe is made of durable, impact proof ABS plastic and this forms the core layer of the hard-shell exterior. The interior is made of EPS foam coupled with thick plush fur lining and has a number of interior compartments for smaller accessories and valuables. There's also a snug neck cradle that secures the guitar to the case.
The whole case is tightly held together thanks to an aluminum valance that runs around the entirety of the case and a five chrome buckle locking system that keeps the lid nicely positioned and securely shut. The buckles can also be locked and keys are provided for extra safety. The handle is robustly fixed to the case so there's no worry of it breaking off.
Overall, we liked the GB Deluxe for its no nonsense, functional design with all the required features. The case feels robust and able to sustain a lot of weight and its fair share of knocks and bangs. In the middle price range, we recommend it for travelling guitarists who need something a little more secure than a gig bag.
With a little more cash to spend, we highly recommend the Superior CF-1510W Deluxe. It is designed for dreadnought style acoustic bodies.
Made of solid arched fiberglass, the Deluxe weighs a fraction of what it should, yet provides a punch in terms of protecting your guitar. Coupled with the fiberglass exterior is a rubber seal valance that is waterproof and runs around the edge of the case to make it impenetrable, keeping humidity levels low. The bottom has two rubber feet to ensure it stays off the ground when it is not being carried. A five way latch system keeps it sealed as well.
Between the exterior and the plush velvet lined interior is a thick foam layer that absorbs shocks and knocks. There's also a convenient accessory compartment and a secure neck cradle on the inside. The leather handle is secure and comfortable. We also have a rather uncommon feature for hard cases, which is a detachable d-ring padded shoulder strap so you can also carry it on your back if your hand gets tired.
Our final say on the Deluxe is that it screams quality. The padding itself is remarkably well conceived and put together. We see this case withstanding even the harshest travel environments without any issues.
Best Electric Guitar Case
As with acoustic guitar cases, the name of the game is guitar shape and the same applies here for electric guitars. With this in mind it is difficult to assign an overall superior product for all guitars. Instead we have to focus in on the most common body types. You can buy one size fits all cases, but they tend to let the guitar move around during transit inevitably leading to damage somewhere down the line. We recommend staying clear of such models.
Here we've decided to focus on the Stratocaster/Telecaster and Les Paul shapes because these two models represent a happy medium between the parameters of the large majority of guitar shapes.
First up, we have the Fender Deluxe ABS Molded Strat/Tele Case, designed, as the name suggests, for guitars that have a similar body to the Stratocaster and Telecaster models. If we were to compare cases to vehicles, this one would be a tank.
The exterior is made of ATA military-grade molded polyethylene plastic. It is shock absorbing, impact proof and exceedingly stiff and rugged. It is an effective and potent protective layer from anything you can throw at your guitar. On the bottom hinged edge, there are four thick rubber feet to ensure it doesn't topple over when upright and to ensure the case never touches the ground should it be wet or cold.
The inside is layered with a plush interior made of the highest quality polyester and between this layer and the outer shell we have a thick guitar nest made of foam. Keeping all these parts together is a sturdy valance that runs around the edge of the case. Inside, there is an extended neck cradle that keeps a large portion of the neck in place, effectively holding down the guitar for minimum movement. There is also a generously sized pocket for accessories.
The handle is ergonomic and comfortable with a molded design. It is securely attached to the case so no risk of it breaking off. We also have a three way latch system with an inbuilt TSA vetted lock that comes with a key. The lock is a nice addition particularly if you are planning to travel by plane where you can't be too careful. The latches are large and cover the entire edge of the case and we see these as virtually impenetrable without the use of specialist tools and equipment.
It does come at a cost given the array of features, though the price shouldn't put you off. The case is essentially a well-designed and cosmetically appealing version of a heavy-duty flight case. The Deluxe represents the pinnacle of affordable hard cases and it comes highly recommended. Gator offer SG and Les Paul models if required.
Second on our list is the Gibson Les Paul Hard Case which is designed to accommodate Les Paul shaped bodies. When buying a case, it is well worth investing what is on offer from the guitar company itself because they know their instrument far better than any third party case manufacturer. They also have the advantage of knowing the weakest parts of the guitar and can craft a case with these in mind.
Here, Gibson have done just that and made a case specifically for the legendary Les Paul. It's also worth noting that they offer a fundamentally identical case for the Gibson SG that comes highly recommended as well.
The exterior is a heavy-duty hard shell covered in a layer of waterproof tolex that absorbs shocks and is very stiff. Inside, the case is lined with a thick plush and incorporates a neck cradle that perfectly handles the neck of any Les Paul. There is also a nicely sized compartment for picks and other accessories. The guitar sits perfectly with little to no wiggle room, which eliminates any fear of it shaking around and getting damaged. The interior also gives off a pleasant vanilla scent, a signature feature of Gibson cases.
The four drawback latches are heavy-duty components and once closed, the case is securely held together. They can even be locked for maximum security. There are also four metal feet on the underside to keep it upright when standing. The handle is very comfortable though at a strange angle that can make the case swing when walking with it. This is a minor inconvenience rather than a deal breaker.
Overall, Gibson offer a functional, highly durable case that fits the Les Paul to perfection.
When considering Les Paul cases, it is worth pointing out that Gator offer a great alternative to the Gibson option above. Here, we have the Gator GC-LPS Deluxe with a durable ABS plastic exterior, attached to which is a thick layer of protective EPS foam.
The interior has dense plush lining, a perfect fit neck cradle and loads of space for accessories thanks to the inbuilt compartments. To keep all these parts together, we have a thick aluminum valance that covers the entire edge of the case for a perfect seal when closed.
On the outside, we have four chrome plated latches and four metallic feet to keep it elevated when sitting on the ground. The through-bolted handle is secure and well angled to ease transportation when walking.
Overall, we have the quality synonymous with Gator products linked to a list of basic, yet well designed features that make a reliable and strong case. The GC line also offers similar cases for SG and Fender bodies, perfect for those with a different guitar to the Les Paul.
Best Bass Guitar Case
Among the best bass guitar cases, we found the Gator GC-BASS to be a great option. Similar in style to the guitar G-PG version, this one is designed to accommodate Fender bass styles (Jazz and Precision) and scale lengths.
The exterior follows the Gator style of using ABS molded plastic linked to a looping valance made of aluminum for maximum seal and security. The interior sports an EPS foam layer lined with a thick layer of plush lining to keep a bass' paint job untouched and protected. The neck cradle is narrow enough to secure smaller sizes, yet roomy enough to snugly house large neck widths.
The double interior compartments are also well positioned for maximum space efficiency and can be used to store a variety of accessories as large as effect pedals, cables and a full-length strap, negating the need for an auxiliary bag to carry these.
The through-bolt standard Gator handle adds sturdiness to the cases overall feel. The four chrome latches are equally reliable. The information card slot is also a nice addition in case of it being lost during transit.
Overall, another big hitter from Gator and one that does very well at protecting any bass. They even offer an LED equipped version for those looking for something a little flashier or need lighting on a dark stage.
We were equally impressed by the Ibanez MB300C hard shell case made of a top quality ABS plastic outer casing that seals your bass from the weather and dirt. Inside we have an uncommon soft hair red leather plush with a nice bass mold cutout that will fit any SR and Ibanez style bass very well without any wiggle room.
There are three compartments for storage that seal completely when the case is closed, with one even lengthened for stacking effect pedals or a metronome and another for cables.
The four way push down TSA approved latches are sturdy and easy to use. The key also allows you to lock the case if needed. The case is notably light for the size and won't tire your arm too quickly. The bolted-on leather handle helps reduce strain as well. The double rubber feet are also great when the case is standing up and will keep it upright regardless of surface. The elevation also wards off any lingering moisture from the ground.
Overall, we were dazzled by the MB300C and more specifically how well an SR or Ibanez bass fits. There's much to be said for manufacturers that make their own cases. This is one of the main reasons we stay well clear of supposedly universal cases with their odd shaped jigsaw selection of foam pieces. You end up playing Tetris with these as you attempt to arrange them around the shape of your bass. You are simply much better off getting a shape specific case,
Our final choice in the best bass guitar case category is the SKB Electric Bass Rectangular Case. SKB is a company that exclusively deals in instrument cases and with this specialization comes a degree of knowhow that many multi-product competitors can't quite match. The Rectangular Case offers exactly this with an eye-popping selection of features as well as a lifetime warranty to boot.
Designed for the majority of Precision and Jazz style basses, it comes equipped with a high quality molded ABS plastic shell exterior with a bumper equipped valance that runs around the contour of the case, as well as molded rubber feet for maximum protection. The case can handle knocks and impacts well thanks to this setup.
The four latch fiberglass reinforced trigger release locking mechanism is TSA recognized for added reassurance. There is also a cushioned and molded handle crafted with comfort in mind.
Inside we have an EPS foam fitted casing with a plush lining throughout. The neck cradle is full-length for added stability and incorporates two accessory compartments large enough to store most, if not all your items and valuables. The bass sits snugly inside and feels well supported on all sides.
Overall, we liked the SKB Rectangular Case for the added protective details such as the bumpers on the valance and the ultra-secure locking system. It has to be said that it is more expensive than many alternatives, yet it is worthy of the price because of the protective assurances it offers.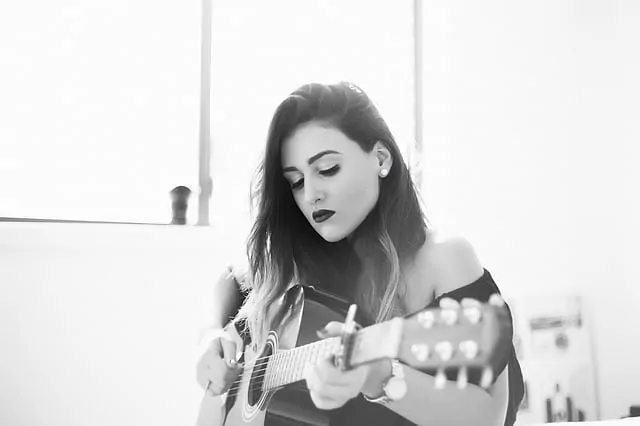 Jen is a guitarist and singer-songwriter who spends much of her time on the road and has lived in 13 cities across 4 continents. She picked up her first guitar at the age of 6 and learned to play by ear shortly after. She received her formal music education at the Berklee College of Music, and currently plays for a few bands in her free time. She has an uncanny ability to improvise creative melodies and harmonies. Her early influences include blues, jazz and rock.