If you're into DIY projects and a guitarist, building your own acoustic guitar can be a great experience. It also gives you the option of fully customizing your guitar from the color and finish, down to all the hardware. But sourcing and cutting and sanding the wood adds a lot of time and extra effort onto the process.
Instead, purchase an acoustic guitar kit. This way you get the parts precut, and even sanded. There are kits where the sides are pre-bent. These kits usually also include all the hardware too. But of course, it's up to you what you use out of the kit. For those wanting an easier foray into guitar building, there are kits where the body is put together along with all the bracing and plates, and the neck already has the fretboard and frets done. And all you have to do is put the two together. Any staining and lacquer is up to you too.
Either way, you save a lot of time, but you're still able to customize as necessary. Plus, depending on your preferences, you may even save a little money.
Choosing a DIY Acoustic Guitar Kit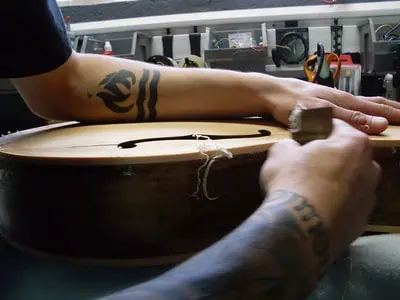 Ben scraping binding by Roadside Guitars / CC BY-SA 2.0
Guitars have many different parts and kits come with different tonewoods, different levels of construction, and different types of hardware. Naturally, if this is your first attempt, going for a budget kit is best. Building your own guitar will be a learning curve, and it takes a lot of time. It would be a shame to spend a lot of money, and then have a guitar that comes out scratched or just not sounding as good as it can.
But remember, you can spend a few hundred dollars on a kit. And if you build it correctly, it can sound like a guitar valued in the thousands.
Wood
The type of tonewood matters when it comes to acoustic guitars. Wood actually has a big influence on the way an acoustic guitar sounds. Do you want a dark, rich tone? Then go for mahogany. Would you prefer a brighter tone? Then try hard ash. Want something that's more consistent with a simpler tone? Go for spruce. Want something that's cheap and will get you by with minimal lows, and okay highs and mids? Go for basswood.
Laminate wood, which is layers of wood tightly stuck together, brings down the cost, but you'll get better tone with at least a solid wood top if not a completely solid wood body. Just make sure you learn to care for the wood properly and which environment suits it best.
Instrument Grade Wood Explained
Wood used to make instruments is chosen and cut differently to wood used for furniture, for example. Tonewoods are quatersawn which means that the wood has been cut through the center of the log. It's not as ergonomic, since that means you get less wood, but it's perfect for instruments. The wood is quite thin and dried for several years before being used to construct an instrument. You may notice ratings next to the type of wood. This rating indicates the quality and look of the wood. This is what they mean:
AAA-plus: This is, so to say, perfect wood. The grain is tight and straight, and the wood is uniform in color. There is also no run-out (this is when the board is cut at an angle in relation to the grain direction and the grain does not extend beyond the board's edge. This diminishes the tonal quality of the wood).
AAA: This is a step below AAA-plus. It's almost perfect, so to speak. It will still have a tight, mostly straight grain, and is mostly uniform in color. There is also little to no run-out.
AA: At this point, the grain starts widening, there is a little more color variation, and a little more run-out. This is still considered good quality wood and is used in many instrument factories.
A: As you may have guessed, the grain is even wider and the color even more varied, and there is more run-out. This is considered lesser quality, and you'll likely find cheaper instruments made out of this wood grade.
Below A: Here we are, at the bottom of the proverbial barrel. It's not just the look of the wood affected here, but the tone of the wood. Good for a beginner project, but I would recommend at least AA for a guitar you mean to play for years to come.
Hardware and Strings
Cheaper DIY kits will usually have poorer quality tuning machines and strings. The problem with this is that they can suck at keeping your guitar in tune, and cheaper strings can sound tinny. This is the area where you may choose to purchase these items outside of the kit. If you're happy with those provided, then by all means, stick with them. But just be aware that these may need to be upgraded.
In terms of strings, you can also get steel string or nylon string acoustic guitar kits.
Additional Fittings
Things like the nut and saddle may be either plastic, wood, metal, or even bone. It's up to you which you would prefer. Take into account the overall look, how long you want it to last, and in the case of whether to choose bone or not, obviously, this may pose an ethical issue for you.
In terms of the saddle, the type you get will also depend on whether you choose a kit with nylon or steel strings as these are strung differently.
Tools
Most kits will include at least an Allen wrench. But some may include screwdrivers, truss rod wrench, string or wire cutters, and pliers. Some may even include a work mat to minimize damage like scratches to the guitar. If you decide you're going to keep building guitars as a hobby, I'd recommend getting good quality tools that will serve these purposes, even if your kit includes them.
Here's a list of what you'll need:
An Allen wrench in the appropriate size (you can find sets with multiple sizes)
Screwdriver (again, check the size)
String cutter or wire cutter (for convenience and clean cuts)
Pliers (check size)
Ruler (with measurements in millimeters for precision)
Clamps
Nice to haves:
Truss rod wrench (an Allen wrench can do it, but a truss rod wrench makes it that much easier)
String winder (unnecessary if you don't mind winding the strings, but very convenient and something you'll use at least once a year if you play regularly)
Check out this musician's tool kit by Ernie Ball:
Instructions
Better quality kits will include instructions in some form or another. They may be in a booklet or page with diagrams, simply written instructions, or with the more expensive kits, even a DVD. Of course, you can find tutorials on YouTube, some will even be by the manufacturers themselves. So if you get a kit without instructions, this isn't necessarily a train smash, although I would question the quality of this kind of kit.
Things You May Need to Get Separately
Most, if not all kits, don't supply any finishing products, for example. Here are the things that you will likely have to purchase separately:
Tools
Strings
Glue
Sandpaper
Safety equipment (mask, gloves)
Painters tape
Finish (stain, solid color, glossy, satin)
Polish
Cloths
The Pros and Cons of Building Your Own Acoustic Guitar

130202-Neck Fit-1 by Roberto Cipriano / CC BY 2.0
Before you take the leap, it's best to understand what you're getting yourself into and why. This list of pros and cons can help with that.
The Pros
Customization: It's your guitar. You choose the tonewood, the hardware, the overall look. As long as you have the skill and money to do it, you can make your guitar completely personal.
Saving money: Guitar kits can be more affordable than the more expensive pre-made guitars out there. It just depends on what you choose.
Learning skills: If you enjoy learning things, and especially about guitars, building your own guitar will have you learning a lot.
Hobby/Crafting: If you're looking for a new hobby and are into DIY projects or crafts, this may be right up your alley.
The Cons
Time: This isn't going to be quick. And especially if you work or study and have commitments like family or volunteering, et cetera, it can take a while. Add to that the learning curve. If you aren't a patient person, you may be better off purchasing a pre-made guitar instead.
Effort: This isn't a project for the lazy or people who won't take the time to pay attention to detail. If you get sloppy, doing half measures, you're going to end up with a subpar end product. If you find that the painstaking work required becomes too much, you're likely never going to finish. A sad prospect indeed.
Cost: Yes, I said you can save money. But there are costs like buying tools, glue, lacquer, and making sure you have the right space to work in. Some kits are expensive. There is also the question of what happens if you make mistakes that make the guitar unplayable or end up with ugly scratches and dents. Purchasing another kit costs. Plus, if you enjoy it so much that this becomes a hobby, all those kits add up. Still, in case of the former, I'd say it's worth it.
Learning: As mentioned, you may end up making mistakes. That's just how us humans learn. Some you can correct, and some you can't. But if you have no woodworking experience, you can expect that you may make more than those who do woodwork. An instrument is a whole different ball game though and requires delicate work. That can make it challenging even for some woodworkers.
The Best DIY Acoustic Guitar Kits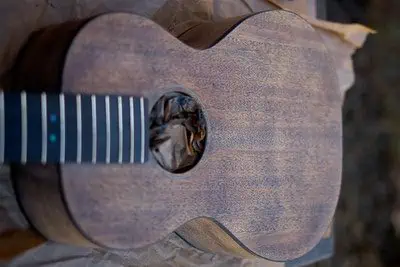 130227-Pore_Fill-1 by Roberto Cipriano / CC BY 2.0
If you've decided that the time, effort, and cost is well worth it, here are my recommendations for an acoustic guitar kit to suit your preferences and budget.
Stew Mac Dreadnought Guitar Kit
This is one of the most popular kits out there. You have quite a few options when it comes to which type of wood you use. The combinations include sitka, mahogany, Indian rosewood, torrified wood. This kit includes the following:
AAA top (sitka spruce or torrefied wood-spruce)
Accurately bent sides (rosewood or mahogany)
Mahogany neck (dovetail or bolt-on)
Slotted ebony fretboard
Truss rod
Bracing
Fretwire
Bridge and end pins
Bone saddle and nut
Binding
Instructional DVD
This is just the short list, parts-wise, you will have everything you need, except for strings. That's only inconvenient if you want your kit to include the strings. While it doesn't include any tools, the kit includes a list of the tools you'll need, too. People say this guitar has a rich tone and is especially good for blue grass, folk, and fingerstyle guitar.
Pros
You get all the parts you need to build your guitar
Very good quality
The kits allow choice in terms of tonewood
The DVD and booklet is very helpful
You even get a cardboard guitar cutout to guide you
Rich tone
Cons
This kit isn't for you if you're on a tight budget
Doesn't include the necessary tools
Get it from Stew Mac here.
Solo APK-10 DIY Acoustic Parlor Guitar Kit
So this kit is good if you just want to dip your toe into the waters of DIY. The body is already put together, and the neck has all the frets put in. The truss rod you'll need to do. But it's up to you to connect the two. You'll also need to install the bridge, saddle, bridge pins, and the nut. The finish and any staining are up to you. Best of all, it's one of the more affordable offerings out there. The kit includes:
Fully assembled body (laminated spruce top, mahogany back and sides)
The neck (fully fretted, black walnut fretboard)
Truss rod
Tuning machines with all the necessary fittings
Bridge and bridge pins
Strings
As you see, you will need to purchase your own tools separately. But if you're looking for a kit that includes strings, here you go. To my knowledge, there isn't a manual included, but you can find the manual and helpful videos on the Solo Music Gear site. People say this guitar has a bright sound that is surprisingly full for a parlor guitar.
Pros
Saves time (the body and neck are already pre-assembled)
Affordable
Includes all the parts you need, including strings
Beautiful bright tone
Building manuals and videos are available on the Solo Music Gear site
Cons
This is lower, but acceptable quality
Doesn't include the necessary tools
Get it here at Solo Music Gear.
Solo ACK-10 DIY Classical Guitar Kit
While classical guitars are usually referred to as their own category, they are, technically speaking, acoustic guitars. This is like the aforementioned Solo APK-10 kit. A lot of the work is done for you. Like the APK-10, you get a laminated spruce top, the machine heads and screws, the bridge and pins, etc. Pretty much the same. The body is put together with the bracing and the neck is fully fretted. Classical guitars don't have truss rods, so that's why there isn't one included. Here are the few differences:
The back and sides are agathis
The neck is nayto
19 frets instead of 20 (the neck is still a full scale neck)
You will need to install the rosette
The strings are, of course, nylon
Pros
Saves time (the body and neck are already pre-assembled)
Affordable
Includes all the parts you need, including strings
Beautiful deep, rich tone
Building manuals and videos are available on the Solo Music Gear site
Cons
This is lower, but acceptable quality
Doesn't include the necessary tools
Get it here from Solo Music Gear.
Luthiers Mercantile International (LMI) Classical Guitar Kit
If you want absolute control over customizing your build and money isn't a problem, use the LMI Kit Wizard to put together your own kit. Choose between a fully customizable classical kit, or to do the Robert O'Brien course kit, which is slightly less customizable, but best for those who would like to do an actual guitar building course.
You choose the tonewood, tuning machines, rosette, bridge, etc. You are in control of the scale length and number of frets too. They have a range of options, so you can build a guitar you love. There are a range of optional things you can take or leave. You also have the option of having your sides bent, the binding bent (if you choose to have binding), and having the back, sides, and top joined. You even get to choose to have a DVD or not, and there are a few different DVDs on building a guitar and doing the finish.
I won't list what the kit includes, because you are required to select all the basic necessary items. It's up to you to have any extras. By extras, I mean those things that are cosmetic. You can also choose whether to take hardware like the tuning machines.
Pros
Full customization (KWCLASSICAL guitar kit)
You get to build your own kit
Optional instructional DVDs
You can choose to have the sides and binding bent
Robert O'Brien Guitar Building Course kits available
Cons
Not for those on a tight budget
Doesn't include the necessary tools
Build your own classical guitar kit at LMI.
Luthiers Mercantile International (LMI) Steel String Guitar Kit
As with the classical guitar kit, you can use the LMI Kit Wizard to put together a fully customized steel string guitar kit. Choose from the following guitars:
Dreadnought (KWDREAD and Robert O'Brien kits)
Orchestral (KWOM and Robert O'Brien kits)
Auditorium (KWOM)
Parlor
Choose whether to do the course or put together a fully customizable kit with one of the KW kits. There are optional extras, and you can choose whether to have a full or cutaway guitar shape.
Pros
Full customization (KWDREAD, KWOM, and KWPARLOR guitar kits)
You get to build your own kit
Optional instructional DVDs
You can choose to have the sides and binding bent
Robert O'Brien Guitar Building Course kits available
Cons
Not for those on a tight budget
Doesn't include the necessary tools
Build your own steel string guitar kit at LMI.
LMI Discounted Ready to Ship Guitar DIY Kits
If you like what the finished product will look like and save $100 or more, check out these kits. Choose between the dreadnought or orchestral guitar kit. You don't have the choices that you do with the Kit Wizard options, but you'll get a beautiful and decent guitar that sounds great (provided you build it right, of course). This kit doesn't come with strings. Here is some of what you can expect in these kits:
Indian rosewood back and sides (sides bent and back joined)
AA spruce top with herringbone rosette inlaid
Honduran mahogany pre-carved long scale neck
Rosewood fretboard
Dots
Binding
Bridge and bridge pins
Bracing (shaped and cut)
Robert O'Brien teaching DVD
Pros
You get more for less
Fully complete set
Good quality materials
Cons
Not for people on a tight budget
Doesn't include the necessary tools
Get it here at LMI.
Martin East Indian Rosewood Dreadnought Kit
Many have wanted to own a Martin. But given that these guitars will set you back a few grand, not everyone can afford one. This kit will give you a Martin with that classic Martin sound for a few hundred dollars. Although the sides are bent and the back halves and front are cut already, you will still be doing a lot of the work yourself. For example, the top has a routed rosette channel, but it's up to you to insert the rosette. Here's some of what's included in the kit:
East Indian rosewood back and sides
Solid spruce top
Richlite™ fretboard and bridge
Bracing
Dots
Binding
Zigzag back strip
Pros
Build your own Martin for much less
Clear, crisp, full sound
Cons
Not for those on a tight budget
The wood is B-grade (despite that, the quality seems higher)
Doesn't include the necessary tools
Get it here from Martin & Co.
Martin East Indian Rosewood OM- Auditorium Kit
This is the same kit as the dreadnought, but for an auditorium guitar. Where it differs is that it has a mosaic back strip and pearl rosette. There may also be more binding for more aesthetic contrast.
Pros
Build your own Martin for much less
Balanced, warm sound
Cons
Not for those on a tight budget
The wood is B-grade (despite that, the quality seems higher)
Get it here at Martin & Co.
Conclusion
Building your own acoustic guitar takes patience and time, but ultimately, it's a rewarding and fun experience. While there are fewer low-priced acoustic guitar kits than electric guitar kits, it's well worth the investment considering the price of the higher end acoustic guitars. If you want something easier to start with, that is more budget friendly, and still sounds good when complete, I'd recommend starting with one of the Solo kits. Once you feel more confident, and have saved up some cash, try your hand at one of the better quality kits.
Enjoy the experience, and remember, it's a learning curve. Mistakes are bound to happen. But if you're willing to learn and put in the time, you'll end up with your own acoustic guitar. One that you built! And those aesthetic boo-boos, well, they add character. Enjoy your unique guitar.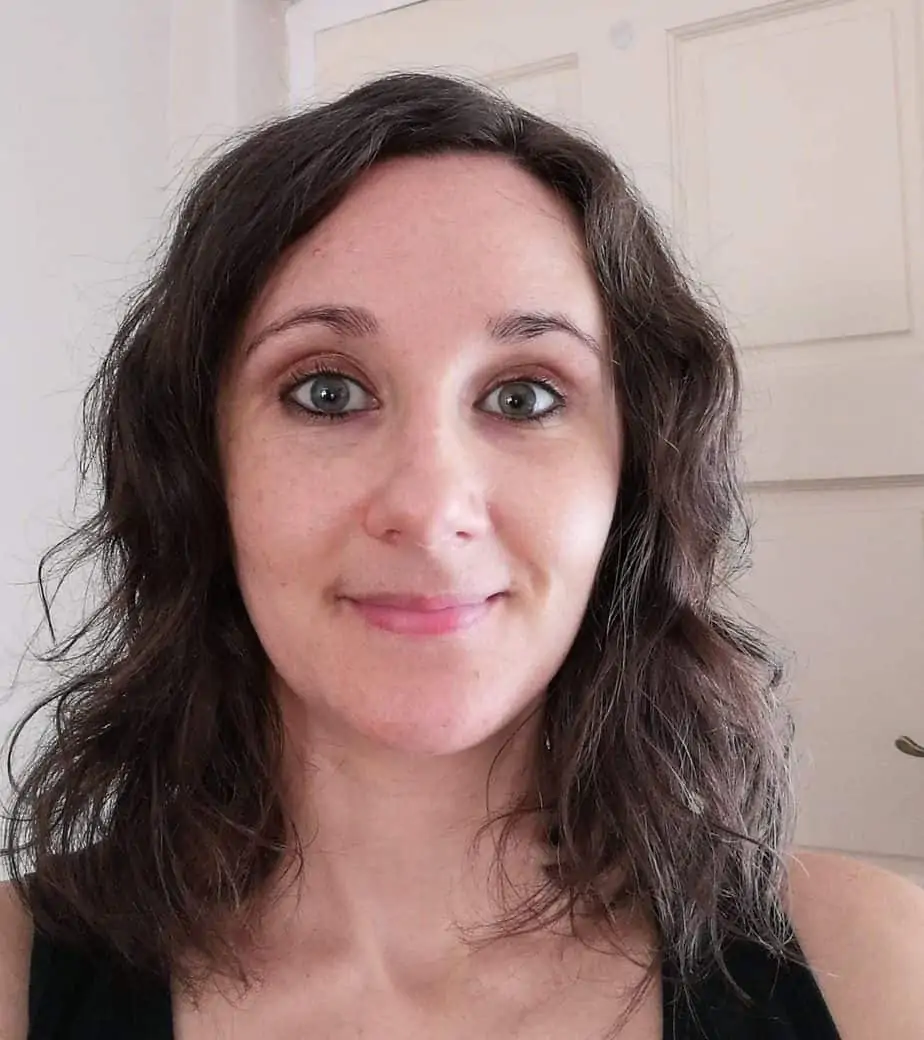 Cheanné Lombard lives in the home of one of the new Seven World Wonders, Cape Town, South Africa. She can't go a day without listening to or making music.
Her love of music started when her grandparents gave her a guitar. It was a smaller version of the full-sized guitars fit for her little hands. Later came a keyboard and a few years after that, a beautiful dreadnought guitar and a violin too. While she is self-taught when it comes to the guitar, she had piano lessons as a child and is now taking violin lessons as an adult.
She has been playing guitar for over 15 years and enjoys a good jam session with her husband, also an avid guitarist. In fact, the way he played those jazzy, bluesy numbers that kindled the fire in her punk rock heart. Now she explores a variety of genres and plays in the church worship group too and with whoever else is up for a jam session.