Japanese guitar maker ESP is one of the biggest names in Asia. Their guitars are generally pricey to export to the rest of the world, though. As a result, ESP is not quite as big in America, but affordable models like the ESP LTD EC-256 have certainly made a dent in the industry.
The LTD line focuses on affordable guitars, mostly following the Les Paul blueprints. It works a modified Les Paul, then, as ESP builds it for metal genres specifically.
Naturally, the ESP LTD looks mean, sounds mean, and feels fast. Take all of that into consideration and add a humble price tag for a friendly first-timer for metal fans.
That said, ESP hasn't built a reputation for their original models, although they have a custom shop store in California, United States. Other than Les Paul copies, they also produce "SuperStrats."
By that, I mean the original ideas the late Eddie Van Halen had for a rock guitar, which was using a Stratocaster with humbuckers plus a Floyd rose. There's more info on our types of electric guitars guide.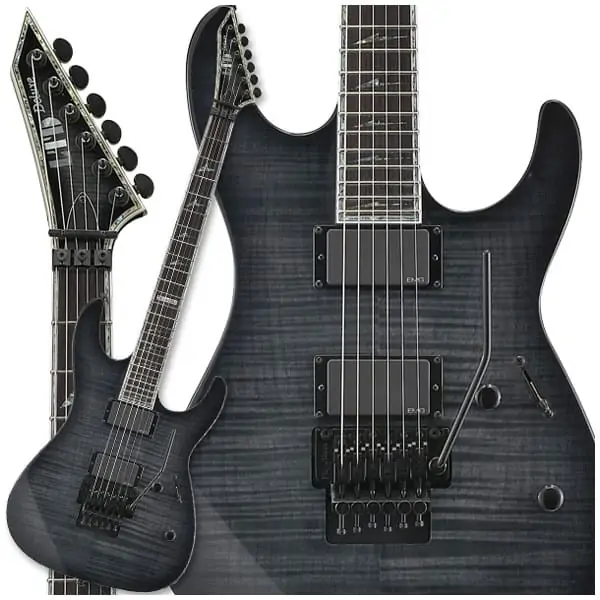 "Esp LTD M-1000" by ESPltdm1000 / CC BY-SA 3.0 ESP guitars are made for metal, progressive rock, and similar genres.
We already reviewed one of the top models of the ESp LTD EC line, which is the Deluxe 1000 model. If the "Deluxe" implies something to you, it's probably right. It's a premium metal guitar with an amazing array of playability and sound features for professional players.
Other resources you could check is our list of best metal guitars, as well as the best guitars for each genre.
ESP LTD EC-256 Electric Guitar Review
The ESP company started as a small luthier shop in Japan in 1975. Back then, the full name was Electric Sound Products.
ESP Company LTD is a Japanese brand that has started from humble beginnings, with just one shop in 1975 when it was known as Electric Sound Products.
Nowadays, they've seen plenty of success for their valuable guitars. More than that, they've become one of the top contenders in the metal music industry, with bands as Slayer, Anthrax, and Metallica taking ESP guitars under their wings.
Now, the EC-256 is not a high-end offering. But it delivers a modified, heavy-metal Les Paul that balances built, sound, and price.
The aim of the guitars is the intermediate, beginner, and hobby player. Loaded with coil-tap electronics and black & gold luxurious looks, it behaves like a Swiss army guitar for the rock enthusiast.
Otherwise, ESP has a selection of high-powered guitar without reaching crazy premium fees.
The EC line is the one the company can export to America at affordable prices, though. The line has about 30 different models spreading across multiple price brackets.
Our model slides into the mid-price segment with a gold top finish, set-neck construction, and raw humbuckers.
Here's a video showcasing the best entry of the series, the ESp LTD EC-1000:
<iframe width="1044″ height="587″ src="https://www.youtube.com/embed/5wrFD7myBgM" frameborder="0″ allow="accelerometer; autoplay; clipboard-write; encrypted-media; gyroscope; picture-in-picture" allowfullscreen></iframe>
Overview
The all black ESP 256 EC model puts super affordable prices to the test.
It brings a classical shape, which is excellent for most musical genres. However, it delivers a modified neck for overall faster playability.
As a mahogany guitar with a set-in neck and ESP custom humbuckers, the LTD EC-256 surpasses its budget expectations.
Let's see:
Built quality
With the timeless Les Paul single-cutaway design and an overall clean built quality, the 256 has plenty to offer.
Body
As I said, the guitar has the traditional Les Paul shape with a single-cutaway to deliver extra access to the higher frets.
The tonewood of choice is mahogany. More importantly, it has an alder top that ships in various colors. Arched tops are typically a higher-priced feature, as it goes a long way in improving the overall aesthetics of the guitar, as well as the sound balance.
Similarly, it has laminated oak on the back and sides of the body.
While the shape takes cues from Les Paul, I have to note the curves on the EC-256 are different. Particularly, the lower cutaway is sharper, which adds an LTD touch. It's also there to echo with the distinctive headstock, as well as the unique markers on the neck.
Neck
The EC-256 electric guitar uses solid mahogany for the 3-piece neck and couples it with a rosewood fretboard.
Regarding its size, it has a 24.75'' scale length, the same as a Les Paul. Another feature that's similar to Gibson and Epiphone alternatives is the set-in neck construction, which means the body and the neck are glued together.
The neck has a slim D profile plus a 12'' radius, which makes it an all-rounder for solo and chord playing. With its 22 extra-jumbo frets, though, the playability leans heavily towards metal riffs and fast playing.
Finish & colors
The body, headstock, and neck have a bound finish, which adds a nice retro feel to the guitar. Then, the natural shiny brown of the mahogany woods completes the look for near-premium aesthetics.
Additionally, the top of the guitar has a flat gold feature plus an amber tint. On top of that, the hardware comes tainted in golden colors. There's also an all-black version as well. Other colors include Lemon Drop and See-Thru Black Cherry Sunburst.
Lastly, the fretboard is flat, smooth, and accurate. There're no flaws and no sharp edges, and it has stylish position inlays plus the model number on the 12th fret.

All ESP LTD guitars are created for metal. That means high-output humbuckers and fast necks. However, they present some versatility as well, so you might be able to play other genres with an LTD guitar given that you have the right guitar pedals or guitar amp.
Sound quality
With a couple of humbuckers with coil-tap features, the ESP LTD EC-256 has a surprising amount of versatility.
The guitar can voice mellow cleans, as well as handling strong distortions when pushing the guitar to its limits.
Particularly, the bridge humbucker has a deep and gritty tone for rock. However, it lacks some mid-range power, so it may leave the guitar sound boxed-up.
If you engage the coil-tap function, you can turn the humbucker into a single-coil for an extra twang. That's how it works: the coil-tap allows you to swap between gritty humbucker tones towards twangy single-coil sounds.
Generally, the humbuckers on the guitar are open, rich, and powerful. The neck pickup sounds different than the bridge piece, though. The sound leans towards early metal and classic rock, while its single-coil and clean tones go towards jazz, reggae, country, and '70s. pop.
That means you can wind-up the EC-256 from classic blues and punk to progressive metal, where it shines the most. That means it can handle overdrive, distortion, and fuzz pedals with ease.
However, the guitar loses some volume when engaging the single-coils, so you might need an extra boost pedal.
That said, the EC-256 is a great platform to work with guitar pedals and build your sound. You can go like crazy, psychedelic, and hi-fi as you'd want, and the guitar will always respond accordingly. Because of that, the versatility of the EC-256 is potentially endless.
<iframe width="948″ height="533″ src="https://www.youtube.com/embed/5pT__U2G3RU" frameborder="0″ allow="accelerometer; autoplay; clipboard-write; encrypted-media; gyroscope; picture-in-picture" allowfullscreen></iframe>
Electronics
The EC-256 packers a couple of custom ceramic humbucker pickups. These are a couple of LH-150 tapers, which are not very remarkable but do the job very well.
Whereas it doesn't have the best pickups, the controls deliver plenty of options. It has two individual volume knobs for each pickup.
Additionally, it has a master tone control that allows you to further modify the sound signature of the guitar. The master tone has a push-pull mechanism so that when you pull the knob upwards you turn the humbuckers into single-coils.
Lastly, it has the classic 3-way pickup switch to blend the bobbins.
<iframe width="948″ height="533″ src="https://www.youtube.com/embed/WHDmV7BNUeo" frameborder="0″ allow="accelerometer; autoplay; clipboard-write; encrypted-media; gyroscope; picture-in-picture" allowfullscreen></iframe>
Feel Quality
As I said before, the guitar is built for heavy metal.
The overall feel is comfortable, lightweight, and fast. That makes it okay for players of all experiences looking for rock-oriented designs.
I'd also say the guitar reaches the playability of a Stratocaster thanks to its speed and lightweight.
With the classic Gibson scale length and neck radius, you could also slide and bend the strings with ease.
Hardware
The hardware of choice further conveys the point of the guitar: solid, and yet versatile rock experience for a mid-tier budget.
On the headstock, the guitar has individual chrome die-cast ESP tuners, which are solid enough to play live, even on extreme bendings. I wouldn't test the tuners with down tuning, though.
On the other side, it has a tune-O-Matic bridge, which delivers solid tuning intonation.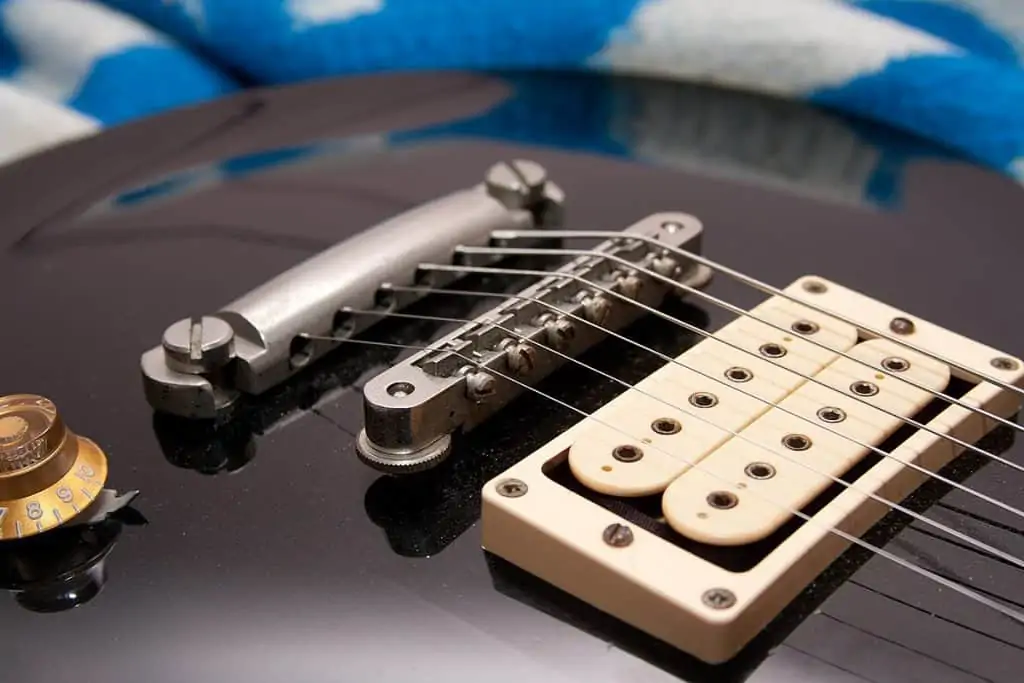 "Aria Pro II LS-700 BK (SN 012082)" by Daniil Ulanov / CC BY 2.0 The Gibson company is credited with the creation of the tune-O-Matic bridge. TOM bridges are now standard for all Gibson and Epiphone guitars, as well as other brands copying their iconic designs.
Downside & Alternatives
The main drawback of the guitar is its humbuckers. I wouldn't say they are lackluster, but they fall behind the extremely built quality of the guitar.
In fact, the built and design choices of an LTD EC-256 have nothing to envy of guitars with four times its price. That's why changing the stock humbuckers for a better pair could turn it into a professional performer.
I recommend the Seymour Duncan Blackouts if you're looking for the meanest sound possible.
Another option, also by Seymour Duncan, is the reliable SH-4 model:
For further alternatives, please check our article on the best pickups for metal.
Variety
There're other ESP LTD models we could check as well.
First off, there's a very similar 256F model, which simply adds a flamed maple veneer on the arched top material.
If you're looking for an extra metal edge, you could also go for a V-shaped ESP guitar. HEre's the ESP Arrow enters, like a crowd-pleasing guitar with top-tier EMG 81/85 active pickups. It also has Grover tuners, a near hand-crafted body and neck, and a Pau Ferro fingerboard.
Climbing the price ladder further delivers the ESP EC-1000, a deluxe guitar that sounds nothing but professional. You could carry this to the stage, in front of thousands of people, and play with some of the best features a rock-oriented guitar has to offer.
On the other side of the ladder, you could find a budget LTD guitar as well. I recommend the LTD MH, a basswood guitar with a bolt-on maple neck and sturdy humbuckers.
Alternatives
Here are the options if we're looking for other brands.
First, we've got the Ibanez GRG "SuperStrat" guitar. Similar in specs but distinctly different in aesthetics, the sound of the GRG is as classic as it is modern.
A similar alternative is the Ibanez GRX20, an affordable guitar with a surprising range of sounds:
Lastly, you could check the Schecter Omen 6, a cheaper alternative that surpasses the EC-256 in terms of electronics nonetheless. That's why you could take that guitar as a canvas to upgrade the pickups.
However, the built quality falls short with a basswood body and a bolt-on neck.
ESP LTD EC-256 spec
Design:

Les Paul body with single-cutaway

Body tonewood

: mahogany body with oak top and alder on the back and sides

Neck

: slim D
Neck joint:

set-in 3-piece neck
Fingerboard tonewood

: rosewood
Pickups:

ESP LH-150 ceramic humbuckers

Controls:

two individual volume knobs, master tone knob with push/pull & 3-way pickup switch

Tuners:

ESP chrome die-cast tuners

Bridge:

tune-O-Matic bridge & set-thru tailpiece
In summary
Why do I like the ESP LTD EC-256 guitar?
The ESP LTD EC-256 is a fine-tuned metal guitar. It offers a good range of sounds, super-fast playability, premium built, and an okay sound for a modest price.
Its simple pickup configuration is very effective with the coil tap option. Naturally, the untapped potential of the guitar can flourish with a better pair of pickups.
Final Say
Beginner players or pros looking for something affordable to bang can trust the EC-256 will deliver its promise. It punches well above its price and presents itself as a great opportunity to experiment with sounds and improvements.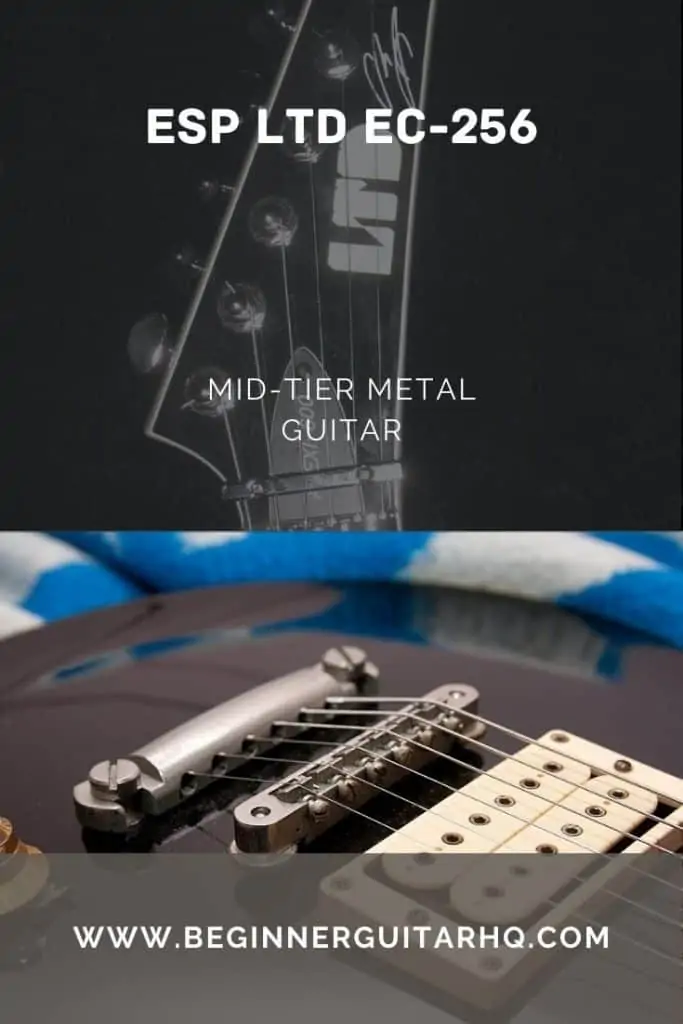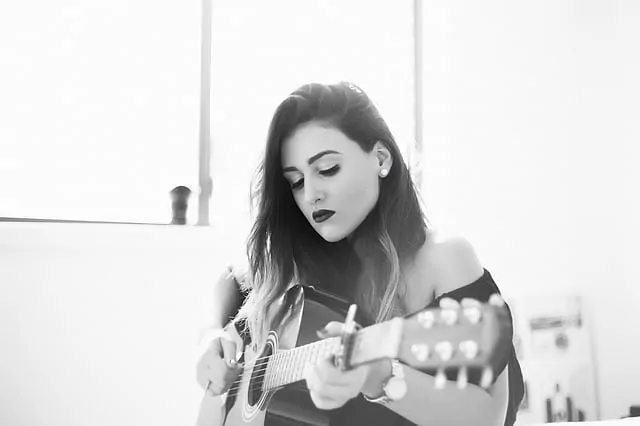 Jen is a guitarist and singer-songwriter who spends much of her time on the road and has lived in 13 cities across 4 continents. She picked up her first guitar at the age of 6 and learned to play by ear shortly after. She received her formal music education at the Berklee College of Music, and currently plays for a few bands in her free time. She has an uncanny ability to improvise creative melodies and harmonies. Her early influences include blues, jazz and rock.