We've talked a lot about Epiphone on our site. It's great, a top-value guitar and bass manufacturer for all experience levels and budgets. Gibson's subsidiary is often at the top of every budget and mid-level guitar chart, and why not? They are creating "cheap" but superb Gibson-designed guitars.
We're now reviewing the Epiphone Les Paul-100 electric guitar. Because the Les Paul changed the guitar scene forever, every Les Paul model has tasty features, no matter the price.
Speaking of price, the Les Paul-100 has a name: Les Paul's "economical cousin," the Epiphone-branded solution to less-than-professional guitar players. It grants users the opportunity to enjoy the playability, aesthetics, and tone these guitars offer without creating a time-warp on their bank accounts.

The typical Gibson Les Paul guitar.
Epiphone Overview
Back in the '60s, Gibson bought Epiphone and made it its official subsidiary. They worked in the same building, but their manufacturing sites were in different places.
Gibson had its own guitar range, and so did Epiphone. Most people don't know Epiphone was a significant guitar brand before Gibson acquired the brand. So they had some relevant guitars and basses in the market.
For example, their Epiphone Casino hollow-body electric guitar competed against the Gibson 330 model. It's a brief moment in history where Epiphone made the superior guitar. The Rolling Stones' Keith Richard should tell you: he plays one live. Other legendary guitar players like The Kink's Dave Davies or John Lennon played on Epiphone's vintage and magical guitar.
Nowadays, you wouldn't find these original, premium Epiphone models so easily, as Gibson prefers to control the premium segment. Epiphone is the other side of the coin, covering the market segment Gibson can't. So, if you can't afford a particular Gibson model, Epiphone surely has an alternative, an affordable copy.
These "copies" use the same specs, measures, and proprietary features with generally lesser quality on the tonewoods, electronics, post, or aesthetics. Moreover, they tend to use proprietary pickups to cheapen the price even further.
Also, Epiphone takes manufacturing overseas, which helps reduce the price compared to USA-made Gibson instruments.
And even though these guitars are cheaper, telling the difference between a full-blown Gibson Les Paul and an Epiphone Les Paul is getting harder every year. And not because Gibson is faulting; Epiphone is getting consistently better.
Here, take a look:
Epiphone Les Paul-100 Review
Decades after Gibson created the Les Paul, Epiphone is known as the cheap alternative to the "real" thing. That's an unfair listing, to be honest: most people would only tell the difference when looking at the logo on the headstock.
For example, the Epiphone Les Paul-100 sells for about $300. Sadly, though, it's quite hard to find on Amazon, as the guitar sells very fast. If you don't see it on the listing below, check it on Sweetwater or Reverb.
A quick look reveals the Les Paul shape, a single-cutaway body, four control knobs, a 3-way toggle, and two mean humbuckers. The guitar is just waiting to power through your amp. Also, every Les Paul-100 model has the same color palettes as a Gibson Les Paul, as Cherry Sunburst or Black & White models.
Let's take a closer look.
Build quality
Epiphone follows tradition and uses solid mahogany for the body, plus an arched maple top. That's the standard construction for top-of-the-line Les Paul Guitars.
The body also packs mahogany on the back and sides, a single-cutaway on the lower bout, and curves for comfortable playing at either side of the body.
Then, it has a mahogany neck and a rosewood fingerboard. The neck-body joint uses bolts (bolt-on) instead of industrial glue (set-in. Pricier Les Pauls have a set-in neck. In comparison, bolt-ons lower sustain, but the difference is not very significant. Moreover, it helps maintain the guitar, as you can change the neck if it comes to it.
Also, the guitar has 22 medium-jumbo frets, and the neck-body joint is at the 16th fret. You have full access to every fret because of the lower cutaway.
The neck has Gibson's stellar profile, SlimTaper. SlimTaper necks are thin and slightly asymmetrical, so the player has better access to the bass strings on the lower side of the fret, plus an easier time on the treble side of the highest frets.
Nevertheless, the Les Paul-100 has a slimmer neck than regular Les Pauls. It makes it lighter, something younger, smaller, and less experienced players will appreciate.
For aesthetic features, you'll find a classy white pickguard on the body, plus a golden cover for the pickups, golden pots, and a golden switch. Lastly, the guitar has white dot inlays on the fingerboard.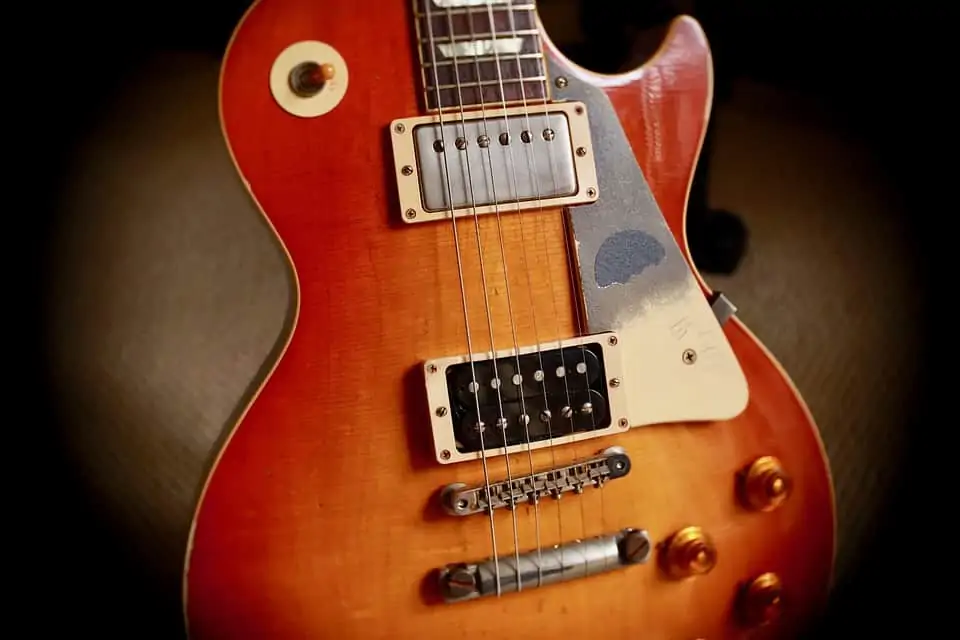 Les Paul guitars have an arched top. Arched tops improve the overall sound quality while adding a nice look.
Hardware quality
Epiphone used quality hardware on the guitar: they didn't skim on the department.
For starters, the Les Paul-100 has a LockTone Tune-o-Matic bridge. It's a good, stable bridge. It's a common choice on guitars at much higher price ranges.
At the headstock, it has a set of die-cast tuning pegs sealed in chrome. These have nice aesthetics and grant very solid tuning stability. It's capable of keeping intonation during a live presentation, as well as sustaining alternative tunings like drop-D.
Controls
The controls are the standard fitting for Les Paul guitars.
First, it has a 3-way pickup selector switch closer to the neck. It's quite easy to use as you play.
The switch allows guitar players to blend the two humbuckers. It can turn either on/off or use both. The best part is how you can use it even in the middle of a solo for a cool effect.
Then, it has volume and tone knobs for each pickup, all sealed in chrome.
Pickups
While it doesn't use original Gibson pickups, the Les Paul-100 has a couple of great-sounding dual-coils. It has two 700T high-output humbuckers (neck & bridge).
These work with zero hum and noise and over a high degree of headroom. The tone is aggressive, crunchy, and strong at the mids. There's a catch: the guitar has no coil-tapping on the pots, a feature common on Les Pauls that turns.
Coil-tapping turns a humbucker into a noiseless single-coil by canceling the sound of one of the two coils.

While four individual knobs might be overwhelming for beginners, it's an ideal guitar hardware configuration.
You've seen the basis of this guitar's construction. All that's left to add is that the Les Paul-100 is made in China.
With that said, let's check the performance…
Performance quality
The Epiphone Les Paul-100 is a top-value guitar. Let's start by that: it can topple, rival, and best most guitars on its price range and beyond.
Consider this is it's not even the most expensive alternative on Epiphone's shelves: it's just right in the middle.
That mid-of-the-road price gets you a lot of juice. And while it lacks premium-quality pickups or a set-in neck, it comes real close to the Gibson sound. It's satisfying, cutting, aggressive, and powerful.
Moreover, it has a great volume. It can punch through your window, your concrete walls, your neighbor's concrete walls, and three houses beyond. Add to that the guitar's sustain: it's impressive.
The sound it's quite versatile if you're a rock player. It goes from the classiest classics to the meanest metal sounds. Overall, though, it's violent and yet focused, as if the sound was trying to escape its wooden enclosure.
You can still play it gently. The clean sounds are not mellow or particularly soft, but they have plenty of quality and articulation. That means you can pair it with your favorite guitar pedals to experiment.
So, for the money, the sound is staggering. Not only that, but the feeling is amazing as well. It's smooth as butter, thin, light, and easy to play and pick for intermediate and beginner players. Also, the neck is flawless, sweet, and smooth.
It could be a beginner's guitar as well. I recommend it for children above 13-years old: the guitar's sound will be more than enough to keep playing.
Drawbacks & alternatives
I find three main disadvantages in the guitar.
First, the A string has a minor buzz between the 1st and 3rd fret. You could fix this on your fixed string change with a luthier's help.
The second drawback is how the selector switch and the pickguard are somehow loose. There's nothing to do here: just be careful.
The third thing is how the guitar is hard to tune, especially for beginners. I mean, the tuning pegs are solid and stable, but they are also hard to turn.
These are small things, but several small things do matter. For example, we could change the tuning pecks for a set of premium lock-tuners:
For alternatives, I also recommend the Epiphone Special VE. It offers a timeless rock sound for a budget while adding easier playability.
Epiphone Les Paul-100 Specs
Body design: Les Paul (lower cutaway, curves, arched-top).
Body tonewoods: mahogany body, mahogany on the back and sides, maple top.
Neck tonewood: mahogany.
Neck joint: bolt-on.
Neck profile: SlimTapper (even slimmer).
Fingerboard tonewood: rosewood.
Fingerboard radius: 12''.
Pickups: 700T neck & bridge pickups.
Controls: two individual tone knobs, two separate volume knobs, 3-way pickup switch.
Bridge: LockTone Tune-o-Matic.
In summary
Why do we like the Epiphone Les Paul-100?
The Epiphone Les Paul-100 is a great guitar for budget players and intermediate guitarists. It's great for home studio environments, small to medium gigs, rehearsals, and songwriting.
We recommend it as a first guitar for adolescent players or upgrades for those of you who went for an entry-level option.
The guitar can last for years before you'd feel the need to improve it. It can also handle your first important opportunities (like live presentations) without a problem.
Learners should consider it as a must-buy guitar if it's available. I doubt you can find other mid-level guitars delivering just as much value as the Les Paul-100.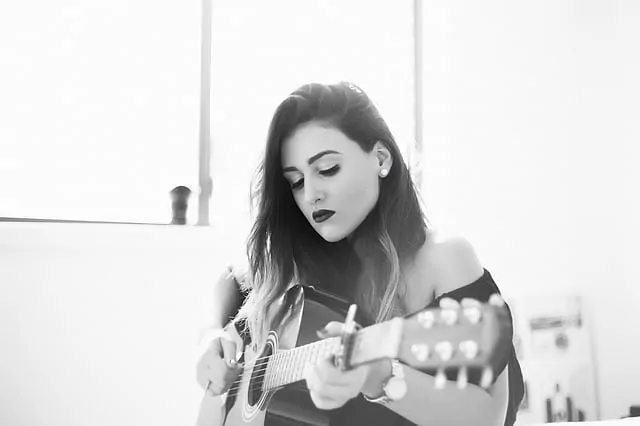 Jen is a guitarist and singer-songwriter who spends much of her time on the road and has lived in 13 cities across 4 continents. She picked up her first guitar at the age of 6 and learned to play by ear shortly after. She received her formal music education at the Berklee College of Music, and currently plays for a few bands in her free time. She has an uncanny ability to improvise creative melodies and harmonies. Her early influences include blues, jazz and rock.