We've seen many Epiphone electric guitars on our reviews. Often, they present themselves as alternatives to the very expensive Gibson Les Paul. And with a mere fraction of the premium price, guitars like the Epiphone Les Paul Standard are solid, reliable, and quite impressive.
The history of Epiphone and Gibson are intertwined. Both brands have shaped the music industry since the '60s decade.
But you need to know Epiphone hasn't always been a part of Gibson. Back in the '60s, both companies were building their brand from the ground up. Albeit they were direct competitors, both companies took many ideas from the other.
For example, it was Gibson who created the first hollow body guitar. Years later, Epiphone became one of the kings in the segment with iconic models like the Epiphone Casino. The Casino was a guitar played by The Beatles' John Lennon and The Rolling Stones Keith Richards.
Gibson then improved its "inferior" Gibson ES330" with some Casino ideas, Epiphone was generally considered as "less" than Epiphone.
Either way, such a pattern of improving with the competitor's ideas was common between these two brands. Another example is the Epiphone hollow-body Rivoli bass vs. the Gibson EBO.
More interestingly, the same parent holding company CMI owned both brands. However, both Epiphone and Gibson headquarters and fabrics were located in different places-
In time, both companies needed some financial help. Epiphone didn't have the marketing power Gibson had, and Gibson didn't have any presence outside the high-end musical spectrum. Thus, Gibson bought Epiphone and made the affordable / mid-tier alternative.

Epiphone Les Paul guitars are getting increasingly better each year. One of the features that allow Epiphone to drop prices is their in-house humbuckers, which allows them to save money from using pricy Gibson tapers.
If you're looking for an entry-level Les Paul guitar instead, take a look at the Epiphone Les Paul Special II.
Epiphone Les Paul Standard Plustop Pro Electric Guitar Review
With certain stigma, Epiphone makes the Les Paul Standard overseas, in Asian factories. Gibson Les Paul guitars, though, remain in the premium category of the rock guitar market with USA craftsmanship.
Even though they are no longer an independent brand, Epiphone has created a clean reputation for itself. They consistently deliver top-value guitars that could give Les Paul models a run for their money.
Many musicians can't tell the difference between a Gibson Les Paul and a non-entry Epiphone Les Paul. Not unless someone tells them:
At the core of their reputation is the Epiphone Les Paul Standard. It's a special guitar in its own right.
Right from the get-go, the general Gibson Les Paul is a bit warmer and richer than the Epiphone Les Paul. It's also a $3000 guitar, though, whereas the Epipohine version keeps adding more value to its price every year.
There're various Epiphone Les Paul Standard guitars we could talk about. However, we're referring to the Plustop Pro model because it's readily available and increasingly popular. We'll discuss further options down below.
Overview
The Epiphone Les Paul Standard Plustop Pro has an arched-top body, as the name implies. The selection of tonewoods is as premium as you would find on a high-end Gibson, albeit it lacks the finishing touches of the like.
Either way, with its duo of custom Epiphone split-coil humbuckers, the Epiphone Standard is one of the most popular mid-tier guitars in the world. The Plustop Pro spins the same recipe with better tonewoods, modern humbuckers instead of classic sounds, and AAA flame veneer top.
You'll find high-quality hardware and electronics elsewhere. Overall, the Standard Plus Top Pro Les Paul guitar is a professional performer selling for a mid-level price (albeit a bit higher than that).
Built quality
Ever since players like Jimmy Page or Eric Clapton started playing on Les Paul guitars, finding one of these for a decent price was hard a few decades ago.
Now, the Epiphone Les Paul Special offers the Les Paul mojo and features. That includes dual humbucker, sunburst colors, asymmetrical necks, arched tops, mahogany body, and set necks.
Body
We have the classic Les Paul body with a single-cutaway on the lower bout. It gives players perfect access to all of the frets.
Toe body material is mahogany with laminated mahogany at the back and sides. It also has a carved arched top made of AAA flamed maple veneer. That improves the overall aesthetics of the guitar. It also adds the distinct sound signature only Les Paul guitars carry.
Neck
The neck also follows Gibson's premium standards. It's a set-in neck, which means the factory joined the neck and the body with a tight glue. Gibson guitars follow the same procedure.
It also comes with the brand's asymmetrical "D" profile mahogany neck and rosewood fingerboard. It packs 25 medium jumbo frets with the same inlays and body binding on the neck as Gibson guitars.
The "D" neck is very slim, which allows fast action playing and comfort. It's not lightweight, though, so it's not a guitar for kids or amateurs. Instead, it's a heavy neck, as it should be, as it allows the guitar to sustain notes longer and deliver stronger outputs.
Lastly, it has a 24.75'' scale plus a 10'' radius neck. Older models boast a 12'' neck radius, which is standard for all Gibson guitars.
Finish & colors
The Les Paul Standard Plus Top Pro by Epiphone looks the part. Its built quality is no doubt premium and far above what the price suggests.
The finish follows the same ideas. For starters, it has a body binding all over the neck to protect the wood from temperature changes, moisture, and scratches. Elsewhere, the neck is smooth and the finish is free of blemishes.
There's no finish on the body aside from the AAA flame veneer top, which stabilizes the guitar. Other than that, it's pretty natural.
That said, it lacks one of the craziest, most premium features of the Gibson Les Paul, which is its nitrocellulose finish on the body. It reduces the weight of the guitar, protects it forever, and delivers a special aesthetic feel.
As for colors, there're various classic options. These are Honey Burst, Heritage Cherry Sunburst, Blueberry Burst, Mojave Fade, Trans Blue, Blood Orange, and Green Burst.
Lastly, it has the Les Paul signature/logo on the headstock, as well as the Epiphone name on the truss rod cover.
Overall, there's great attention to detail on this Epiphone guitar. It stands out for its built quality alone.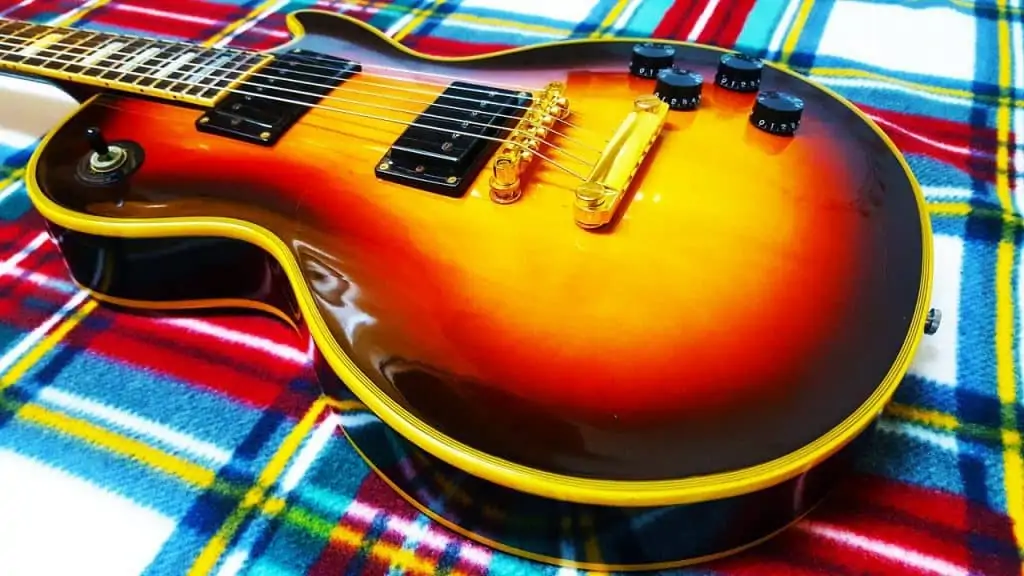 The Epiphone Les Paul Standard shares most features with the parent model. A hard look makes you realize there are not many significant differences.
Sound quality
With a pair of Epiphone Probuckers humbuckers, the Plustop Pro has the distinct Les Paul feel
The overall sound powerful on the mids and fat on the lows. It has a certain warmth to it and adds natural harmonics as textures around your sound.
It sounds pretty nice for a mid-range guitar. More than that, it sounds perfect for intermediate and even professional musicians. You can take it to any stage you'd want, even if you don't have a strong selection of guitar pedals.
That said, it comes as close to a "real" Les Paul as you can get without paying the premium fee. And with the extra potential of split-coil humbuckers, an experienced player can make it sound infinitely better.
Likewise, the control knobs give you a wide range of tones. You can travel from blues, jazz, country, and classic rock up to metal genres.
Overall, it's a high-standard rock sound. It will meet the standards of any budget for a price more people can afford.
In all honesty, the guitar sounds so incredible you'd want to check if it says Epiphone on the headstock.
Even without pedals, the tonal changes and the natural grit is impressive.
You can clean up further with the extended control knob for beautiful tones. And then, you can easily kick the sound up a notch.
Electronics
The guitar packs two Epiphone ProBuckers. ProBuckers are the brand's solution to Gibson humbuckers.
It has a ProBucker-2 plus a ProBucker-3. Both bobbins have coil-split configurations.
Similarly, it has two individual tone knobs plus two individual volume knobs. By pushing the volume knob, you can make a humbucker sound more akin to a single-coil by turning off one of its two coils. They remain noiseless, though.
These are Alnico V high output pickups with a wide expression spectrum. Naturally, they create rich, thick sounds, and can handle overdrive and distortion pedals easily.
In particular, it has ProBucker-2 and ProBucker-3 pickups with coil-splitting, a AAA flame maple veneer top.
Lastly, it has a 3-way toggle switch to blend the bobbins.
Feel Quality
First of all, we're looking at a very heavy guitar. It's big, bulky, sturdy, and heavy, which is why it's not a good fit for amateur players.
On experienced and intermediate players, though, it will feel good. With its balanced slim "D" neck, it gives the feeling of a premium rock guitar. In other words, it allows fast solo playing as much as chords, and it gives players access to the higher frets.
The neck's action is also smooth and fast. With the deeper shape of the neck, you can feel the frets on your palms easily.
Hardware
One of the nicest things about the guitars is its truss rod. It allows you to set the height of the strings to your taste. Still, the out-of-the-box setup is good enough for most players.
Close-by, you'll find a set of Grover tuners with a 19:1 gear ratio. That's one of the best options you could have, which means the guitar can sustain down tuning and long playing sessions.
On the other side of the guitar, you'll find a tune-O-Matic bridge. It's able to improve sustains, give a little ring to the guitar, and improve tuning stability.
Also, the bridge has six adjustable saddles, which allows you to set the height and tension of the strings individually.

The Epiphone Les Paul Standard feels very much like a modern Gibson Les Paul. Classic models, though, feature an asymmetrical neck with a 45-degree inclination angle.
Downside & Alternatives
I wouldn't say the Epiphone Les Paul Special Plustop Pro has any disadvantages. The proper setup is all you would need, in case you'd like something more of your taste.
Otherwise, you could also swap the humbuckers for the highest tier solution you can find.
For example, the Seymour Duncan Whole Lotta sounds like a cradle of metal and hard rock. Bear in mind the Plustop aims for a more modern sound:
There's not much else you could do to improve the guitar though. But I can point you to other Les Paul options, though. Some of these options are more affordable.
Variety
The classic Epiphone Les Paul Standard is a streamlined option. It's more popular, more affordable, and similar in sound and quality.
It changes a few things over the Plustop. For example, it doesn't have an archtop body, and it also swaps the ProBucker tapers for classic-sounding Epiphone Probuckers. Lastly, it has a 12'' radius neck.
So, if you're looking for a classic sound for a less bit of money, here's the best option:
Then, there's the Custom Pro model which boasts more premium design features. That includes gold binding and fret inlays, Gibson's '60s asymmetrical SlimTaper neck, and an all-white body.
Aside from its aesthetics, it does manage better sound and playability than the Standard model.
Lastly, we can check the Epiphone Les Paul Studio model. It's an arched-top guitar with a simpler finish and colors. Moreover, it swaps ProBucklers for Zebra-Coil ceramic humbuckers, so the sound is not of the highest standard.
That said, it's quite the affordable electric guitar.
Epiphone Les Paul Standard Plustop Pro Specs
Design: arched-top Les Paul with single-cutaway
Body tonewood: mahogany body, back, and sides with maple veneer top
Neck: D-shape slim
Fingerboard tonewood: rosewood
Pickups: Probucker-2 at the neck (passive, Alnico V); Probucker-3 at the bridge (passive, Alnico V)
Controls: two individual volume knobs with push/pull, master tone & 3-way pickup switch
Tuners: Grover locking tuners
Bridge: tune-O-Matic bridge
In summary
Why do I like the Epiphone Les Paul Standard?
We've reached the end of the review and saw a high-quality guitar selling for a fraction of "the real thing." You don't lose anything of importance by going for an Epiphone Standard (any option you can find!).
You can find cheaper Epiphone Les Paul guitars missing the split-coil feature. You can find one of those items if you're looking to save some extra money.
Final Say
Without cutting any essential features, Epiphone managed to create a premium guitar with a mid-tier price. Sure, the humbuckers don't say "Gibson" or "EMG" or "Seymour Duncan." Other than that, it's just a perfect model.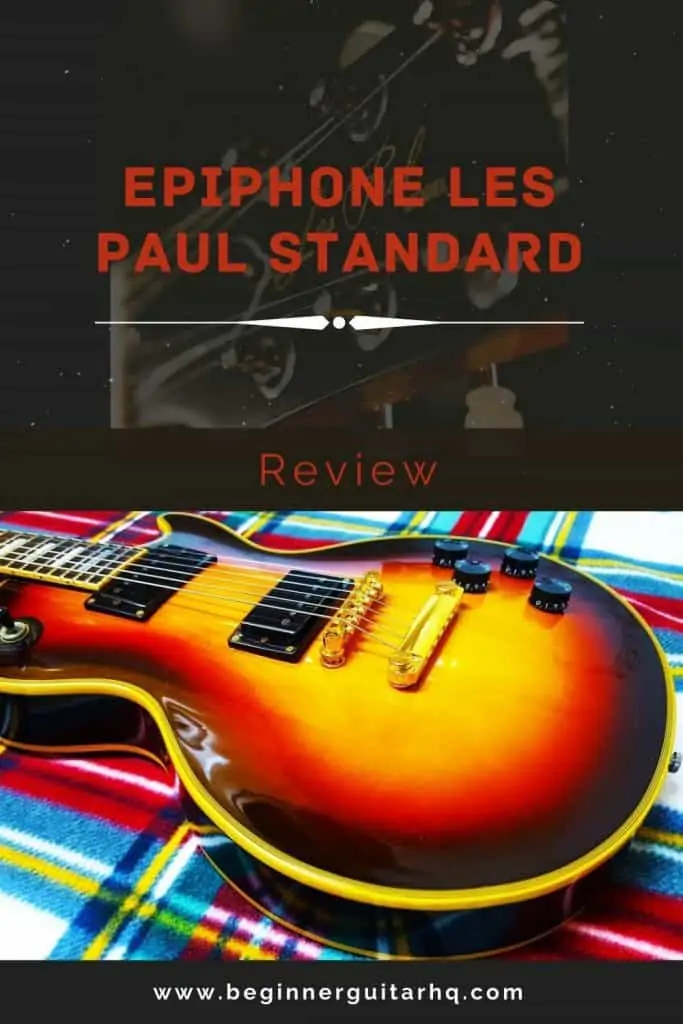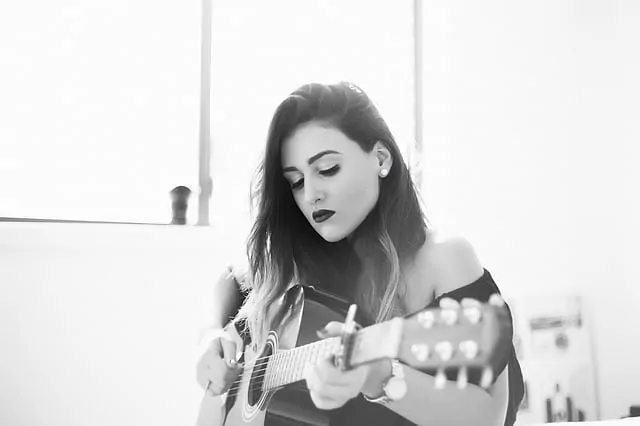 Jen is a guitarist and singer-songwriter who spends much of her time on the road and has lived in 13 cities across 4 continents. She picked up her first guitar at the age of 6 and learned to play by ear shortly after. She received her formal music education at the Berklee College of Music, and currently plays for a few bands in her free time. She has an uncanny ability to improvise creative melodies and harmonies. Her early influences include blues, jazz and rock.