We've reviewed many instruments here at Beginner Guitar HQ. Yet, we've never listed the best expensive electric guitars before.
Making justice to our name, most of our listings include budget options and amateur alternatives. Beginner and intermediate musicians are not looking to waste their savings on a single piece of gear.
It's what we do. We list top-value choices; detail the sweet spot. Do you know what the "sweet spot" is? It's that precise price line where going up a few bucks yields fantastic rewards, but going down a few bucks turns out depressing.
Our favorite musical gear squeezes as much as it can from its price tags. Now, though, we're doing something different. What if we go all out and forget money is a problem? What could we find?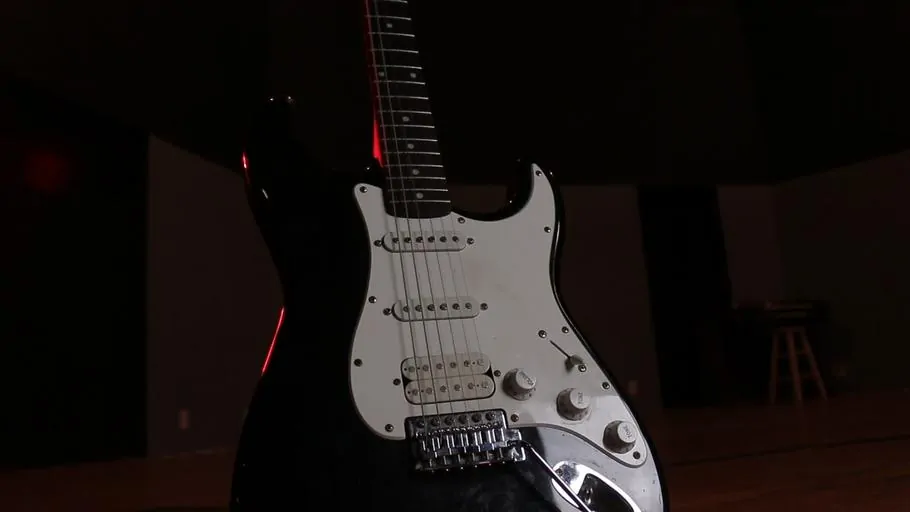 Fender produces many guitar series with varying degrees of quality and sounds. Check for series like the Standard, American Professional, or American Performer for their top alternatives.
Maybe money is a problem for you. I understand. I'm also a hard-working man looking to spend my money wisely. If you're reading this just for fun, I can instead guide you to some items that may suit your budget better.
As a foreword of what we're about to see, here's a video showcasing top-tier electric guitars. Here's a much needed Les Paul vs. Fender Stratocaster video:
The best high-end electric guitars reviewed
To find the best of the best, we considered the following aspects:
Pickups & sound
Control knobs & features
Hardware
Playability & feel
Aesthetics
Availability
Extras
These guitars should be perfect. There's no "changing the stock pickups gives you a fantastic sound." They are already the cream of the cream right out of the box. If you're paying a lot of money, it needs to be the whole package.
Overall, these are the best electric guitars money can buy. We are listing elite instruments for musicians looking to get real serious.
In particular, the availability aspect is quite important. We could link you to tens of Rickenbacker, vintage Fenders, and custom Les Paul guitars but, could you buy them right now? We're only listing guitars you can regularly find on Amazon.
And for this is not a beginner's guide, we're jumping straight into our reviews.
We're choosing sound as the most critical factor in the guide. Who wouldn't? That said, here are our guides on guitar pickups if you need further info:
The top 12  expensive electric guitars we choose are not in any order. However, I did add why I considered each of these guitars as "the best" as a subtitle.
Gibson Les Paul Custom VOS 1954
Best overall expensive electric guitar
You may disagree with me here, but any Gibson Les Paul guitar you choose is the best overall expensive electric guitar.
The Les Paul model wasn't successful at launch. Only after players like Jimmy Page and Eric Clapton picked one up for their shows, people started noticing how commanding Les Paul guitars were.
For this list, we choose the Gibson Les Paul Custom, which may not be available when you read this article.
The original 1952 arched-top Les Paul model is a fundamental blueprint from guitar design. It's the most revered instrument in the world, and so it's expensive for a reason.
Gibson president Ted McCarty and the guitar's creator, Les Paul, then introduced a deluxe version of their soon-to-become timeless model. Their premium model was the 1954 Les Paul Custom, a model that eventually became Gibson's top offering.
Now, we're sharing the modern reissue of the 1954 Les Paul Custom as the best expensive electric guitar. We already chose the Gibson SG Standard 2019 as the best guitar for rock, so it was apparent we would go for the same brand on this listing.
I have to note the Gibson Les Paul Custom is Vintage Original Spec branded (VOS).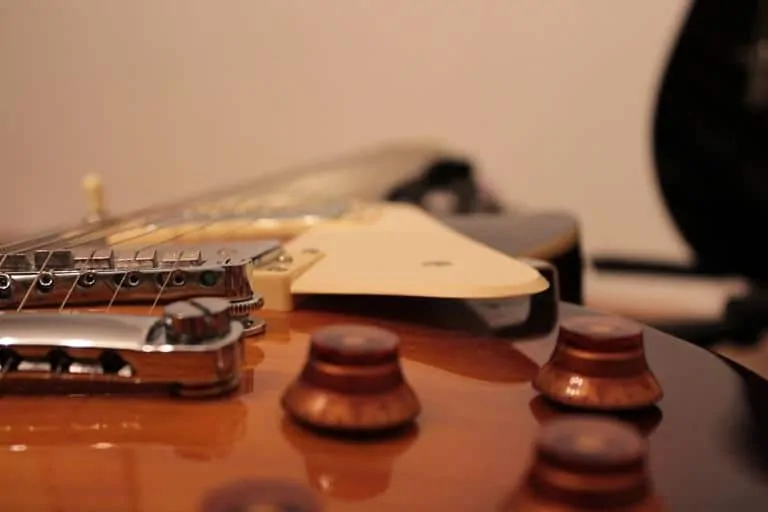 The Les Paul design is so iconic many brands have done business with copy-cats guitars (Hamer Korina, PRS, ESP, and more).
The Black Beauty
The '54 Les Paul Custom version is known as "Black Beauty" for its contrasting ebony colors. There're more colors now to choose that include Ebony, Antique Wine, Sunburst, and more.
Another nickname it had was "Fretless Wonder" as its asymmetric neck design offers super-low frets for super-easy lead guitar playing.
The Black Beauty was the first to present the ABR-1 Bridge, a unit invented by McCarty. Eventually, it became Gibson's Adjust-O-Matic Bridge, so the Gibson Les Paul Custom packs top-of-the-line bridge tech. It has an unrivaled standard for functionality, sustain, resonance, intonation, and feel.
Completing the hardware is the 1-11/16th nut, a stop bar tailpiece, a multi-ply black, and white scratchplate, and metal tulip tuners. All of the hardware is covered in gold. Plus, this Les Paul guitar comes with a Gibson Custom case, a certificate of authenticity, and a custom care kit.
Arched-top body
This modern recreation packs a solid mahogany body with solid routed holes to decrease the guitar's weight. It also has a hand-crafted maple top fitted into the body, which is why the Les Paul Custom belongs to the arched-top electric guitar category.
Without going into much detail, arched-top electric guitars deliver rich tonal qualities. However, Gibson is one of the only brands producing these models for crafting arched-tops is a complicated matter.
Such careful crafts enhance natural acoustics, which improves the guitar's resonance, harmonics, and sustains.
Unique neck design
Gibson is the only brand delivering asymmetric neck profiles. We're talking about a mahogany neck plus a 22-fret ebony board. On top of this, there are figured block inlays made of acrylic.
With Gibson's classic 12'' round neck profile plus its 24.75'' long-scale, you get the smooth feeling that doesn't exist anywhere else.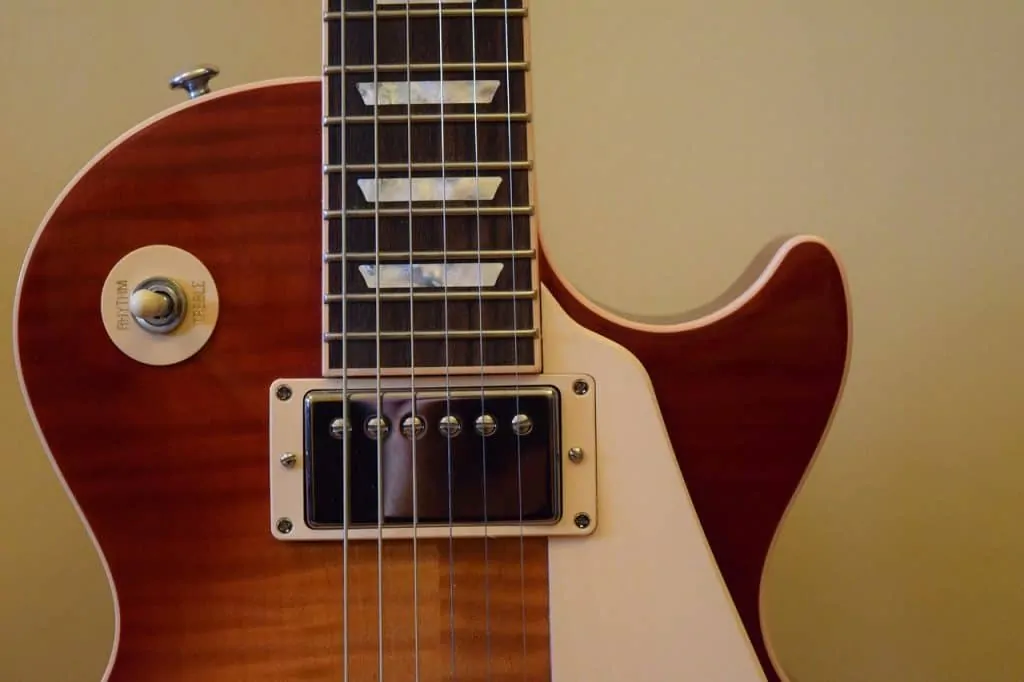 Gibson, as well as Epiphone, only uses humbuckers they make on their house. 
Gibson humbuckers sound
Gibson invented the humbuckers as a solution to Fender's single-coils. Vintage pickups were noisy and low-output sounding, so Gibson brought forward zero-noise high-output pickups with its dual coils.
It has a Gibson 490R humbucker in the neck position with a 498T in the bridge cavity. Both tapers follow the specs of the company's 54's "PAF" original pickups. However, the output is hotter and with a slight emphasis on the mid and the highs.
As a result, the tonal character of the Gibson Les Paul is elegant, powerful, clearly defined, and gorgeous. It can play anything, from jazz to heavy metal. And it will excel at everything. Keep in mind that Les Paul guitars are heavily preferred for hard rock music and rock arena.
The controls of the Gibson Les Paul Custom are also a highlight. It has two individual volume knobs plus two individual tone knobs. Additionally, it has a 3-way pickup selector switch with Gibson's usual "rhythm/treble" notations.
Its pickups have a push-pull configuration. It means that turning the volume knobs down makes the pickup work as humbuckers. Then, when you pull the knobs up, you make them work as noiseless single-coils for a classic, softer sound. We know that as "coil-tapping" as pulling the knobs cancels one of the two coils' sound.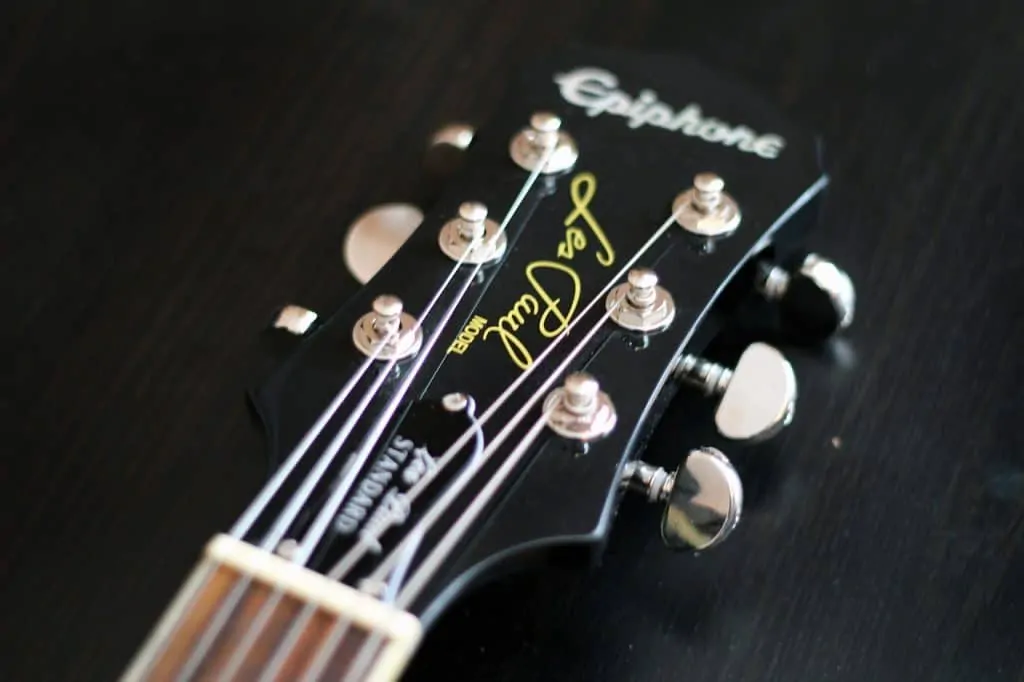 The original Gibson Arched Top 1952 Les Paul premiered with a couple of P90 pickups instead of humbuckers. 
Gibson's Nitrocellulose Finish
Another highlight of the Gibson Les Paul Custom is the proprietary nitrocellulose finish on the body. It's a hand-made crafting process the brand states as the more complicated part of the process.
The nitro finish delivers a thin coat of protection against dents, scratches, and overall time degradation. It's also better than your standard polyurethane or satin finish as it doesn't interfere with the natural acoustics and vibrations of the guitar. Moreover, you can repair a scratch on a nitro finish, but you can't do the same on other materials.
Furthermore, nitro finish gets thinner over time, allowing the wood to breathe, unlike other materials. As a result, the guitar loses weight as it ages. On top of that, as time goes time, the wood of the guitar will also deliver the natural vintage colors many musicians are seeking.
Lastly, all VOS guitars have a proprietary process that includes careful hand-craft steps: hand-rubbing, wet-sanding, and standing. The result is an instrument that shows 40-years of passionate electric guitar crafting.
Alternatives
I know it was a lot, but I promise everything I said about the Les Paul Custom is essential to understand why this guitar looks, feels and sounds fantastic.
If you're reading this guide to inspire your future, I can tell you: dreams do come true. Keep working, my friend, keep working with faith, and you might find any guitar on this list.
Still, there's nothing wrong with going for something you can afford at this time. The best mid-priced alternative you can go for is the Epiphone Les Paul Pro. It features the same push-pull configuration, a similar design (minus the arched-top), and Epiphone-made humbuckers that tried to imitate Gibson's PAF:
If your budget is super-tight, you can go to the Epiphone Les Paul Special II. You can read our guide on Gibson Les Paul vs. Epiphone Les Paul guitars to see if the price difference is justified.
Lastly, I can link you to the ESP-EC 1000 "Les Paul"- type electric guitar. It's still a premium guitar with top-tier features for heavier genres of music. Yet, its price is about 3x times less the Gibson Les Paul Custom.
https://snappygoat.com/s/?q=epiphone#d83704414641071c19677d801329d6c5141dfe4d,0,768. Much like Squier, Epiphone is Gibson's subsidiary producing cheaper and top-value Gibson instruments.
Gretsch G6129T Players Edition Jet
Best semi-hollow expensive electric guitar
We can't overlook Gretsch on our top expensive electric guitars list. Speaking of which, the G6129T Players Edition Jet is their highest-priced offer.
It packs the classic style of the brand without any compromises. For instance, instead of vintage pickups, this premium guitar packs versatile modern tapers. Some players might prefer the old-school Gretsch sound, though.
The G6129T shines on its design features and finish. The Players Edition Jet is a refined reissue of the original '50s Jet design.
As a Jet guitar, it packs the series' main characteristic: a semi-hollow body without f-shaped acoustic holes. Instead, it has a chambered mahogany construction plus a laminated maple top.
The choice of tonewoods is superb. As it is a chambered guitar (which means it has a hollow chamber within its body), the tonewoods greatly influence the tone. The mahogany and maple combination makes for high-resonance, plenty of sustain, and plenty of dynamics.
It features a set-through neck, which means the body and the neck are a single construction. It's a top feature commanded by the Fender brand. Likewise, the neck is also made of mahogany, whereas the fingerboard is made of rosewood.
It packs a comfy neck profile with a tapered heel and a soft cutaway to provide a smooth ride on the frets. The neck design also gives players extra access to the upper frets. With the standard 12'' neck radius, it delivers comfort for chords, riffs, solos, and overall lead guitar playing.
Take command of this guitar, and you'll be able to play almost anything. You can go from shimmery cleans to ravaging overdrive and distortion.
EVH Striped Series 5150
Best expensive electric guitar for hard rock
Van Halen's personalized SuperStrat is one of the most iconic guitar aesthetics of all time. Like Tom Morello's Homeless' Strat or Zakk Wylde's Bullseye, this is a "Frankenstrat" for its particular paint job.
EVH Guitars creates other versions of the 5150 through the Striped Series of Frankenstrat models. But the 5150 guitar is the real thing. Van Halen pioneered how rock guitars should look, feel, and sound: high-output humbuckers on a SuperStrat body, a super-fast neck, simple knobs, and a floating tremolo. That means the 5150 is a real piece of history with an array of high-end features.
In particular, t has a modified Strat body made of basswood, a bolt-on quartersawn maple neck, a slim C-shape neck profile, and a hand-rubbed profile finish.
The maple fretboard has a compound radius as it goes from 12'' to 16'' along its 22 jumbo frets. On top of that, these are low-action strings, as this guitar is made for shredding gods.
Finally, it has the iconic red stripes on the body, headstock, and rear. It looks as impressive as it plays.
The 5150 has a single pickup at the bridge. It's a custom EVH Wolfgang Alnico II humbucker with a single volume knob. It sounds like the '80s metal train with warm and lively cleans and enormous power when the gain knob is up.
More so, distortion makes the guitar punchy and aggressive but still articulated and balanced. It makes easy work of hard riffs such as Van Halen's Eruption solo. Overall, its tone represents where modern and classic meet. Plug this into a tube amp or a proper metal distortion channel,, and you'll be good to go.
Next, the EVH has a custom Floyd Rose bridge with a locking nut. It's a great system that allows vast whammy plays without going out of tune.  Another cool feature on the bridge is its exclusive EVH D-TUNA function. It will enable you to switch the E to drop D on the bridge in a second.
Lastly, it packs EVH-designed tuning machines with a top-tier truss rod thumbwheel. Notably, the truss rod allows you to set the action of the strings fast and easy.
All in all, the EVH 5150 is an elite metal and hard rock guitar, made to work with premium distortion and fuzz pedals.
Fender Signature Kurt Cobain Jaguar
Best expensive electric guitar for modern rock
Nirvana's Kurt Cobain always played on a Jaguar guitar. He might not have been a virtuous player, for all we know. But he pioneered a genre where he made great use of the chorus pedal for the verses and the Boss DS1 distortion pedal for the chorus and instrumental sections.
Aesthetics-wise, it looks like a standard jaguar with its short 24'' scale and its sunburst paint job. Yet, it packs a few design extras, like a unique Cobain-drawn Fender logo.
Fender made this guitar with solid alder, a bolt-on maple neck, a comfy modern C shape, and 22 medium jumbo frets. Furthermore, there's a gloss finish on the back of its rosewood fretboard.
The built of this Mexican-made Fender guitar is not as impressive as the other members of this list. It shines on sound, hardware, and knobs.
First off, it packs a couple of top-tier DiMarzio humbuckers. I'm talking about a DP103 PAF 36th Anniversary at the neck plus the famous DP100 Super Distortion fitted on the bridge.
The controls are extensive, versatile, and crazy. The jaguar series is about overwhelming controls and alternative rock sounds, and this signature model follows the trend.
It packs individual volume controls for each pickup, a master tone control, and a 3-way selector toggle. On top of that, it has dual-circuit switches to swap between lead and rhythm tones.
With such a versatile control array, there's nothing the Kurt Cobain Jaguar can play. Every musical genre is a playing ground for this premium electric guitar.
The hardware department has a super-steady Adjust-O-Matic bridge, a floating tremolo tailpiece, and a lock button.
It thrives on alternative, progressive, experimental, modern, and classic rock & metal sounds. Why? Because it has the potential of a high-end, huge, aggressive, distorted tone. If you want to be a metal God, this guitar will keep up with your meanest metal amps and your wildest metal distortions.
That said, the neck PAF pickup is warm, natural, and smooth. It can even play jazz, blues, and classic rock. The Super Distortion, though, it's a metal pickup through and through.
Suhr Classic S 
Best expensive electric guitar for classic rock
Fender is often overpriced, as in paying a bit for other brands more gets something twice as good. That's what the Suhr Classic Stratocaster represents over Fender's high-end alternatives.
The Suhr Classic S is the kind of guitar that shows why quality matters.
First off, it's made of alder (body), tinted maple (neck), and Indian Rosewood (fingerboard). Moreover, it features the brand's 60's C vintage neck profile for super-smooth lead playing.
The finish comes from satin acrylic urethane, a quality material that protects the natural feel of the wood. Additionally, it protects the wood from moisture and overall degradation.
The sound comes from its trio of V60LP top-tier single-coils. These tapers are wound with a proprietary winding process that mimics old-school hand-wound patterns. As a result, the highs are sweet and round, whereas the lows are rolled up.
That makes the sound full, loud, clear, and with excellent lows. It's a bit on the vintage side, but it can play almost anything. They can even play metal as these are noiseless, high-output single-coils. See, these beautiful pickups come with the company's SSCII noise reduction system, so they operate without any interference.
As for controls, the Classic S packs two distinctive tone knobs plus a master volume knob. Then, it packs the standard 5-way pickup selector switch: a classical and functional layout.
Hardware-wise, it packs a Gotoh 510 tremolo bridge with a system that pivots left and right to provide greater functionality. Plus, it has a steel block that enhances sustain and tuning stability.
Likewise, you'll find pitch-perfect Goth tuners on the other side of the guitar.
Just listen to how this sounds. I bet you will have an "OMG" moment. Nothing classier than this one.
Ibanez Prestige AZ2204
Most versatile expensive electric guitar
This is the guitar that shows just how far and how much the Japanese instrument manufacturer can do. And it can do it all.
Its design is all about function. It's a tool. In particular, the AZ2204 is a multi-purpose guitar with the most dynamic pickup system you'll find.
The Ibanez Prestige AZ2204 packs the AZ exclusive pickups, a trio of Seymour Duncan Hyperion bobbins with an HSS configuration.
On top of that, it packs the Dyna-MIX 9 system you can use with its 2-way mini-toggle switch. It allows you to "alter" the tone for a whopping amount of 9 different pickup sounds.
For controls, it also packs the standard master volume and tone knobs plus a 5-way selector switch. Simple, yet delivering an endless versatility. It allows you to go from '50s jazz & swing music all the way to the Ibanez shred sounds. It can do it all, and no other guitar mimics this quality.
It's also a gorgeous instrument with its Ice Blue Metallic finish. It might bother you that there's only one color available, though.
Other than that, Ibanez constructed this guitar with care. It has an alder body, a roasted glued-in maple neck, and a roasted maple fingerboard on a 25'5'' scale and 24 medium jumbo frets.
Then, it has a Gotoh T1802 tremolo plus Gotoh Magnum Lock tuning pegs with H.A.P. tech. Top-of-the-line, if you ask me.
Overall, the AZ2204 is a seriously flexible instrument with a fantastic sound and a superb built quality. Going above what this prestigious instrument offers is quite tricky.
Alternative: Ibanez Premium S1070PBZ
I had to give you an alternative as I can't go on without naming the gorgeous S1070PBZ guitar with celluloid finish.
It's made with African Mahogany (body) Panga Panga/Maple/Walnut/Purpleheart (neck), and Panga Panga (Fingerboard). It packs laminated tops made with a combination of Walnut, Curly Maple, Panga Panga, and Poplar Burl. Add Ibanez's proprietary cerulean body finish to get the most exotic-looking guitar in the market.
Keeping his guitar on your trophy cabinet is hard, though. It packs two top-tier humbuckers plus one single-coil. As for controls, you get a single volume and control knob plus a 5-way switch.
It also packs an Edge-Zero tremolo bridge to complete the package. Overall, the Premium S1070PBZ has the same levels of finish, feel, and sound quality as the twice-as-expensive Prestige series.
The downside of this guitar is its 4-screws bolt-on neck. Ibanez swears on the quality of this design, but we would have preferred a glued-in or a set-in neck at this price point.
Dean MAB1 Speed of Light
Best expensive electric guitar for shredders
Here's Michael Angel Batio guitar of choice, by Dean. But you don't need to know the work of the legendary guitar player to enjoy this signature guitar. Yet, it's good to know Batio is the fastest guitar shredder in the world.
The MAB1 is a famous guitar for metal and the top expensive guitars you can buy right now. Everything about it deserves five stars.
Dean worked closely with the metal legend to create the fastest guitar in the market. So, construction-wise, it has a maple neck with a super-thin and yet slightly round profile. It delivers a comfortable hand-feel that meets Batio's expectations.
The "Batio" body is made of alder and features two cutaways for increased access to the upper frets. Lastly, it has eye-catching paintwork with custom Speed of Light graphics.
Its hardware is equally impressive. It has three top-tier EMG pickups, the kind we already covered on our best pickups for metal list. It has an EMG 85 humbucker at the bridge, an EMG 85 humbucker at the neck, plus an EMG SA single-coil in the middle. Moreover, these are active pickups for maximum versatility, extra power, and zero noise.
The controls are simple, though. You get a single volume knob, a single tone knob, and a 5-way pickup selector switch.
Its sound gets complete with its tremolo bridge. It's a sturdy Floyd Rose 1000 piece plus a Floyd Rose R3 locking nut.
As far as sound goes, it's difficult to imagine a guitar that goes beyond the quality and the articulation the MAB1 offers. This signature guitar has everything you need to play metal. Yet, with the middle single-coil, you have an increased ton scope for most modern music.
Its humbucker duo packs a very high-output, though. These bobbins are about delivering big, fat distorted tones with unrivaled clarity. Plug a metal distortion pedal on this, and you'll be flying to Valhalla.
Fender American Performer Telecaster
Top-value expensive electric guitar
With the construction quality to boast a premium price tag, the American Performer Tele is the unbeaten rhythm electric guitar in the market. Keep in mind Fender's American Performer Series is the brand's top lineup. It even represents an upgrade over the American Special household name.
As part of the Profesional series, this Telecaster is a modern guitar. It's not obsessed with vintage aesthetics or sounds.
It has an ash body, maple neck, and maple/rosewood fretboard with 22 jumbo frets. It also packs Fender's new narrow/tall frets for enhanced chord playing.
It packs two modern single-coils. These pickups pack a unique twist you won't find anywhere else: they have Alnico V rods on the bass side plus Alnico II rods on the treble side. As a result, the sound is harmonically rich, soft, and hefty at the same time.
As for controls, it packs a volume knob with treble-bleed to punch the highs, a tone knob, and a 3-way selector switch. It gives this guitar enough versatility to touch smooth, mellow, raw, beefy, and rhythmic sounds.
Another thing to note is its three compensated brass saddles. It gives this guitar superb intonation and stability. Furthermore, it has a string-through-body bridge, a modern addition to a Tele offering maximum string tension.
There are beefier, thinner, or brighter Telecasters. Yet, the American Professional model has the foundation tone that makes this guitar so unique. I'd say this guitar feel like someone took the time to EQ the Tele to perfection.
With its subtle but functional improvements over vintage Telecasters, this guitar is a no-brainer for all-hands musicians.
Fender American Original '60s Stratocaster
Most popular expensive electric guitar
We chose a new spin on one of the best electric guitars in history. It's an infamous guitar, to be honest, as its price tag is quite hefty.
The Fender Original Series is about mixing and matching the best features of the decade. Like so, this Strat comes with an alder body, a "round-laminate" rosewood fingerboard.
Then, it packs 3x Pure Vintage '65 Gray-Bottom single-coils on its 11-screw mint-green scratchplate.
Its control knobs are aged white. It gives players volume, neck tone knob, plus bridge/middle tone knob.
There's also a 5-way lever switch, which is a modern addition. 5-way toggles arrived at Strat guitars by the late '70s.
Its hardware is equally impressive. It packs a vintage 6-saddle synchronized vibrato plus a pure vintage Fender Deluxe tuning pegs. That's a choice coming from Fender's vintage years.
The Original '60s Strat has enough to make everyone feel impressed. It's a guitar that made people dream back in the day. Decades later, it got even better.
Overall, the Fender Original '60s Stratocaster is a rare vintage Strat made in modern times. More so, it's neither an original "relic" nor a Fender Custom, which makes it a tad "cheaper."
If you're looking for new Fender USA production, look no further than its original series. It's inspired by vintage models, sure, but it adds fixes and features many players will love.
Lastly, this guitar works amazing with almost any kind of guitar pedal you plug.
Music Man Sabre
Well-rounded expensive electric guitar
Speaking of expensive guitars, the Music Man Sabre packs everything the brand can muster for a visible hefty price.
The Music Man Sabre is a sleek guitar. It has a lightweight Okoume body, a flamed maple top, flamed roasted maple neck, and a unique stainless steel fingerboard. In particular, the flame-maple neck has the brand's proprietary wax and gunstock oil finish.
All of that combined delivers an unrivaled fingerboard feel. With its 10'' neck radius, though, the Sabre inclines towards chords and rhythm playing more than leading riffs.
Its neck features Music Man trademark 5-screw sculpted neck joint design. It offers extra sustain, resonance, and durability.
Nevertheless, don't mistake this guitar with any other bolt-on neck model. Music Man's blueprints can deliver better results.
Then comes the sound. Twin humbuckers deliver incredible note definition plus outstanding output versatility. On the bridge, you have a Music Man Alnico V Custom Wound Humbucker; on the neck, you have a Music Man Ceramic VI Custom Wound Humbucker.
As for controls, the Sabre features a 5-way toggle switch that expands the guitar's palette. It allows a parallel combination of both the outer and inner coils of the pickups. As a result, you can go from clean tones to light/moderate overdriven sounds.
The hardware pushes the quality of this guitar even more. It packs Schaller M6-IND Locking tuners plus a Music Man tremolo bright with vintage steel saddles that can bend.
Summary
There're many expensive guitars I left behind. For example, PRS has models selling for over $10,000. However, we think there's a price point that delivers zero other results when you go past it, so it's not worth it.
Many other expensive guitars are no longer available in the market. Such is the case of the Gibson ES-335, the king of hollow guitars.
If there's any premium guitar you like we didn't feature, please let us know in the comments below.
Otherwise, I hope I helped you make the right decision. At least, I wish I fueled your dreams.
Before we finish, I think it would help you to read our guide on types of electric guitars. It will help you understand the differences between Les Pauls, Strats, SuperStrats, Telecasters, hollow, semi-hollow, arched-top, and solid-body guitars (amongst others).
Final say
If I had the money to spend, I'd go for a Gibson Les Paul Custom. Or any Gibson Les Paul, for that matter. Not many brands put as much care to their guitars as Gibson. Today's construction follows factory processes and conveyor belts.
Keep in mind that everything matters when it comes to how the guitar ultimately feels and sounds. From the hand-crafted arched top to the process brands use to roast the maple. In the end, everything adds up to push the pickup's sound to its maximum potential.
Otherwise, be smarter with how you spend your hard-earned money. You are probably looking for something specific to craft a super unique sound for the studio and the stage. If that's the case, go for the guitar that suits your particular genre. Otherwise, the Music Man Sabre or the Ibanez Prestige is the most versatile choices.
If you want to be sure, though, go for the Fender American Performer Tele or the Fender American Original '60s Strat. Both guitars are flexible enough for your pedal and your amp collection. You would never go wrong with Fender.
Lastly, remember that heavy metal guitars like the Dean MAB1 need proper heavy metal strings!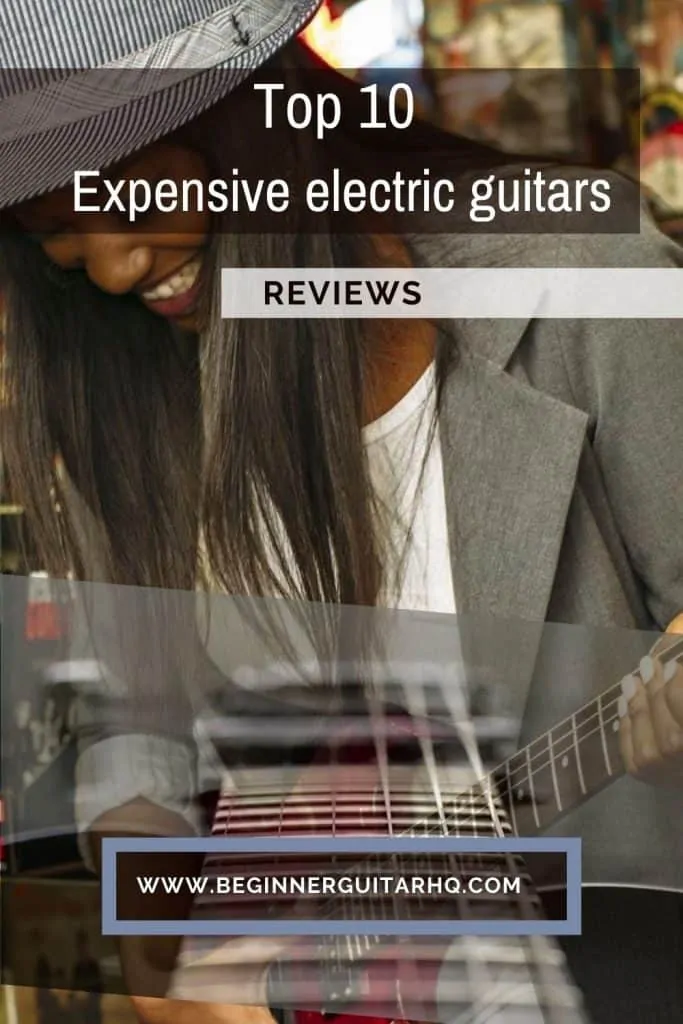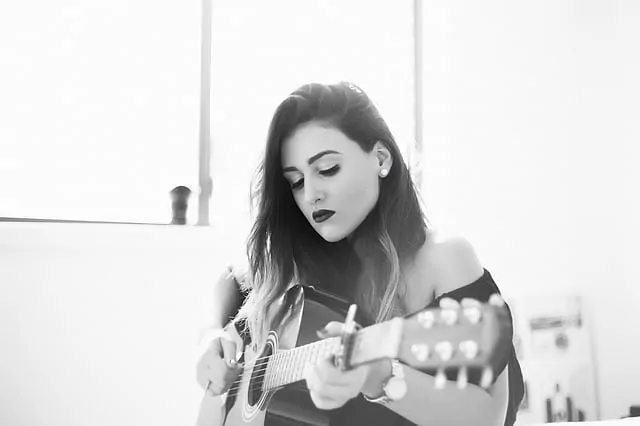 Jen is a guitarist and singer-songwriter who spends much of her time on the road and has lived in 13 cities across 4 continents. She picked up her first guitar at the age of 6 and learned to play by ear shortly after. She received her formal music education at the Berklee College of Music, and currently plays for a few bands in her free time. She has an uncanny ability to improvise creative melodies and harmonies. Her early influences include blues, jazz and rock.