Today we're reviewing the popular LTD-EC 1000 "Les Paul" type guitar. A quick look at this ax is enough to realize it's made for metal. But, in classic ESP fashion, this is a metal guitar with a surprising amount of versatility. In particular, the LTD series of electric guitars is known to be a great partner for any kind of pedal effects like reverb, flanger, overdrives, distortions, and more.
But first things first. Because we've never talked about the ESP brand before, we need to have a short review of this reputed Japanese instrument manufacturer. 
I bet you've seen an ESP at least once in your life, especially in the metal business. Still, ESP guitars are not often seen in the top 10 guitar reviews, unless we're talking of best metal guitars selections.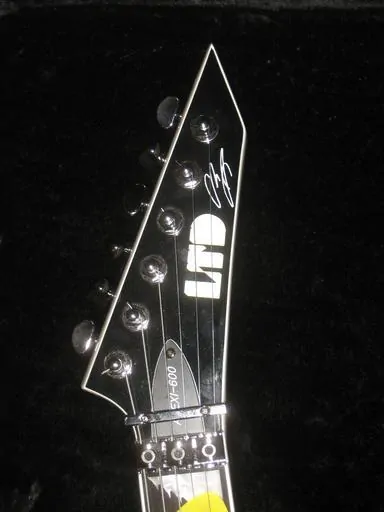 ESP LTD guitars are known to follow Gibson's designs, which include the Les Paul, the Explorer, and the Flying V.
About the ESP Brand
ESP Company is a guitar and bass manufacturer from Japan-based in Tokyo (Japan), and L.A. (California, USA). They are known to build instruments for heavy metal genres as they pack metal pickups, mean-looking designs, and fast necks.
Their offerings range from hand-built Japanese custom-shop instruments all the way down to entry-level Chinese-made guitars.
Japanese luthier Hisatake Shibuya founded the company back in 1975 in Tokyo. Back then, it was simply a guitar parts provider. 
They began building custom instruments for New York musicians in 1984. These musicians included Living Colour's bassist Reid, KISS' Bruce Kulick, and The Rolling Stones' Ronnie Wood.
The company has only grown ever since, with custom shops in New York, Tokyo, and Los Angeles; plus factories in Japan, China, and Indonesia. Most notably, EPS owns about 41 signature series basses and guitars.
However, because of how pricey it is to import ESP's flagship guitars from Japan to Western countries, it's rather difficult to find something other than an LTD on this side of the world.
ESP is known for making replicas of American guitars, which includes Stratocasters, Telecasters, Gibson Les Pauls, and Gibson Explorers (you can read more about this guitar in our best guitars for rock guide). 
By 2002, when Fender bought Jackson guitars, many old Jackson players switched to ESP. Said players include Megadeaht's Dave Mustain (although he now uses a Dean guitar), Children of Bodom's Roope Latvala, and Slayer's Jeff Hanneman. Since that moment, ESP has been considered as a king in the metal industry.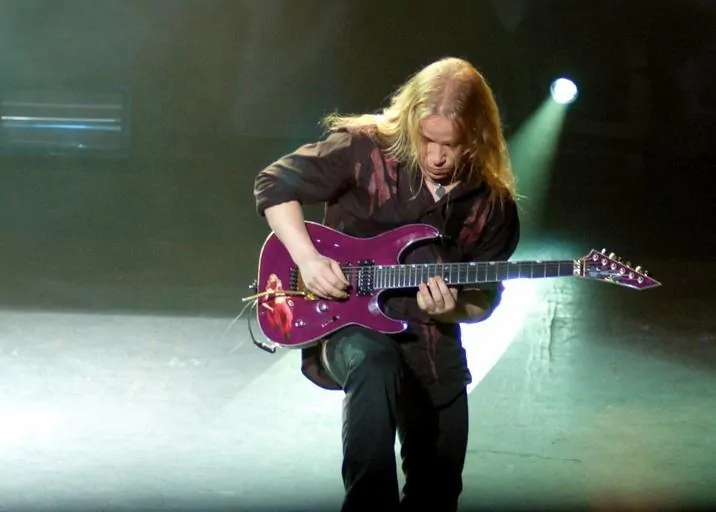 One of the most notable ESP players is Metallica's James Hetfield. The frontman began his career with a black EXP/MX ESP.
About the LTD series
LTD is the company's budget series. These guitars and basses are made in Indonesia and Korea. ESP created the series to produce the brand's high-quality products at affordable prices.
ESP founded the LTD lineup back in 1996 to bring the prestige and the quality of ESP custom shop guitars to the mid-level markets. 
There's a huge array of LTD models to cover various budgets. It's a lineup that serves beginners, intermediate, and advanced players alike.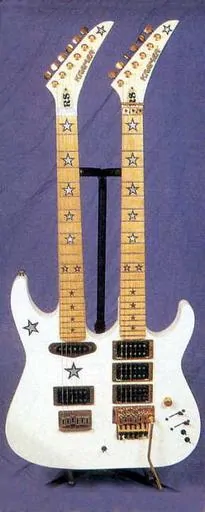 ESP guitars also follow designs previously made by the Kramer company. 
ESP LTD-EC 1000 Deluxe Active Electric Guitar Review
The ESP LTD series of guitars has a reputation for creating top-value affordable models. However, the 1000 Deluxe guitar is not actually an affordable solution.
Instead, this is their priciest series as it consists of various premium guitars selling with different finishes plus other minor differences. 
This is also a popular guitar as it's a model that has remained mostly unchanged for over 20 years.
Out of their entire selection, the ESP LTD-EC 1000 Deluxe is the one you would choose as your professional shredding monster. So, if you're not a heavy metal fan, you won't probably like this pricy alternative.


ESP guitars are specifically made for heavy metal and hard rock genres, although they pack some versatility.
The thing about the LTD-EC 1000 has a Les Paul-type body. It produces the full, round, and fat tone you'd expect from a Gibson guitar. And it sounds like a high-end Gibson for that matter.
On top of that, it makes shredding, soloing, and playing metal riffs quite easy. That's because of its amazing fretboard finish and design.
All of that comes for a price, though, as the LTD-EC 1000 is not exactly a "budget" guitar. This is a premium model, as premium as it gets.
Overview
The premium LTD-EC 1000 active metal guitar is designed for the spotlight. Without featuring an original design, this shredding ax has all of the nifty features advanced guitar players are looking for. 
For less than half the price of a Gibson model, the 1000 metal monster has everything going on. This evil-looking Rhyno has everything you need to capture the underworld with its deep and powerful dual EMG humbucker configuration and a fine selection of tonewoods.
So, if you're looking for a neat shredder ax, maybe your search is over. The ESP LTD-EC 1000 is nothing but a professional guitar for metal. Its vintage mean looks, superb electronics and hardware, impressive tonewoods, and perfect craft makes this guitar a straight-out-of-the-box stage performer.
Now, the thing is this is quite an expensive guitar. Its hefty price tag might deter anyone as this is neither Fender or Gibson. What I'm trying to say is ESP doesn't really compete against the two top brands in terms of pure reputation, fame, and sales…so…so should you pay so much for a copy-cat model?
That's what we're going to discuss. Is this a premium guitar that justifies its price? 
Let's see!


The ESP LTD series guitars mix the Les Paul body with hot output humbuckers.
Built quality
The Deluxe LTD 1000 series guitars are premium, smooth, and neat looking. Its built quality takes a high note, but not higher than its sound quality, hardware, and playability. Instead, everything comes together perfectly.
Overall, the LTD-EC 1000 Deluxe guitar is a beauty. I bet you'd want to hang this on your wall after your gigs.
Body & Design
This guitar follows the same single-cutaway design as the Les Paul electric guitar. 
It's made of mahogany plus poplar on the top. Most rock guitars are made of mahogany as this is a sturdy material that enhances mids, brightens the treble, and balances-out the lows. Most luthiers would say mahogany is the absolute best guitar material.
One of its best plusses is its lightweight. Despite its premium quality, mahogany is actually light, so the ESP LTD-1000 is also a light guitar.
The poplar top is there for the finish only, though, as it adds nothing in terms of performance.
Neck & headstock 
The neck is also made of mahogany. This is a three-piece glued mahogany neck that houses a Macassar ebony fretboard. Then, the fingerboard is colored in black and holds abalone inlays running the entire length of the fingerboard.
Keep in mind some of the models that belong to the ESP LTD-1000 series have a Pau Ferro fingerboard instead, which is still very similar to Macassar ebony in terms of smoothness and sound fidelity.
The neck has a thin-U profile, which is a slim and comfortable design for adult male hands, mostly. In fact, the thin-U accommodates fast action strings and quick attack lead guitar playing.
I must also add the fretboard has 24 Extra Jumbo frets, so the space between the frets is wide enough to play all kinds of craziness.
Similarly, the nut width is 42mm, which tightens up the strings just a tad more than your typical guitar. That makes it more ideal than soloing, but also okay for chords and rhythm guitar playing.
Following a similar path, the neck's radius is 13.7'', which is also made for guitar solos and riffs.
The set-neck joint is pretty solid but doesn't get in the way, which means you get access to all of the frets.
It all fits within the guitar's 24.75'' long scale body.
Finish
The looks of this guitar are definitely an eye-catcher. 
All of the models include flag inlays, golden hardware, and headstock/neck/body binding. 
It also comes in various colors, which includes Amber Sunburst, Black Natural Burst, and Blue Natural Fade, amongst others.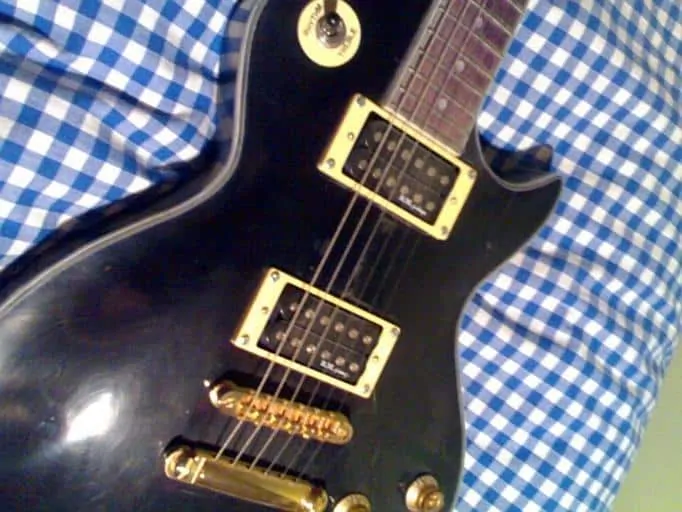 Golden hardware is present only on premium guitars.
Sound quality
Whereas this guitar looks like a premium Les Paul, it packs a sound crafted for metal with a couple of high-end active EMG humbuckers.
Electronics
The electronics department is the most important section of the LTD-1000 Deluxe guitar because here's where we find the active EMG 81 bridge pickup plus the active EMG 60 humbucker on the neck.
In particular, the bridge pickup is about high gain, high distortion, beefy lows, gritty mids, and clear trebles. It accommodates most modern rock and metal genres.
Then, the EMG 60 compliments the 81 with the sound of early heavy metal. I'm talking about a Saxon, Judas Priest, Iron Maiden, or Black Sabbath kind of sound.
The mix between these two is quite warm, melodic, and powerful.
These two pickups are wired to an active circuitry that's classic, simple, and effective. The controls contain individual volume controls for each taper, a master tone knob, and a 3-way selector switch.
Sound 
The EMG 81 is quite the popular active guitar humbucker. It's actually a common choice for professionals for its high-gain sound perfect for heavy metal.
As you'd imagine, this is a hot output ceramic humbucker. It's able to push your amp into the scorching tones you simply can't hear on lower-quality guitars. That's because the combination between the tonewoods, the design, the set-neck, and the EMG pickups will bring out one the best heavy metal sound money can buy.
More so, the active circuitry keeps everything noise-free. There's no hums, no buzzes, no interferences, and no feedback. Not even a whisper goes through the circuitry.
Now, this is a heavy configuration. It means you can plug any kind of crazy metal pedal or plug this into a metal amp and shed some windows.
Still, it produces some beautiful clean tones with plenty of clarity and balance. In classic LTD fashion, the cleans are a bit on the mellow side, but it's what you would use with any kind of guitar effect pedal to play other genres than heavy metal.
Overall, the couple of EMG pups are about raw power and intensity. They are about cutting through any mix easily. 
In particular, the 60 is a great fit for the neck. This is the pickup you'd use for your solos as it has great sustain, resonance, and character. Moreover, pinch harmonics are just an inch away.
Lastly, the 85 pickup gives you access to a warmer tone and a melodic sound. It can play heavy metal surely, but it can also play blues, modern rock, and everything in between.
<iframe width="853″ height="480″ src="https://www.youtube.com/embed/rirjFl5-bOg" frameborder="0″ allow="accelerometer; autoplay; encrypted-media; gyroscope; picture-in-picture" allowfullscreen></iframe>
Feel Quality
The ESP LTD-1000 Deluxe is an extremely easy to play guitar. In essence, it has the same playability levels as a Gibson Les Paul, only that it is lighter and sports a faster neck.
Hardware
Another highlight of this guitar is its advanced TonePros Locking Bridge System, a device that features a set of screws on both sides of the bridge and the tailpiece.
The screws secure the bridge so it won't move, bulge, or vibrate, not even on your harshest bends. That ensures your intonation and tuning are pretty accurate. It also improves sustain as all of the parts of the system are locked into place.
Furthermore, the locking bridge has 6 tunable saddles (one for each string), which means you can adjust the overall height of all of the strings, or dial the exact action you need for each string individually.
On the other side of the guitar, we find similar hardware. We've got a set of LTD locking tuners that are perfect for the job.
All of the hardware comes in chrome.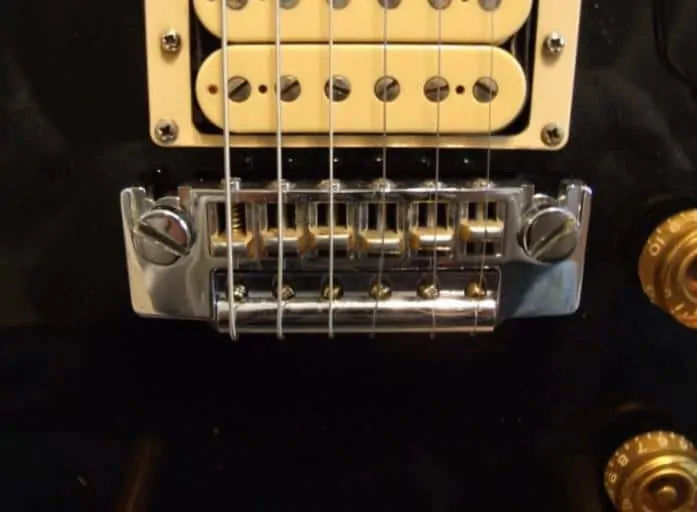 A "saddle" is a piece of wood or metal beneath the bridge that holds the strings tight. Quality guitar bridges pack 6 saddles, one for each string.
Playability
When I say this guitar has a fast neck it is because of various things.
First of all, its set neck joint is pretty solid, but it doesn't get in the way of the upper frets. Instead, you'd get access to all of the 24th extra-jumbo frets of the guitar.
The action of this guitar is low, which means the strings are gently depressed so you don't have to press so hard in order to play the guitar. Either way, you could adjust the action of the strings to fit your playability, which is a great plus. 
Then, the neck's radius is 13.7'', a measure that's present in most guitars made for metal as it has proven to be the best length for soloing, power chords, and metal riffs.
Similarly, you've got a rock-oriented nut width plus the presence of extra-jumbo frets to give you all of the space you'd need between the frets to play all kinds of crazy shreds. That said, playing complex chords is not going to be easy.
Furthermore, the neck's U profile is made specifically for solos and riffs as it curves the neck in a way that makes it easy for metal and rock genres.
Last but not least, the fingerboard is super smooth and soft on your hands. The abalone inlays are also going to help you along the way.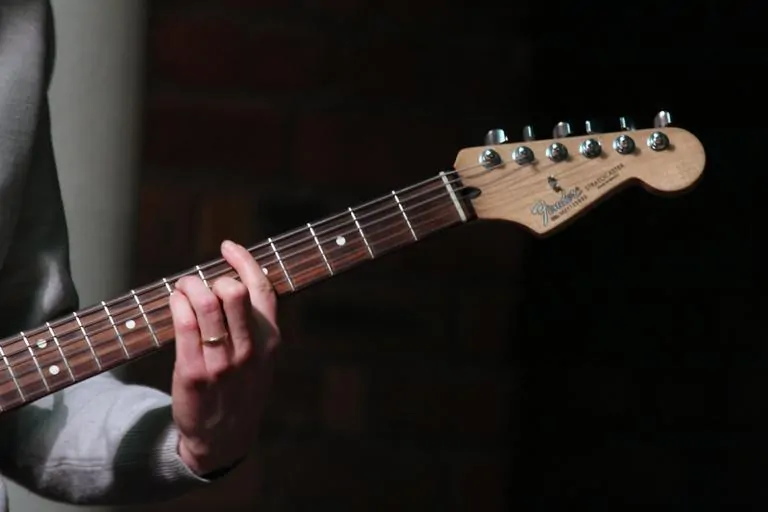 The playability of a guitar mostly depends on its neck's design.
Downside & Alternative
Downsides? Not here. This is one of the best electric guitars you can buy right now. I wouldn't even swap the EMG pickups in here for, say the JH Set as the 85/60 is a perfect combo for this guitar.
Still, here's the link if you want to check it out:
However, you may want to look for other cheaper guitars as the LTD-EC 1000 is quite expensive.
If you're looking for something cheaper, we've already reviewed two metal guitars that are at the top of the mid-level segment. I'm talking about the Schecter Omen 6 and the Ibanez GRS20.
If your budget is tight, the Jackson Dinky is a great option as well.
Now, if you're instead looking for a Fender at this price range, I have two recommendations. First of all, you could check the Fender Player Strat HHS:
Or you could go for a Fender Classic Vibe '50s Stratocaster:
Otherwise, you could go for a Schecter Hellraiser at the same price range, another amazing contender at the metal guitar segment packing a coupe of high-end EMG active humbuckers as well.
Variety
I can also guide you towards cheaper LTD guitars, so hang on.
RIght at the mid-level segment, you'd find the LTD-EC 256 electric guitar, which packs features not common at this price range.
It has a mahogany body, rosewood fingerboard, and mahogany set-in neck. More so, it packs a couple of ESP designed passive humbuckers, which you could then change for the best metal pickups you could afford.
Just a tad cheaper than the LTD-1000 is the Black Metal model, which has a sound as dark as its name. It features a similar construction but with a couple of Seymour Duncan Blackened humbuckers.
ESP LTD-EC 1000 Deluxe Specs
Design:

single-cutaway Les Paul body

Tonewoods

: mahogany body, mahogany neck, Macassar jatoba / Pau Ferro fingerboard

Neck

:set-in Thin-U neck

Scale:

34.75'' medium-scale

Fingerboard:

24 extra-jumbo frets
Radius:

13.7'' neck radius
Pickup configuration:

EMG 81 Active Humbucker (bridge) & EMG 60 Active Humbucker (neck)
Controls

: 2 individual volume knobs, master tone & 3-way switch
Tuners:

LockTone tuning pegs
Bridge

: LockTone Tom bridge and tailpiece
In summary
Why do I like the ESP LTD-EC 1000 Deluxe Electric Guitar?
Although this is an expensive guitar for beginners and amateurs, the LTD-EC 1000 Deluxe Electric guitar is definitely a premium metal guitar that could sell for twice the price. Only the pair of EMG humbuckers go for about 1/4th of its price tag.
The LTD-1000 can go from simple and catchy melodic lines to old-school rock & roll, blues, and everything in between. But when you push it to the limit, this guitar will scream as no Gibson Les Paul can.
Moreover, this guitar is aesthetically beautiful. Playing on a gig with the LTD-1000 hanging around your neck is something to be proud of.
I don't need to repeat myself. The built quality, hardware, sound, and playability are at the top of the line. 
Final Say
If you've got the money and you're looking for the best metal guitar money can offer, the LTD-EC 1000 has an amazing value per its price. It's a reliable, great looking, and powerful stage performer with the luxury to become your favorite living room decoration.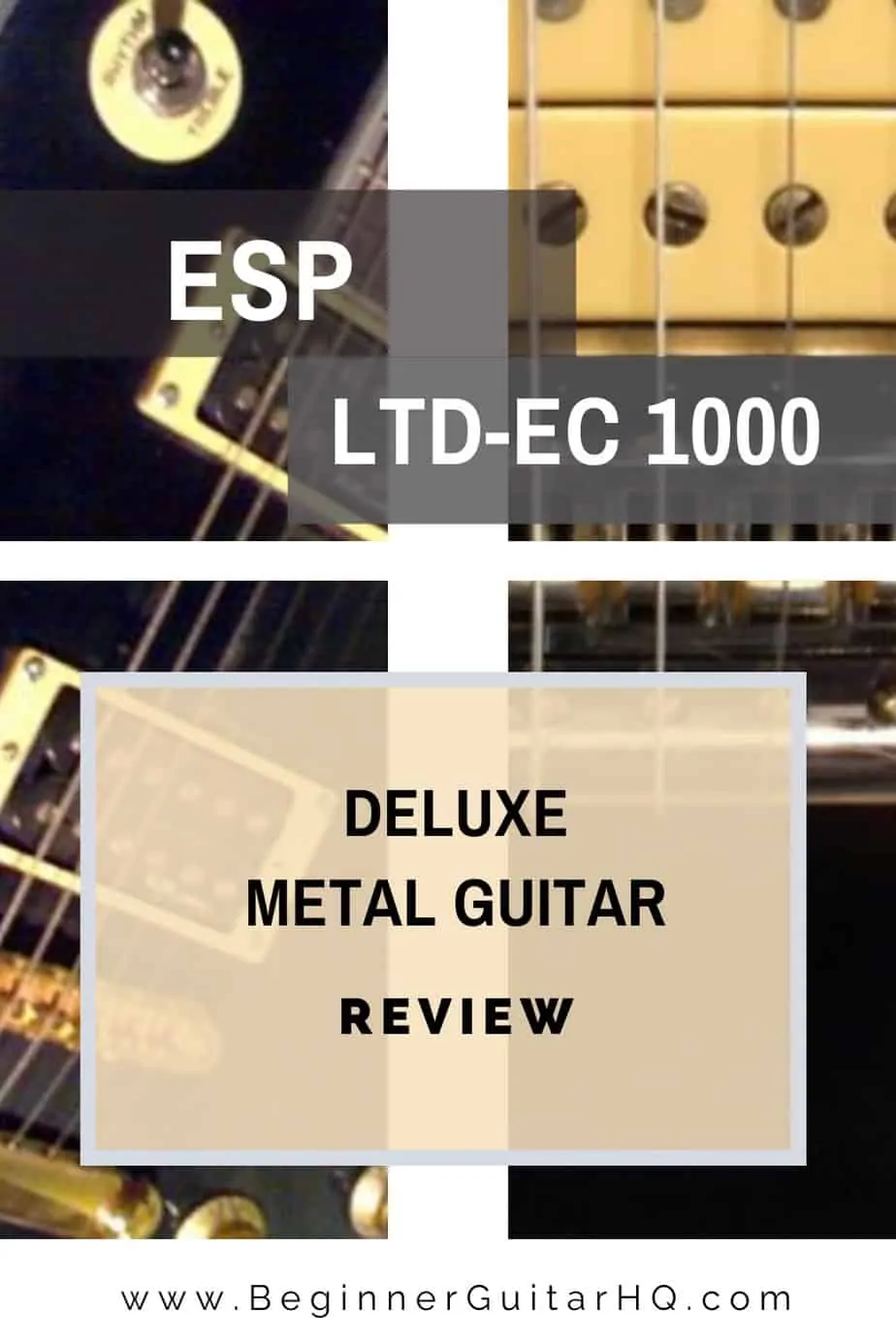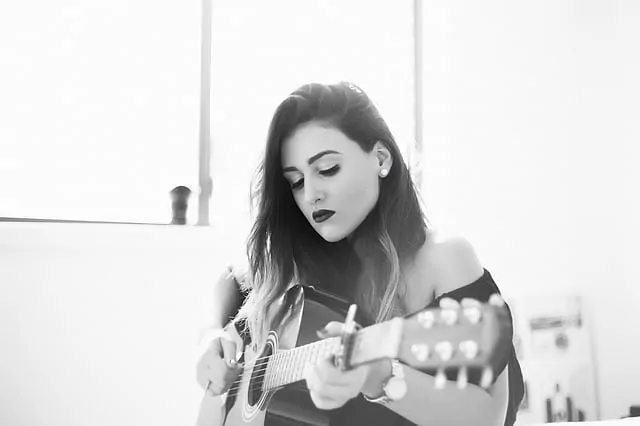 Jen is a guitarist and singer-songwriter who spends much of her time on the road and has lived in 13 cities across 4 continents. She picked up her first guitar at the age of 6 and learned to play by ear shortly after. She received her formal music education at the Berklee College of Music, and currently plays for a few bands in her free time. She has an uncanny ability to improvise creative melodies and harmonies. Her early influences include blues, jazz and rock.