Aside from the Gibson Les Paul and Fender Telecaster, there's no electric guitar quite as iconic as the Fender Stratocaster. Ask your non-musical friends what image comes to mind when they picture an electric guitar––chances are, they'll describe the solid-bodied, double cutaway-shaped and white pickguard-ed image of a Strat.
Since 1954, the Stratocaster has been a Holy Grail model that many guitarists aspire to own one day, taking their place beside Buddy Holly, Jimi Hendrix, Eric Clapton, Eric Johnson and John Frusciante. But at such a high price-point, Made in America (MIA) Strats are out of reach for many guitarists.
Enter the Fender Mexican Stratocaster. These popular mid-level Fender models offer the same classic look as the American Stratocaster at about half the price. Still, there are key differences in the design, hardware and sound of the MIM (Made in Mexico) versus the MIA Strat, which I'll cover throughout the article.
Eight years ago, I became the proud owner of my own Mexican-made Strat: a Fender Standard Stratocaster HSS. This configuration is different from most MIM and MIA Strats, which have single-coil pickups (SSS) at the bridge, middle and neck. Instead, mine has an open-coil humberbucker pickup at the bridge and single-coil pickups at the neck and middle.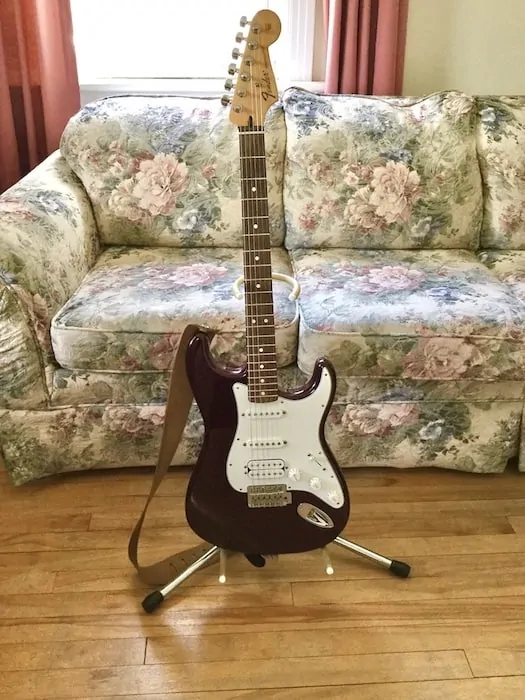 After years of playing a hand-me-down Yamaha RGX310, my family surprised me with the ultimate graduation present: the chance to pick out my own electric guitar. After testing other models in the same price range, I chose this Mexican Strat because of its good-quality design and versatile sound.
The older MIM Standard series also has some different features to the newer MIM Player series, which Fender released in 2018. I'll cover the differences between all these mid-level Strats. This way, you'll get a better idea of which one might be the one for you.
Design
When I entered my local music store on that fateful day, the first thing that I noticed about the Fender Mexican Stratocaster was its sleek, eye-catching design. It looked like my uncle's Clapton-style American Strat, but with a deep purple gloss called "midnight wine."
But I didn't just want a guitar that looked good. I wanted it to have a good-quality sound and design.
Luckily, the MIM Strat achieves that balance between looking good and playing well. Like the MIA, it has a 25.5″ scale, an 11-hole pickguard and a contoured alder body that fits comfortably on your lap while you're sitting and rests comfortably against your stomach while you're standing.
It also has a modern c-shaped maple neck. This subtle flattening of the traditional c-shape makes it easier to move around your fretboard, especially if you have smaller hands. Small-handed guitar players will also like the medium-jumbo frets, which means your fingers don't have to stretch as far when you're playing barre chords or power chords. The Standard series Strats have 21 frets, while the Player series have 22––just like the MIA Strats. However, both Standard and Player fretboards are exactly the same length.

The neck and fretboard on my MIM Standard Stratocaster are well-made, with a comfortable modern c-shape and properly filed medium-jumbo frets that don't prick my hands when I play.
One of the first things I noticed about my Strat when I tried it at the store was its smooth frets. There were many similar-priced guitars I tried whose fret ends dug into my hand as I slid up and down the neck. Especially since I play guitar almost every day, I was happy to find one with a smooth, comfortable fretboard.
All Mexican Strats are built with a 9.5"-radius fretboard. Players have the option of a maple fretboard, optimized for brightness, or a pau ferro fretboard, optimized for warmth. My Standard has a rosewood fretboard, which has an even warmer tone than pau ferro.

I prefer guitars with strong mid tones, so I chose an MIM Strat with a rosewood fretboard. If you want stronger treble, you're better off with maple.
MIM Strats have the same distinct headstock as MIA Strats. Yet, only the Player series preserves the two-toned Spaghetti letters of the American-style Fender logo. Instead, the Standard series has the cursive, 70s-era logo.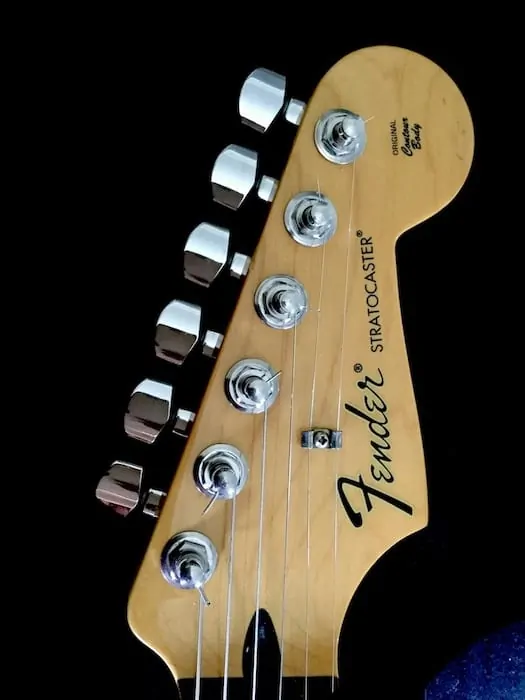 The cursive, CBS-era Fender logo on my Mexican Standard Strat.
Finally, MIM Strats come with either a flame maple top finish or a standard gloss. "Midnight wine" is no longer available for the Player Stratocaster, but you can choose between five other colors: 3-color sunburst (like the original 50s Strats), black (like Eric Clapton's "Blackie"), polar white (the Jimi Hendrix-style look), tidepool blue (for 60s flavor), or buttercream yellow (a new option).
Watch this video for a closer look at the differences between the 2017 Fender Mexican Standard Stratocaster and the 2018 Fender Mexican Player Stratocaster.
Hardware
The Mexican Stratocaster, like the American Stratocaster, benefits from sturdy chrome hardware that keeps your strings firmly in place, balances the tension between the front and back of your guitar and adjusts the volume and tone of your output.
Looking at the headstock, you'll notice six tuning pegs lined up in a perfect row along the edge. This is a standard feature for all MIM models. Yet, this is where the similarities between the Standards and Players end.

A view from the back of my Mexican Strat. The Player series Strats feature an scripted Fender "F" logo instead of a plain chrome neck plate.
If you look at the neck plate of the Standard Strat it should be blank, while the Player Strat should have a scripted Fender F logo. Logos aside, both neck plates are equally well-made.
Another major difference between the two series is the tremolo bridge. Player Strats, like modern American-made Strats, have a two-point tremolo bridge. This balances the tension between the front and back components of your guitar and gives you smoother vibratos when you use your whammy bar. By contrast, Standard Strats have a six-screw bridge, like the vintage MIA Strats. My biggest problem with my Strat is that it's constantly out-of-tune when I play with a whammy bar. So, I usually create vibrato with my fingers instead.

I usually play without a whammy bar, because I don't like constantly needing to re-tune my guitar. Yet, whenever I need that extra vibrato, I can easily screw it back into the bridge.
The biggest difference in hardware between the Player and Standard series is the pickups. My Standard has hotter ceramic pickups, which have more output, more distortion and stronger mid-range tones. By contrast, Players have alnico (aluminum-nickel-cobalt) magnetic pickups, like MIA Strats. Yet, unlike the American-made and Mexican Standard Strats, the Player series have one tone knob for the neck/middle pickup and one for the bridge pickup, instead of the traditional neck pickup knob and middle pickup knob. Especially on the Player HSS models, this creates more nuanced bridge tones.
Nonetheless, the single volume knob and the 5-way pickup selector remain the same on all Fender Mexican Stratocasters.
Sound
Design and hardware aside, sound is where Mexican Strats truly shine. They have a versatile and consistently strong sound, whether you're playing 50s rockabilly, 70s prog-rock, 80s blues or 2000s alternative.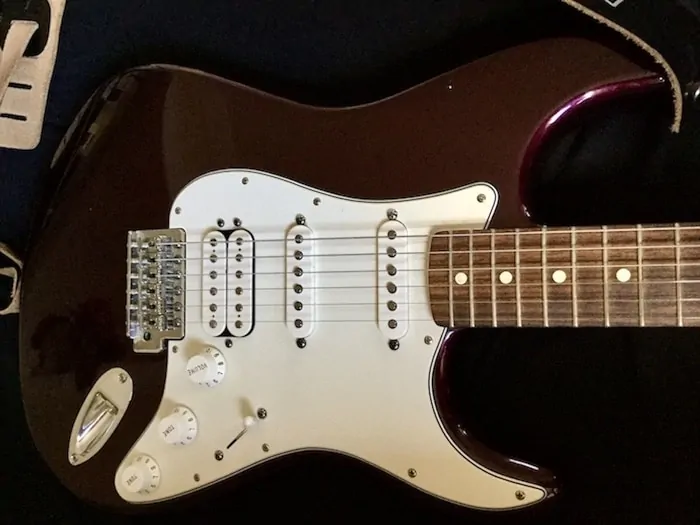 My Fender Mexcian Strat connected to my Vox V845 wah pedal and Yorkville Image IG-20 amp. Don't worry – I only coiled the cables for my Vox wah pedal review, to show how they connect to the pedal.
Unlike other Fender models, Stratocasters have a five-way selector switch that activates different pickups and gives Strats their classic sound. When you're holding your MIM Strat in front of you with the bridge to your left and neck to your right, you can switch between the following:
First position: activates the bridge pickup. It emphasizes warmer, fatter notes.
Second position: activates the middle and bridge pickups, blending the two sounds together.
Third position: activates the middle pickup. Although it's often overlooked, the middle pickup is the one that produces the Stratocaster's signature, snappy mid-tones.
Fourth position: activates the neck and middle pickups, blending the two sounds together.
Fifth position: activates the neck pickup. It emphasizes brighter, crisper notes.
On HSS Strats like mine, the first and second positions produce even thicker tones, thanks to the humbucker pickup. Humbuckers are so-named because they reduce the hum of single-coil pickups, creating a crunchier sound. This is why HSS and especially HSH Strats (which also have a humbucker neck pickup) can handle heavier genres like grunge and alternative metal. In contrast, the classic SSS Strats are better suited for rock, blues and country.
Because of their single-coil alnico pickups, MIM Player Strats have a brighter tone than the MIM Standards, which makes them sound more like MIA Strats. Yet, even the Player series doesn't quite match the richness of American Strats, as we'll see in the next section.
Made in Mexico vs. Made in America
This video looks at the major differences between the MIM Fender Standard Stratocaster and the MIA Fender Standard Stratocaster. This MIM is nearly identical to my own, except for the SSS pickups.
On a closer look, you may notice some subtle design and hardware differences between the American and Mexican Strat. The nut width is slightly narrower on the American Strat, at 1.650" instead of 1.685". There's also a micro-tilt adjustment on the American Strat, meaning that it's easier to shim your neck if you want to adjust your string action.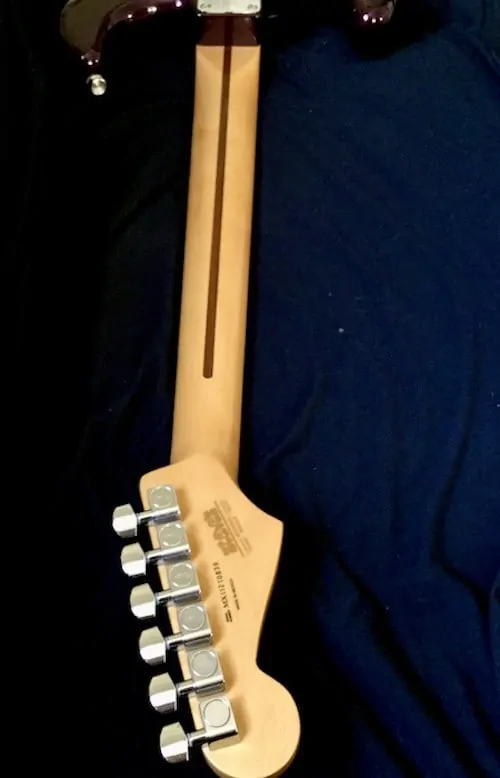 Unlike the tuning pegs on American-made Strats, the ones on Mexican-made Strats are straight instead of staggered.
Additionally, the tuning pegs on the MIA Strat are staggered, with the space between the posts decreasing toward the high E string. This creates more tension on the lower strings to eliminate fret buzz and reduce the need for a string tree (which the MIMs don't have anyway). I sometimes notice a buzz after I change my D'addario NYXL strings on my MIM Strat. But it's never been anything that a simple saddle adjustment couldn't fix.
Yet, the biggest difference between the MIM and MIA Strat is the pickups. The American Strat has a brighter, richer, more nuanced sound thanks to its top-quality alnico pickups. Even the alnico pickups on the Player series don't quite come close to that full, legendary Stratocaster sound.
That being said, Mexican Strats are still excellent sounding guitars. They deliver the same versatile range as the American Strats, with that same snappy tone quality. They just don't have that extra oomph that makes an American Strat an American Strat.
Final thoughts



My Mexican-made Fender Standard Stratocaster HSS was the perfect choice for me, because of my budget and style of playing. Yet, it may not be the best option if you're into heavier genres, you frequently use your whammy bar or you want that pure, bright vintage Strat sound.
To the untrained eye and ear, Mexican-made and American-made Stratocasters may seem interchangeable. Yet, the experienced guitarist can spot the key differences, from the tuning pegs to the tremolo bridge to the sound of the single-coil pickups. In fact, it's the sound quality of the American Strat that really sets it apart from the lower-cost Mexican models.
Still, the Fender Mexican Stratocaster can give you that good-quality, signature Strat sound at a lower price. Players closely capture the bright, snappy charm of the MIAs, while Standards offer a warmer take on the classic Strat sound. The HSS and HSH models extend this warmth even further, offering crunchier, hard rock tones along with the crisp single-coil sounds. This makes MIM Strats excellent mid-level electric guitars for almost every genre of playing, except for metal.
I would recommend the MIM Strat to intermediate guitarists who want to upgrade from their entry-level models, like the Squier Bullet Strat. I'd also recommend it to ambitious beginners who practice regularly and need a good-quality guitar with smooth frets that won't rip up their hands.
Plus, if you really want that American Strat sound without breaking the bank, you can always buy an MIM and mod it with new pickups, electronics and hardware. To find out how, check out our articles on creating your DIY Stratocaster and selecting the best Strat pickups.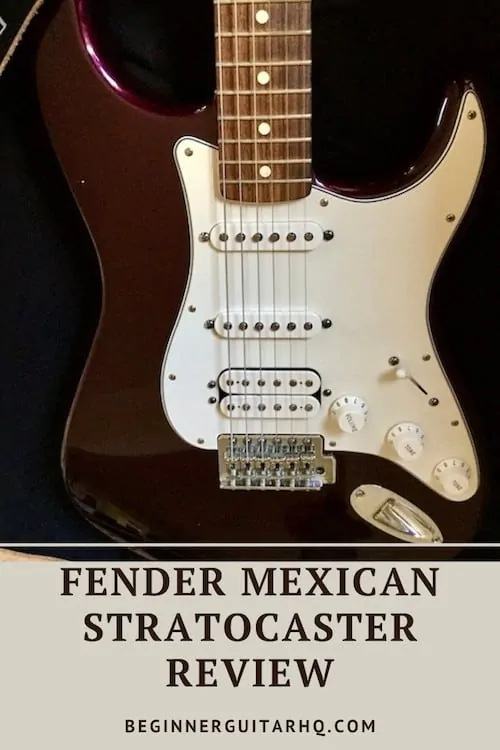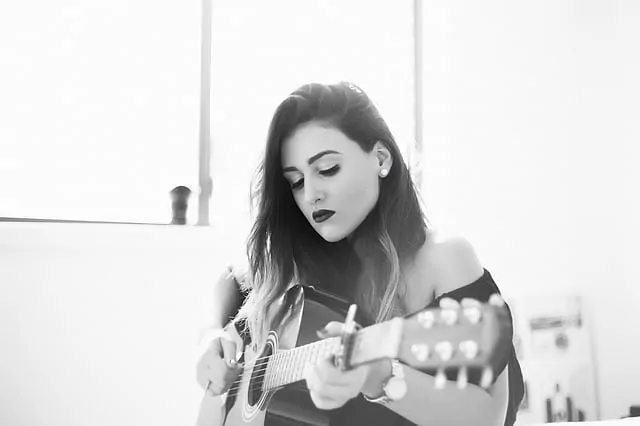 Jen is a guitarist and singer-songwriter who spends much of her time on the road and has lived in 13 cities across 4 continents. She picked up her first guitar at the age of 6 and learned to play by ear shortly after. She received her formal music education at the Berklee College of Music, and currently plays for a few bands in her free time. She has an uncanny ability to improvise creative melodies and harmonies. Her early influences include blues, jazz and rock.