There are very few guitars in the world that elicit such palpable responses as the Fender Stratocaster. It's a guitar that is synonymous with the very idea of what an electric guitar should be. It is the guitarists guitar, a timeless classic. Released over 70 years ago, it is still as versatile and as unique as the day it came out. Countless other manufactures have attempted to copy it, to model it, and to come close to its legendary and look and feel. A few have succeeded, but only because they had the shoulders of the Fender giant on which to stand upon. And yet still, amid a mind-boggling sea of choices for aspiring and professional guitarists alike, the Fender Strat reigns supreme.
So with a back catalog so inspired and legendary, and with very few failures along the way, what else is there for Fender to pursue when it comes to the Stratocaster? How to keep such a classic, timeless, and culturally ingrained instrument true to its heritage, whilst not isolating die-hard vintage-purist fans, yet still pursuing innovation and growth?
Enter, the Fender American Ultra.
What's new?
As of 2019, the American Elite series is no more, it now becomes American Ultra: The most advanced Stratocaster to date.
The name alone makes our fingers tingle.
The Elite series replaced the American Deluxe in 2016, and although this latest name change and upgrade are comparatively relatively minor, it still has some noticeable differences. Like its predecessor, it still remains among the three most advanced series of Fenders, along with Vintage-inspired, and Contemporary. The Ultra series consists of four models: a standard SSS strat, an HSS strat, a Telecaster and a Jazzmaster. They all come with a choice of rosewood or maple fretboards, and include the molded cases that come with all American Professional guitars. Along with cosmetic aspects like new colours and a gold logo, there are a few other noticeable changes bound to get Strat players itching to play one.
Solid Alder body
Maple neck and Rosewood Fretboard
22 Medium Jumbo Frets
Ultra Noiseless Single Coil Pickups
Master Volume (with S-1™ switch), Tone 1 (Neck Pickup), Tone 2 (Middle and Bridge Pickups
Deluxe Sealed Locking Tuners and Chrome Hardware
Hum-cancelling noiseless pickups
The Elite series were a definite step up from the Deluxe, adding a new neck profile, noiseless pickups, S-1 switching, 'soft-touch' knobs, and locking tuners. This latest configuration from Fender does not boast the same leap in features, however builds upon and refines what the Elite series began.
S-1 Switching 
The Elite boasted the groundbreaking S-1 switching system housed within the volume knob, but left users slightly confused; it was difficult to remember exactly what pickup configuration was being engaged. The Ultra aims to simplify this with expanded and improved switching options.
The S-1 switch works by offering an additional set of wiring configurations, thereby giving the player a larger variety of tonal options. Because the switch is discreetly housed within the volume knob, the appearance of your strat does not drastically change, giving a classic look combined with modern pickup options. So, a classic strat position configuration would be:
one: bridge pickup only
two: bridge and middle pickups wired in parallel
Position three: middle pickup only
Position four: middle and neck pickups wired in parallel
Position five: neck pickup only
On the Elite models with the S-1 switch engaged:
Position one: all three pickups wired in series
Position two: bridge and middle pickups wired in series
Position three: middle and neck pickups wired in series
Position four: bridge and neck pickups wired out of phase, with a special tone capacitor
Position five: bridge and middle pickups wired in series and out of phase, in parallel with neck pickup
The upgraded S-1 switch for the Ultra gives seven overall different pickup combinations. The neck pickup can be used alone, alongside middle, alongside just the bridge for a more tele sound, or with both middle and bridge.
Here's a detailed rundown of how it works:
Neck
Ultra fretboards are available in both maple and rosewood, a slight change from the Elites which used Ebony. The Elite also had a wheel adjusting truss rod, but the Ultra moves back to a traditional adjustment located behind the bone nut. There are chromed, short post locking tuners, and a two-post modern vibrato with block saddles.
Among the new revamped features is the modern D neck shape, which was previously a 'C-to-D' on the Elite series. It has a 10"-14" neck radius, which means it gradually gets fatter as you move up the neck. It's a subtle taper, which makes it still feel smooth and comfortable to play. The neck is also toned to give it a more vintage look, and has a smooth Satin finish. On the higher register of the neck(or, the dusty end for those with an aversion to lead playing), there is a welcome continuation from the Elite series. The Elite had a rounded heel and matching modern look heel plate, and the Ultra improves on this with even more champfereing, and adding a palm contour on the cutaway, giving free and easier access to higher registers.
New body Contours
The Ultra retains its classic Strat look, but now has subtle new body contours for the modern player, including the new heel shape. This is the first time in decades Fender has changed its iconic body contours. From the front, it looks like a traditional strat, but the back has become more ergonomic and comfortable on the body.
Colours
The Ultra comes in a variety of colours, both modern and vintage traditional:
Cobra Blue
Mocha Burst
Texas Tea
Arctic Pearl
Aged Natural
Plasma Red Burst
Ultraburst
Final Thoughts
The American Ultra is what all modern players desire; a look that sticks to traditional sensibilities, with all the modern bells and whistles that cater to players who wish to move with the times. It is the best of both worlds, not compromising on the classic Fender Stratocaster we know and love, whilst remaining contemporary and technologically appealing. It improves on the Elite series not by introducing new revolutionary features, but instead by improving on the already astounding accomplishment the Elite paved the way for. Players who know and love the Elite series will be enamoured by the small yet practical improvements, whilst players new to the advanced series of stratocaster will be utterly blown away by the improvements on a classic, timeless design.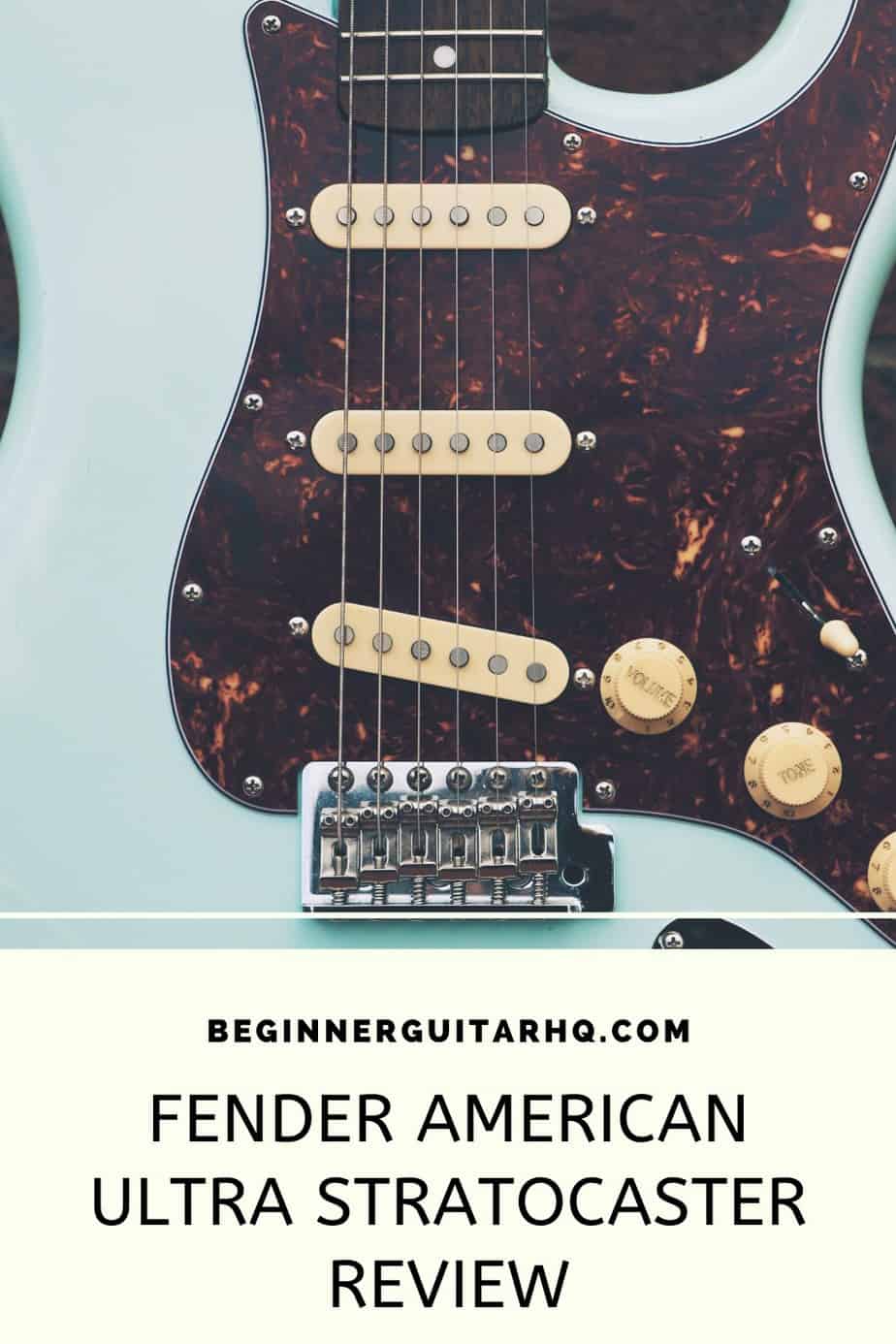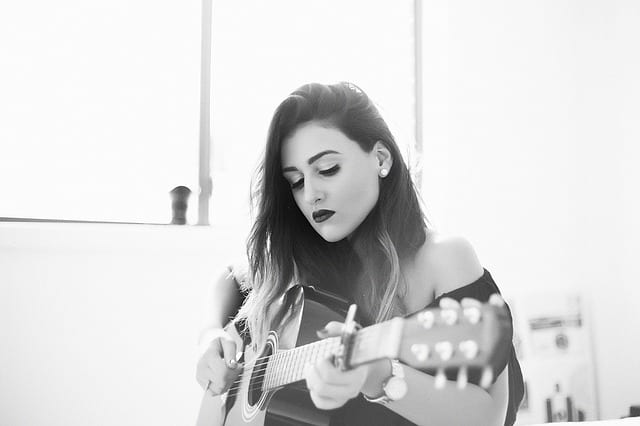 Jen is a guitarist and singer-songwriter who spends much of her time on the road and has lived in 13 cities across 4 continents. She picked up her first guitar at the age of 6 and learned to play by ear shortly after. She received her formal music education at the Berklee College of Music, and currently plays for a few bands in her free time. She has an uncanny ability to improvise creative melodies and harmonies. Her early influences include blues, jazz and rock.