BeginnerGuitarHQ might be designed to teach you how to go from beginner guitarist into professional shred-master, but rhythm is an important skill. In this important guide, we review the best jazz drum set and best jazz drumkit out there, carefully selected from more than 30 jazz drum sets available on the market. Learning how to play drums will benefit your guitar ability to no end, and will give you the added benefit of… y'know… being able to play drums.
If you're looking to grab a jazz drum set and get to work, then look no further…
First Things First
The jazz drum set is a strange beasts. On the surface, jazz drum sets all look roughly the same. A few drums that sound like George In The Jungle, a strangely well-loved crackling sounding drum in the middle, a booming bass at the bottom and some circles of metal to smash up at the top. However, there are so many ways to customise your jazz drum set, or make it specific to the sound you want.
You might see a metal musician with more toms and cymbals than you can count, with a kit that surrounds them entirely and two huge bass drums obscuring the view. Similarly, you might see a jazz drummer content with a tiny bass drum, a snare and a ride cymbal. In this guide, we're looking specifically at the jazz drum set. This is what you'll want to look for:
Warmer snares. Rather than the power and volume of a rock drum kit, you need something to sing alongside those extended piano chords.
Sustained toms. Instead of hefty, bassy toms for maddening fills, you need almost melodic toms that will sustain from one hit, rather than rumble out a flurry of fills.
A brighter bass drum. Someone playing metal will want thumping, heavy sounds from their bass drums which can keep going for many minutes. The jazz drummer needs something light in his or her jazz drum set.
More complex cymbals. The reason you see rock kits with forty different cymbals is because each is a one-trick pony. They can sound perfect at a specific moment, and then get stuck trying to sound versatile. The jazz drummer will look for a cymbal that can create a unique, but versatile sound.
Higher tunings. To get a sound that is airy and able to cut through the band, most jazz drummers tune their jazz drumkits higher. This will typically mean jazz kits have smaller heads.
Beyond the actual jazz drum set or jazz drumkit, a jazz drummer might be prepared with lighter sticks that are easier to create subtlety and detail with, rather than a thudding, heavy rock stick. There is typically also more room for cowbells and tambourines in a jazz kit than a rock one.
Oh, and one more thing. Almost all of these drum sets are made up of drums only. That typically means bass drum, snare and some toms. Cymbals are very rarely included with jazz drum sets, so you'll have to sort those on your own.
Best Acoustic Jazz Drum Set
The acoustic kit is the natural, real and recognisable face of the drum kit world. This is what the jazzmen of the early 1900s used, and this is what remains at the forefront of music today. Real, warm sounds picking up real reverb. Aging and deteriorating naturally, absorbing the conditions it is in, sometimes gaining a unique tone that can never be replicated.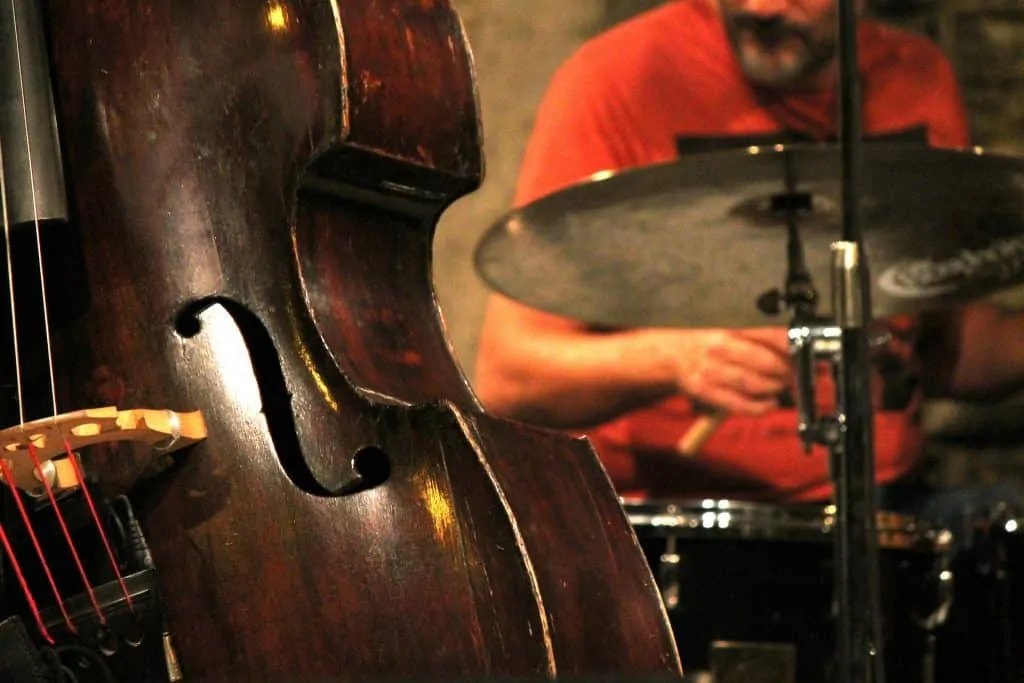 Yamaha Stage Custom Birch
This jazz drum set is an eye catcher straight away. It looks like a pretty simple, 'normal' kit, but its colour is of a beautiful woody orange. The kick is 20×17 inch, which is very easy to tune up to a sharp, high pitch. The snare is 14×5.5 inch, and is incredibly responsive. However, users have suffered with overtones ringing through when the snare is used, but this can be tuned out (which is a bit annoying to do every time you use the kit), or fixed with carefully placed dampening.
The toms are 10×7 inch, 12×8 inch and 14×13 inch. Each jazz drum set is very melodic, with a good sustain, which matches the jazz tone well. The fact that the shell is birch means you can reach that tone with minimal effort. The materials are particularly high quality, so you certainly don't need to worry about the longevity of the jazz drum set.
Pearl Masters Complete 3-Piece Jazz Drum Set
This particularly powerful jazz drumkit is known for being versatile. This jazz drum set has a pure tone that doesn't get hit with annoying buzz or unwelcome frequencies, and its warmth is balanced out exactly by its brightness. This kit is often considered one of the finest jazz drumkits available for purchase, and it's easy to see why.
It uses EvenPly 6 ply maple shells that feel so much stronger than previous versions of this jazz drum set (and many other existing jazz drum sets), which means you can bash away for hours with no worry of damaging anything. On top of that, the skins this kit ships with are of premium quality, so you don't need to worry about tracking down replacements straight away, like you might have to with a few of the more budget options on this list.
The specs are as follows: 20×14 inch bass drum, 14×14 inch floor tom and 12×8 inch rack tom. This means you have a surprisingly large bass drum, which is good for versatility, and due to the high quality of the jazz drum set, very easy to tune to jazzy tones. There is only one tom, but if you're really focusing in on jazz playing, then that's all you really need anyway.
The only problem is, as you may expect, the price. This is a premium jazz drum set, but it is totally worth it. Pear throw in a lifetime warranty, and although it'll set you back a lot (and it doesn't come with snare or cymbals…) it'll be worth it if you're looking to achieve a truly beautiful, studio-ready sound.
Gretsch CM1E826PWG
Gretsch might be the most well-known jazz kit makers. In fact, this jazz drumkit is my jazz drum set of choice. The stock heads are good, but will wear out rather quickly and need replacing, but thanks to some incredibly durable hardware, you don't need to worry about it wearing out.
The 7 ply maple shells and Remo drumheads make sure this is a very high quality piece of jazz drum set, but won't be for those on a strict budget. It's not exactly for millionaires, but it also isn't for the beginner drummer.
While jazz is the best style to play with a Gretsch kit, this particular set wouldn't be awful in a metal, rock, folk, funk etc. setting due to its incredible versatile drums. They can be tuned with ease and have a great tone straight away.
The 18×22 inch bass drum seems big, but when you get some tuning in, it'll be absolutely fine. You're also provided with three toms: 7×10 inch, 8×12 inch and 14×14 inch; they're all warm and have great attach, while even the 6×14 inch snare is pretty impressive.
Sonor Safari Drum SSE12
Sonor has a unique tone that drummers know well. Their signature tone comes from the use of a 45 degree bearing edge, while they are known for combining warmth and brightness in their tone, particularly in the toms.
The bass drum is 16×16 inches, which may seem a little big, but as you can tune this until your heart's content, then it'll be easy to fix this for a jazzy tone. Once you've done this, the drum has a very clear tone, avoiding resonance and issues rather well. Having said that, the bass drumhead is strangely tacky, so should be replaced quite early on in order to get the sound you want.
The powerful 14×5 inch snare is durable and able to make an appearance across a range of genres. This is good on the whole, but remember that jazz kits need a bright punch, and while this snare delivers that, it isn't as punchy as many other jazz snares. The 10×8 and 14×12 toms are warm and have good sustain.
Ludwig Questlove Breakbeats
This particular kit was designed personally by Ahmir 'Questlove' Thompson, hence the name. He is known for his playing on The Late Show With Jimmy Fallon as well as in his band The Roots, so if someone knows a thing or two about crafting the perfect sound to balance live performance and studio work, it's him.
The fact that this is a mini drum kit means it is perfect for the beginner performer, as the jazz drum set can be transported with surprisingly little effort (considering that, at the end of the day, it is a drum kit). Typically, you might assume that such versatile sizing and portability would skimp on sound, but in this case, you'd be oh-so-wrong.
The kit comes with 7-ply hardwood shells. These shells encompass a 14×16 bass drum (told you it was small), which has an amazingly bright tone for a bass drum; a 7×10 inch tom, a 13×13 inch floor tom and even ships with a 5×14 inch wood snare. The snare is probably the weakest element of the kit and you might want to look into replacing its head, but other than that, I can't think of a better mini jazz drum set.
Gammon Percussion SP5 BK
Gammon is a very underrated brand in the world of percussion. They offer some impressive value for money with their SP5 BK jazz drum set, which comes as a full set ready for a beginner. If you're literally just taking up the drums, then this five-piece kit comes with a stool, sticks, cymbals and all of the relevant stands, so you won't have to put any thought into your purchase. Seasoned pros might want to avoid this, though, as it doesn't have the most professional sound in the world.
These problems come from the plastic drumheads, which give a rather weak, fake sound. On top of that, the cymbals are terrible, so should be replaced straight away. The actual construction of the jazz drum set is pretty good, though, so if you have the budget to get some new skins and accessories, then you can probably turn this into a good piece of jazz drum set.
Having said that, it is small and affordable, so if you need something to take to a low-budget gig, then this could work.
Sonor SSE13
The upgraded version of the Sonor SSE12, this kit brings a better construction and more well-rounded tone than its predecessor. However, this kit is designed for broader, gender-fluid playing, so in order to get the perfect jazz tone, you will probably need to replace the heads.
Despite its low budget price tag, the jazz drum set feels sturdy and its small size allows the jazz drum set to fit into a small room or be taken to gigs with minimal issues. This is down to the Poplar shells, which are known for an incredibly projection and their ability to resonate nicely and keep your hits sustained.
The 14×12 inch bass drum is nice a small, delivering a punchy jazz tone, while the 8×8 inch and 13×10 inch toms are good for their price. However, the kit doesn't come with a snare. In one way, this is good, because the snare is the most important drum in the kit and this budget kit might not be able to create a good enough sound. As such, you'll be able to get your own, high-quality snare. However, it not being included does just create a little bit of a hassle for new drummers who don't know what to be on the lookout for.
Tama LJK28S-AQB Club Jam Mini
Another mini kit, this time coming from Tama, the Club Jam is another incredibly impressive kit for such a small, portable size. If you have access to some drum bags, all you really need to do is chuck the kit in there, fill the boot of your car and drive over to a gig and you're sorted. That's how easy this is to transport and set up.
The tiny 18×7 inch bass drum doesn't exactly give off a booming low end, but when miked up and played in a trio with bass and piano would still give off surprising weight. It also only has the one tom, but does give you a snare as standard, as well as a hi-hat (no actual cymbal, though) and no crash stand. They must really be expecting you to stay small here.
One of the most innovative things about this kit is the hybrid material it is constructed from. It blends Mersawa and poplar wood to get a totally unique tone that I don't think can be found anywhere else. The snappy sound created within the snare is one of the highlights, with a surprising ability to cut through the texture of a band despite the reasonable price tag.
Pearl RS584CC707
It might have a ridiculously long name that'll seriously get on your nerves when trying to tell people which kit you've bought, but it'll certainly impress with its sound, despite the very budget price tag.
One of the more impressive things about this kit is that it can be played right out of the box. No set up is required, because each element is already built. It also comes with a hi-hat and a cymbal, which is relatively rare for a drum kit. However, considering this is a Pearl kit, the cymbals that come with it are, obviously, Pearl brand. They aren't exactly known for the quality of their cymbals, so I'd suggest taking a look elsewhere for those.
In terms of sound, it is surprisingly powerful for a jazz kit. It might be a little boomy at times, but can be tuned to your needs and will give a good sound in a big room. However, users have noted issues with the lower end of the kit, suggesting that the bass drum and floor tom need tuning to avoid a ringing and buzzing that makes the kit a little unpleasant at first.
Gretsch Catalina Club Jazz 4-Piece
Returning yet again to the incredible Gretsch brand, you really can't go wrong when looking for a 4 piece jazz drum kit made by this inimitable company. The first thing to note is simply how incredible the kit looks; with that sunset brown and hazy wood notes running through, it is simply stunning. If you can find a nice set of cymbals to match, you're laughing.
The drumming set-up is about as classic as it comes, with modern finishes and hardware making sure everything is up to date and just about as good as it can possibly sound. It is warm, roomy and has an instantly recognisable tone to those well-versed in percussion.
It might not ship with a snare, but the 14 inch bass drum in the 4 piece packs a punch despite being so shallow, with mahogany shells keeping them sturdy and resonant. The Remo heads are essential in this configuration. Poor quality heads wouldn't do such an incredible kit justice, but the bouncy sustain and muffled warmth of Remo is the perfect match for the Catalina Club.
Pacific Drums PDCM2217PW
This is another kit on our list with a very annoyingly long name, but a great sound for a low budget kit. You can get the toms on the kit with either birch or maple shells, which gives them a built-in warmth and sustain that are perfect for playing jazz.
On top of that, rather than giving stock heads that need to be replaced either due to a plasticy, weak sound, this kit sorts you out with top quality Remo heads. These are recognised as brilliant heads across the industry, so you know their high quality is very reputable. The hoop mounting hardware also makes you feel comfortable that the kit can take a beating without being damaged in any way.
The only real downside of this kit is the price. As you might expect from the incredibly high quality heads and hardware, this isn't a beginner kit. It might be perfect for jazz (although the bass drum is a little large), but the price tag isn't perfect for a beginner. If you can afford it, then learning on this kit will be a treat, but if not, perhaps start elsewhere.
Best Electronic Jazz Drum Set
Electronic kits are a point of contention amongst jazz drummers. They might be able to replicate sounds rather impressively, but the fact that their sounds aren't able to resonate naturally across the walls of a studio or concert hall leave some thinking that their sound isn't warm. It's true, to an extent, that electric jazz drum sets aren't the 'real' deal, but having such an ability to customise them can sometimes end up making them… whisper it… better.
Think about it; if you're playing with worn out jazz drum sets, chances are that things are going to rattle and shake a little. You might have some unwanted noises you don't really desire, but can't mask well enough. Your kit might break beyond repair. If you replace stuff, is it the same kit anymore? If you mess something up, it'll be much harder to fix if you're working on an acoustic drum kit recording. If you really desire a massive reverb but you're sitting in a tiny room to practice, you can't create it from scratch yourself.
An electronic drum kit can. Full of customisation options, very easy recording set-ups and often the ability to switch between different types of kit at the touch of a button, this is more and more often the way to be a jazz drummer in the modern era. Plus, if you look at high end models, chances are you wouldn't even be able to tell the difference between an electric and a real kit.
Tourtech TT-12SM Electronic Drum Kit
Considering this electric drum kit is so fairly priced, it is quite incredible that it's so good. You have access to 26 different kit sounds, ranging from metal-centric, big, bold sounds, right up to ridiculously modern trap and dubstep sounds. This means it isn't designed for jazz, but can certainly be used for it.
The kit is mesh, which means the response is fairly realistic, though remember you're never going to find an electronic kit that feels like you're playing acoustic. If that's what you need, you should probably avoid electronic jazz drum sets altogether.
However, it's a great piece of equipment for practice, as it comes with lots of play along tracks, as well as a metronome and every element of the kit as standard. One of the bonuses of an electric kit is that you don't have to worry about grabbing your snare and cymbals separately as they're already there. Having said that, for some reason this one doesn't come with a stool…
Roland TD-1DMK Electronic Drum Kit
Roland are known as the masters of keyboards. They are able to create authentic and realistic keyboard emulations, which sound just like classics from yesteryear, while creating their own unique, recognisable and beautifully playable instruments. Interestingly, they're pretty good at making electronic jazz drum sets too.
Something to be on the lookout for when investing in this particular kit, is that it is very much designed for beginners. It's incredibly ugly, with no particular attempt at replicating a real kit made. For example, the cymbals are centimetres apart, the snare and toms are tiny and the pedals are pretty much moveable to wherever you want them to be, which could get you to pick up some pretty bad habits early on.
This one only has 15 pre-set jazz drum sets (again ranging from classics to electronic sounds), but considering the price, these are its most impressive feature. The sounds are genuinely realistic and fun to use, with the ability to nab a good jazz tone relatively simple.
Sure, it should be used for practice only, but if you want to get a feel for some tight bebop rhythms early on in your drumming career, then this could be a good way in.
Alesis Nitro Mesh Electronic Drum Kit
Sale
The Alesis Nitro Mesh is often considered the best value electronic drum kit. It stays on the low end of triple figures, which is pretty amazing, considering some can take you to the top end of quadruple figures.
There are forty jazz drum sets in this one, each one more innovative than the last. The jazz tones are able to reflect the bright, bouncy and sustaining tones of classic jazz drummers, while, as usual, you can move towards much more modern sounds if you like. To your left, a detailed control pad allows you to map sounds wherever you want, giving a strangely detailed level of customisability that I can't really imagine many people want.
The mesh set-up isn't like playing a real kit, but it is certainly intuitive and comfortable. There is enough sink in each drum that it feels like your stick has some weight to it, and not that you've just smashed into a table.
While it might teach you some bad habits, the fact that this kit allows you to choke cymbals and perform rim shots despite not having a cymbal to choke or a rim to shot is impressive. This gives you a huge range of jazzy (particularly with that rim shot) sounds to explore as you wish.
ATV aDrums Artist Standard
This particular electronic kit is unique amongst this list. Firstly, in its price. It is more expensive than any of the acoustic jazz drum sets listed, and far more expensive than the electronic jazz drum sets. One of the main reasons behind that is that it basically looks exactly like an acoustic kit. Sure, the cymbals are black and made of rubber, but it doesn't have that strange pseudo-2D feel of most electronic jazz drum sets.
There are real wooden shells on the drums (6-ply, birch) and full size dimensions. An 18×12 inch bass drum, 13×12 and 10×6.5 inch toms and a 13×5 inch snare, as well as hi-hat, crash and ride cymbals all included. Each one sounds brilliant, and if you have headphones on (so you can't hear that, at the end of the day, you're hitting plastic instead of a real kit), there is no way of telling whether you're playing a high end acoustic kit in a studio, or this electronic kit.
Arguably the best thing about the kit is that you could learn drums on here with basically no issue. The jazz drum sets above are all too small or have strange quirks that make them quite un-drum-kit-like, but this feels real. The hi-hat has been noted by users as the strong point, creating a responsive and realistic feel that most electronic jazz drum sets are sorely lacking.
ATV's aim was to create an electronic kit that sounded acoustic and they've done exactly that. Now, it raises an almost philosophical question regarding whether there is any point in creating a kit that sounds so much like an acoustic kit, when you could just actually get an acoustic kit… but we'll leave that for another time.
In Conclusion…
There is a lot of variety on the market here. Don't be drawn in by the stage presence of a massive jazz drumkit that will make you the focal point of a gig, because that isn't what jazz is about.
If you want to be noticed, go for metal. In that genre, the more bass drums the better, and your heavy sticks can create a thudding, loud, thunderous sound with every drum you hit.
In jazz, though, you're about as much a melodic instrument as you are a part of the rhythm section. Be sure that your choice reflects how much you want to be a funky backbone to the instruments in your band, as you want to be able to show off with a delicate solo break.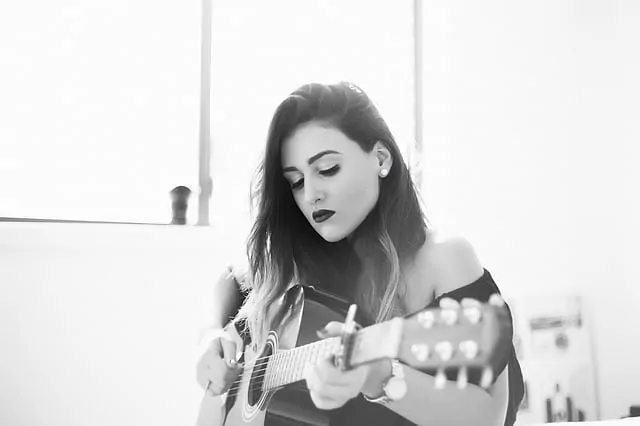 Jen is a guitarist and singer-songwriter who spends much of her time on the road and has lived in 13 cities across 4 continents. She picked up her first guitar at the age of 6 and learned to play by ear shortly after. She received her formal music education at the Berklee College of Music, and currently plays for a few bands in her free time. She has an uncanny ability to improvise creative melodies and harmonies. Her early influences include blues, jazz and rock.