Drums are essential in music, and their ability to keep regular time-locked patterns dictate to a large extent how interesting a song will be.
A drum might be acoustic or electronic. However, our focus in this review is on electronic drum sets and choosing the best that suits both your style and peculiar playing situation as a drummer.
The most important points to consider when shopping for an electronic drum set vary for different drummers and can range from footprint size, and ease of setting up, to sound quality and availability of sound options.
Other considerations may also include playing situations like a home studio recording session, live stage performances, or indoor practice sessions.
In all, the decision still lies with you as a drummer, knowing what you want to achieve. I've written this review to serve as an expert guide while putting the needs of the drummer as the yardstick for measuring an E-drum's suitability.
Without any further ado, let's check them out!
Alesis Nitro Mesh Kit 
A beginner drummer who is looking to get her/his first electronic drum set may benefit immensely by going for Alesis Nitro kit with mesh heads. At very affordable pricing, the mesh heads on the kits give it an advantage over its counterparts with rubber heads since it increases its response-ability.
Still in relation to the price, the sturdiness of the hardware and frame is pretty impressive, with the eight kit piece comprising three toms, three cymbals, a bass, and a snare kit. It has an acoustically realistic sound, including a choke for the crash cymbal to mute any excessive ringing.
The drum module also has some fantastic features like 60 songs to practice and play along, more than 350 drum sound, as well as 40 modern and standard kits.
Other features include a sequencer and metronome to aid your time-keeping skills, auxiliary connection ports, and a recorder for your jam sessions.
Overall, the Alesis Nitro Mesh Kit, with all its beginner-friendly features, and very affordable pricing, may well be the best electronic drum set out there for the beginner.
Pros
Very affordable
Great quality with respect to price
Solid hardware and frames that does great under heavy hits
Fantastic drum module quality
Very responsive without a drummer expending so much energy
Cons 
Drum module settings seems a bit perplexing
It has a wide frame that takes up room space
Alesis Nitro Mesh Kit has a fantastic sound quality and responsive pads at a very affordable price range. 
The Yamaha DTX400K 
An electronic drum set comes in handy for more quiet practice time, but the Yamaha DTX400K electronic drum set seems to trump others in this aspect.
With its innovative KU100 Silent Kick Unit, Yamaha may well have eliminated up to half of the noise from electronic drums since the bass beater generates much of the noise.
The absence of a regular bass pedal, however, makes this a no-no for an absolute beginner drummer. This pedal is not the standard for learning to play the bass drum, but an intermediate to advanced drummer will feel less awkward using the KU100 Silent Kick Unit. 
Other features include ten fully programmable kits, more than 290 quality drum sounds, with drum tutorial program which helps you sharpen your groove.
There is a free iOS App included allowing you to sync your iOS device to transfer songs to the module.
In general, the Yamaha DTX400K may best suit your needs if you consider a quiet practice more important than having a typical bass drum kick for your electronic drum.
Pros
Noiseless design with a unique silent kick unit
The module is easy to set up and use
Plenty (over 290) quality Yamaha drum sounds
Cons 
The Kick Unit feels awkward
Very few preset kits
Excessive ringing might occur as there is no choke for cymbals
You literally can practice in peace with The Yamaha DTX400K
Roland TD – 11KV 
Drummers sometimes seek an electronic drum set that they can use for practice, live performance, and sometimes studio recording. This requirement might seem like a tall order, but not so if you have the Roland TD11KV.
This drum has one of the best realistic drum sounds in the market, with its novel SuperNATURAL-enhanced sound engine and a library filled with a wide array of style-specific quality sounds. It also comes equipped with COACH function and backing tracks for honing your drum skills.
The module has an LCD screen with simple icons for easy navigation and setup.
Other features include a robust MDS-4V stand, mesh-head V-Pads with exceptional response, and a USB connection for importing songs and connecting to music applications on your computer.
Some drummers might consider the Roland TD-11KV a bit pricey. However, when juxtaposed with electronic drums of similar features, it's still one of the most affordable you'll find in the market.
In all, Roland TD-11KV, with its helpful features and excellent sound quality, may give drummers the best of both worlds.
Pros 
Superb sound quality
Has useful educational features for drummers
Easy to tweak and set kit's live sound
Cons 
A bit pricey
Has few (190) sound range
Roland TD – 11KV is a mix of great looks, unique feel, quality sound, and serious fun. 
Alesis Command
As a drummer that wants to deliver exceptional live performance, getting an electronic drum set with features that are both flexible and solid will be the best.
The Alesis Command can fit this description very well, as it has features you can tweak on the go to give a memorable live performance.
From its acoustic-looking 8-piece drum kit, its solid chrome frame, and large mesh-head pads for excellent response, the Alesis command looks poised to give an amazing live performance.
Aside from its drum module, which boasts of an excess of 600 sounds, 70 kits, and 60 play-along tracks, it also has a drum pedal for that natural feel while playing.
It has a USB connection for loading customized external samples from your device, as well as an auxiliary connection for mp3 devices. Not forgetting its internal sequencer to record songs and playback.
The Alesis Command mostly presents drummers with an electronic drum set that has an acoustic drum feel and responsive yet powerful kits to give a brilliant live performance.
Pros 
It has mesh heads for a great response with minimal efforts
Setting up is easy and fast despite its big frames
Strong frames
Nice professional chrome design
Cons 
The cymbals are not dual-zone
The Alesis Command features amazing combination of sounds at an affordable mid-price range. 
Roland TD-1KV
Sometimes, intermediate drummers soon find that their electronic drum with basic features is only suited for a beginner level, which they have since passed.
The Roland TD – 1KV is designed to see to the needs of beginner to intermediate, and even professional drummer levels at an affordable price range.
This e-drum features the sound engine used for high-end V-drums to make very realistic professional drum sounds, with 15 different genre-aligned kits. It has mesh heads for excellent response, pre-installed drum tutor software, and metronome – to keep time, all of which should get a drummer learning and having fun in one kit.
Its drum module also has an interface that's easy to understand and use, while there are connection ports for a PC, mp3 devices, as well as earphones for playing silently.
The drum module has a recording function that allows you to record your performances to playback later. The solidly built frame can be adjusted for both kids and adults while maintaining a small footprint to fit into small spaces.
Other features include a unique pedal without a beater to reduce noise levels, and midi functionality to customize tunes and drum plug-ins from a preferred drum application.
Pros
Compact design that fits into small spaces
Quality kit sound at an entry-level price
Very affordable
Strong frame structure
Cons 
Bass pedal feels a little awkward and can sometimes be frustrating for some drummers
The Roland TD-1KV has a really good sound that can pleasantly surprise you for such a compact and affordable E-drum.
Alesis Strike Pro
On the high-end of electronic drum sets, you'll find more features, rack durability, and enough options to customize your sounds based on your imagination and to fit your preferred style.
The Alexis Strike Pro comes under this spectrum but with relatively more affordable pricing than most in this spectrum.
This E-drum comes with eleven kit pieces with wooden shells and mesh-heads that are super responsive, and you can tune it like its acoustic counterparts.
The hop pads are large and have multiple sensors to pick up drum strikes and nuances from different zones, giving it a more professional feel and look. It has a fourteen-inch Kick drum, eight-inch, ten-inch, twelve-inch, and fourteen-inch tom pads, and a fourteen-inch snare pad. It also has a sixteen-inch triple-zone ride cymbal, fourteen-inch crash cymbals (3 in number), and twelve-inch adjustable hi-hat.
The drum module comes with a high graphical LCD screen to navigate settings, with more than 1600 instruments and 110 genre-specific kits.
There is also a pre-installed software for customizing and editing existing sounds, while an included SD card stores your selected sounds and imported songs.
In all, the Alesis Strike Pro come highly recommended for a professional studio-recording drummer who strives for a unique sound with every performance.
Pros 
High-grade kit racks with solidly built frames
Over 1600 drum kit sounds with realistic delivery
Has mesh heads with great response
Relatively affordable for a high-end electronic drum
Cons 
A bit pricey
Interchanging the open and closed hi-hat sounds sometimes occur in error due to software problems
The size and acoustic drum samples coming from the strike pad of this Alesis Strike Pro is astounding and the module adds magic to the sound.
Alesis Surge Mesh Kit
The Alexis Surge Mesh Kit falls on the average end of the pricing scale of the electronic drum set. But what's more is that it offers added advantage in terms of response and rebound from its mesh heads – which is an upgrade from its previous version, at no extra cost.
This eight-piece E-drums has realistic feel kits with dual zones, which includes Three mesh-head tom pads, and one mesh-head kick drums with a drum pedal – all eight inches in diameter, as well as a ten-inch mesh-head snare. It also has crash cymbals with chokes to mute the excessive ringing, a hi-hat, and ride cymbals that are all ten inches in diameter.
The drum module comes 385 sounds and 40 different kits, with 60 songs loaded for jamming along. There is also a sequencer installed for recording your jam sessions with a playback function.
The Alesis Surge Mesh Kit gets support from a well built solid rack with chrome plating for a subtle metallic feel.
Connectivity options include an auxiliary inlet for connecting mp3 players and a USB port for PC connections. Other accessories may consist of drum keys, sticks, and cords for power and other connections.
This E-drum targets drummers who can spare a little more to get a few more sounds, features, and tweaking functionalities.
Pros
Great mesh head response and sound quality
Easy to assemble for just about anybody
Strong, nice-looking, chrome-plated racks
 Has a small footprint and fits well in small spaces
Cons
Has very few equalizer options
The rim shots and crash choke makes the Alesis Surge Mesh Kit sound alluring and exciting at the same time
Roland TD-17KV-S  
With its real bass drum kick and pads that give the feel of real acoustic drum sounds, the Roland TD 17KV-S electronic drum is designed to give drummers a transition from an acoustic drum without missing much.
This E-drum features some very realistic sounds, including the novel Roland TD-50 sound engine and the drum module, which has 50 quality drum kit preset sounds like Compact, Arena Stage, Studio, Speed Metal, etc. for different playing environments.
The twelve-inch snare has mesh head for an excellent response that can be tuned with as much tension as needed.
The bass drum has a rubber covering to reduce some of the noise without removing the natural thud sound typical of an acoustic bass drum.
Other kits include hi-hat, ride, and crash cymbals, as well as three toms, hi-hat control pedals, and MDS-4V drum stand to carry all the pad kits.
There is also auxiliary inlet and cable to connect your mp3 device for playing tracks, as well as a connection for your PC to download and use the free drum tutorial software – Melodics for V-Drums.
Pros
Has a great acoustic feel
Impressive and realistic sound quality
The reduced noise level that is good for indoor practice
Cons
Has a footprint that is a bit wider than most Electronic drum set
The Roland TD-17KV-S is realistically close to an acoustic drums both in feel and in looks 
Alesis DM10 MKII Studio Kit
The Alesis DM10 MKII is an electronic drum specifically crafted for the studio session drummer. This high-end E-drum creates one of the most realistic and diverse kit sound options in the electronic drum market.
It has over 670 sounds, 74 kits – 20 of which are user-editable, mesh heads for all drum kits that can be tensioned and tuned to match playing preferences, and a heavy chrome drum stand to hold the kits down.
The drum module has metronome for keeping time while you play, an auxiliary input for connecting external mp3 devices, a midi line-in for uploading customized midi files, as well as a USB slot to load your jamming tracks.
The DM10 MKII might be ideal for the drummer who wants to look and sound professional in a recording studio session or while performing live.
Pros 
Sturdy chrome rack stand for holding kits in place
Easy to set up
Great sound quality
Plenty of kit and sound modification options
Cons 
Has a large footprint and might not fit well into small spaces
The Alesis DM10 MKII Studio Kit is definitely worth every dime in value and great for professional drummers 
Yamaha DTX562K Electronic Drum Set  
The DTX562K is another quality electronic drum set from Yamaha, who are known for their quality music instruments.
The DTX562K is an eight-piece E-drum with over 690 kit sounds and samples, 128 keyboard sounds, and 50 user-customized sounds for personalized playing.
It also features highly responsive and durable snare and tom pads, with a bass pad that is close to acoustic as can get.
One unique feature of the DTX562K is the hybrid combination of the acoustic and the electronic parts of the hi-hat, which is composed of a real hi-hat stand and pedal, combined with a 3-zone (cup, bow, and edge) responsive hi-hat cymbal pad.
The module comes with an intuitive user interface, with educational functions, preloaded training tracks, and practice midi files.
The DTX562K allows for a USB connection to access and import external sounds using a proprietary VSTi software.
A drummer that's looking to get a feel of real hi-hat nuances and sound within an electronic drum configuration may find the Yamaha DTX562K most beneficial.
Pros 
Quality kit sounds
Easy to assemble and adjust to suit drummer's position
Easy module navigation and use
Pads are very responsive
Cons 
Not easy to expand by adding more pads
The Yamaha DTX562K Electronic Drum is compact as well comfy but with the combo of acoustic and electronic hi-hat, it's definitely iconic 
Final Take 
Every electronic drum set mentioned here has its best use cases with advantages that give them an edge over other models or brands for those scenarios.
With this piece, you should be well informed to make the right decision when next you're shopping for an electronic drum set.
Cheers!!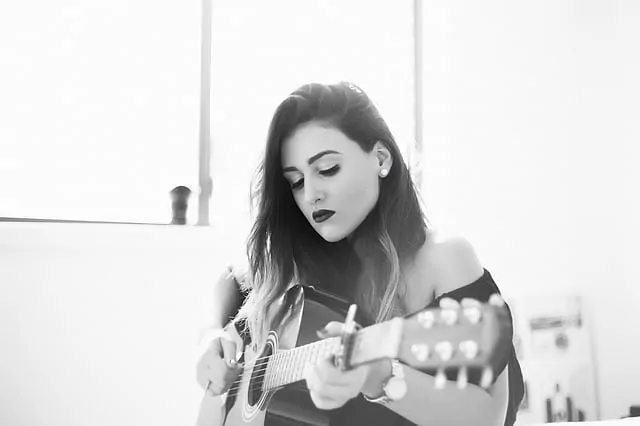 Jen is a guitarist and singer-songwriter who spends much of her time on the road and has lived in 13 cities across 4 continents. She picked up her first guitar at the age of 6 and learned to play by ear shortly after. She received her formal music education at the Berklee College of Music, and currently plays for a few bands in her free time. She has an uncanny ability to improvise creative melodies and harmonies. Her early influences include blues, jazz and rock.