What do Jimi Hendrix, Stevie Ray Vaughan and Pink Floyd's David Gilmour have in common? They're master guitarists, of course. And they've all used Vox wahs to help create their iconic sounds.
In 1967, Vox teamed up with Thomas Organ to release the first ever wah pedal. It quickly became a must-have stompbox for guitarists and bassists. Even today, Vox wahs are a favourite across genres, from blues rock to funk to smooth jazz. But with so many other brands to choose from, is it still worth it to buy a Vox?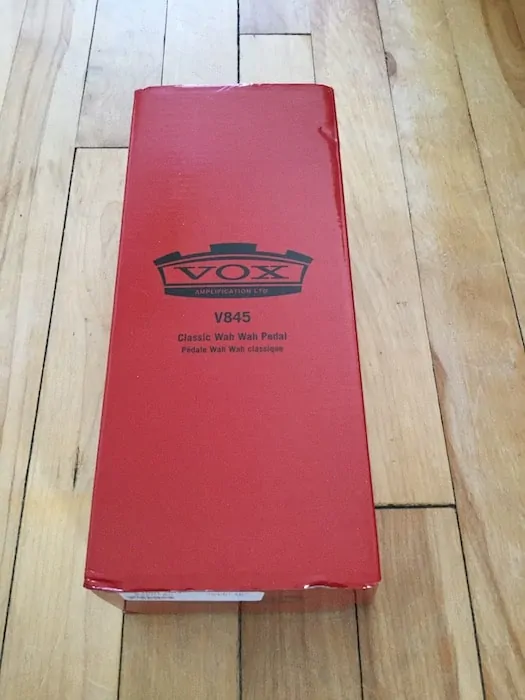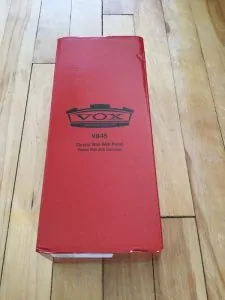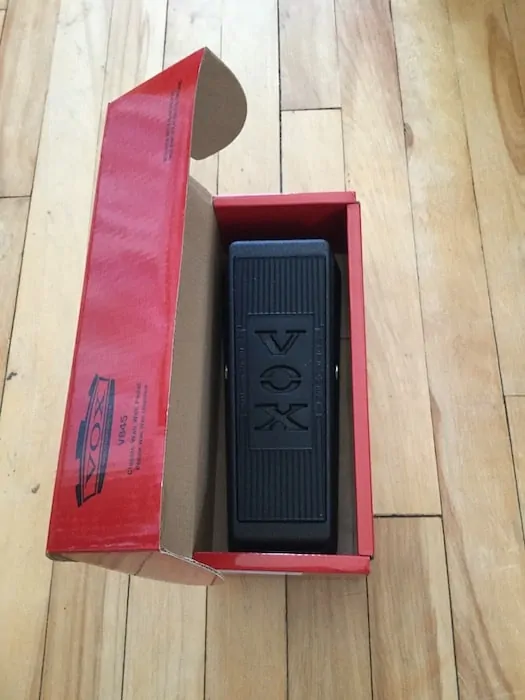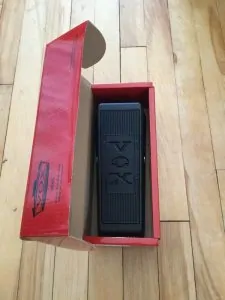 The V845, also called the "Classic Wah Wah Pedal." I received mine as a Christmas present.
To answer this, I'll be looking mainly at the V845. Like the bestselling V847A and the premium hand-wired V846-HW, it's an updated version of the 60s pedal and claims to stay true to its original sound. If you're thinking of buying another model, don't worry. I'll be comparing all three pedals – along with the soon-to-be-released, limited edition V847-C.
What is a wah pedal?
Like the name suggests, wah pedals create a "wah-wah-wah" effect that some guitarists compare to a crying baby or a muffled human voice (kind of like the adults from Charlie Brown cartoons). You've probably heard it in songs such as:
"Voodoo Child (Slight Return)" (intro and solo) by Jimi Hendrix
"Theme from Shaft" by Isaac Hayes
"Alive" (outro) by Pearl Jam
Most wah pedals, including the four Vox models, operate in the same basic way. You control the sound with a rocking plate that changes your signal to boost certain frequencies:
Rocking backward onto your heel disconnects the plate from the switch (open position). This sweeps your sound through a low-pass filter, creating a bass "www."
Rocking forward onto your toes connects the plate to the switch (closed position). This sweeps your sound through a hi-pass filter, creating a treble "ah."
Rocking back and forth combines these sounds.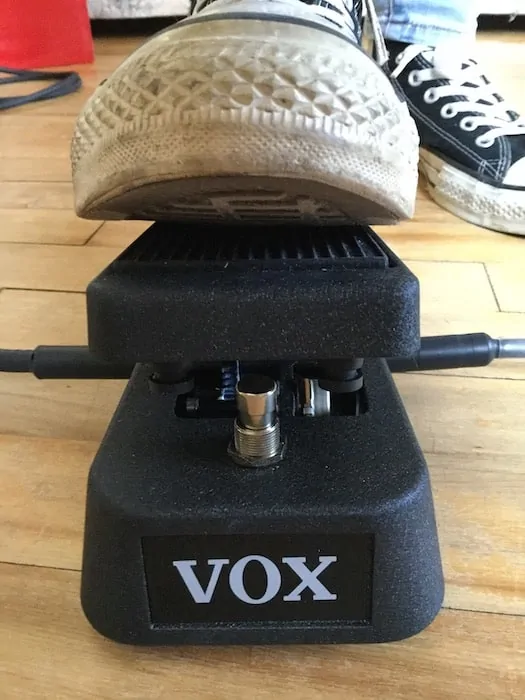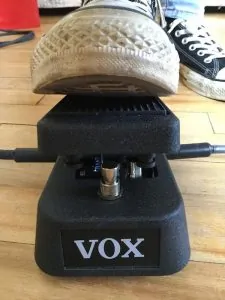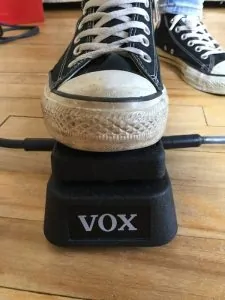 The V845 in open, halfway and closed positions.
To strengthen your mid tones, rock your plate between the open and closed positions. Some guitarists leave their pedals in this halfway position, especially when soloing. This technique is called cocked wah and gives your guitar a punchy, nasal quality. You might have heard it in 80s songs like Dire Straits' "Money for Nothing" and David Bowie's "Moonage Daydream."
Some wah pedals come with additional features like volume boosts or Q knobs, which change your frequency spectrum (ex: lowering it to emphasize bass notes or raising it to emphasize treble notes). But Vox pedals have a no-frills design, with a set volume and a frequency spectrum that varies depending on the model.
Getting started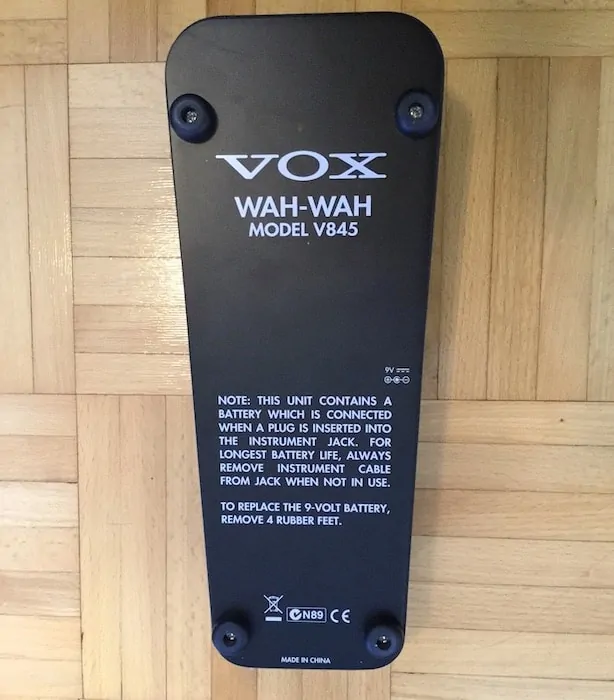 To access the battery compartment, unscrew the feet with a small Phillips-head screwdriver.
The first time you use your pedal, you'll need to insert a 9V battery. It can be a pain to unscrew all four feet on the bottom plate to access the compartment. But once it's in, it will last for about 100 hours of playing. You can also save your battery on the V845, V847A or V847-C by connecting to a 9V AC adapter, which you can buy separately.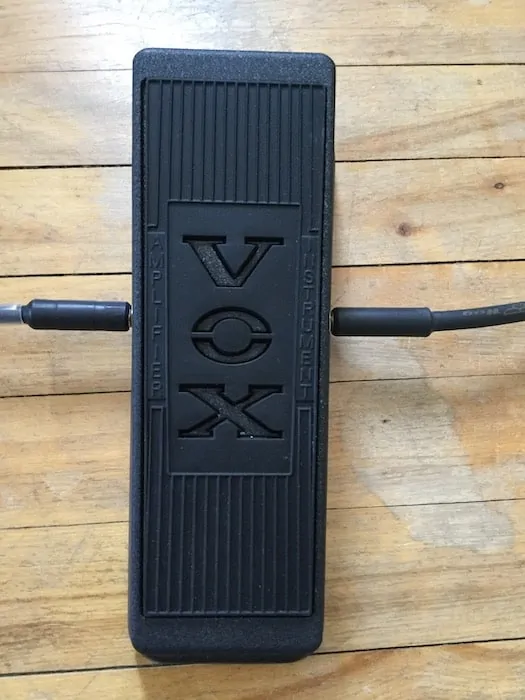 The V845, like the other models, has clearly marked amplifier (output) and instrument (input) jacks. 
Vox wahs are super easy to set up. All you need to do is connect your guitar to the right hand side and your amp to the left. To turn it on, press all the way down with your toes until you hear a click. Press again to turn it off.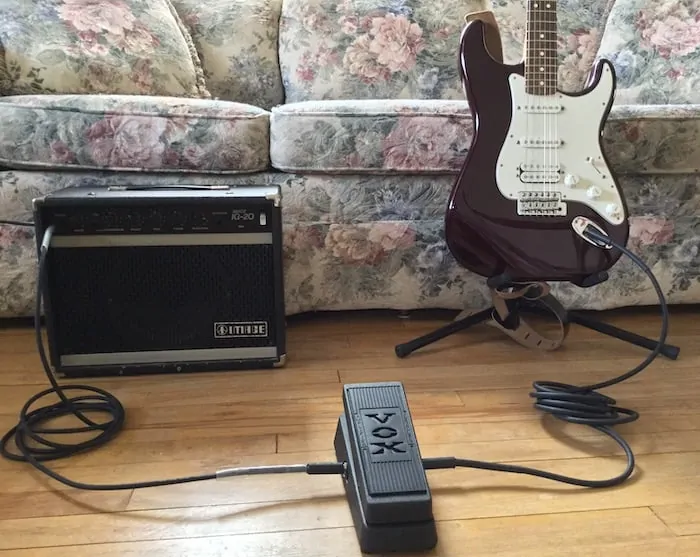 My V845 connected to my Fender Stratocaster and Yorkville Image IG-20, with 10 ft cables (which I promptly uncoiled after the photo).
Unlike the V847A and V846-HW, the V845 doesn't come with a carrying bag. I store mine in the original box to keep it free from dust and pet hair.
Other specs
Other than the sound, the biggest differences between Vox wahs are their colors, sizes and weights. The V845 is all black, while the V847A and V846-HW are black with a chrome rocking plate. The V847-C is gold with a chrome rocking plate and Japanese-inspired artwork on the front and bottom plates.
The V845/V847A rocking plate is slightly smaller than the V846-HW/V847-C, but I still find it comfortable to use.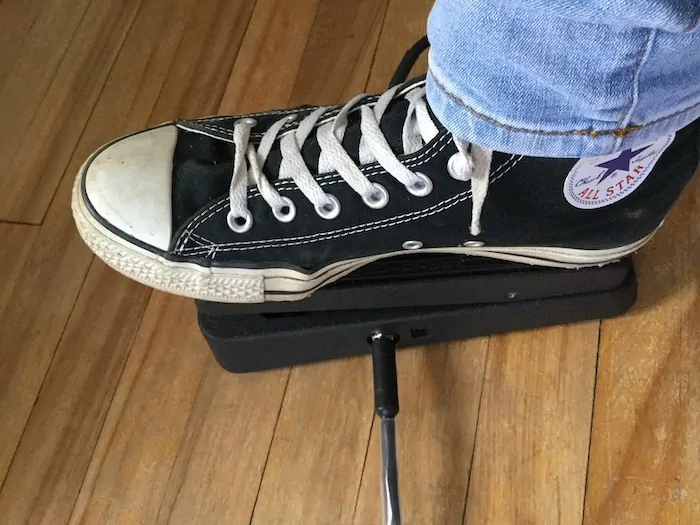 The V845 is smaller than many other stompbox pedals. For comparison, I wear US women's size 10 (men's size 8) shoes.
Although it's lighter than the others, the V845 also has a sturdy aluminum body and rubber feet that keep it firmly in place when I play it. The V847-C's feet are made from a softer material, which supposedly makes it easier to turn your pedal on and off. But the Vox website doesn't mention how well these feet anchor your pedal while you're playing.
Sound overview
This is a promo video from Vox, so it's quite salesy and doesn't explain the amp settings used for each demo. But it's one of the few videos that compares the V845, V847A and V846-HW together – with several noticeable differences in sound.
When I play on a clean amp setting (no overdrive, little distortion/gain), my V845 has a smooth, funky sound. The treble notes are strong and clear, though not as bright as on the V847A. The sound quality is good, but not as rich as the V846-HW, which I find is a truer reflection of the vintage Vox sound. Still, it's got an undeniable Hendrix-type feel.
When I play on a crunch setting (more overdrive and distortion), the V845 has a slightly more modern sound. The bass and mid notes have a raw bite and powerful sustain, while the treble notes are much warmer than on the V847A. But the overall tone is expressive rather than aggressive – think more 80s blues than 80s metal. I'm not impressed when I cock the V845 on this setting, because it makes my volume unsteady. When I turn off my overdrive and distortion, the mid notes are strong and consistent. Still, I find the V845 sounds the best when it's played in a classic rocking motion.
Quick demo for the V845
While the others are based on the vintage Vox sound, the V847-C will be designed specifically for modern rock, with a warm tone, strong gain and lower frequency spectrum.
Unlike the V847A, the V845 doesn't have a buffer. Buffers keep your guitar's volume and frequency consistent when you're using a long cable (15 ft or more) and/or connecting to other effects pedals. When I use my V845 with 10 ft cables, I don't notice any major tone sucking (reduced treble and mid tones). But the volume can waver slightly, especially when I turn up the distortion on my amp. If you're consistently playing with your V845 switched on and need to stabilize your sound, you can always add a buffer pedal at the start of your pedal board or daisy chain (and also the end, if you're connecting to several effects pedals).
Finally, while the V846-HW and V847-C are true bypass, the V845 and the V847A (like all buffered pedals) are not. This means that your guitar signal is still filtered through your pedal's circuit –  even when it's switched off. After I turn off my V845, I often notice a decrease in volume and some slight distortion, especially on my bass notes.
Final thoughts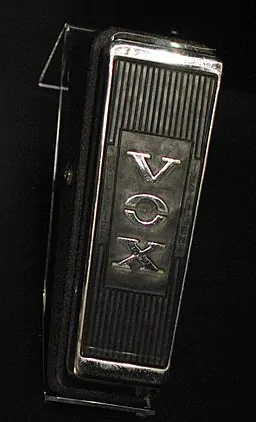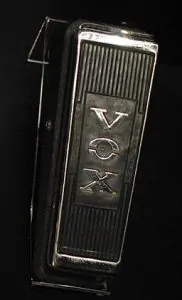 David Gilmour used this Vox pedal on Pink Floyd's Obscured by Clouds album.
"Pink Floyd Their Mortal Remains" by Andy Mabbett / CC BY-SA 4.0
Overall, the V845 is a well-built wah pedal with a good-quality retro sound. It's small and light, making it easy to carry around, even without a case. It's relatively cheap, so it's a great option for guitarists on a budget. I'd also recommend it for beginner guitarists, because the rocking plate is easy to use and can help you nail down the basic techniques. The unsteady volume can be annoying, but it is subtle, especially if you avoid high overdrive and distortion settings on your amp.
You do get what you pay for and the V845 is a testament to the great wah pedals you can find without breaking the bank. But if you're looking for a pedal with a higher frequency spectrum and a built-in buffer, I'd recommend upgrading to the V847A, which doesn't cost much more than the V845. If you really want to splurge, you can choose the V846-HW for true bypass and the full, high-quality 60s/70s sound.
Although the V845, V847A and V846-HW are great for blues, funk, psychedelic and prog rock, their crunchy alt rock and metal tones aren't as rich as on other pedals. The V847-C might be a better option for these genres, once it's released. But overall, none of the Vox models are particularly flexible.
Nonetheless, if you're looking for a no-frills pedal with a vintage feel and a legendary name to boot, Vox wahs are some of the best options out there to elevate your playing with a cool, funky, Shaft-approved sound.
Have you ever tried a Vox wah pedal? What did you think of it?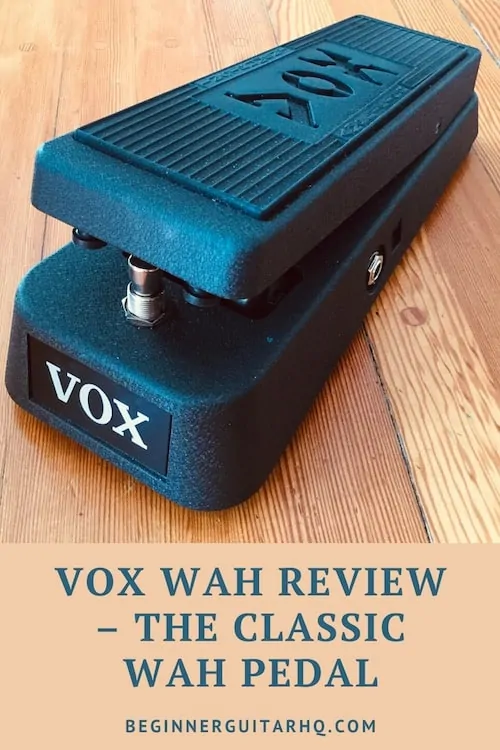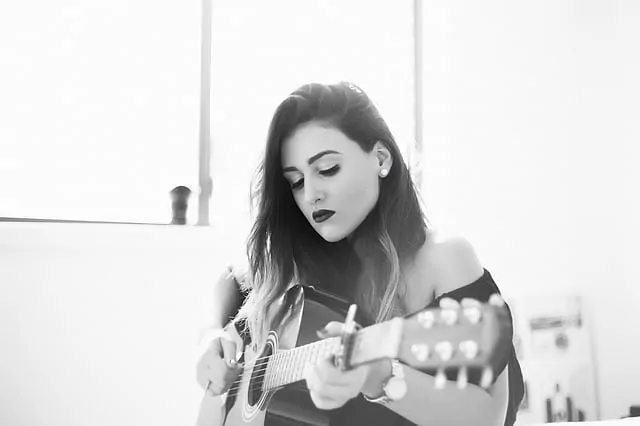 Jen is a guitarist and singer-songwriter who spends much of her time on the road and has lived in 13 cities across 4 continents. She picked up her first guitar at the age of 6 and learned to play by ear shortly after. She received her formal music education at the Berklee College of Music, and currently plays for a few bands in her free time. She has an uncanny ability to improvise creative melodies and harmonies. Her early influences include blues, jazz and rock.