Getting up on stage and singing can be a pretty daunting experience, for beginner and experienced vocalists alike.
Not only are you singing live, in front of a full audience (hopefully), but you don't have the comfort of post-production tools like reverb and autotune to help round out any mistakes.
And you sure as hell can't sing two lines at once.
Or, can you?
It turns out you can pretty much achieve all of the above if you've got a capable vocal effects pedal.
And there are plenty of great ones out there, so we've reviewed 10 of the best right here, from high-quality manufacturers like TC-Helicon, Boss, Zoom, and Roland.
Let's get into it.
TC Helicon VoiceTone Harmony-G XT
I've been in love with this vocal effects pedal ever since I saw Tash Sultana use two for her Tiny Desk gig:
I'm also seriously craving that Richie Kotzen telecaster, but that's a story for another day.
So, why am I so crazy about the TC Helicon VoiceTone Harmony-G XT?
For starters, it's really compact (a lot of these pedals are quite large), so it doesn't take up half of your pedalboard.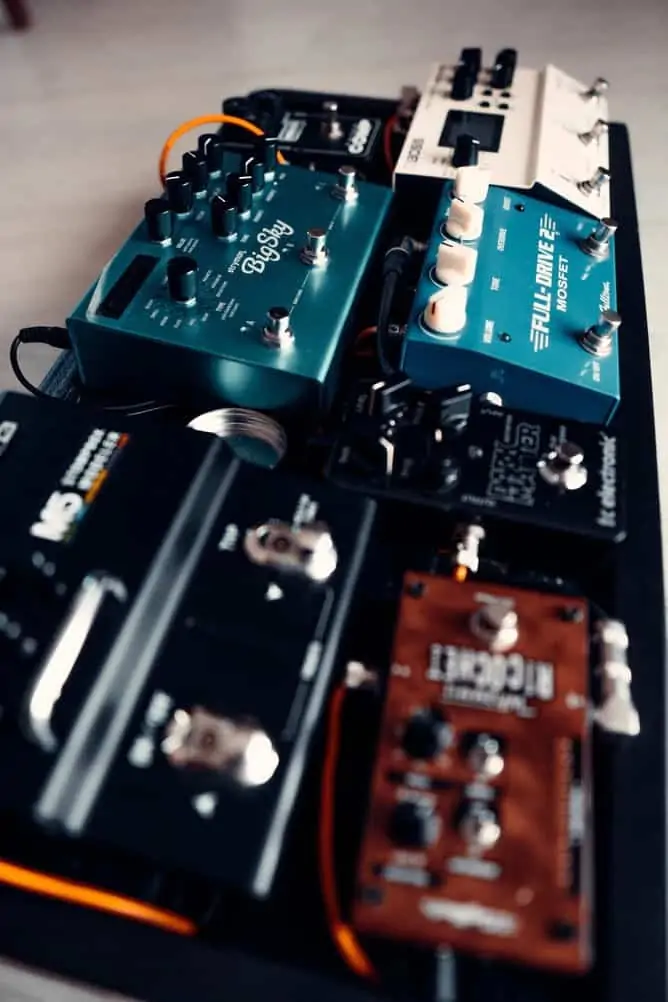 More importantly, though, it's got all of the best features I'm looking for in a vocal effects pedal, such as:
Doubling
Reverb
Several harmony options
Pitch correction
Tone control
For the harmonies, you can run one or two, and choose between a 3rd and 5th (above or below), octave up or down, or the unique Bass harmony, which to be honest I wouldn't use as much, but it's a nice idea.
You can plug in a guitar to act as sort of a vocoder input to tune your harmonies, which is an insanely cool feature, and you can save your settings as presets, and then easily switch between two of them live with the A/B functionality.
The TC Helicon VoiceTone Harmony-G XT has quite a few vocal effects built-in as well, which are mostly reverbs and delays.
Both the effects and the harmony levels can be dialed up and down, so you can create a subtle background to your vocal performance, or entirely change the sound of your voice.
This is a ridiculously versatile pedal for looping enthusiasts and live vocal performers.
Roland AIRA Series VT-3
This is a seriously cool little unit.
Okay, it's not 'technically' a pedal, but I'm going to let that nomenclature slide because you just have to hear what the Roland AIRA Series VT-3 is all about.
It's sold as a 'vocal transformer', which more or less makes it a vocoder, except for the fact that most people think vocoders just do robot voices, which is probably why Roland decided to stay away from the name.
By the way, it does the robot voice too, but it's much more than that.
You've got four sliders, two on either side of the box, allowing you to control:
Pitch (up to an octave above or below)
Formant sound
The mix balance between the dry input and the modified signal
Reverb on the mix
Now, let's talk about the effects you can apply.
There are two auto-tune modes, a vocoder effect, and megaphone, radio and scatter effects.
The vocoder option draws on Roland's famous VP-330 vocoder, but doesn't require a keyboard. Obviously, that means you have a little less control over the harmonies, but it's cool to be able to do it hands-free.
What's more, you can transform your voice into a synthesized instrument by selecting synth, bass, or lead from the effects menu.
Oh, and it even has a USB audio interface built-in. Pretty dope, right?
TC Helicon Mic Mechanic 2
Okay, back to the pedals.
This is a simple unit from TC Helicon, which you may be starting to realize is pretty much the king of vocal performance modifiers, making some of the best effects pedals around.
The TC Helicon Mic Mechanic 2 is a compact little guy, with just a single footswitch to turn it on or off. Clearly, then, it's designed for singer/guitarist types who want to add this unit to their pedalboard and take control of their vocal sound.
Here's what you can do with it:
Add one of three different reverb types (room, club, and half) and mix in as little or as much as you like.
Employ pitch correction to your vocal performance, with the ability to have a subtle correction or full-on autotune vibes.
Choose from tape, digital, or slapback delay styles.
There's also a singular Tone button, which engages a nicely shaped EQ, compression, and gate, to deliver a clean vocal performance without the fuss associated with dialing all of these individual effects in.
In short, it's kind of like your personal sound engineer, except you're controlling them, rather than the other way around!
I'd highly recommend this for any guitarists who also sing, and want a simple solution for tuning and effects.
Of course, it doesn't do harmonization, so if you need that, then the TC Helicon Mic Mechanic 2 might not be your guy.
Boss VE-8 Acoustic Singer
Calling all acoustic guitar players!
Whether you're a singer-songwriter, busker, or wedding cover performer, you're probably going to be rocking out with a nice acoustic, at least for a song or two.
If this is starting to sound a bit like you, then the Boss VE-8 Acoustic Singer might be right up your alley.
Let's first take a look at the effects you can apply to your acoustic guitar.
The VE-8 has a single guitar jack input, so it's a one-person pedal, for sure.
Then, you can control for:
Acoustic resonance
Feedback (with the notch control)
Reverb
Chorus
You've even got a couple of different kinds of reverb and chorus effects, and the ability to change the shape of the acoustic resonance to suit the acoustic guitar you're playing.
Okay, now onto the vocal section, which has one XLR mic input with phantom power.
You've got reverb, a vocal enhancer, a pitch correction button, and a few different harmony types:
Electric
Distorted
Radio effect
Doubler
Low harmony
High harmony
High and low harmonies
Higher harmony
High and higher harmony
You can dial in the desired amount of mix for each effect, and for the harmonization, you can set it to a certain key, or engage the auto mode which harmonizes your vocal melodies based on the guitar input the acoustic guitar pedal is seeing.
That last part is the coolest function, in my opinion, because it means you'll never hear a bad harmony!
The VE-8 offers quite a lot of effects, for sure, so it's super helpful that you can save presets to switch between using two of the three footswitches.
Those footswitches also allow you to engage or disengage the harmonies and chorus effects, allowing you to make subtle changes on the fly.
The third foot switch allows for looping, which is seriously cool as it allows you to loop vocal and guitar tracks independently!
On the whole, the BOSS VE-8 Acoustic Singer is a ridiculously capable pedal. It's best for acoustic guitar players, for obvious reasons, but it would probably do well for singers on their own as well, if you're not a guitarist but you really like the effects and mixing options it offers.
TC Helicon Ditto Mic Looper
Let's imagine you've got the voice of an angel (you do, don't you?).
You don't need pitch correction, you don't need any harmonies, and you're singing in a grand cathedral with a gorgeous natural reverb.
There's still one aspect that's missing from your performance, and that's vocal looping.
The TC Helicon Ditto Mic Looper is a dedicated vocal looper (which you probably guessed from the name), and it's essentially the vocalists version of their famed Ditto guitar looper.
It's a pretty straightforward pedal, with a single XLR mic input and output, and two foot switches: one to add new loops, and one to stop the playback altogether.
Then, you've got a solitary knob on the pedal, which allows you to control the level of the loop, so you can have it right up front and add harmonies yourself, or blend it subtly into the background and through a different melody over the top.
The pedal automatically controls mic gain based on the input level, so you don't need to worry about that, and it even has phantom power, allowing you to use condenser microphones as well, though I wouldn't bring one on stage with you.
Feedback city!
Boss VE-20 Vocal Performer
Oh look, it's another vocal effects pedal from Boss, and a damn good one at that.
The Boss VE-20 Vocal Performer uses Boss' twin footswitch, and has a helpful little display in the centre that tells you which preset you currently have accessed. You can use the switches to move up and down the bank of presets.
On the I/O front, you've got a single mic XLR input, and stereo outputs (yes, this guy has stereo effects). Plus, it has a stereo line/headphone output, meaning you can use the VE-20 for bedroom practice duties with your headphones plugged in.
It has all the features you're probably looking for (reverb, doubling, compression, delay) as well as some really cool harmonization features.
You can create three-part harmony layers, and it has real-time pitch correction for low-latency performances.
One thing that's unique about the VE-20 is that it can run on battery-power, making it a great option for buskers. Plus, you can record up to 38 seconds of singing and loop it, even better for you Tash Sultana wannabes!
Lastly, and this is pretty damn important for anyone looking to hit the road and perform right around the country: it's built like a tank.
Seriously. It has a solid steel shell, and it has big bulky footswitches which feel like they'd be impossible to break.
TC Helicon VoiceLive Touch 2
This unit for TC Helicon is something a little special.
As you might have guessed from the name, the TC Helicon VoiceLive Touch 2 is a touch sensitive device.
So, again, it's not really a pedal, but it's crazy compact and attached easily to a music or mic stand.
Let's talk about that for a second.
The TC Helicon VoiceLive Touch 2 has a sturdy rubber mount built in, that you can basically slide over a regular mic stand and get going.
However, it still works as a desktop unit for when you're jamming out ideas at home.
Underneath the touch panel (on the back side of the device), you've got your inputs and outputs, with one of each for your microphone, as well as two TRS outputs and guitar in and through jacks.
That means you can use your guitar to control aspects of the TC Helicon VoiceLive Touch 2 such as vocal harmonization.
The harmonization that this pedal offers is pretty insane too, with up to four different layers available at once. Plus, the onboard mic picks up what's going on in the room (like what your band is playing), and creates harmonies based on that. Pretty cool!
MIDI and footswitch inputs allow for even more control over the TC Helicon VoiceLive Touch 2, so if your hands are busy playing guitar or keys, you can get your feet involved.
This vocal effects pedal has some of the best looping functionality I've seen, with 6 track looping and MIDI sync, as well as some insane effects.
I can't recommend this unit enough for its flexibility, creativity, and pro-level sound quality.
Zoom V6 Vocal Processor
Zoom are probably best known for their portable recorders, like the H4.
However, they also make some seriously dope effects pedals, like the V6.
Let's start by looking at the bottom row of foot switches, which controls the looping fucntilaity.
This allows you to lay down a vocal track or two, and keep adding new harmonies or ideas on top.
Then, you've got effects, pitch correction, and harmonization.
The harmonizer gives you low/lower and high/higher option, or you can engage some or all of them together, and then control the mix level independently.
Effects include:
Distortion
Telephone
Beatbox
Plate reverb
Room reverb
Hall reverb
Chorus
Delay and reverb
Echo
Delay
That's insane. That's basically a whole pedalboard of effects built into one pedal, and it's only a small part of what this pedal is capable of.
There is no guitar input to tell the pedal which notes to use when harmonizing your vocal lines, but the Zoom V6 does have a key selector, so you can get it right everytime. Obviously, though, this could be problematic for songs with key changes, unless you can get down and switch it cleanly.
One of the coolest features that the Zoom V6 Vocal Processor has is vocal formant control on a wah pedal style controller. This means you can alter the formant sound of your vocal input on the fly, for some seriously interesting looping performances.
TC Helicon VoiceLive 3
The TC-Helicon VoiceLive 3 is basically the big daddy of vocal effects processors.
Here's why:
It has a built in looper for guitar and vocals – awesome.
It has effects that are rarely seen on vocal pedals, like distortion and compression – even more awesome.
It has ridiculously cool effects for your guitar, borrowing for TC pedals like the Hall of Fame reverb and Flashback Delay. It even has an amp simulation built in. Crazy cool.
Guitar and vocals aren't the only inputs on this super capable pedal, though, it also has a MIDI input.
With the VoiceLive 3, you can build your own presets, save them, and run through the sounds until you find one you like.
Or, just use one of the factory settings – easy!
Boss VE-500 [300w]
This is the third Boss VE vocal effects (OMG I just realized that's what VE stands for) pedal we've reviewed, and you've probably noticed that it's the biggest number of them all, the 500.
That's because it's got the most features of all of the Boss pedals.
Let's take a look:
Harmonization
Pitch correction
Guitar input
Looper
Vocoder
Incredible DSP processing
Reverb
Delay
Modulation
Distortion
EQ
Filters
Talk box sound
Stereo outputs
MIDI input
USB output for recording to your computer
Three assignable knobs
Computer editing software
99 saveable patch slots
Basically, if there's ever an effect you dreamed of having in a vocal pedal, the VE-500 does.
It's basically the vocal effects pedal to end all effects pedals, so if you need an incredible amount of stuff to play with, get this guy.
Best vocal effects pedals – buyer's guide
Getting your head around all of these different kinds of vocal effects pedals can be a bit of a challenge, especially if you're a beginner.
Which one is best for you?
To help you decide, let's look at 6 aspects to consider when choosing the best vocal effects pedal.
Harmonization
One of the main vocal effects that singers are looking for is harmonization, which basically takes your vocal melody, copies it, and then pitches it up or down.
The result is almost as if there are two or three of you on stage.
The first thing is to consider whether or not you need this. Then, you need to decide what kinds of harmonies you want to create.
Common applications in vocal effects pedals are:
Octave up
Octave down
Third up
Fifth up
Third down
Fifth down
A combination of two of these, such as third and fifth above
Pitch correction
Pitch correction (aka autotune) is an effect you can apply to your vocal performances to bring any slightly off notes into place.
Often, you can set this up very subtly for a gentle touch, or go for a full-on T-Pain style autotune effect.
Not all vocal effects pedals offer this, so it depends on if you want it or not. Some vocalists prefer a more natural tone.
Reverb and effects
Aside from harmonization and pitch correction, vocal effects pedals typically have some other effects available.
It's up to you to decide what you're going to need. Here's what you generally have to choose from:
Guitar effects
Some vocal effects pedals are designed for singers only.
Others, on the other hand, are made for guitar players as well. It's not unusual for guitarists to sing as well, even if they are just doing backing vocals.
So, if you plan to play guitar and sing at the same time, then you might want to choose a vocal effects pedal that has some guitar effects.
These are usually subtle, like reverb and chorus effects, as well as a bit of EQ sometimes.
Perhaps the best feature that these effects pedals offer is the ability to tune and harmonize your vocals based on the chords or notes you're playing on guitar, so look out for that one!
Looping
Just as guitarists like to use looping pedals to create complex arrangements, so too do vocalists.
Some of the best vocal effects pedals also offer some form of looping, though it's usually fairly rudimentary.
There are also some dedicated vocal looper pedals, like the TC Helicon Ditto Mic Looper.
Inputs/outputs
The last factor to consider is what you're going to plug into the effects pedal, and what outputs you're looking to see.
Most pedals have a single XLR input and output, though others might have TS or line inputs, USB outputs for recording, and of course, guitar inputs.
Conclusion
Would you look at that, we're all wrapped up!
10 of the best vocal effects pedals reviewed and rated right here. By now, you should have a pretty strong idea of which ones might work for you, and which might not.
Remember, some of these pedals offer just one effect (like harmonization or looping), so you can also grab a few and chain them all together.
Just have fun with it!
Or, grab the TC Helicon VoiceTone Harmony-G XT, cause it's just awesome.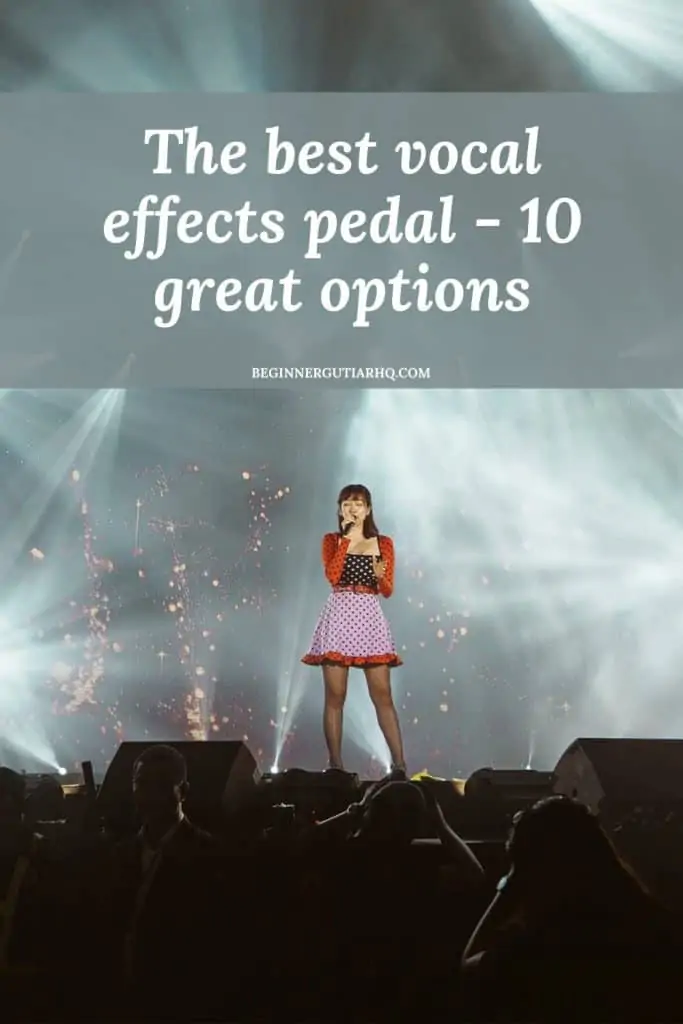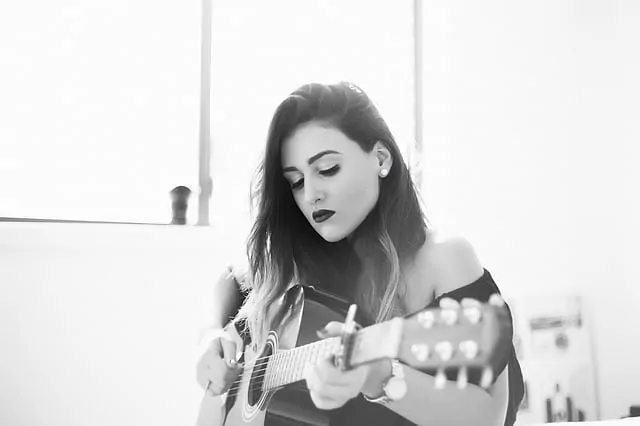 Jen is a guitarist and singer-songwriter who spends much of her time on the road and has lived in 13 cities across 4 continents. She picked up her first guitar at the age of 6 and learned to play by ear shortly after. She received her formal music education at the Berklee College of Music, and currently plays for a few bands in her free time. She has an uncanny ability to improvise creative melodies and harmonies. Her early influences include blues, jazz and rock.