Looking for the best double bass pedal? So you're setting up a new drum kit, whether for yourself or for your home studio, and you're stuck.
You've got some nice cymbals and a full drum kit, but you're missing that important element: the kick pedal.
Or maybe you've already got an old single bass pedal, but you're looking to upgrade to a double bass unit for those nice meaty punk and metal kick patterns.
Well, the good news is that there are plenty of options on the market!
The bad news? It's kind of tough to decide.
So, that's what I'm here to help you with.
In this article, you'll learn about 10 of the best double bass pedals out there so you can decide for yourself which is going to work best for you.
But first, let's get a bit of elementary double bass pedal education out of the way.
Different kinds of double bass pedals
Just like with single kick pedals, there are a few different types of technology used to convert your downward motion on the pedal to the beater moving and hitting the kick drum.
There are four kinds of double bass pedals, and we've got some of each of them in this review.
<iframe width="560″ height="315″ src="https://www.youtube.com/embed/dKw-CTfCLcw" title="YouTube video player" frameborder="0″ allow="accelerometer; autoplay; clipboard-write; encrypted-media; gyroscope; picture-in-picture" allowfullscreen></iframe>
Single chain
One of the most common types of pedals, especially on the cheaper end of things, is the single chain-driven pedal.
This double bass pedals use, yep, you guessed it, a singular chain to propel the beater head.
Compared to other types of pedals, they tend to be a bit flimsier and the chain is prone to breaking, which is why single chain pedals are really only found in cheaper units.
I'd say it's best to avoid single-chain if you have the budget, but if you don't have a choice, just make sure you get a brand new one that is covered by some form of warranty!
Double chain
Double chain bass pedals basically just use two chains instead of one, which makes them more responsive, and more reliable.
It's unlikely that the chain will break even if you're heavy-footed. You might find the extra weight means you need to press down a little harder than with a single chain pedal, but that extra weight also gives you more power, resulting in a meatier kick tone.
Strap/belt
Strap or belt-driven pedals use a strap of material (usually nylon) in place of the good old chain.
This makes them lighter, and also a little more direct, so they feel a little bit like a direct drive pedal (more on these very shortly).
They aren't as powerful as chain-driven pedals, because they are lighter, but they do feel more fluid to play, and they won't collapse in on themselves like chain-drive bass pedals sometimes do when you're playing fast double bass notes.
Direct drive
If you're playing extreme forms of metal with insane double kick patterns and blast beats, then you'll want a direct drive pedal.
These bass pedals don't have any kind of chain or strap in between the pedal and the beater and are connected directly with a solid linkage of metal.
Direct drive pedals tend to be the most expensive of the lot, but they are also extremely resilient and utterly responsive, to the point where you can lightly tap many of them and still get a fast and powerful attack sound.
Perfect for metal? I think so!
Okay, let's get into it.
Best single chain double bass pedals
Let's start by taking a look at the three best single chain double bass pedals out there.
DW 2000
DW (Drum Workshop) are known for their seriously pro-level hardware and drum equipment. You'll see touring drummers using their gear all the time – it's epic.
So, it's a surprise to see such an affordable set of double kick pedals from them, the DW 2000.
The DW 2000 is a single chain kick (available in single or double bass models), and it performs pretty admirably given the price point.
That's because this set of bass pedals has an offset cam which enables a super-fast response. Couple that with their 107 "Flyweight" Beater, a lightweight version of their standard beater, and you've got a recipe for some seriously quick kick work.
The beaters can be used with either a felt or plastic head (one on each side) for either a natural or more attack-driven kick feel and sound.
Both pedals have non-slip steel base plates, with adjustable spikes and velcro to help you get a real solid hold on things.
Overall, the DW 2000 is a dream set of double bass pedals, considering the price.
Pearl P932 Demonator
The Pearl P932 Demonator is a serious set of double kick pedals at an affordable price.
I can't speak highly enough of this double bass pedal. I owned a set of these back when I had my electronic drum kit, a Roland TD-25KV, and they were fantastic.
They are single-chain pedals with reversible beater heads, and I found even the felt heads were snappy enough to get a solid response.
The Pearl P932 Demonator has an infinitely adjustable beater angle, so you can get as much action as you want, and you have two types of cam response, which is pretty cool.
One is the standard cam which is round and has a smooth and natural response. The other is more angular, which adds more speed and power to the kick action.
Being a hardcore drummer, I naturally added this to my setup and loved every bit of it.
The last thing I'll say about the Pearl P932 Demonator bass pedal is that it's built like a bloody tank. With an aircraft-grade aluminum driveshaft and the Powershifter long-footboard from the more expensive Demon models, it's a serious piece of kit for drum enthusiasts on a budget.
TAMA Iron Cobra 200
If you've ever seen a band play live, you've probably seen some form of TAMA gear.
They are a hugely popular brand, crafting epic drum kits for players on all kinds of budgets.
The Iron Cobra is their line of bass drum pedals, and this unit is the entry-level version of these epic kicks.
So, what's there to say about the TAMA Iron Cobra 200?
Adjustable beaters with plastic and felt heads? Check. Plenty of beater angle adjustment. Check. Spring tension adjustment? Check, check, check.
So, even for a relatively cheap single chain pedal, it offers quite a bit of adjustability.
On top of that, you get TAMA's dope Powerglide cam, which has an angular shape that makes the feel of the pedal way more responsive, so it's a fantastic fit for the home studio or for live performances.
Need an even faster footboard return? The Iron Cobra 200 is compatible with TAMA's Cobra Coil.
Best double chain double bass pedals
Alright, now we're getting into some serious pieces of kit: double chain double bass pedals.
DOUBLE DOUBLE!
DW 9000
Remember the DW 2000s from the single-chain reviews just before? Well, the 9000 is basically the big boy version of those pedals. I mean, 9000 is more than 4x 2000, so they've got to be a tonne better, right?
It sure is. Let's look at why.
First of all, the DW 9000 has non-slip rubber pads on the bottom of the pedals. A simple touch, but one that's actually ridiculously helpful when you're playing on surfaces that don't have a lot of grip, which somehow seems to be all of them!
Then, you've got the Tri-Pivot™ Toe Clamp System. This ensures that the hoop of the drum and the pedal remained attached no matter how hard you play, and how large or small the circumference of the drum hoop.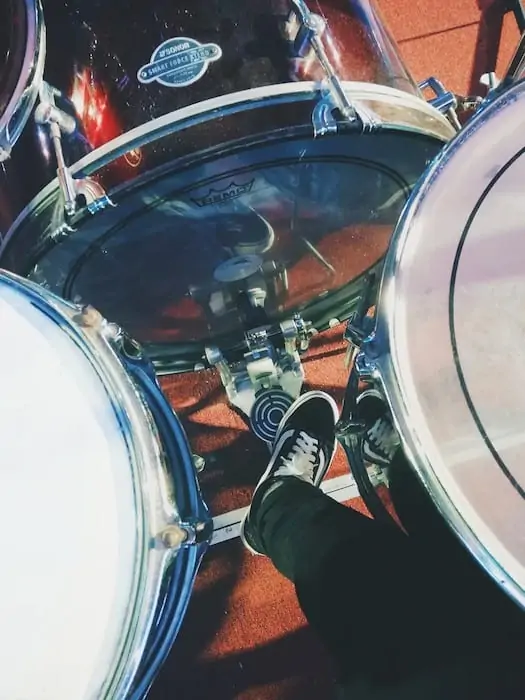 I can't tell you how often I've had to adjust this one cheaper kicks, so this is pretty damn cool.
There's plenty more, though.
Something I love about the DW 9000 is the infinitely adjustable cam. Whereas most pedals just offer the one cam style, or maybe a clip-on addition to the cam to get a bit more attack, the 9000s allow you to get the perfect feel for your playing.
On the other end of the pedal is a patented ball bearing hinge, which reduces friction while playing, and a studded metal base that increases the friction of the ball of your foot to the pedal, so you're way less likely to slip off.
Pretty cool huh?
It even comes with a few handy extras like:
A padded carrying case – awesome
A drum key and clip – a subtle touch which means you'll always have a drum key on hand
A nylon strap to convert this pedal from chain drive to strap drive
I'm just gonna come right out and say it: this is the best double bass pedal on the market if you're looking for a double chain unit that offers incredible flexibility in terms of your setup.
Pearl P2052C Eliminator
In typical Pearl fashion, this double bass pedal has one of the toughest names out there, the Eliminator.
More specifically, the Pearl P2052C Eliminator.
Let's start by looking at the footplates:
They have a really cool design that allows you to reverse the traction depending on the feel you're looking for. But that's not all you can modify.
Perhaps the biggest selling point the Pearl P2052C Eliminator offers is a series of different cam styles that give you the ability to chop and change the feel of your bass drum pedals.
There are four different cams that come with the Eliminators:
(BLACK) Linear Action
(WHITE) Oversized Linear
(BLUE) Progressive
(RED) Radical Progressive
But it's also compatible with a couple of other kinds: (PURPLE) Aggressive Action and (YELLOW) Inverse Action.
The base of the pedal can also be adjusting, giving you three shift positions for different response feels on each pedal.
It even has reversible beaters with flat and rounded heads – talk about versatile.
Oh, and it comes with a dope carrying bag, which is a pretty nice touch in my opinion.
Tama Iron Cobra 600
Another Iron Cobra pedal from Tama here, this time the 600.
The Tama Iron Cobra 600 is basically the double-chain version of the 200, with a reversible cam that gives you two different playing feels.
One is more natural and fluid, whereas the other is fast and aggressive for us heavy metal players.
The hinge on each of these pedals is newly designed and super fluid, and boy does it feel nice to play.
Tama has even gone pretty hard on innovating the spring side of things, with a new spring tightener that keeps the springs from twisting, and a ball bearing unit replacing the traditional nylon rocker ring to remove another source of tension.
Overall, the Tama Iron Cobra 600 is a pretty good middle ground of double bass pedal, not super complex, but not super expensive either.
Best direct drive double bass pedals
Okay, now we're getting serious.
I've got 3 direct drive double bass pedals here for you, for those of you who need a direct connection to the beater head and won't compromise on quality, whatever the cost.
Tama Dyna-Sync Double Pedal
This is a serious piece of equipment from Tama.
The Tama Dyna-Sync Double Pedal is a direct drive unit, with some seriously cool tech involved.
Tech like:
An optimal transmission design that perfectly balances speed, power, and pedal feel
A dual linkage between footboard and cam for an almost perfect energy transfer
A non-step adjustable that allows you to create the perfect setup for your playing style
An adjustable footboard angle
A newly-designed spring that sits below the footboard and ensures a faster response back to its zero-point
A two-piece footplate bearing housing for minimal stress and maximal smoothness
A ridiculously capable and secure drum hoop clamp
In addition to all of this goodness, the Tama Dyna-Sync Double Pedal comes with two of their Dyna Beater.
This is a rounded beater that is slightly tapered, which is a more traditional beater head style that minimizes accidental double strokes on the kick drum.
Axis Longboards Classic Black A
This is potentially the only set of double bass pedals from a manufacturer that doesn't sell any other drum equipment, just pedals.
So, you know that the Axis Longboards Classic Black A is going to be a mighty fine set of kick pedals.
Here's what makes them so dope:
Super long footboards (2 inches longer than their regular boards)
Variable drive level allows you to infinitely adjust the feel of the pedal
A newer beater-forward design increase power and accuracy without adding weight, so it's ideal for both heel-down and heel-up players
Variable stroke length Sonic Hammer beaters which each have two different types of heads
Oh, and they just look super metal in black, which is kind of important, right?
Pearl P3002D Eliminator Demon Drive
I mentioned that Pearl loves their heavy metal names, right?
Well, it gets no heavier than the Eliminator Demon Drive.
The first thing you'll notice about the Demon Drives is that they're hella shiny, but that's not all you should be paying attention to.
To start with, take a look at the hinge on these bad boys. They use Pearl's Ninja Bearing, and they are incredibly fluid to play with virtually no friction involved.
They are direct drive pedals, so they are incredibly responsive and connected, and this is made possible on the left-hand kick via Pearl's Z link drive shaft.
The Pearl P3002D Eliminator Demon Drive comes with a couple of classic rounded beater heads (Pearl's Control Core beaters) which perfectly balance speed and attack with accuracy and neutrality of tone.
I think, though, what players will love most about the Pearl P3002D Eliminator Demon Drive is the fact that it's so adjustable. There are 8 different configurations available by adjusting the duo-deck, beater holder, and direct link, so you can really craft this double bass pedal to your playing style.
Oh, and it comes with a heavy-duty carrying case, which is pretty important considering these babies cost over $700!
Best strap drive double bass pedals [300w]
Gibraltar GIB4711ST-DB
Strap or belt drive pedals seem to be quite rare, but to be honest, I'm quite the fan.
In fact, the Gibraltar GIB4711ST-DB is the set of double bass pedals I have right now, and I'm loving them.
Sure, there are more expensive or luxurious pedals, but I decided to go for something cheap and easy for now, and spend the rest of my spare cash on a new strat.
What I'm loving about these pedals, apart from the fact that they are incredibly affordable, is the feel of the strap drive.
The belt doesn't collapse in on itself (though sometimes it needs to be aligned), and it's really nice and fluid.
To be fair, they could be a little faster, but I'm such a hard hitter anyway that's not causing to much of an issue.
They're lightweight, come with double-sided beater heads, and are pretty easy to set up.
My only real challenge with them is that on the left-hand kick there are two posts, whereas more expensive pedals tend to have just the one, which makes them easier to position next to a hi-hat stand.
But hey, for less than $150, I can hardly complain!
Conclusion
So, you should have a pretty good idea by now of which of these double bass pedals is going to work best for you.
Is it the DW 2000 single chain pedal for its affordable, or the Pearl P3002D direct drive pedal for maximum connectivity between your foot and the kick drum?
Only you can be the judge of that, just don't take too long, or you'll wind up with Dave's crappy secondhand single kick pedal.