Guitar pedals are essential for acoustic guitar players performing live. The best acoustic guitar pedals can add a solid foundation to your tone and fix every issue you could ever imagine.
This guide by Beginner Guitar HQ is showing you the top 12 acoustic guitar pedals and preamps. We're discussing how these pedals can add value to your performance in general.
Keep in mind the acoustic effect kingdom is pretty different from the electric guitar pedals anarchy. Plenty of acoustic players take pride in sounding as pristine and pure as they can, which I consider to be the traditional path.
Others enjoy washing the wood out of their acoustics. That means using loopers, high-tech D.I.s, or all-hands multi-effects machines. Those are all great practicing and experimental tools. However, these are hard to use in live situations, which is our current focus.
Keep in mind that we're talking about electro-acoustic guitars here. If you can plug an electric guitar into an acoustic amp and a pedal, it already has a pickup and a preamp system.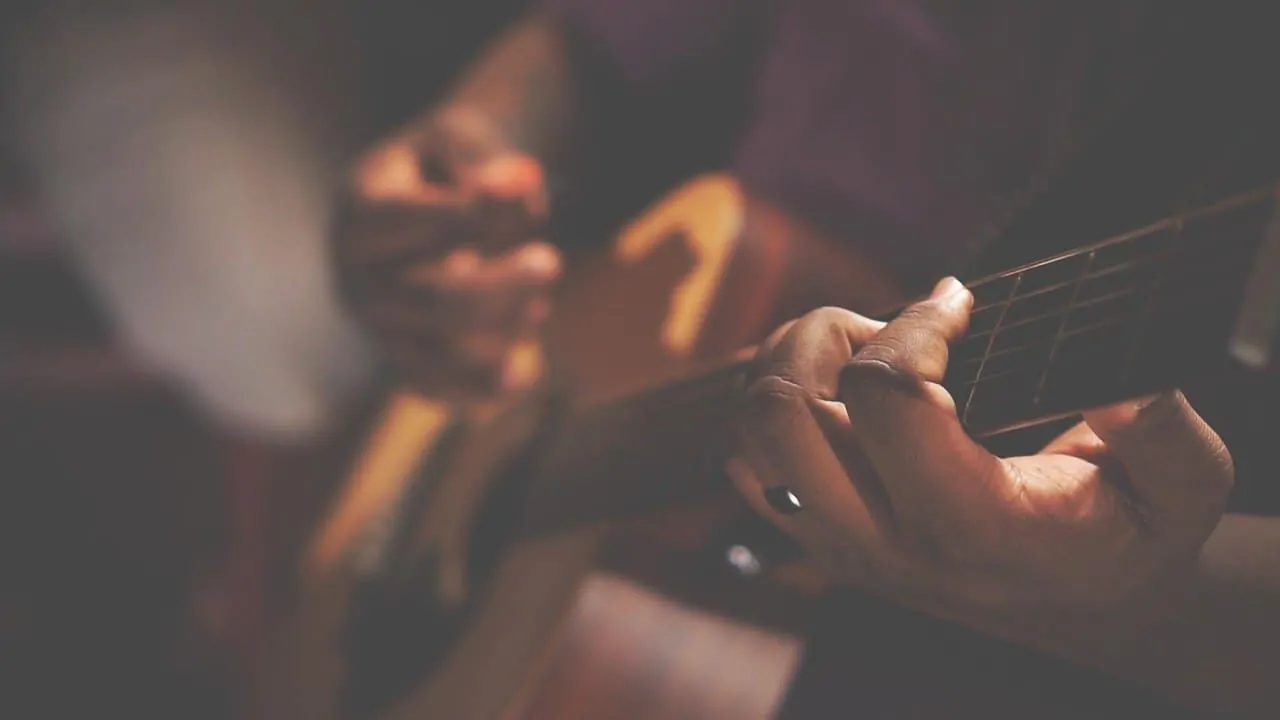 My list of the best acoustic guitar pedals is covering various effects and various budgets.
Why should you use an acoustic guitar pedal?
The introduction of preamps to acoustic guitars completely changed how we use and perceive these wooden instruments.
Now, not only can we amplify acoustic tones without too much hassle with an acoustic amp (or cuter things like the ToneWood portable device). We can also manipulate the sound, experiment, and get results we wouldn't get on electric guitars.
There're plenty of acoustic pedals you can plug into your guitar's signal chain. The different effects include popular choices like reverb, chorus, delay. Other choices include compressors, tuners, and EQ.
The thing about acoustic guitar pedals is not adding distortion or modifying the tone to play different genres. For this is not an electric guitar, the thing you can achieve with pedals is a bolder, fatter, and prettier tone.
Complex, advanced, and versatile acoustic pedals can also be a great companion for your home studio or your acoustic guitar recording sessions. They can make your guitar sound like a professional single with the flip of a few knobs and switches.
All in all, acoustic pedals can take your sound to another level of depth, definition, and power. They are the answer to improving your performance and making you sound like a pro.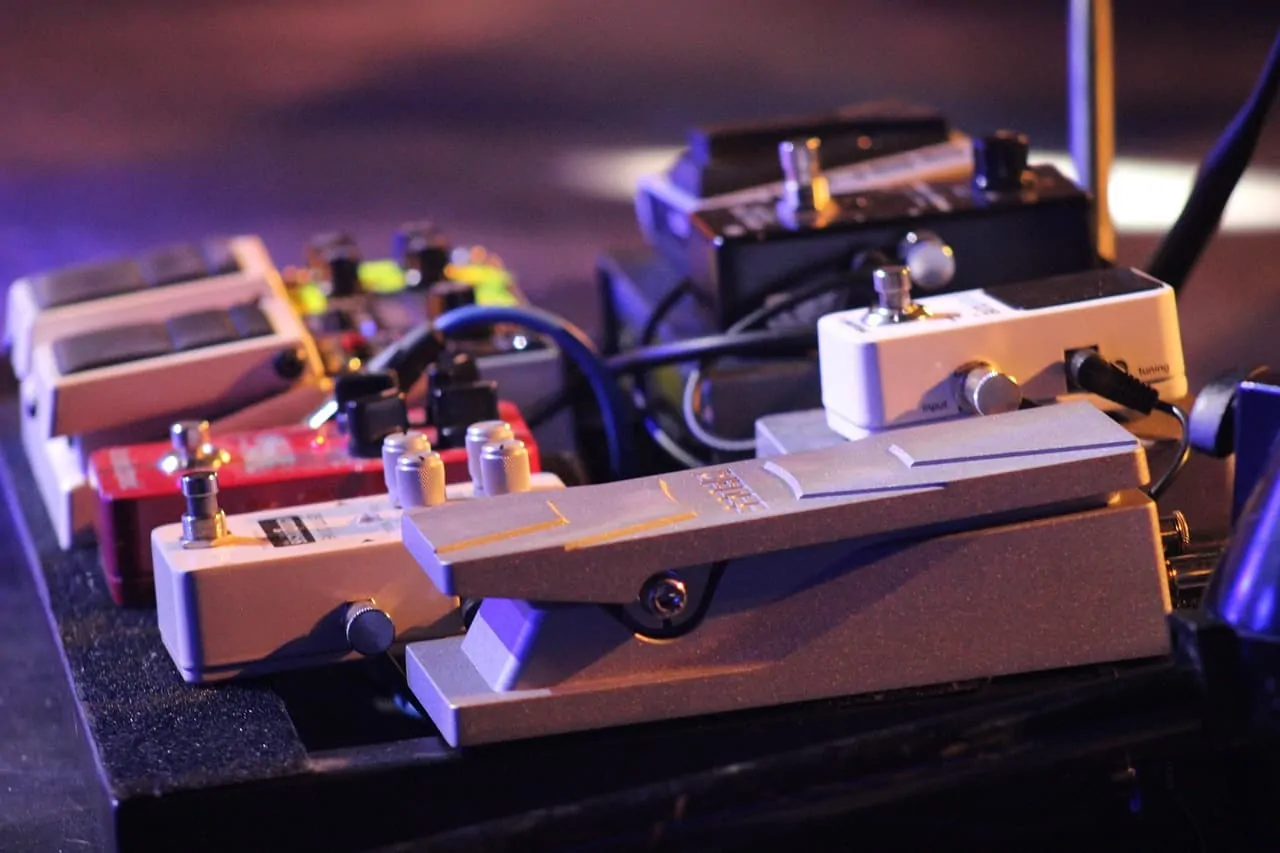 Acoustic guitar pedals are essential for any guitar player performing live.
Best acoustic guitar pedals buyer's guide
This guide by Beginner Guitar HQ on the best acoustic guitar pedals you can buy right now is divided into three sections.
The first section is the introduction, which you just read. I gave you the basic insight you need to know about acoustic pedals.
The second section is the reviews of the top acoustic pedals available in the market.
The third section is the buyer's guide. The last part of this guide contains everything you need to know about the effects of acoustic guitars.
Here's some additional insight about acoustic guitar effects. This guide includes sound clips for each effect example.
Some of the things we'll go through on the last part of the guide are:
Acoustic pedal effects;
How to arrange the pedals in a pedalboard (signal chain);
Tips on live acoustic guitar tone;
Powering acoustic pedals.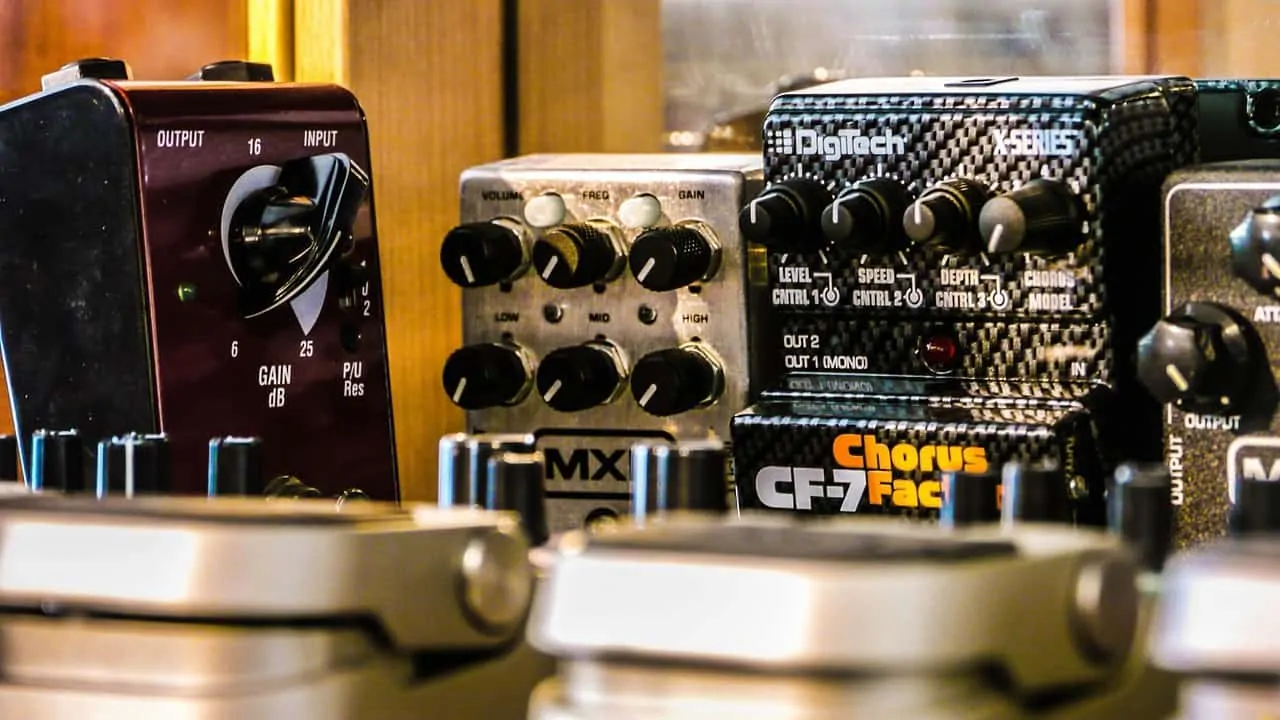 Stay with us to learn about acoustic pedal effect types, order on the signal chain, and what to look for on these devices.
Top 12 best acoustic guitar pedals
For we've never done acoustic pedals reviews on this site before, I needed to include plenty of info in this first-timer guide. Hence, the reviews itself are short and sweet.
That said, I've selected 12 pedals that cover all bases. I chose them because of their innovation, control, connectivity, build quality, price, and tone.
I left behind multi-effects pedals because these types of overly-digital effects don't blend very well with acoustic guitars. Either way, feel free to check our prior top multi-effects list guide. If you become interested in more than one of the following effects but you're short on budget, a multi-effects could be the right option.
Hopefully, each pedal represents the processing needs of today's acoustic guitar players.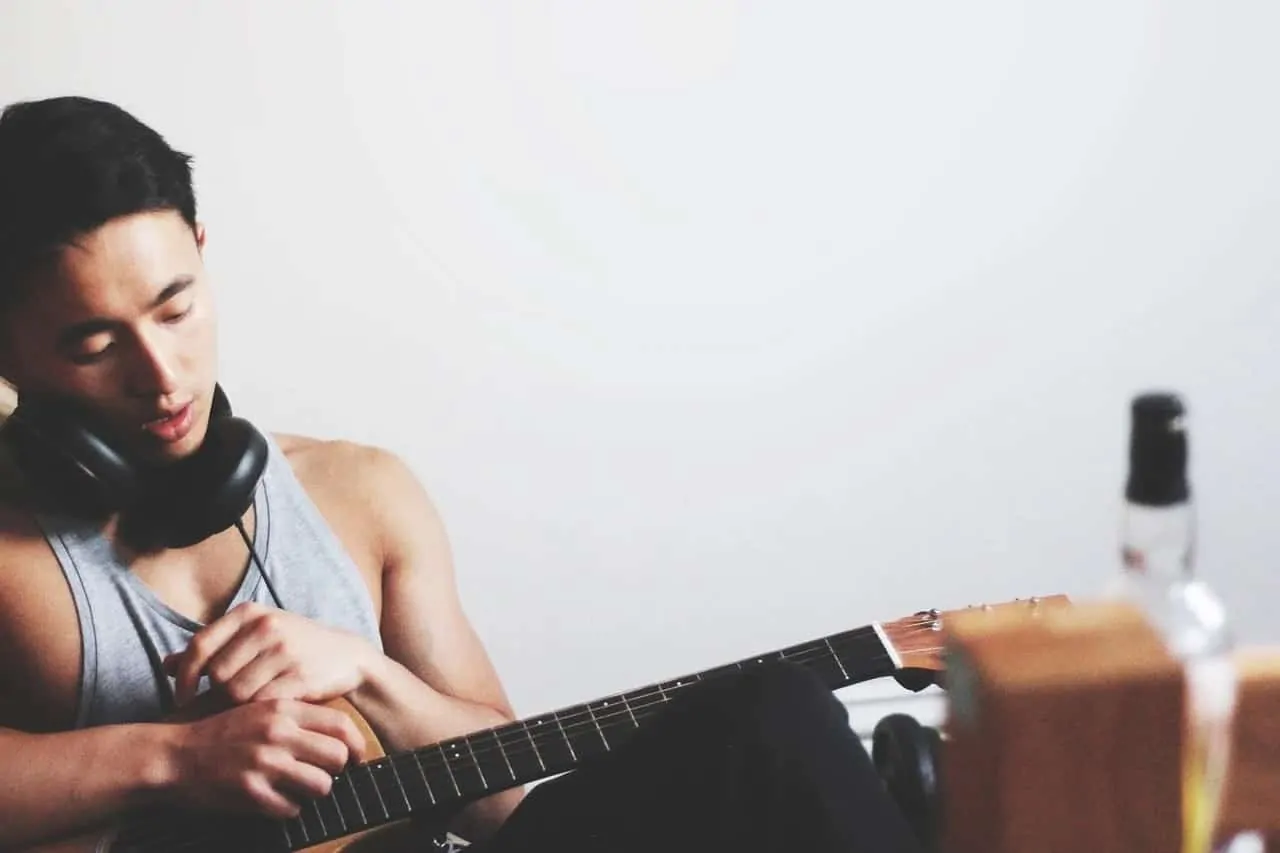 Are you ready to build your acoustic guitar pedal gear?
Acoustic Tuner: TC Electronic Polytune 3 Mini
TC Electronic has pushed the boundaries of what various guitars effects are supposed to be. The tuner category is one of those areas where the company has made serious advancements.
The Polytune series is very unique and represents the future of stringed instrument tuning.
In particular, the Polytune 3 Mini is built around a technology that allows you to tune the guitar by playing chords. In other words, you don't have to play each string individually to figure out what to do and what to move.
This device also features a very bright display you would clearly see as you play live on your gigs.
Then, you navigate through different tuning modes and features with a button at the back of the pedal. These modes include polyphonic, chromatic, and strobe.
The polyphonic mode is what sets apart this tuner from others. The ability to strum all of your strings at once and see which ones need some tweaking is just the easiest thing you could ask for.
Another feature included in the Polytune is the ability to choose between True Bypass or Buffered Bypass. Both options protect the quality of the signal and cancel the noise coming out of the pedal. You can read more about True Bypass and Buffered Bypass here (I'm going to mention this a few more times along the way).
The Polytune Mini version takes up less space on the pedalboard, which is why I choose it. More so, the 3rd gen offers the same features as the prior two, only better. Plus, it added the Bypass options.
Preamp: LR Baggs Venue DI Pedal
The LR Baggs is the device that can really boost your live performance. This is a preamp / D.I. with a full range of features that represent the true multi-tool for acoustic guitar players. More so, this pedal is specifically made for acoustic guitars.
What it offers is a tone of tone-shaping options to increase the versatility of your shows. The Venue DI takes your performance into very high levels by adding warmth, clarity, range, and power.
In terms of tonal shaping, the Venue D.I. has a 4-band EQ with the addition of a presence control. It gives you plenty of extra control on top of your guitar's preamp system.
<iframe width="560″ height="315″ src="https://www.youtube.com/embed/1sAGqn3Tl7E" frameborder="0″ allow="accelerometer; autoplay; encrypted-media; gyroscope; picture-in-picture" allowfullscreen></iframe>
This model also includes a VU meter, which is something that allows you to see your volume levels during your gig.
It also has a built-in tuner with a large display and an easy interface.
Preamp: MXR M108S EQ Pedal
This MXR 10-band EQ pedal gives you the most control over your tone you can have.
Aside from the 10-band EQ, there're sliders for volume and gain, which represent an easy way to control the overall level without messing with any of the other pedals on your signal chain. That means the MXR device is able to boost or minimize the output of your guitar.
It's hard to put in words how powerful an EQ pedal like this one can be. But when you're used to the standard Low-Mid-High 3-band EQ, an item like this might be overwhelming.
<iframe width="560″ height="315″ src="https://www.youtube.com/embed/vaybeoLYwPc" frameborder="0″ allow="accelerometer; autoplay; encrypted-media; gyroscope; picture-in-picture" allowfullscreen></iframe>
If you become interested in this powerful EQ pedal, here's the Amazon link:
Chorus Pedal: Boss Waza Craft CE-2W Chorus Pedal Effect
Because the chorus is the tried-and-tested acoustic modulation, I'm listing 3 different chorus effects on this best acoustic guitar pedals list. Each one belongs to a different price category.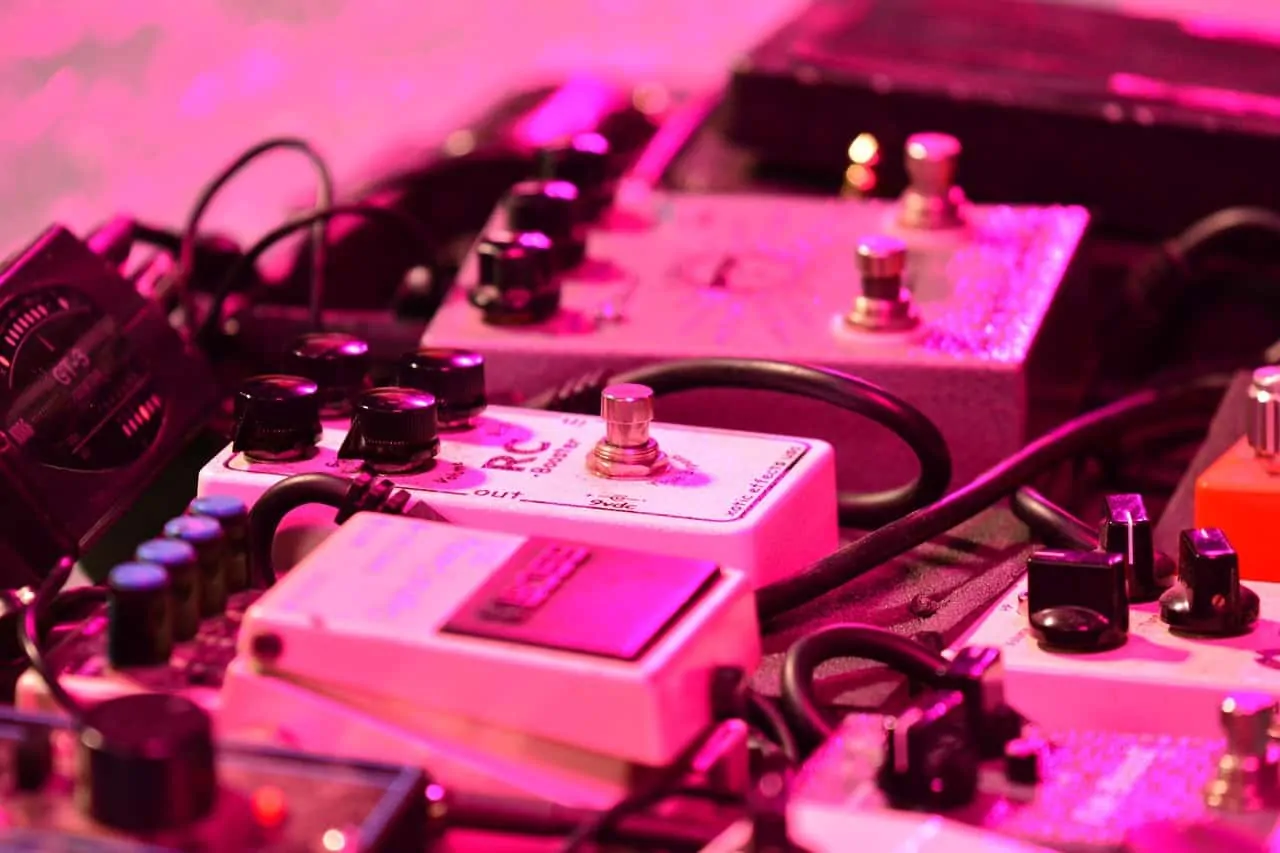 You should take a look at this chorus pedal guide to read about their common controls.
Chorus is the favorite modulation effect for acoustic guitars. This effect can make your humble 6-string guitar sound like an expensive 12-string. Or they can make your 12-string siren sound like a Hans Zimmer orchestra.
The chorus is often known as the '80s sound. Since the '80s pop and pop-rock music, the use of this effects pedal has reached almost every music genre that creeps into the radio.
From Nirvana's famous use of chorus for their verses to Metallica's chorus-filled intros and Daft Punk's funky lines thriving on the same effect, there's nothing you can't play without a chorus.
We've chosen the same pedal we listed as the top chorus pedal effect for electric guitar. Boss' modern Waza Craft line reissues the brand's best vintage devices with the help of the company's top engineers and techs.
The CE-2W combines the coveted Boss CE-1 and Boss CE-2 pedals into a single enclosure. The CE-1 was the first chorus pedal ever, and the CE-2 is the brand's reputed vibrato effect pedal.
The 2W version brings out these top 2 contenders in an easy-to-use fashion. In classic Boss tradition, this pedal is short on buttons but rich in sound quality.
<iframe width="560″ height="315″ src="https://www.youtube.com/embed/zAyqBYjgH5I" frameborder="0″ allow="accelerometer; autoplay; encrypted-media; gyroscope; picture-in-picture" allowfullscreen></iframe>
This model only has depth and rate knobs plus a 3-way switch to select the mode. It also includes new sounds that were not available on the original pedals, plus a CE-2 stereo out.
That means you would be able to split your signal to create a left and right stereo mix, but you'd need two different speakers or amplifiers to do it.
All in all, this CE-2W is the professional chorus choice.
However, because this is an expensive chorus effect, so let's look into a budget alternative…
Affordable Chorus Pedal: Ibanez Chorus Mini Pedal Effect
Ibanez is known for their guitars and basses. They do build great effects also, one of those being the famous Ibanez Tube Screamer overdrive pedal.
This brand knows how to make great value pedals, which is why the Chorus Mini sells for about half the price of the CE-2W whilst delivering the same levels of sound quality.
The Mini is a compact and simple pedal that provides users a window into the analog world of vintage chorus pedals. It's easy to use, small enough to fit anywhere and into any pedalboard, and capable of adding plenty of depth and girth into your guitar's voice.
<iframe width="560″ height="315″ src="https://www.youtube.com/embed/Be8TOzwPmlA" frameborder="0″ allow="accelerometer; autoplay; encrypted-media; gyroscope; picture-in-picture" allowfullscreen></iframe>
What I like the most about this pedal is that it's 100% analog. That means it features the three common controls of any analog chorus pedal: depth, level, and speed. Aside from that, it also packs a True Bypass option.
Overall, this is a great chorus pedal that reacts beautifully to acoustic guitars.
Here's an even cheaper one:
Budget Chorus Pedal: Rowin Analog Chorus Pedal Effect
This popular mini pedal brings a surprising amount of features for its price.
It delivers a true analog chorus effect with the classic warmth and clean sound of any premium model. You get to control its tone with Level, Depth, and Rate Rich control knobs.
The sound coming out of the pedal is very subtle and warm. It adds a bit of texture, and the tone is natural, transparent, and fresh. Those qualities can work wonders with an acoustic guitar and play nicely with blues, pop, and pop-rock.
<iframe width="560″ height="315″ src="https://www.youtube.com/embed/Ev5KGxQkq_g" frameborder="0″ allow="accelerometer; autoplay; encrypted-media; gyroscope; picture-in-picture" allowfullscreen></iframe>
It's best feature, though, is its included noise gate. You can use this pedal to cancel the sound coming out from the rest of the pedals.
This noise control feature is a surprising addition on a budget pedal. It cuts the noise that would normally ring in-between chords and notes. It's also fairly easy to use with a single threshold control that sets the volume at which the noise gate starts the noise reduction.
Additionally, it has a True Bypass, which is always on. Naturally, then, this pedal preserves and even improves the quality of your acoustic signal.
And despite its price, it ships on a high-grade zinc alloy chassis, which is durable, strong, and compact. Most pedals at this price range are made of near-to disposable plastic. The Rowin, though, shows other brands the kind of quality you can get for a budget.
Reverb Pedal: TC Electronic Hall of Fame 2 Pedal Effect
There're plenty of good reverb effects out there for acoustic guitar. The key aspects you must look for on this branch is multiple reverb types on a single enclosure.
That's why we choose a pedal that has a knob that toggles between different types of reverb. In particular, the Hall of Fame 2 by TC Electronic has 8 different options plus 3 preset slots.
The ability to swap between various reverb types is a huge plus for live performances. The more reverb types, the more options you have for different songs and different venues. Remember each venue has its own acoustic, something that plays with the reverb (or the echoes) your guitar creates.
<iframe width="560″ height="315″ src="https://www.youtube.com/embed/jejHwVhip9Y" frameborder="0″ allow="accelerometer; autoplay; encrypted-media; gyroscope; picture-in-picture" allowfullscreen></iframe>
You can also save your own tones with the TonePrint editing software. That also brings forward the ability to download and install star-created presets from Steve Vai, Paul Gilbert, and more.
This reverb is optimized as a True/Buffered Bypass switch plus a Kill-Dry on/off switch. The Kill-Dry ensures the original signal of your guitar passes through the pedal without suffering any kind of loss.
Lastly, TC Electronic equipped this model with their MASH technology. That gives you a pressure-sensitive expression pedal that makes the effect more intense the harder you press.
This item ships with a bundle that includes the power supply, patch cables, and guitar picks.
Because reverbs are so essential for acoustic guitars, let's look at another professional choice:
Reverb: Boss RV-6 Reverb Pedal Effect
Boss is known for its reliable and durable gear, and this pedal is a perfect testament to its legacy.
What I like the most about the Boss reverb is that it's versatile, compact, and somehow affordable.
Furthermore, it offers sophisticated reverb tones with pretty simple controls. Boss created an outstanding pedal with its cutting-edge technologies delivering eight different sound modes. The possibilities include shimmer sounds, delays, subtle room reverbs, and space-filling atmospheres.
<iframe width="560″ height="315″ src="https://www.youtube.com/embed/kWG6e3WGIBM" frameborder="0″ allow="accelerometer; autoplay; encrypted-media; gyroscope; picture-in-picture" allowfullscreen></iframe>
As for controls, it has knobs for level, tone, and time; plus the mode selector knob to swap between the 8 different modes.
Overall, this high-end pedal combines a wide versatility with premium sounds.
Let's go into a third reverb pedal because everyone needs budget options:
Budget Reverb: Doner Verb Digital Reverb Pedal Effect
This is an exceptional reverb I highly recommend to anyone looking for the best value stompboxes.
The Donner Reverb is a digital affordable pedal with 7 different reverb modes. It's beginner-friendly and easy-to.use with only three function knobs (E.Level, Decay, and Tone).
<iframe width="560″ height="315″ src="https://www.youtube.com/embed/hRf56lC2TH8″ frameborder="0″ allow="accelerometer; autoplay; encrypted-media; gyroscope; picture-in-picture" allowfullscreen></iframe>
It all comes together with the classic Doner logo and its convenient, compact, and sturdy full-metal shell.
Lastly, it features a True Bypass when the effect is off to feed the amp with the unaltered signal of the instrument.
Delay: Donner Revecho Digital Pedal Effect
This is a simple, small, light, and convenient digital reverb pedal with a LED light indicating the working state of this pedal.
I choose this because it combines quality delay and reverb effects into a single affordable stompbox.
Like so, I choose to shine a light on this model because it has a handy tap tempo function to set precise delay times.
The tone is rich, and the versatility is enough to play any music genre you imagine.
<iframe width="560″ height="315″ src="https://www.youtube.com/embed/C7uf3YpAQLk" frameborder="0″ allow="accelerometer; autoplay; encrypted-media; gyroscope; picture-in-picture" allowfullscreen></iframe>
This pedal ships in an aluminum portable mini chassis that's both convenient and durable. It's suitable for practice, live performances, and the studio.
And even when it combines two effects into one, the sounds it generates are high-quality and easy to dial.
Compressor: ELECTRO-HARMONIX Tone Corset
The Tone Corset Pedal by EHX is a four-knob convenient analog compressor selling for a mid-level price.
Its four knobs include Sustain, Attack, Blend, and Volume controls. It also has a True Bypass option.
This model is one of the most advanced compressors in the market, and it works equally with either bass or acoustic guitars.
And even when it's pretty advanced and modern, the controls are pretty intuitive.
What it does is squeeze your guitar's tone and volume in all the right ways. Compressing means smoothing out the high-volume notes and raising the lower-volume notes. Thus, the resulting sound has a balanced output, and the audience is able to hear every note with similar levels of clarity and power.
<iframe width="560″ height="315″ src="https://www.youtube.com/embed/Z6eRNp3JVO8″ frameborder="0″ allow="accelerometer; autoplay; encrypted-media; gyroscope; picture-in-picture" allowfullscreen></iframe>
In particular, the sustain knob controls the compression you apply to the guitar.
Then, the attack controls how quickly the sound recovers from the compression: as you turn it clockwise, the pedal responds slowly so more initial attack comes through.
Lastly, the blend knob adjusts the dry and wet mix, and the volume knob controls the output.
This 4-knob design is all the control you need over your instrument's dynamics.
Additionally, there's a Pad switch that turns down the input signal to prevent unwanted distortion. This is in case you're using the pedal with hot pickups (like a high-output humbucker).
I must add this pedal features a True Bypass as well.
Volume Pedal: Ernie Ball JR. P06180
Volume pedals are great tools for your performance. They truly raise the playing field when paired with acoustic guitars.
The Earnie Ball VP Jr. is a great choice for a number of reasons. First off, this is a passive pedal, so it doesn't need any external power. It has a high-grade 250k potentiometer that ensures smooth performance.
As you might expect, the volume pedal controls the output level of your whole signal chain. That means you would be able to control the strength and power of our playing with your foot.
<iframe width="560″ height="315″ src="https://www.youtube.com/embed/1WG2006505w" frameborder="0″ allow="accelerometer; autoplay; encrypted-media; gyroscope; picture-in-picture" allowfullscreen></iframe>
It also has two swell types available, which gives you an extra layer of versatility. It even has a tuner input for silent tuning.
Bonus for experienced players: Loopers
I left loopers for last as loopers are not a thing for everyone. In fact, seeing a performer playing live with a looper is not very common.
Why? Two reasons, mostly. First off, playing with a looper is a bit difficult. It requires you to record loops with your guitar and your voice, set the playback of those loops, and then play and record some more. And you'd need to do all of that whilst following the beat.
That's why looper pedals are only for experienced players looking for another way to perform.
Now, the right looper pedal depends on what you want. For example, solo performers would probably search for the most features, whilst band players would want a simpler looper.
One of the most popular loopers for acoustic guitar players is the Boss RC-30 Loop Station:
This pedal has two footswitches, which enables easy access to start/stop/record/overdub functions.
The Loop Station series has different models suited for different needs. The lineup features a simple model, a mid-range alternative, and a fully-fledged mothership. Here's an additional review of the Boss RC-30 looper.
But if you haven't used a looper before and would like to take baby steps into this exhilarating world, you may want to check something simpler.
The friendly looper I recommend for acoustic guitars is the TC Electronic Ditto Looper, which is incredibly easy to use and popular.
This compact and affordable pedal has all of the essential looper features. It's a good entry point and, for many guitar players, is the first and last step into this pedal branch.
Are you interested in these special pedals? Here's our previous top 10 loopers for guitar guide.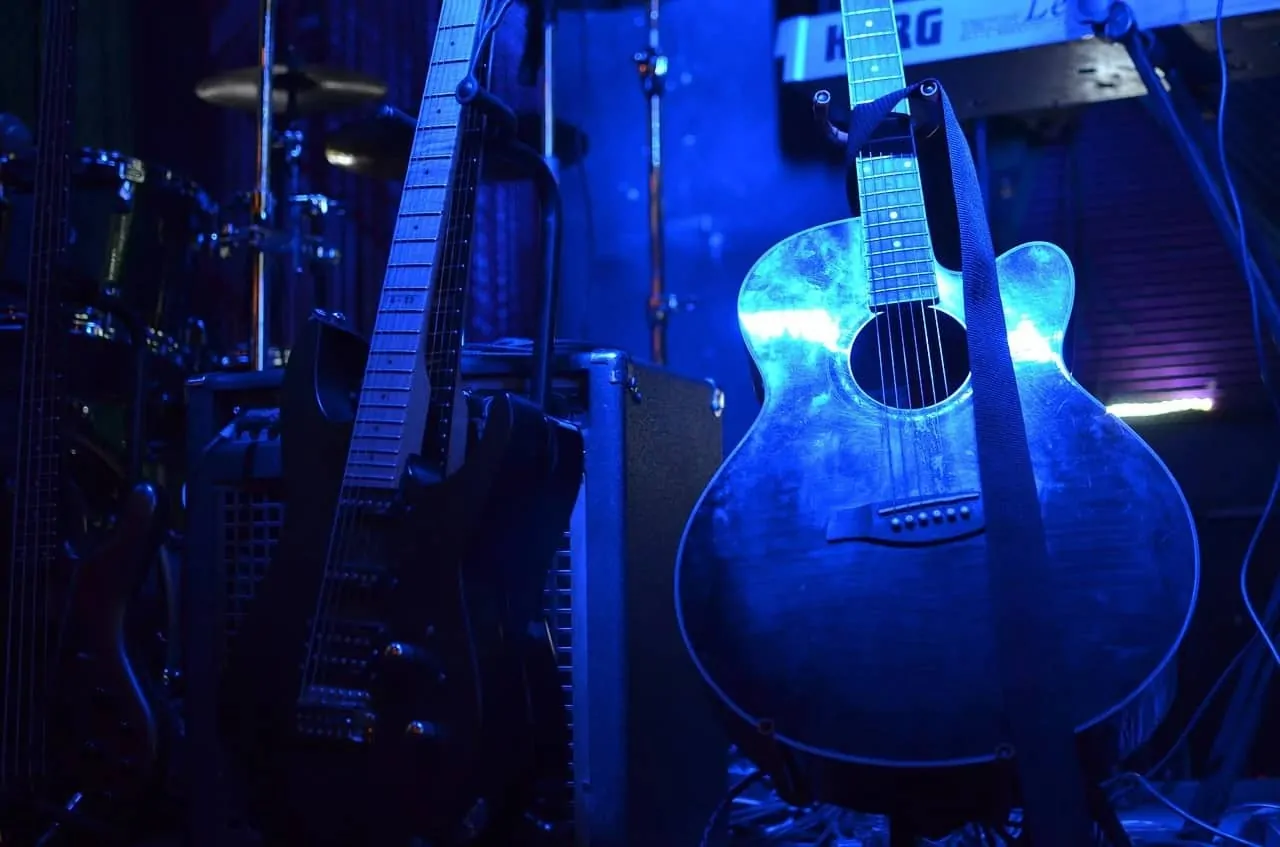 Do you need some insight about playing guitar with a looper? Here's our prior looper guide.
Acoustic guitar pedals buyer's guide
The best acoustic guitar pedals represent many advantages. More specifically, they eliminate the main issue with acoustic-electric guitars, which is the lack of depth, power, and color.
The problem players find is that the natural acoustic sound of their guitars easily loses its sparkle and lushness when they put it through a microphone (PA system) or acoustic amps for a live performance.
With the simple flick of an ON button, your amazing acoustic tone turns brittle, boomy, flat, or thin all of the sudden. For example, hearing a dry acoustic guitar through a PA feels like a lifeless show.
That's why getting at least one pedal is a great idea. And the most important thing you should be looking for is the resulting tone it delivers: it should have power, clarity, warmth, and personality.
By the way, if you're going for one pedal only, I'd recommend going for either chorus or reverb pedal.
What to look for?
With your new knowledge at hand, you'd need to search for pedals that serve as tools for your live presentations. What kind of pedals would you need to boost your power and make your guitar shine?
Trying out different pedals or watching YouTube demos can go a long way. What you need to understand is the best acoustic guitar pedals must give you some control over the tone you get.
Don't rely on your guitar's EQ only or on the amp's EQ and effects only. Why? Because you won't be able to tweak your amp or your guitar very often as you play.
Next up, you should look for some sort of modulation (chorus, reverb, delay, etc…). The wrong venue can easily sap out the life out of your guitar. For example, if the venue has zero natural reverb, your show will sound dull and dry.
Or if the venue creates feedback problems with your guitar, the odds are the audience will think you're an amateur.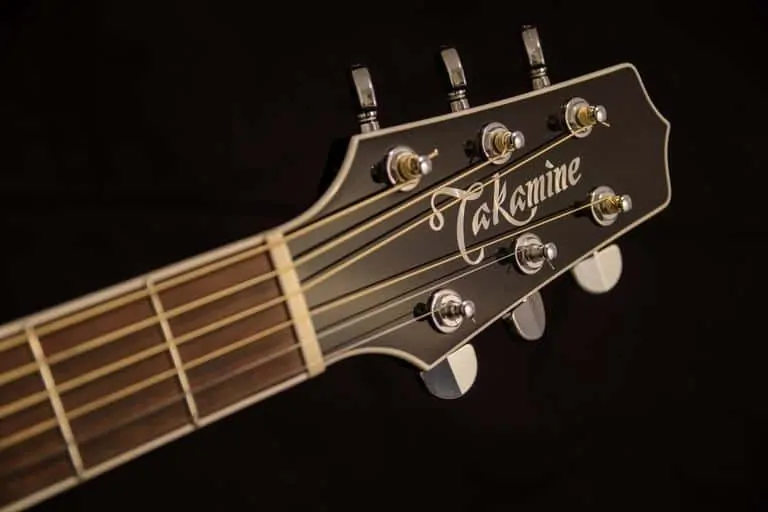 The best acoustic guitar pedals can enhance your guitar and protect your tone from venues with poor acoustics and feedback problems.
Durability and price
You should also consider the build quality of the stompbox.
Budget pedals are mostly made of plastic. Plastic is lighter and cheaper, but it's not as resistant as metal. Ore so, a plastic pedal will never look as interesting as a metal pedal.
Using acoustic guitar pedals
Thinking you can only use guitar pedal effects with electric guitars is, whilst an obvious conclusion, a mistake. These stompboxes are ready for bass guitars, keyboards, and acoustic guitars as well. In fact, most instruments using an electric signal can use them.
The thing is acoustic guitars don't need and don't mix with distortion, overdrive, or fuzz pedals, for the most.
There's so much more than distortion, though. Acoustic-electric guitars open the possibilities to a whole bunch of things you'd rarely consider for electric guitar, like, for example, an EQ pedal.
So, while certain effects don't sit well with acoustic guitars, others like chorus and reverb can add plenty of value to the original sound.
And not that you couldn't plug some sort of distortion into your acoustic guitar. But at that point, you might as well go for an electric guitar as the results would be better.
Speaking of which, if you're interested in the natural acoustic sound of the guitar, go check semi-hollow and hollow guitars, a combination of sorts between acoustic and electric axes.
The best acoustic guitar pedal effects
In short, the best effects for acoustic guitars belong in the category of modulation, temporal, and similar effects.
These devices add value to the entire sound: they increase the output, add color, personality, depth, contour, and "professionalism."
The effects include reverb, chorus, delays, tremolos, flangers, phasers, Lo-Fis, oscillators, and similar.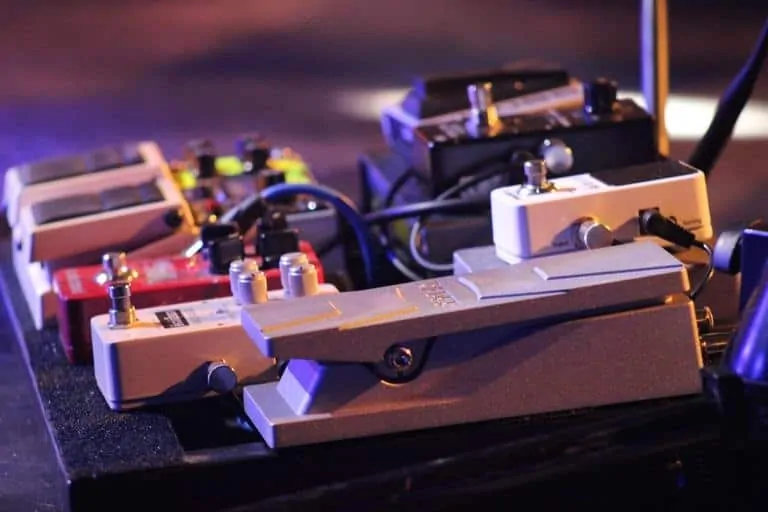 Flangers create a swirling sound. Here is our prior best flanger pedals for guitar guide.
Acoustic pedals you should have
There's a selection of effects you should have for acoustic guitar if you're planning to take your sound seriously.
The options include a variety of modulation effects (reverb, delay, chorus, tremolo, phaser, flanger, …), which have proven to be very successful on electric guitars.
Some of the effects are very subtle, while others are more overt. What you need to do is figure out how each effect works and how they combine with different music genres.

The best acoustic guitar peals add depth and personality to your sound.
Tuners
Guitar tuners are essential because of their two core functions.
First off, they allow you to mute the signal with the footswitch. Secondly, they allow players to stay on tune during their performance. What's best, because of the tuning feature, players can tune their guitars in silence.
For nothing screams "amateur" more than an out-of-tune performer or tuning in-between songs, a tuner should be your top priority if you're taking your sound live.
The ability to turn the sound off with a killswitch it's a handy addition when you're about to fumble around with your capo, the amp, or the other effects. It would cancel out any feedback coming out of your guitar gear.
So, no matter what kind of stringed instrument you're playing, a tuner pedal is a must-have stompbox. The trick is finding one that you like, for all tuners display pitch in different ways.
The one I chose, the PolyTune 3 Mini, is at the cutting edge of guitar tuning.
There's one thing to remember, though: you must place tuning pedals at the beginning of your signal chain. Furthermore, you should only tune the guitar with your guitar's raw (dry) signal.
Preamps / D.I. / EQ
The best accessory you can plug into your acoustic guitar is a preamp / EQ / DI box. However, this is also the most complex alternative.
A preamp pedal boosts the signal from your guitar whilst doing a few things in the process. One of those things is cleaning the signal and getting it ready to record and play.
The average preamp carries an EQ section with at least four different parameters. This EQ section is designed specifically for acoustic-electric guitars. The more slides the pedal has, the more control you have over your tone.
Some preamp pedals go all the way up to a 10-band EQ. This feature allows you to identify the frequencies that are causing you trouble without impacting the tone.
Others include noise gates or similar features to notch out unwanted frequencies. Some others include actual guitar effects, tuners, LCD screens, and more.
Some of these EQ pedals also include feedback prevention, which is also something very handy during your live performances.
The reason why these are so essential is they can level the playing field and turn your muddy, humble pickups into pristine and pricey things. Furthermore, no matter the pickup, guitar, or amplifier you're using, by putting a preamp pedal you can boost the sound to the levels you need and shape the exact tone you want. You could even achieve similar results with different guitars.
The EQ's on your guitar are oftentimes limited. Some venues, because of their acoustics, just won't fit the capabilities of your guitar. If you're performing with a band, the odds of getting a decent sound out of your guitar's 3-band EQ are even worse.
Lastly, if you see the name "D.I" on the pedal, it means it's a D.I box. DI's are designed to clean the signal of your guitar in order to record the best possible acoustic tone.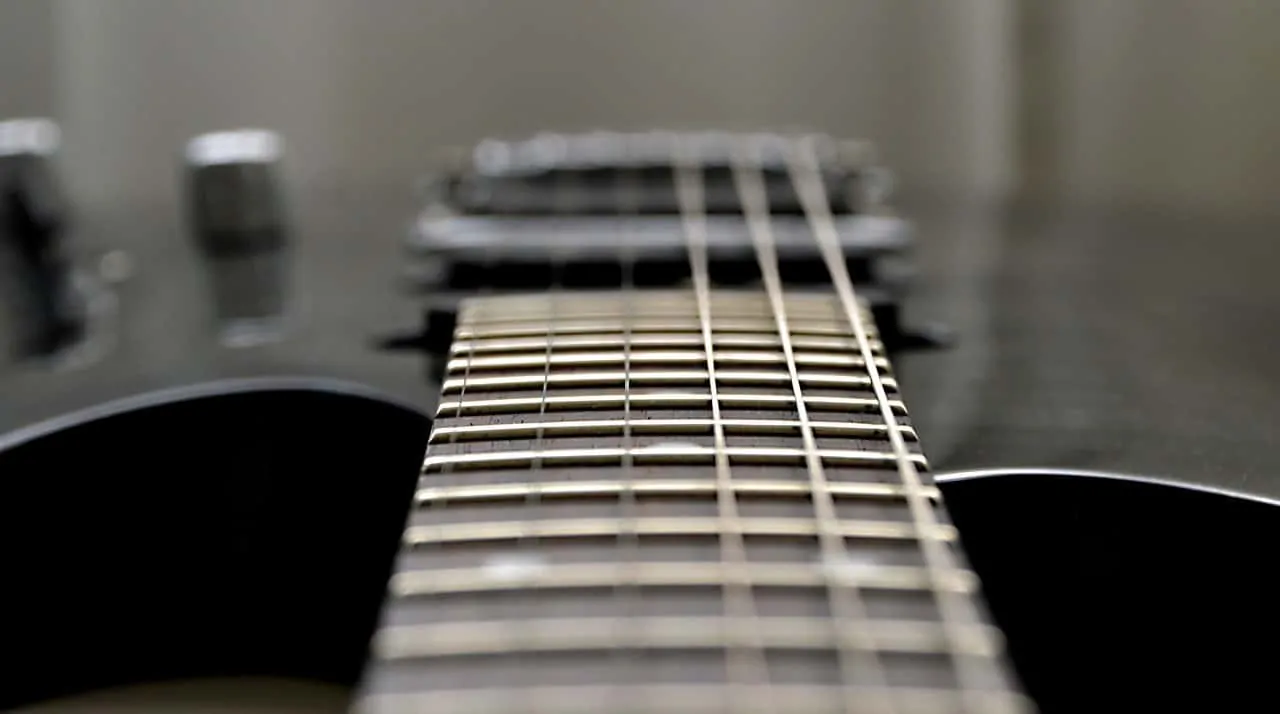 The preamp pedal is an essential component of any performer's toolbox.
Chorus
Chorus is a very interesting effect. I'd even say it's the most interesting twist out there. What it does is multiply your guitar's signal and mix it back with a bit of delay and color (you can read more about it here).
The result is the illusion that there's more than one guitar playing. Because of that, chorus effects work great on clean tones and even better on acoustic tones.
It doesn't require much experience to realize how useful this effect can be for your acoustic guitar performances and experimentations. Since many acoustic guitar players go solo, chorus pedals represent a power multiplier. They add substance, depth, color, and power at the same time.
I must add you should go for simple chorus pedals. That's why the options I choose add little color to the tone. However, there are some models out there that are pretty advanced and change the tone very obviously.
Lastly, professional chorus pedals tend to have stereo input/output. That enables you to run your guitar in stereo so you can fill a room with the lush and rich qualities of stereo sound.
Reverb
Reverb is one of the oldest guitar effects, and it has been used more than anyone could count.
This effect spices up your music. It allows your guitar to reverberate through the speakers so it covers more space.
It can be subtle, or it can be powerful. Either way, reverbs are a crucial part of what makes an acoustic guitar interesting. Without reverbs, acoustic guitars sound dry and flat.
Much like chorus, reverbs are more important for acoustic guitars than what they are for electric guitars.
They are essential because each kind of location (like a room, a garage, or a theater) creates a different acoustic when you play. So, for example, your guitar might sound bright and warm in your room, but muddy and lost in the park.
That's because when you play acoustic guitar's you're not only hearing the guitar. You're also hearing your room.
Reverbs come forward because playing live with an acoustic guitar means relying completely on this acoustic pedal effect. A reverb pedal allows you to control the quality and quantity of the reverb, which is always better than trusting the natural reverb of the venue.
Lastly, reverbs are also pretty versatile: you could dial lush and thick tones, punchy rhythms, all the way to dream-like tones.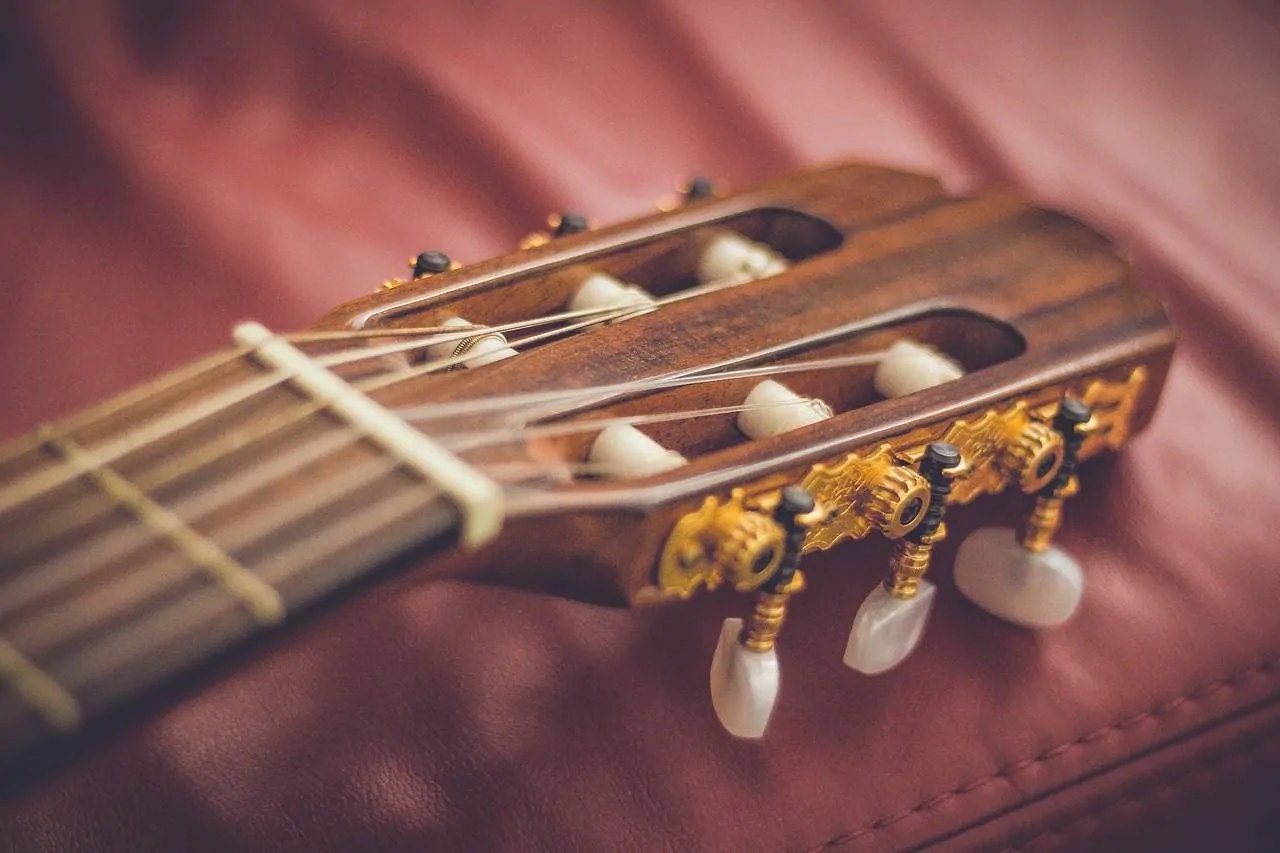 Interested in electric guitar reverbs? Go check our top reverbs for guitars list.
Delay
If you're not into reverbs, you might as well check delay. Keep in mind there are some pedals that offer delay and reverb at the same tie.
As the name suggests, this effect adds delay to the sound. But it can go a bit more than this, and one of its common extra features is the ability to increment the sounds of your choosing.
Delays work with any kind of instrument you can plug. They work really well with acoustic guitars because they can expand your creative expression and push the boundaries of what you can play, recreate, and compose.
This is a powerful effect. Add it into your signal chain and you'll be on your way to a powerful setup.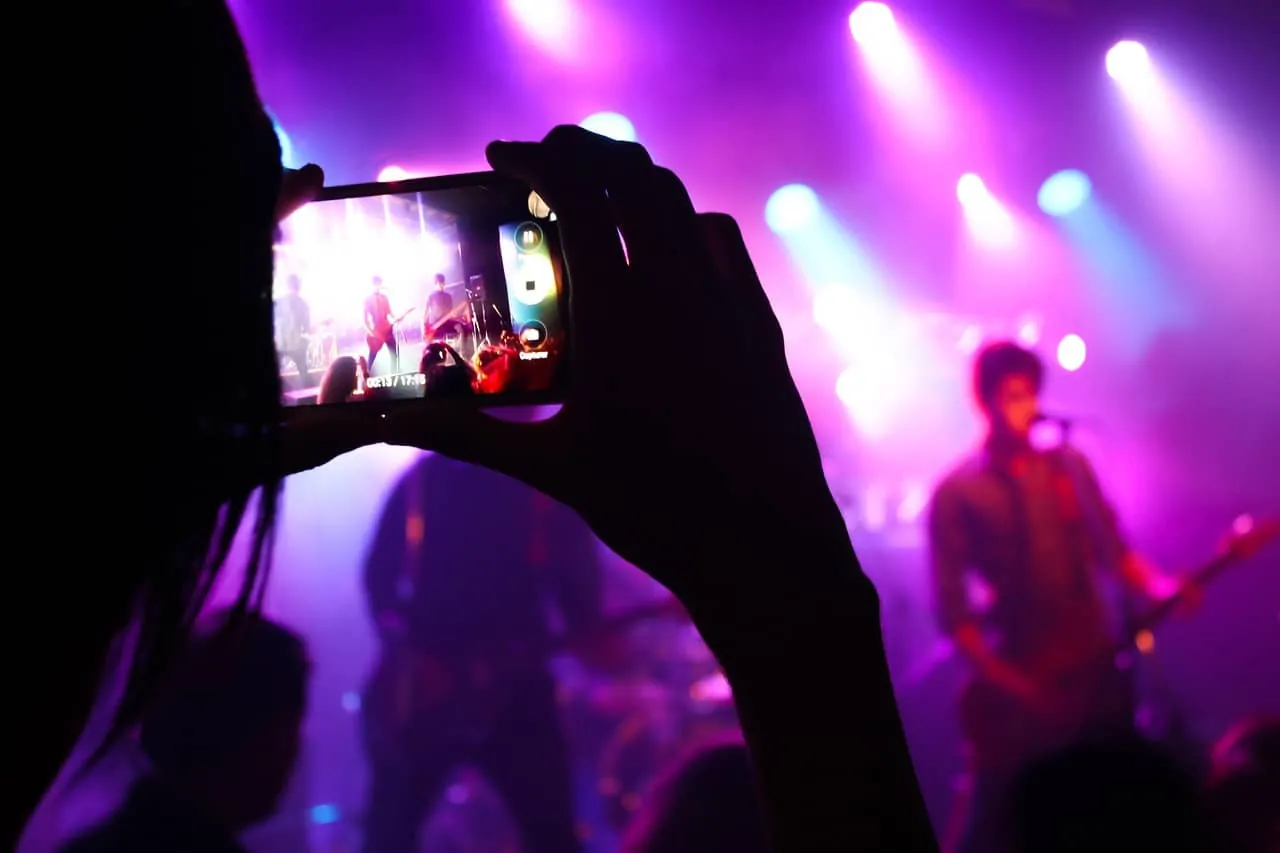 Delays, reverb, and chorus and work well together for both acoustic and electric guitars.
Compressor
Acoustic guitars can sound soft, gentle, mellow, palm-muted, or to-the-teeth strong. That means these are dynamic instruments, and to keep the dynamics in check, you'd need a compressor pedal (by dynamics I mean the volume levels).
Compressors decrease the level of the highest output notes and increase the levels of the lowest output notes. These pedals manage to keep your volumes within the range you select, thus giving you a balanced and round sound.
For example, instead of the volume ranging from 0 to 100, you could tweak the compressor to have a nicer range of 60 to 80.
That means your soft and mellow parts will be as clear as the hard strumming sections.
You can keep the compressor around to keep balanced volumes. You can also crank it to keep the volumes within strict limits so it fits with the other band members.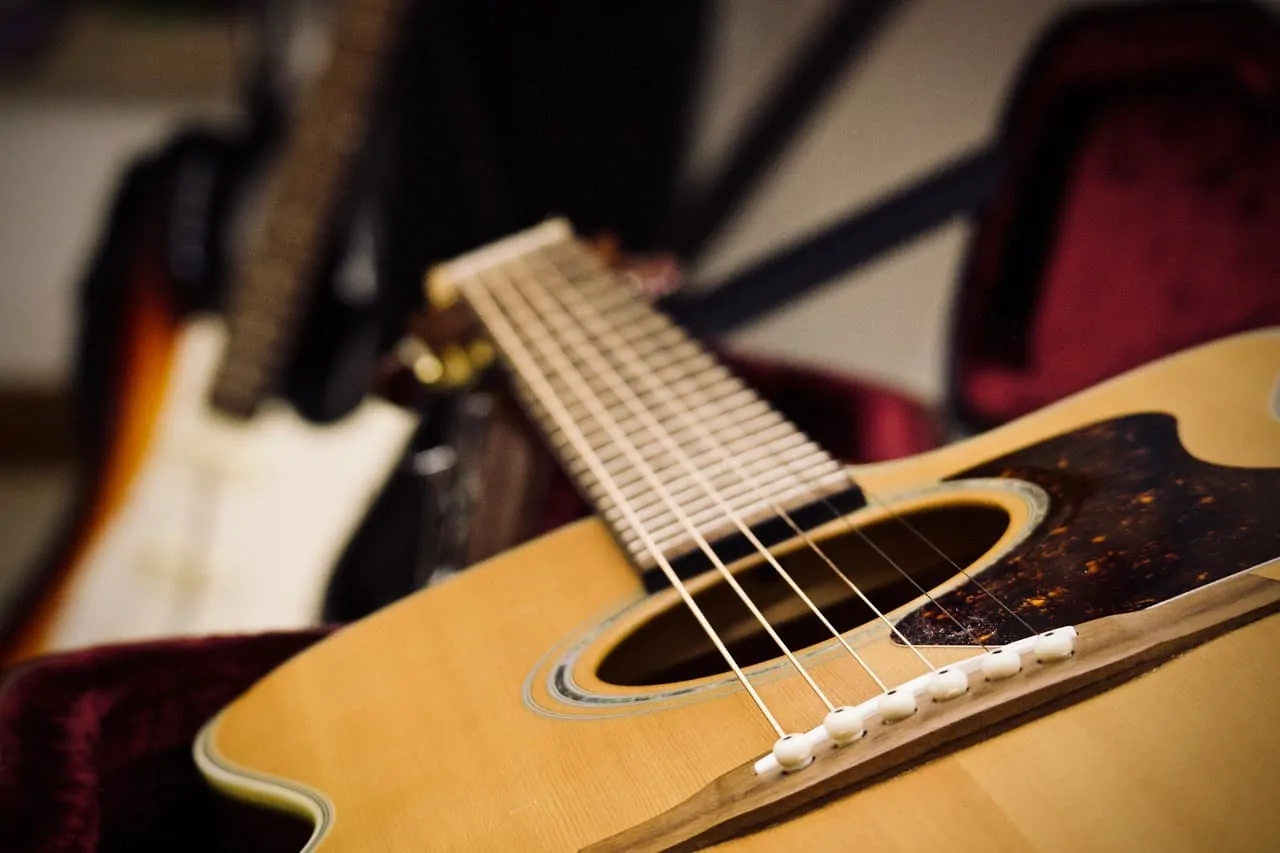 Compressors are essential tools for acoustic guitar players and bass players as well. Here's our prior guide on bass pedals.
Volume Pedals
Lastly, volume pedals are very useful on the stage, although they are not very popular.
Because most acoustic guitars don't have volume knobs, a pedal dedicated to this task is the most practical way of controlling the output level on a breeze.
Volume pedals also allow players to create swells, especially when combined with a delay.
When it comes to choosing this kind of pedal, the priority is looking for a passive device, made for passive systems. Passive volume pedals require no power to work. More so, they can tap the full power of your whole setup.
Acoustic guitar pedalboard and signal chain
In summary, the essential pedals for acoustic guitars include:
EQ / Preamp
Tuner
Chorus
Reverb
Compressor
Looper
If you could only afford two of them, I recommend you go for a reverb/chorus and the tuner pedal.
The next step is knowing how to connect them together. So now we need to discuss the order in which you're connecting these pedals (signal chain). Going outside the rules is never a good choice because each effect behaves differently in your signal chain.
A rule of thumb: guitar – tuner – EQ – volume – compressor – looper – chorus – delay – reverb  – amp
Reverb pedals on the chain
The reason reverb and delay pedals belong at the end of the chain is so you can use your reverb's stereo signal. However, if you decide to run the chorus pedal's stereo feature instead, then the chorus must be at the end.
What I'm saying is your stereo pedals need to be at the end of your chain.
Looper pedals on the chain
If the looper supports stereo signals (like the Boss RC-30), then it's best to put the looper at the end of the chain. That gives you the flexibility of selecting which effects are going out with stereo mix, and which ones go out as mono sound.
Mounting the pedalboard
If you're playing at home, then you'll probably be happy putting the pedals on the floor.
However, when you perform live, having a fixed pedalboard with all of your pedals secure is the way to go. Here's the one I recommend:
I also recommend you to place the pedals left to right according to the signal chain order we discussed. Once you've done this, you'll need some patch cables to connect the pedals together.

Patch cables come in either side angles or straight angles, just like a regular guitar cable. 
Lastly, you'll need to consider how to power the pedals. Most pedals run on 9V batteries or 9V AC adapters.
If you're one to know-it-all, here's some additional insight about powering guitar pedals.
I recommend getting a power supply that holds power for the entire pedalboard. It is a popular option for both amateurs and professionals. That way, you can plug the pedals into the supply via regular audio cables, and then power up the power supply with its own adapter.
Here's the power supply I recommend:
In summary
I hope my guide helped you reach a decision. If you're on a budget, there's nothing wrong with choosing a couple of mini and affordable pedals. Modern cheap pedals can do their jobs almost as well as the most premium alternatives you can find. The thing is they don't look that nice…can you live with that?
I've listed various Donner alternatives as I think Donner has captured the budget pedal market. That means you can safely trade any of the expensive pedals, like, for example, the Polytune, for an affordable Donner model.
What you need to take from this guide is having acoustic guitar pedals can get the most out of your acoustic guitar. Plugging a single effect into your acoustic instrument can completely change how your music feels and take your performance to professional levels.
Naturally, more is better, but only if you take your time to experiment and understand what each pedal does and how they influence the sound.
The models I just showed you are some of the most practical and popular guitar pedal effects you can buy right now. They have been used by acoustic players for many years, and now it's all up to you.
What's your take on this? Leave your comments below!