It might be obvious to experienced players, but beginners must understand that the Maestro by Gibson acoustic guitar is not a real Gibson instrument.
Even so, Beginner Guitar HQ has decided to review this particular guitar because it's a very commendable guitar for amateur guitar players. 
What this is, then, is a Chinese-made acoustic guitar produced on behalf of Gibson. That means there's plenty of quality to be found on something supervised by the music industry-pros. 
This is a fun entry-level acoustic that packs tried-and-tested features. It also has great potential to improve if you apply the right setup.
Let's see…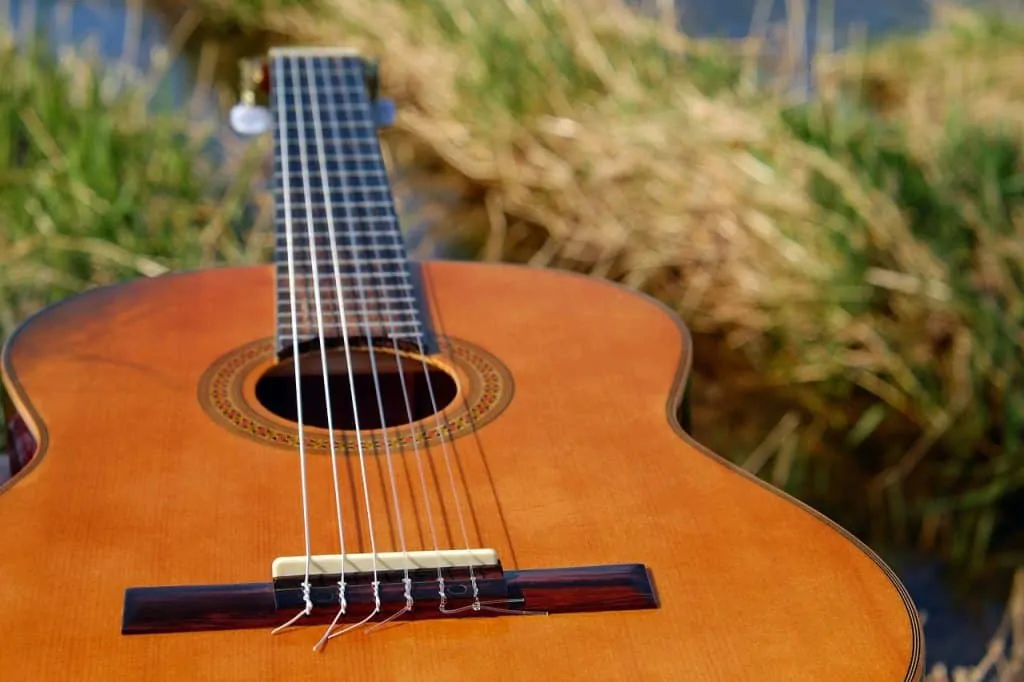 The Maestro by Gibson is an entry-level guitar for beginners.
Maestro MA41 acoustic guitar review
It's true that "Maestro by Gibson" is a legitimate Gibson brand. But the Maestro MA41 guitars series is an entry-level guitar lineup aimed for beginners manufactured outside Gibson's USA factories.
Because Gibson wanted to ensure affordability without sacrificing its traditional quality standards, the company outsourced this particular guitar into one of their trusted Chinese factories. 
Henceforth, the forward product sports a price tag you'd never see on a genuine Gibson instrument. 
The Maestro is something you can trust nonetheless. The priority of this instrument is sound over everything else. 
So, Overall, the Maestro M441 is a fun guitar series are easy-play 24 ¾" instruments with fast neck profiles. 
Overview
What's best is this affordable ax is built by Gibson Innovations, a world-famous Gibson Guitars division in China.
Its construction process ensures the Maestro delivers a big and clear sound at an extremely humble price.
And because it's an easy-to-play guitar, it's ideal for beginners. Don't get fooled, though: if you're an experienced player, the Maestro can surely satisfy your expectations.
Let's go into the specs of this full-sized 41'' acoustic guitar with outstanding playability. 
The guitar commonly sells alongside a bundle that includes a strap, guitar picks, a lesson DVD, and a spare set of strings. A pretty good deal if you ask me.
Build & design
The highlight of this guitar is its size. This is a full-sized 41" guitar, which makes it bulkier than most acoustic guitars.
Being 41'' in length means this is a long-scale guitar (close to 25''). There's nothing out of the norm on this model in terms of long-scale guitars. It does something right, though: it follows the timeless dreadnought size, style, and shape.
Dreadnought guitars were created by music company Martin. They are bigger and have spacious shoulders than jumbo guitars. They also produce a louder and clearer sound, mostly.
The Maestro is not trying to create anything new. It's still an attractive instrument, though, and it comes in three different finishes: honey burst, natural, or black.
The body is made of laminated wood, as you'd expect from your standard budget acoustic guitars. The laminated wood is nato on the back and the sides. There's also a touch of spruce at the top and Kauri at the back and the sides as well. 
In particular, Kauri is a renowned tonewood that's known for delivering a warm and clean tone. This material comes from New Zealand, and it's quite rare. It's a really nice addition.  
The neck is made of maple, and it has a sweet rosewood fretboard with 20 jumbo frets. Additionally, there're Pearloid dot inlays. 
It also ships with a catchy teardrop pickguard, a white body binding, and a soundhole rosette. There's nothing else decoration-wise. 
Lastly, the body of the guitar has a sleek gloss finish and white binding. 
Overall, it looks like a standard Gibson or Epiphone acoustic guitar. It doesn't look or feel cheap. However, the laminated wood does a disservice to the sound it produces.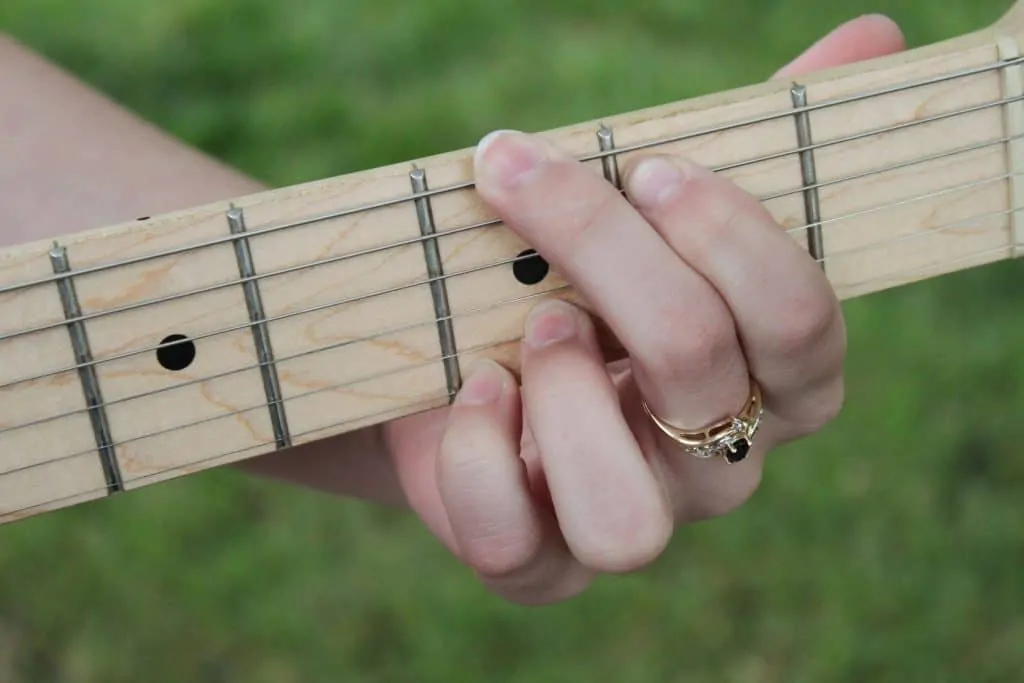 Quality acoustic guitars are usually made of solid woods instead of laminated woods.
Hardware
Just like its body & design, there aren't too many surprises on the hardware section. That said, what it does offer is okay for the price.
The Maestro by Gibson guitar has a set of sealed die-cast chrome tuners. They can hold the tune pretty well in the hands of intermediate and experienced players, however, beginners could have some trouble with it.
The bridge is made of rosewood, and it has plastic nut and saddle. Setup-wise, changing the nut, saddle, and strings can go a long way improving the playability and tone of this guitar.
Playability 
Following a similar pattern, this guitar is neither too special nor too bad to play. Straight out of the box, it offers a decent experience with the exception of a pretty fast and smooth neck.
Having said that, I note this is an easy-to-play guitar. Despite its price range, the action is sweet. That means players will have an easy time going from chords to arpeggios and solos. Likewise, soloing in this guitar becomes especially easy. 
That's because it has a smooth and fast rosewood neck, which is the nicest addition regarding playability. 
Reaching the higher frets is a complex task, but they are still playable if you don't adjust anything. 
The width of the neck's nut is 1.69''. It's a nice width that works well for beginners, but it's best for seasoned guitar players. It offers a balanced middle-ground for players with medium-sized hands. 
Keep in mind this is a long-scale guitar, so it's not suited for kids or players with small hands.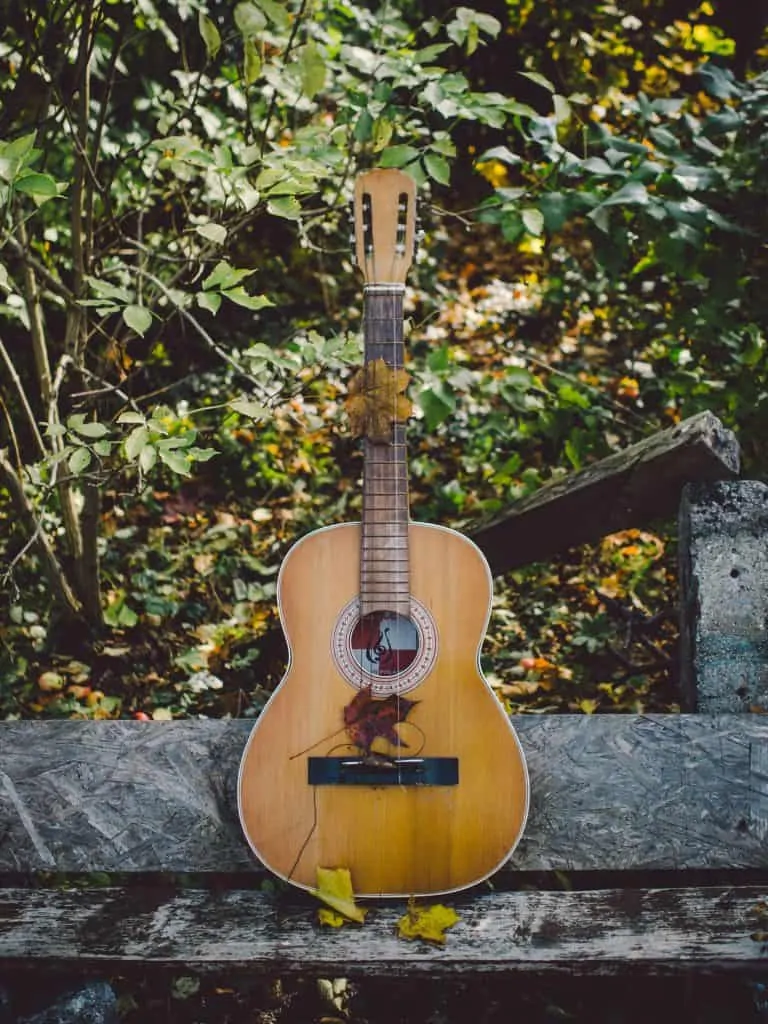 There's a parlor (instead of dreadnought) Maestro by Gibson guitar that's intended for kids. Its scale is about 23''.
Sound & tone
Even when I have somehow belittled this guitar on my prior descriptions, this is a guitar that sounds good.
For this is a dreadnought acoustic guitar, you can expect a robust sound projection. Whether your playing with a pick or with your fingers, the Maestro's tone is loud, pristine, and pretty. 
The general tone is crisp, bright, and clear. As I said before, this guitar can really improve with a new set of strings.
However, it's not worthy of much more than late-night fun with your friends.
The sound is warm, so those of you who prefer a bright guitar could find the maestro a bit muddy.
It's possible to brighten the tone by replacing the plastic saddle and nut with synthetic bone or Tusq. Some users have said a compensated saddle truly improves the sound of the Maestro.
 Pros: why do I like this guitar?
The Maestro MA41 is made by a Gibson-owned brand, so it sports the coveted Gibson logo on the headstock. More so, it certainly looks like an Epiphone guitar. 
The sound is also pretty, warm, and clear. It has a nice acoustic and it projects the sound further. This means the MA41 can be a great guitar to travel and have fun with.
It's easy to play: beginners would find it friendly and experienced players would find it fun to pick around and play.
Lastly, the exotic kauri laminate gives this guitar a beautiful finish and a hint of a particular tone.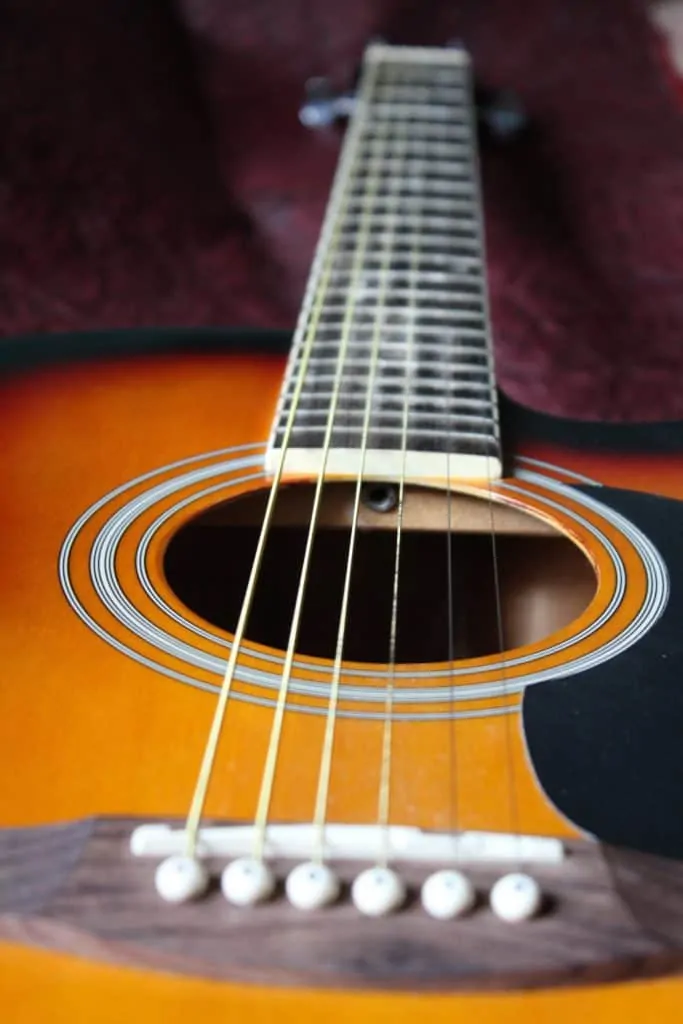 Keep in mind you have to change the strings of an acoustic guitar every 6 months or so.
Drawbacks & alternative
The first thing to notice about this guitar is the strings don't sound very good. This is a cheap guitar but, somehow, experienced players 
The sound becomes so much better with a new set of strings. That means the main drawback of this guitar is it needs this new setup right out of the box.
Here're the ones I recommend:
As I said before, you could trade the bridge for a Tusq compensated bridge. It would give more a more balanced sound, less tension string, and reliable intonation.
Here's the bridge I recommend.
Sale
If you're looking for a better-crafted guitar at the same price range, you might instead go for the Jasmine s35, a guitar we recently reviewed:
Now, if you're looking for a budget quality acoustic guitar, it might be better for you to search for Fender Squier. I recommend the following:
Variety 
The Maestro by Gibson comes in a parlor version, which is a smaller guitar suited for kids.
If you're looking for a children's first-time guitar, the Parlor Maestro might be a great choice:
In summary
Should you buy a Maestro guitar?
Our short review the Maestro is a humble guitar that's just okay for its price range. Its pros are about its low price, its loud sound, and its handy beginner's bundle.
I recommend this acoustic guitar for beginners and regular people who play guitar for a hobby or for fun. For those scenarios, there's nothing wrong with this guitar.
However, don't expect this to go above those comfortable scenarios. 
Lastly, I also commend this guitar as a gift for your partner. Is your partner looking for a guitar but hasn't been able to afford it or buy it? The Maestro is a pretty choice and it ships with an even prettier Gibson logo. 
That said, the Maestro is far from being a Gibson acoustic in terms of quality, craftsmanship, and sound. But it does hold its ground on the affordable market. 
Beginners will find this useful, and experienced players can enjoy a good guitar with a few hardware improvements (like the strings or the bridge).
All in all, this is a solid choice for under the dual-zero mark.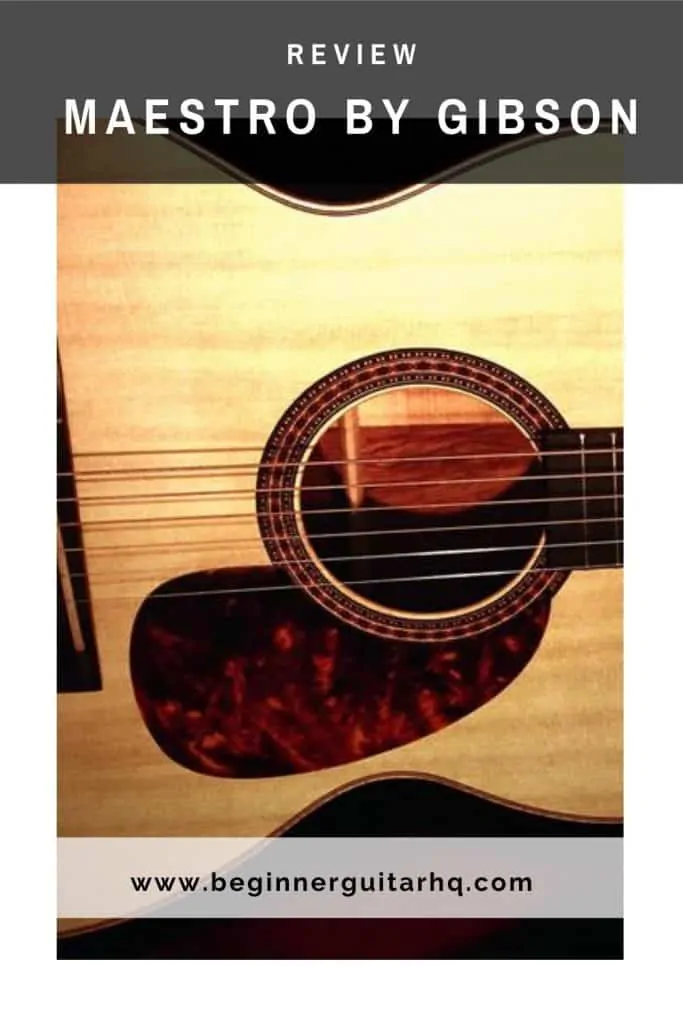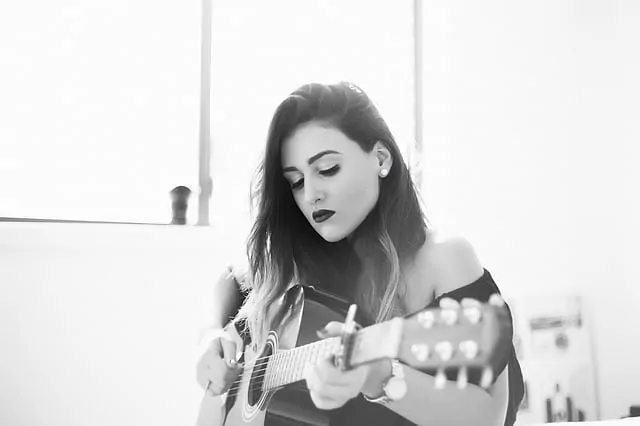 Jen is a guitarist and singer-songwriter who spends much of her time on the road and has lived in 13 cities across 4 continents. She picked up her first guitar at the age of 6 and learned to play by ear shortly after. She received her formal music education at the Berklee College of Music, and currently plays for a few bands in her free time. She has an uncanny ability to improvise creative melodies and harmonies. Her early influences include blues, jazz and rock.