When it comes to choosing an affordable acoustic guitar, the market is flooded with a confusing array of options. Household names like Fender, Epiphone, and Yamaha compete against lesser-known brands in the same super-budget area.
Jasmine sits in the category of lesser-known brands. You might think the Jasmine s35 is an odd pick for a guitar review. However, this certainly unknown guitar maker can hold its own when it comes to producing quality instruments for entry-level prices.
The sound Jasmine s35 cheap acoustic guitar is a testament to the brand's expertise.
Let's look at the details of this acoustic guitar and try to understand how something so cheap can sound so good…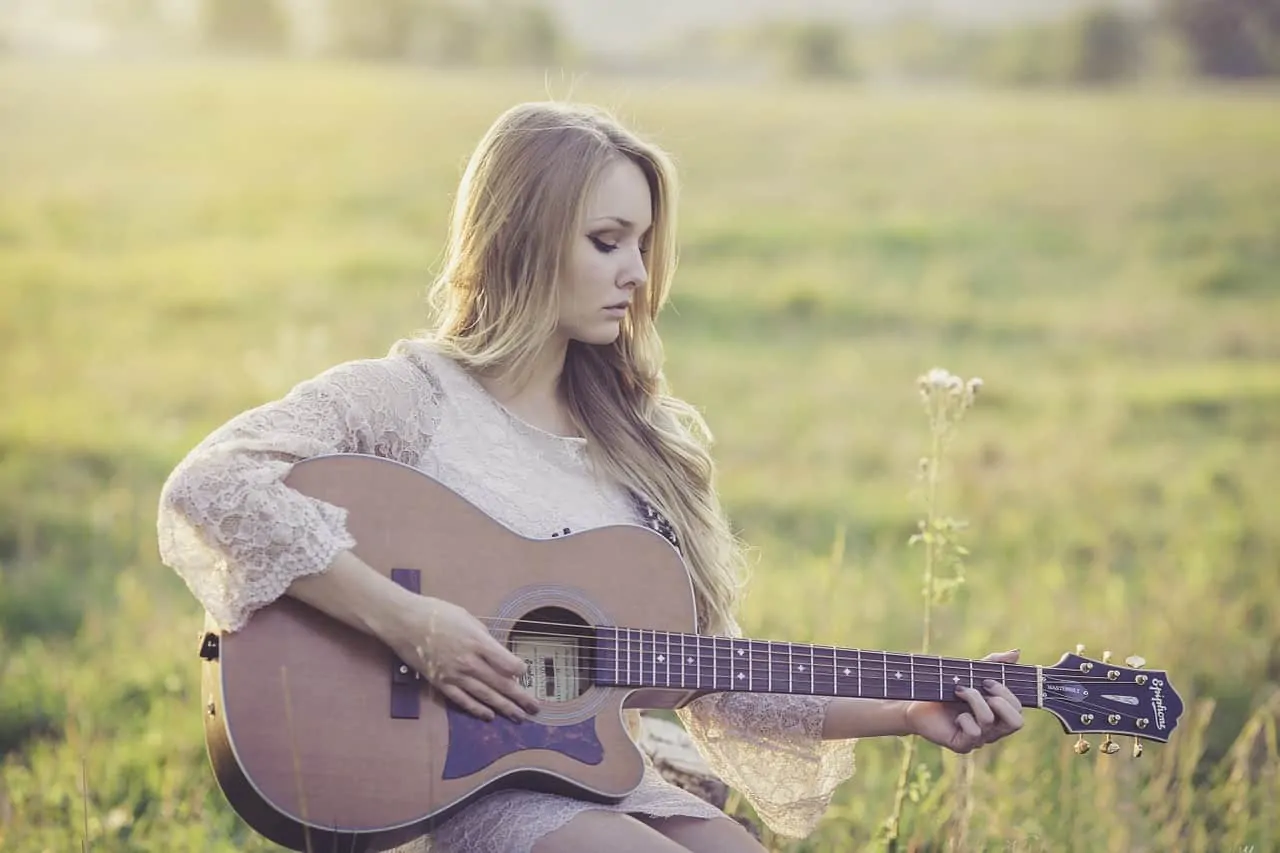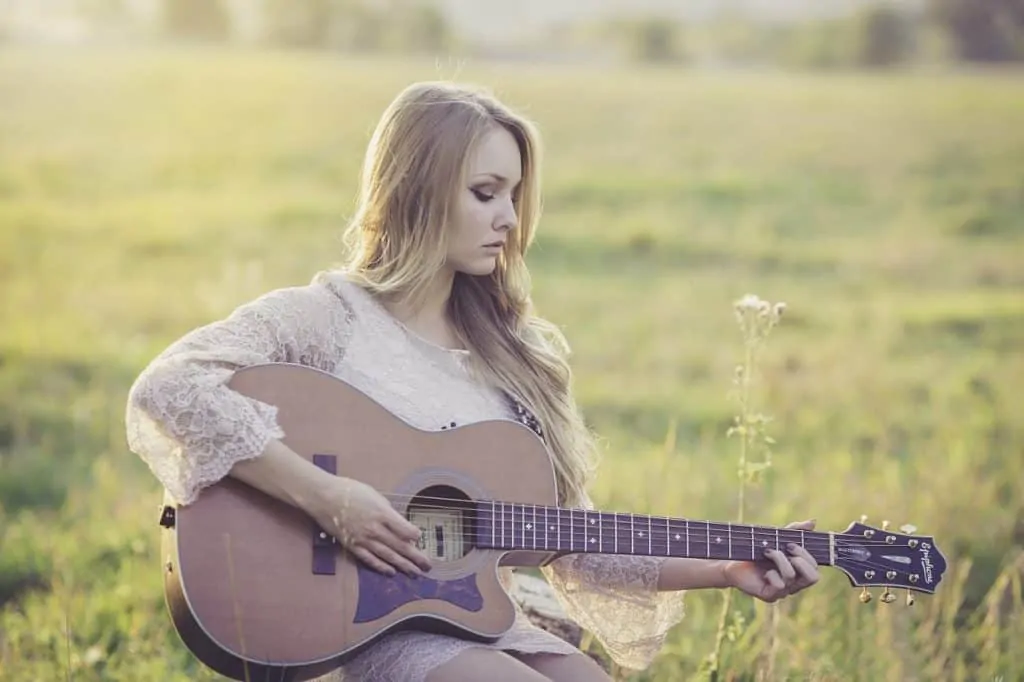 If you need some extra help, here's a guide on the parts of a guitar.
Before we continue, I'd like to hear from you in the comments. What was your first acoustic guitar?
Jasmine s35 review – An acoustic guitar for beginners
Every musician started their journey somewhere, with something. That means most people save money for so long to start their musical journey or to help their sons and daughters start their journey.
Regular customers, which are most of the customers, opt for saving a lot of money to go after a reputed brand. 
I advise you, though, not to disregard Jasmine for their lack of popularity, because the s35 model redefines what affordable guitars are supposed to be.
Overview
Simply put, the Jasmine s35 is a guitar that sounds really good but is very affordable.
Hard-working people like me are always careful about where they spend their money. Most things cheap, as old knowledge says, are ultimately garbage.
The Jasmine s35 doesn't follow this rule. This is a light, attractive, and easy to play guitar. And it fills the bill on what dreadnought budget acoustic guitars are supposed to be.
Part of its success is it was designed by a premium Japanese acoustic and electro-acoustic guitar manufacturer, Takamine. That means its original blueprint ensures a bold tone, a rich acoustic, and a balanced sound. More so, it's pretty loud and defined.
Everything about it makes it an excellent deal. It even ships along with an affordable package with a step-by-step guidebook and lessons DVD.
For all of you looking for a first-timer acoustic guitar, the Jasmine s35 is more than capable as far as sound and looks matter. Regular customers would also find the s35 an awesome choice.
Its features make it stand out from the rest of the guitars available at its price point and beyond. In fact, I'd say this is one of the best acoustic guitars for beginners. 
Speaking of which, here's' some extra help on how to choose a new acoustic guitar.
Let's take a look at the features of the Jasmine s35 acoustic guitar.
Build & design
The Jasmine s35 was originally sold and designed by Takamine, a high-quality Japanese guitar maker.
The ownership of Jasmine guitars recently shifted to KCM Music Company, a China factory. To date, the guitars are very similar to their original counterparts.
The KCM Jasmine offers good quality, but it does have a level of compromise That's understandable when buying at such a low price range-
In this particular case, it uses laminated materials on its body.
Let's get into detail. The Jasmine s35 acoustic guitar has a "dreadnought" body with a 25.5'' scale. It's built with selected laminated spruce on the top, and it pairs laminated nato on the back and the sides.
Dreadnought guitars were originally designed by Martin & Company back in 1916. These guitars feature a larger body and are distinguished by its square shoulder and bottoms.
Now, 25.5'' scale guitars are the biggest of the bunch. These two features combined make the Jasmine a big & loud guitar. That means it's not actually a great choice as a guitar for kids.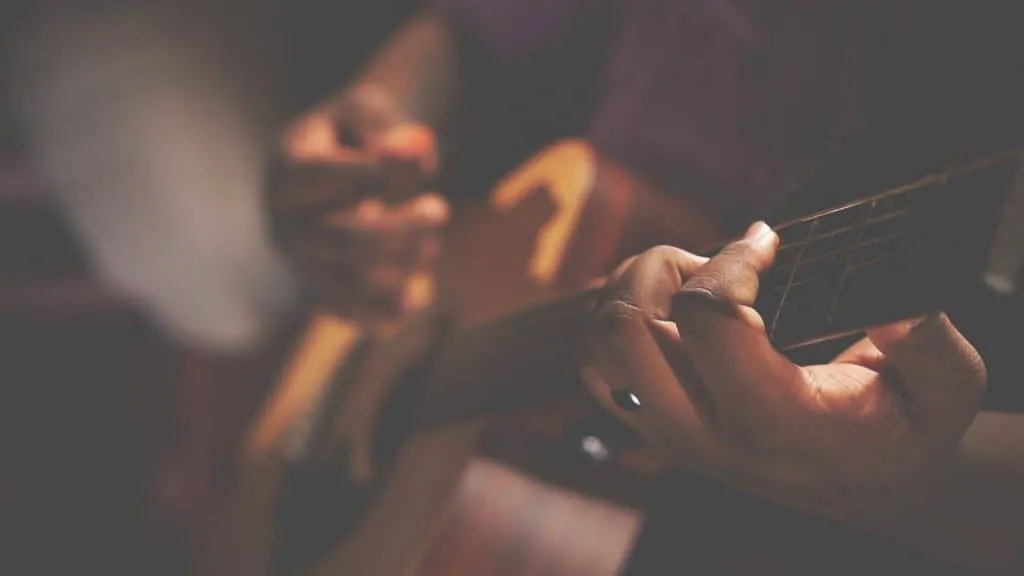 25.5'' scale guitars deliver a deeper and thicker sound than their shorter counterparts.
This guitar is made agathis, which is similar to mahogany.  Agathis is a sturdy and lightweight material that delivers round mids and bright highs.
It has a nato neck and a smooth rosewood fretboard. It has 20 frets with simple Pearloid dot inlays. The nut width is 1.75''.
There's nothing too fancy about the model. Even so, it's an attractive guitar with a nice satin finish, a durable build, and sleek playability. Much more than what you're paying for.
I must highlight the satin finish because it serves two purposes. First and foremost, it makes this guitar look like quality rather than cheap. Secondly, it helps optimize the resonance and sound quality.

The Jasmine s35 acoustic guitar was originally designed by Takamine.
Hardware
There's nothing out of the ordinary in the hardware department. That said, the components opt-out for reliable guitar material.
At the bottom of the instrument, there's a rosewood bridge with a synthetic bone compensated saddle. The nut is made of rosewood as well.
On the headstock, there's a set of chrome-covered tuners. They can hold the tune relatively well, although they are not stable as their Epiphone or Squier competitors

The bridge influences the guitar's intonation and playability.
Playability 
This is a guitar that feels good and plays nice. 
I like how this guitar feels on your hands, soft and smooth. It's also light, easy to carry, and comfortable to play for long times.
What I like the most is that it holds the shape of the original Jasmine s35, and Takamine's design keeps user comfort as a priority.
Another playability feature is its Advanced "X" Bracing design on the fretboard and its slim neck. Both choices give users easier access to higher frets.
Lastly, the guitar's lightweight and slim neck make it an easy instrument to play. And while it's a big instrument for kids, teenagers can have a great time with this model.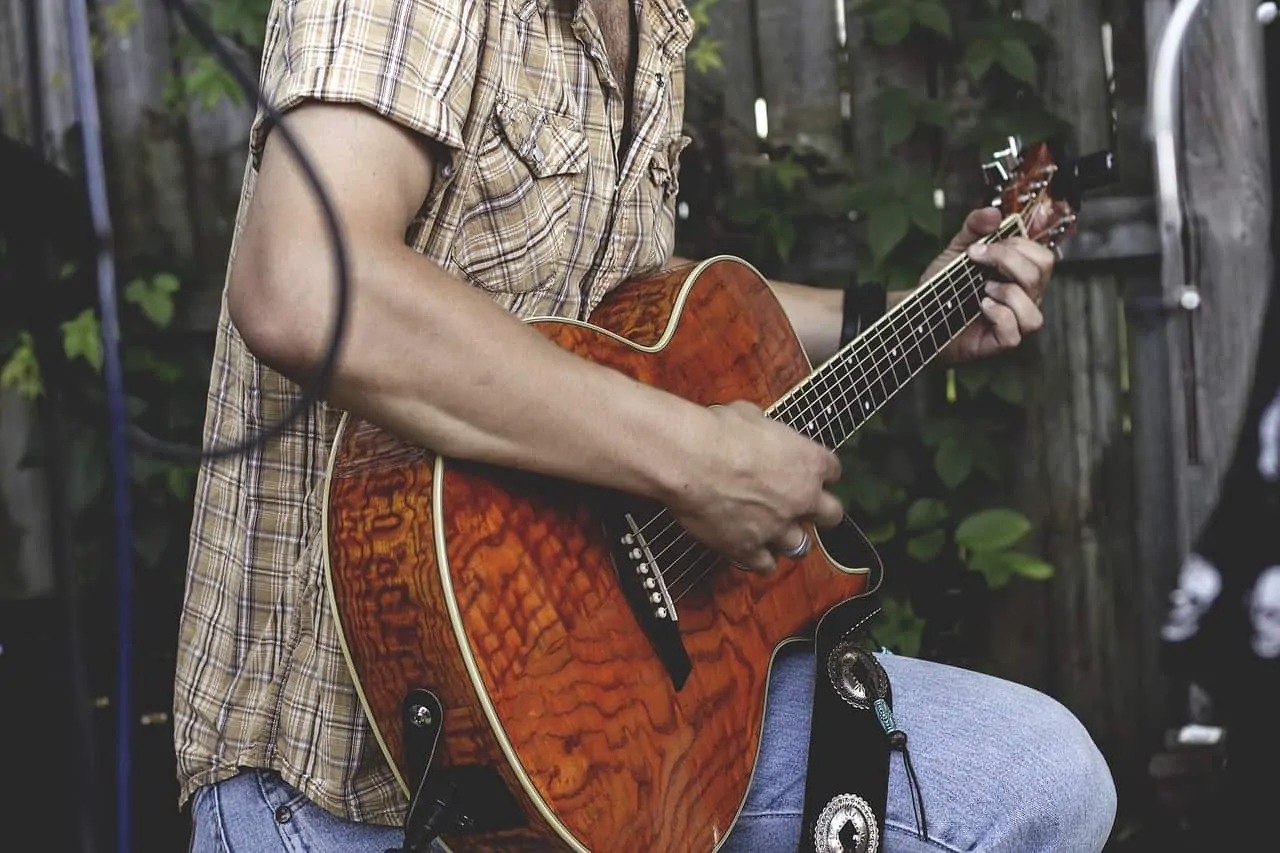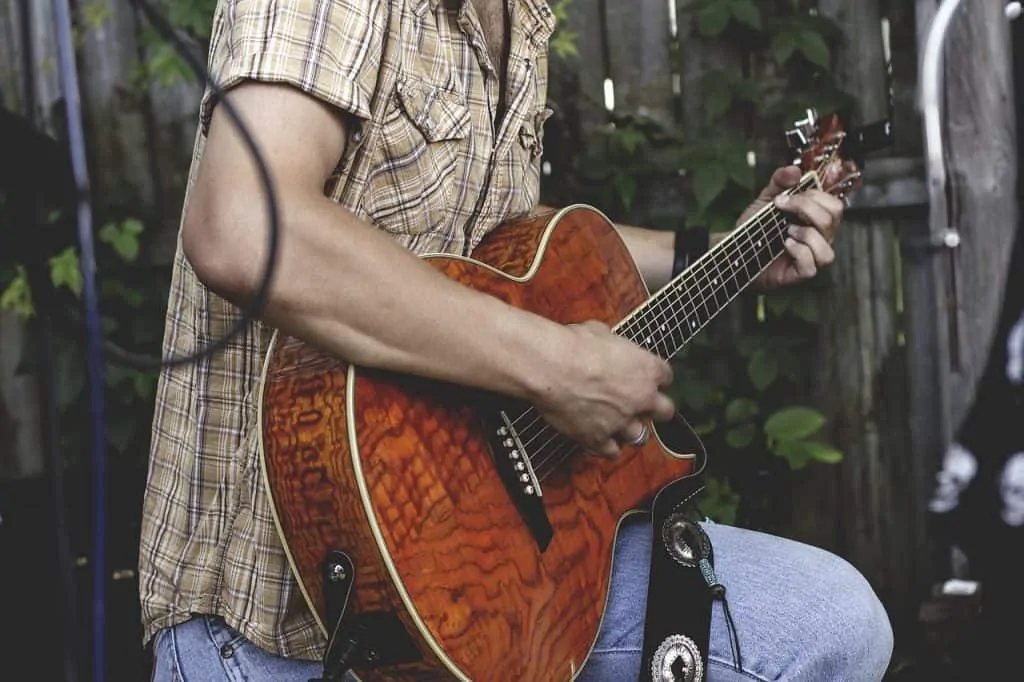 The Jasmine s35's design keeps user comfort as a priority.
Sound & tone
You're probably not expecting much from budget acoustic guitars in terms of tone. To be honest, most acoustic axes at this price range sound similar.
The s35 is a nice surprise nonetheless. The tone is well balanced and the acoustics are loud, big, and clear. 
That said, this is not a stage-ready guitar. There's just enough material to work as a beginner and intermediate guitar players looking for a cheap instrument to bang around and travel with.
See, an essential element of high-end acoustic guitars is a solid wood material. That simply doesn't exist at this price range.
But what matters the most on guitars is how they sound. Aesthetic features are just vanity, and playability is just something to get used to.  
That's why I commend the s35 as a great investment for beginner and intermediate guitarists. It gives a wealthy and balanced sound with a bold mid and pretty treble. 
That creates a warm tone with balanced highs and mids. And whilst the lows are a bit thin, the sound is full.
One of its best features is its Advanced "X" bracing. That means the guitar's braces are located in an X pattern, closer to the acoustic hole. This design enhances note detail and it allows the guitar's top to vibrate more freely for a better sound. It also reduces the weight of the guitar. 
Bottom line, for such an affordable guitar, the Jasmine s35 quickly impresses even sound purists. Ultimately, the s35 doesn't sound cheap or entry-level at all.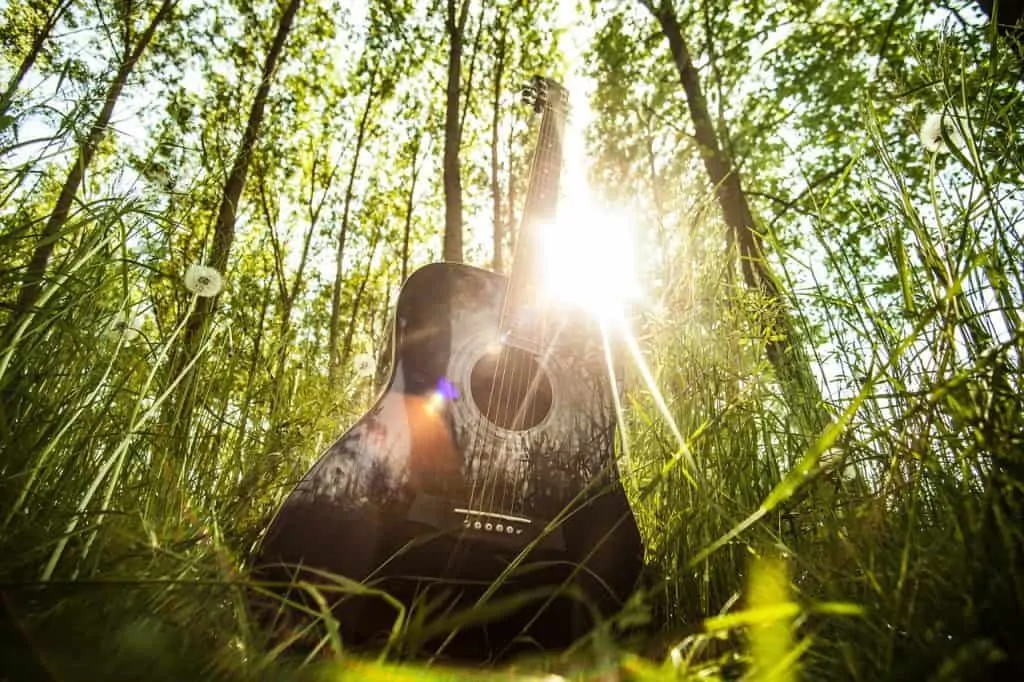 Changing the strings of an acoustic guitar can moderately improve its sound.
User reviews
On the downside, the Jasmine s35 might have some imperfections on its construction. Cheap guitars are created in factory assembly lines, so be sure to inspect your guitar on arrival for any flaws.
The synthetic bone saddle is sometimes placed a bit too high.
Another thing users comment on is how the guitar is completely out of tune right out of the box, which makes it a bit unfriendly for total beginners. That's something that can be fixed, though, either by a friend, a guitar shop (for a small fee), or by your guitar teacher.
Even so, the guitar is quite playable when it's fresh and new. Remember that Takamine was the original manufacturer of the s35, so some of their quality controls are still in practice. That's why most people are happy with what they received and, most of all, with the sound and quality of the s35.
If I'd had to choose one phrase to describe how users commonly feel about this guitar, it's the following: great value.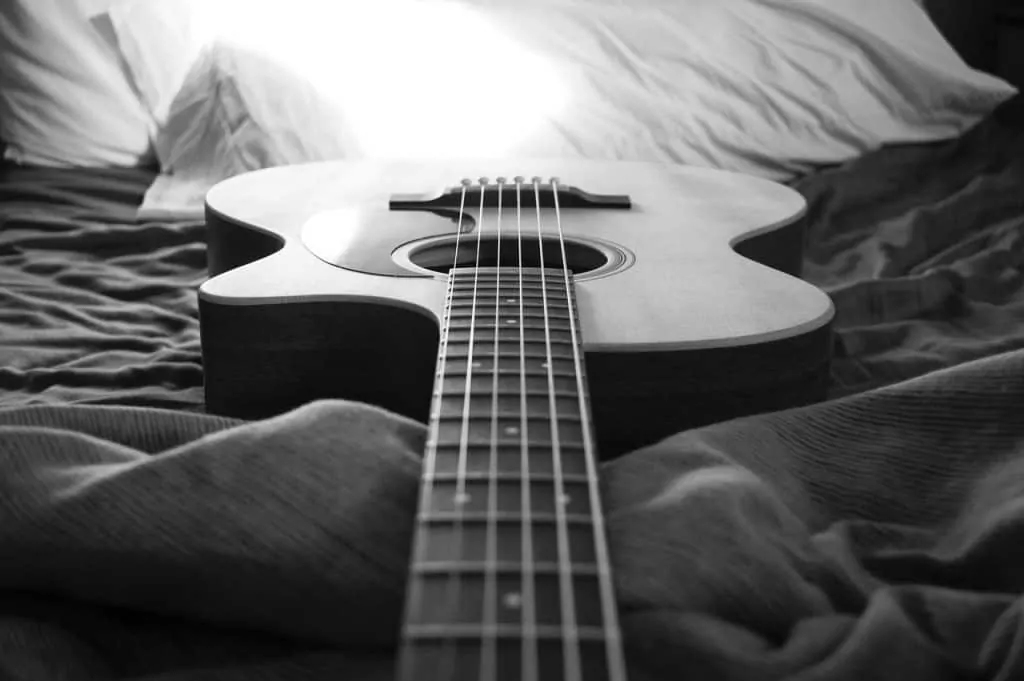 The Jasmine s35 is one of the most popular acoustic guitars on Amazon. It rivals models from Fender and Epiphone.
Pros: why do I like this guitar?
I always recommend not to spend too much money on something when you're a beginner. Why? Because you won't simply get the most out of your expensive thing for you don't know-how.
Instead, as a beginner, go for a beginner's thing. Something you can grow with and trade-up once you feel you truly need something bigger and better. Something most suited for your new skills.
Until then, the Jasmine s35 is a super-affordable acoustic guitar that's perfect for people who are just starting their journey. It takes some time to master guitar, and until you reach this step, you shouldn't even consider getting something pricier.
That said, I consider this guitar is a great gift for regular guitar players, AKA people who play for hobby or recreation. It's pretty, it sounds nice, and it's comfortable.
For people always on the go, a cheap guitar that's easy to carry is also a good choice. If you're also considering a quick way of amplifying, you can consider the ToneWoodAmp, which is a small device capable of turning your guitar's boy into an amp. It's even able to create effects.
Let me sum it up:
Balanced and warm

Loud and pristine 

Lightweight

Comfortable

Nice looking

Easy to travel with

Fun to play

Very cheap
As I said, great value.
Drawbacks & alternative
The first thing to notice as you play this guitar is it's lower sounds. The bass sounds thin and brittle. 
Fat sounds come from solid-wood guitars. Now, if you're looking for a solid-wood starter guitar with great build quality and sound, you can take a look at the Yamaha FG800. Keep in mind the price is a bit higher, though.
If you can stretch your budget a bit more, why not get the best budget acoustic guitar, the Seagull S6?
Another drawback is this guitar might be hard to keep in tune. Some people also find some fret buzzing above the 12th fret, an error that commonly speaks of a faulty bridge.
If you're looking for hardware quality on a budget, then maybe a reliable and popular Fender acoustic guitar is what you need. Take a look at this Amazon's choice:
You may also want to trade the strings for a better set. You can enhance the sound of the s35 with medium strings. I recommend the following ones:
Lastly, I can also guide you to our top 12-string guitars guide and our top electro-acoustic guitars guide.
Variety 
Up next from the s35 model is the Jasmine s34c acoustic guitar. This is a pricier guitar with a better sound.
For this is a bigger guitar, the s34c produces a brighter tone and a deeper bass. The sound also projects a bit better and farther, so I would say you could take this guitar to small gigs, even amplify it with a PA system.
It's also an easy guitar to hold and control. Plus, it has a Venetian cutaway that allows easier access to higher frets.
Another difference between the s34 and the s35 is the construction material. The pricier guitar uses sapele wood instead of agathis.
In summary
Should you buy a Jasmine s35 guitar?
If you're looking for a budget acoustic guitar for beginners or a travel guitar, the Jasmine s35 is a terrific choice
This is a dirt-cheap guitar that's not garbage. Instead, it provides great value and sounds better than all of its similarly priced competitors. I'd say this is the best acoustic sound you can get for that kind of money.
The price is also so low you might have an easier time saving for an acoustic guitar you can use on professional scenarios. Additionally, you can keep the s35 as a secondary guitar to travel with or play around on your downtime.
Furthermore, this is a great guitar to gift to regular players or young people wanting to learn how to play guitar.
The deal gets even better if you're a beginner or buy this guitar for a beginner and go for the bundle. The package includes a guidebook, a lesson DVD; picks, a strap, and a case.
Not only the sound helped us build the value of this guitar. Other features as a rosewood fretboard (the common professional choice), mahogany tonewood, satin/natural finish, and chrome-covered tuning pegs also increases the real value of this piece.
So, whilst cheap guitars are poorly made and get torn apart over time, the s35 is a strong contender that endures rough players and tough conditions.
If sound, looks, and price is what you're looking for, the decision gets pretty easy.


The s35 is a great traveling guitar.
What's your take on this? What do you think of budget acoustic guitars? Leave your comments down below!
Are you also looking for a budget electric guitar? Beginner Guitar HQ has you covered as well.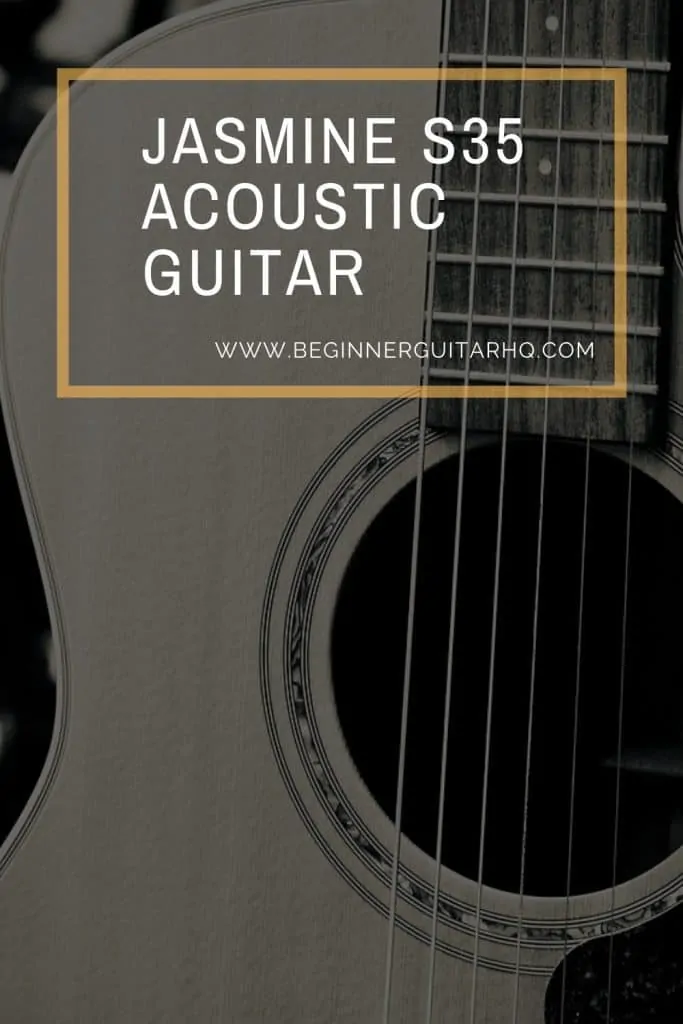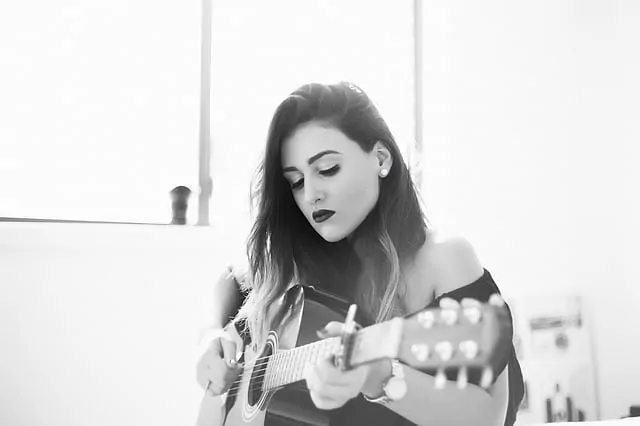 Jen is a guitarist and singer-songwriter who spends much of her time on the road and has lived in 13 cities across 4 continents. She picked up her first guitar at the age of 6 and learned to play by ear shortly after. She received her formal music education at the Berklee College of Music, and currently plays for a few bands in her free time. She has an uncanny ability to improvise creative melodies and harmonies. Her early influences include blues, jazz and rock.