Calling the Seagull S6 a beginner acoustic guitar is a disservice. What I hope to do in this article is to convince you that this Canadian guitar is so much more than an entry-level classical guitar.
If you've gone through online forums looking for acoustic guitars, you've probably seen the Seagull S6 Original is a superb affordable guitar. Whilst the company is no Fender, Gibson, or Gretch in levels of popularity, they do have a unique character on their own.
See, it's not very common to find inexpensive guitars that are durable and sound amazing. The craftsmanship and high-quality materials alone set this guitar above its contenders on the same price range. 
Let's find out what we find so special about the Seagull S6 acoustic guitar and help all of you acoustic lovers find your next acoustic guitar.
First of all, take a look at the guitar and its mid-level price tag. It belongs at the mid-level choices, which might not be very attractive for total beginners. If you're looking for a super budget acoustic guitar, take a look at our acoustic guitar guide.
Quality over aesthetics
Take a first glance at the S6 guitar and you'll think there's nothing special about this instrument. It has no fancy inlay, no cutaway, no chrome-died tuners, and everything looks pretty traditional.
But here's the thing. It has a great quality. And it's a quality you can't see, it's a quality you can hear when you play the guitar.
This is also somehow uncommon. Often times, and instruments sound as good as it looks, which is a formula essentially patented by the likes of Fender, Gibson, and Epiphone.
And that's why this is a very special guitar. The Canadian company managed to create a quality instrument within the budget range because they saved some resources by delivering a traditional design.
Construction quality
One of the best things about the Seagull S6 is its wood construction, which is something that sets its apart from other acoustic guitars.
Solid Cedar Tonewoods
On the back and sides of the guitar, you'll find a darker Canadian Wild Cherry, a tonewood that you don't see often within this price range. In terms of aesthetics, the wild cherry back and sides deliver a simple and natural finish that makes it look good and solid in every situation. We love the wild cherry back and sides!
Its choice of tonewood is not the typical spruce wood top common on most beginner guitars. Instead, the Seagull S6 uses a pressure-tested solid cedar top. This tonewood creates a unique guitar tone, it's sturdy, it's light, and it sets the difference. 
There's a great thing about this cedar top. It gives the guitar distinctive tonal qualities and helps improves the tone as the guitar ages. It means this guitar sounds better and better as it ages, so it can last a lifetime with you.
Some people say this guitar actually sounds better with your fingers than with the pick because of the tonewood; others say it's best for open strumming. Regardless of your personal opinion, there's a thing that really "opens up" the sound of the Seagull S6: age.
The only "standard" material of the Seagull S is the rosewood on the fretboard, which is present on most electric guitars and acoustic guitars alike.
The point being doesn't expect this guitar to sound like most beginner acoustic guitars, which is mostly dark, thin on the high end of the frequency, and with little-to-none versatility. 
If you're a beginner, then, it might be a little hard for you to adjust the sound. 
Here's a video showcasing its tone:
Neck & headstock
The neck of the S6 guitar is a bit thicker than you would find on most steel-string acoustic guitars. For those guitar players used to play electric guitars or those with small hands, it might represent a challenge. 
When you play this, you'll notice how your hand doesn't wrap the neck quite as much as other classical guitars you play. This feature is a matter of preference, though, as it doesn't really add anything to the tone.
With a little practice, though, you can overcome this. More so, classical guitarists will feel very comfortable with this design.
Additionally, this is a silver leaf maple neck that feels robust and solid on your hand.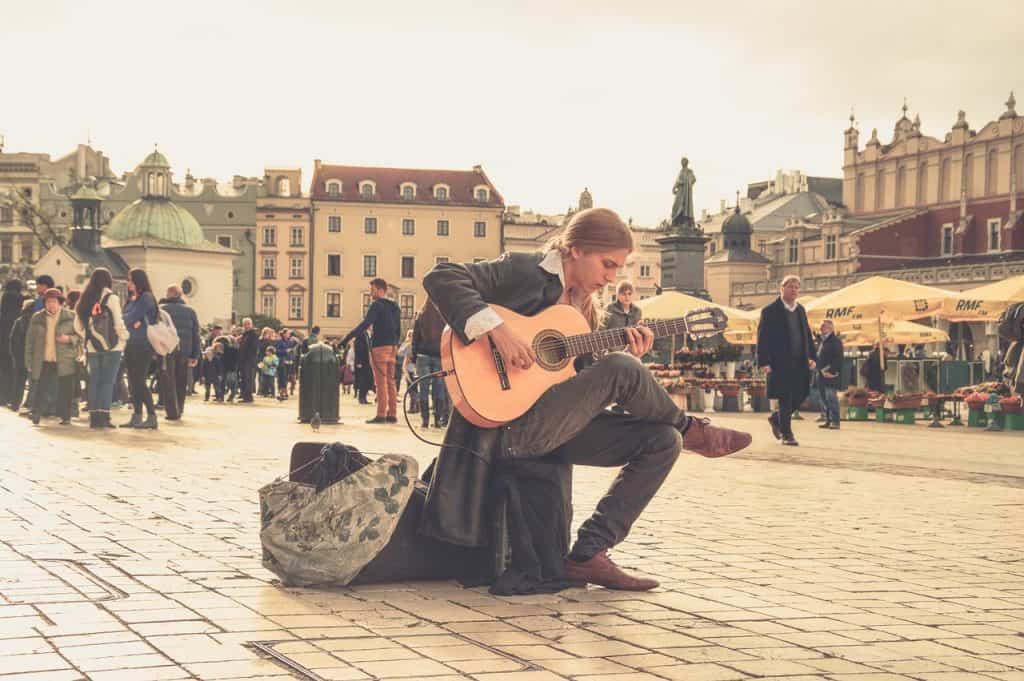 Experienced and adult guitar players will have no problems with the neck design of the Seagull S6.
The headstock is also a bit smaller than the typical steel-string headstock, and it has an ice-lolly shape. It helps keep the guitar straighter, which means it can stay in tune for longer times. Plus, it also reduces drag. 
Seagull explains that by putting the tuners in line with the nut, they were able to improve tunning stability. This is a detail that makes the Seagull S6 a great quality beginner guitar, just as much as a great quality guitar for people on a budget.
Saddle & nut
Here's where we find the small details that can make a huge difference on a guitar.
The Seagull S ships with a high-quality Graph Tech Compensated Tesq saddle made of cherry wood. Essentially, it compensates the tension on the strings which improves both playability and sound. More so, it holds the strings tight.
Most people wouldn't notice the saddle but, when you change the strings, you'll see that the saddle "grooves" in different directions for each of the strings. 
If you're in doubt, let me explain further. The saddles are pieces of wood holding the strings below the guitar's soundhole. It is a major characteristic of premium guitars, which is why it's so surprising to find it here. 
Graph Tech heavily influences the guitar's sound as well. Overall, it's a feature you wouldn't find on budget acoustic guitars. Instead, it belongs to high-grade instruments. 
The nut is 45mm, which means electric guitar layers would have to get used to the wider size of the nut.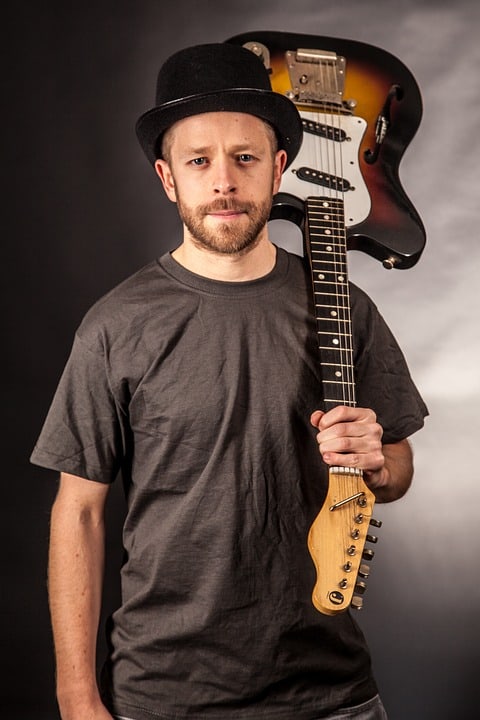 Electric guitars are commonly 43mm, so you might prefer a thinner nut if you're used to these instruments.
Advanced truss rod
The truss rod is the component that stabilizes the lengthwise curvature of the neck. It's usually a steel bar or a rod inside the neck and beneath the fingerboard.
The Seagull S6 Original Acoustic Guitar has a Double Action Truss Rod that makes the neck more durable and stabilizes the sound al throughout the guitar's body.
Electronics
Finally, the Seagull S6 Original Acoustic Guitar has the option of shipping with electronics, although it sells for a higher price. 
In fact, the price is expensive, so I would prefer to get a budget PA system (a set of speakers, a mixer, and mics) if you're thinking of playing this guitar live. Because you see, it might be cheaper than getting both this acoustic-electric guitar and an acoustic amp.
The acoustic-electric version of the S6 guitar comes with the Seagull designed "Quantum," the preamp & pickup electronic system that includes volume, bass, and treble controls for the tapper located in the saddle. 
It also has the common bonus feature with is an onboard tuner.
I have to add that there's a downside to the acoustic-electric version of the Seagull S6. It runs on a 9V battery that's inside the guitar, which makes it a hassle to change as you'd have to loosen off the strings every time.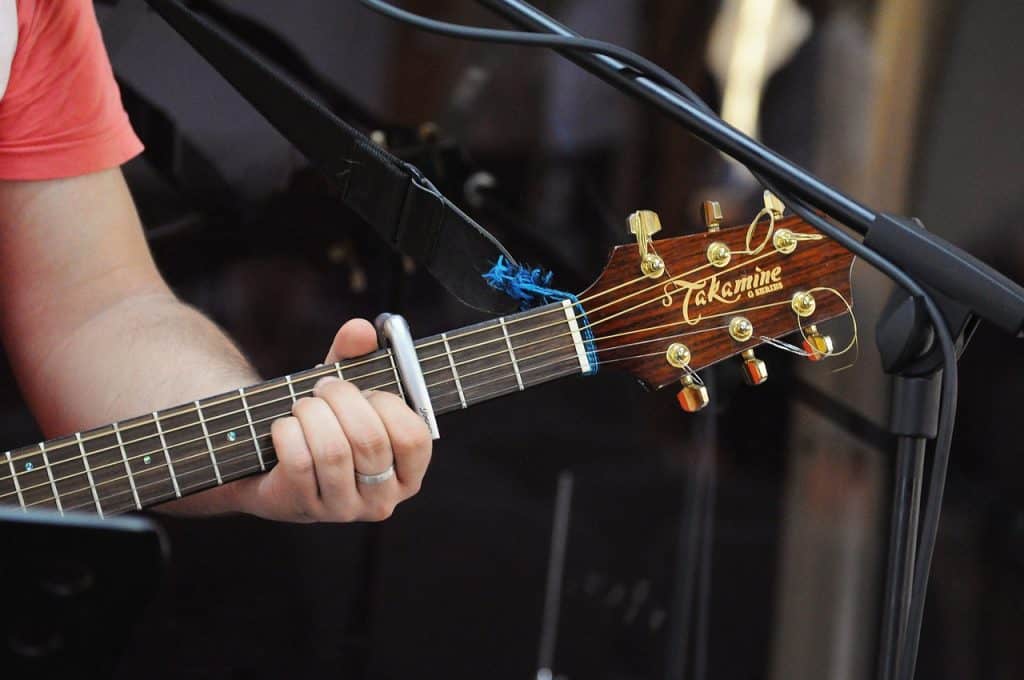 Electroacoustic guitars carry a pickup and a preamp so you can plug the guitar to an acoustic guitar amp.
The unique sound of the Seagull S6
It's hard to fin other acoustic guitars at this price range that sounds as food as the S6. Overall, it has a harp-like sound that's amazing for budget guitars.
The amazing tone of this guitar is because of it's tonewoods and solid craftmanship. The tone is bright, rich, and warm.
Dreadnought guitar's tone
Because of its dreadnought body, the tone has a subtle twang that features a full-body resonance and excellent sustain. 
The tone is also very loud and hearable. It's enough for a small room of about 30 people, and it can sound amazing through a PA system.
The sound is also thick, even fat at the low end. The result is it accentuates the root notes. 
Additionally, thanks to its cedar top, it responds particularly well to arpeggios and fingerpicking patterns and rhythms. 
On the downside, it might be bright for some people, and the sound of open chords might be a bit chimney. 
Here's another video showcasing the sound:
High-end playability
The price of this guitar is definitely not evidence of how good it feels on your hands. It has great action and response, and it actually compares to higher-end guitars on this end.
Beginners can adapt to its shape quickly without too many frustrations. However, kids won't find this guitar too friendly because of the size of the nut.
The versatility of its sound
The tone of the Seagull S6 classical guitar has a bit of everything for everyone. It can give you a full-flavored resonant sound with depth and atmosphere; it can go to country-folk twang that cuts through the mix, and it can be soft and gentle.
The negative side of its sound, as I said, is that it can be too bright for taste, However, you can tame the brightness of this guitar by using thicker strings.
Tonally, the S6 guitar matures as it ages. More so, the cedar top is popular amongst experienced players as it's a warmer-sounding tonewood that responds to fingerpicking.
Long-scale sound
The scale of this guitar is 25.5'', which makes it a long-scale guitar. It means it delivers plenty of twang when you play it harder and it also gives you plenty of versatility to handle your music.

Long-scale guitars feature the fullest, loudest sound available.
Conclusion
There are not many complaints about this guitar aside from personal tastes. For example, if you dislike bigger nut guitars, bright sounds, or if you have small hands, then this is probably not for you.
Even so, the S6 has great tonewoods and great quality at a price that defeats most of its competition without too much hassle. That's why I commend this guitar as the top of the mid-level acoustic guitar market.
The number of high-end features in this guitar is evident from the moment you start playing. From its solid construction to its advanced saddles, this guitar is sure to last a long time. And whilst it doesn't produce the best bass sounds or may sound too "vibrant" for some, the sound opens up with age.
In summary, at such an affordable price, you can get so much more than what you're paying. Its quality features include unique sound and construction, durability, and playability for both beginner and advanced guitarists (excluding kids and people with small hands).
Regardless of your level, this is a worthy investment.
If you're lucky enough to try this guitar out, you'll instantly feel it's smooth and notice how great it sounds. More importantly, though, you have to know the tone gets better with time.
But if you're expecting a high-end hand-made classical guitar, though, you might be disappointed. For example, you might find the cherry finish peels off in time, and the cedar top might lose its color if you're unlucky.
FAQs
What is the Seagull company?
Robert Godin launched Seagull guitars in 1982. The idea was to offer some of the attributes of handcrafted guitars for people riding on their piggy's savings
Godin is also the creator of Art & Lutherie, Norman, Simon & Patric, TRIC cases, Simon & Patrick, and of course Godin Guitars. He knows a thing of two about acoustic guitars and you'll find plenty of innovation across its instruments. 
Seagull is a Canadian company that's a sub-brand of Godin Guitars. Seagull Guitars are made in Quebec, Canada, in a small village named La Patrie.
Are Seagull guitars good?
The answer is a complete yes. Seagull guitars have been a top contender on the mid-level and entry-level market for over 37 years. They are currently considered one of the best in the industry.
When did the Seagull S6 guitars debut?
The Seagull S6 debuted in UK music shops in the early 1990s as an affordable solid to acoustic guitar. It soon revolutionized the market of budget guitars alongside the Yamaha Pacifica 112, both instruments showing that musicians didn't have to spend a grand to enjoy a professional sound.
In fact, the S6 forced other manufacturers to raise their game if they wanted to be noticed. Nowadays, we can find more affordable quality budget classic guitars but, mostly, the entry-level market is just taken for granted. 
Why is it called "Original"?
Recently, the company launched a reboot of the guitar named S Original, a dreadnought-shaped body with a solid cedar top, laminated side and ack, and wild cherry finish.
The Seagull S6 Original sells for the same mid-level price than the previous version.
Is the Seagull S6 a good guitar for beginners?
To be honest, the S6 original can be quite expensive for beginner guitarists. Often times, people start their musical journey with an acoustic guitar and while they are young, so most of the time they (or the parents) just want something cheap, light, portable, and decent.
However, if you have the budget, the S6 original is a great beginner guitar. The S6 original won't need much setup and it can take a beginner all the way to more professional levels.
It even sounds awesome on live situations and on recordings, if you're willing to take your guitar to a studio or a home studio.
What is a dreadnought guitar?
Dreadnought guitars were originally developed by Martin and copied by other manufacturers. The term refers to large guitars with bulky bodies and louder tones. You can distinguish a dreadnought because the neck is commonly attached to the body at the 14th fret; and because it has a big size mostly on the bottom and shoulders.