Can you see the price of this guitar? It is incredibly cheap, and also incredibly simple. Needless to say, we ought to keep our Fender FA-100 review short and sweet.
If you can't find it available on the link below, fret not. The Fender FA-100 is an incredibly popular guitar, so it becomes unavailable fairly easily.
So, as far as guitar prices go, the Fender FA-100 is an entry-level model. It sells for practically nothing.
Hence, this is a beginner Fender acoustic guitar without the Squier logo on the headstock. If need be, here's an additional guide detailing how to choose an acoustic guitar.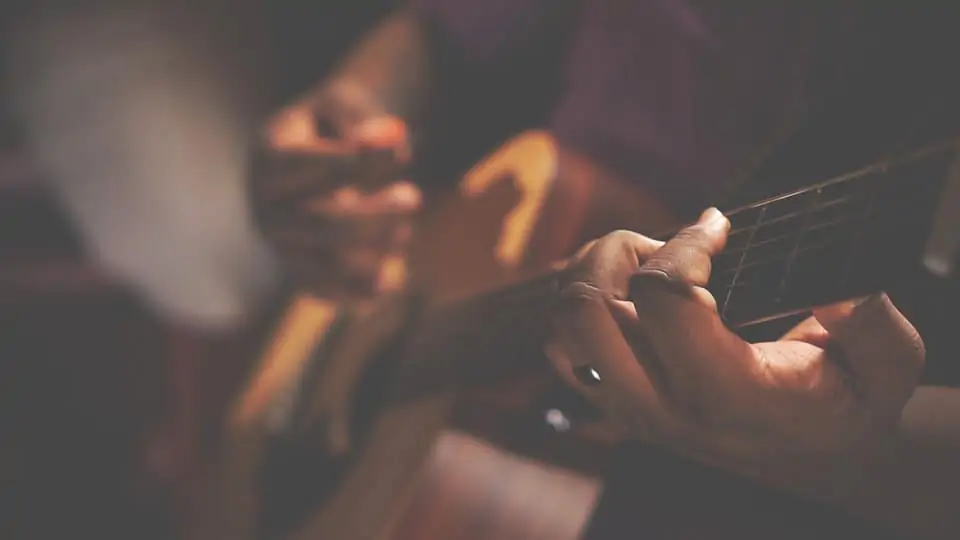 Cheap acoustic guitars use laminated woods instead of solid pieces, simple dreadnought designs, and lack bracing patterns within the soundhole.
Fender FA-100 Acoustic Guitar Review
Fender sells the FA-100 as a definitive starter guitar. It's easy-to-play, super affordable, and comes along with a friendly bundle.
The bundle includes a travel bag, a set of picks, a strap, a tuner, spare strings, and a CD with lessons on how to play guitar from Fender. Now that we're here, you can check the best online guitar lessons to get on your learning journey.
The Fender FA-100 helps you start as a guitar player without investing too much. It doesn't try you to be the best sounding guitar or even a top value offer for the price range. Instead, right out of the box, it's just right, and friendly enough to safely carry you towards better experience levels.
Overview
This guitar features the classic dreadnought body with beginner-friendly measures and weight. It also packs a natural gloss finish and tops its design with an X-bracing within the soundhole, something most cheap guitars lack.
Now, bear in mind the production of the FA-100 is pretty vague. That means the guitar could come from anywhere in the world and, by simply using the brand blueprint and putting the logo on the headstock, it's suddenly a Fender guitar.
That sounds negative, but it's the reason why the cost is so low. Still, keep in mind it doesn't come from Fender's main factories in the USA, Mexico, Japan, Korea, or China.
Built quality
Kicking off the construction quality is the laminated Spruce top on the body. Spruce is a standard on modern acoustic guitars. It's strong and offers plenty of dynamic range and brightness. It also responds well to all kinds of acoustic guitar playing.
There's also laminated basswood on the bass and sides, plus a decent X-bracing pattern within the soundhole. A bracing pattern improves the projection and stability of the sound.
Then, it has a solid and smooth maple neck hosting a darker rosewood fingerboard. Back on the body, the bridge's material is rosewood as well. This tonewood is also a standard in the industry, and it's here to improve the mid-range sounds of the guitar.
The guitar has a synthetic nut at the start of the neck, plus a compensated synthetic bone saddle. These are surprising additions as, instead of cheap plastic on these hardware pieces, the Fender FA-100 offers decent materials for improved intonation, stability, and sustain.
I also have to note the measures of the guitar. It has the standard 25.3'' scale, 20 medium jumbo frets, and a 42mm nut. Also, it has a "C" shaped neck, which fits better on your hand. Overall, these are fairly standard sizes that will feel comfortable for beginners, but not so much for experienced players.
Other details to list are the presence of White Pearloid dot inlays on the fret, plus a Dual-Action truss rod within the neck. That's also an impressive addition at this price range.
Also, the Fender FA-100 has a set of die-cast tuning pegs. They will hold the tuning on your practice sessions decently, but nothing more. Lucky for you, the bundle comes with a clip-on tuner.
Lastly, the guitar comes with a gloss polyurethane finish all over the neck and the body. It helps the guitar feel smoother and protects the wood from scratches.
Overall, the construction looks smooth and the neck looks even. Moreover, the glued-in neck joint is as steady as you'd like. That said, it seems Fender does pay attention to their Fender-branded items, no matter how cheap they are.
Sound quality
First of all, the guitar offers enough projection and output to fill a small living room or your room. It's a great projection, to be honest, and you can thank the X bracing pattern for that.
The sound comes out decently clear, bright, and resonant. You may find it too bright at the treble as the higher strings ring out a bit too much. Still, the overall tone enhances mid and low-frequency sounds.
However, it doesn't have enough sustain or ring, which is not surprising for a guitar selling for less than $150.
In essence, the Fender FA-100 offers a decent sound for beginners and hobby playing, and nothing more. It's not bad, and it's also not particularly good. It's just okay, exactly what you'd imagine from a cheap Fender or Squier guitar.
Playability
Regarding playability, the Fender FA-100 comes with low-action strings, a smooth neck, a light body, and standard neck sizes.
Inexperienced players will find advantages on all of these features. Low action strings, for example, means players don't need to press the strings as hard to play. So, for example, playing chords becomes easier.
Experienced players will find it less precise, even odd. Lucky for you, you or a luthier may adjust the truss rod to change the string action. Here's a video tutorial on the matter:
Another thing I should mention is the finish of the guitar. Noticeably, it's not as smooth as other budget guitars from reputed brands like Yamaha or Ibanez.
All in all, experienced players might find the Fender FA-100 a bit odd. That's because this is a simple model with simple features and decent quality.
Downside & Alternatives
I think I laid down the downsides of the guitar pretty clearly in the sections above. These include a subpar finish, discomfort for experienced players, and a not particularly impressive sound.
These are things to expect from a budget guitar. However, coming from Fender, it could be better.
That said, there're options from other brands offering tempting qualities at the budget range. For example, the Jasmine S35 offers the best sound you could get on a budget. It can even become your secondary guitar, something to take on your travels, for songwriting, practice, and play-along sessions.
Other than that, you could also go for the Fender FA 115 model. It's a slight improvement that offers a better finish, better materials, and a richer sound.
Now, if you climb the price ladder a bit more, you can go for something as the Ibanez V70ce, a budget electro-acoustic guitar. It looks good, features a pleasant sound, and decent electronics to take you a bit further in your career. Also, it has nice clarity and ring to it.
Fender FA-100 specs
Design: dreadnought body
Body tonewood: laminated spruce top with laminated basswood on the back and sides
Frets: 20 medium jumbo frets
Fingerboard tonewood: rosewood
Tuners: die-cast
Bridge: rosewood bridge and compensated saddle
In summary
Why do I like the Fender FA 100 guitar?
If you're a beginner, there's nothing wrong with the Fender FA 100. There're better-sounding guitars at this price range but, in all honesty, the difference is not going to be as big.
That said, it's not the kind of guitar you'd use to grow up with. You'd need a bigger investment for that.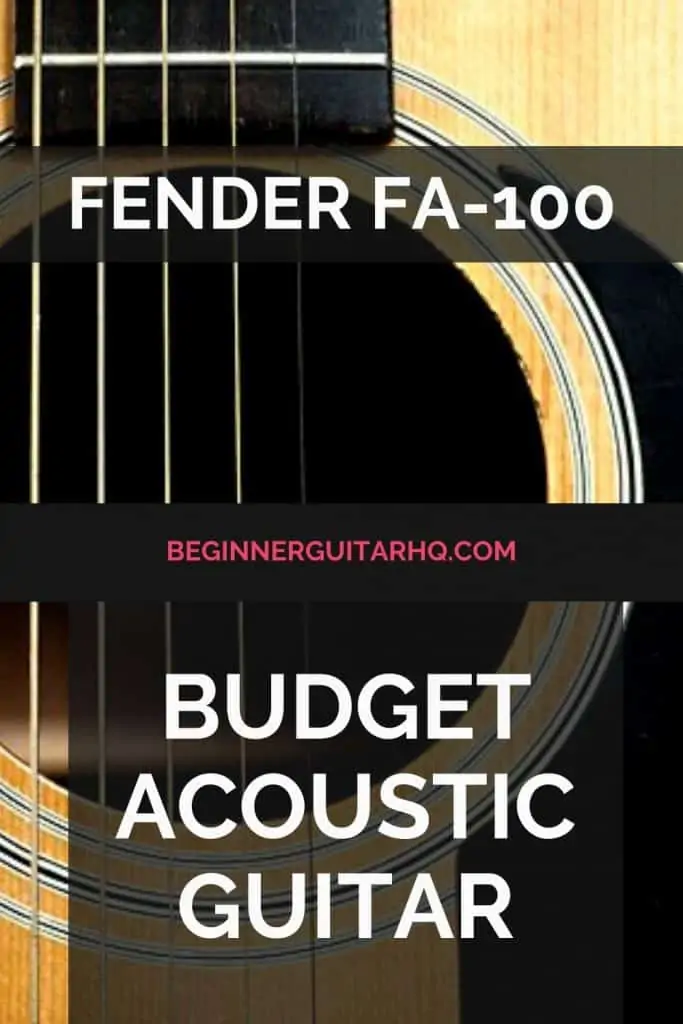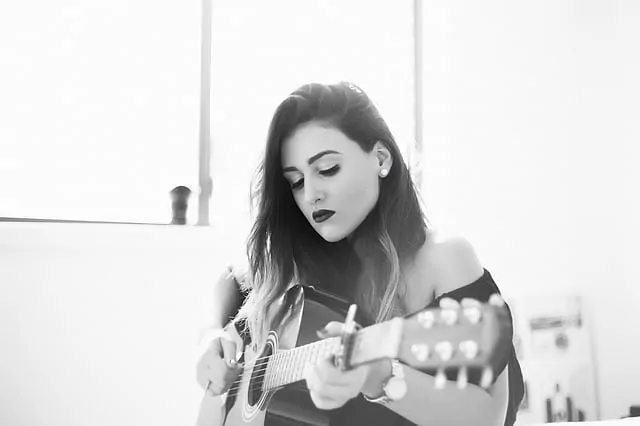 Jen is a guitarist and singer-songwriter who spends much of her time on the road and has lived in 13 cities across 4 continents. She picked up her first guitar at the age of 6 and learned to play by ear shortly after. She received her formal music education at the Berklee College of Music, and currently plays for a few bands in her free time. She has an uncanny ability to improvise creative melodies and harmonies. Her early influences include blues, jazz and rock.