I know what you're thinking, we're reviewing yet again another Epiphone guitar. This time, we've got the Epiphone Hummingbird Pro acoustic model, and we're here to see if it's worth it.
As we usually say, Epiphone is Gibson's subsidiary. Other than making affordable Les Paul alternatives and whatnot, Epiphone has a fair deal of original models. In particular, they are strong on the acoustic, electro-acoustic, and hollow guitar market.
The Hummingbird Pro is not an original Epiphone model, though. It's more of an upgrade over a Gibson guitar. It's also a mid-tier acoustic-electric guitar with a solid performance and sound.
Its price offers an impressive setup, gorgeous sound, and the playability beginners and professionals will like. In that regard, I would say it's a beginner-friendly guitar, that is if you're a lucky beginner.
However, a quick demo of the guitar might leave you thinking the sound is a bit thin. That's something we need to clear beforehand. You see, the delicate aesthetic of the guitar is evidence of the sound it creates.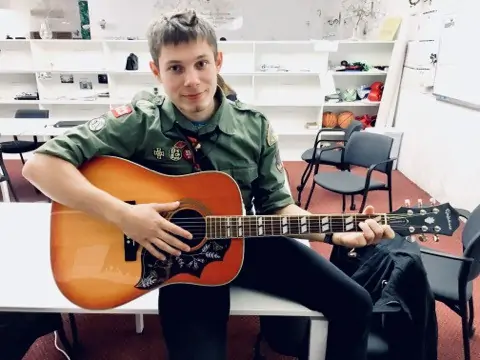 "Epiphone Hummingbird PRO" by Ілля Небесний / CC BY-SA 4.0 The Epiphone Hummingbird Pro is a best-seller at the mid-level acoustic guitar segment.
If you're not sure what an acoustic-electric guitar is, I advise you to check our guide on types of electric guitars. Otherwise, there's also a guide explaining the different types of acoustic guitars.
You should also go ahead and check our selection of the best 12-string acoustic guitars. An Epiphone model is the king of the selection.
Epiphone Hummingbird Pro Acoustic-Electric GuitarReview
You can trust Epiphone to release iconic guitars at affordable prices.
The Hummingbird Pro offers pinnacle features, such as a set-in neck, premium mahogany neck, or luxurious fret inlays.
It demonstrates what Gibson's subsidiary can do for the sub-$500 market, and it's certainly impressive.
As a "Pro" version, we're looking at an upgraded, electro-acoustic version of the classic Gibson Hummingbird. The original guitar is a favorite for players like Leny Kravitz, Keith Richards, Kid Rock, U2's The Edge, and Sheryl Crow.
The Epiphone version lacks the coveted Gibson logo, as well as the warmer, higher output sound of the original version. However, the affordable model packs an undersaddle piezo-electric pickup so you may play it through an acoustic amp.

"Yamaha THR5A Acoustic Guitar Amp" by Jonathan Deamer / CC BY 2.0 Acoustic amplifiers are designed for piezo-electric pickups. An acoustic-electric guitar wouldn't sound well on a regular electric guitar amplifier. Instead of that, the guitar would lose its quality and return a signal full of noise and distortion.
Overview
The Epiphone Hummingbird Pro is a solid body dreadnought guitar with an undersaddle piezo-electric pickup.
It's a country-rock and pop guitar with a custom Shadow Nanoflex pickup system. With the classic Gibson SlimTaper neck profile plus its Spruce Top / mahogany body, we're looking at a premium alternative selling with an affordable price tag.
Gibson introduced the first Hummingbird guitar back in 1960, and it became a classic due to the caliber of players taking it to the stage.
Since then, the guitar's offer is about strong and yet delicate rhythm tones. You may hear the Gibson Hummingbird on The Rolling Stones' songs like "Satisfaction" or "Playing with Fire."
Overall,. the Epiphone Hummingbird Pro is the electro-acoustic guitar for intermediate and beginner players looking for something both solid and affordable.
It features a vibrant tone, a clean build, and a delicate look.
Built quality
The Hummingbird needs no introduction, as it's one of the biggest guitars in the rock industry.
The affordable, Asian-made Epiphone version follows the same blueprints with a few tweaks. 3
As it is with most Epiphone guitars, the Hummingbird Pro shows distinct craftsmanship and attention to detail.
Body & Design
It has a big dreadnought body with a full 24.75" scale length. It has no cutaway, though, so access to the higher frets is not easy. That means it's a guitar with square shoulders.
As for tonewoods, we're looking at a solid Spruce Top for the body with select laminated mahogany at the back and sides.
Neck & fingerboard
Similarly, the Hummingbird Pro features a select mahogany neck. It has the brand's popular SlimTaper D neck profile.
The fretboard is made of rosewood, and it has 20 medium frets.
Lastly, we're looking at a set-in neck with no sharp edges or details of any kind. Overall, the quality is very high.
Finish
The body has a fake tortoise shell pickguard to deliver a vintage appeal. It comes with elegant decorations which play together with the soundhole rosette brown-gold painting.
The model comes in Faded Cherry Burst finish, which is a red & black color degradation. Another option is full black, which is not available in every country.
Lastly, the frets have Pearloid parallelogram inlays, which is a Hummingbird trademark.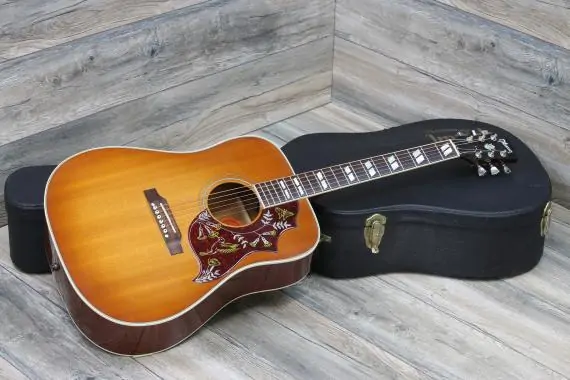 "Gibson Hummingbird акустика" by derick passmore / CC BY-SA 4.0 The original Gibson Hummingbird is a premium acoustic guitar with some extra aesthetic features the Epiphone model doesn't has. For example, it has a white binding around the body and the neck.
Sound quality
As an acoustic-electric guitar, the Hummingbird Pro packs a piezo-electric pickup plus a preamp.
When you combine its electronics with its steel-strings, you get an outstanding sound, both plugged and unplugged.
The tone replicates the original 1960's Gibson Hummingbird, and it comes as possible.
That said, the guitar offers a lot of tone. It has a fair output, a rich signature, and a vibrant ring.
Both the tonewoods and the pickup system work to enhance the resonance and deliver a bold, big sound. Although it's a bit warm, the sound remains balanced and retains some brightness on the high-end.
The Shadow Eperformer preamp amplifies the natural acoustic tone, so the guitar doesn't lose its qualities.
Lastly, with a fair amount of controls, you get decent versatility. If you'd like to play live with the Epiphone Hummingbird Pro, you'd need some extra guitar pedals.
Electronics
Alongside German Shadow company, Epiphone spent decades mastering the amplification for the guitar.
The result is the Shadow ePerformer preamp plus the undersaddle NanoFlex pickup.
The system runs on batteries and offers master volume, treble, and bass controls. There's also a mute button plus a dynamics control slider.
However, the guitar lacks a built-in tuner, which is a much needed addition in acoustic-electric guitars. Otherwise, the electronics are excellent.
Feel Quality
The Epiphone Hummingbird Pro offers nothing crazy in terms of versatility.
With the general dreadnought body, a balanced weight, and Gibson's super-slim neck, it's an all-rounder for rock, country, and blues guitar players.
That said, it's also a good option for beginner players. The neck is easy to play, the steel strings are light, and the size of the frets is fair.
The only thing missing is a cutaway on the body to give access to the higher frets. Then again, that's almost a non-issue on acoustic guitars.
Hardware
The hardware of the Hummingbird Pro helps improve the playability of the guitar.
In particular, it has a rosewood bridge with compensated fake bone saddles. That helps keep the intonation stability, as well as adjusting the height of the strings.
Similarly, the guitar has an adjustable truss rod. A truss rod keeps the guitar's neck stable, and it allows players to adjust the height of the strings as well.
On the other side of the guitar, near the white Epiphone logo, there're quality Grover tuners with a 14:1 gear ratio. A 14:1 gear ratio it's not the best, and I would prefer an 18:1 gear ratio at least, but the brand and quality of the tuners can make up for it.
Lastly, it packs D'Addario light steel strings, which are generally welcoming for beginner and intermediate players alike
Overall, the Epiphone Hummingbird Pro is well built and ready for playing live or recording at a home studio.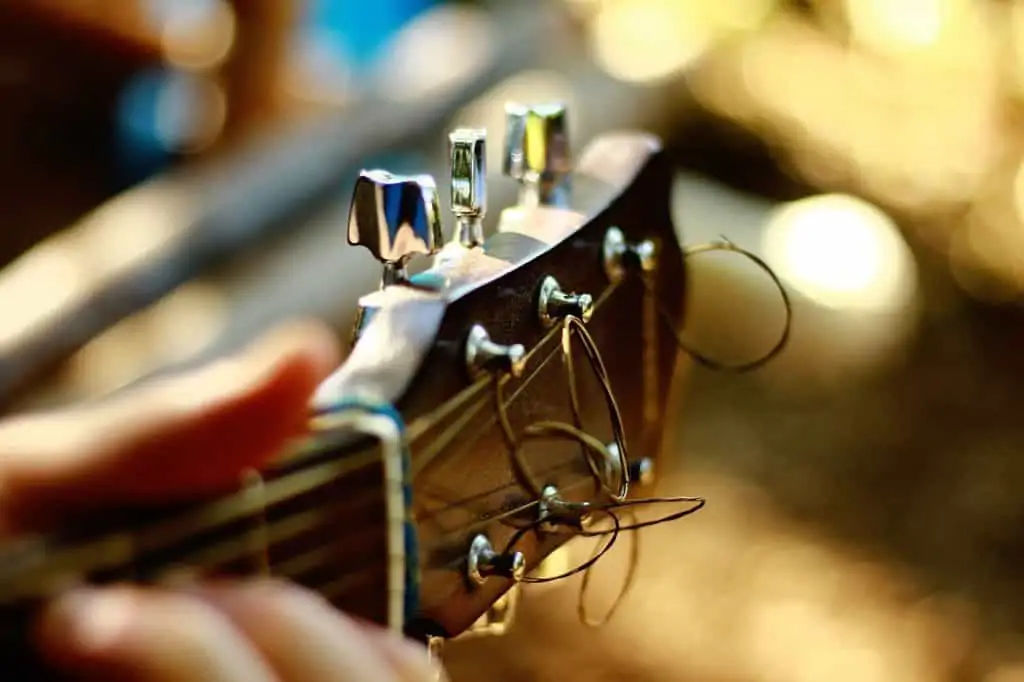 The guitar's tuners assure the intonation stability. Bad quality gear can make you out of tune right at the middle of a song.
Downside & set-up
As most Epiphone guitars, I wouldn't say the Epiphone Hummingbird Pro has shortcomings.
You could do a few tweaks to improve the guitar, though. For example, you could change the tuners for a 18:1 gear ratio option:
Next-up, you could change the nut and the bridge for pieces made of bone material. It would improve tuning stability, harmonics, and sustain.
Variety
There're various Epiphone alternatives if you're looking for a cheaper electro-acoustic guitar.
First, wwe could lower the budget for the Epiphone DR-100. It's one of the most popular acoustic-electric guitars in the world, though, made of Spruce, and mahogany.
It lacks the near-premium sound of the Hummingbird Pro, but the sound is more than decent nonetheless.
There's an entry-level model to accommodate humble budgets. I'm talking about the Epiphone FT-100.
Its price tag features the same solid-tonewood construction nonetheless. It's even made of Spruce and mahogany, just as the priciest guitars.
It lowers the quality of the pickup system, though, so expect a more beginner sound coming from the FT-100. Similarly, the hardware doesn't follow premium standards and the FT-100 is more of a first-timer guitar made with incredible built quality.
Alternative
Other brands are offering models you should consider on a similar price tag.
For example, you could take a look at the Fender CD60CE, a very popular mid-tier acoustic-electric guitar bringing decent sound and versatility for a modest price.
Yamaha tends to produce impressive mid-tier guitars as they include proprietary tech that gives their models a distinct advantage.
For instance, the Yamaha FG800X has a loud, clear, and focused acoustic sound that translates into the amplifier.
We reviewed the acoustic Yamaha FG800 and discovered one of the best mid-tier acoustic guitars in the market.
Lastly, the Yamaha NTX700 features an advanced pickup system that allows the guitar to perform better when going live. It's a better pick for live performances and studio recorders.
Epiphone Hummingbird Pro Specs
No cutaway dreadnought big shoulders body
Spruce Top body
Premium mahogany on the front, back, and sides
Mahogany neck with rosewood fretboard
Set-in neck
20 medium-jumbo frets
Adjustable truss rod present
NanoFlex pickup system
Master volume, treble, bass controls, dynamics slider
In summary
Who should go for the Epiphone Hummingbird Pro guitar?
Honestly, I really like the Epiphone Hummingbird Pro. If I were looking for a mid-range acoustic-electric guitar, I would go for this model, no question.
It's great for learning, practice, gigging, and recording. Its few shortcomings are a non-issue, and the legendary country rock tone it brings may turn it into your favorite performer.
Final Thought
The rich tone and super-playable neck delivers a perfect guitar for rock, blues, and country genres. If you can't afford the $3,000 plus Gibson model, the Epihone version is the best alternative.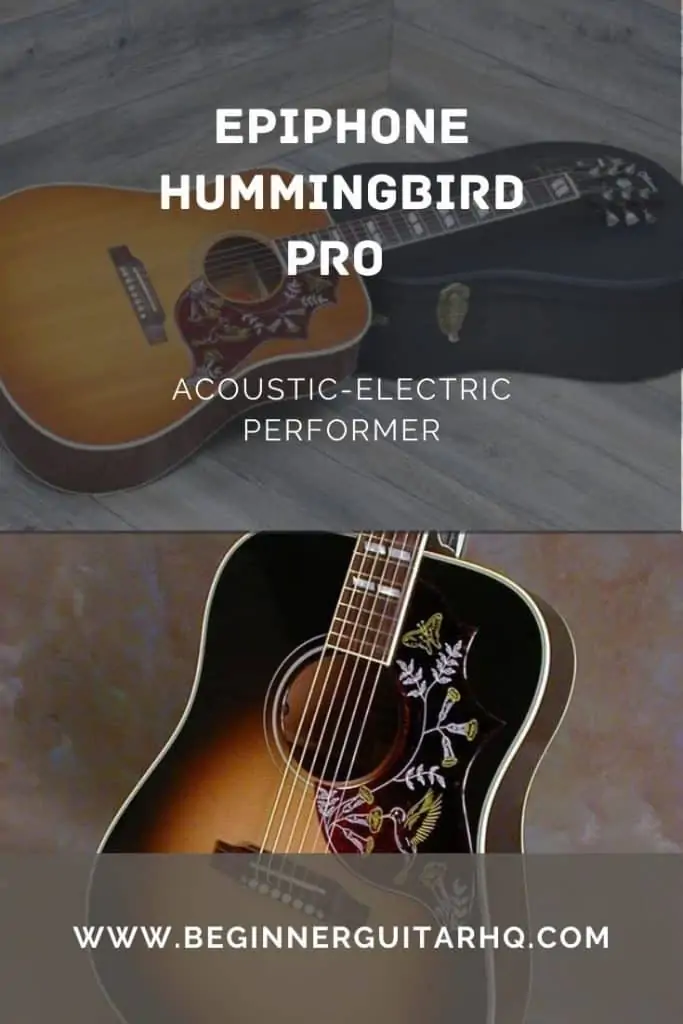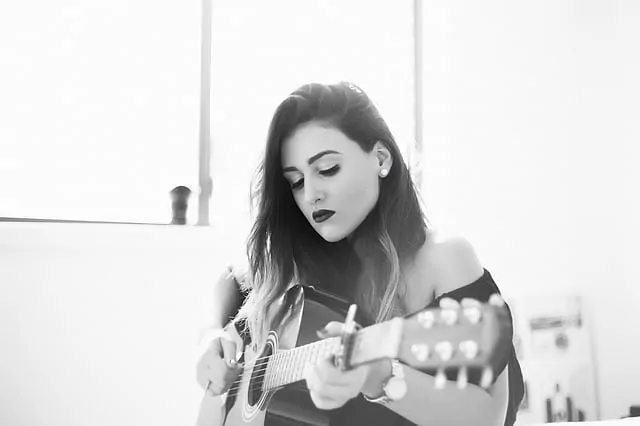 Jen is a guitarist and singer-songwriter who spends much of her time on the road and has lived in 13 cities across 4 continents. She picked up her first guitar at the age of 6 and learned to play by ear shortly after. She received her formal music education at the Berklee College of Music, and currently plays for a few bands in her free time. She has an uncanny ability to improvise creative melodies and harmonies. Her early influences include blues, jazz and rock.