The Japanese music industry has plenty of recognition thanks to names like Ibanez and Yamaha. Both brands have a similar philosophy regarding their musical gear as they consistently add advanced electronics and hardware to deliver top-value instruments that honestly compete with Fender, Gibson, Epiphone, and Squier.
We've already reviewed the Yamaha NTX700 and found an outstanding mid-level electro-acoustic guitar. Immediately, we understood why so many legendary musicians like Norah Jones, Stevie Wonder, or Paul McCartney have chosen Yamaha as their main musical companions.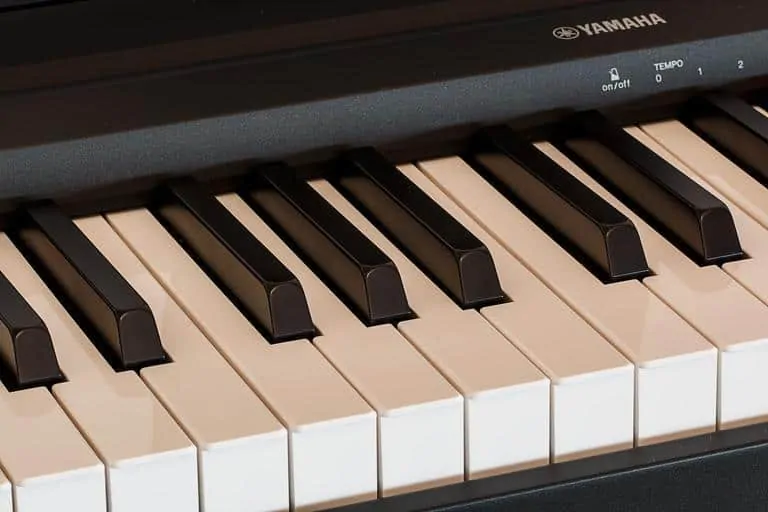 Yamaha artists include elite musicians from genres like jazz, contemporary music, blues, world music, and similar.
And because we know Yamaha is king regarding technical achievements for instruments, pickups, amplifiers, and all things regarding music, we choose to review the Yamaha FG800 Acoustic Guitar, also known to pack a particularly advanced design feature.
Quick review: this is a superb budget acoustic guitar, and my job is simply saying why I said that.
Yamaha FG800 Review
The FG800 is the result of 50 years of history. Yamaha's 800 series dates back to 1966 with the premiere of the FG180 and the FG150. 
Five decades after this introduction, Yamaha has created several generations of the FG with the goal of crafting the perfect acoustic guitars for contemporary guitar players.
Overall, there have been over 200 FG alternatives since 1966. Currently, the FG800 is the cheaper model of the series, albeit it doesn't belong in the entry-level acoustic guitar branch, like, for example, the Jasmine s35.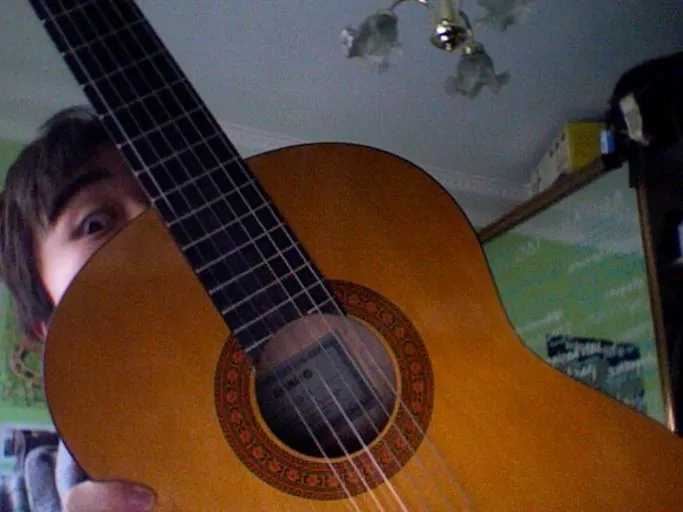 Yamaha instruments commonly include top-of-the-line tech into their instruments.
The first Yamaha FG model was introduced into the market to show acoustic guitars didn't have to cost a fortune. In fact, this is one of the first quality budget acoustic guitars ever to exist.
That's because it focuses on a great musical tone, quality build, and enhanced playability. Needless to say, the FG180 became an instant classic. Countless professional careers starting out with FG models.
Here's where it gets better. The new range features the best FG tones, the same playability levels, plus a built quality that stands out above its similarly priced peers.
Overview
I've been playing, buying, and selling acoustic guitars for over 15 years, and I have come to realize that finding a good budget guitar is much harder than finding value on a premium model.
How hard can it be to find a quality acoustic guitar that doesn't set you back a full grand? Despite the sheer volume of alternatives out there in the budget ranges, you would have to look carefully to invest your money into something that's safe.
Cutting through the -crap- comes the Yamaha FG800, part of the Japanese brand's long-running FG name. 
In essence, what we've got here is a no-nonsense budget acoustic guitar that prioritizes performance over everything else. And it looks great too if you like the classical body of a dreadnought guitar.
Is this one of the most popular and beloved acoustic guitar models in the world right now? Yes. Yes, it is.
Here's a bundle that includes guitar picks, a strap, a tuner, and a bag:
So, how is this such a no-nonsense budget alternative that stands above the others? First off, it doesn't try to be premium. It doesn't try to cheat. It doesn't cut corners…But it does succeed at delivering advanced features you wouldn't find anywhere else.
Most notably, all 800 series guitars are louder, and stronger in the low to mid-ranges because of a cutting-edge acoustic technology made by Yamaha R&D Division.
Let's take a closer look…
Built quality
The FG800 doesn't include the same upgraded aesthetics as the pricier FG830, like for example an abalone rosette.
However, its natural finish and tonewood selection makes it a pretty attractive guitar. In fact, the selection of solid woods on this Yamaha FG800 is more akin to higher-priced guitars.
Let's see…
Body & Design
What we've got here is a non-cutaway dreadnought guitar with a long 25'' scale. It's made with a mix of scalloped-braced solid Sitka spruce at the top, plus laminated nato (also known as eastern mahogany) as well as Okoume at the sides and the back.
I must note budget acoustic guitars are commonly made of laminated pieces of wood. Having a solid-wood at this price range is quite impressive. More so, Sitka has an eye-catching natural brown color.
Most notably, all 800 series guitars feature a new scalloped bracing pattern. The braces are pieces of wood mounted underneath the acoustic guitar's top. Scalloped bracing is a special technique used by luthiers to shape these braces with more precision and care.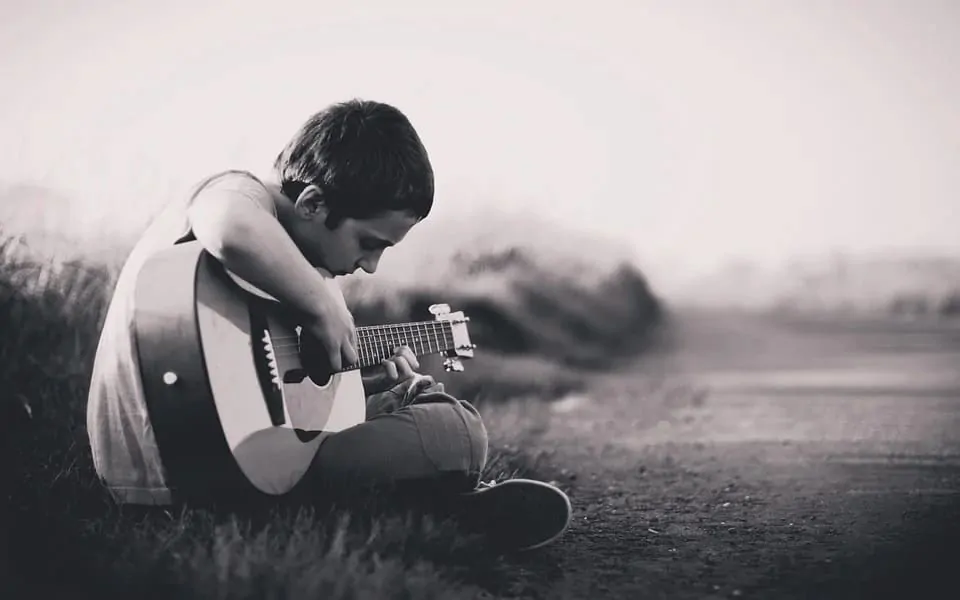 The bracing on the soundhole helps control the guitar's vibrations. An acoustic guitar without bracing vibrates in a chaotic manner, which denies warm, rich, and full tones.
As a result, the acoustic structure is more ideal, so it maintains the top board durability whilst bringing out as most natural sound as possible. Win/win situation!
Neck
The neck is joined at the 14th fret with glue, which is the standard on all dreadnought guitars. This is a nato neck is a satin finish made with spray during a manual process, which is a nice gesture. 
The rosewood fretboard packs 20 medium jumbo frets. It's naturally oily, smooth, and durable. There's also a spray-painted matte finish on the rosewood. The rosewood fingerboard completes the classic dreadnought look of this guitar and delivers smooth playing experiences, especially on slides.
The neck sports a particularly slim profile, which makes this a great choice for a first-timer guitar as well.
Overall, both the neck and the rosewood are pretty smooth and comfortable. The quality could make you question the affordable price of this guitar every time you play it.
Finish
The FG800 sports a sleek glossy finish at the front, plus a black multi-ply binding. It also has a fake tortoiseshell pickguard to add some extra character.
There're no additional options for these guitars. However, the pricier models of the 800 series do have some color options.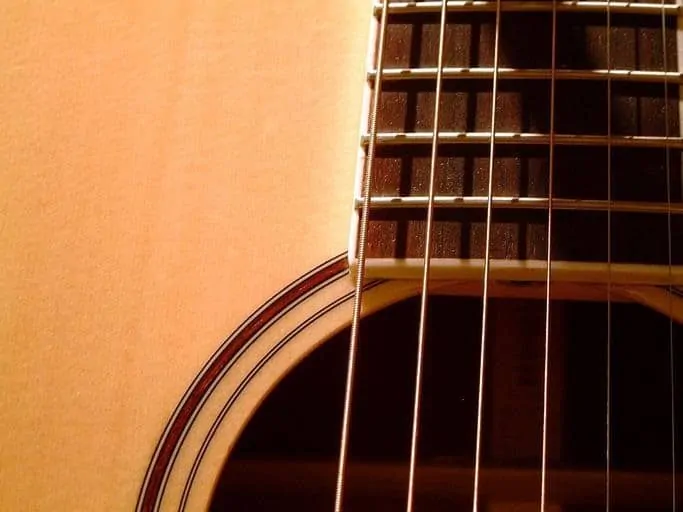 Finish options are normally missing on budget-level acoustic guitars.
Sound quality
The sound and tone quality truly stands out, and that's thanks to Yamaha's advanced scalloped bracing pattern. As I said, this is a cutting edge technology.
What it does is improves bass and mid frequencies, as well as sound projection. In other words, the sound is beefier and travels further.
This is a feature all Yamaha 800 guitars pack. Commonly, Yamaha adds one impressive and advanced feature into a particular guitar or bass series so that all of the models of the series pack the very same advantage, no matter the price. Such is the case with the NTX lineup of electro-acoustic guitars packing top-tech ART 2 pickups.
The advanced scalloped bracing is an impressive feature for a budget guitar nonetheless. And the result is also an impressive and loud tone for such a cheap guitar.
It's warm, round, and well-articulated even during rough playtime. You could even rock out the local club and feel very confident about this guitar.
Here's a video comparing the Yamaha FG800 against the Fender CD-60, another popular option at the budget acoustic guitar branch.
The Yamaha FG800 stands because of its thick, loud, and consistent tone. It's neither too bright, nor too booming. It's just right: strong, but focused; bassy, but bright. 
Overall, the Yamaha FG800 offers one of the best acoustic guitar sounds you can sound on budget models and above. 
By the way, are you in a rush to learn some chords and some songs? Check this list of songs made with sad chords, which could sound great with your acoustic guitar.
Feel Quality
There's nothing to fault about the Yamaha's FG800 playability. It plays as good as it sounds.
There's no downside and no catch. It even offers the same hardware as the higher-priced FG830 to maintain the tone and the playability in check.
Hardware
Hardware-wide, what it packs really enhances the consistency, the tone, and the reliability of this acoustic guitar
First off, the headstock packs a set of sealed die-cast chrome tuners. These units are quite decent, they can do their job of keeping this guitar in tune and in check. You could even take this into a modest unplugged gig and suffer no intonation issues.
The saddle and the nut are made of plastic. Those are indeed a couple of compromises common on budget electric and acoustic guitars. They are okay, just not something to be proud of.
In particular, it has a 43mm for its slim neck. It means you don't have to stretch too much for complicated chords. That's a huge plus for players with small hands, young players, and kids in particular.
Lastly, there's the standard rosewood bridge at the bottom, which is a standard choice on most acoustic guitars.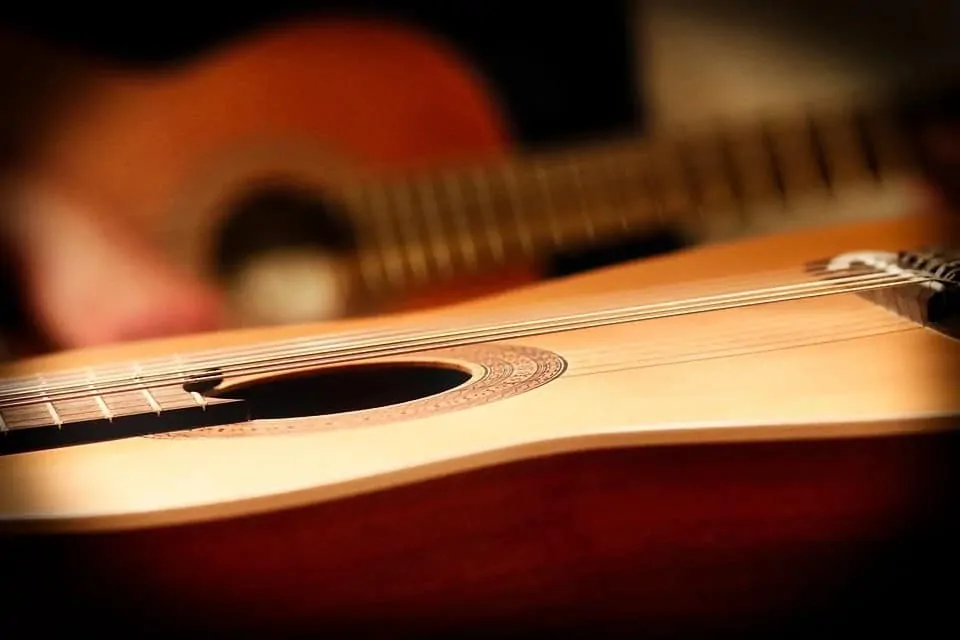 The nut is the material at the beginning of the neck holding the strings tight. An unreliable nut introduces fret buzz and an overall shaky sound.
Playability
Every design choice we've seen greatly enhances playability for everyone: children, beginners, intermediate, and experienced players.
Its fast neck, mostly because of its satin finish, also has significantly less friction and your typical glossy varnish neck. It gives players a very smooth feeling and easy for going up and down the fingerboard.
Now, like most budget-friendly guitars, the FG800 has pretty high string action. This means the strings are a bit elevated above the fingerboard. This particular choice makes it harder for beginners to play smoothly as the strings are harder to play.
So, whereas beginners could have a harder time as at the start of their journey, a high-action neck is great for playing chords, slides, and arpeggios as the sound is generally tighter and more harmonic.
Otherwise, the Yamaha FG800 allows easy play from advanced fingerstyle to beginner's classical guitar.

The playability of a guitar mostly depends on the construction of the neck. 
Downside & Alternative
I hope you realized how special this guitar is. However, if you're looking for the best possible sound and playability, you could add some intelligent upgrades into this guitar.
If you don't know how to install the following pieces, your local luthier could do the job.
First off, you could change the nut. I chose a Graph Tech Nut, as Graph Tec is currently the best manufacturer in this particular business.
Sale
Now that we've got both a quality wood nut and a quality wood bridge, we can already expect a better resonation on the strings. 
Now, as this is a classic-looking guitar, another thing you could do is add a set of vintage-looking quality tuners. Take a look at these Timiy tuning pegs:
Most importantly, you really need to change the strings of this guitar. I'm choosing top-quality D'Addario strings for this one:
By the way, if you change the strings and the nut, you could lower the action on the strings if you find it too hard.
Now, upgrading a budget guitar might not be the greatest if you're instead looking to save some money. If that's the case, I can guide you towards the Jasmine s35, which is easily the best entry-level acoustic guitar available right now:
A pricier contender is the Seagull S6, the overall best mid-level acoustic guitar:
If you're looking for a children's guitar instead, I can guide you towards the Gretsch Jim Dandy Parlor acoustic guitar, a small instrument that serves as a great practice tool:
Additionally, there's a downside that happens because this is the budget FG acoustic guitar. The thing is nato laminates plus plastic materials don't resonate as good as proper solid-wood components. 
But, after all, the FG is a cheap guitar, and it does an excellent job for the money. We would have to look higher to get better components.
Variety
As I said, the FG800 is the simplest model of the 800 series. Although every guitar of the lineup packs the same advanced bracing, pricier models get additional finish options, better building materials, better strings, and better hardware overall.
Additionally, the more you pay, the prettier this guitar gets.
Now, the Yamaha FG820 is equally popular. It comes with better tonewoods and better strings:
Next up, we've got the FG830 which represents a moderate upgrade with rosewood back and sides instead of nato. It resonates much better.
There's also the FG850, which paks improved hardware above its mahogany solid top and sides plus rosewood neck and bridge. Its sound is fuller, rounder, louder, and overall better.
There're other options as well, but let's continue…
If you want to go for a budget acoustic guitar, you could go for the Yamaha FGX800. It features the same design and tonewoods, and it adds decent electronics.
Overall, FG guitars include 2 body shapes, the dreadnought size plus a bigger, larger design Yamaha calls "concert size." Next, there are 5 built quality grades featuring different tonewood options. There's also a wide display of colors.
Lastly, there are some electro-acoustic models. That said, if you're looking for an outstanding electro-acoustic guitar, you can definitely go for the incredibly-sounding Yamaha NT700, a mid-level alternative that feels and sounds like professional material.

Changing the nut and the strings goes a long way to improve the sound of an acoustic guitar.
Yamaha FG800 Specs
No-cutaway dreadnought body shape
Solid Sitka Top, nato/Okoume back & sides
Nato neck & Rosewood fingerboard
Super slim neck profile with 15'' radius neck & 43mm nut.
In summary
Why do I like the Yamaha FG800? 
Every aspect of the Yamaha FG800 is designed to craft a better guitar. From an impressive selection of dried and cured woods to the hand-sprayed finishes and careful quality control, 800 series guitars are made to last.
The Yamaha FG800 is probably the most popular acoustic guitar for beginners. It's also one of the most popular budget-level acoustic guitars in the market right now. The main reason is how much value it adds to the money you pay. You wouldn't find anything similar anywhere else.
With a more-than-decent setup for the price, the FG800 sports pretty classical-looking aesthetics. Plus, considering how affordable this baby is, it produces a very good sound: loud, warm, sweet, and with a good brightness balance.

Have you ever played a Yamaha acoustic or electric guitar? What do you think about Yamaha instruments?
My final say: this is an excellent first-timer guitar. It's also the best value acoustic guitar at the budget level segment. It's not filled with the hottest toys available, but this is a guitar you can hold and enjoy for many years to come. It will even accommodate your growing skills.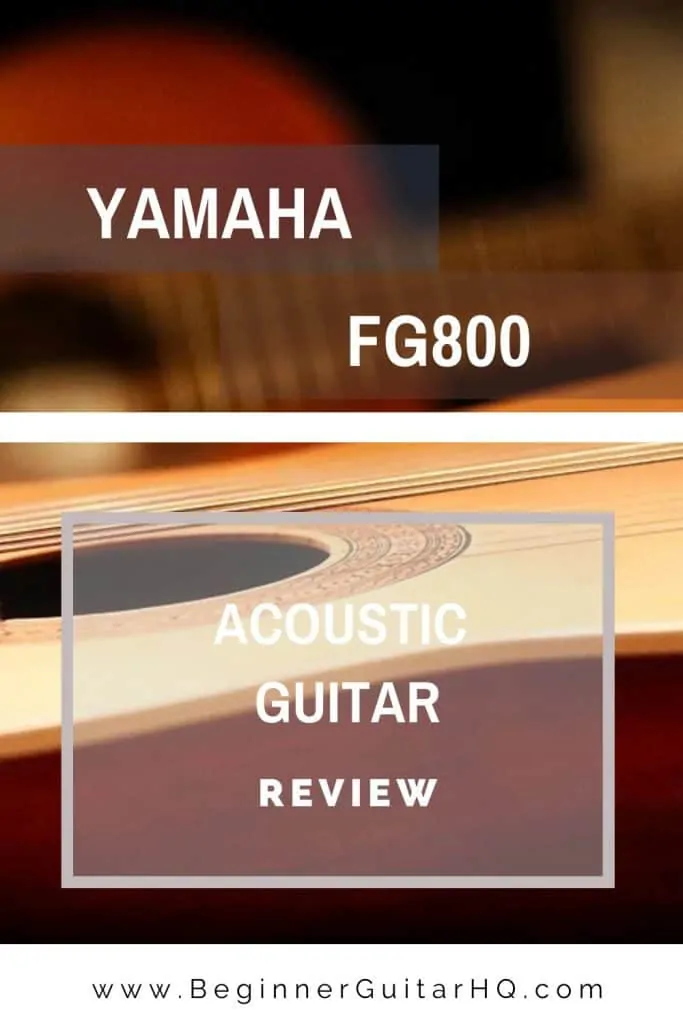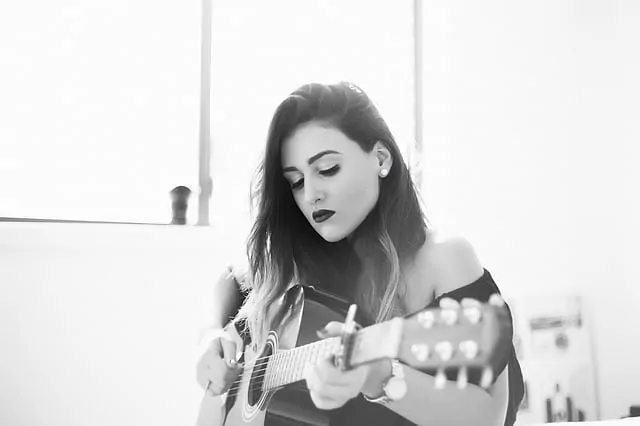 Jen is a guitarist and singer-songwriter who spends much of her time on the road and has lived in 13 cities across 4 continents. She picked up her first guitar at the age of 6 and learned to play by ear shortly after. She received her formal music education at the Berklee College of Music, and currently plays for a few bands in her free time. She has an uncanny ability to improvise creative melodies and harmonies. Her early influences include blues, jazz and rock.