A no-regrets budget metal guitar
Common knowledge says Ibanez guitars are built for metal. Some models, like our recently reviewed Ibanez SR250 bass guitar, have an expanded versatility that goes beyond what the bell tolls. The Ibanez GRX20 electric guitar follows the same path but stays within reach of Hangar 666.
The GRX20 is a mean type of ax that can easily travel most modern genres with its hot humbucker pickups. I'm talking about the kind of guitar you would only find if you search specifically for something you can "djent" with.
It's quite boring that most first-timers go for affordable Strat guitars (like a Squier Bullet Strat) or a budget Les Paul guitar (like an Epiphone Les Paul).
Some of us, though, are very thoughtful about how we spent our money. Because we know that buying an instrument is about finding the perfect balance between aesthetics, tone (genre), features, budget, and playability, we're sharing an option regular musicians can appreciate.
So, those of us looking for a shredder guitar on a tight budget might go for something like the Ibanez GXR20. And why wouldn't we? It's easily amongst the best entry-level guitars you can buy right now. Not to mention it's an easy guitar to play and learn with.
I listed the obvious values of this guitar in the intro because you might already know them. The GRX20 is almost as popular as a Marvel movie. But, right out of the box, it's just a beginner guitar.
If you want to understand why, though, read through our Ibanez GRX20 electric guitar review.

Ibanez was founded by Hoshino Gakki and it's based in Nagoya, Aichi, Japan.
Before we continue, I'd like to know if you've ever played an Ibanez instrument. Tell me all about that on the comments below and I'll be sure to answer!
Ibanez GRX20 Review
I've been playing guitar and bass for over 16 years – both electric and acoustic -. I've had the blessing to buy, sell, try, and borrow many models, most of which have been entry and mid-level instruments.
Some were great, while others were just…cheap.  The GRX20, although cheap, feels, plays, and sounds very good. It almost makes you forget about its friendly price tag. That's something Ibanez commonly achieves.
This guitar is part of the GIO series, a lineup created for players looking for the most Ibanez quality they can get with a humble budget.
The GIO household is highly regarded because it generally looks and sounds better than its similarly-priced competitors. More so, the warranty is the same as the brand's most premium models.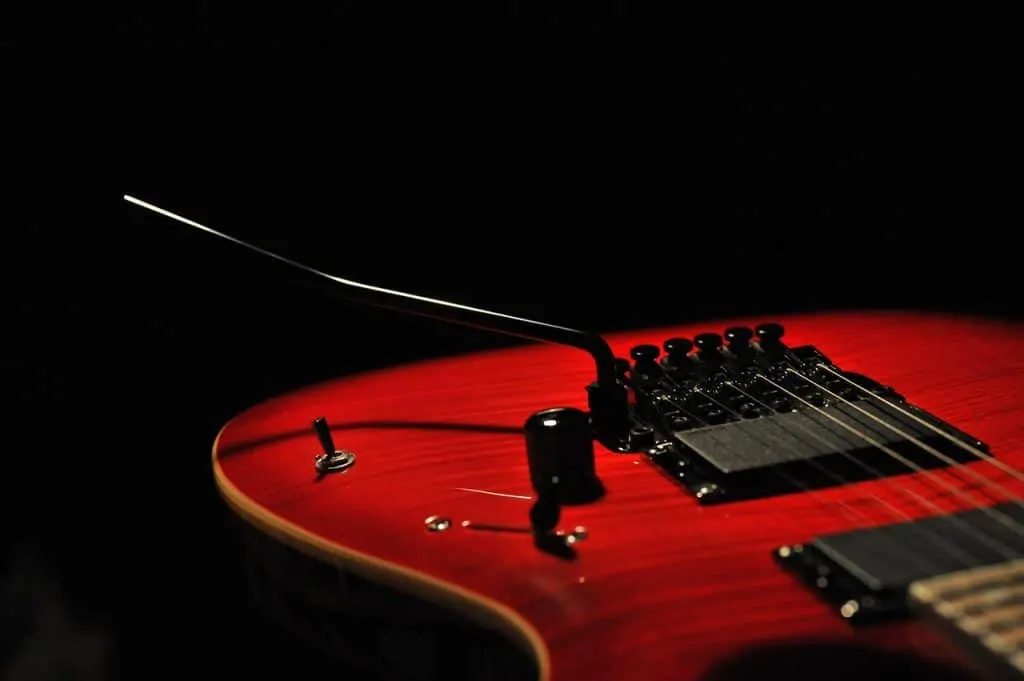 Ibanez was founded in Japan as early as 1908, but they really earned some track in the Western market by the '80s decade.
They've introduced some bizarre choices like 7 and 8 string guitars. Unsurprisingly, Ibanez became the go-to choice for amateur and intermediate metal players. It's also a well-respected brand for professionals.
This Ibanez GRX20 is one of the brand's entry-level guitars produced for metalheads. It delivers a unique, aggressive tone and features enhanced playability at a friendly price.
Sale
There's something special about these strings: after a few upgrades and coupled with a decent guitar amp, this guitar offers one hell of an experience.
Overview
The Ibanez GRX20 has a similar shape to the Fender Stratocaster series. But that's just aesthetics, as everything else is very different.
For starters, it features a powerful dual humbucker pickup configuration. The combination of these two tapers creates a grunge-like sound that suits heavy metal, rock, and progressive rock genres. You wouldn't use a Stratocaster guitar to play the same things you could play with the GRX20.
The second difference is the price. This Ibanez guitar is even cheaper than a Squier. And considering the GRX20 and the Squier Bullet and Squier Affinity Stratocaster are aimed at the beginner musician, price plays a big role when it's time to make a decision.
Overall, the Ibanez GRX20 is a beginner electric guitar for metal with a fast action GRX maple neck and 2 howling humbuckers.
I have to add the GRX20 comes with different names (like "GRX20Z). These names only refer to the color of the guitar.
Lastly, I'm going to guide you through the right setup of this guitar because I believe there's a lot of potential in this Ibanez guitar for metal.
Built quality
This guitar does follow the path laid down by the Fender Stratocaster many decades ago. However, because this is a cheap alternative, it's built to lower specs with affordable building materials.
The goal of its construction is to keep down the cost in order to raise the playability and sound quality.
Body & neck
Ibanez calls this body the "modified Super Strat," and it's seen in a wide variety of Ibanez guitars.
It's built after the Fender Strat using Poplar for the body, maple for the neck, and Treated New Zealand Pine for the fretboard.
These are surprising choices for entry-level guitars, but it does mean you're giving up some quality regarding tonewoods in order to save some money.
For example, Poplar is a form of treated basswood. Basswood is not the greatest choice, but it does set a solid foundation and a low-end tone that's more than enough for this kind of setup.
Meanwhile, New Zealand Pine is just as smooth and durable as rosewood, which is the common choice for the fingerboard. But I do find it has a better finish and a better feel.
Likewise, we have the standard bolt-on single-piece neck with a variation of the common C-shape known as "GRX neck". The GRX neck design enhances playability for beginner players and amateurs alike with different curvature and a slimmer construction.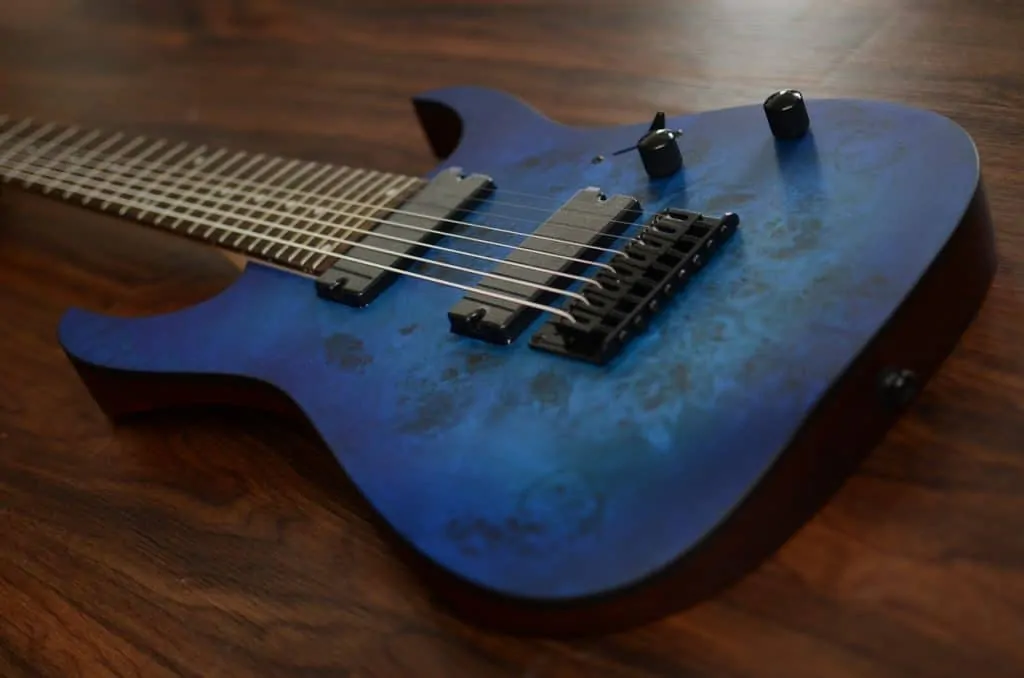 Basswood is the cheapest tonewood and it's present in most entry-level guitars and basses.
Size & Frets
This is a full-sized guitar. It has a 25,5'' scale, which is the standard size of metal axes as it gives the sound more power and depth. Naturally, then, it has 22 medium jumbo frets, just like a Strat guitar.
The fingerboard radius is 15.7'', which is an uncommon choice. See, the radius measures how severe the curve of the neck is, and the curvature is more pronounced when the radius is smaller.
For example, most guitars (like Strat and Telecaster guitars) have a 9.5'' radius. That means the full circle going around the neck has a 19'' diameter. Pronounced curves make it very easy to play chords, which is why Telecaster guitars often choose a 9.5'' radius.
A 12'' guitars and beyond have a "flat" radius. A 15.7'' is so flat you wouldn't even notice a curve. It's still easy to play chords, but it's even easier to bend strings, play solos, play power chords, and play metal riffs in general.
Finish
Aesthetics-wise, there are two widely available finish options for the Ibanez GRX20, which are dark blue and black. Both options ship with a high-quality gloss finish.
The pickguards and the headstock also match the colors, which is something somehow special about this guitar. A colored headstock is an uncommon feature that makes for a unique look.

Ibanez basses and guitars are made mostly for metal and rock genres.
Sound quality
The highlight of the GRX20 is not only its metal tone, but it's raw power as well. The bang for buck formula this particular guitar packs requires a combination of quality humbuckers and advanced electronics…
Electronics
The magic starts with its pickup configuration. The GRX20 ships with a set of two passive humbuckers wired to a single tone and a single volume control knob.
So, it has a humbucker at the bridge position and a humbucker in the middle position. Plus, it has the standard 3-way pickup selector switch that allows you to blend the two pickups or turn one of the two off.
For a cheap set-up, these are high-output humbuckers with super-easy to use tonal shaping options. What's not to love here for beginner guitar players?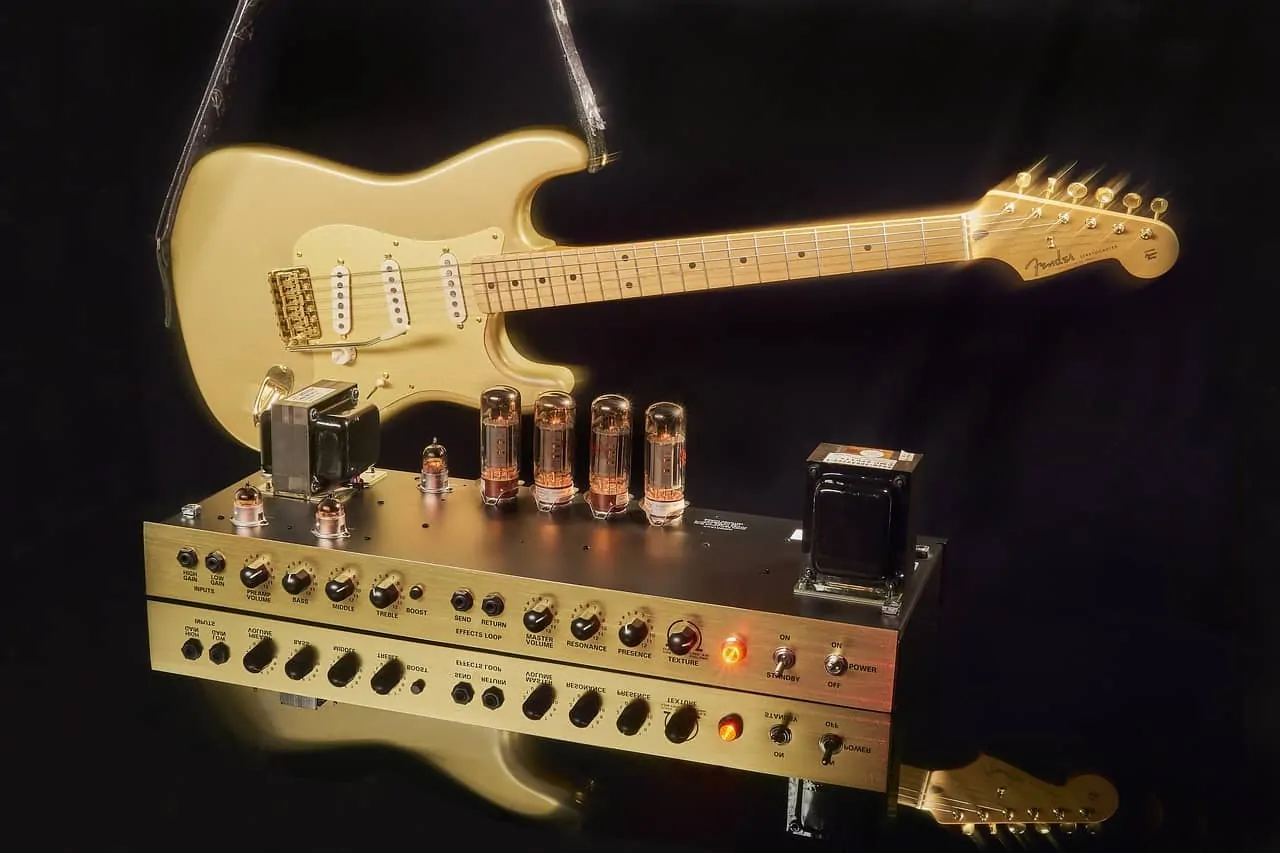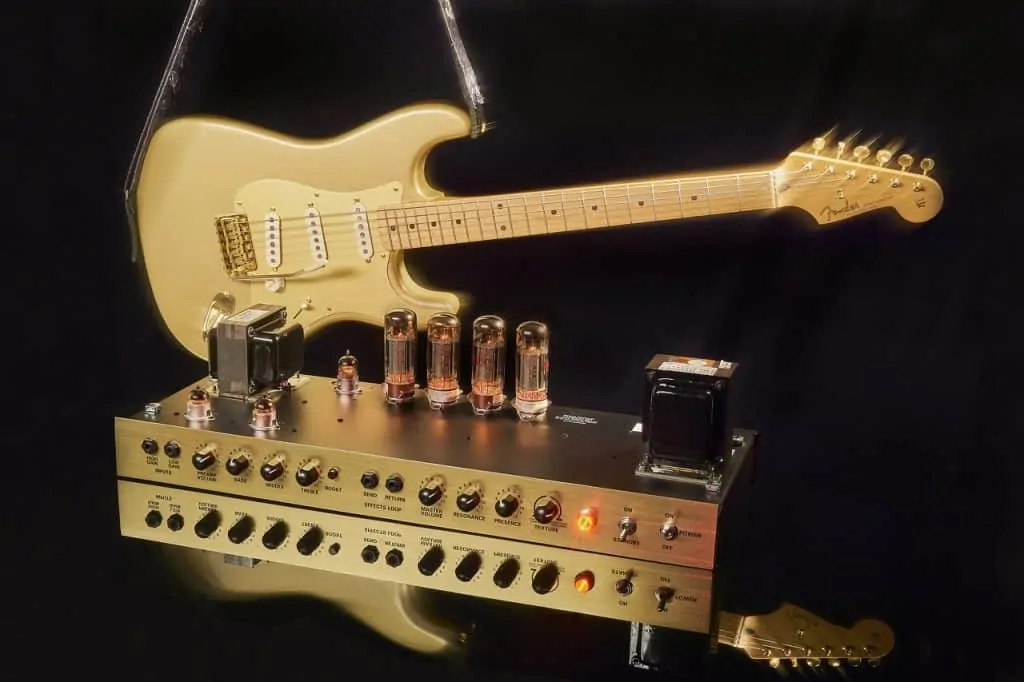 The guitar's electronics have little influence over the sound. However, some people swear changing the pots does increase the tone quality.
Sound
Probably the strongest feature of the GRX20 is its sound. It packs as much heat as it can offer in order to make this guitar different from its similarly priced competitors. It also allows users to drive guitar pedals effects and distortions freely and to great results.
If you're a beginner, you'll find the tone of this guitar is pretty easy to set-up. Its performance won't get under your skin, not even a little. Instead, using this guitar with your amp's distortion will become an instantly fun activity for you.
Heavy metal guys will love the tone of the GRX20; non-metal guys will still appreciate it for it has enough headroom and quality to work with other genres as well.
In essence, this guitar sounds like grunge: dirty, angry, and mellow. I even like the clean tone of this guitar. That means modulation pedals like a chorus or a reverb can work wonders with this raven.
The thing is this guitar calls you to invest in a good amplifier to compliment the look and the sound Ibanez is offering here. That means there's plenty of potential on the GRX20. This is a guitar that could easily be a part of your professional guitar gear.
However, play this with a cheap amp and you'll end up truly disappointed. That's just how this guitar works. So, what you plug into this guitar will have a great impact on how it sounds.
See, these pickups are good, but they are not excellent. But if you're a beginner planning on playing heavy metal and rock, it shouldn't make a single difference to you.
That said, have you checked our prior best amps for metal list? There are some budget options there you might like.
Overall, though, I think this super-cheap guitar is able to produce a tone that matches the Stratocaster and goes beyond in terms of aggressiveness and raw power.                        
Feel quality
One of the reasons the Ibanez is such a popular entry-level guitar is because it offers excellent playability for its price.
This guitar is a lightweight instrument. It also feels good on your hands, it's easy to play, and it's a fun guitar to learn with.
But even when we have great playability on this guitar, I wouldn't take the GRX20 into the stage because of its dubious hardware…
Hardware
This guitar has a FAT 6 Tremolo Bridge unit. Although this is not a high-quality bridge, it still has a usable tremolo…just as long as you respect the limits of the piece.
That said, this bridge doesn't add much sustain and doesn't keep the intonation for too long. But it does add some extra playability.
On the other end of the guitar, there's a set of standard die-cast tuners. The quality of these units is average. They retain tuning for a while, but you'd definitely want to check the tuning in-between songs.
There's something good about the tuners, though. This guitar tends to arrive in tune from the shop, even if you buy it online. That means this guitar is ready to play right out of the box.
All in all, the hardware is decent but it's not ready for the stage. If you use this guitar to play live, you'll find out just how faulty it can be.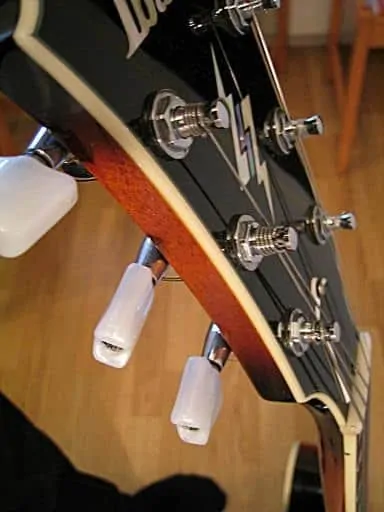 You can improve a guitar's intonation, playability, and sustain by changing the bridge.
Playability
It has a smooth and thin maple neck with a 15.7'' flat radius. This means the GRX20 has a shredder neck because it feels like playing on a flat board.
Such radius also delivers the playability of a leading ax with a similar ease-of-use of a classical guitar.
Furthermore, because of its custom GRX neck shape, people with small hands could grab this guitar easily.
It's also light and balanced, which means this guitar won't tilt its weight to either side. Based on my own experience, the playability and the sound is good to go straight from the factory.
Furthermore, this is a low-action guitar. That means the distance between the frets and the strings is quite low, which makes this guitar even easier to play.
Drawbacks & alternative
It became clear I'm not very fond of the hardware shipping with this guitar. The intonation is imprecise and flimsy, so the first thing you could do to improve the GRX20 is to swap this tremolo bridge for a quality budget alternative like a Wilkinson Strat Tremolo Bridge.
Likewise, I'm advising you to swap the tuners for better units. And because we're looking for affordable value tuners that look like metal, I choose these Fender Chrome-Sealed Tuners.
Sale
Following suit, I must say the stock strings are nothing special. If you're an experienced player, you'd want to swap these ones out for something like Earnie Ball Regular Slinky strings. You could even raise the action a bit.
Those three cheap changes already made the GRX20 a gig-ready instrument. And the price is still below a Squier.
But now I'm choosing the fourth upgrade. This time, we're swapping the pickups for quality humbuckers. That way, you can end up with a serious Ibanez guitar that rivals the most professional models you can find out there.
For this guitar, I would go for top-quality budget Kmise Zebra humbucker pickups. They are in-pair with top Squier and Epiphone humbuckers, and they can be just as good as a DiMarzio.
Otherwise, you can check this list of Gibson pickups for further options.
It's important to note that this guitar plays best when you use its natural grunge sound. If you're looking to play blues or jazz on a budget, then you could consider something like a Squier Standard Telecaster:
If you're looking for a similarly priced alternative, you could also check the Jackson JS22. This is also a metal guitar with enhanced playability and a high-output sound.
I must also point you towards the Epiphone Les Paul Studio Goth guitar, which I consider to be the ultimate evolution of budget metal guitars. However, keep in mind this guitar sells for almost twice the price as the GRX20.
Lastly, I'm guiding you to check our prior best combo amps list. As I said if you couple this with a good amp you're going to be very impressed.
Ibanez GRX20 Specs
Design: double-cutaway modified Super-Strat construction
Tonewoods: Poplar body, maple neck, Treated New Zealand Pine fretboard
Neck: slim-c bolt-on maple neck
Scale: 25.5'' (long-scale)
Fingerboard: 22 medium jumbo frets
Radius: 15.7'' radius
Pickup configuration: Infinity R Humbucker Neck Pickup (passive/ceramic) ; Infinity R Humbucker Bridge Pickup (passive/ceramic)
Controls: Volume Knob & Tone Knob
Tuners: Standard die-cast tuners
Bridge: FAT-6 tremolo bridge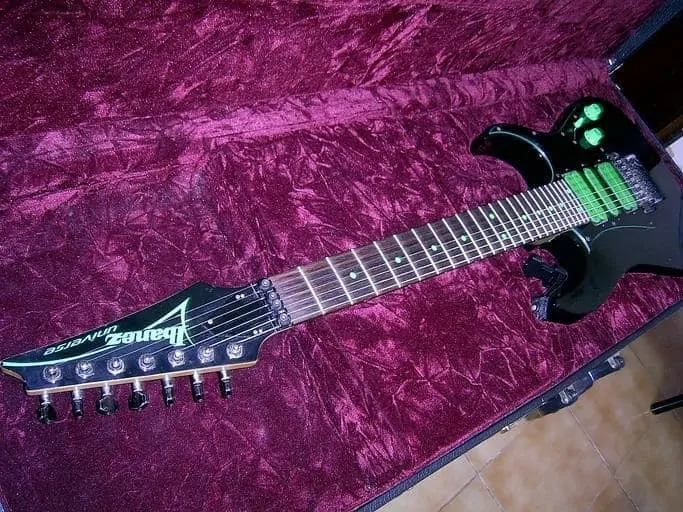 Many Ibanez guitars look aggressive, different, and unique. However, most of their guitars feature the same modified Super Strat body.
In summary
Why should you buy an Ibanez GRX20 electric guitar?
The Ibanez GRX20 just offers what it intends to offer and it does so for an incredibly low price. Whilst it won't impress anyone, it's an easy to play guitar with a pretty good sound that pairs well with quality amps and guitar pedals.
This is a great choice for beginner guitar players looking for a metal guitar. It's also a good choice for players looking for a backup instrument or a guitar they can use to jam and have fun with.
It has a Stratocaster body that appeals to almost everyone with a built quality that feels better than a Squier. And if you're an experienced player, you can multiply the quality of this guitar with just a few upgrades.
This guitar is particularly great for beginners and budget heavy metal seekers. But it's also great for anyone, period.
Lastly, if you already own a couple of distortion pedals like the coveted Boss DS-1, oh boy, you could have a great time with the GRX20!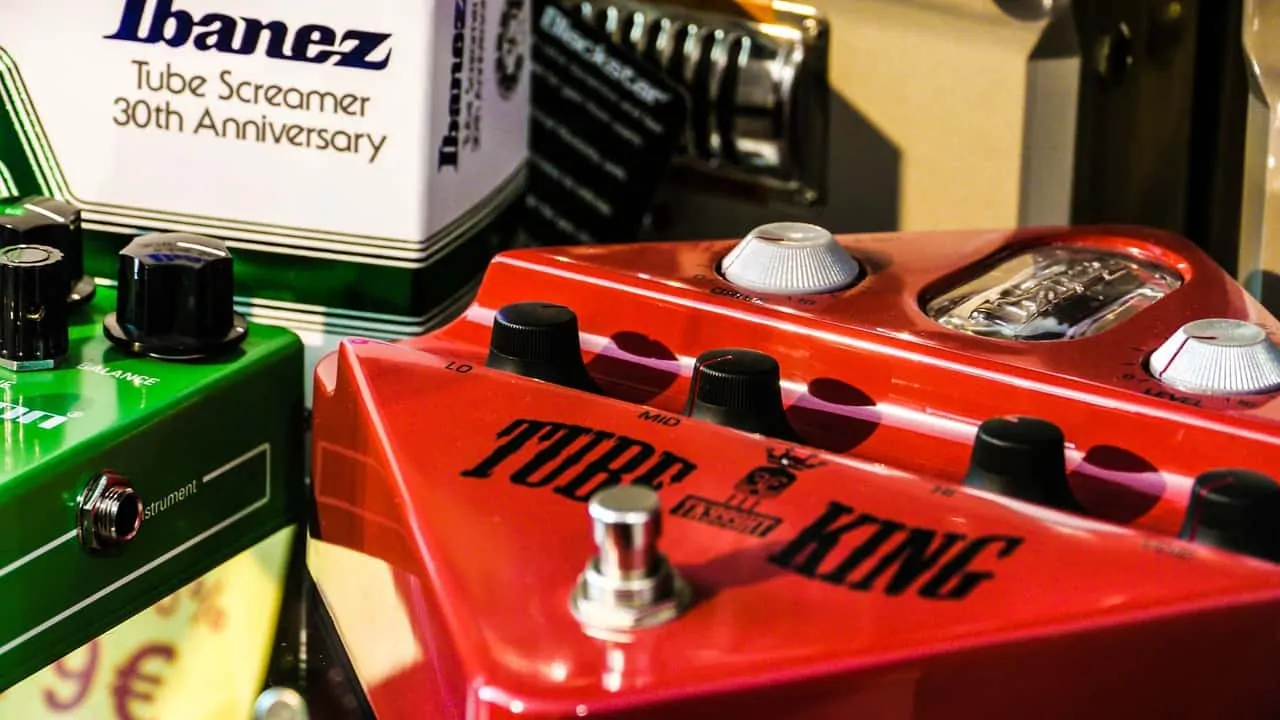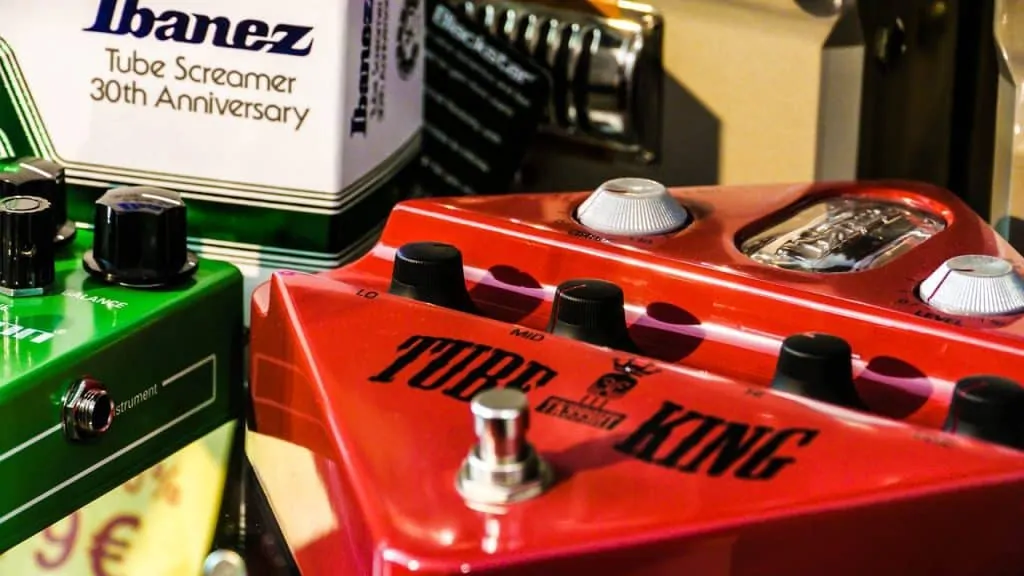 Ibanez also builds pedal effects, some of which are quite popular like the Ibanez Tube Screamer.
There's a reason why Ibanez is such a favorite brand at this price range. They pack so much power, playability, and sound quality into their entry-level models they easily compete against the likes of Squier and Epiphone.
Finally, this guitar is so cheap I'd say this is as low as you'd want to go. I guarantee you won't find anything better by paying less.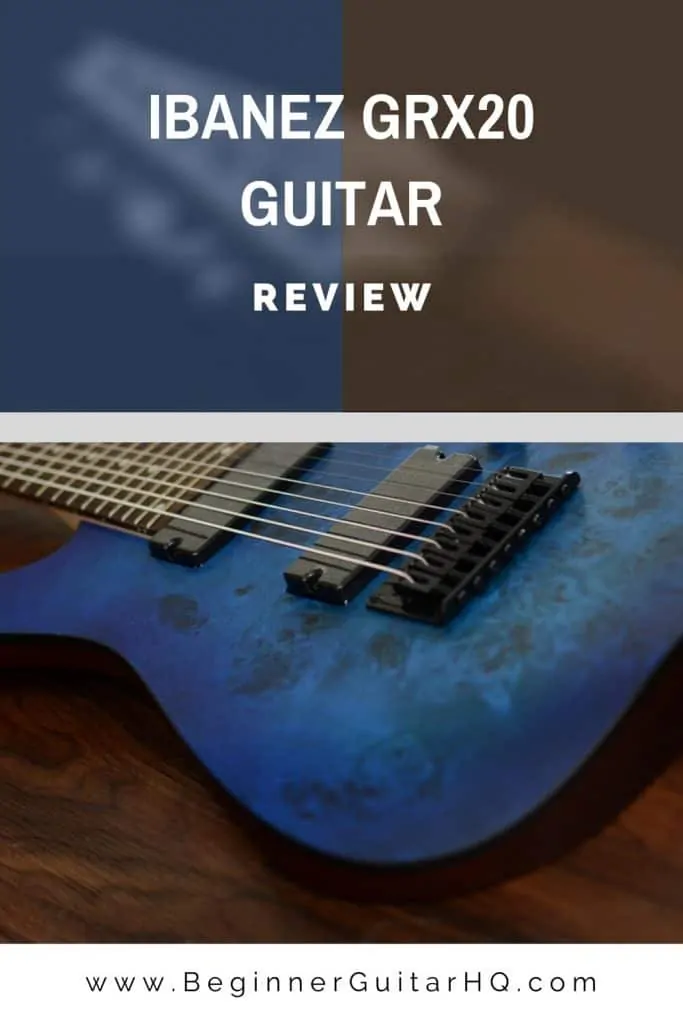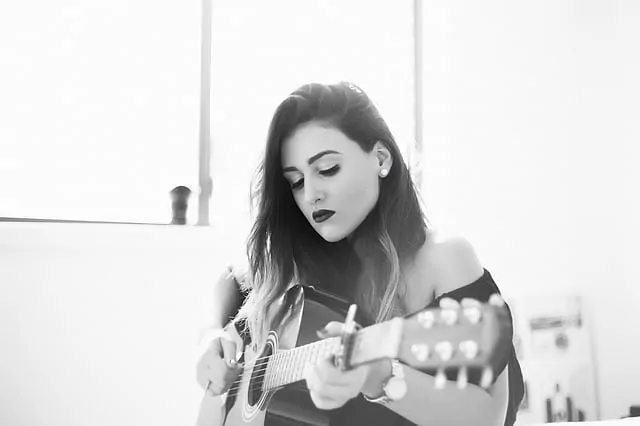 Jen is a guitarist and singer-songwriter who spends much of her time on the road and has lived in 13 cities across 4 continents. She picked up her first guitar at the age of 6 and learned to play by ear shortly after. She received her formal music education at the Berklee College of Music, and currently plays for a few bands in her free time. She has an uncanny ability to improvise creative melodies and harmonies. Her early influences include blues, jazz and rock.