We at Beginner Guitar HQ have reviewed some great Squier alternatives. We've listed the Classic Vibe Series, the Squier Jaguar models, and the Squier Bullet Stratocaster. Time and time again, we find that Squier has grown so much from its early "cheap instruments that are trash" reputation.
Right now, Fender's subsidiary Squier is the top budget instrument maker. Modern times are great times to buy an affordable guitar or bass guitar: because electronic components like pickups have advanced so much, guitar manufacturers are able to create entry and mid-level instruments that sound great.
The Squier Standard Telecaster is a perfect example of what I'm saying. It's a fun companion for people looking for budget guitars, and it's versatile enough to produce everything a regular player would need though its two standard single-coils.
This easy-to-play solid-body electric guitar sells for a couple more bucks than the Squier Affinity Telecaster. The Affinity series is sold for the beginner and the humble musician; or as backup instruments. The Standard series is an upgraded version ready for modding.
We're going to see if the extra price is worth it and check how it compares to other Squier and Fender alternatives.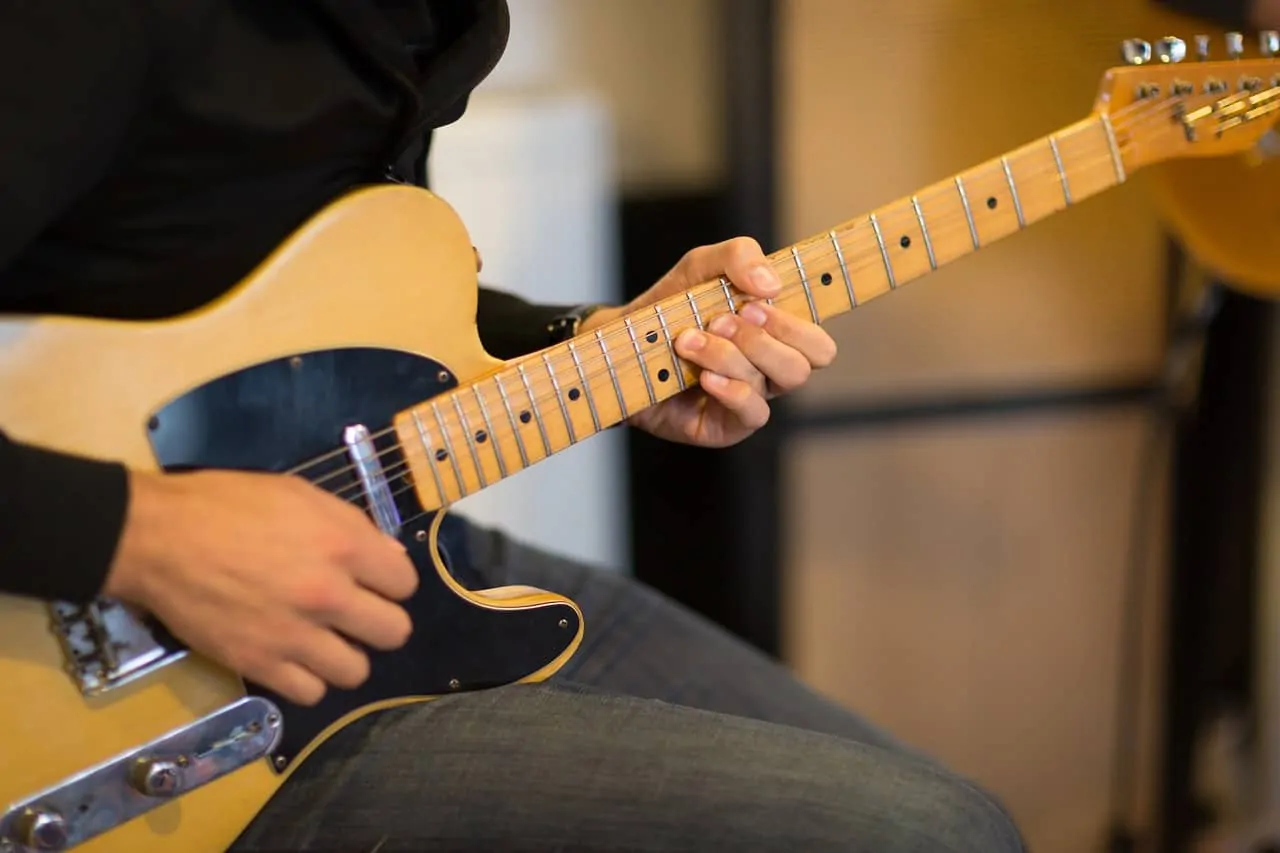 Squier builds affordable Fender guitars by toning down the construction materials and electronics.
The advantage of Squier guitars
Squier is Fender's subsidiary building affordable Fender legal imitations. If you're looking for great electric guitars and bass guitars that don't leave your wallet sad, Squier is your ticket home.
The best thing about Squier guitars is how they can be modded and upgraded. For example, swapping its tapers for a couple of new single-coil pickups can go a long way in taking your budget guitar into the professional level.
Additional things you can do are changing the bridge and tuners. Both mods are easy and cheap, but they greatly increase the feel and intonation of the instrument.
Sometimes, though, you're going to be just happy about how these guitars and basses sound, feel, and work right out of the box. I believe the Squier Standard Telecaster is one of such instruments: more than a backup guitar or a thing to get replaced or improved, this baby can become your #1 musical partner.

Many people like to change the stock pickups immediately as they are looking for a professional sound on a budget guitar.
About the Squier Standard Series
This is a Mexican made Squier guitar. Talk to anyone about their Fender's Mexican bass and guitars and you'll hear only good things.
For example, we recently reviewed the Deluxe Fender Precision Bass Special, a unique Fender P/J bass guitar with an active system, super sound, wide versatility, neat construction quality, and friendly price tag.
More so, Fender Mexican Strats and Teles are amongst the biggest sold items on any musical store and site, which is why they are difficult to find.
The Fender Squier (Mexico) Standard series delivers the comfort and feel of the Standard Fender Mexico guitars and basses at accessible prices.
These axes represent the same classic designs with a pure and simple selection of features. That means these guitars are bare-bores regarding features, but they do impress in terms of look, performance, and value.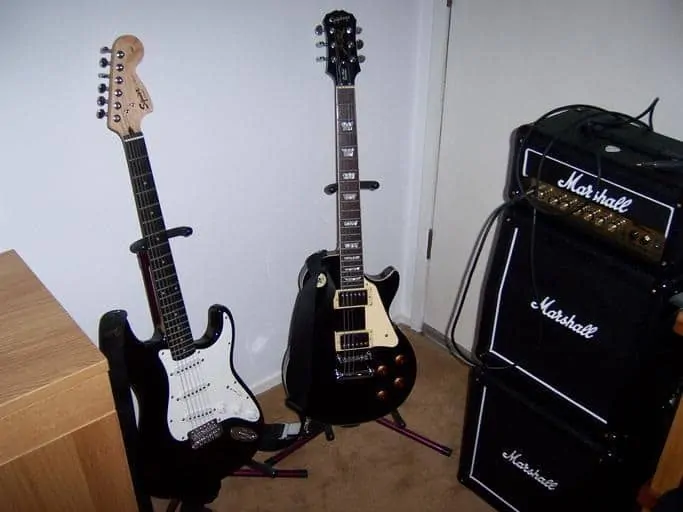 Squier, much like Fender, has factories in the USA, Mexico, India, Indonesia, Japan, Korea, and China. The Mexican factories are known to be "better" than the USA factories in terms of value per price.
Squier Standard Telecaster Review
This affordable Fender Squier Tele is a combination of build quality, solid build, and sound. It feels and plays just as good as a Fender Mexico Telecaster.
It's a better construction overall than the Affinity Squier series, and it has better pickups as well. Despite this, Fender didn't raise the price tag by much to keep ahead of the competition in terms of value per price.
As a result, the Squier Standard Telecaster narrows the gap between budget instruments and pricey, premium alternatives like the Fender American series.
Remember, though, that I said the Fender Squier Standard Telecaster is barebones in terms of features. So what it has on sound and performance it lacks on general versatility.
Overview
The Squier Standard Telecaster is a feel-good guitar with a traditional Tele twang but a modern vibe.
Player-friendly features include a 22-fret fretboard, a slim maple neck, and a set of two Alnico standard single-coil pickups with a 3-way pickup switch.
Furthermore, it ships on three different elegant top colors adding a nice touch to the instrument.
All in all, this guitar feels like a Fender USA or Fender Mexico Telecaster because the maple neck's profile and design features are identical.
It also packs some features original to vintage Stratocasters, like larger frets, internal shielding, and colors.
However, it lacks features like a vibrato, a quality bridge, or quality tuners. The most important add-on the Squier Standard Tele packs, though, is a new hot standard single-coil pickup on the bridge delivering a commanding tone.
Here's the summary of what the Squier Standard Telecaster is: a fast-action maple neck profile '60s-inspired Tele with a hot standard single-coil pickup at the bridge. It represents an upgrade over the Affinity and the Bullet series.
It also represents an upgrade over the 1960 Telecaster in terms of versatility and sound.
Design & construction
Squier has always been faithful to Fender's designs. Their Standard Tele model follows path and sports everything that makes the Telecaster such an amazing guitar.
Design: it has the same single-cutaway body shape that revolutionized the market back in the '50s, along with its distinctive Telecaster pickguard.
Tonewoods: it's made of solid agathis, which is not a very hot choice, to be honest. However, basswood is the standard practice for affordable guitars these days and, the truth is, this is a great wood as it's light, comfortable, and cheap. It also fits the Telecaster really well.
Neck: we've got a standard bolt-on maple neck with an Indian Laurel fretboard (a newer alternative to rosewood). The fingerboard has a satin finish delivering a sleek and pleasant playing experience. This guitar also has the traditional "skunk strip" at the rear, an extra the Affinity Tele doesn't has.
Size: this is a 25.5'' long-scale guitar. It has the average Tele size, and it's suited for adults.
Frets: it has 22 medium-jumbo frets, with plenty of space for bends, solos, and arpeggios. There're Pearloid dot inlays on the frets.
Finish: the common model is covered with a vintage blonde and polyethylene coating, which is a great finish for the price. Other finishes include a sunburst "Antique Burst" and "Candy Red," all of them with quality polyethylene finishes.
In particular, agathis is a cheaper alternative to alder, present on most Fender Telecaster guitars. Agathis delivers bright and warm sounds.
Add to that the balanced tone maple delivers plus the low-end fatness of the laurel material and you'll get a pretty versatile guitar on the construction materials alone.
The neck of this Tele rivals Fender construction. It's a C-shaped fast-action neck modeled after '60s Telecasters. This is one of the notable advantages of the Squier Standard Tele.
A fast-action neck means the strings are nicely depressed in order for the player to sweep solos easily.
Then, the rosewood fretboard has a 9.5'' radius, which is a fast-action design. Why? Because the shorter the radius, the rounder the fret, and that's also a feature that makes playing solos, bends, and slides easily.
I must add this guitar has a synthetic bone nut, which is a reliable piece. Plus, it has a standard truss rod. Not the greatest add-on but it's there, at least.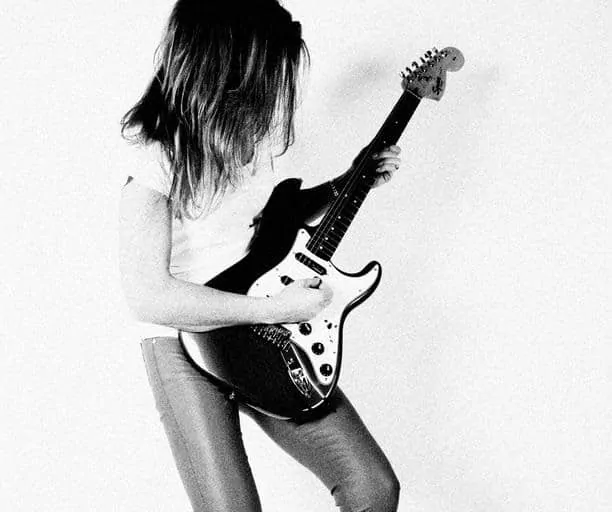 The truss rod is a piece of wood or metal within the neck holding the neck's curvature in place. The bone nut is the small piece holding the strings tight at the beginning of the fingerboard.
Finally, if you look closely at the guitar, though, you'll see some wood grain. I don't know if this was a conscious choice or a mistake, but I think it adds a great touch.
So, although the frets are sharper than what you'd get on a Fender Tele, you could fix it through sanding.
Hardware & electronics
This guitar is definitely cheap in terms of hardware. In fact, the bridge and the tuners are similar to what we find on the lower-priced Affinity Telecaster.
For the bridge, we've got a six-saddle standard bridge with block saddles. Also, other budget Squier Telecaster guitars have a trio of brass saddles. Three saddles vibrate better than six, but they can't hold the tune equally well.
Furthermore, the bridge adds plenty of sustain because it features a top-loading design, which is also an improvement over the Affinity Telecaster.

The saddles are small pieces of wood below the bridge holding the strings tight.
Regarding tuners, we've got modern die-cast tuning machines at the headstock. This modern choice is not to everyone's tastes, most people would prefer vintage-looking tunes.
Both the tuners and the bridge are covered in chrome and can do their job relatively well if you're careful. Just don't expect to receive a tuned guitar out of the package, much less play a show without checking the tune at the end of each song. Also, don't detune this guitar.
So, although there's nothing too special about the guitar's tuning, there's something that stands out at the pickup section…
Pickups, electronics & sound
The Fender Squier Standard Telecaster has two single-coil pickups, both of which are covered in chrome. These are stock pickups, but they are a solid choice for the price and definitely behave better than the Affinity and Bullet pickups.
We've got a standard Tele pickup at the neck, and a hot Tele pickup at the bridge. This SS configuration is controlled by the standard Tele knobs: a single volume knob, a single tone knob, and a 3-way selector switch.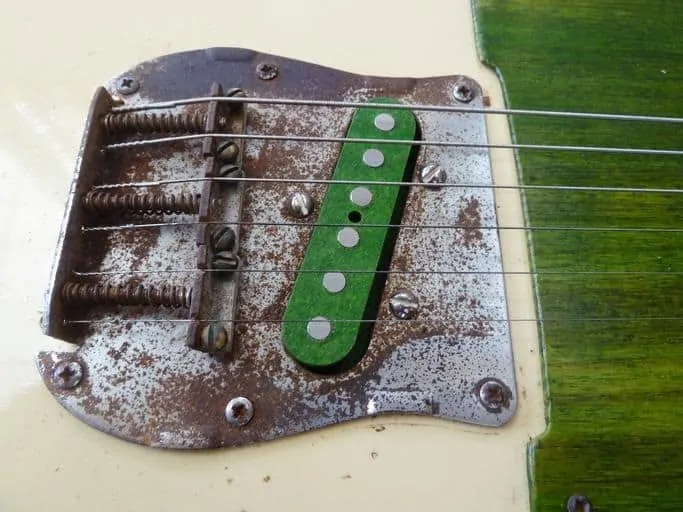 A hot single-coil pickup means it has a higher output than the standard single-coil.
In particular, the bridge pickup delivers the classic Telecaster twang sound. Naturally, it's great for country, blues, jazz, soul, R&B, classic rock, and similar genres. It also reacts great to distortion pedals like overdrive and fuzz.
The neck pickup delivers sweet and crispy cleans, and it reacts great to modulation pedals like chorus, reverb, or flangers.
Overall, the new pickups are more balanced than the '60s Tele, as well as the Affinity and Bullet Telecasters. The sound is fatter and more defined at the low end instead of flimsy; and its a little less shrill on the high end.
Also, the neck pickup is a bit warmer than the Standard Stratocaster, more suited for chiming and clean sections rather than leads and solos, which is where the Strat shines through.
I must add the sound is definitely hotter, beefier, and more defined than cheaper Squiers. They offer more oomph for both lead and rythm playing. That's why I said the new pickup is something special about this guitar.
The word "twang" also comes to mind when you use the neck pickup. However the sound is more modern.
I would say this Tele has a sharp and twangy tone with the bridge pickup; and a sweet tone with the neck pickup. Using both tapers together delivers the classic '60s Telecaster sound.
It's easy to understand why the Telecaster is seen as a rhythm guitar rather than the workhorse leading Strat. However, the bridge pickup does offer the power you'd need to become a lead guitar player with this ax.
All in all, the main sounds of this Telecaster are fantastic and balanced and belong at the rhythm section for the most. That said, we must not forget how smooth the fast-action neck can be and how it pairs with the versatile neck pickup.
Playability 
Even though this guitar has surprising pickups, the highlight of the Squier Standard Telecaster is its playability.
We've got a fast-action neck with a 9.5'' radius. That means playing solos, bends, and slides are easier because the strings are somehow depressed. Plus, the size of the frets and the sleek feel of the neck makes it easy for the player to travel up and down the fingerboard.
It's still pretty versatile, though, so transitioning from soloing to chords is also an easy thing. The strings are softer and gentler to the fingers, and the distance between the frets is small.
Overall, the neck is as good as what you'd find on the expensive Fender Mexican Telecaster. It's the same fast play of the '60s Telecaster guitar, and it does allow chord playing as well.
Drawbacks & alternative
It may have a good sound, good construction, and great playability, but it doesn't have much more. That's how it gots its "Standard" surname.
Some of its drawbacks include sharp fret edges, heavyweight, and weak sounding neck pickup
So, if you want to take this guitar more seriously and keep it for long, you need to start by setting it up.
First off, I'm choosing a new bridge. A quality, affordable bridge piece for this Tele is this Wilkinson Compensated Saddle Bridge. This little affordable piece will deliver an instant improvement over your tone quality. It will also prevent your strings to break, and it will keep the intonation better than the original item.
Likewise, it's best if you change the tuners. I'm choosing Wilkinson Deluxe Vintage Tuners. I'm sticking with the Wilkinson brand for it's a great value brand. I'm assuming your reason to get a Squier Standard Telecaster is wallet-related.
Continuing this train of thought, you could also consider changing the pickups for quality alternatives. That would give you a premium sound right away. Check this best single-coil pickup selection.
Now, if you're looking for a true vintage Squier Telecaster guitar, perhaps you should go for the Classic Vibe '50s Tele. I believe this is the best budget Telecaster you'll ever find. It's beautifully made and sounds like fresh cream coming out of a jukebox.
If you're looking for more and you can spend more, perhaps you could go straight to the Fender Modern Player Telecaster, a Chinese-made affordable oddity that takes the Telecaster up-to-date with a humbucker and two single-coils.
The juiced-up version of the Telecaster is the Fender American Special Telecaster, an expensive item that's well worth your money.
Or, obviously, you can go for the friendlier Fender American Standard Telecaster. This is a pricier option and it's designed to be upgraded and modded to your heart's content.
In the end, you might get the best results by modding the Standard Telecaster. This white canvas of sorts can become as powerful as a Custom Shop Telecaster.
Why do I like this guitar?
The best thing about this guitar is its built quality and its playability. Its modern updates on the neck turn it into a fast and comfortable guitar for adults and beginner adults.
Its existing hardware does a perfectly okay job for unprofessional settings. More so, the pickups represent a tonal upgrade over the Affinity Telecaster and the Bullet Telecaster.
If you were to buy this as a white canvas for modding, you could end up with a serious Telecaster. And the price for getting a new bridge, tuners, and pickups is still nothing compared to the price of a premium Fender guitar.
As it is and right out of the box, it's a great practicing and jamming tool. Performances are not out of the question, though, just as long as we're talking about small venues.
And because the neck is incredibly fast, it's also a good electric guitar to learn.
The sound is also a highlight. It achieves a classic Tele sound, but it can also deliver a modern vibe with plenty of warmth and clarity thanks to its pickups, design, and tonewoods. Such versatility allows you to play classic and modern genres as well.
However, if you need to accommodate distortions for metal, hard rock, and similar genres, this guitar is not for you.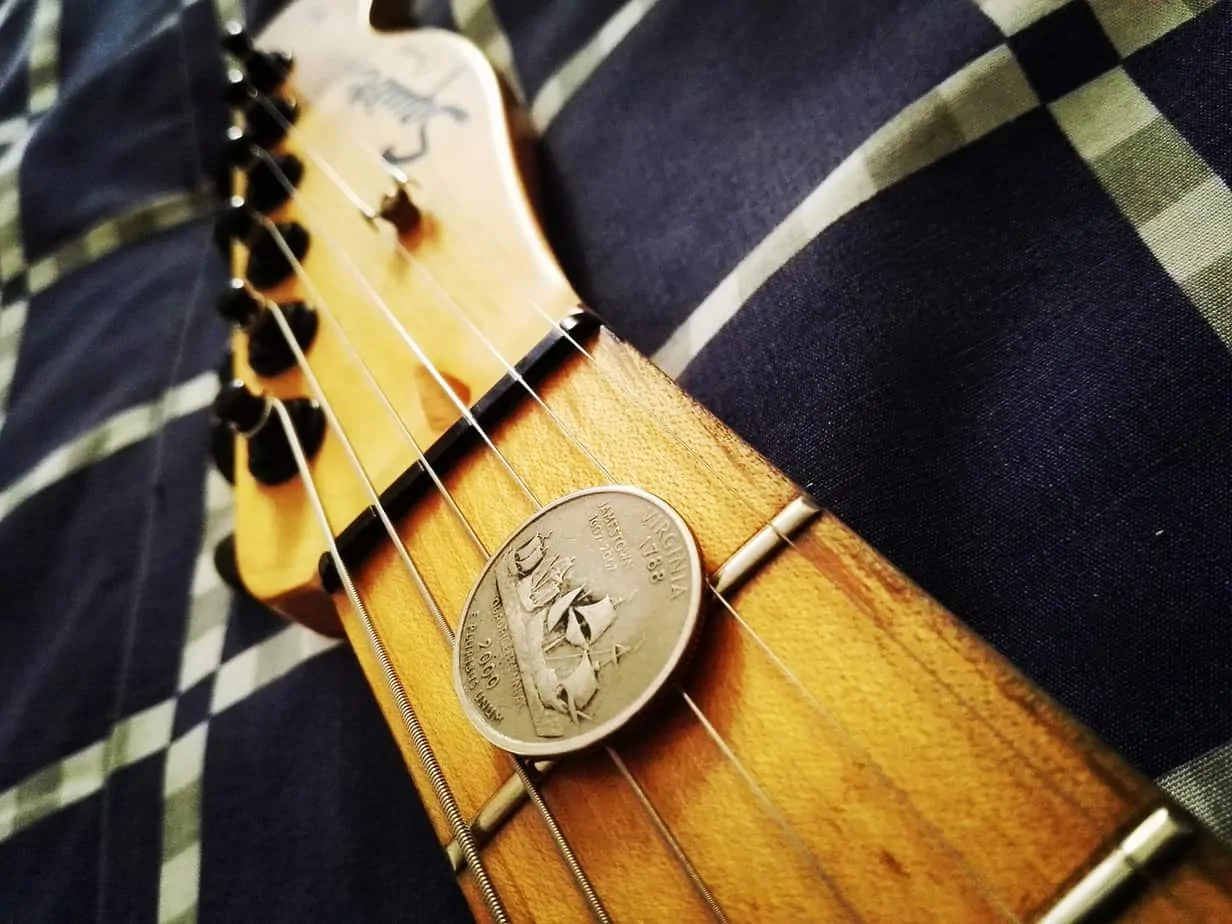 Keep in mind, though, the Squier Standard Telecaster is a big and heavy guitar not suited for kids.
Fender Squier Standard Telecaster Specs (Squier Mexico)
Body shape: single-cutaway Telecaster shape
Tonewoods: agathis body, maple neck, Indian Laurel fretboard
Neck: C-shaped bolt-on neck
Scale: long-scale electric guitar (25.5'')
Fingerboard: 22 medium jumbo frets
Radius: 9.5'' neck radius
Pickup configuration: Standard Telecaster Single-Coil (Neck); Standard Single-Coil (Bridge)
Controls: Master Tone Knob, Master Volume Knob, 3-way Selector Switch
Bridge: fixed 6-saddle string-through-body bridge
Tuners: die-cast
In summary
Is this guitar worth the extra bucks over the Squier Affinity Telecaster? Yes it is, and with everything I've said all over the article, I think you've got enough info about this item.
All you need to know is the Squier Standard Telecaster is an upgraded budget Tele you can easily mod. If not, though, it's a great companion for beginner players and a great tool for home practice, rehearsals, and small venues.
If need be, it can be a backup instrument as well.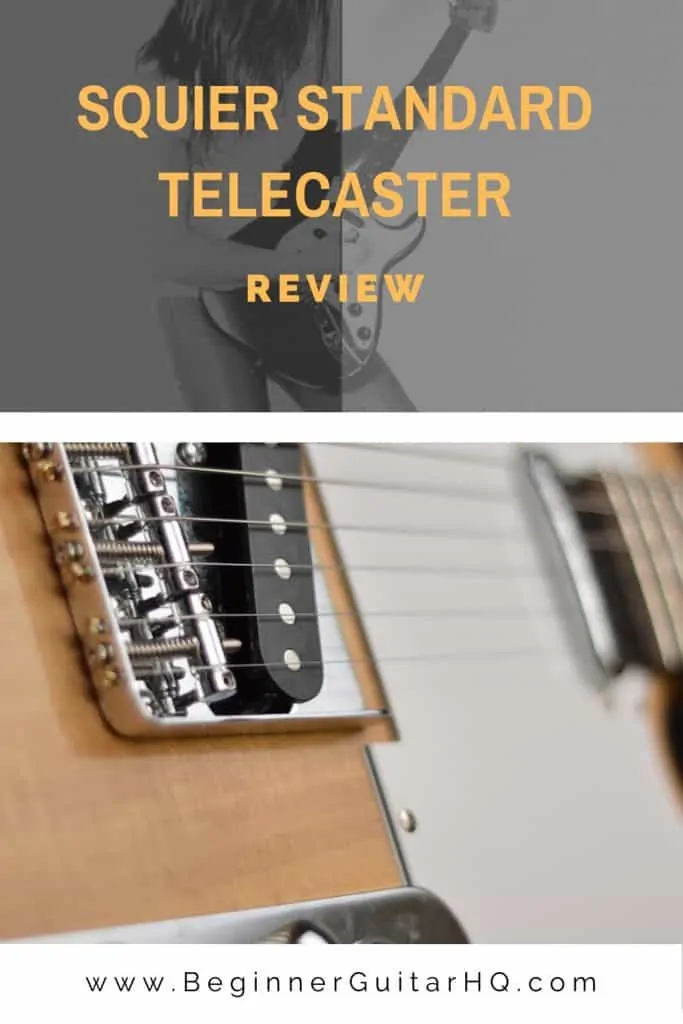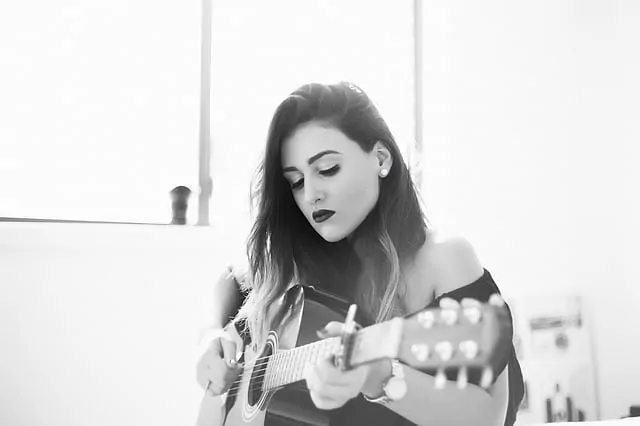 Jen is a guitarist and singer-songwriter who spends much of her time on the road and has lived in 13 cities across 4 continents. She picked up her first guitar at the age of 6 and learned to play by ear shortly after. She received her formal music education at the Berklee College of Music, and currently plays for a few bands in her free time. She has an uncanny ability to improvise creative melodies and harmonies. Her early influences include blues, jazz and rock.