Is it worth the money?
Us mortal guitar players have heard over and over how good the American Fender instruments are. If you've done some digging, you've also seen how expensive the American Special Telecaster can get.
Every musician, even beginner musicians, has some context on the quality of Fender. Even so, we might wonder: are these instruments really worth the price?
I've said before these are great times to buy budget instruments. For example, the Squier Classic Vibe Telecaster '50s is a superb instrument selling for much, much less than the American Special.
About Fender Telecaster guitars
The Fender Telecaster model is one of the first mass-produce solid-body electric guitars. Over the years, the company has improved its technology and added a variety of flavors you can select with your money.
Many consider the Tele as a "Nashville," country guitar. However, his is a misconception, as the Tele is a versatile beast that has played jazz, blues, punk, rock, classic rock, and more.
Some of the artists that have rocked on the Tele include Blink 182, Soundgarden, The Beatles, Led Zeppelin, and Rage Against the Machine.
It's known that the iconic solo of Zeppelin's "Stairway to Heaven" solo is played on a Telecaster.
Back to the question…is the American Special 3x  times better than a Squier Classic Vibe as the price suggests? I mean, given it has the word "Special" in its name, it has sure gotten your attention
Well, let's see what this guitar got…
About the American Special series
The American Special lineup is a range of limited and tasteful Fender guitars and basses. Fender's take on the line-up is creating "value-conscious guitars" for modern times.
More so, the series is designed to bring the full Fender sonic experience, plus the smooth playing and rock-solid US quality construction. All of that without you having to empty your bank account.
The catch is this series is made in Mexico, so it's cheaper than USA-made instruments. However, they are as good as the USA-branded Fender guitars.
Review of the American Special Telecaster
Fender has popularized solid body guitars for decades. In fact, Leo Fender started a new kind of guitars when they launched the Telecaster in 1949, which became their first solid-body guitar, thus changing the music industry forever.
The Fender American Special Telecaster is one of the most authentic guitars you can grab for around a grand. It is exactly as a Classic Telecaster should be.
If you're a fan of Fender guitars, you'd know how each model has its unique tone. Well, the American Special series was released in 2016 with lower prices than previous models.
Did Fender cut corners or cheapen this Telecaster guitar? Well, no, it's still pretty expensive. What they did, though, was add a couple of twists that have proven not to be so popular amongst guitar players who are used to modern Telecaster guitars.
So why is the American Special Telecaster so pricy, and what can players get for stepping into that price range that they wouldn't get in other guitars?
I'm going to compare this mostly with the pricier Fender Deluxe Telecaster to see what else you can get for the money. Also, I'm going to compare this with Squier's Classic Vibe series because I find the gap between Squier and Fender is very narrow right now.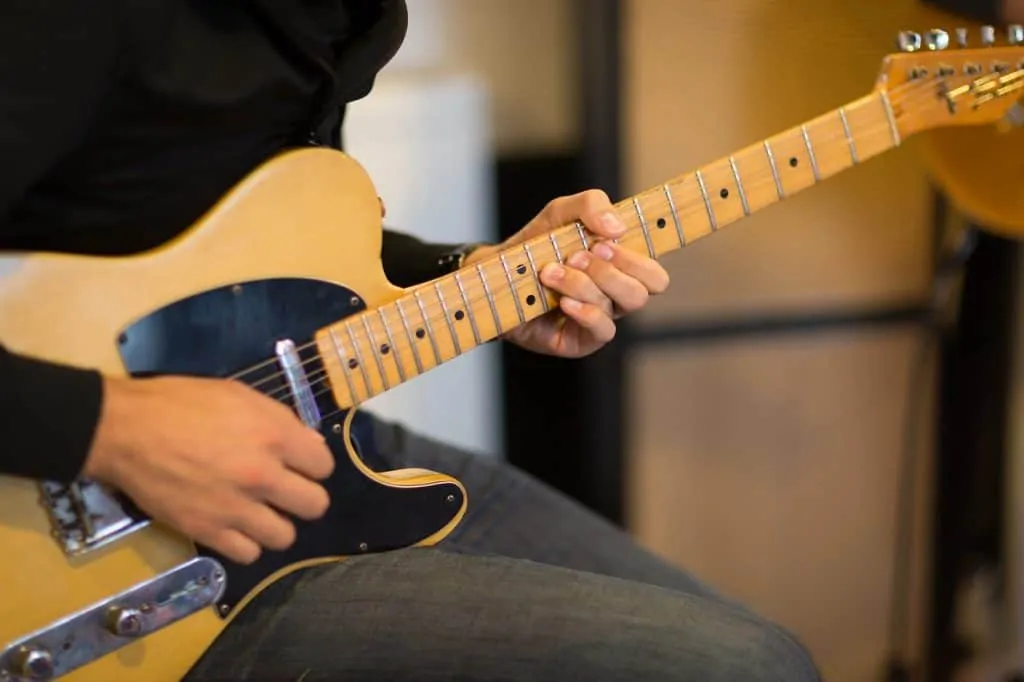 Is the Fender American Special Telecaster a professional-grade guitar? 
Body & Design 
This guitar comes in 7 different color configurations, which include "Blonde," "Surf Green," and "Sunburst." All of the colors deliver classic aesthetics and an elegant finish.
The guitars are made of alder, which is a medium tonewood with very good tonal resonance. It has a maple fretboard for extra crispness and clarity. Both materials are standard for all Fender American Telecasters and tons of premium guitars.
It has 22 jumbo frets sitting n a 9.5'' radius board, which are also the modern standards. Lastly, there's a single tree adorning the headstock.
There's a lot of detail put into the body of this Tele, although its three-piece body might bother some people as it's less sturdy and consistent than a one-piece body. Even so, you wouldn't find a single flaw in its body, or a single detail that doesn't belong in a premium guitar.
Lastly, it has a black or white laminated scratchplate on the knobs section.

Did Leo Fender do it perfectly when he first created the Telecaster guitar?
The Alder choice dates back to Fender's roots. It's the most constant material on their premium stuck for a reason.
Lastly, I bet you're already familiar with the Telecaster shape, with its single-cutaway design which was popular and advanced back in the day. The single-cutaway allows guitar players to reach higher notes with ease.
Tuners
A short word about the tuners: Fender installed vintage tuning machines, which work incredibly well, look classy, and hold the intonation for very long times.
The neck
The neck (fretboard) radius is often overlooked when people choose a guitar, mostly because it is misunderstood.
However, the neck radius has a profound impact on the guitar's playability. How we measure it is the trick to understanding the number: the lower the value is, the more curved the fretboard is from the lower string to the higher string. And the higher the number, the more flatter the shape. The common 9.5'' neck is just in the middle.
In essence, a curved fretboard feels comfortable for playing chords and rhythm guitars. However, string bending, arpeggios, and solos work better on flatter necks. For example, a nylon string acoustic guitar is as flat as you can get.
A "Flat neck" is considered more aggressive. Older Teles have 7.5'' necks, whereas Gibson Les Paul's guitars have thicker 12'' radius necks.
Nearly all Telecasters have 9.5'' radius, although the Deluxe has a compound radius. That means it changes towards the higher frets: at its 22nd fret, the radius goes up to 14''.
This is the playability difference between the Fender Telecaster Deluxe and the American Special versions. Even so, the American Special Telecaster neck is perfect for rhythm/lead players as it's a balance between aggressiveness and playability.
More so, the American Special has an even and tight feel when playing across all the neck, much more than a Squier guitar or the cheaper Standard Tele. It means you can cover the full 22 frets easily.

Most Telecaster (Squier and Fender) guitars have a 9.5'' radius.
The bridge
The American Special features a Vintage Telecaster bridge with 3 deluxe brass saddles. These features have little influence on the playability and sound of the Tele other than how it looks.
If you don't know, the brass saddles are little pieces of wood that hold the strings together below the bridge. So, on the downside, 6 independent saddles (one for each string) is easier to intonate. It's not a dealbreaker, though, it's just something to keep in mind, especially when the Deluxe version (which is pricier) has 6 individual saddles.
The bridge also features a twin-pickup layout, which takes us to what's really special about this axe…

The saddles are on the guitar's bridge.
Regarding body and design, there's not much difference compared to my favorite Squier guitar, the Classic Vibe Telecaster '50s. The only difference is the Squier version looks even more vintage and is built with pinewood, which is also a very good construction material.
Pickups & controls
The American Special Telecaster features Texas Special pickups, which are known to be single-coil "over-wound" hot output pickups. 
It means they are louder and beefier than your regular single-coil taper, so it can reach more powerful tones than other Telecasters.
In all configurations, the guitar is able to deliver crisp and defined cleans. And yet, there's always a bit of dirt, like if you were playing the guitar with a slight overdrive effect.
So that takes us to use the guitar on a distorted channel. As it features an already organic soft-driven sound on cleans when you roll up the volume on a distortion channel you get a loud, crunchy, and yet pristine sound.  In specific, the bridge pickup creates a nice blow when you roll everything at "10."
By contrast, the Standard Telecaster and the American Telecaster have lower output single coils, for which their tone is softer, cleaner, even gentler.
I must add there's not a huge difference in sound between the American Standard and the Special versions. However, when you compare the American Special vs the Deluxe model (which uses Noiseless N3 Tele pickups), you'll notice a huge difference.
See, whereas the Texas Specials sound great, beefy and pristine (especially in high-gain situations), they come with a fair amount of hum. You would have to use some sort of noise gate (like a pedal with a noise gate feature) to tame this issue.
On the contrary, the N3 pickups offer the classic Tele raw sound and hold their own on high gain sounds with little amounts of noise. The Deluxe version is also the smoothest of all Telecasters.
Now, when you compare the sound to a Squier guitar, there's also a noticeable difference. Whereas Squier guitars can hold their own with creamy, crunchy sounds mostly, they won't feature nearly as good in high-gain situations like the American Special.
Furthermore, they won't have the organic drive on clean tones. If that's something you're into, then keep reading.
Controls
The distinctive factor of the American Special Tele is how the neck pickup has two adjustment screws then lets you dial down the fuzz and the noise of the pickup.
This guitar adopts the early '70s Telecaster configuration settings. It has a single master volume control and single tone control, plus a 3-way switch.
As you can expect, the switch does the following:
Left position: activates the bridge pickup only;
Middle position: activates both pickups;
Right position: active neck pickup.
It also features Fender's premium Greasebucket tone circuit, which greatly improves the tone knob…
Electronics
This guitar is the only model rocking the "Greasebucket" tone circuit. This circuit is a unique tone knob that is able to lower the highs by tweaking the low end of the frequency.
Conventional tone knobs boost the low end while cutting the treble. It often leads to unwanted muds and lower clarity, so most tone knobs are unusable.
The Greasebucket tone knob works great form 0 to 10. This is probably the best feature of the American Special Standard: the tone knob will always deliver a great sound, it's highly versatile and responsive, and mostly gives you the ultimate '90s driven sound.
The pricier Deluxe version has instead an S-1 Switching system. That means it works normally from "1" to "9," but, when you turn it all the way up, it prevents any highs from being cut and gives an overall higher output.
There's an additional enhancement on the Deluxe version. The system provides an additional tonal variation with a button on top of the volume knob:
Default / depressed: the middle position of the pickup selector offers a parallel configuration. It means it combines both pickups with a reduced output.
Presses: the two pickups operate at full output.
It allows you to control the force of your tone even further.
Personally, though, I find this guitar to have the best circuits of all Fender Telecaster guitars. Is that something that gets your attention, though? Let's see it in the video below…
Sound & playability
If I had to sum up the sound of a Telecaster guitar with one word, I would choose clarity. Well, the unique sound of the American Special is because it adds a certain "snarl" to that clarity.
The bridge pickup is as bright as you'd expect on clean, but it seems to darken as the gain increases (which happens to all Teles).
The Greasebucket circuit means you can smooth the tone without turning it thin. More so, when you add a lot of gains, it enters the aggressive territory of humbucker-fueled Gibson Les Paul guitars.
The neck pickup retains clarity and adds a lot of warmth. It gives you a David Gilmour-like tone. It's great for jazz, blues and classic rock mostly.
But when you add some distortion (overdrive pedals, distortion pedals, metal amps, or distortion channels on your amp), it's pretty powerful and raw, although with some unwanted noise.
The middle position gives you the twang you expect. When you back up the tone knob a bit and add a little drive, it gives you a gentle distortion sound.
Here's a demo video:
As you can tell, this guitar has plenty of sounds and fits great in many genres. For its price range, it can be a great addition to your guitar collection, or it could very well be your first professional-grade electric guitar.
Playability
I have to say this Tele has a fuss-free nature that becomes evident when you plug it in. It means it doesn't have any fightback between the fat board and the big frets, and it has little to no feedback.
The playability is great in this guitar. Although it has a thicker neck than other Teles, it has a standard measure most players will like (although probably not people used to classic Telecaster and Stratocaster guitars).
Overall, this is fairly easy to play guitar. I don't recommend it for beginners, though, as it's really expensive. Instead, take a look at this list of budget guitars to get you started.
Conclusion
Is the Fender American Special Telecaster worth the money?
In terms of buying a premium instrument from the Fender brand, this is definitely worth the money.
However, in terms of getting a divinely superior sound than a Squier Classic Vibe Telecaster or similar superb budget choices….yes, yes it is. This is the full Fender experience; a good Squier guitar can be about half the Fender sonic experience and the 100% playability experience.
It means that most of the price difference you're paying goes to having the Fender brand on your headstock and the United States flag stamped on the pickguard.
I mean…if you have the budget and pride yourself on holding deluxe items in your hand, definitely go with it. Nothing about its sound, design, and configuration will make you mad. Instead, you'll love everything (maybe excluding the neck radius, but that's not a deal-breaker).
It also has a unique sound, which is clean, pristine, and raw at the same time. The tone has a nice range you'll grow to love and lust, and the tone circuit is something that you won't find anywhere else.
SO, what are you paying for on this instrument? You're paying for Leo Fender's original design enhanced with Fender's modern technologies. So, if you're looking for an early rock's sound you can translate into your modern music, this guitar is a great choice.

The American Special Telecaster is a Fender Mexico guitar as good as the USA made guitar.
All in all, the Fender American Telecaster is a guitar you'd want to have. It's classic, it has a timeless design, and sounds like a goddess coupled with a tube amp. And even when this is a Mexican-made series, it can be as good as a USA-made Fender.
Going up to the Deluxe series is twice the price for extra tonal possibilities, a compound neck radius, and noiseless pickups. Is it cool and worth it? Yes, yes it is, but only if you're a professional, advanced player that will truly take advantage of these features.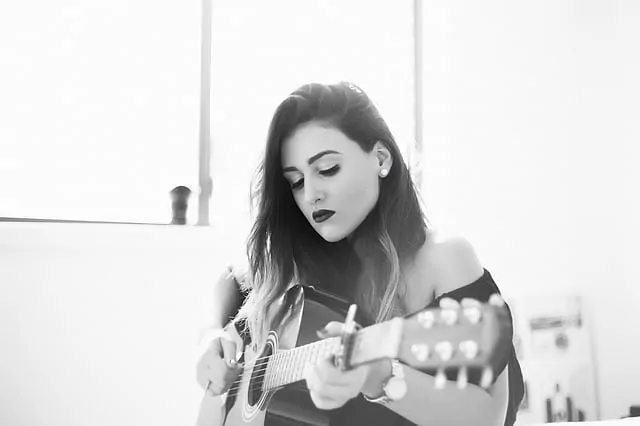 Jen is a guitarist and singer-songwriter who spends much of her time on the road and has lived in 13 cities across 4 continents. She picked up her first guitar at the age of 6 and learned to play by ear shortly after. She received her formal music education at the Berklee College of Music, and currently plays for a few bands in her free time. She has an uncanny ability to improvise creative melodies and harmonies. Her early influences include blues, jazz and rock.