Beginner Guitar HQ is helping you understand everything you need to know about the different types of electric guitars there are. We're going to keep this as simple as possible: instead of deep and theoretical stuff, we're going to explain everything we say with guitar examples and additional guitar reviews.
Stay with us if you're clueless about terms like "SuperStrat," "hollow," or "solid-body." This is a guide for beginner guitar players, and it's here to help you start your journey with the right steps.
See, knowledge is the ingredient for conscious and good decisions. That's why we're also linking you towards some of the best guitars of each category. 
Lastly, as I understand this is a beginner-friendly guide, most of our guitar options are going to be entry-level. However, there will be a couple of mid-level alternatives, as well as some premium models in case you're opting for a full-on investment.
Let's dive into our types of electric guitars definitive guide.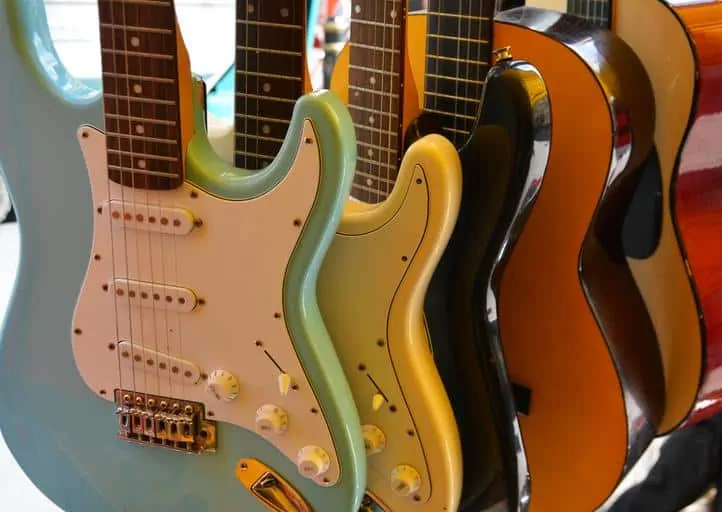 Solid-body electric guitars are the most common kinds.
About this guide
The electric guitar is a unique instrument. Only the bass guitar retains the same levels of prestige as the electric guitar, as there're no other instruments with the same levels of prevalence, presence, and evolution throughout music's history.
With over 100 years in existence, it's only natural that there're different kinds of electric guitars suiting different genres and playstyles.
These levels of flexibility make it a bit unfriendly for beginners. It can be hard to figure out the right guitar for your needs with so many things to see. 
Lucky for you, this guide is giving you the information you need to go buy and play exactly what you'd need. Here's where you will find which body style fits the genres you like.
That said, we would like to clarify that a certain body style doesn't always mean this guitar is only a good fit for a particular genre. That's why we're also including some info about pickups so you can understand how different types of electric guitars may combine with the tone you're looking for.
In the meantime, you can check our prior pickups guides: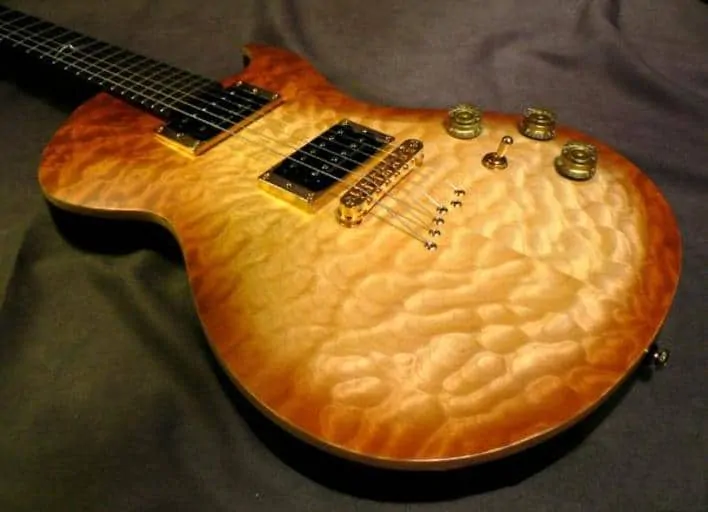 There're basically three kinds of electric guitar pickups: single-coils, humbuckers (dual-coils), and P-90s. Further variations only exist within these three categories.
Electric guitar body styles
Electric guitars are versatile instruments. They are also fairly simple to use and understand as most can play any styles of rock, blues, pop, and jazz music. After all, guitars were created for those genres in mind.
That's why, instead of the "genres" each guitar can play, I'm listing the purpose of each type of electric guitar.
In the broad sense, though, there're four types of electric guitars:
In particular, there's plenty of variations within the solid-body category, which includes, for example, the archtop guitars made famous by the original Gibson Les Paul design.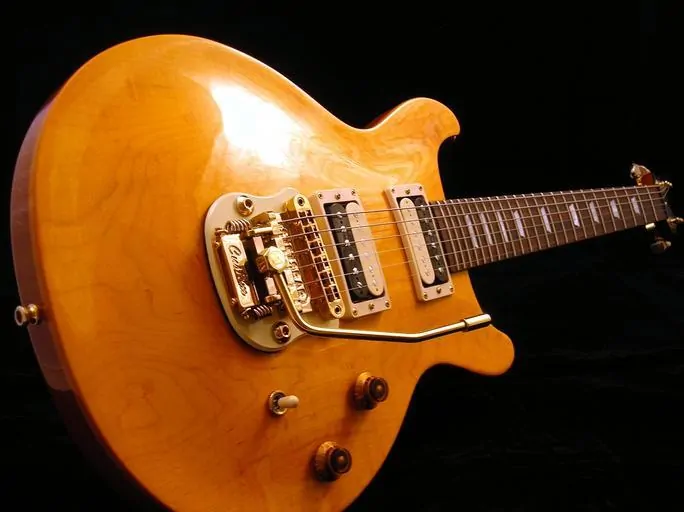 The original Gibson Les Paul Gold Archtop released in 1952 with a pair of P-90 pickups.
Let's explain everything in detail.
Solid-body electric guitars
Solid-body guitars are made with solid pieces of wood. These materials used for guitar construction are known as tonewoods as each offers different tonal properties to the instrument, as well as a different weight, feel, and overall colors.
If you want to know further about tonewoods, you can check this guide. 
In essence, a solid-body guitar has a tonewood for the neck, another tonewood for the fingerboard, and yet another piece for the body. Sometimes, the neck is built using various pieces of wood and then glued together for enhanced tonal properties.
There's plenty of materials today. Commonly, high-end instruments use mahogany, poplar, ash or alder for the body plus ebony, mahogany, Pau Ferro for the neck, and the fingerboard. Mid quality materials include maple, rosewood, basswood, and pinewood.
Now, any chambers or holes in a solid-body guitar are simply to house the instrument's hardware and electronics. 
We've already made a selection of rock and metal guitars:
Keep in mind we're mentioning plenty of Fender (or Squier) and Gibson (or Epiphone) instruments in this branch as these two industry leaders shaped the solid-body guitars.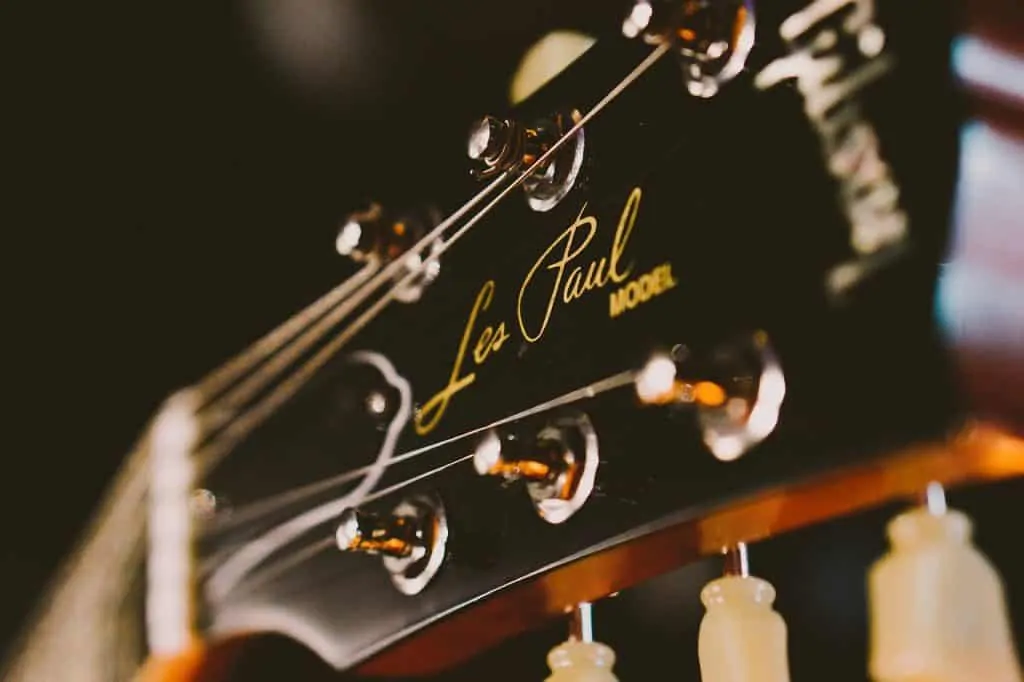 The Les Paul was created by a famous luthier, guitar tinkerer, and guitar player from the early '30s.
The purpose of solid-body electric guitars
Solid-body is the standard type of electric guitar. It's the most common as well as the most sold and overused all over the music industry.
These are all-purpose instruments you could use for a wide range of musical genres, stages, and situations.
The main advantage of this design is how the solid body offers increased resistance to feedback, increased sustain, and an overall fatter body. That makes solid-body guitars a better pick for rock and metal.
Furthermore, these guitars are more durable and sturdy. Likewise, their sound is more balanced and "tempered" compared to the other types of electric guitars.
As for the sound, it comes from the combination of various factors. I'd say this is the order:
The pickups;
The selection of tonewoods;
The electronics (circuitry and control knobs);
The hardware (the bridge, the nut, and the strings)
The scale length (the vibrating part of the strings);
The shape of the body and the neck;
As I said, you can read further on our electric guitar buyer's guide.
There's a great variety in this branch of electric guitars, so we need to discuss this further by listing the most popular solid-body guitars you can buy.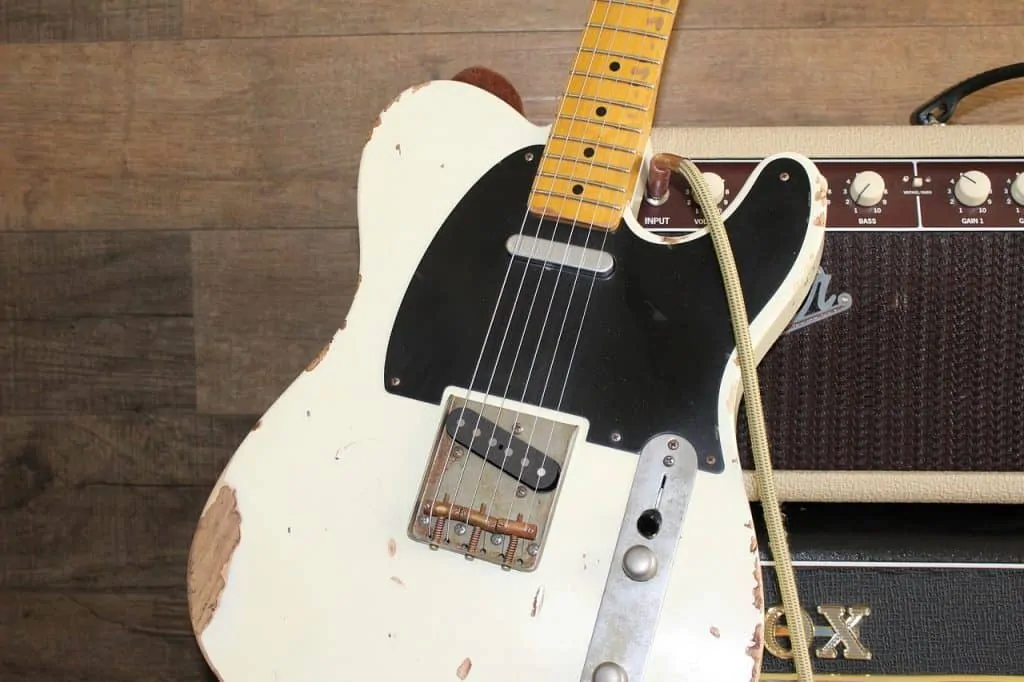 Fender released the first mass-produced solid-body guitar in history.
Telecaster guitars
The Fender Telecaster first rose back in 1949 under another name (either Esquire or Broadcaster). It was actually the first successful mass-produced solid-body guitar ever.
Not only that, but the original Esquire was also the first guitar to pack Fender's original creation, the single-coil pickups.
Ever since its premiere, it has remained as the most used rhythm electric guitar both professionally and non-professionally. It's common rock, rock, and country genres because of its "twangy" sound.
Overall, the Telecaster packs the classic sound of country music and rock & roll. If you're looking for the classical pre-80s sound of rock, the Telecaster tone is what you're looking for.
Notable players of the Telecaster guitar include:
Jeff Beck
Jonny Greenwood
Andy Summers
Jeff Beck
Bruce Springsteen
Jimmy Page (for the last solo on Stairway to Heaven).
Here's an additional guide on how to play like famous guitar players.
<iframe width="853″ height="480″ src="https://www.youtube.com/embed/GXdv0BmTfRQ" frameborder="0″ allow="accelerometer; autoplay; encrypted-media; gyroscope; picture-in-picture" allowfullscreen></iframe>
The Fender Tele is an instant classic. Nowadays, it's a guitar anyone can recognize. It's also one of the most imitated guitars in history, just like the Stratocaster and the Gibson Les Paul.
Its design features a single cutaway, two single-coil pickups, and a curved neck. It also lacks any kind of tremolo on the bridge.
This guitar is known for is "biting" sound and pure cleans. It's associated with country music, as well as rock&roll, indie rock, and jazz.
In general terms, the sound of a Tele guitar is not ready for heavy metal, rock, and other high-gain styles. If you'd like to play distorted music with the Telecaster then you could go some of the beefed-up Telecasters out there, like Squier's Modern Player Telecaster featuring a humbucker and two single-coils.
Now, even though this guitar is associated with country music, you can EQ this guitar to perfection with the right use of guitar pedals. 
Although it can be hard to tweak the sound of a vintage or a budget Telecaster, these guitars can reach a chimney and prominent high-end response plus a riveting mid-range attack. 
For example, both Jack White (The White Stripes) and Kurt Cobain (Nirvana) used the Telecaster in the studio. Both of them are pretty far away from the country-rock scene. 
Telecaster guitars specs rundown
Body: single-cutaway solid-body
Neck's radius: 9.5''
Frets: 21 medium jumbo frets
Scale: 25.5'' medium scale 
Neck profile: slim-C
Pickus: bridge single-coil. Modded Telecaster pack up to three pickups, which may or may not include humbuckers
Top-Value Telecaster guitars
Inspired by the original Leo Fender design, Fender's Squier makes the Classic Vibe series, which is a highly reputed selection of solid-body Fender guitars featuring pinewood body, classical aesthetics, vintage single-coil pickups, and top-quality hardware.
That said, I dearly recommend the Squier Classic Vibe Telecaster '50s. This is most definitely the best vintage guitar in the budget segment.
Otherwise, you could go for a modern Telecaster searching within the Squier Contemporary Series. Another budget alternative is the Squier Standard Telecaster, which also adds a few modern twists. 
If you're looking to invest a bit more, you can opt for the Fender Player Telecaster, a mid-priced Tele made in Mexico with all of the features you'd need. The Player series features everything the USA Fender Standard series packs and more, but without the same hefty price tag.
Now, the best vintage Telecasters are part of the Fender Vintera series, which, as the name suggests, simply repeats what was already perfect.
Stratocaster guitars
Fender launched the enduring Stratocaster back in 1954. The Strat has been the versatile monster ever since, and it has been present in a wide variety of genres and stages (rock, country, jazz, folk, pop, indie, experimental, alt, blues, and R&B).
Because the Strat is a common choice for so many genres, it's hard to associate it to any given genre in order to describe its tone. I can say these guitars often have a mid-range "quack," clear trebles, nice and pristine cleans, plus balanced lows. 
Here's a video showcasing the Strat tones:
<iframe width="853″ height="480″ src="https://www.youtube.com/embed/UbMKHT72uNk" frameborder="0″ allow="accelerometer; autoplay; encrypted-media; gyroscope; picture-in-picture" allowfullscreen></iframe>
The Fender Strat is probably the most famous guitar of all time. Its design features dual cutaways or "horns" that allow the player to access the higher frets of the neck. Plus, this body contour makes it more comfortable as you can rest your arms in the upper cutaway when you play standing; or you can place the guitar's lower cutaway on your leg when you play on your seat.
Furthermore, unlike the Telecaster, the Stratocaster features a slightly flatter neck profile so players can transition from chord to rhythm playing easily. You can read more on the guitar's fingerboard radius here.
These guitars also commonly pack a tremolo, although budget Squier or other copy-cat versions won't give you one (or, at least, one you can use reliably).
Standard Stratocasters often pack three single-coil pickups plus a tremolo bar. I think it's important to note that the Strat body is probably the only kind of guitar that packs three single-coil cavities on the body, which gives you plenty of room for modifications if you're looking to upgrade the stock single-coil pickups.
Keep in mind, though, that there're plenty of Strat copies in the market. Some of them are simply cheap and horrible, whilst others are impressive and maybe better than the real thing.
Notable players of the Stratocaster guitar include:
Jimi Hendrix
Stevie Ray Vaughan
Steve Vai
Eric Clapton
Mark Knopfler
Yngwie Malmsteen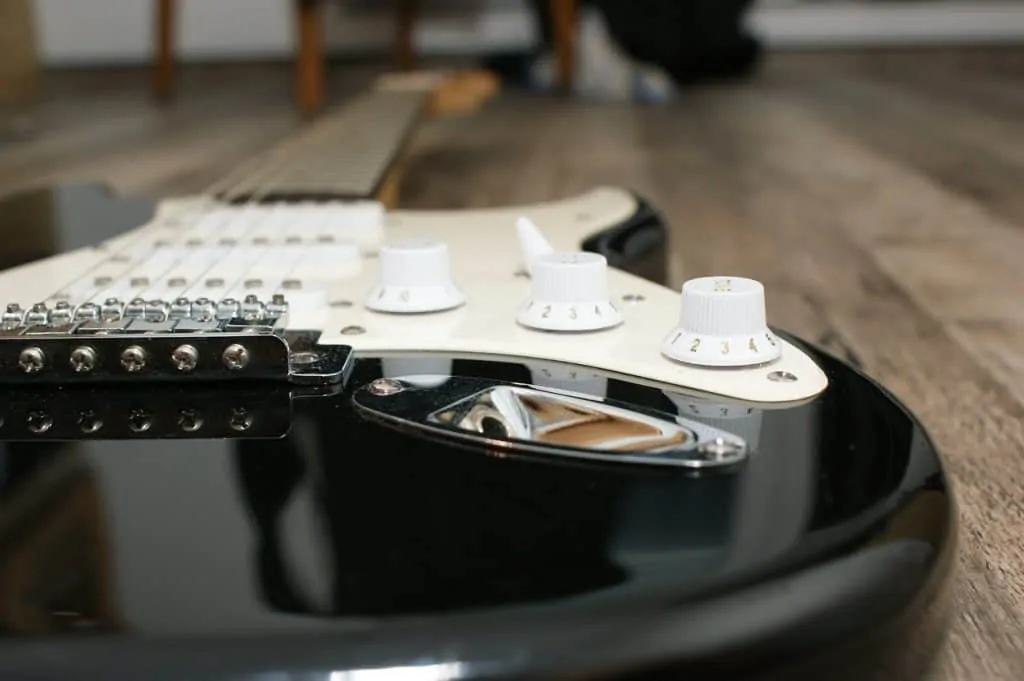 Stratocaster guitars packing humbuckers are known as "SuperStrats." Fender Strat commonly packs 3 single-coils.
Overall, the Strat is a great choice for an all-purpose guitar ready to play any music you'd like. However, if you're looking to plug some metal distortion pedals on your Strat or use a metal distortion channel on your amp, you'd better check that your Strat features either noiseless single-coils or humbuckers. Otherwise, hums, noises, and feedback are going to ruin the sound.
Additionally, few single-coils are as powerful and beefy as a humbucker. Either way, there're "Superstrat" guitars packing humbuckers as well, which we're discussing down below.
Stratocaster guitars specs rundown
Body: dual-cutaway solid-body
Neck's radius: 9.5'' – 10''
Frets: 21 / 22 medium jumbo frets
Scale: 25.5'' long-scale
Neck profile: slim-C
Pickups: bridge single-coil (rarely a humbucker), neck single-coil & middle single-coil
Tremolo bridge unit
Top-Value Stratocaster guitars
Fender makes a wide range of Stratocaster guitar to suit various quality levels. There are at least 20 different Stratocaster series between Fender and Squier, so the choices are overwhelming.
The USA-made models are extremely well-crafted. They are also equipped with the highest-quality hardware and electronics. 
But, then again, you can go for a Fender Player Stratocaster which gives you a pretty similar sound and playability for half the price. More so, there's an HSS model I highly recommend for the level of versatility it packs.
Now, the top-value Stratocaster also belongs to the Squier Classic Vibe Series. The Classic Vibe Stratocaster '50s is an amazing display of vintage aesthetics and sound coupled with top-notch playability and hardware. 
Selling for an entry-level price, the Squier Affinity Stratocaster is highly revered as the best guitar for beginners. Alternatively, you could go for the even cheaper Squier Bullet Stratocaster, which is a smaller guitar suited for children.
Now, there're plenty of manufacturers making guitars following the Strat shape and configurations. However, with the existence of Squier already making budget models, other copies are not worthy of your attention.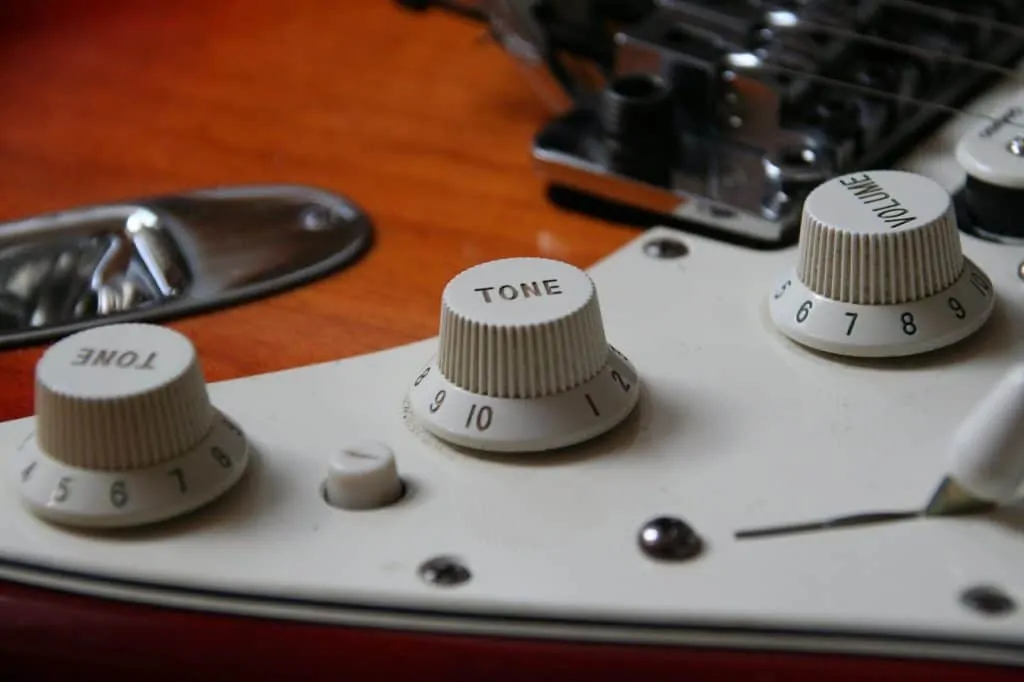 The Strat is the most copied guitar model in the market.
Les Paul guitars
"Les Paul" is a heavy name on the guitar industry. It has a weight on its own. Gibson first introduced this beast in 1952. It was an "archtop" guitar featuring a pair of Gibson's own P-90 pickups.
Towards the late '50s, Gibson finally introduced the humbuckers and released a Gibson Les Paul packing a pair of dual-coils. Because humbuckers are beefier than single-coils (and also noiseless), the Les Paul quickly captures the rock scene. 
The Les Paul has been present in most music you hear on the radio ever since. And Just like the Gibson SG, this is the ultimate arena-rock performer.
This guitar is also a common choice for R&B, punk, jazz, and reggae. However, metal and countless rock genres are the perfect challenges for the Les Paul guitar.
These guitars feature a "bluesier sound" as it's beefy on the lows, clear dark on the highs, and has a certain "quark" at the mids. Moreover, it has a gorgeous clean tone. Even the cheaper Les Pauls feature beautiful cleans. 
Lastly, Les Paul guitars offer a flat neck radius (12'') plus an asymmetrical neck profile that improves playability for solos, harmonics, riffs, and similar.
Famous Les Paul players include:
Jimmy Page
Zakk Wylde
Buckethead
Steve Hacket
James Hetfield (although he also plays on a Gibson Explorer);
Gary Moore
<iframe width="853″ height="480″ src="https://www.youtube.com/embed/zYxccK1j3i8″ frameborder="0″ allow="accelerometer; autoplay; encrypted-media; gyroscope; picture-in-picture" allowfullscreen></iframe>
The thing is Gibson guitars are as premium as guitars can get. Every year Gibson releases their guitars with more and more features, which includes ridiculous stuff like breathable "nitrocellulose" paint jobs that actually decrease the weight of the guitar.
Such extras come with hefty price tags. Naturally, then, Gibson guitars are more expensive than Fender models. Beginners can go towards Gibson's little sister Epiphone for better-priced alternatives, as well as other copy-cat but reputed brands like Hammer Korina and ESP.
Arched-top Les Paul guitars
The original Les Paul was an "arched-top" guitar, which means the body had a 3D-carved solid. This carved top  looks like a slight curve. Likewise, the back of the guitar's body is also arched.
Other common characteristics of the arched-top guitar include moveable adjustable bridges, rear-mounted tailpieces, a vibrato tailpiece, and a 14th-fret neck joint (where the neck is glued or screwed into the body). Many arched-top guitars are also hollow or semi-hollow (more on that below).
An arched-top improves the overall tone quality, range, resonance, and power. It's a premium feature.
Furthermore, arched-top guitars can either be solid-arched or solid-chambered:
The solid-arched-top is when the top is made with a solid piece of wood like mahogany or maple.
The chambered-top is when the curve has a few curved cavities underneath.
The tonal differences between these two are minimal to make a real difference, although the chambered arched-top Les Pauls are lighter.

The Gibson Les Paul is the most prominent arched-top guitar. This feature is as rare as expensive.
Les Paul guitars specs rundown
Body: single-cutaway solid-body (arched top on Gibson cases)
Neck's radius: 12''
Frets: 22 medium jumbo frets
Scale: 24.75'' long scale guitar
Neck profile: 12'' – 16'' compound radius
Pickups: bridge humbucker or P-90 & neck humbucker or P-90.
Floyd Rose tremolo bridge in some cases.
Top-Value Les Paul guitars
I have to name the super expensive Gibson Les Paul Standard 2019 as its one hell of a premier guitar.
It's an arched-top guitar packing top-tier Gibson humbuckers (Burstbucker pros), top-tier Gibson electronics (HP-4 High-Performance Circuit), and top-tier neck design. 
Moreover, the controls offer a push/pull function, which enables you to change the humbuckers into single-coils and vice-versa.
If you're looking for budget alternatives, we already reviewed a couple of worthy budget models: the Epiphone Les Paul Standard and the Epiphone Les Paul Special II. You can improve both of these impressive guitars with new pickups and enjoy a professional sound right away.
Now, there're plenty of copy-cats out there, but, unlike Strat copies, Les Paul-body guitars made by third-parties are actually pretty good.
For instance, you could go for the ESP LTD-EC 256, which is a metal mid-level guitar with all of the features present on a premium guitar but the high-end pickups. Lucky for you, you can swap the stop tapers for top-quality metal pickups.
With a price and looks that speak of its quality, the ESP LTD-EC 1000 Deluxe electric guitar is a guitar to consider as the best metal guitar you can buy right now. You can read more about these two ESP Les Paul-type guitars here.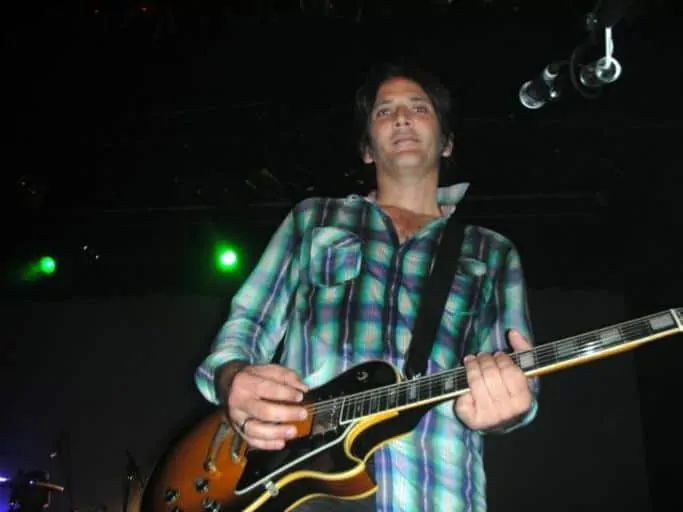 ESP LTD is a budget line of Les Paul-type guitars built for metal.
SuperStrat guitars
I left these for last as these guitars represent the best of everything that has ever existed: fast necks plus humbuckers like Gibson guitars plus the dual-cutaway design body and the C-shaped link of Stratocaster guitars.
SuperStrat guitars are Stratocaster-type with a more aggressive style. Commonly, SuperStrats pack locking tremolos, powerful pickups, a faster neck, and overall improved hardware. 
By fast neck I mean the fingerboard is crafted specifically for guitar solos and metal riffs rather than rhythm playing and chords. That's made with wider space between the strings and between the frets, dot markers, smooth building materials, slim neck profiles, and a flat neck radius.
These SuperStrats are made for high-gain and high-distortion situations. They are also made for virtuous playing as a locking tremolo can hold the tuner better than standard tremolos. A Floyd Rose vibrato tremolo is a common choice. 
Hence, the SuperStrat packs the tried-and-tested playability and comfort of the Strat plus a sound made for booze-fueled genres. No wonder why it's a common choice for rock and metal.
This type of electric guitar was born when Eddie Van Halen became famous during the late '70s with a cheap modded Strat copy packing a Gibson humbucker and a locking tremolo unit. 
Notable SuperStratocaster users include
Eddie Han Valen 
Randy Rhoads
Ritchie Blackmore
Kirk Hammet
Dave Mustaine (prior to his Dean signature guitar)
SuperStrat guitars specs rundown
Body: dual-cutaway solid-body
Neck's radius: 12'' or 16'' most commonly
Frets: 24 medium jumbo frets
Scale: 25.5'' long scale
Neck profile: slim C
Pickups: bridge humbucker & neck humbucker 
Locking tremolo unit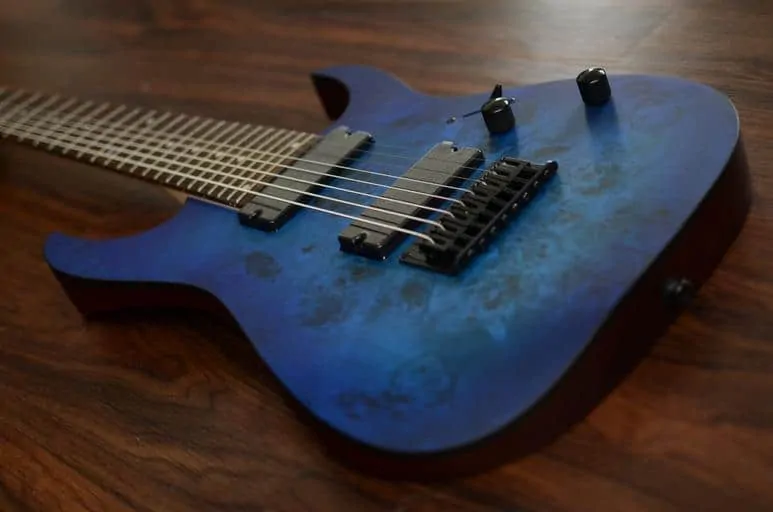 Ibanez is a reputed SuperStrat guitar builder.
Top-Value SuperStrat Guitars
We at Beginner Guitar HQ have reviewed some of the best mid-level and entry-level SuperStrat guitars you can buy right now. 
I'm putting extra emphasis on SuperStrat guitars as I believe here's where you will find the kind of versatility, power, and aesthetics you might be looking for. 
These are budget guitars, and the truth is budget guitars are getting better and better. The build qualities, features, electronics, and aesthetics on entry-level and mid-level models are making it very hard to understand why people would go for triple-zero guitars right away.
The best thing about buying a great budget guitar is how you can mod it to perfection. Some budget guitars play, feel, and behave so well they work as a white canvas for upgrades. 
So, a friendly-price metal gear starts by selecting a budget metal guitar you can then modify further by adding a new set of pickups.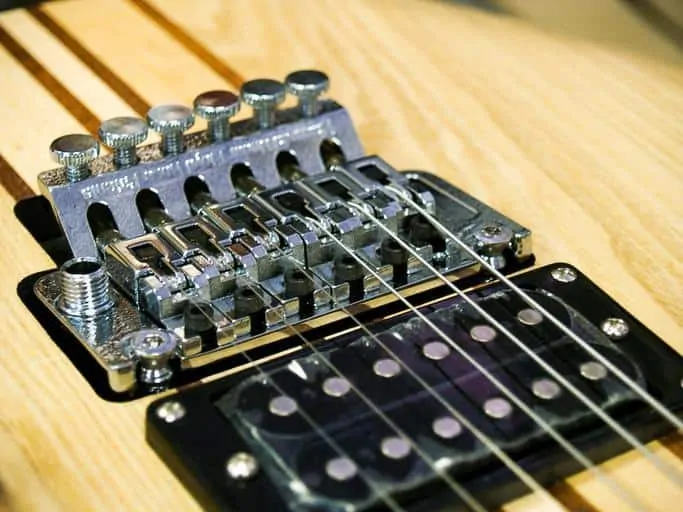 The SuperStrat commonly pack two humbuckers. 
Squier Contemporary Stratocaster
The Squier Contemporary Active Stratocaster is a 2018 newcomer. This brand new series uses the tried-and-tested Strat design with a host of new modern features.
Most notably, it features an active pickup system you can tweak with a pair of metal humbuckers. Additionally, it carries a licensed Floyd Rose tremolo plus a locking nut that copes with heavy metal playing.
Following the rock-oriented features, it also has a 12'' fingerboard for easy shredding.
I particularly love that this guitar features an active pickup system, which is quite a rarity on a Strat. That gives you the possibility of swapping its stock pickups for a couple of high-end active EMG humbuckers.
Charvel Pro-Mod DK24 HSS
Not exactly a budget SuperStrat but yes exactly the best SuperStrat money can buy. Fender's Charvel Pro-Mod is an HSS model that follows Eddie Van Halen's career choices.
It sounds like the crazy '80s with its pair of high-end Seymour Duncan pickups. Plus, it packs crazy aesthetics with baked and roasted maple caramel covering the neck and the body for extra smoothness and feels.
The Schecter Omen 6
I believe this is the best affordable electric guitar for metal and rock. It's also one of the best guitars available at this price range. If you upgrade its humbuckers, the result might be a face-melting ax ready for professional settings.
The Omen 6 packs Schecter's advanced electronics and pickups plus a surprising selection of features. You can read more about it here.
Ibanez GRX20 
This is a superb entry-level guitar that sounds pretty good and reacts great to quality amps and pedals. It's a great choice for meta enthusiasts on a budget, and it's a great canvas to upgrade.
The GRX20 is a Superstrat guitar with two high-output humbuckers suited for metal and progressive rock. 
The best thing about this ax is its price. It sells for less than the cheapest Squier guitar, the Bullet Strat. You can read more about it here.
The Jackson Dinky JS22
The Jackson JS22 is an affordable, fast, and easy-to-play guitar. It doesn't have an excellent sound, to be honest, but it has great playability plus the familiar body of a modified Strat.
It's custom Jackson humbuckers are something special, though. They are aggressive, raw, and have plenty of headroom. However, they are not great on clean as they lack some clarity and definition.
You can read more about this Jackson Dinky here.
As SuperStrat guitars are a perfect choice for playing rock and heavy metal genres, I'm sharing additional resources that could help you:
If you're smart, you could build your whole metal/rock guitar gear for less the price of a single Fender or Gibson guitar. 

The Fender Jaguar is known as the most versatile electric guitar.
Other popular solid-body guitars
Companies like Ibanez, Yamaha, PRS, ESP are trying their best to make other solid-body models. Moreover, Gibson and Epiphone offer various rock-oriented guitars like the Firebird, the Explorer, or the Flying V.
Generally, you get as much quality as you pay, although there are some incredible mid-level models (in particular from Epiphone, Yamaha, and Ibanez). My advice for you is to shy away from budget models you've never heard before. If you haven't seen a positive review of an entry-level guitar then you could probably get something better looking elsewhere.
The SG and the Flying V
These two guitars by Gibson and Epiphone are visually very different. However, they are both heavy solid-body guitars with high-gain humbuckers, fast necks, and similar neck designs and responses.
In particular, the Flying V has a V-shaped body that offers incredible access to the higher frets. These guitars also commonly offer a compound neck radius, which means the neck gets slimmer on the higher frets for those tasty licks.
Tonal-wise, though, both guitars sound very similar and have been used by some of the most prestigious rock bands in history.
The video below showcases a Gibson SG and Gibson Flying V. There is a difference in tone between the two in the video, but this is due to the pickups used. And even with these two pickups, the difference between the two guitars isn't extreme.
In particular, the Flying V is a very coveted guitar for its eye-catching shape. It has been copied countless times for metal guitars that are commonly made following the same V-shape pattern.
The Flying V is a weird guitar for beginners, which is why I'm not recommending one. Instead, I'm guiding you towards the Epiphone Special SG 1966, which is built almost exactly like the original model: just perfect.
Otherwise, you can check our rock guitar's guide to see further solid-body guitar recommendations.
Notable SG / Flying V users include:
Derek Trucks (SG)
Tony Iommi (SG)
Albert King (Flying V)
Lonnie Mack (Flying V)
Angus Young (SG)
James Hetfield (Gibson Explorer)
Fender's alternatives
On top of that, Fender also has other popular models which include the Jazzmaster (a jazz-oriented guitar), the Mustang (a small-factor Strat), and the Jaguar (a super-versatile and advanced guitar).
In particular, the Squier Vintage Modified Jaguar series of guitars is as impressive as it is versatile and electronically-advanced. It's the kind of sound you'd want for your alternative rock/grunge/punk / or similar band, only without breaking the bank.
In fact, the Jaguar guitar is so good I have to recommend a second option. Once again, I'm choosing the Squier Classic Vibe Jaguar as the top-value versatile guitar.
<iframe width="853″ height="480″ src="https://www.youtube.com/embed/ugYk79VyyEI" frameborder="0″ allow="accelerometer; autoplay; encrypted-media; gyroscope; picture-in-picture" allowfullscreen></iframe>
Semi-hollow and hollow-body guitars
Also known as semi-acoustic guitars, these models have cavities within their bodies in which the string's vibrations resonate, much like an acoustic guitar.
That delivers a warmer sound. Because it has sound-holes, semi-acoustic guitars have more resonance, sustain, and dynamic response. I commonly describe it as "breath," as these guitars feel more alive than their solid-body counterparts.
On the downside, though, they are very prone to feedback and can't reach high-levels of gain without mudding the sound. 
Also, semi-acoustic guitars still need guitar amplifiers as their natural acoustics are not really usable. Still, because they have a soundhole, the natural acoustics of these types of electric guitars is quite important, so the tonewoods play a much larger role in creating the sound.
Once you amplify a semi-acoustic guitar, what the electric guitar amp does is amplify its natural acoustics plus the pickup's signal. The result is more acoustic and responsive.
Popular semi-acoustic models
The first semi-acoustic electric guitar was the Gibson ES-335 (something you can't simply find today on your local retailer or Amazon). This is a long-time favorite for blues, fusion, indie, and experimental music.
Another pro-choice is the Gibson ES-175, which is actually a hollow-body archtop guitar that ships with two medium-output humbuckers.
The sound is an interesting mix between dark and treble. It's still beloved by jazz players because of its thin neck and fast playability. 
Lastly, the Rickenbacker 330 is a small-scale semi-acoustic guitar that became very popular during the British Invasion era.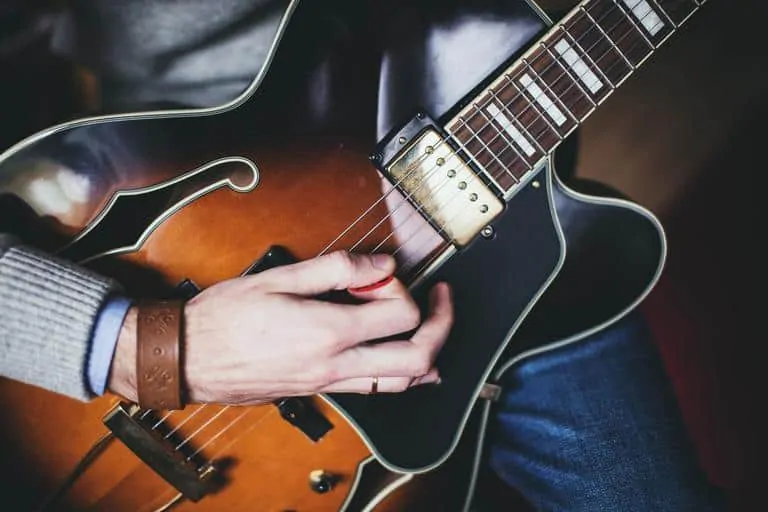 "ES" is short for "Spanish Electric." Common knowledge says classical guitars come from Spain.
The purpose of semi-acoustic guitars
The "alive" sound of semi-acoustic guitars is favored by jazz, blues, and alternative rock players. However, seeing one of these in hard rock and metal genres is quite unusual for the amount of feedback it generates.
Furthermore, because this design predates the solid-body blueprint, the most acclaimed semi-acoustic guitars are quite vintage and quite pricey. Moreover, the sound is intended for jazz and blues only as that was the kind of music that first rose to prominence.
There's a handful of rock players who have used these models with great results. 
Notable semi-acoustic guitar players
Ted Nugent
Dave Grohl 
Eric Clapton
John Lennon / The Beatles (Rickenbacker 330 / Epiphone Casino)
Alvin Lee (ES-335)
B.B. King (ES-335)
Roy Orbison (ES-335)
Larry Carlton (ES-335)
Chuck Berry (ES-335)
Pat Metheny (ES-175)
Joe Pass (ES-175)
Wes Montgomery (ES-175)
Steve Howe
Herb Ellis
<iframe width="853″ height="480″ src="https://www.youtube.com/embed/FUMk0smUl0k" frameborder="0″ allow="accelerometer; autoplay; encrypted-media; gyroscope; picture-in-picture" allowfullscreen></iframe>
Now, within the realm of semi-acoustic guitars you could find semi-hollow, hollow, and archtop electric guitars. Let's get into detail.
Hollow-body guitars
Hollow-body is known as  "big jazz guitars." They have an inner cavity within the guitar plus a single f-shaped whole to produce their distinctive sound.
Gibson's ES-335 design is what you're going to see all over the market when you look for a hollow guitar. Variations of the original design are few and in-between.
The sound of a hollow guitar has a huge acoustic presence. They are also very prone to feedback as the volume or the distortion increases, which is why these guitars don't commonly go too far from blues and jazz genres.
They can play rock & roll and country though. For example, The Beatles's John Lennon used either a Rickenbacker 330 or an Epiphone Casino.
That said, the best overall hollow body guitar is the Epiphone Casino, an Epiphone-only model that dates back in time:
If you're looking for the ultimate jazz & blues guitar on a budget, you could go for an Epiphone ES-335.
Semi-hollow electric guitars
Semi-Hollow Instruments have to f-shaped holes in the guitar's body. Its inner chamber is divided into two sections as there's a block of wood running within the body to split the inner cavity.
This additional chunk of wood also adds quite a lot of presence and resonance to the overall tone of the guitar.
Notable players of semi-hollow guitars include Dave Grohl, B.B. King, Eric Clapton, and Otis Rush.
These guitars are common in jazz and blues as well, but they are also a great choice for rock & roll, alternative rock, and punk.
They also produce some amount of feedback, but they are able to get higher levels of gain than full hollow guitars.
Furthermore, the acoustic sound of semi-hollow models is more subdued, whereas the sound is more similar to solid-body models. I consider semi-hollow electric guitars as the best of both worlds. 
In fact, if you're playing anything else than heavy metal, you should go for a semi-hollow guitar. Most definitely, a model from Fender's Thinline series can set you apart from the common amateur or beginner guitar player.
In particular, the Fender Thinline Telecaster is quite the rocker guitar:
Sale
If you're looking for a cheaper model, you could go for a Squier Classic Vibe '60s Telecaster Thinline. It sounds just as classy and gorgeous as it looks:
Now, if you're looking for a top semi-hollow playability and sound, the kind of experience Foo Fighters' Dave Grohl uses, you should go for a Gretsch G5420T Electromatic semi-hollow guitar:
Beginner Guitar HQ offers you additional semi-acoustic guitar recommendations:
You can also check the Danelectro '66T, which is Joe Perry's main guitar (Aerosmith). I highlighted this unique baby at my prior best rock guitars guide.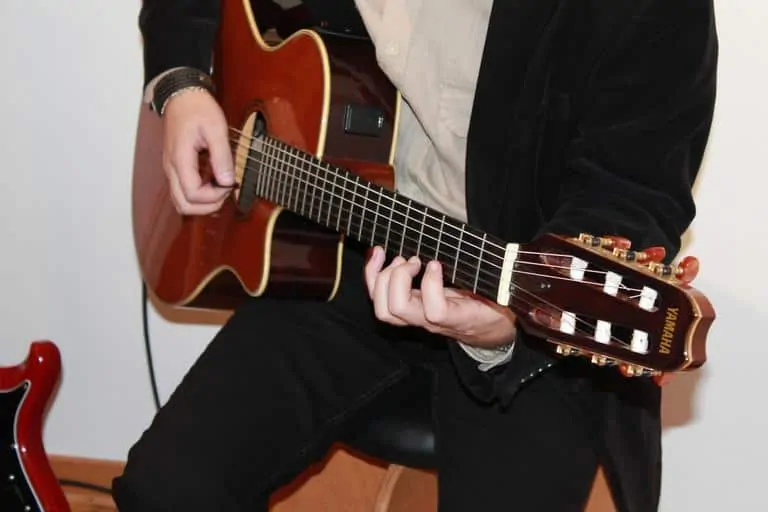 Electro-acoustic amplifies the natural acoustics of the guitar and gives you various onboard EQ options.
Electro-acoustic guitars
Lastly, we need to have a short discussion about electro-acoustic guitars, although you're probably not looking for one of these models on this type of electric guitars guide.
Electro-acoustic guitars ship with "piezoelectric pickups." You can play them unplugged or connected to an amp.
The sound is nothing like a "true" electric guitar, as it's instead pretty acoustic and classical. 
The playability is quite different as well, as the neck is flat, the higher frets are often not-accessible, the strings are heavier, and the overdrive sound is useless.
Either way, you could choose one of these if you're a songwriter or a solo performer.
If you're looking for acoustic-electric guitars, check our following picks:
Remember that acoustic pedals and amps are specifically designed for electro-acoustic guitars.
A PA system is normally a very good companion for solo performers and street performers.
In summary
I hope this definitive guide on the various types of electric guitars helps you make a better decision. Feel free to check the reviews and top 10 lists I shared!
If you're not completely sure about what kind of music you're going to be playing during your career, my advice for you is to pick a Stratocaster guitar. You can even tweak them for metal with a couple of high-output noiseless single-coils like the ones I already featured on my metal pickups guide.
Lastly, if you have any comments, doubts, or suggestions, please leave it on the comments below!!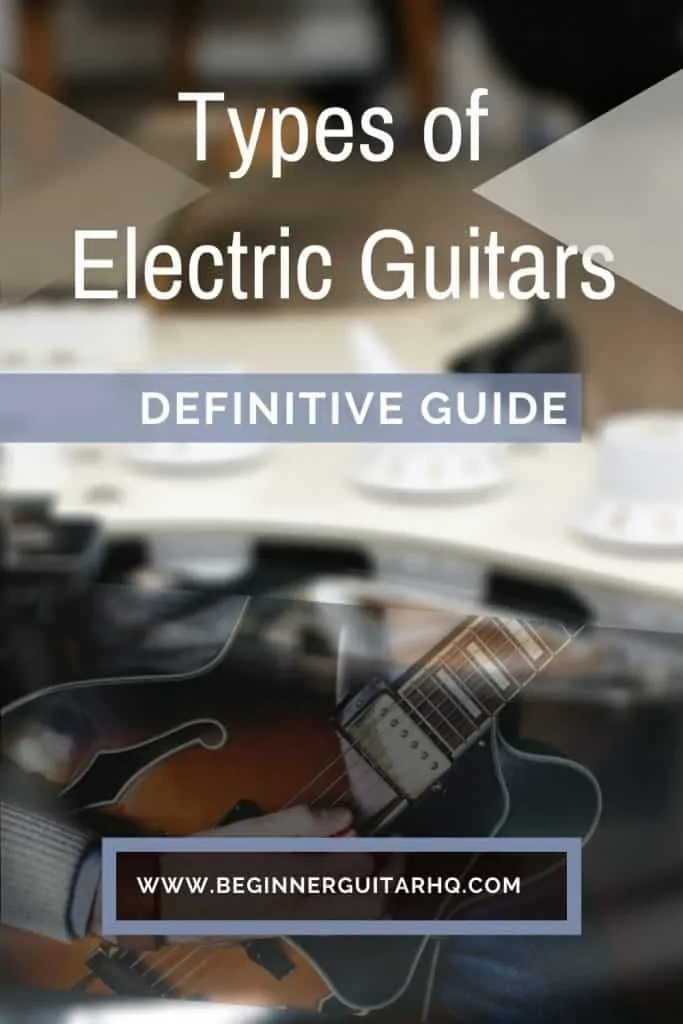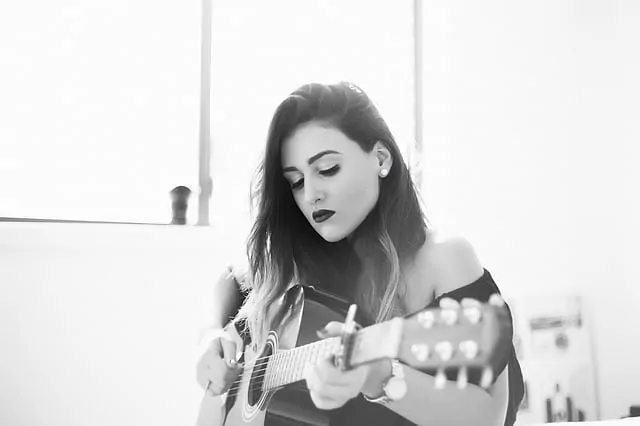 Jen is a guitarist and singer-songwriter who spends much of her time on the road and has lived in 13 cities across 4 continents. She picked up her first guitar at the age of 6 and learned to play by ear shortly after. She received her formal music education at the Berklee College of Music, and currently plays for a few bands in her free time. She has an uncanny ability to improvise creative melodies and harmonies. Her early influences include blues, jazz and rock.