Beginner Guitar HQ is reviewing the Schecter Omen 6 electric guitar. Schecter Guitar Research is a musical company that has exploded in popularity since the last decade.
Their reputation is well earned, and I can say that from experience. They put out quality instruments for reasonable prices. Furthermore, their alternative represents powerful tonalities and looks you don't see very often in guitars and basses at certain price levels.
Personally, I've owned a couple of mid-level Schecter basses, and they all were exciting and well above its price point. Furthermore, I've never put my hands on a Shecter instrument that didn't feel solid, and well made.
Overall, there's a lot of craftsmanship put into the brand's instruments. You can see the quality of their finishes, inlays, and high-quality hardware and electronics.
But I've been talking about mid and higher-end models. The Omen 6, though, is an entry-level lineup, amongst the most inexpensive guitars this company offers.
Let's see how this affordable guitar lives up to Schecter's well-deserved reputation, and how it competes against other intermediate-level electric guitars.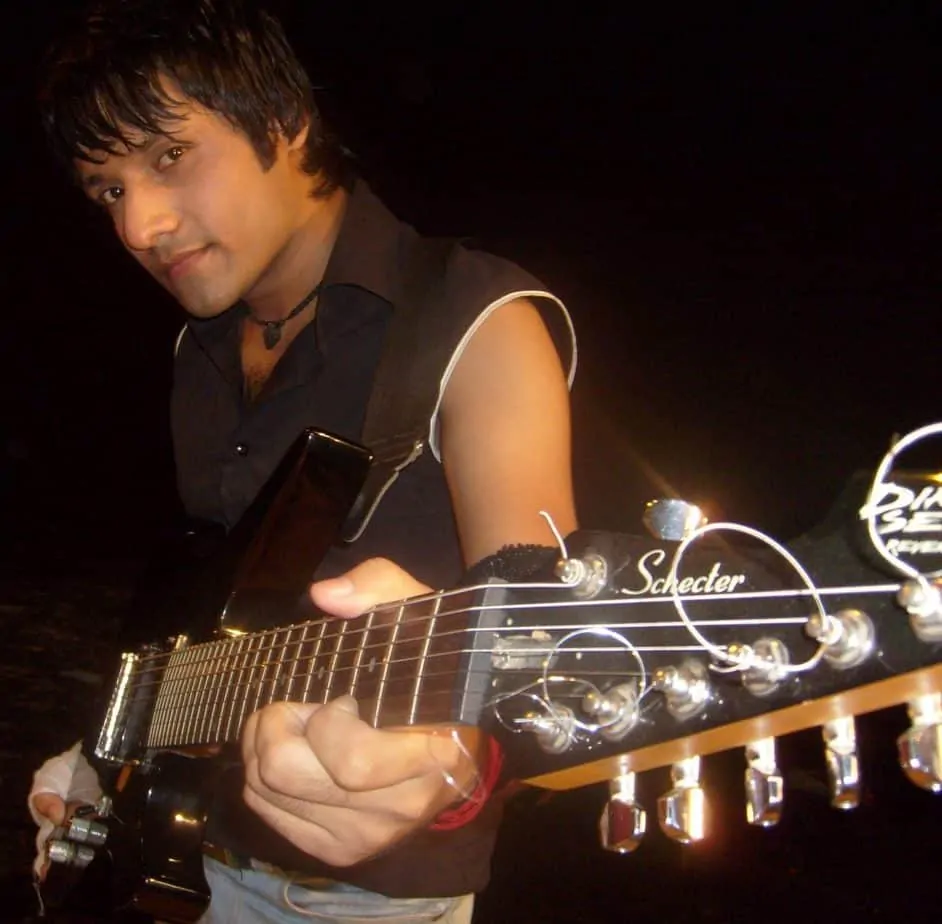 Schecter Guitar Research was founded in the USA back in 1976.
Schecter Omen 6 review
The Schecter Omen 6 electric guitar series was built to prove that careful engineering and precise craftsmanship can create top-notch guitars selling for entry-level prices.
So, more than its tonewoods, design, or pickups, the highlight of the Omen 6 (just as much as the best thing about most Schecter instruments), is its engineering.
In particular, the regular Omen 6 is a very capable full size 34'' guitar selling for the price of a "junior" ax.
Overview
The Schecter Omen 6 is a guitar aimed at budget-conscious players. This is one of the brand's cheapest guitars. However, their lineup includes top-notch choices created at their USA Custom Shop, as well as their South Korean guitars with high-end appointments.
I believe the Omen 6 is a very special guitar. This model proves Schecter was able to create a cheaper alternative with the same advanced engineering and designs by toning down the construction materials and pickups.
The Schecter Omen 6 has the same advanced electronics and technologies of their other instruments, so the result is a guitar that sounds good, feels good, and looks good.
That means Schecter has carefully chosen this guitar's features. There's little missing on the Omen 6, so full-featured guitar players could find everything they need for metal and rock in this hellbringer instrument.
In case you're wondering, the Schecter Omen 6 was built for metal. It was also built in South Korea with a setup designed in the U.S.
Speaking of metal, take a look at this guide if you're looking for a metal amp for electric guitar as well.

The Schecter Omen series is one of the most affordable lineups of the brand.
Body & Design
The Omen 6 is made of basswood for the body. Next, it has a 24-fret bolt-on maple "Thin C"-shaped bolt on maple neck and a rosewood fretboard.
Its design is economic and even standard for affordable guitars. However, the finish and colors of this instrument could fool anyone to think this is a premium model.
This guitar is designed with Schecter's "C" body style. I believe it's a really cool look and I believe the aesthetics speak "heavy metal." The available colors are electric blue, white, walnut satin, and white.
The Omen 6 is a full-sized 25.5'' guitar with 24 extra-jumbo frets with Pearloid Gothic dot inlays. Furthermore, it has a 14'' neck.
Lastly, it has a Walnut Satin Finish with Black Body Binding. It's a feature that gives the Omen 6 its coveted premium look.
There's nothing beginner-friendly about its design. Instead, it's suited for intermediate players and expert players looking for a cheap quality guitar.
And aside from the Arched Top Basswood, there's nothing entry-level or cheap about its design.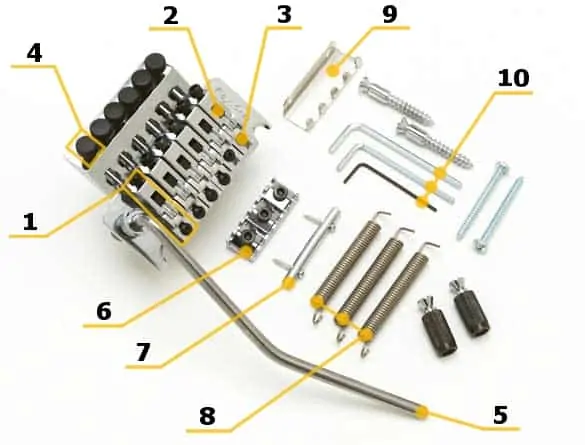 Schecter is known for its advanced electronics and engineering.
Hardware
The highlight of its hardware is the bridge. It has a "thru-TOM" bridge. This is a no-fuss bridge that does exactly what it intends to do.
This bridge is reliable, simple, and does not influence your playing. Furthermore, the hardware allows you to eliminate fuss noises you'd make on your mistakes.
We're talking of a string-through bridge design that helps the strings have less friction at the bridge. What it does is keep the intonation solid on bendings, so it's very rare to see this thing go off after bending a note, which is something common on Stratocaster guitars.
As for the tuners, they are decent and stay in tune fairly well. You wouldn't need to tune your guitar in the middle of a performance because one of the strings is completely off.
Regarding knobs, we find a single tone knob and a single volume knob. Aside from that, there's also the standard 3-way selector switch.
These features talk about a stripped-down budget guitar. Even so, each of the features does its job perfectly well.
To finish this section, I must commend the tuning of this guitar. It stays in check even through your most aggressive and face-melting playing.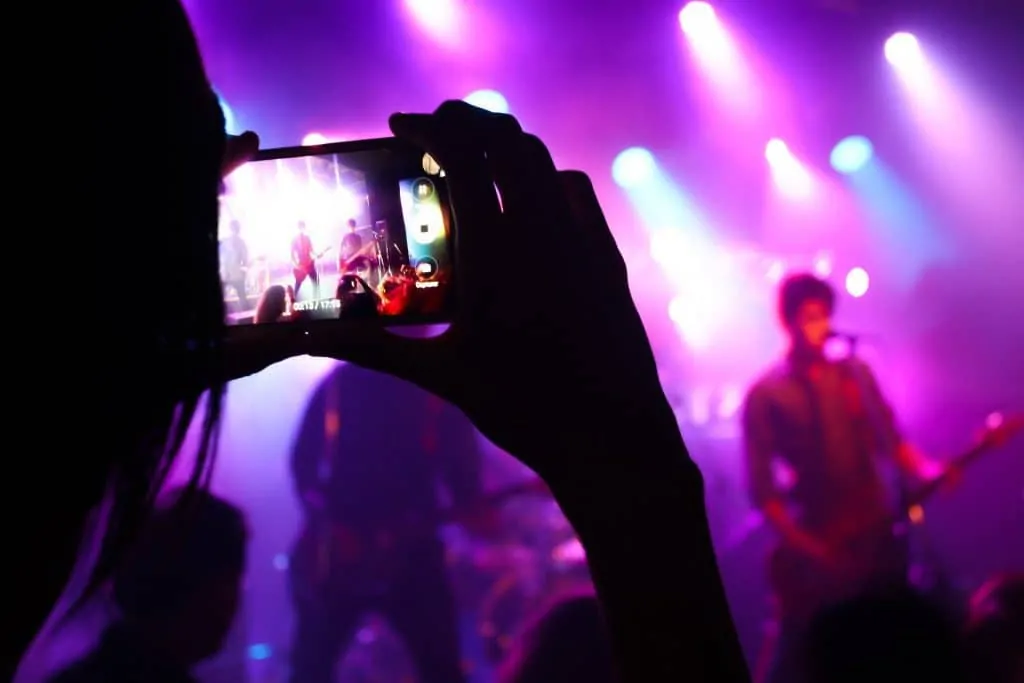 The Schecter Omen 6 is one of the best mid-level guitars you can buy.
Playability 
The design of this guitar does what it needs to do and shows Schecter's case about its budget choices.
Everything about it improves or allows playability.
First, its neck profile plus its fretboard radius combined make for a perfect middle ground. The neck is not too thin or too thick, and the fretboard is neither too flat nor too round.
Alongside the extra-jumbo frets, these choices improve the aggressiveness of the guitar: a bigger radius and bigger frets allow players to attack individual notes faster for soloing, bending, and metal riffs.
Then, rosewood necks offer a fast-action and a smooth feel. It allows players to go up and down the frets as they play. And because of its 12'' radius, players can go from lead to rhythm playing and from solo to chords easily.
The result is a guitar with plenty of attack, and plenty of power for your power chords. And, still, this guitar is very friendly to chords and arpeggios. However, the radius doesn't make it too easy to access the upper frets for beginner players.
Lastly, this guitar is a bit heavy, although it wouldn't represent a problem for adult players using a sturdy strap. Plus, it's C-shape feels very comfortable on your body and on your legs.
On the downside, this guitar feels very different to a Stat, so if you're used to the popular Strat design, this might feel weird on your hands.
If I'd had to compare the feel of the Schecter Omen 6 to another model, I'd name a Les Paul, a PRS, or an LTD. So this is a matter of preference.
I think that if you're a metal player, you'd feel right at home with this guitar around your neck. If not, then maybe you'd want to mess around with the truss rod to get the action a little lighter.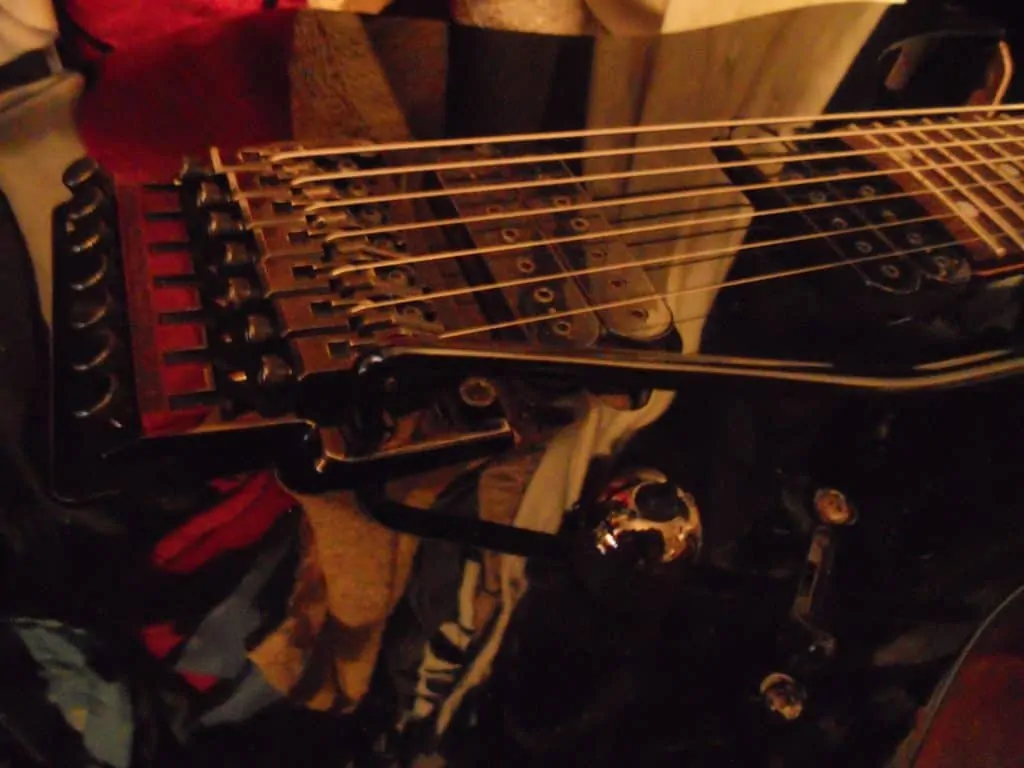 Schecter's most sold guitars include the Omen, the Omen Extreme, and the Hellraiser.
Pickups, electronics & sound
The metal sound of this guitar is delivered by two Schecter Diamond Plus Humbuckers.
You can dial in more or less bass with the tone knob and handle the output with the volume knob, but that's about it regarding versatility.
The 3-way pickup selector works as follows.
Left position: turns on the bridge pickup only.
Middle position: turns on both pickups.
Right position: turns on the neck pickup only.
The bridge pickup is crunchy and heavy, and it makes the overall sound thick. The neck pickup has more definition and it's great for clean playing and soloing.
That's why this guitar's tone is aimed for rock, metal, and everything in-between.
For example, its pickups are fairly hot, so they can get muddy at high- gain settings, especially with both pickups on. Then again, this might be okay if you're looking mostly for distortions or if you're looking to play with a tuned-down setup.
Given its price point, it's hard to take issue with the Omen 6 sound quality. It plays what it wants to play, and it can go very well with a distortion pedal or a metal amp.
Even though this is one of the best affordable guitars for metal there is, I think the Omen 6 has a decent versatility. It means you could make it work as an all-purpose guitar.
Here's a demo video:
User reviews
I'm happy to report I couldn't find a single negative review on online stores like Amazon, Reverb, or Musician's Friend.
However, users do highlight a fret buzz issue on the guitar, so if that's something that bothers you, maybe you should keep looking.
I've also found that, despite its metal-oriented pickups and design, the Omen 6 enjoys a wider range of versatility that allows you to play softer genres. So maybe a couple of guitar pedals can work wonders for your sound with this guitar.
Here's an additional video review:
Schecter Omen 6 Specs
Tonewoods: basswood body, maple neck, and rosewood fretboard.
Neck: Thin-C-shaped bolt-on neck.
Scale: long-scale electric guitar (25.5'')
Fingerboard: 24 extra-jumbo frets
Radius: 12'' radius neck
Pickup configuration: Dual Schecter Diamond Humbuckers

Controls: Volume knob, tone knob & 3-way selector switch
Tuners: standard die-cast tuners

Bridge: String-thru Tom bridge
Drawbacks & alternative
I believe the pickups could be better. If you want to use the Omen 6 in any kind of band or any kind of stage, I think it would be best to trade-up the pickups.
Rather than changing the guitar, you could install a humbucker pickup with more clarity at the bridge position. Maybe a Seymour Duncan alternative.
Other than that, the Schecter Omen 6 has a great design and a great chassis. This is a great guitar and I find no drawbacks. It offers what it needs to offer for its price range and a bit more. And I believe this is usable in most situations with just a pickup modification.
If you don't feel like altering your guitar, that's okay. There're plenty of Omen models in the market today, some of them even offering a Floyd Rose tremolo. That's because Schecter understands they have something good on their hands.
Possibly, you could go for the Schecter Hellraiser electric guitar. This is a higher-priced ax that boasts a lot of quality. To sum it up, it has a super smooth set-neck made of maple, two EMG active pickups, and a mahogany body. In a similar fashion, this is also a guitar made for metal.
It has an amazing particularity not present on other guitars: each Alnico V pickup has separate preamps delivering single-coil and dual-coil modes. The single-coil version cancells the front coil.
Sale
I will also recommend Jackson JS22 as an electric guitar for metal. This is a cheaper alternative with a bit more playability but less definition.
Before you make your pick, I advise you to check the different alternatives of the Omen series.
Variety 
People who like this guitar and want to go for an improved version of the Omen 6 can check the Omen 6 Extreme.
It features better tonewoods, electronics, and aesthetics. The result is a better sound, improved durability, and a better finish and look.
It's the next step from the Omen 6 and a very commendable option for metal and hard rock guitar players. What's best, it doesn't cost that much compared to the original model.
In summary
All in all, the Schecter Omen 6 is probably the best affordable electric guitar as well as the best guitar at this price range.
I could only compare the quality with the Squier Classic Vibe '50s Telecaster, wich it's built for classic rock just as much as this guitar is built for metal.
The Omen 6 guitar will suit your needs, either at the studio or on the stage. The sound is more than decent, the playability is nice, and the tuning stays in check.
Whilst it's certainly not the same as high-end Schecter guitars, I can say this blows similar guitars in its price range out of the water.
At the time I purchased my Omen I was searching for an inexpensive guitar I could detune, and maybe beat up a little without feeling too badly about it.
That doesn't mean I was looking for a piece of junk, though. I knew I wanted something that sounded decent, stayed in tune and if it looked good that was an added bonus.
I highly recommend the Omen 6 for metal and rock players on a budget, or as a secondary/backup all-purpose guitar.
If you upgrade one of the pickups for a better humbucker, you can get a potentially outstanding guitar.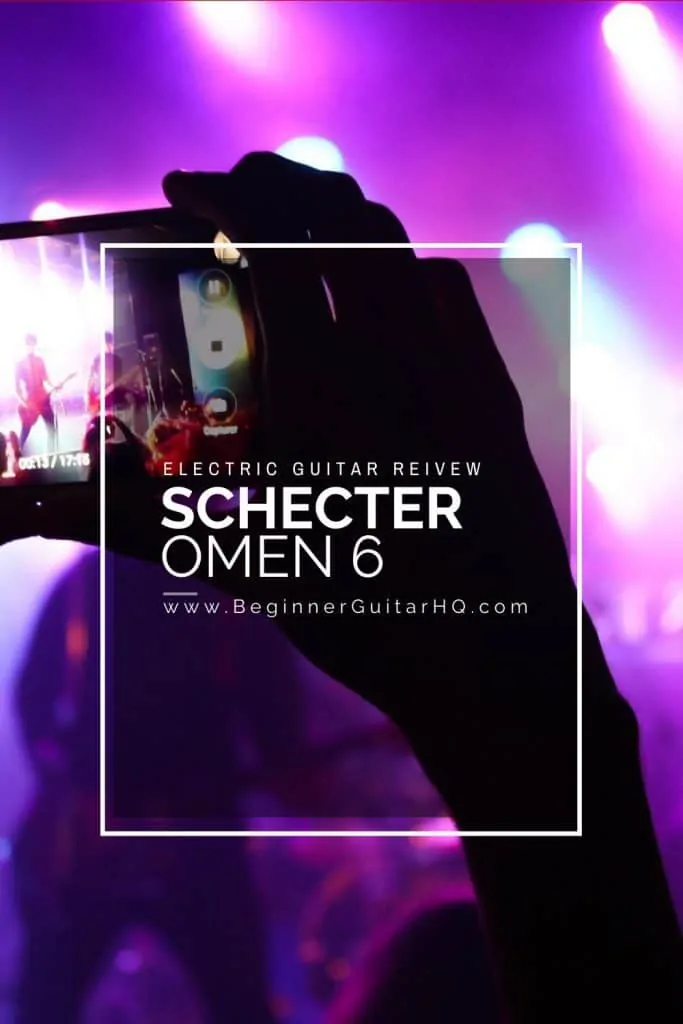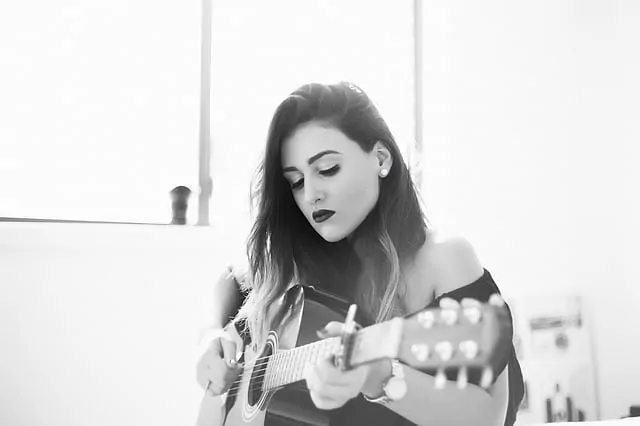 Jen is a guitarist and singer-songwriter who spends much of her time on the road and has lived in 13 cities across 4 continents. She picked up her first guitar at the age of 6 and learned to play by ear shortly after. She received her formal music education at the Berklee College of Music, and currently plays for a few bands in her free time. She has an uncanny ability to improvise creative melodies and harmonies. Her early influences include blues, jazz and rock.